10 Best Sets of Social Media Icons
Hi, I'm introduce today best social network icons. We need social networks icon for share our posts in it, to Advertising your site in web it's very important to share all your posts in social network. However, this group is best collection  you can find it, it's has a lot of icons I'm going to description each one separately.
You can find best icons here  so you haven't search in the web all of them here with all shapes for all social networks like twitter, facebook, youtube and Flickr etc. there are different kind of icons you will like it. Enjoy!
Social Media Icons
Free Social Media Bookmarking Icon Set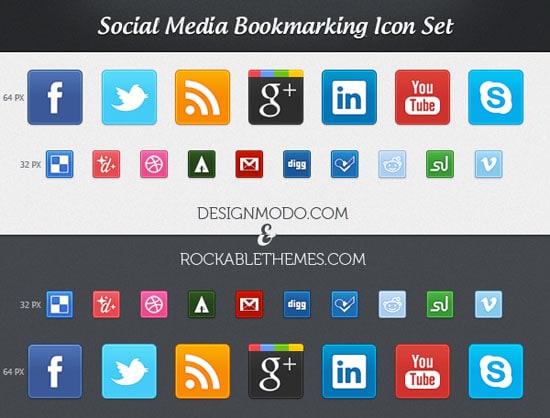 for download click here
Social media bookmark icon via – nouveller
Denim Jeans Social Media Icons
This is deffrint too much it's new way for designing this icons .. it's very cool like Jeans
It's 108 high resolution icon !!
for download click here
Vector social media icon
Includes 126 vector social media icons. Included in the set are PNG versions of all 126 icons in both circular and rounded variations as well as a vector source file for easy resizing and easy for put edit.
You can see what this set have.
for download click here
Social Media Icon Badges via-peachpops
A fun set of 28 social media icons done in a hand stitched vintage badge style.
Icons include: Bing, Blogger, Delicious, Designer Float, deviantART, Digg, Facebook, Feedburner, Flickr, FriendFeed, Google Buzz, Linked In, Live Journal, Mixx, MySpace, Newsvine, Ning, Reddit, RSS, Squidoo, Stumble Upon, Technorati, Tumblr, Twitter, Vimeo, WordPress, Yahoo, and YouTube.
for download click here
Social Media Icon via-plechi
Social media icons in vector
Google
Yahoo
RSS
Facebook
Twitter
MySpace
last.fm
Technorati
Vimeo
Stumble Upon
Linked in
Youtube
Reddit
Delicious
digg
Flickr
for download click here
Atg Social Badges via-aTg
They are 20 badges of 190×34
The .psd file is included of all the badges for you to edit as you want (the text, for example), with Creative Commons licence
Twitter
Google Buzz
Facebook
Linked.in
Blogger
WordPress
YouTube
Vimeo
Delicious
Digg
Tumblr
Posterous
Flickr
DeviantART
Last.fm
Flavors.me
ShareThis
RSS Feeds
Email
Love this!
for download click here
Social Icon Pack via-mrsxausten
includs 10 icons and 3 sizes, 140×140, 100×100 and 50×50, in PNG file.
-Twitter
-Tumblr
-Tuenti (spanish social network)
-Spotify
-PDF (I know it's not any social thing but…)
-Facebook
-Delicious
-LastFM
-Flickr
-DeviantArt
for download click here
Social Media Icon set via-yaruno
3d social media icon have important social networks it's with .png format
for download click here
 Matte White Square Soc. Media via-WebTreatsETC
108 Matte White Square Social Networking/ Social Media Icons
512px * 512px
for download click here
That's it, all sets from deviantart i collect it for you.