The Game of Design: 10 Things Creatives Have in Common
I've had the opportunity to work with many great designers. Each designer is different. Everyone has a style, working routine and personality. That's why I was so amazed to discover a common set of principles that successful creative people follow, consciously or unconsciously. The tools, techniques and tricks come second. The foundation of great design lies in values and principles.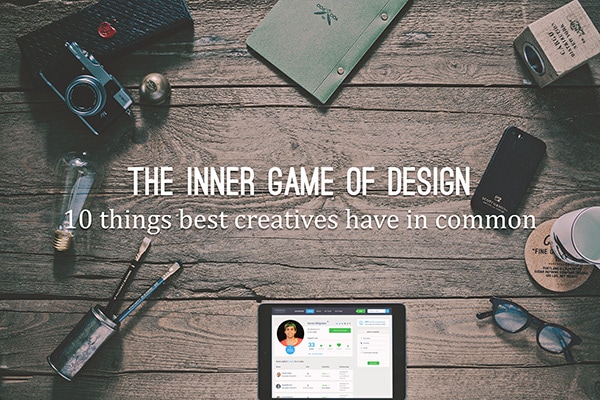 Here are the most important principles I've learned in the last 11 years of working with designers. I haven't yet met anyone who uses them all the time, but it's interesting to have an ideal model.
1. Approach Every Project Like It's the Most Important of Your Career
Top professionals deliver a consistent level of quality regardless of the project. Even for a small website for the neighborhood shoemaker, an excellent designer will accomplish one of the best projects ever created.
I've been asked many times by designers just starting out: "How do I get important clients with big budgets?" Strong brands and powerful entrepreneurs are usually looking for people who create amazing work. If you do you best for every project, regardless of the budget and circumstances, you'll have an excellent portfolio in a short time.
You don't want to make this effort and this investment in yourself? Then probably you'll never end up working on those dream projects. You're never going to be good enough for it. Simple as that. You'll end up spinning around the same vicious cycle of "unfavorable" circumstances or clients while waiting for your "dream client" to arrive.
No-Code Email Template Builder
With Postcards you can create and edit email templates online without any coding skills! Includes more than 100 components to help you create custom emails templates faster than ever before.
Try Free
Other Products
The best creative people deliver top work for each and every project.
2. Always Deliver
Unfortunately, some of the most talented people are unreliable and lack basic discipline. I've had the opportunity to meet them again and again. Guess what? They usually get stuck in the same place.
Great artists deliver. Always. Many designers sabotage themselves by acting like misunderstood creative people. They believe that the work only gets done in certain key moments when they're struck by divine inspiration. To all of them I recommend an in-depth study of the biographies of the best artists of all time. Dali, Picasso, Van Gogh, Leonardo da Vinci, Brancusi had one thing in common: Incredible discipline. They were in their shop every day, regardless if they were in the mood or not.
Designers operate in the business world. Business is about doing. The capacity to deliver all the time and to keep your promises is just as important as talent or portfolio.
You will rarely find a client willing to tolerate lack of discipline. And that's not a client you want because it's going to treat you the same way.
3. Be Up-to-Date With Trends, But Don't be Ruled by Them
Trends matter. Usually it's good to create them or to respect them in your work. I'm not the biggest fan of trends. But businesses can't stay behind their times.
A "design from 10 years ago" launched in 2014 screams "We're outdated!" It's probable that the standards and the mindset are from late "1900s" as well. Nobody wants to deal with that business.
Beyond visual representation, a trend is a more complex phenomenon. It usually integrates social, cultural and technological elements. Flat design, for example, embodies the rebellion against busy interfaces, complicated software and suffocating user experience. It's important, however, to remember that a trend is just a trend.
Sometimes you need to use reason and intuition and steer the things toward a slightly different direction. An exceptional designer it's never ruled by a trend.
4. Bring Creative Input to Every Project
I am amazed of how many copy-paste projects come up on Dribbble or Behance. For example, based on Bootstrap templates, I see hundreds of executions with minor differences. And these are coming from designers with a great potential! Remember that you get paid to be creative. To bring inspiration, to add your own ingredients, to let your intuition guide you toward things that haven't been created yet.
Can a Photoshop user who just discovered UI kits execute the type of work you do? If so, you're easily replaceable.
It's difficult to bring new things. It's difficult mostly because we are afraid. Afraid to fail, to embarrass ourselves, to step outside the comfort zone. But without the courage to stick up for our ideas, we'll never be great designers or succeed in any other field.
5. Put 100% into Each Project
Great designers get involved beyond what the client or the boss requires. It's impossible to create good work and deliver real value without understanding the whole picture.
When you're 100 percent involved you have to leave the Mac, Photoshop and your desk behind and start learning about the business. With real interest. Scary, I know. Are you going to that factory, coffee shop or conference? Are talking to the right people and ask the right questions? Are you finding out about their lives? Do you care?
Good projects don't appear in a void. A void can produce projects that look extraordinary, but die at the first click or touch from the client. As designers, it's easy to take that road. There are few clients that are educated and experienced enough to understand if you're doing the right things. So you can cheat a lot. But that doesn't mean you should.
Character is working at your highest level when nobody's looking. Going the extra mile is attitude. Based on these two ingredients you can accurately predict if a designer is going to be exceptional or just mediocre and self sufficient.
6. The brief is Starting Point; Explore New Directions
Any client has limited vision about the possibilities of a design project. That's why they hire and pay for your services. An experienced designer will discover new directions and resources that can take the project to the next level.
Yes, it's more work to refine those ideas. Yes, you have to go through all of them with the client. But that's the way to go if you're looking for incredible results.
I haven't met any client who was sad to hear new ideas. But how do you sell your ideas? Present them in client language. Link them to objectives that matter. Educate the client about extra value that comes from the process.
Some ideas won't stick because they don't fit with the business particularities. It's a small obstacle you'll overcome with plenty of ideas.
I've met few designers that ask a lot of questions, come up with new directions and demand more from the project. When you're doing this, you lay the foundation for a top project from the briefing stage.
7. Work Within the Context
Any design project comes to life in a predefined context. The context can include the audience, the competition, company culture, brand, the people, national and global economy and many other factors.
Great designers make efforts to understand the context and create within it. There will be limitations, but those limitations can't prevent real creativity to shine. I've met designers that allow themselves total freedom. They go crazy and end up with a project that looks good or amazing, but makes no sense in the context. It's like bringing Captain America into Pulp Fiction. It's something from another movie! Everybody will be confused and disappointed.
For a great project, you need to use the right energy and ingredients. A great project always grows from the right roots.
The goal of any project it's more than getting that wow reaction. The goal is to bring real results. You get those results only when you understand who you're working for, why you're doing it and how can you make a difference.
8. Be Open to Feedback and Flexible with Revisions
This lesson hits deep and hard. It's one of the most painful spots for any designer. Some years ago, I discovered something that shocked me. The main reason for which us, designers, are resistant to feedback and number of revisions is insecurity. Somehow, we're expecting that things would come out great on the first go. That is rarely the case. Even creative geniuses work with revision. This is what one of the best copywriters of all times, David Ogilvy said:
"I've done as many as 19 drafts on a single piece of copy before I've presented it to anyone to edit. I wrote 37 headlines for Sears Roebuck last week, and I think three that I thought were good enough to submit to other people for their comment. So, you see, the writing business is not easy for me."
But what does copywriting have to do with design? They serve the same purpose: To connect with a customer and ultimately sell something. The best designers understand this and feel comfortable to revise a project three, 10 or 30 times when needed.
The best projects are crafted in great detail, with updates and improvements along the way.
Accepting feedback and looking at it without blinders is an act of will and openness. Any idea and improvement goes through your individual filter and vision.
Many times we get good, juicy ideas from colleagues, fellow designers or clients and we reject them by default. If you love design, you owe it to yourself to place the project higher than your ego.
9. Don't Lose Ground to Emotional Opinions
It part of the job to teach clients and colleagues to deliver arguments along with their feedback. Sure, at some point you encounter those moments when different parties involved in the project get emotional. High on those emotions, they try to derail a project according to opinions. Just like that, they can destroy a great project in just a few uninspired moves.
You're going to go through this once a while. The important question is how you react. Stand your ground. It's crucial to defend decisions in a calm, firm and well-argued tone. Design is a craft with rules that work in most of the cases. Any designer that operates according to these rules is an expert and it's mandatory to be treated like one. Most clients will positively respond to a professional, well-argued and firm attitude. For those rare exceptions ask yourself what's more important. Do you want instant gratification and misery or results and long-term appreciation?
Only top designers get to choose their clients. At the same time, you'll never reach that point if you're on a journey full of compromises.
You need to develop the capacity to distinguish between the situations when it's necessary to be flexible and those when you must stand your ground at any price. It's a subtle instinct, but it can build your career or your business.
The best designers also know a little about politics. If you want to learn more, watch a few episodes of House of Cards.
10. Educate Clients in the Process and Show the Value You Provide
You know more than your client. It won't hurt if you share some knowledge, insight and secrets in the process. But why do you have to do that? Why great designers do more than just focus on design?
Clients operate in the business environment and manage multiple pressures each and every day. A client that understands why you make certain decisions will be more relaxed and confident.
When we put ourselves in clients' shoes, we see things differently. With each project, we have the image of the business in our hands. That's a great power and responsibility. Top designers communicate like crazy. Maybe you're better in Photoshop but you need to wear many hats. That's probably why we love doing this. It keeps us active, and we rarely get bored.
Also, inform the client about each benefit. A good formula for this: You get this benefit because I (we) did this activity. That's an amazing way to differentiate and make the clients happy about choosing you. Remember that you're selling a service, not a product. The only value you deliver in client's eyes is perceived value.
Constant communication and guiding is consulting. When you're a consultant, you move the relationship to a whole new level. Most clients will love this. It also has amazing benefits for you: better earnings, enhanced trust, strong relationships, recommendations and more creative freedom.
Bonus: Learn Something New
Having 10 or 20 years of experience is not an excuse for being lazy! Design is evolving faster and faster.
I know designers that were on top of their game seven to eight years ago, and today are way below people with only a few years of experience. As your income grows and things start to come more easily, there's a tendency to downsize your enthusiasm, curiosity and passion. Before you know, you lost your spirit and your skills. You're out of date.
I'm surprised to see a number of "senior" designers that still don't know the basic rules of composition, layout, typography or color theory. Talent without direction ends up nowhere. The quality, quantity and accessibility of design resources has improved tremendously in the last years. Get off your butt.
I carry a great respect for designers that evolve and keep their passion and enthusiasm alive after. They are those cheerful veterans that can always challenge the passionate and energetic young.
Stay hungry, stay foolish. – Steve Jobs
Talent alone is never enough.
Like what you're reading? Subscribe to our top stories.