Bouncy Animated Loading Animation It's a clean, simple and elegant solution to indicate that the process is in action. It is a perfect alternative for Gifs. It consists of 3 relatively small monochrome balls that smoothly go up and down. You can set another tone and even manipulate with animations if you are familiar with CSS3 and HTML.
Sonic – looping loaders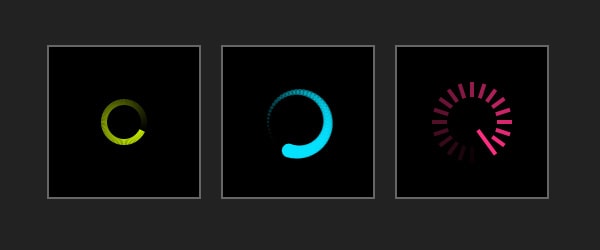 This is a super minified JS class that charges your graphics with energy, recreating a standard spinner for status indication. Although the component looks primitive, yet it crashes in IE since it is canvas-based.
As for customization, it is available for tech-savvy people who understand basics of CSS and HTML. Otherwise, pick up the desired one form 9 predefined vibrant versions.
Simple Loading Modal
The plugin equips your project with a modal box with a regular circular throbber and elegant light semi-transparent background. It appears when the routine begins and gracefully fades away when everything is ready.
Image Loader (jQuery Plugin)
Online HTML Email Template Builder
With Postcards you can create and edit email templates online without any coding skills! Includes more than 100 components to help you create custom emails templates faster than ever before. Try now for free!
Learn More
Other Products
Image loader is a premium loading animation that is worth a little more than $ 5. It works on iOS and Android platforms as well as is compatible with the modern browsers and jQuery 1.3+. It has an intuitive interface that lets change gif loaders in one click and resizes images after they have been loaded. There are also Cache Buster function and an option of calling a function on load success/error.
Simple Content Loader
The simple content loader is aimed to accompany images and texts as well as help users to brighten up the seconds of waiting. It is a regular AJAX loader that cannot boast of a great design; it is a just primitive spinner. However, the author has prepared a set of tools for extra customization. As for the price, the product costs $5.
Conclusion
The solutions do not have a striking appearance nor mind-blowing effects, however, they effectively embrace the simplicity that lets components perform their primary function. The majority of them is universal and can benefit various projects. Although they are far from being called amusing or entertaining, yet still, it is something when it comes to boring seconds of inactivity.
Like what you're reading? Subscribe to our top stories.