Dear friends, we removed the presentation page of Flat UI. After our massive redesign and rebrand, we have decided to not update the presentation page.
We know that for the majority of you, this product is an iconic framework with trendy icons and colors that started the Flat UI trend, that's why we decided to maintain information about this product here. Plus, you can still buy this amazing product from this page.
About Flat UI Pro
Flat UI Pro is made on the basis of Bootstrap in a stunning flat-style, and the kit also includes a PSD version for designers.
Prototyping is easier and faster with Designmodo's release of Flat UI Pro, a user interface kit made in the flat design style. The stunning kit contains basic components, glyphs, icons and a variety of buttons and other elements made in the super-trendy style.
The Bootstrap-based kit contains everything a designer or developer needs to build a fully-responsive website in no time. (No dual prototyping here!)
This kit is ideal for designers or developers looking to start a project that makes the most of the flat design trend. The kit is designed to help save time so designers can focus on creating an overall aesthetic, not working on pieces.
What's more is that every piece in the kit is designed to match every other component. Designers can pick and choose what parts work best for a project. The included color swatches are designed to make the most of the flat design trend or can be customized to match any branding or color scheme.
Flat UI Pro Key Features
Flat UI Pro contains a huge number of basic components, icons and glyphs, which simplify your work when it comes to new projects. Don't waste time reinventing the wheel, use Flat UI Pro to get started. Click here for a preview.
Online HTML Email Template Builder
With Postcards you can create and edit email templates online without any coding skills! Includes more than 100 components to help you create custom emails templates faster than ever before. Try now for free!
Learn More
Other Products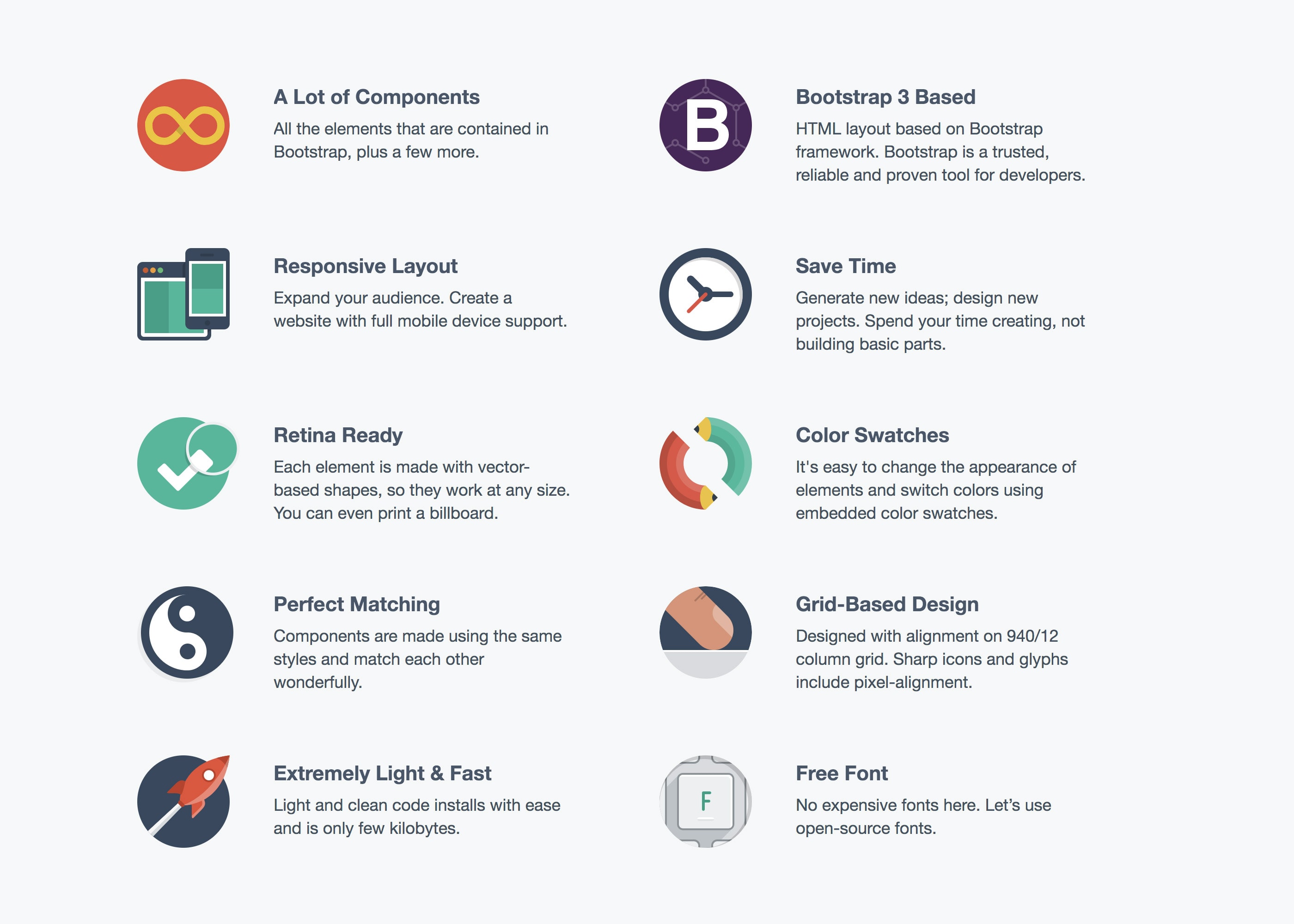 Bootstrap Based
Why is this important? Bootstrap is a reliable and proven tool for developers, validated in the field. It reminds us of Superman, a friend you can trust completely with a serious project.
OOCSS ApproachObject-based coding method encourages code reuse and creates faster and more efficient style sheets, which are easier to add to and maintain.
Configurable Color SchemeYou can change any or all of the colors if you wish. Flat UI is easy to configure and match to your brand's color scheme.
Bootstrap 4 SupportFlat UI Pro supports Bootstrap 4.
Easy InstallationUpload all Flat UI files and paste one line of code at the bottom of your <head> tag. That's it!
Icons & Glyphs
Flat UI Pro includes 100 SVG icons and 50 iconic glyphs. Illustrations add visual interest and can make your interface easier to understand.
Icons in SVGEasily change size and colors right from HTML. No raster images from now on.
Vector IconsVector images easily stretch to full-color illustrations.
Original LayersAll layers are original and unrasterized, making modifications a breeze.
GlyphsUse glyphs in your buttons, inputs or headers. Use it as an icon-font as well.
Swatches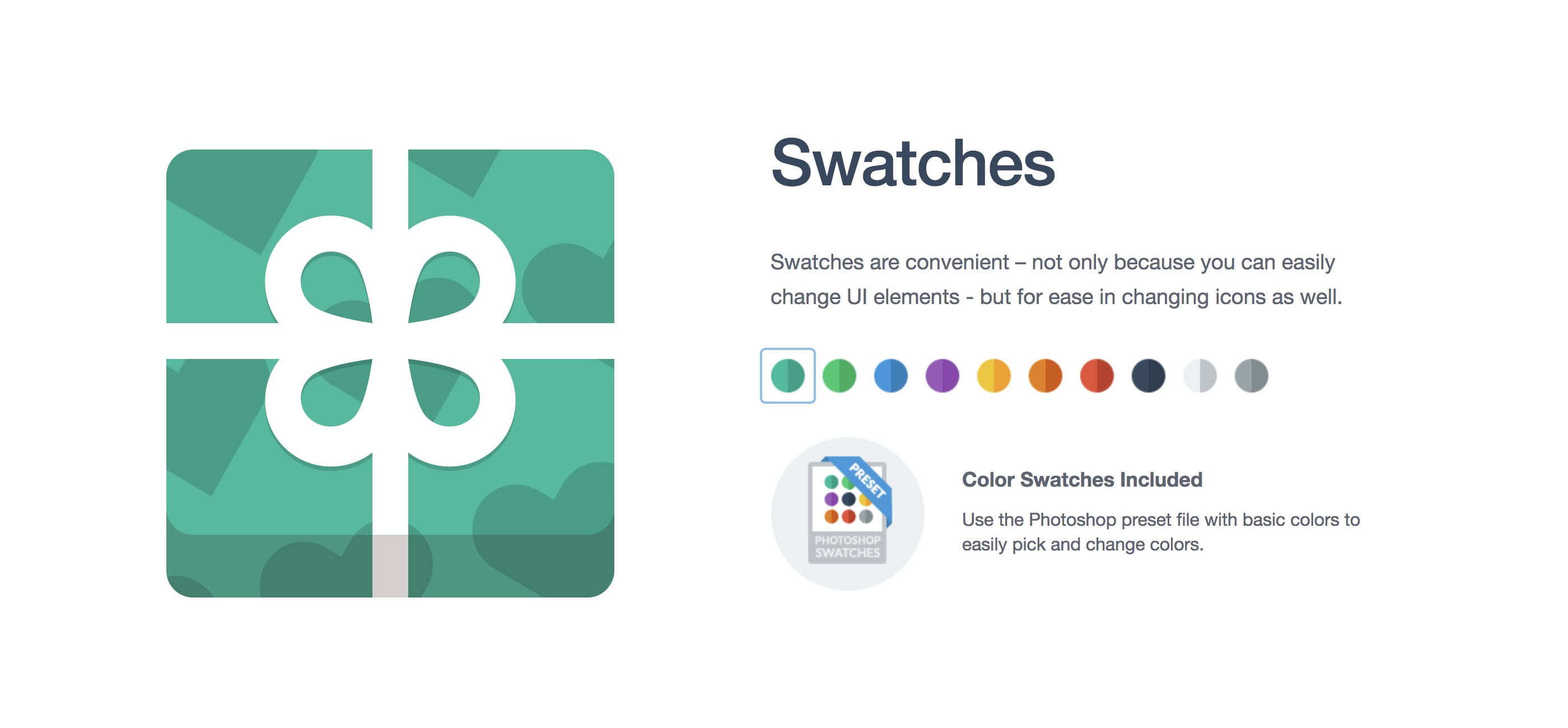 Responsive Layout
Our layout works perfectly on any modern platform, including mobile. You don't need to create any extra code.
Details
Release Date: May 8, 2013
Update Date: May 4, 2018
Flat UI Version: 1.4.0
Bootstrap Version: 4
Formats: PSD, HTML, CSS, Webfont, SVG
Layered: YES
Shapes (Vector Elements): YES
Minimum Adobe CS Version: CS 5.5
What's new in Flat UI 1.4.0?
update of Bootstrap to version 4;
update of all FLAT UI components according to the Bootstrap 4 version;
update of Component and Template pages;
update of Documentation;
update of Getting-Start page;
update of BOWER and NPM modules to the last current versions;
update of file directory;
conversion LESS code to SCSS;
migration to GULP from GRUNT;
integration of LIBSASS module for a fast PRE processor compiling;
optimisation of images;
javascript and jquery libraries updates;
responsive version for all components.
Flat UI Free
We continue developing the Flat UI Free, and you can download it directly from GitHub here. The free version is also updated to Bootstrap 4.
How to Buy Flat UI Pro?
If you want to buy the full version of Flat UI Pro, please check the links below.
Personal License – For Personal Projects
Flat UI HTML ($39) – Add to cart
Flat UI PSD & HTML ($69) – Add to cart
Developers License – For Business Projects
Flat UI HTML ($149) – Add to cart
Flat UI PSD & HTML ($249) – Add to cart
Like what you're reading? Subscribe to our top stories.