These 7 Multipurpose WordPress Themes Are the Best 2019 has to Offer
There's a reason so many people choose to go with a multipurpose WordPress theme. The best ones excel in flexibility, the number and variety of features offered, and the ability to create almost any website type you can imagine.
You need to be a bit choosy, however. Some multipurpose WordPress themes simply can't get the job done, some have built-in design constraints, and some have been poorly coded.
Finding a good, responsive multipurpose theme that meets your needs can be a challenge. The good news is, anyone of the 7 presented here is worthy of consideration. There's likely one of the 7 that's best suited for you, but you really can't make a bad choice.
That said, in 2019 check out these top multipurpose WordPress themes.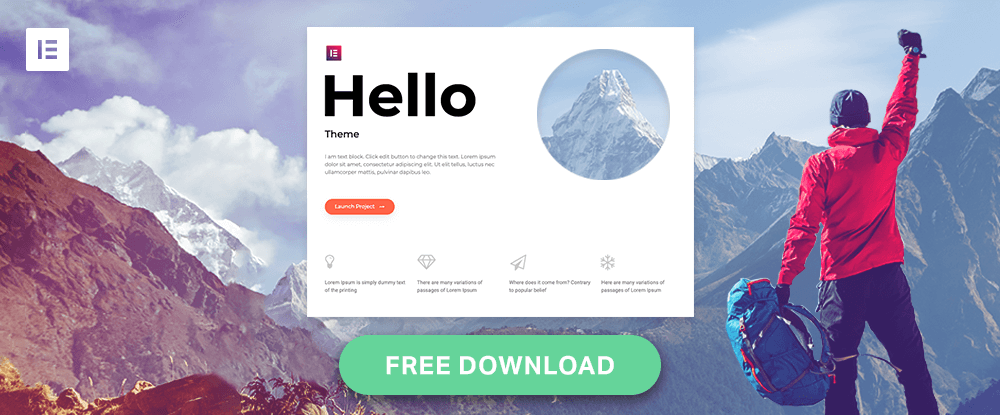 If you're an Elementor fan you obviously have plenty of company. If you've been searching for a multipurpose theme to use with Elementor, why not settle for the best one of all? That happens to be Hello. Hello is the lightest and fastest WordPress theme ever created. It's literally a WordPress theme without boundaries.
In fact, every time a new version of Elementor is released, most of the testing is done using the Hello theme. That not only works to the advantage of Elementor's users, it also means that Hello is always kept up to date.
Hello fully supports all of the popular WordPress plugins and it will not conflict with plugins in ways that would keep you from focusing on what's important. Not every theme can make that claim.
The strength of this WordPress theme lies in its simplicity. Since there's no non-essential or extraneous code to slow things down, Hello is fast and SEO optimized as well. This is the perfect choice for both designers and developers seeking to improve their workflow.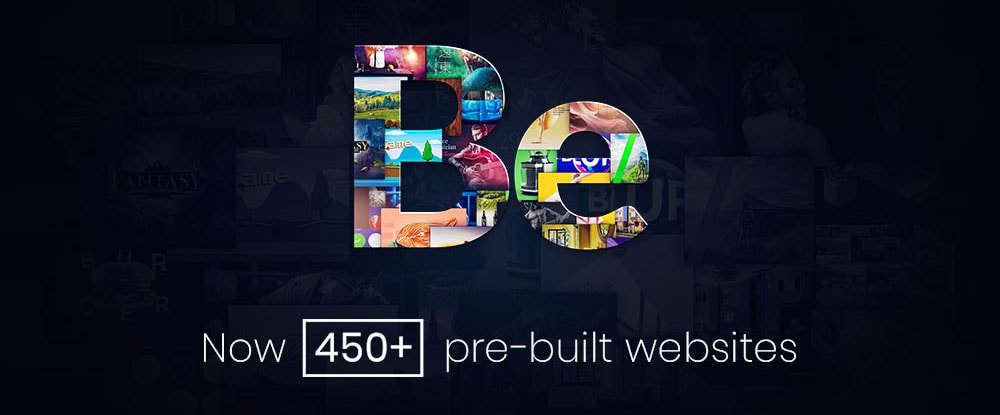 Be Theme is a big, bold, and beautiful multipurpose WordPress theme featuring a large user base and a 5-star rating on ThemeForest. Its 450+ pre-built websites cover all the major website types and styles plus 30 industry sectors.
Be Theme's many core features give you all the tools and options you're every likely to need, plus each of the professionally crafted pre-built websites is not only customizable but has useful UI and UX features built right in. Pick one as a starting point for your next project, customize it via drag and drop and put Be Theme's powerful tools to work.
If you know what you want and you have the information you need for your website's content at hand, don't be surprised if you can have a reasonably complex website up in running in half a day. Website design does not have to be difficult!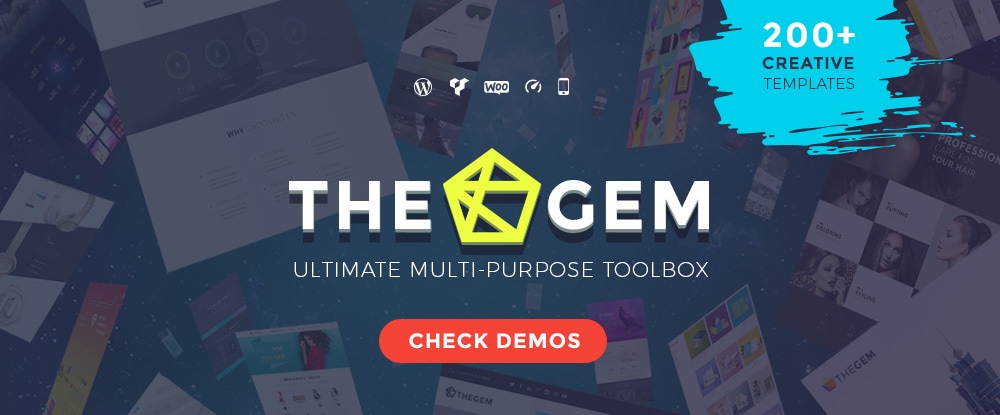 TheGem was created for use by online businesses, agencies, bloggers, and creative types and any other user who looks for maximum creative freedom without having to delve too deeply into the intricacies of website design and without having to rely on coding.
With TheGem's 200+styles and 50 content elements at your disposal, you can create a absolutely uniquely designed website in minutes. TheGem's massive toolbox of features, and options gives you maximum creative freedom and simplicity of usage; it's literally a one-stop shop for website builders.
This multipurpose theme was developed with high-performance and responsiveness in mind along with using SEO best practices. You can expect your creations to be fully optimized for use on laptops, desktops, tables, and phones.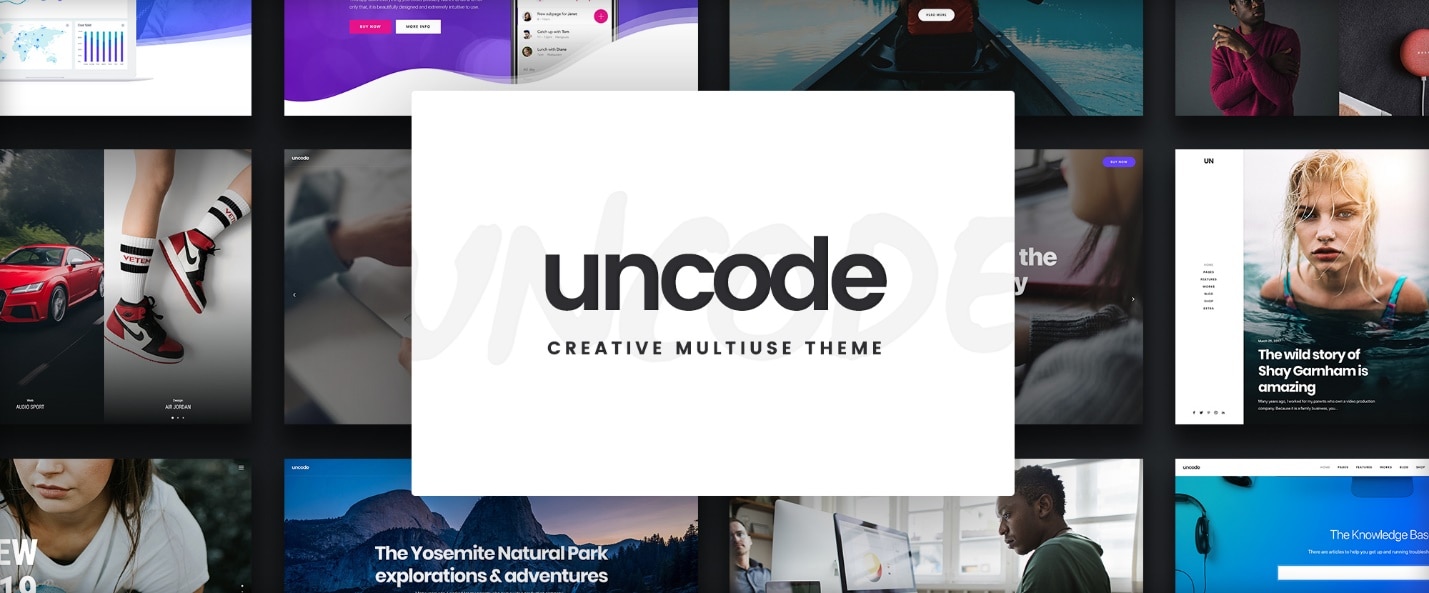 With more than 55,000 sales to date, Uncode is one of ThemeForest's all-time best sellers. This multipurpose creative WordPress theme has everything you need. It's packed with features and it gives you incredible control over your content and layouts.
The best way to understand everything Uncode offers is to visit their site and browse the library of Uncode user-created websites. You'll be impressed and inspired.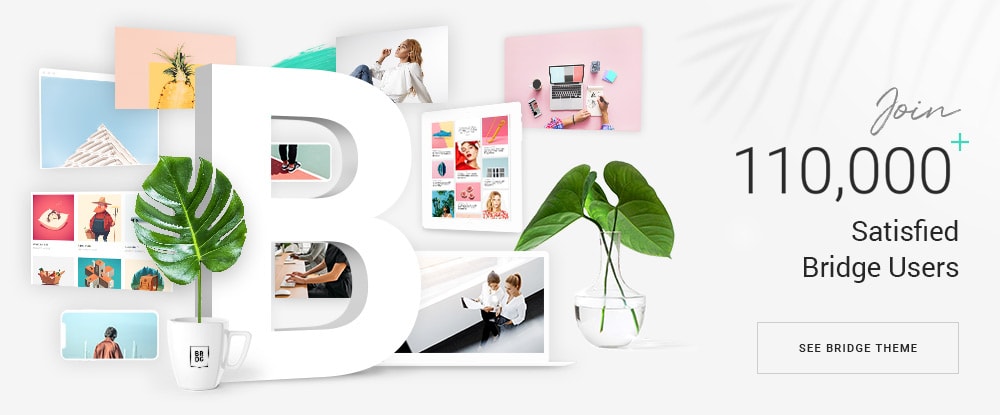 With its 110,000-strong user base, Bridge is the best-selling creative theme on ThemeForest. Developed by Qode Interactive, Bridge gives you tons of website building options thanks to its 376+ prebuilt websites, open-ended customizability, and a huge collection of plugins, modules, sliders, and design elements.
Bridge is an ideal choice for all types of business and personal websites, and you can expect to receive 5-star support.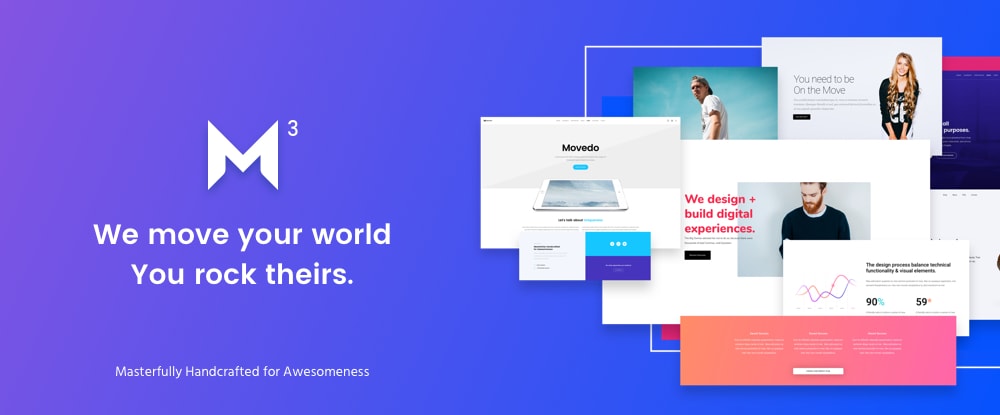 MOVEDO was created with awesomeness in mind, or so they claim. Try it out, and you'll quickly discover that description is an apt one. The design is clean and modern, the theme is super flexible, and the special effects that you can put into practice, moldable typography and ultra-dynamics parallax for example, are genuinely remarkable.
MOVEDO offers you the opportunity to break away from sameness, whether your goal is to create a general or specific-purpose website.
Pofo – A Multipurpose Portfolio, Blog and eCommerce WordPress Theme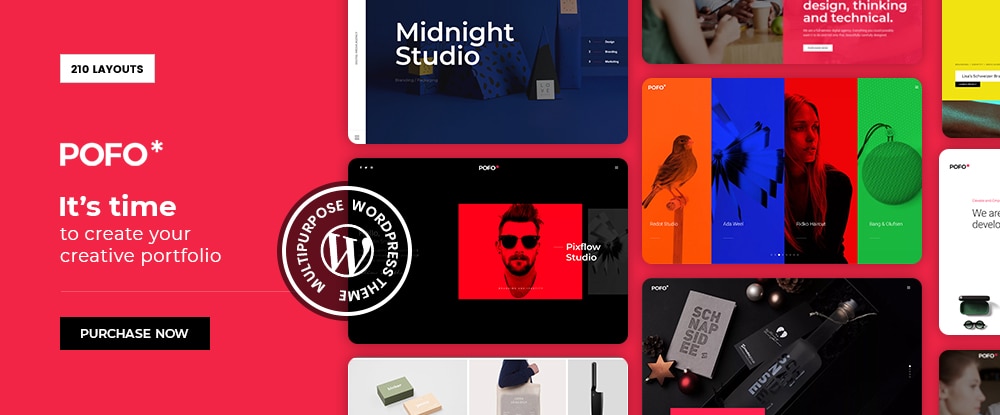 Although there's a heavy emphasis on portfolio, eCommerce, and blog website building, Pofo is a modern and creative award winning design theme an agency, creative team, artistic types and even corporations can use to create exactly what they want.
Pofo's features include the popular WPBakery page builder, Revolution Slider, custom shortcodes, 150+ pre-built elements, and an excellent selection of demos and home pages, and those are fast loading and SEO optimised too.
Conclusion
Multipurpose themes tend to be WordPress theme best-sellers for a good reason. They allow users to build nearly any type of website and do so with relative ease.
Most feature a large number of ready-made, ready-to-go templates to pick and choose from, but the main selling point is usually the ability to customize any given template with the help of a drag and drop website builder to get precisely what the user is trying to achieve.
Like what you're reading? Subscribe to our top stories.