Newspaper Theme for WordPress is Packed with Features
If you like to write for the web, we have the perfect theme for your next WordPress website build.
Newspaper, which is the top selling news theme of all time on the Envato Market, is a robust and easy-to-use option that will make your website look great. And it's designed for a focus on blogging and content so that every story or post is easy to find and read.
Today, we're going to take a deep dive into the theme so you can see what it is all about.
What is Newspaper?
Newspaper is a WordPress theme from tagDiv, a well-known theme builder on Envato Market. The Power Elite author maintains a top rating and more than 91,000 users have purchased themes from them.
Newspaper – now in version 9.6 – is a responsive theme that's optimized for the Gutenberg release of WordPress.
The theme is perfect for blogs, but also for newspaper and magazine websites with large amounts of content. You can create and publish anything from text to images to gifs to video content with this theme.
One of the reasons this is such a popular theme is that it is easy to use. Even more, novice WordPress site owners can benefit from these features because it is designed to make your life easier.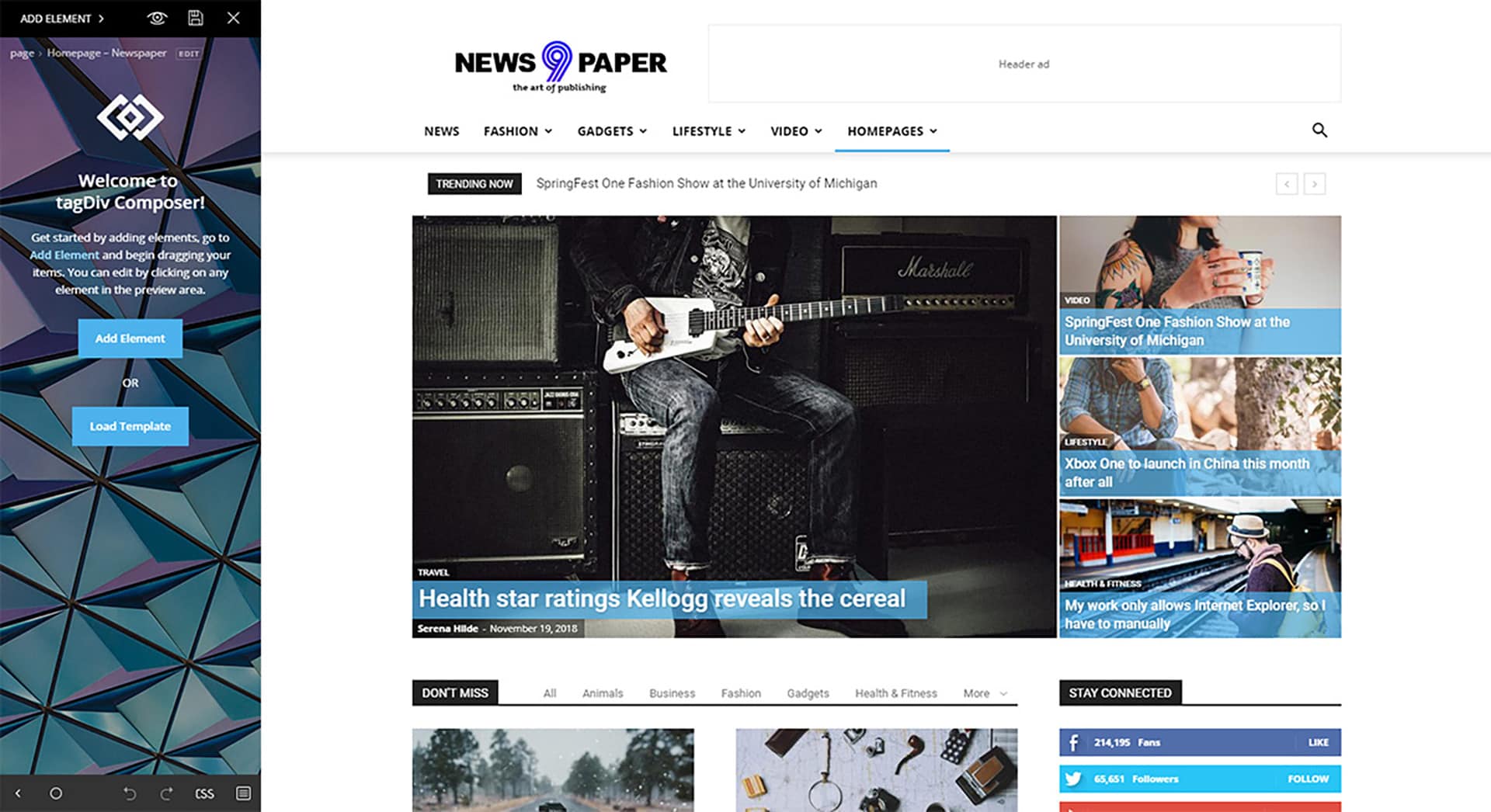 That starts with a frontend website creation tool. This means you can see changes as you make them. It's powered by the tagDiv Composer, which is a tailor-made page builder for frontend design.
Then there's the added tagDiv Cloud Library. While it might not be something you already know about, you'll come to love it fast. The gallery is packed with more than 600 pre-made designs for headers, sections, pages, posts, footers and more.
All you have to do to access these designs is install a plugin called tagDiv Cloud Library. This will give you access to the tagDiv servers from where you can import what you like to your website. Make the customizations and assign it to the pages where you want to use it. This feature can be a huge timesaver and helps you jumpstart projects with design inspiration. It can seriously help you build a website in a few hours, rather than days or months.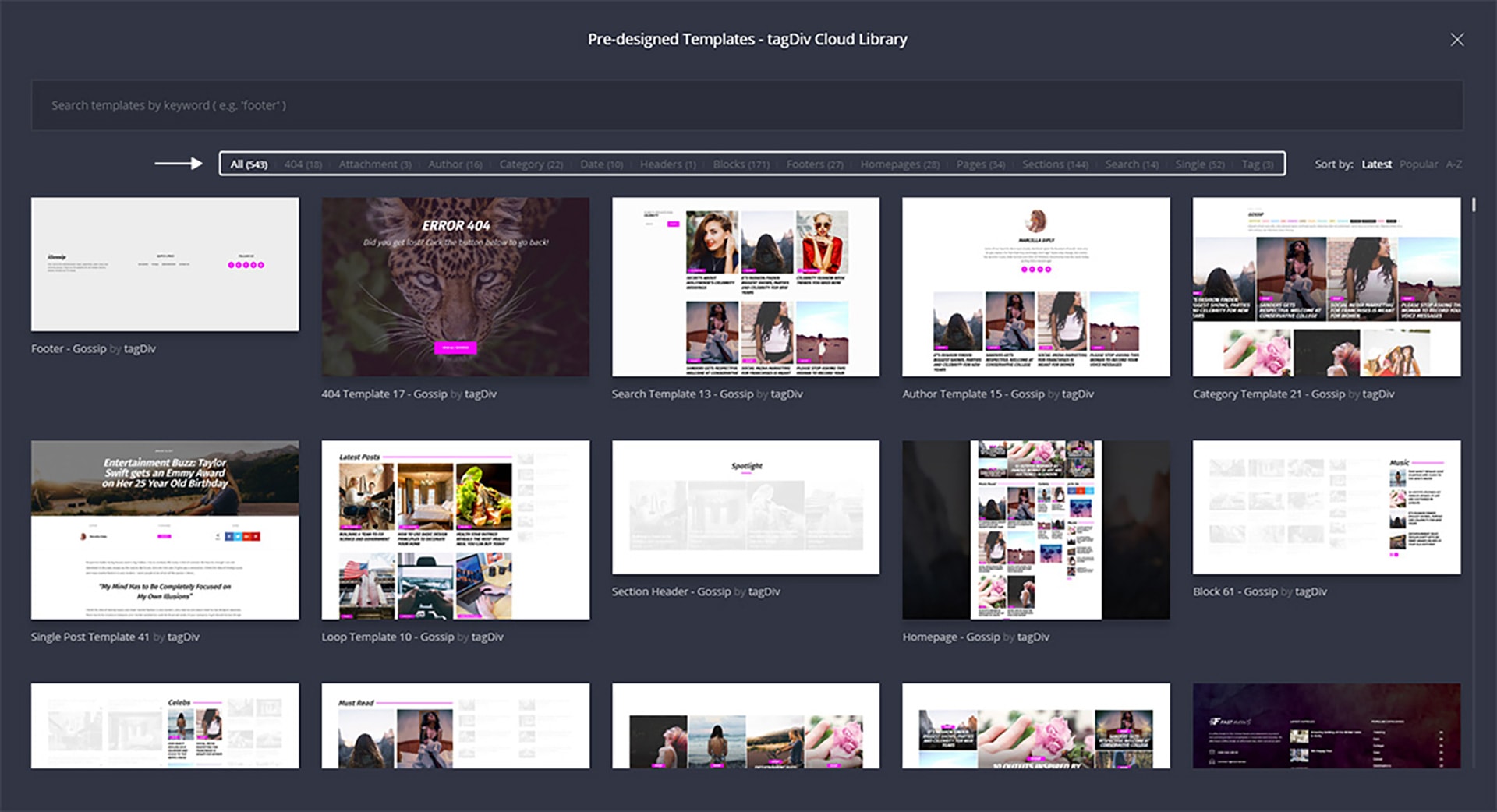 Newspaper comes with plenty of other design features as well. (You can see why this theme is great for novice or beginner WordPress site owners and why more advanced users also love it.)
The header builder allows you to import and create custom logos, menus and a header architecture right on the front end. (Not many other WordPress themes even come close to a tool like this!)
The theme package also includes plenty of industry-specific demo designs to jumpstart projects. These demos include full website designs. Just import a design based on the subject you need – from cryptocurrency to music to travel to sports to technology to animals and more – and start customizing it. (This is another huge time-saver and tons of customization options allow you to turn the demo site into something that looks 100 percent custom.)
Modern Theme and Features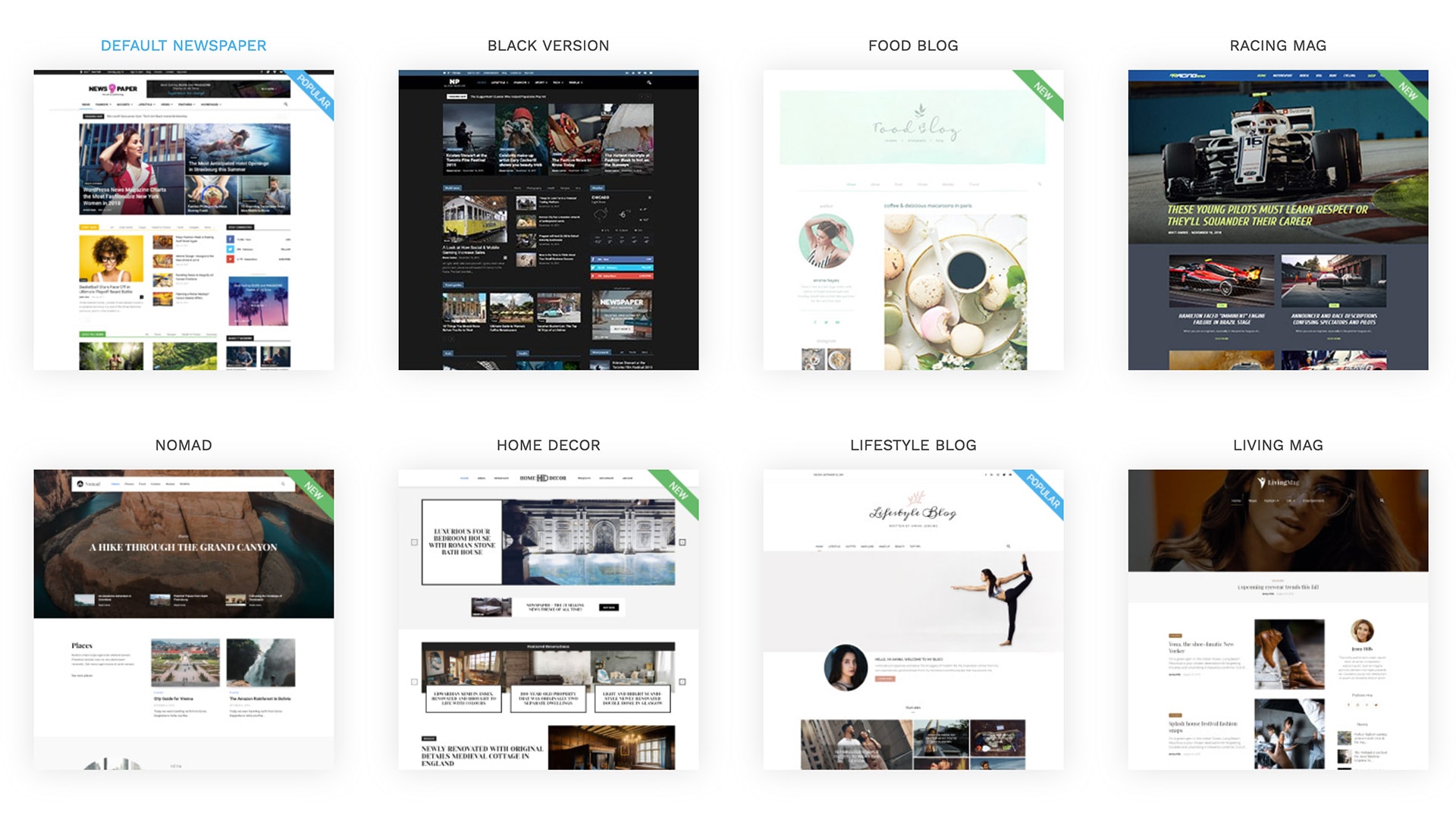 So, what else can you find with this theme?
Newspaper has a clean and modern design that you can truly make your own. The nice part about a theme like this is you can let the content dictate the design. Choose from light or dark options, high or low visual designs, options with big features or more smaller blocks to highlight content. With so many demo choices, you can see the possibilities.
Infinite loading for single posts can help increase the time users spend on your website
It comes with mobile optimization that automatically adjusts pages and content for small screens
Cool social media counter widget to help users share and follow
Responsive and retina-ready layouts
Flexible to the core so you can make any design or template your own
Design using drag and drop, with live customization for pages and posts
Powered by tagDiv Composer – a custom page builder for the frontend
tagDiv Cloud Library plugin with pre-built design templates for posts and pages
Premium widgets for weather, exchange and newsletter
Built-in translation panel that supports 90+ languages
Integrates with popular tools such as Instagram, bbPress Forum, BuddyPress and WooCommerce
Edit the header section right on the front-end
No coding skills required
GDPR compliant
Uses the best, clean SEO practices so more users can find your website in search
Ability to monetize the design with support for responsive Google Ads, AdSense and banner ads
WPML plugin compatible
WordPress  5.0 and Gutenberg optimized
AMP ready
Pricing
Newspaper is a premium theme. (This is truly the way to buy.)
The theme is $59 for a single license (one website), and includes quality checks by Envato, future free updates and 6 months of support.
It's also Gutenberg optimized, so you know it will work with the latest version of WordPress.
Conclusion
You don't just have to take our word for it, Newspaper has been used by plenty of designers and developers including those at Uber, ShareAmerica, Bitcoin.com and Rackspace. This is a high-quality WordPress theme that will help you design a great site quickly and affordably.
It works for both new designers and those with plenty of skills (but not much time). If you are looking to create a website design that's rich in content, Newspaper is a great place to start. Download and install the theme, customize and you'll have a site up and running in no time!
Like what you're reading? Subscribe to our top stories.