Onboarding Email Newsletters: Best Practices and Examples
The onboarding email newsletter is a part of a welcome email series that plays a crucial role in creating a comfortable environment for the subscribers. Not every company needs them, but if you are planning to sell goods, offer services, or make a multifunctional website with helpful information, then chances are you will need one or two for creating a good user experience as well as running a successful email marketing strategy.
Onboarding is designed to help subscribers to get the most out of product, service, or community. It is here where you can show hidden potential as well as direct users to essential pages on the web. Onboarding is a must for every web application, with no exceptions.
Although it should be a thorough instruction, it should not be extensive and boring. Following apps' solutions, onboarding email newsletters tend to be quite concise, minimal, and most importantly creative, playful, and friendly. They dish up information in bite-sized portions enriched with decorative elements such as graphics, illustrations, gifs, or images. As a result, they are easy to digest and enjoyable to read. Let us consider some best practices of onboarding email newsletters provided by respectful brands to get some helpful hints, tips, and inspiration.
Unlike subject lines for BFCM campaigns, seasonal emails, or holidays like Christmas or Halloween, the onboarding email newsletter is quite limited in choice. Possible subject lines for these informative transactional emails can include:
Let's Get Started!
Welcome on Board! All you need to know is here
A Helpful Guide only for you
Ever wondered how Company can help you? Find out here
Don't Feel Ready to Use Product? Read this
Introducing Our Newest/The Most Popular/ The Best Product
Now that you have gone PRO
Here's how to get started
Create stuff with Product right now
Real tips to master Product
Wait, what's inside?
How to use the platform in Product
How to get the most out of Product
Time for your First Ever…
Have you ever Heard of Product
You now have access to the Product! What's next
Getting the most out of Product
Supercharge your workflow with these tips/tricks
4 ways to get started
Customize your account. See how
Why wait? Get started today
Hi, I'm here to help
There is more to unlock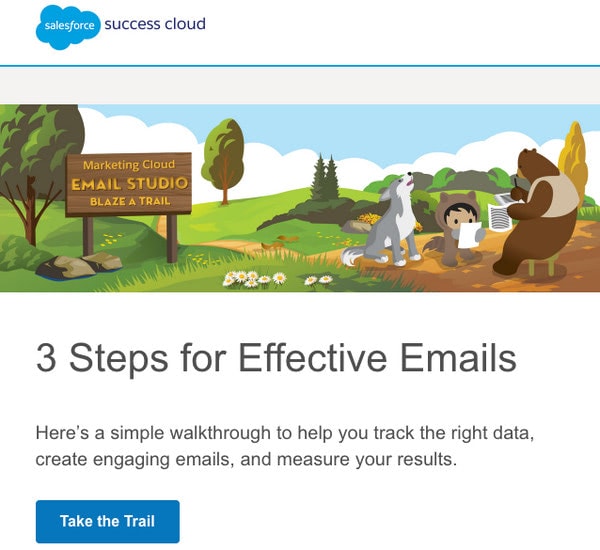 Onboarding from SalesForce
Since an onboarding email newsletter is a special kind of welcome email, you can adopt headlines from there as well. For instance:
No-Code Email Template Builder
With Postcards you can create and edit email templates online without any coding skills! Includes more than 100 components to help you create custom emails templates faster than ever before.
Try Free
Other Products
Welcome! Let's get started!
Welcome to your Company's Community!
Welcome to Company! Important next steps
Although it seems that emojis and fun will not work with onboarding, that's not always true. It depends on your company and the goal of email marketing. Therefore, in some cases, these charming animated icons may bring benefits by skillfully tugging at users' heartstrings.
As a rule, onboarding email newsletters include content that is divided into digestible chunks. But what content should you include? You cannot cover everything since you will end up with a "TL; DR" piece, and nobody wants that. First, decide the goal of an onboarding email. After that, start to build the content and design.
Good ideas for onboarding to get you started:
Show step-by-step instructions on how to master the service/product/website.
List helpful links to vital sections of the website. Add a direct link to chats with the support team.
Display advantages of the product/service, supporting each with short instructions.
Familiarize newcomers with website essentials — Kindle users' interest with some saucy details.
Explain how the product works in simple language.
Share helpful tips and tricks on how to get the most out of the platform or service. Here you can even spill the beans and reveal some secret tools, especially for those who go pro.
List the reasons why your product is better than others.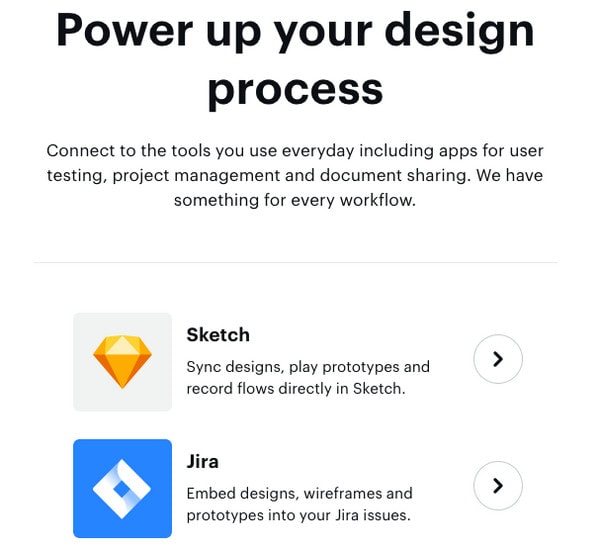 Onboarding from Marvel
Much like with welcome emails, onboarding can be broken into several parts. If you feel like you have a lot to say, create a series. Start preparing ground in the first welcome newsletter and then send out several more to make interaction with your product or website clear and transparent as much as possible.
Since this is a transactional email that is generated automatically, you should exercise caution when creating a series. Sometimes all your contacts need is the first email. Use various conditions to send out relevant and helpful newsletters instead of bombarding them with irrelevant material.
Last but not least, peek inside our helpful guides to improve your onboarding email newsletter from various aspects.
When it comes to designing an onboarding email newsletter, it takes balance. Your task is to create harmony between the serious part of the venture (your email should bring actual value) and entertaining (transform boring instruction into an enjoyable and friendly piece). Depending on your target audience, the design and content may vary. Sometimes a simple plain text newsletter filled with instructions is all you need. However, in a majority of cases, you need something more alluring and vibrant.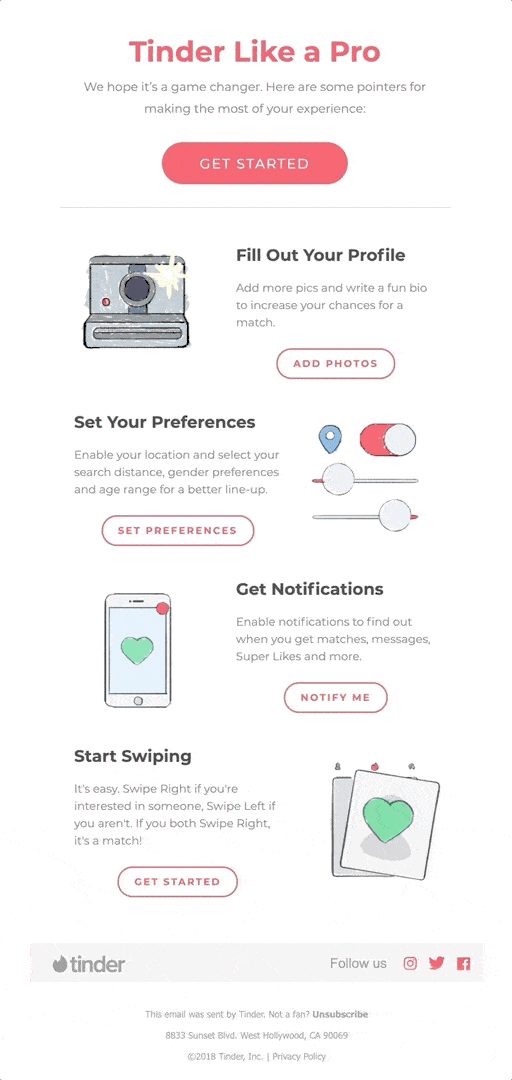 Onboarding from Tinder
To build a good onboarding email newsletter without coding and design skills, use Postcards. It is a time-proven HTML email template generator with more than 100 components. Creating an onboarding email in it is a mere child's play. Use the intuitive drag-and-drop interface to lay a structure and populate it with not just text but also image backgrounds, gifs, and even interactive hotspots within minutes. 1-2-3, done!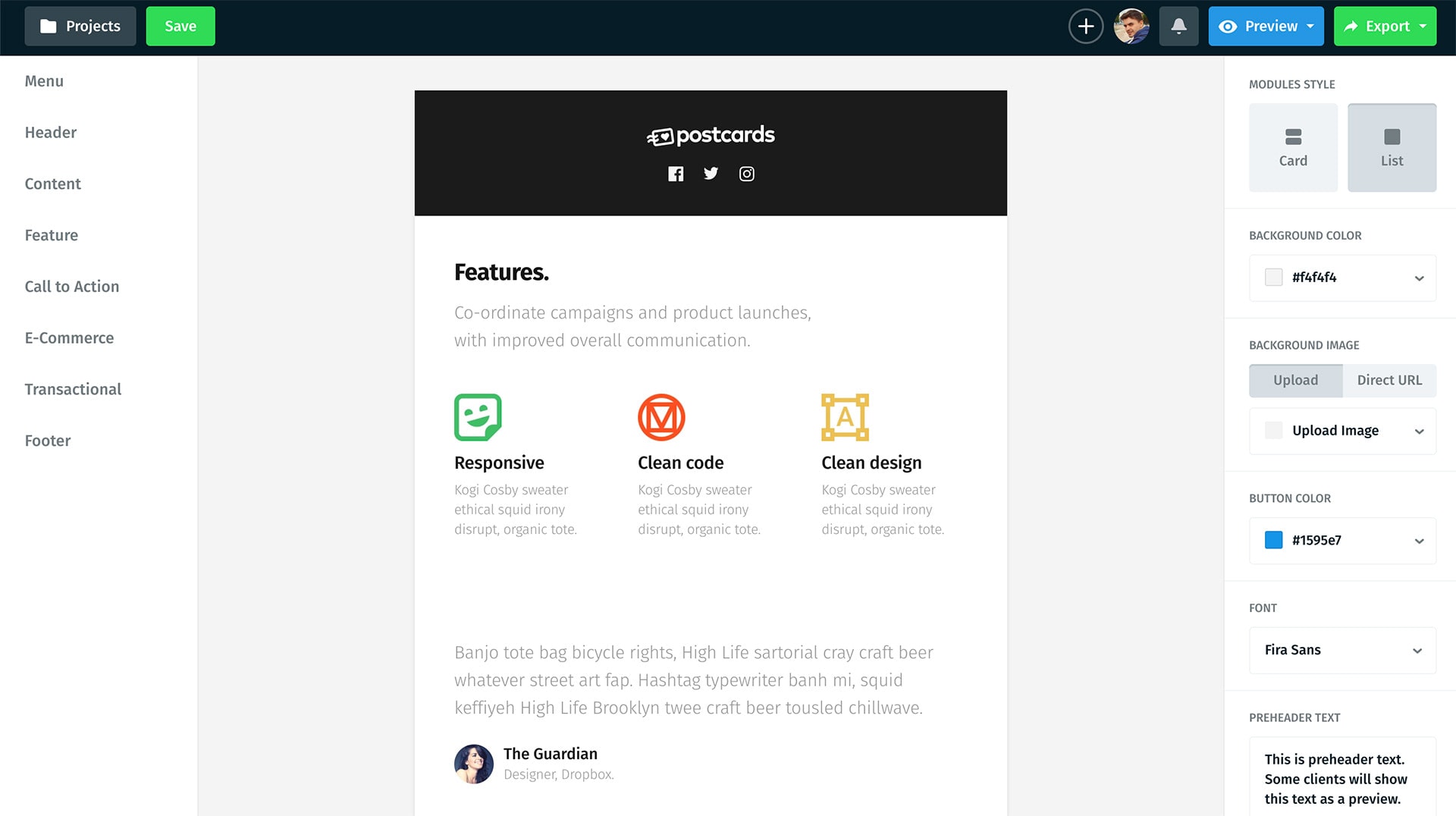 Last minutes tips:
Avoid content-heavy solutions.
Use animated elements with caution.
Choose a one-column structure. Not only is it a number one trend for 2020, but it is also a good practice of showing instructions and guides.
Make it responsive and mobile-friendly.
Add a generous amount of whitespace.
Use visual material.
Welcome to YouTube
The goliath of the video streaming industry, YouTube, is the first example in our collection. If in doubt where to get some inspiration for your onboarding email newsletter, refer to big names since their marketing email teams know what they are doing.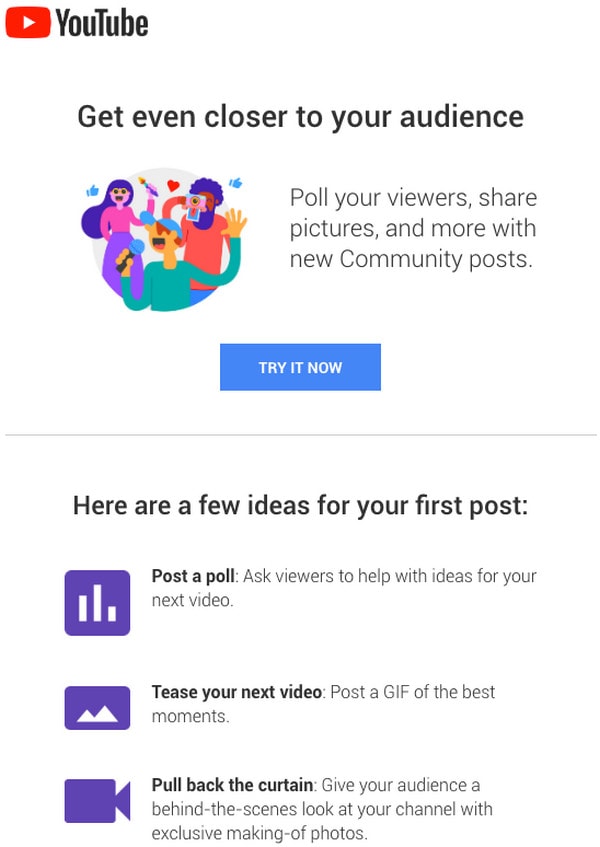 What takeaways can you grab from YouTube's welcome/onboarding email?
You can easily combine two newsletters. Here you can see both the welcome message and short instructions that provide helpful tips on where to start.
The design is vibrant yet spacious. Note, the team uses illustrations, bright CTAs, icons, and a ton of whitespace. It certainly meets the brand identity and speaks a friendly language.
The email includes only important stuff. It is concise and to the point. There are just several text blocks that are smartly formatted and a helpful link to learn more.
The onboarding email newsletter is welcoming, informative, unobtrusive, and visually appealing.
Onboarding from Glitch
The team behind Glitch sends two onboarding emails in a series. Each has a bright appearance and irresistible charisma that echo with the website's design and brand identity. Although it is a bit content-heavy, to be more precise visually heavy, nevertheless, it is in sync with the other transactional emails. As a result, contacts get consistent experience through all mediums.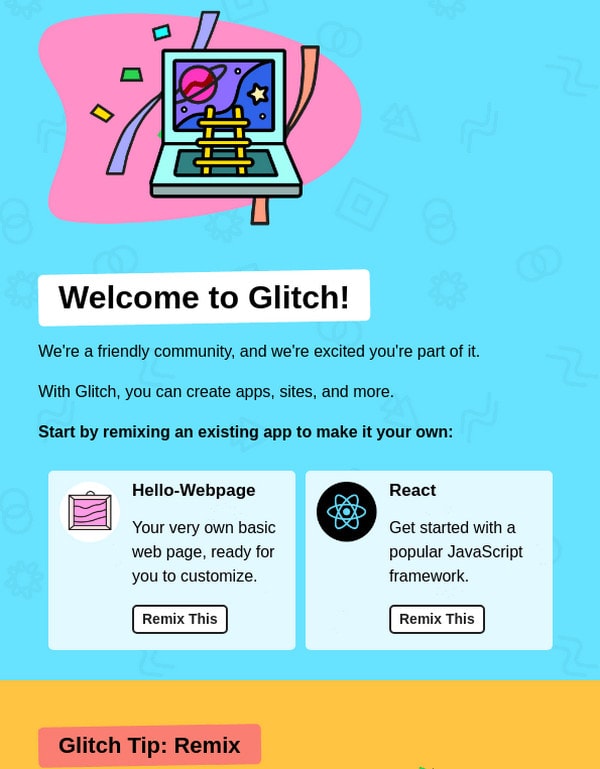 The key factor of this onboarding email is that despite including too much information, the team managed to play it well. Using an illustrative approach, they transformed an informative piece into artwork resulting in an engaging and enjoyable narration. The only drawback is that in such vibrant chaos, it is a bit hard to delineate CTAs instantly.
Onboarding from Outdoorsy
For those who cannot decide whether to create a plain text email or rich-media HTML version, take a gander at Outdoorsy. Although this is not a classic plain newsletter since it has some graphics inside, however, it is still a great take on this old-school approach.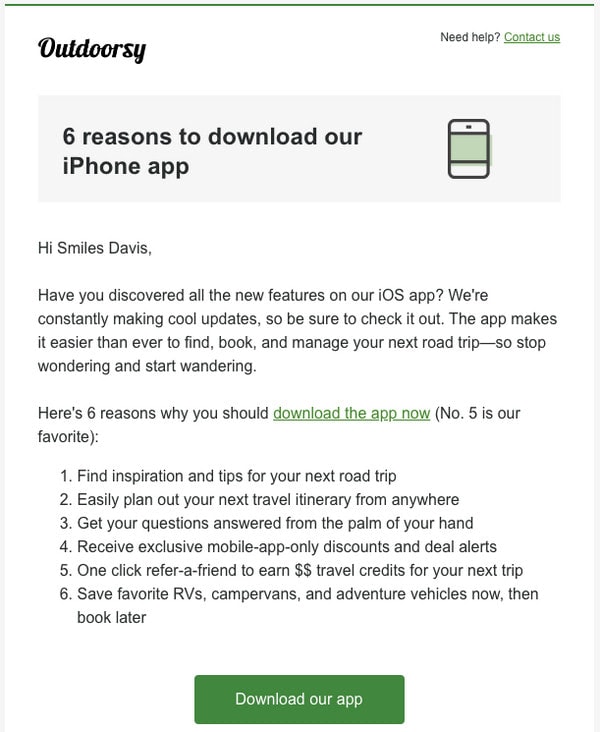 The key feature of the onboarding sent by Outdoorsy lies in its lightweight, excellent optimization, and mobile-friendliness. What's more, since Outdoorsy positions themselves as a serious company, such kind of email is only logical. The audience is ready for an emotionless dialogue. Therefore, this image-free newsletter bolsters brand identity.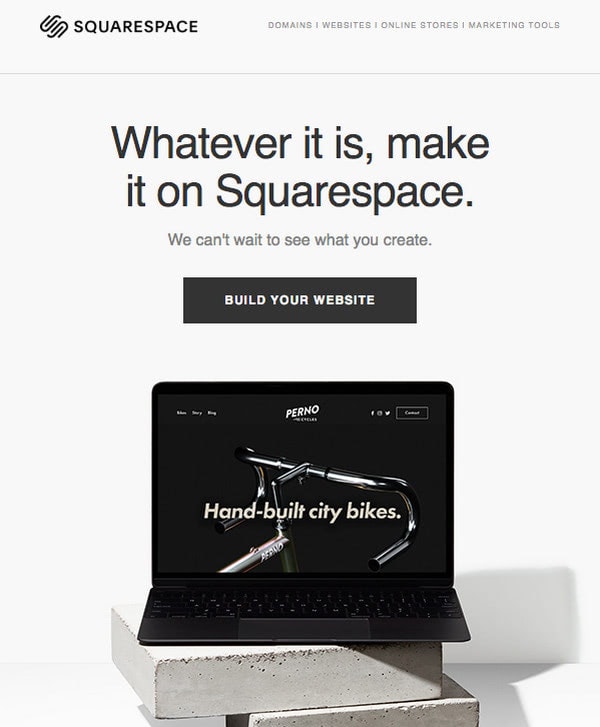 "Getting started with Squarespace" email focuses on praising the platform and touting the product. All you can find here is the benefits of choosing a website over others. They are displayed in a sequential manner. Each point has text and visual support, as well as links incorporated into the content. It looks like a booklet that you can quickly scan for details.
Onboarding from MindNode
Much like onboarding from Glitch, this one also has a series. Three emails follow each other. Each employs beautiful illustrations and bright coloring to convey the proper mood, thereby securing strong relationships with the contacts. You will find only several necessary steps of using the platform inside each email. In this way, the team gradually educates readers without being overwhelming.

Note several things. First, the manner of displaying information. The reading flow follows a zigzag pattern that makes scanning enjoyable. Secondly, again, a bunch of whitespaces balances the impact produced by the pictures and text. Finally, each guide ends with CTA that leads to another helpful piece. As a result, the email is unobtrusive and informative.
Onboarding from Good Eggs
Onboarding from Good Eggs stands in stark contrast to the above examples with a refreshing way to show information. What's more, this one promotes goods showing us that even regular e-store with such products, like fresh groceries, should have an onboarding process to help the potential customers to feel comfortable.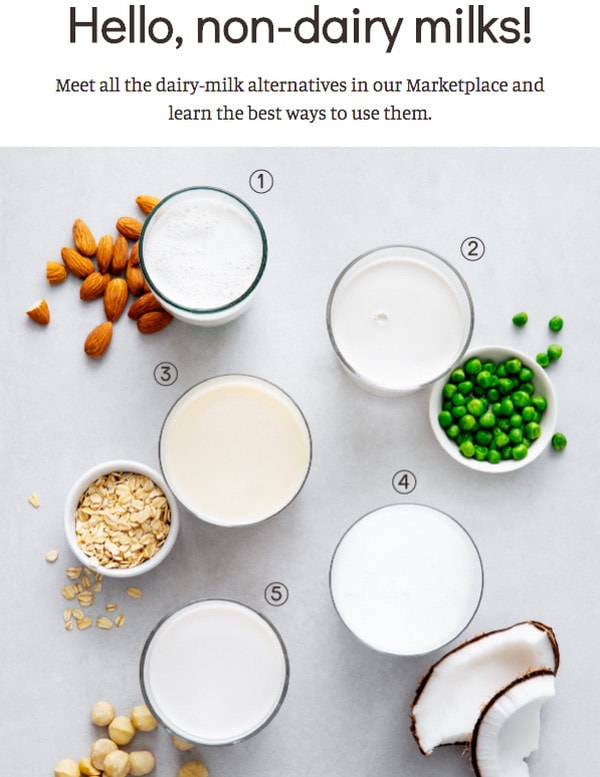 The marketing team has included information about all the popular choices by listing and highlighting them on the header. This way, they win over clients with "delicious" imagery from the get-go. There are only two CTAs that lead to additional information. Overall, the email newsletter is simple, straightforward, helpful, and appealing.
Welcome to Spotify
Spotify's onboarding email praises its premium plan. It embraces minimalism, making the newsletter look outstanding. It is informative, straight to the point, artistic, and even dynamic.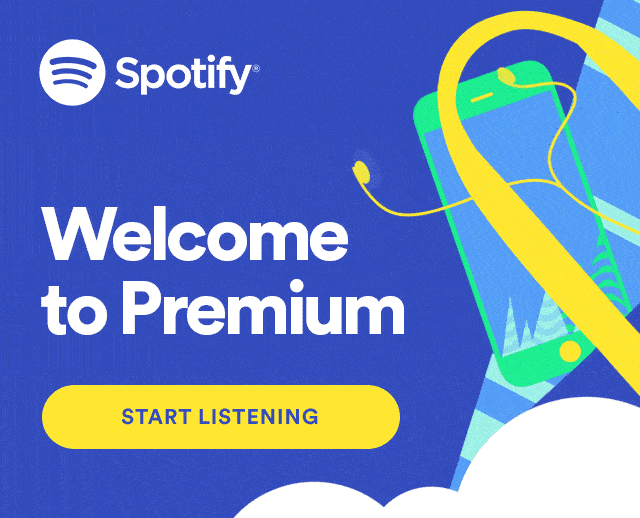 None of the above examples use animated gifs. They focus on showing information pleasantly and artistically, whereas this one greets contacts with a small yet eye-catching animated gif getting additional points for going the extra mile.
As for the layout, it is pretty conventional and, as a consequence, enjoyable and unobtrusive. Content is what matters here. It skillfully uncovers advantages to show the platform in the best light. This email newsletter not only educates newcomers but also sells it once again to the customers.
Onboarding from Flock
The marketing team behind Flock has acted pretty smart with onboarding. It is dedicated to praising PRO features. Right in the middle of the design, you will see a massive list of the benefits that are neatly displayed. However, unlike Spotify, the goal of this eblast is to foist the service and prime new subscribers to prolong their stay. How they do this? Simply, by using design.

The email starts with the keyword "15-day trial" and ends with a kind of a meter that indicates how many days are left until the plan is over, thereby playing on urgency and FOMO cards. In addition, this onboarding email is just a part of the marketing strategy. During a 15-day trial, contacts will get other types of emails that will remind them how to get the most out of the premium plan. It also includes an unobtrusive reminder about the time-sensitive offer. Brilliant.
Conclusion
As a part of a welcome series, onboarding email newsletters are essential. They are responsible for making interaction with the product or website comfortable, intuitive, and friendly. Using simple language, rich visual material, and short instructions, email marketing teams convert guides into artworks that not just clear things up and educate newcomers but also are pleasant to experience. Several things to note:
The design should be welcoming and filled with graphics so that it does not look boring or dry.
Instructions are short and straight to the point.
There are a limited number of links and CTAs inside.
Onboarding emails are often combined with welcome emails.
If it is too much to say, then avoid long newsletters and simply break onboarding into several parts.
Like what you're reading? Subscribe to our top stories.