10 Best Examples of Inexpensive Prebuilt Websites for Small Businesses
Your website is going to be one of the most critical assets for your business. While you can't build one for free (that is, without having someone else's branding all over it), you also don't need to saddle yourself with an annual or monthly subscription fee in order to design it.
BeTheme offers the perfect cost-saving solution.
For starters, BeTheme has a one-time licensing fee of $60 USD.
In addition, BeTheme drastically cuts the time it takes to design a high-quality website.
From prebuilt websites (all 650+ come for free with the theme) to pre-made components, plus a super intuitive and lightning-fast page builder, BeTheme is the fastest way to get a small business website online.
Today, we're going to look at 10 examples of inexpensive prebuilt websites for small businesses that you can get with BeTheme. No need for extra page builder plugins or expensive WordPress themes. Everything you need (and more) is built right in.
No-Code Email Template Builder
With Postcards you can create and edit email templates online without any coding skills! Includes more than 100 components to help you create custom emails templates faster than ever before.
Try Free
Other Products
10 examples of inexpensive websites for small businesses
Whether you have a small online business or one with a local presence, there's a pre-made website for everyone. Here are 10 of the best inexpensive websites for small businesses like your own:
1. BeBiker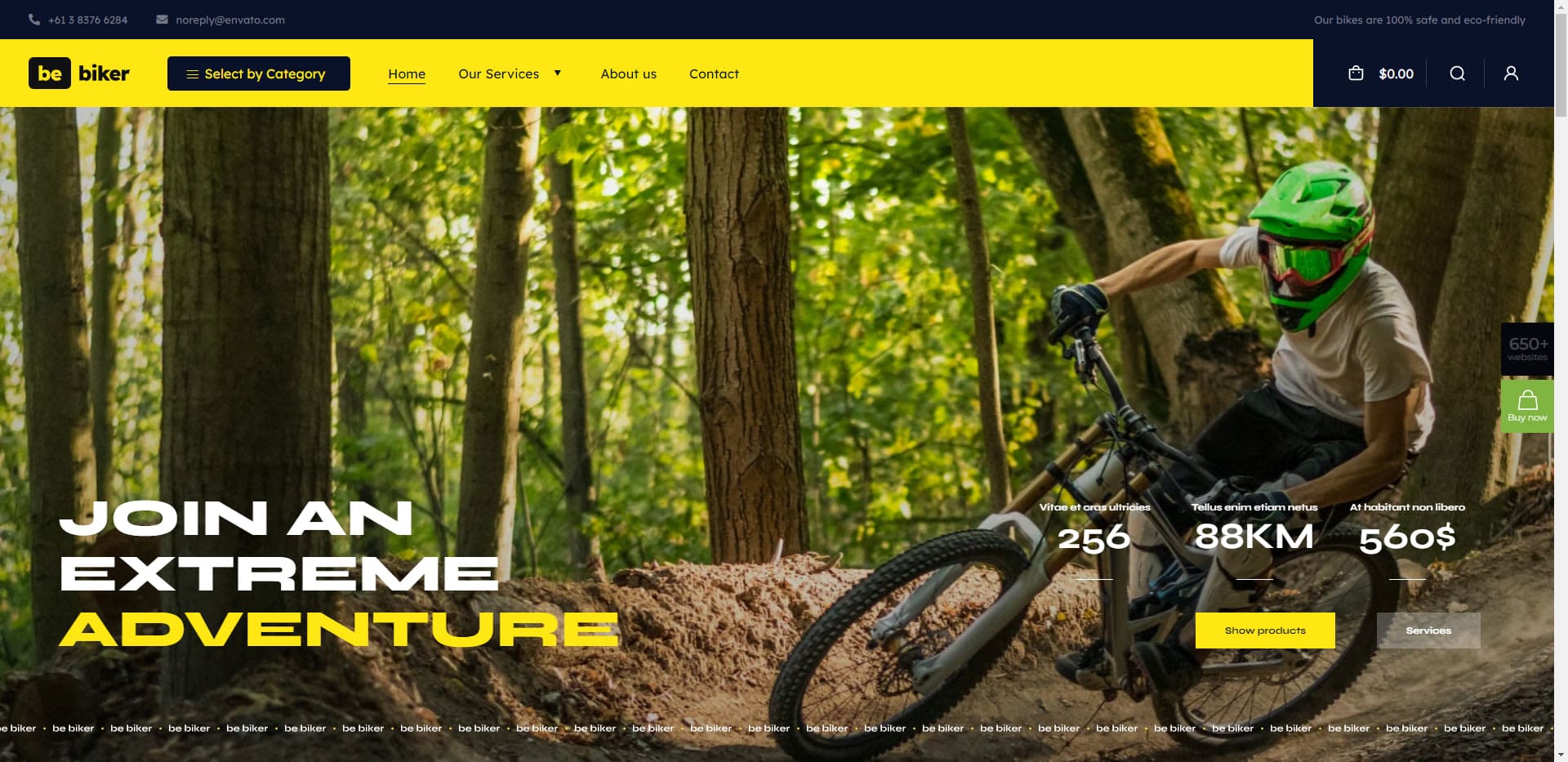 BeBiker is a versatile pre-built website. With its action-packed design, it would be great for a small online retailer that sells bikes, skateboards, or surfing gear, for instance. It could also be repurposed for local vendors that sell or rent out sporting equipment, like kayaks, electric scooters, and so on.
2. BeCarRental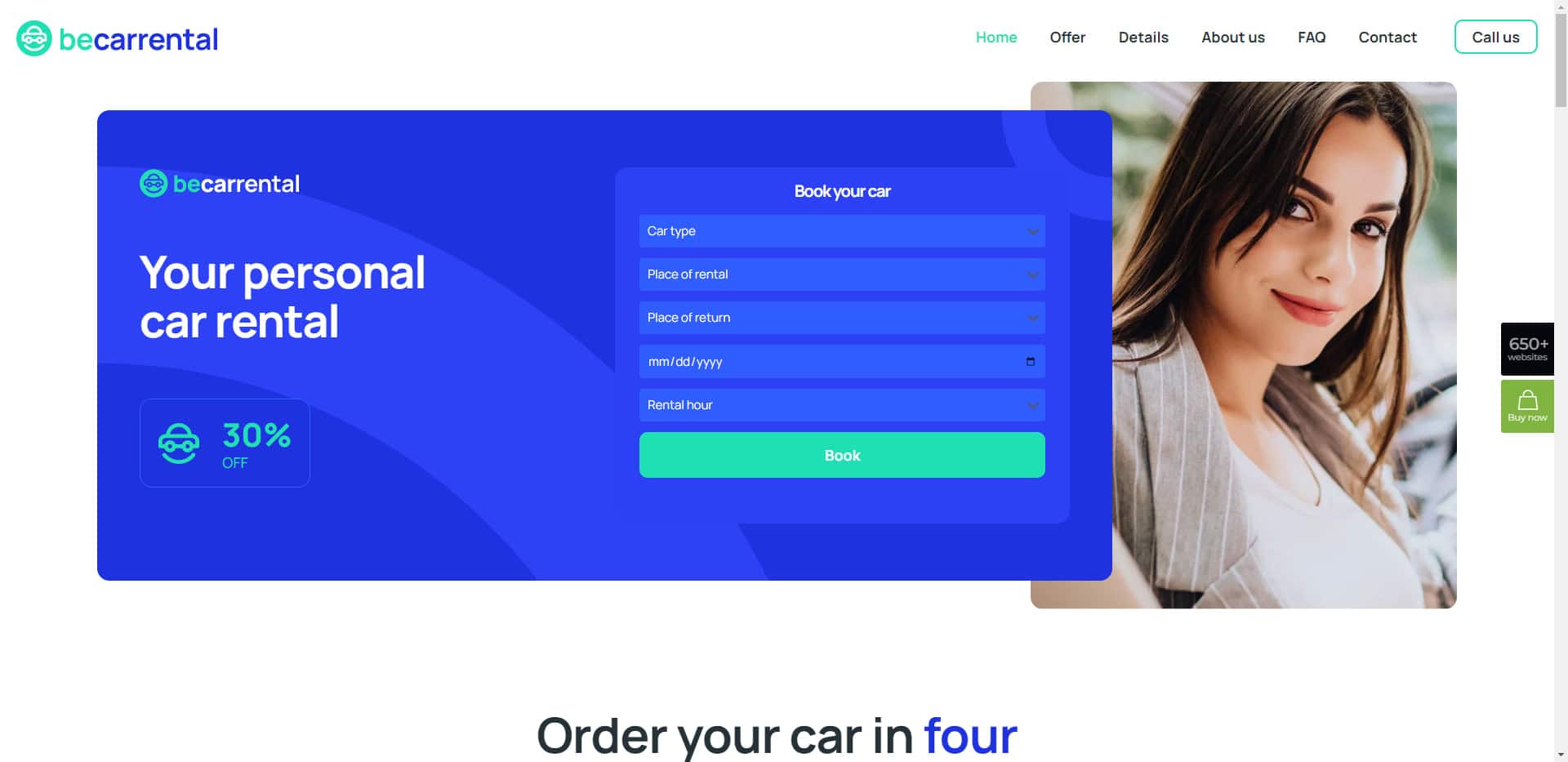 What's nice about a site like BeCarRental is it can be repurposed for all kinds of small and niche rental companies. This particular booking site is for car rental agencies. However, you could also use it, for example, if you rent out vacation properties or spaces for local events.
3. BeAccountant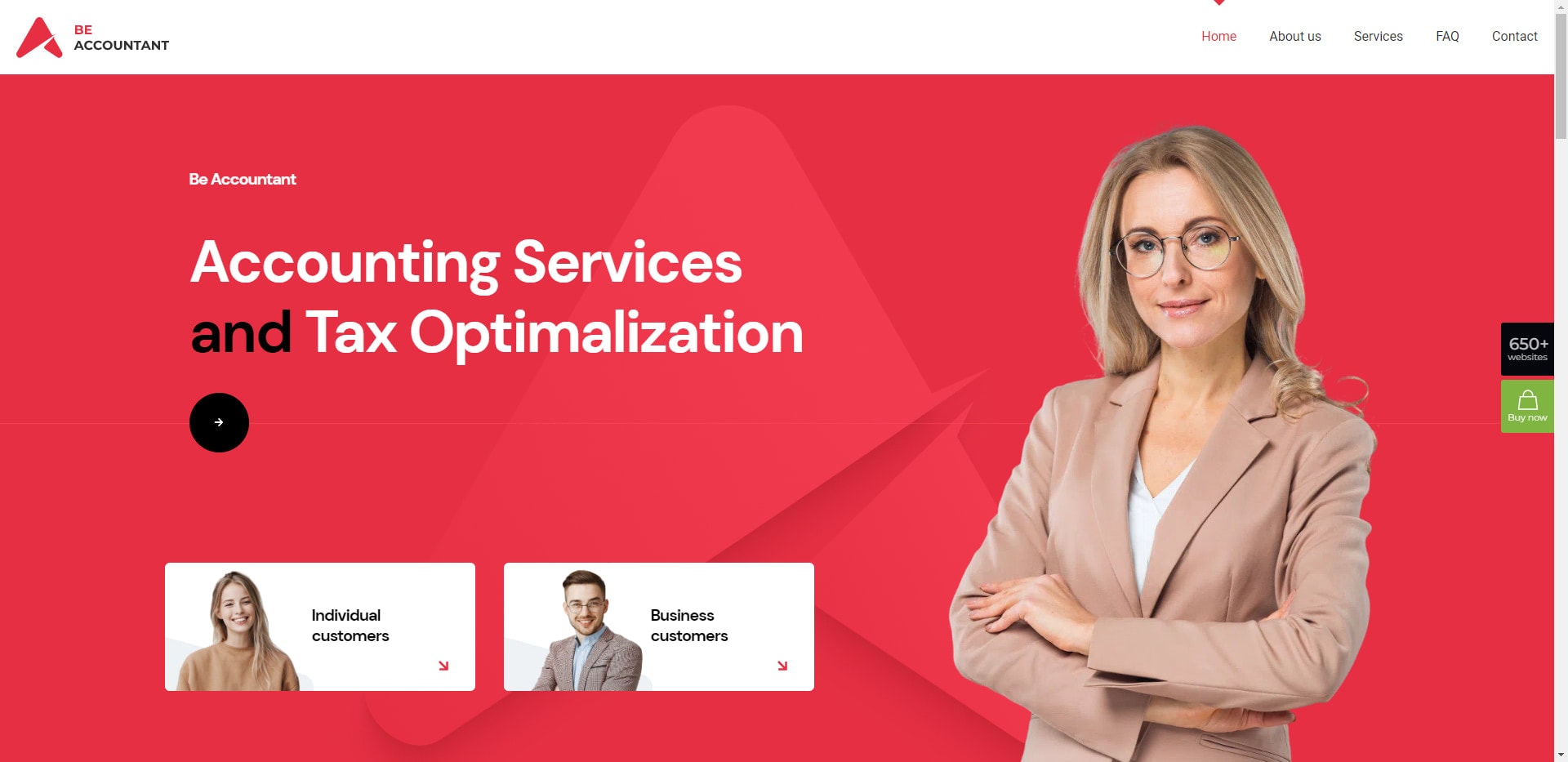 The BeAccountant site is perfect for anyone running a small financial services company — accountants, tax prep services, bookkeepers, crypto advisors, and more. Out of the box, it comes with a buttoned-up, professional design and all the components you need to educate customers on what you do.
4. BeCarWash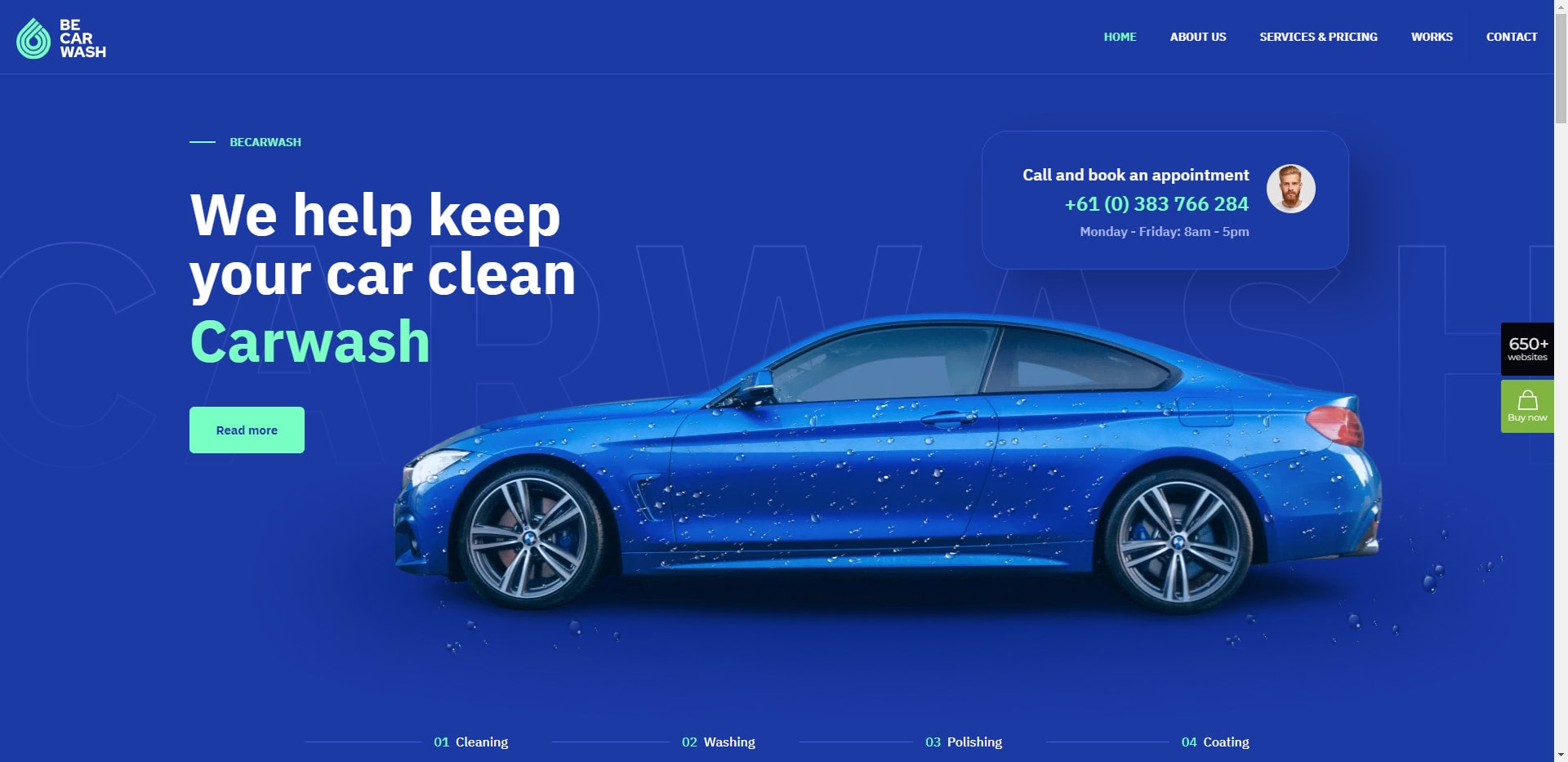 BeCarWash is a neat website loaded with special features, like background animations, before-and-after image comparisons, number counters, and more. You can use this to advertise a local car wash or auto repair shop, or you could use it to promote a different type of service provider altogether.
5. BeRenovate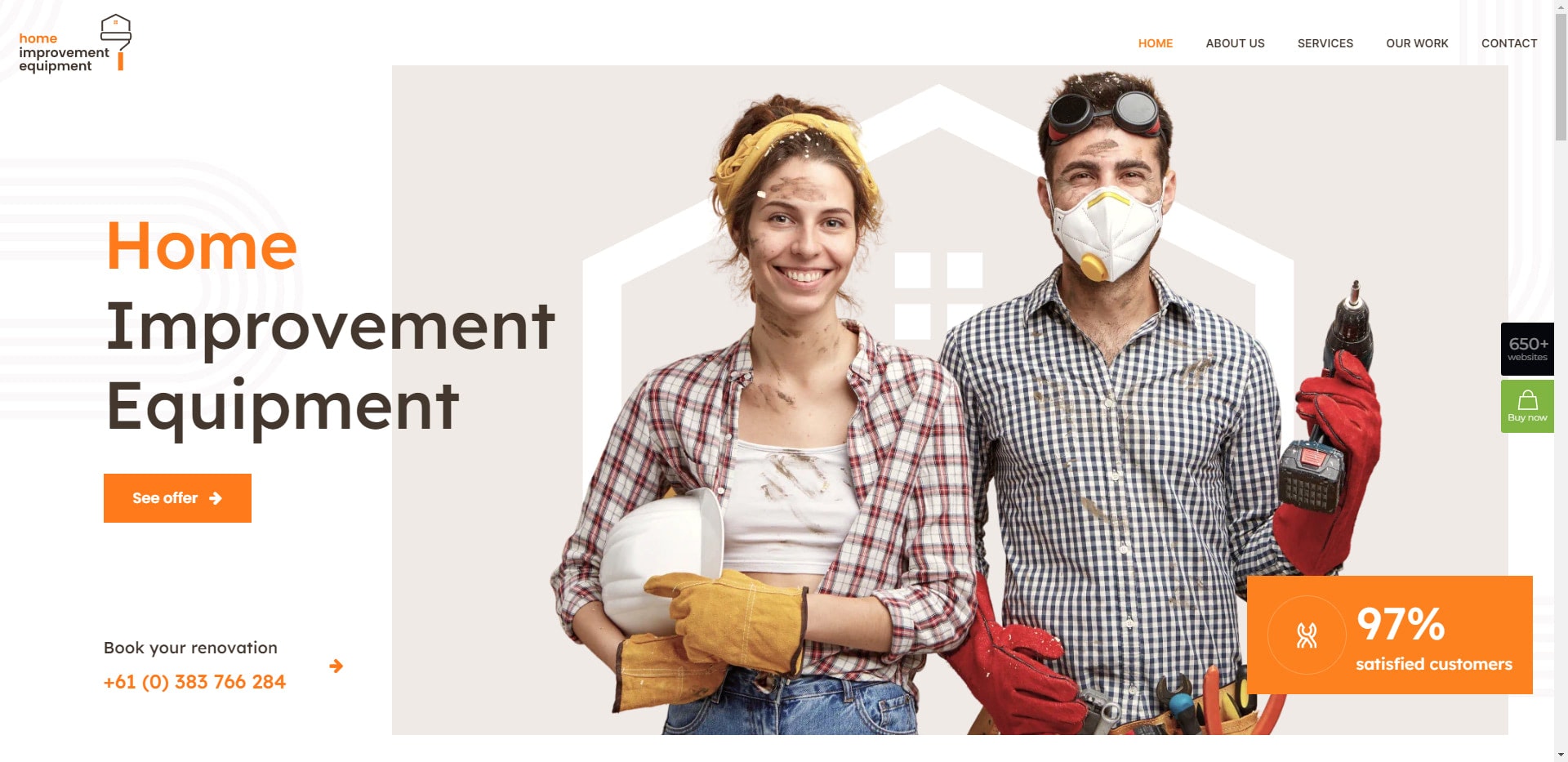 Not everyone has the wherewithal or interest to do their own home improvement projects. However, when it comes time to hire someone to handle a big construction job, electrical work, interior design project, or something else, they want to make sure they hire someone they trust. BeRenovate will allow you to make a good first impression and start building that trust online.
6. BeDentist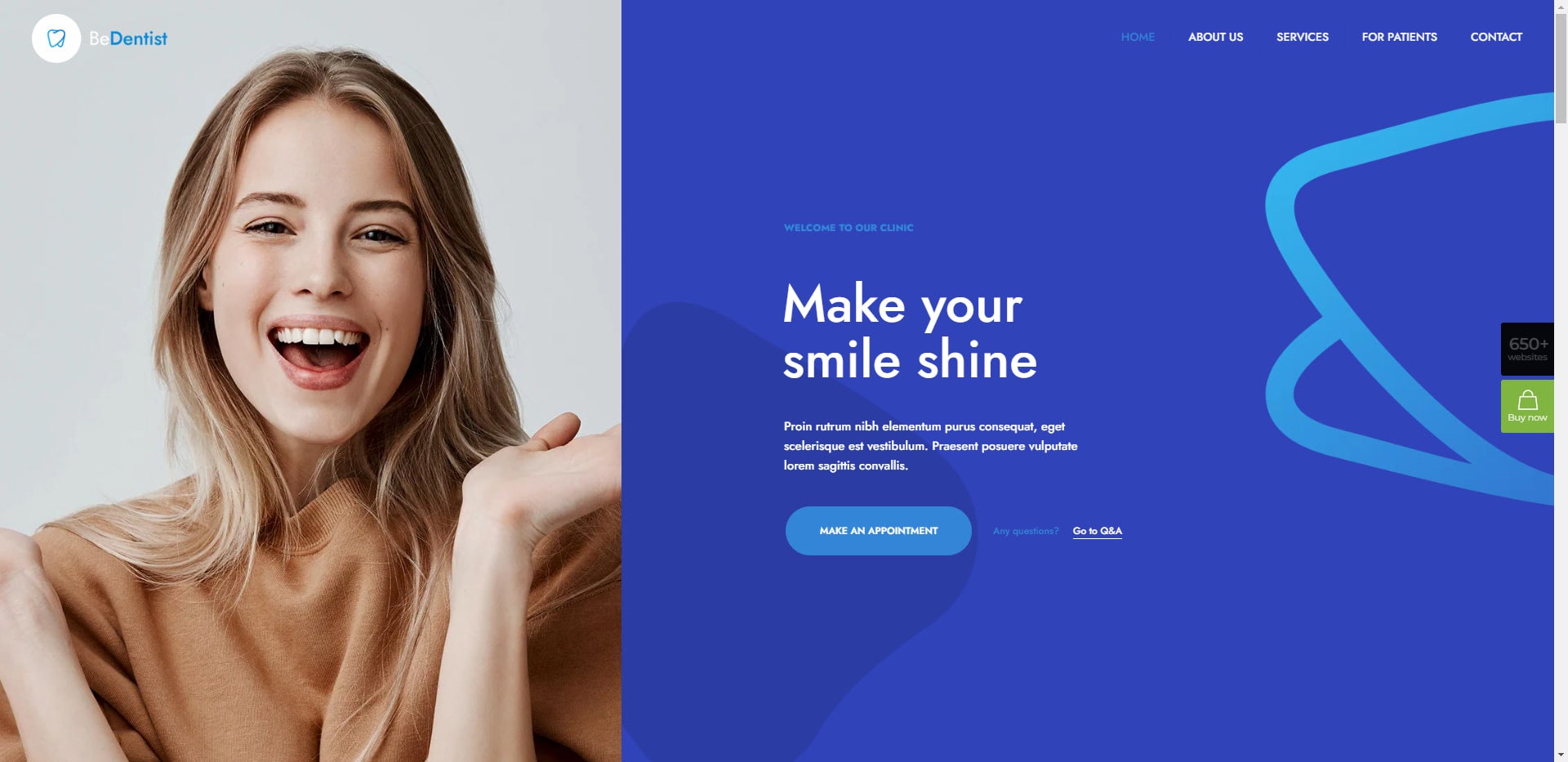 If you're worried about making your small dental practice stand out, don't be. With the BeDentist site, your practice won't look anything like your competitions' sites. With a modern geometric design, before-and-after smile comparison tool, and other impressive features, you'll find it's easier to win over new patients online.
7. BeDoctor
Opening up your own medical practice, specialty clinic, or veterinary office can be daunting. However, when you build your website with BeDoctor, you'll have everything you need to show potential patients what makes your practice the one for them while making it easy for them to book an appointment online.
8. BeFurnitureStore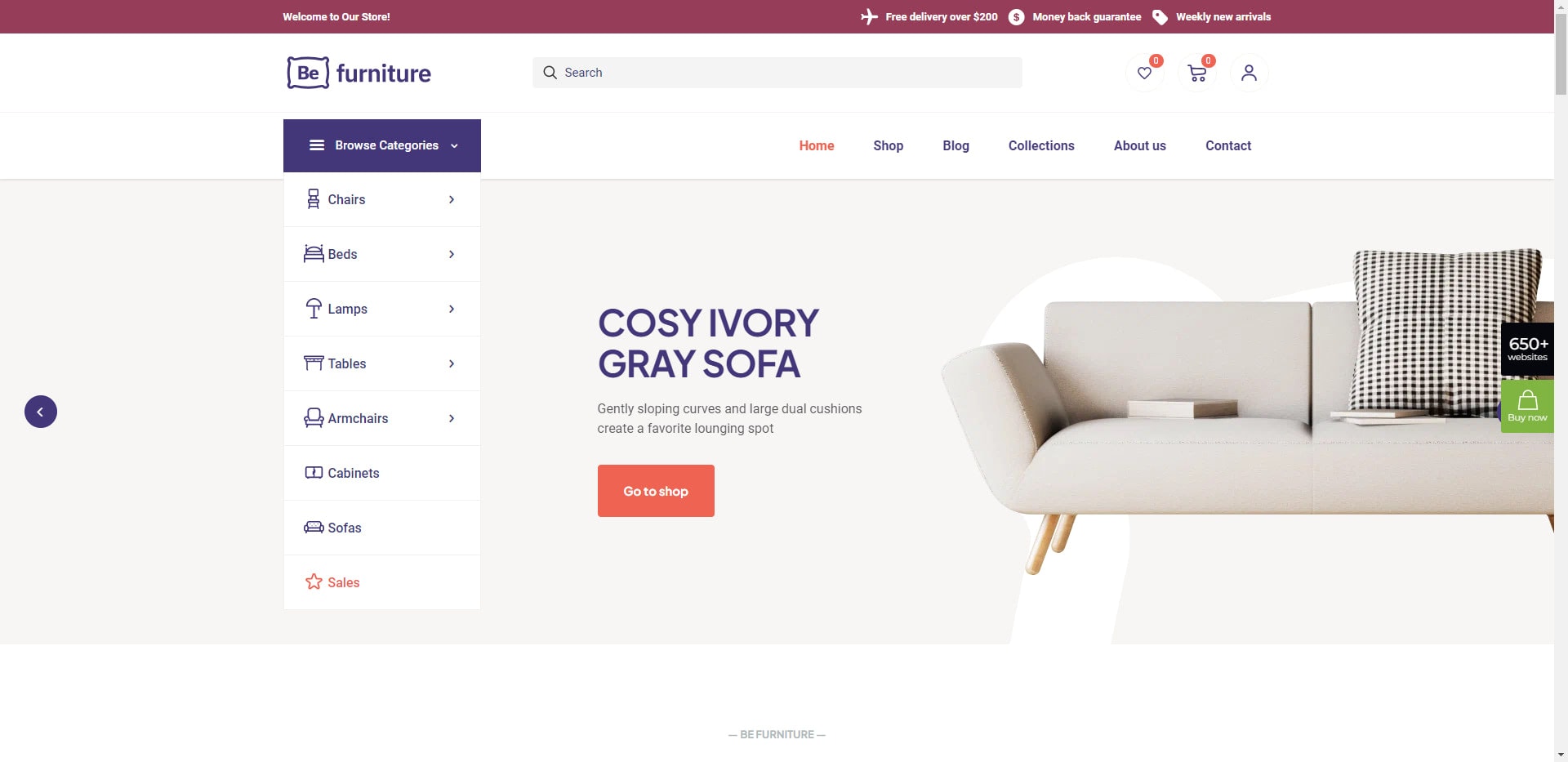 Smaller ecommerce and retail companies need websites that cater to their unique needs. While your product inventory should be top priority no matter what, you also need a site that gives you space to show off things like product collections, blog content, as well as an About page. BeFurnitureStore makes it easy to do this.
9. BeJeweler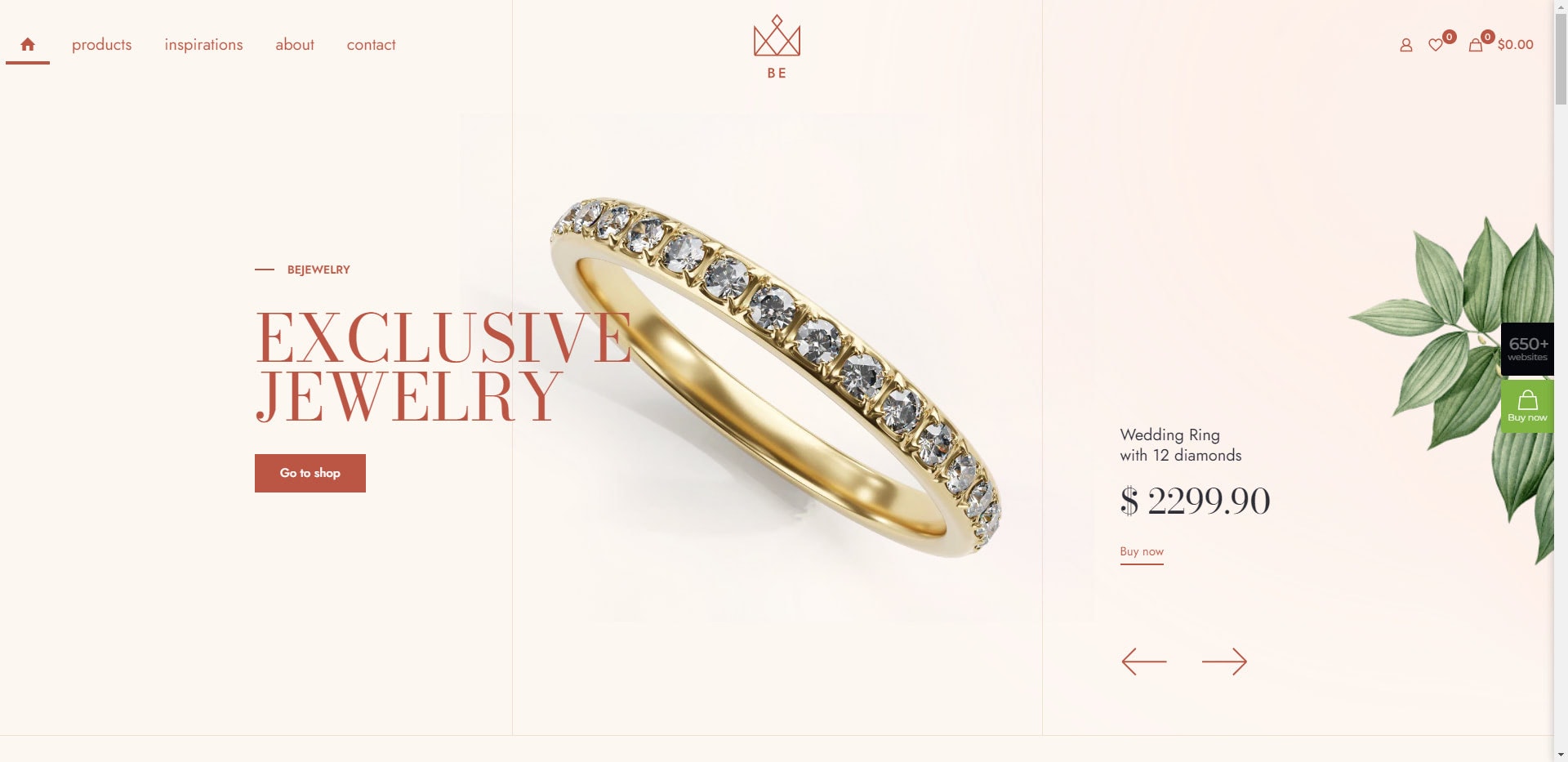 There are a couple of reasons why you might want to use BeJeweler over something like BeFurnitureStore. One reason is if you're building a shop that sells luxury goods. The design is super elegant. Another reason is if you have a high-end local retail store and need a website that's just as impressive and attractive to drive foot traffic to it.
10. BeLanguage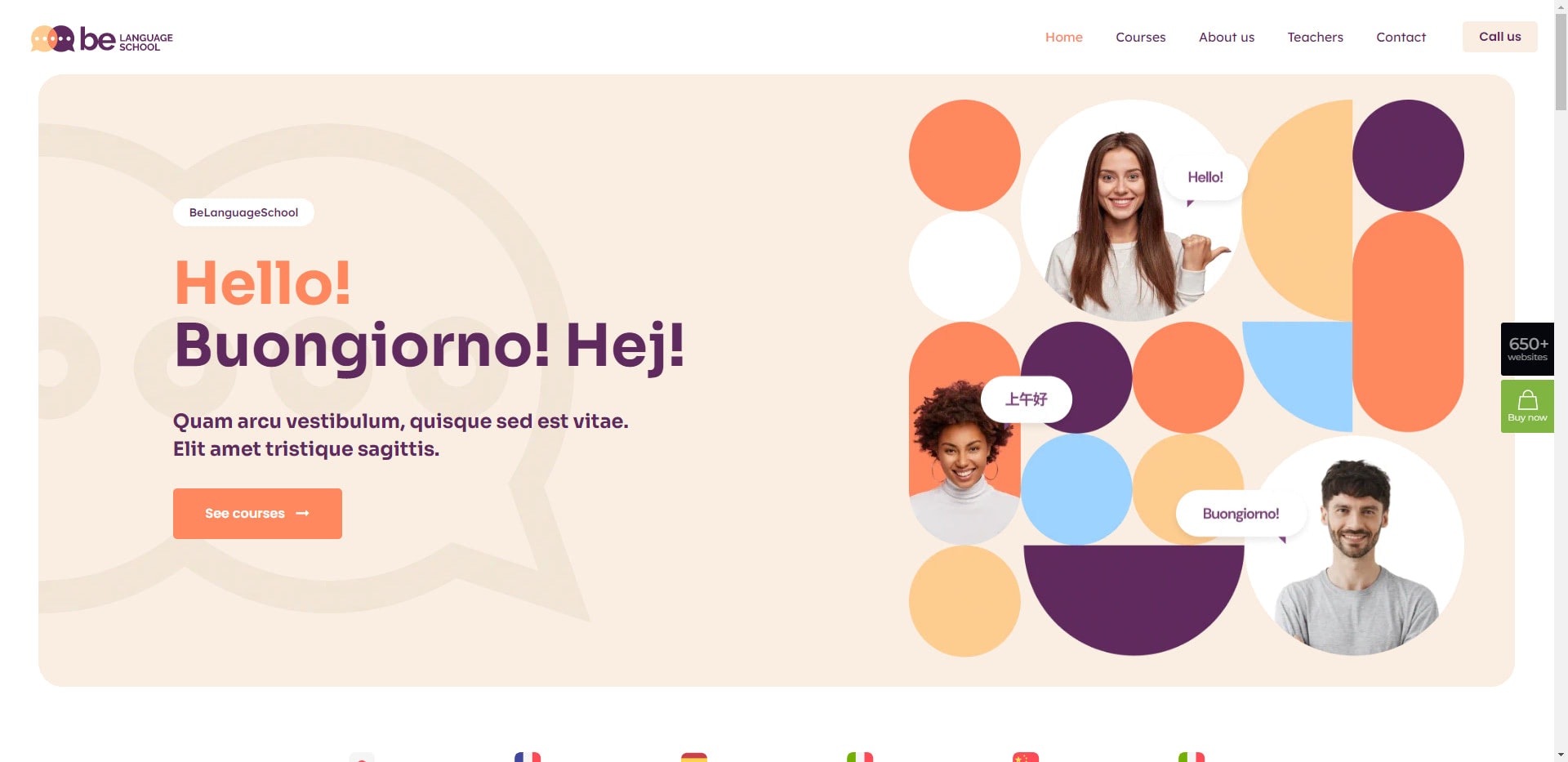 BeLanguage can be used for any type of small education company. It could be used for something like an online tutoring company or a website that sells access to digital courses. Conversely, you could use this site to advertise a preschool, daycare program, language school, and so on.
Save money, time, and headaches with an inexpensive website from BeTheme
Pay the one-time licensing fee and then BeTheme is yours to use for however long you need it. What's more, building a website from-scratch is a breeze with more than 650 pre-built websites to choose from.
The website startup wizard will help you get a fully-loaded website up and running in just a couple minutes: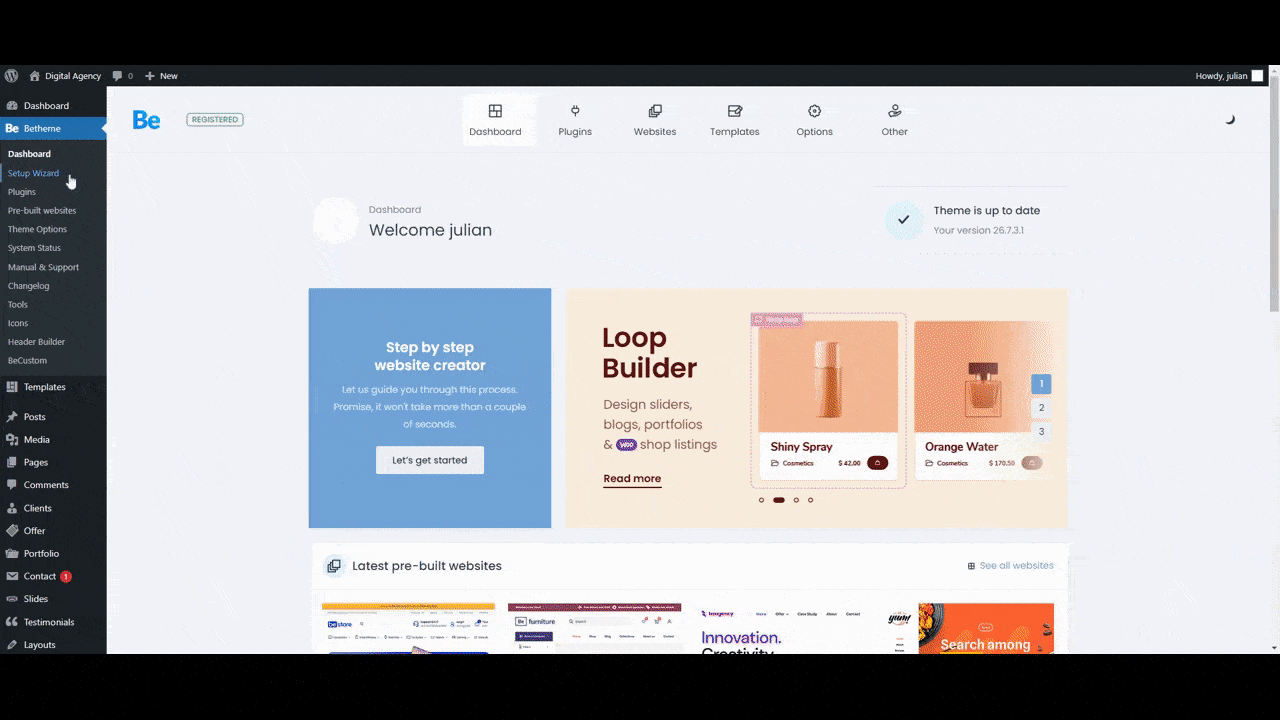 Whether or not you find a prebuilt website that matches your business model perfectly, it's very easy to customize with BeBuilder. Start with a prebuilt website or build it from-scratch using thousands of pre-built components:
600+ theme customizations
3000+ premade pages
100+ predefined sections
80+ page elements
Plus, if you want to set your small business site up for ecommerce, BeTheme integrates seamlessly with WooCommerce. BeBuilder also has pre-built elements you can use to customize your shop pages.
It is possible to build inexpensive websites for small businesses. You just need to have the right tools at your disposal.
See how easy BeBuilder is to use for yourself. No account needed.
Like what you're reading? Subscribe to our top stories.