Win-Back Email Newsletters: Engaging Examples for Marketing
You may have the best product in the world, provide the most memorable user experience, and put your heart and soul into relationships with the customers; but according to statistics, almost 25% of subscribers will leave eventually. It may happen tomorrow, in a month or a year, but the day will come when they will decide to ditch you.
Don't lose heart. When it comes to email marketing, there is always an opportunity for a do-over. If subscribers have not finally unsubscribed, you still have a chance to win them back with a re-engaging Win-Back email.
Win-back emails are a special kind of automated email newsletter that targets lapsed customers. They are used to re-engage contacts and convert into real leads.
According to statistics, it is much more cost-effective to get subscribers back rather than onboard a new one. Besides, those who have already subscribed are more likely and eager to:
Fall for your new products
Share your brand with others
Spend more money than new leads
Make a purchase
They say a penny saved is a penny earned. In email marketing a subscriber saved is a subscriber earned.
Goals of Win-Back Emails
Win-back newsletters pursue several essential goals.
No-Code Email Template Builder
With Postcards you can create and edit email templates online without any coding skills! Includes more than 100 components to help you create custom emails templates faster than ever before.
Try Free
Other Products
They are used to remind subscribers why they were interested in your brand in the first place.
They draw in folks who had grown disinterested them with special discounts.
They help to maintain a healthy subscriber list by getting back those who are still interested in the brand.
They are used to drive traffic and generate conversions.
They nudge clients to finalize deals.
They encourage subscribers to refer your brand to friends and colleagues.
They re-establish good relationships with the subscribers and help to cement this connection.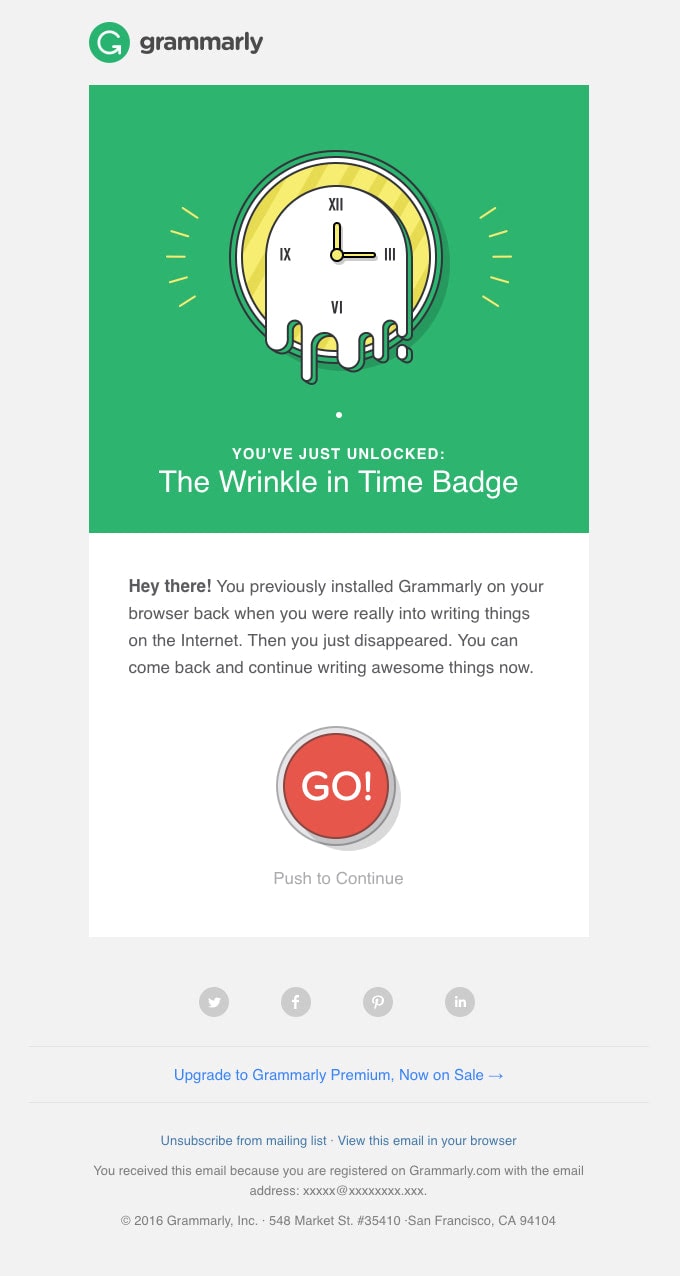 You've Earned a New Badge! from Grammarly
Reasons Subscribers Lapse
Before moving to tips for how to create a win-back newsletter that re-engages subscribers, we need to outline reasons why contacts lose interest in the first place. They are
Bad experience on the website
Disappointment with a product
Poor payment or shipping options
Subscribers are not nurtured enough
Too many emails
Newsletters do not reach the subscribers due to spam filters and bad email sender reputation
Email newsletters do not bring value
Poorly personalized email newsletters
Personal reasons and situations in real life that divert the attention away from your company
Reasons why customers decide to abandon your brand can be different. However, if everything is fine with your product and user experience, then the core lies in an unhealthy subscriber list.
To make having to implement strategies of winning-back customers as rare as possible, use double opt-in forms to onboard those who are interested in your brand. This way, you will make the subscription list healthy, save open rates from declining, and ensure a good brand reputation.
Win Back the Right Subscribers
Depending on your business, you may adopt various strategies of defining what defines a lapse.
The first step is to identify inactive users based on the time parameter. How do you do it?
Begin by analyzing open rates. Find customers who do not open your emails. How long has it been since they opened your emails, whether promotional, informational, or transactional? If they are inactive for more than a month, it is time to act. Take extra steps to remind subscribers who start to lose interest in your brand why you are epic.
After that, analyze click-through rates. Find subscribers who have not clicked on emails for 3 to 6 months. These subscribers should be re-engaged.
As a rule of thumb, a user that is inactive for more than 6 months is considered lapsed. They are at the most significant risk of never coming back. It is here where you need to pull out all the stops.
The second step is to identify those who are active but haven't made a purchase for a long time. Analyze leads. They may open your emails and even click on the call-to-action button, but do not finalize the deal. If the person is an eager shopper, then one month of inactivity is a signal that something is wrong. If the person makes purchases once in a season, then one month of inactivity is too early to bother them.
Finally, it is always better to prevent this situation. If a contact has not responded to emails for more than a month (no opening, clicks, or conversions), then it is time to act.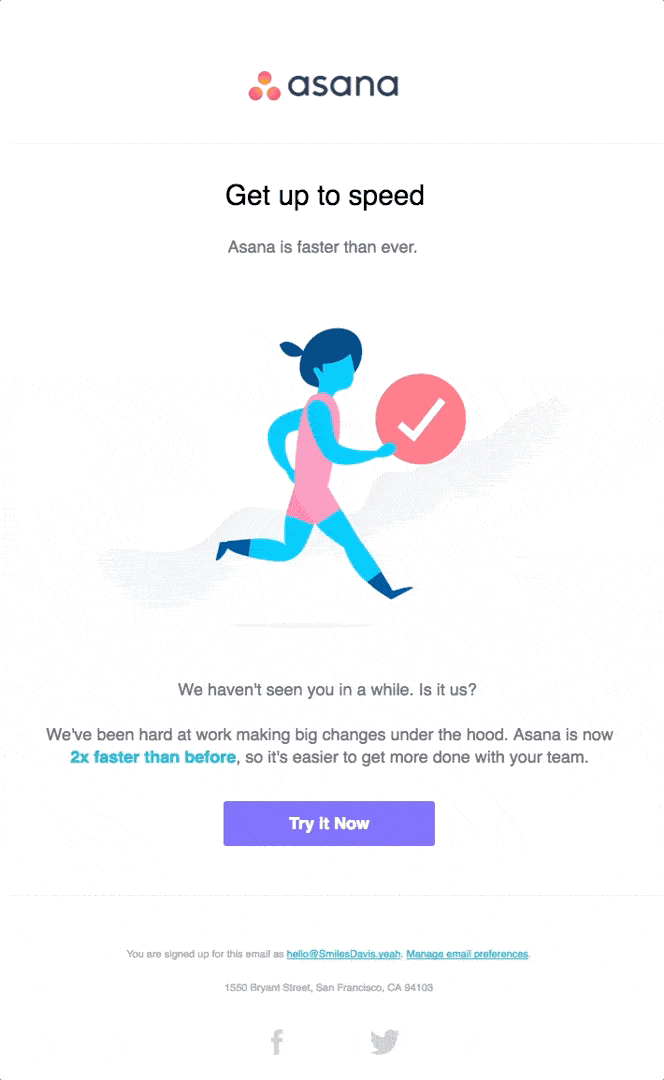 Since you've been gone by Asana
4 Types of Win-Back Emails You Should Send
Much like with a welcome series that includes welcome emails, thank you emails, and onboarding emails, there is no point in sending out just one win-back email. As general practice shows, it is much more effective to create a series of win-back newsletters.
Let us consider four types of win-back emails that you should send to re-engage inactive subscribers successfully. Each one presents its phase in the subscriber lifecycle.
Friendly Reminder Phase
The first win-back newsletter to send is a "Friendly Reminder." As a rule, such re-engagement emails are gentle taps on the shoulder built around the phrase, "We haven't seen you in a while." They include helpful information and a little nudge that can be:
A list of products that subscriber may find interesting
News about your brand
Improvements and updates about the product
A glimpse of new collection
Valid reasons why your brand is great
As a rule, this kind of email newsletter is sent after one month of inactivity.
Active Incentive Phase
The second win-back newsletter is in an "Active Incentive" email. If the previous email newsletter is left unnoticed, it is time to play some marketing tricks. As a rule, it should be a lead magnet that compels subscribers to come back. It can be:
A helpful freebie, like an e-book
A deal like BOGOF
A small discount
Reward points
Choose a stimulus that gives your subscriber motivation to return.
Last Chance Phase
The third win-back newsletter in a series is the "Last Chance" email. If nothing has worked so far, make your offer irresistible. Capitalize on human psychology by establishing a sense of urgency or fear of missing out. Also, use all our tips and tricks on creating win-back emails that re-engage.
Good-Bye Phase
The fourth win-back newsletter is a "Good-Bye" email. These emails are usually entitled "Good-Bye Email" or "We Hate Good-Byes."  The battle is lost, but the war is not over.
Therefore, do not accept the fact that the subscriber has left.
Inform the subscriber that you will remove him or her from the subscription list. Leave an open door by giving them time to reconsider and rejoin the subscription list. Also, show them that you respect their right to leave.
It is time for the last trick of re-engagement – ask for feedback. People love to have a voice. Aking them to share what is driving them away is a great way to re-engage and collect information. The latter may help to improve the product, user experience, and relationships with other customers.
Schedule and Follow-up Emails
To make the series of win-back emails work, you need to choose the right schedule. Depending on inactivity, you should send out one or another type of win-back email to define the best time of the day according to their preferences.
In addition, you can extend this list with follow-up newsletters to support each phase. Do not be aggressive and pushy. One follow-up email in two weeks may be enough for lapsed subscribers to reconsider their decision.
Finally, there always be subscribers who are adamant about their decision to leave. If the win-back newsletter series does not work, it is better to let them go since you may end up with spam reports and a bad reputation. Remember, if you leave a good impression, lapsed subscribers may always come back or at least refer your brand to others.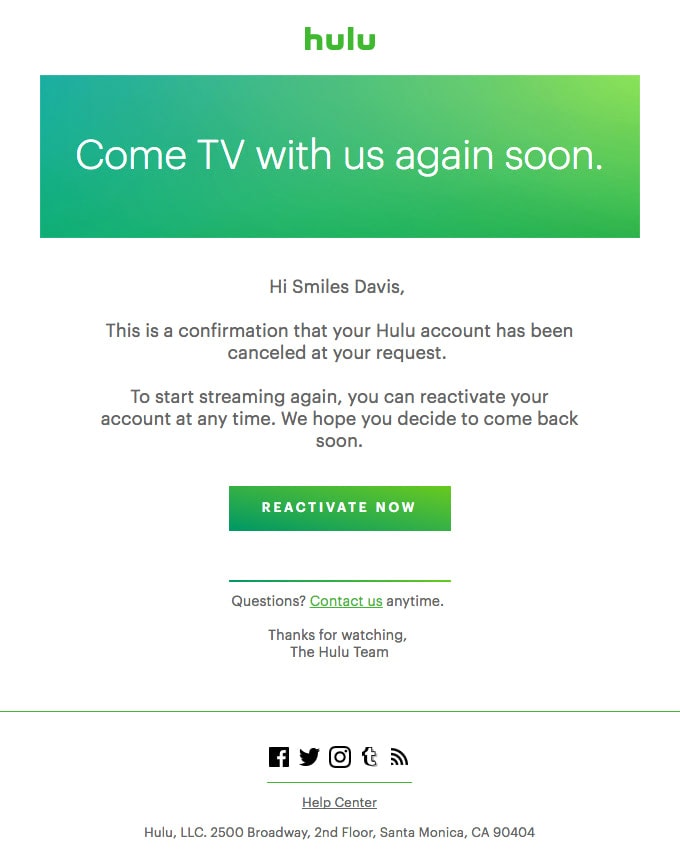 Your subscription has been canceled from Hulu
Much like in holiday email newsletters such as Thanksgiving or Christmas or in special shopping events like BFCM, where subject lines speak volume, win-back newsletter campaigns should awesome pitches. Make an impression. A compelling subject line is the first step in your fight for the lapsed subscriber.
All the same subject lines best practices apply here:
Use emojis to give your pitch an emotional side and visually support the message.
Play psychological tricks like announcing a significant discount, informing about shopping incentives, capitalizing on FOMO, or scarcity.
Use powerful words like FREE or Gift.
Evoke a sense of compassion by showing your sadness. Though do not appear to be needy or desperate, that will not work.
Take advantage of the benefit from personalization, a massive trend in email marketing in 2020.
Make subscribers feel important.
Finally, follow good rules such as keeping the subject line short since only 40 symbols are visible to the audience, and use the preheader to extend your thoughts.
Focus on two essential things for a great subject line: message and feelings. Win-back emails center around a good dose of emotions. They create a vibe that helps to bring subscribers back. Empathy, sadness, and compassion can work just as well as cheerful and playful moods.
Good examples of subject lies for win-back email templates taken from the leading brands can inspire your next campaign:
We haven't seen you in a while
We hate to see you go
We miss you, <Name>
Long time no see, <Name>
Moving on?
$15 to get over the hump
You'll hate to miss this one
Just for you!
Want the <Product> for free?
Since you've been gone…
What you've missed on <Brand>
You pulled the plug. And we are sad
Your free trial is ending- let's stay together
Check Out Your Amazing Stats!
Come See What's New!
You + Us. We Miss It
One more chance to get <Product> before it's gone
Where did you go? Here's 20% off
Are we still welcome in your inbox?
<Service> Just Got Easier
Last call for $20 off
21 reasons to give <Product> another try
We miss you, is that weird?
in case you missed it…($100 off + a bonus)
This doesn't have to be a good-bye
Need more time to decide? Check out our Free plan
We want you back! (This one's on us)
Are we still friends? 5 reasons to say yes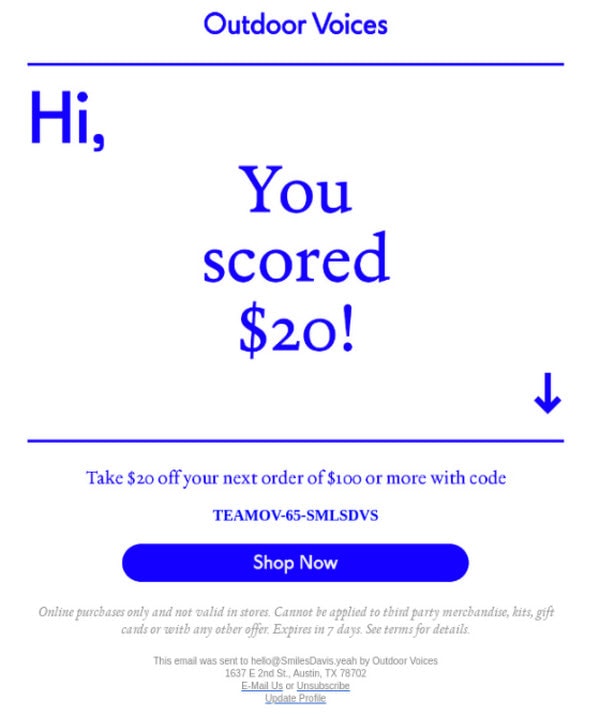 Last call for off From Outdoor Voices
How to Create Win-back Email Templates that Re-engage
Your primary goal with a win-back newsletter is to intrigue subscribers enough to want them to learn more, click a button, take advantage of an offer, and reconsider the decision of leaving you. How do you do this? Follow our tips and tricks that help to create a win-back email template that re-engages and converts subscribers.
Segment email lists by customer engagement. Depending on the level of commitment, you may send out different types of win-back emails. In addition, proper segmentation will help to send newsletters with valuable content.
Show subscribers that you value them.
Personalize your subject line, message, and even offer because people like to be singled out.
Create a body copy that triggers them to act and click a link.
Keep all your copy short. If the subscriber has almost lapsed, he or she will not have any intention to read your long emails. Therefore, get straight to the business.
Create a compelling, noticeable call-to-action. Stick to one option, one offer, and one button.
Send a deal that is impossible for customers to ignore.
Make them feel special and important by offering an exclusive deal.
Capitalize on the reward program.
Based on customer's preferences and purchase history, offer products that are interesting to them.
Always send a follow-up message a few days after the first email.
If the sales cycle on your website allows you to send more than three to five re-engagement emails, you are welcome to send out more. But don't send too many.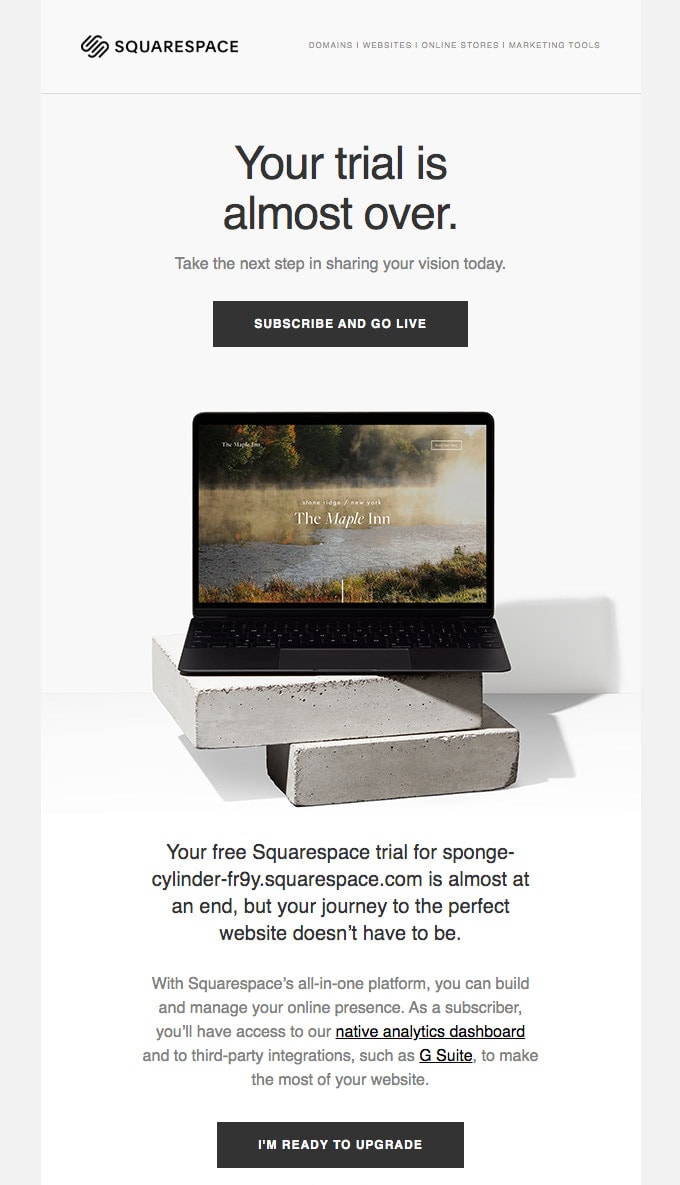 Your trial ends tomorrow from Squarespace
Rules for designing the high-converting win-back newsletter are quite simple.
It should be concise since unengaged users do not have the intention to read your content.
It should be compact. Place all the vital information within a block 300-600 pixels high because it is the most viewed part of the email.
Use a big font to announce your incentive.
Use color with caution. You need to show your feelings, and since the majority of us will capitalize on sadness, it is preferable to stick to neutral coloring or shades of blue or grey to match the gamut.
Use charming graphics to support the message and reinforce the emotional side.
Use animated gifs to make things more appealing and engaging.
Use interactive features like hotspots to entertain and drive engagement.
Employ Google's AMP.
Build on a responsive layout.
Finally, choose a rich HTML newsletter over plain text. Although the latter feels more personal, however, when it comes to win-back email templates, you need to make an impression and cause some feelings. Color, background, typeface, arrangement – all these can help to achieve this.
To bring all these tips to life, even without design and coding skills, you may use Postcards, a free HTML email template builder. It has a handy playground to build a layout block by block, more than one hundred field-tested components made with the trends in mind, and an intuitive customization panel to edit graphics and insert content. Therefore, you will be able to construct any type of win-back email template within minutes.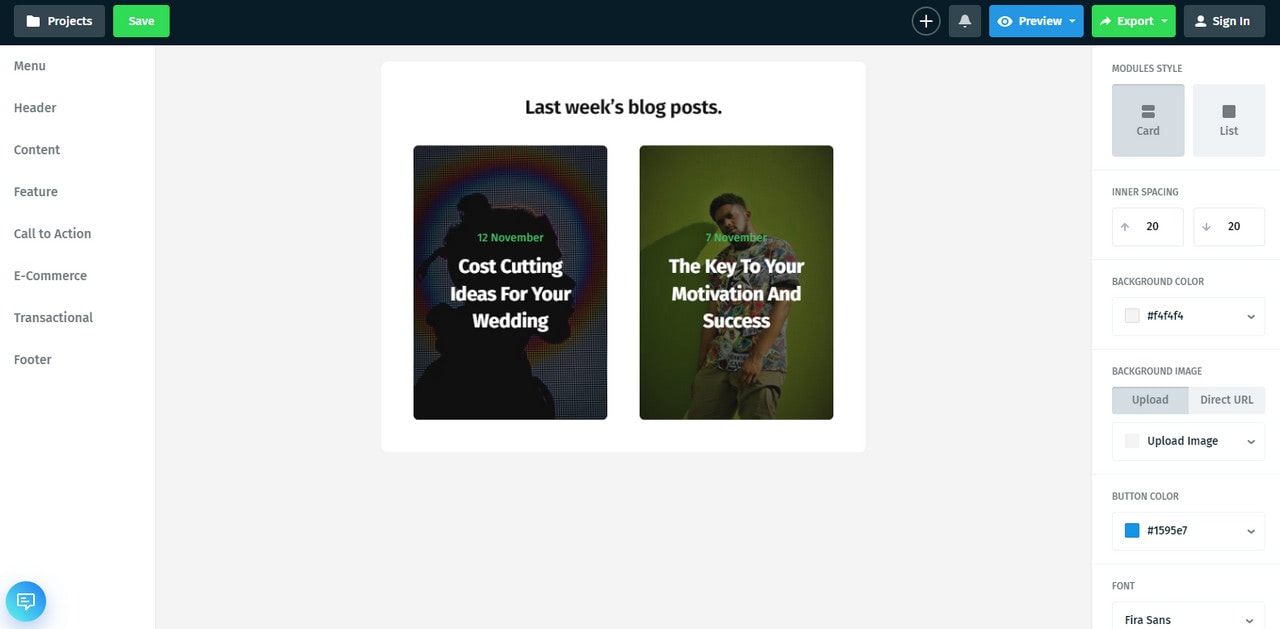 The "We've Missed You" newsletter from Skillshare includes all the qualities of solid win-back emails.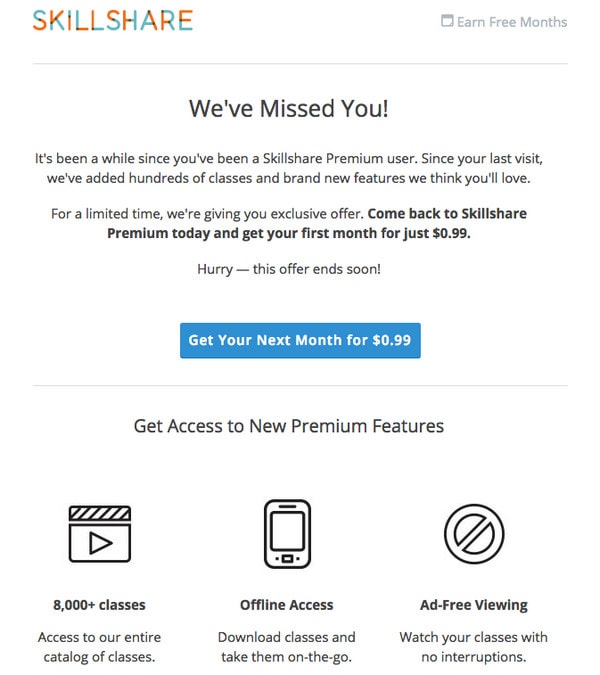 Win-back Email Example from Skillshare
The subject line is compelling and a bit dramatic: it sets the tone for the entire newsletter. Copy echoes with the subject line and serves as a logical continuation.
There is a small shopping incentive, a special discount for a premium plan. Since this is just a friendly reminder, the first newsletter in the series, the offer is not generous nor impressive. However, this pleasant gesture can become a perfect nudge for those who are still interested in your Brand but did not have time to open email newsletters lately.
The team establishes a sense of urgency.
They skillfully delineated the call-to-action to draw attention instantly.
They added excellent features that advocate the brand.
They mixed plain text email with rich HTML to give the latter a subtle personal touch.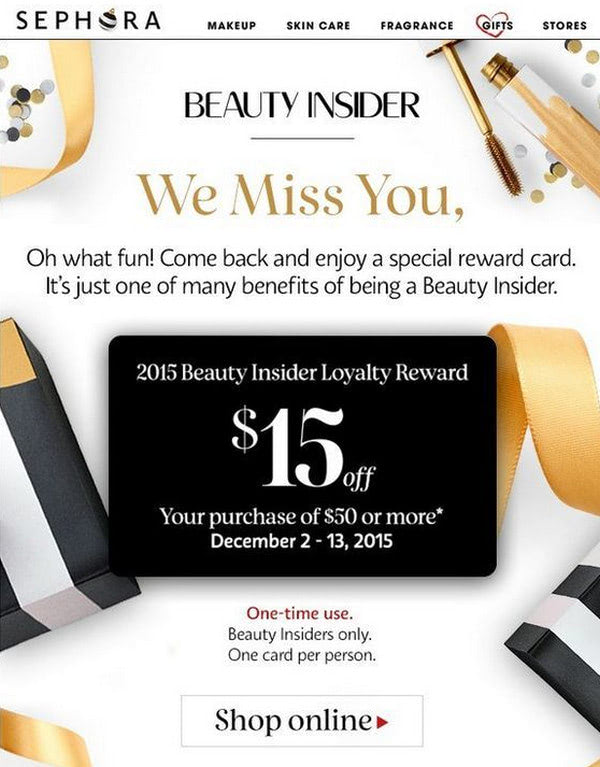 Win-back Email Example from Sephora
The marketing team behind Sephora makes the most out of the rich HTML approach. Their win-back email template looks just awesome. It is a short, sweet, and visually appealing incentive piece.
The brief "We miss you" is endearing, whereas a relatively big gift card is irresistible.
The win-back email example reflects the brand with its outstanding image background filled with popular products.
Stylistic choices like golden ribbons and gift boxes make the design feel exclusive and luxurious.
The copy is concise and brings value right away.
Pay attention to the words: "loyalty," "a special reward," "being beauty insider." They are powerful tools for building loyalty.
The call-to-action nicely blends into the design but still looks enticing.
This is a kind of quality you expect to receive in a win-back newsletter.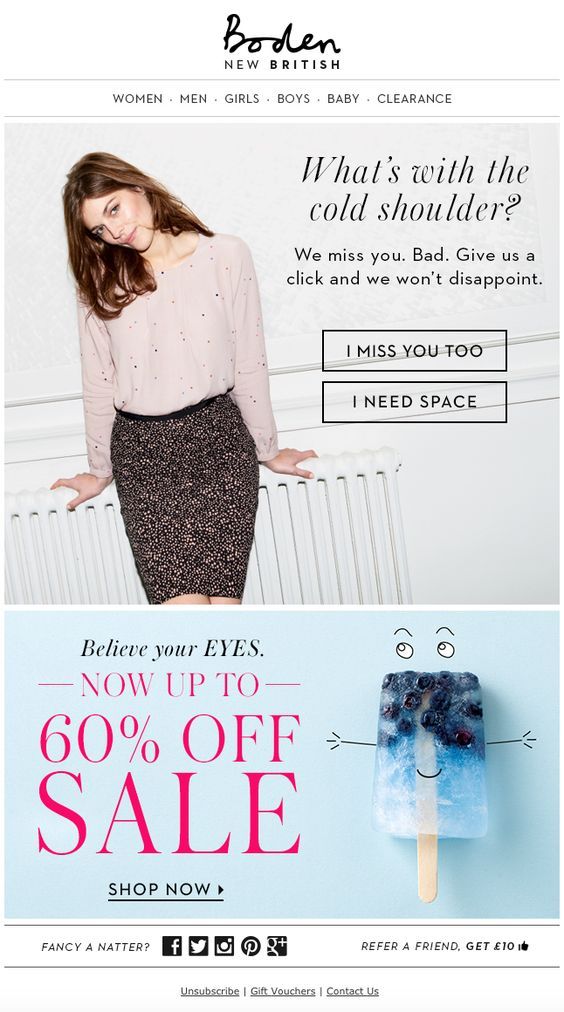 We Miss You from Boden
The Boden team goes for friendly language with a note of sadness that tugs at subscribers' heartstrings. They use a proper image background to support the message and add to the general atmosphere.
There is no specific discount. At some point, that is a pity since, with such a model's look, you expect something big and generous. However, there is an announcement of a massive sale on the website.
Again, this is one of those win-back email examples that tests the waters. It targets those who have been inactive for a short period. Therefore, this mild strategy can work here.
The great thing about this email is that team shows respect for the subscriber's decision by providing two options: getting back or being left alone.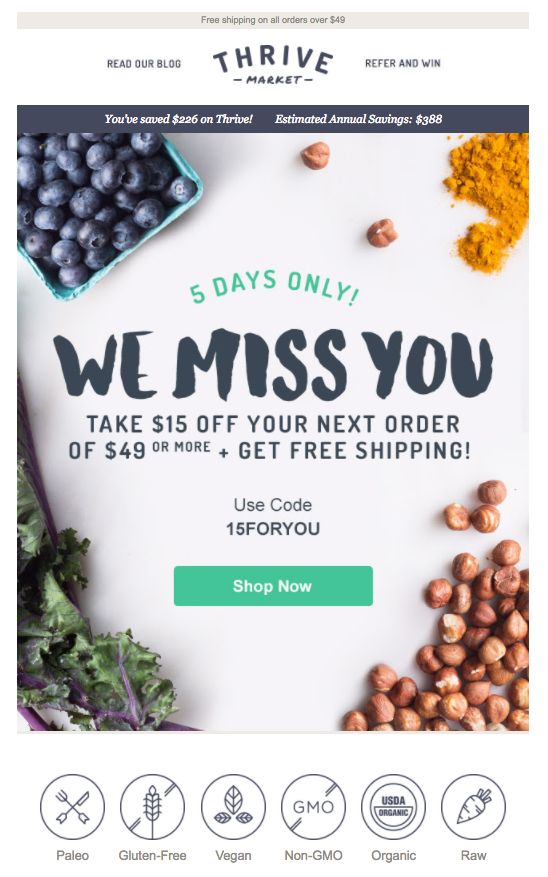 Win-back Email Example from Thrive
The win-back email example from Thrive is one of those newsletters that turns everyone into brand evangelists. Every detail works toward the primary goal of re-engaging subscribers. The email looks like a friendly tap on the shoulder.
The image background is fantastic. The charming typeface used for the headline conveys the message on the positive note.
Two shopping incentives – discount and free shipping – are skillfully highlighted.
There is just one call-to-action that stands out.
The team has set the time limits, playing an urgency card.
The personalized email adds statistics of savings.
The email is compact, and the message is short: the subscriber gets information without extra effort.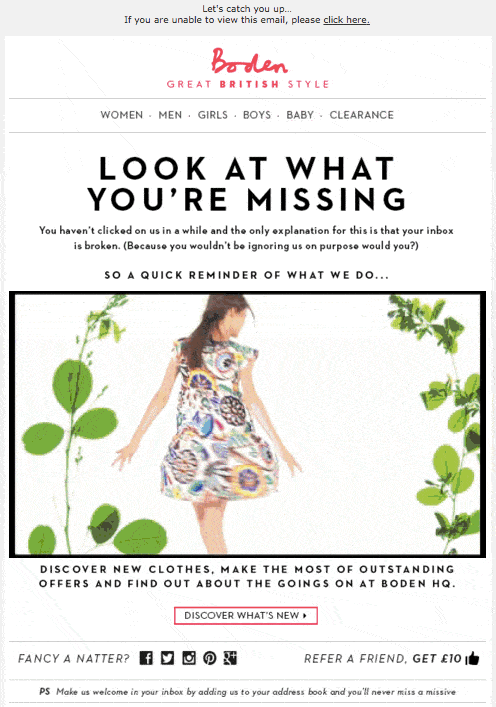 Win-back Email Example from Boden
We all love the animated gifs. They always draw our attention and make us stay a bit longer since we all want to see the entire loop. The marketing team behind Boden knows that perfectly well. Therefore, their win-back email example capitalizes on our curiosity and feelings.
The team uses a short animated gif. It is funny and playful. Not only does it remind subscribers why the brand is great, but it also evokes a jovial mood that is hard to resist. Although this is a purely informative piece – there are no shopping incentives, promos, or marketing tricks – yet, it works perfectly.
This is the second email newsletter from Boden in our collection. While the first was built around a "We miss you" theme, this one feels cheerful and positive. The team knows how to target different types of inactive subscribers, without a doubt.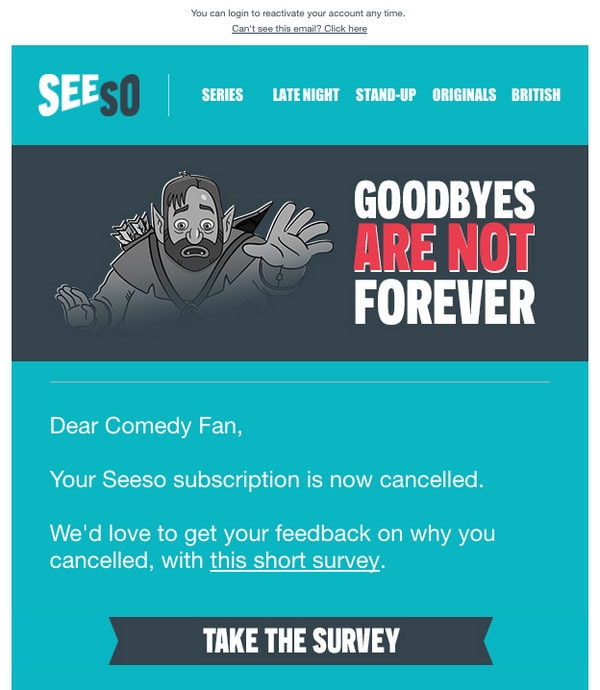 Win-Back Email Example from Seeso
While all the listed above win-back email examples target those subscribers who are at the middle stage of indifference toward the brand, this one deals with those who have already said good-bye.
The team behind Seeso seizes the last opportunity to win lapsed clients back by re-engaging them with a survey. Also, they remind them that they are always welcome back.
The team has used a lovely cartoonish mascot that makes things pleasant and a small promo banner on the bottom that shows subscribers what they are going to miss.
The tone and language are well-thought-out. There are no pushy messages or hidden marketing tricks. The team respects the right of the subscriber to opt-out, yet still, leaves the door open.
Conclusion
Win-back email is a great way to re-engage subscribers and improve your overall email marketing strategy. To make them even more effective, always do split tests. Whatever campaign you are running, seasonal like Winter or Spring or event-specific like St. Valentine's Day, you need to do A/B tests. Test everything, starting with the subject line and ending with the call-to-action design. This will help to identify the most effective strategy and tactic that help to bring subscribers around.
Finally, after you get lapsed readers back on board, earn their loyalty again. Remember, it is just the beginning of your path. Follow the best tips for generating sales, apply principles of a successful email campaign, double check your email campaign with the help of a pre-launch checklist, and measure the success to keep subscribers engaged, turn them into brand fans, and send as less win-back email newsletters as possible.
Like what you're reading? Subscribe to our top stories.