Awesome 14 WordPress Themes That You Can Use in 2020
Plenty of WordPress themes claim to be easy to use, and for the most part justifiably so. What's at least as important, and over the long term much more so is how good they are at streamlining your workflow to cut website building time by 30%? 50%? 90%?
If you typically start from scratch, a savings in time between 50% and 90% isn't out of the question.
The quality of your work won't suffer one bit either and could even improve.
Since more than 90% of websites using blog technologies are based on WordPress, it only makes sense to go that route and invest in a theme that suits your specific needs.
You'll find 14 of them here for blog sites, portfolio sites, creative sites, directory websites – whatever.
Yes, they are for the most part easy to use. And, yes, they can cut your design workflow by as much as 90%.
A 99% savings in time may be asking too much though, since you're approaching the speed of light and weird things can happen.
Browse and enjoy.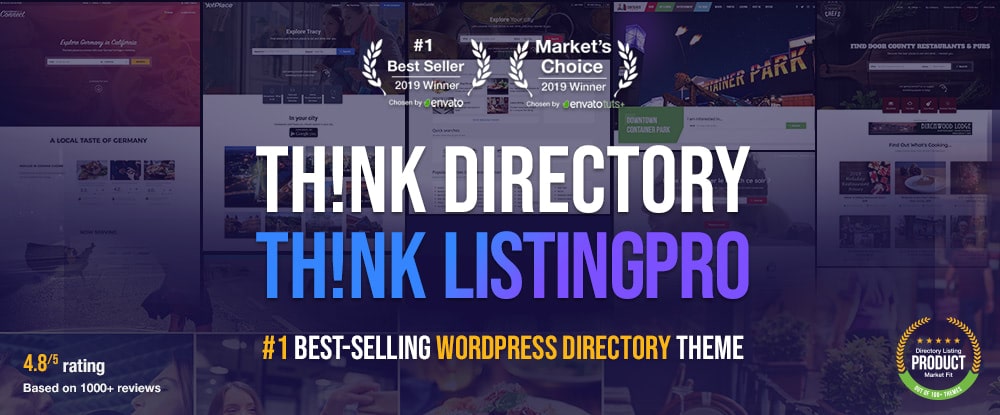 Speaking of building a real directory websites, you can build something basic if you are lucky enough to assemble the right plugins or you could simply go with ListingPro, the #1 best-selling end-to-end WordPress directory solution.
Everything you need is included in the package, so you don't have to scurry about assembling a bunch of paid plugins, nor for that matter is there any need for coding and the best part is you can start monetizing instantly right out-of-the-box.
Just what can you expect?
For starters, you'll find 3 pre-built directory demos, giving you a jumpstart.
In addition core directory features, you get tons of great features including:
Elementor and WPBakery page building support
Appointment Booking, Events, and Ads management.
Built-in checkout; you won't have to rely on WooCommerce for this
A custom Lead Form Builder
Multi-criteria reviews and ratings
And much more.
"Great template with a great Customer support!!" – mikele72
Click on the banner to check out all the ListingPro features and functions.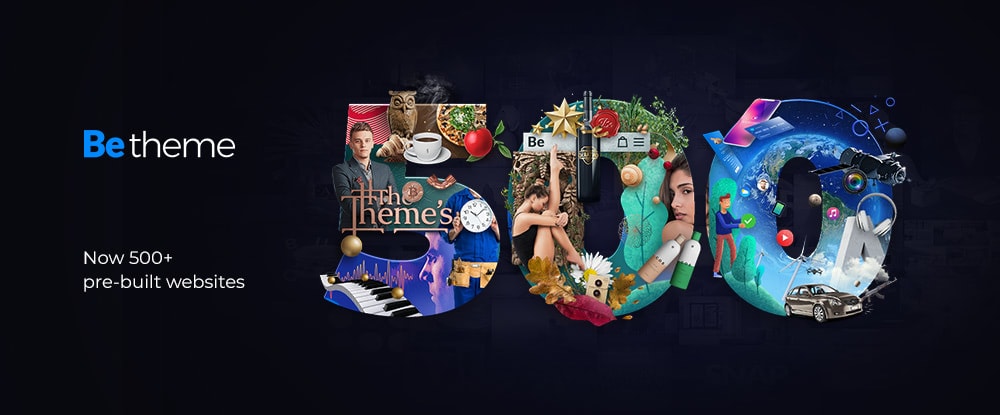 It's not an exaggeration to call BeTheme the archetypical WordPress theme with respect to ease of use, with faster and shorter design workflows, and quality results – for virtually any website type or use.
That of course includes, blogging websites, corporate websites, small-business websites, one-pagers, you name it.
The secret? It's a core feature of this biggest WordPress themes of them all, and there are 40+ of them, and it's by far the most popular feature of them all; BeTheme's library of 500+ pre-built websites.
They cover 30 industry sectors, all the major website types, and a vast range of individual business and personal niches.
Not to forget –
The popular Muffin Builder drag and drop page builder
An Admin Panel, Shortcode Generator, and shortcodes that eliminate any need for coding
Multiple header, footer, and grid options, fonts, colors, sliders, and special effects
"This theme is a perfect multi-purpose theme, you can use it for your website vary easily." – Addify
Do yourself a favor by clicking on the banner, browsing the 500+ pre-built websites, and discovering everything else BeTheme has to offer.
Kalium is perfect for your business, your portfolio, your blog, or just about anything else. This multipurpose theme is visually stunning, well organized and constantly evolving through updates – which, by the way, are automatically provided.
This creative multipurpose theme is well suited for both beginners and more advanced WordPress users.
Its one-click demo import feature provides the easiest and fastest way to build a website; and the full concept demos are not just a collection of home pages.
Premium plugins include WPBakery, LayerSlider, Revolution Slider, Product Size Guide, and Product Filter.
Kalium supports 16 languages and RTL
Other features include unique portfolio styles and 30+ portfolio types to work with, and a font management library containing a ton of fonts.
One more thing worth noting. Kalium just passed the 32,000 happy user mark.
"The theme is feature-rich and the level of customizability is great. Also, the customer support is very helpful and skilled as well as fast in their response times. Total value for the money." – ioannidisv
Click the banner to learn more about Kalium and it's full-concept demos.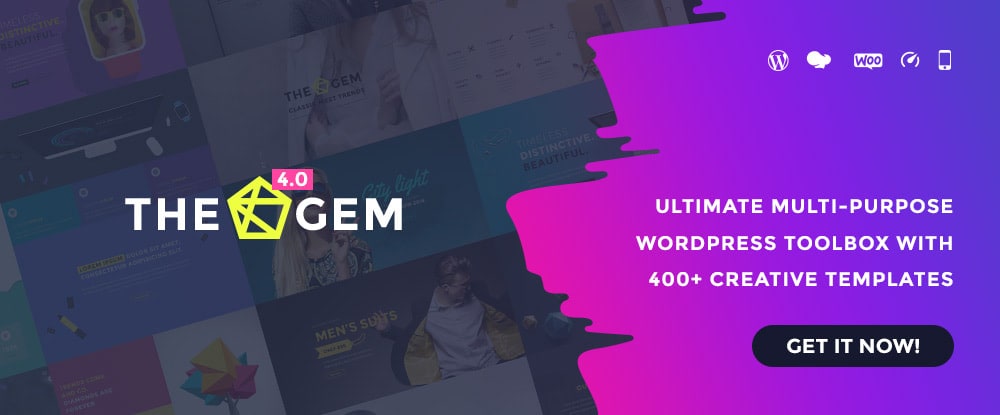 With TheGem multipurpose theme you get the ultimate WordPress web design toolbox. As a bonus, this is one of the most attractive themes on the market as well.
TheGem is easy and intuitive to use; thanks in part to the WPBakery page builder.
This creative theme is ideal for anything from blogs and magazines to portfolios and online shops
Choose among 100+ pre-built complete websites to get your project off to a quick start.
"Very nice and easy to use." – maellix
Click to learn more about this best-selling theme on Themeforest.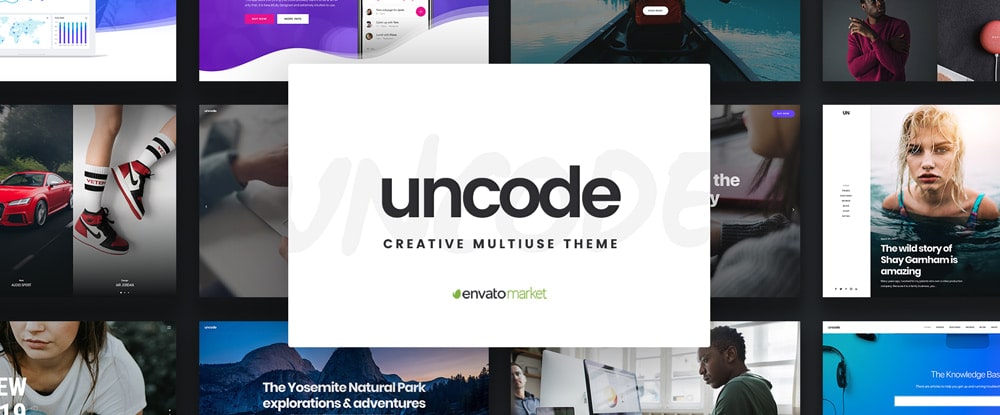 Uncode is a blogger's delight in addition to being an excellent choice for portfolios, agencies, freelancers, and businesses of all types. Key features of this creative multi-use theme include:
A front-end editor on steroids
70 pixel-perfect design concepts
A showcase of user-created websites that are a source of inspiration and joy
Uncode is one of Envato's top-sellers with 60,000 sales and growing.
"Extremely good code and extremely good and fast support." – DrFrank
Click on the banner and browse the impressive user showcase.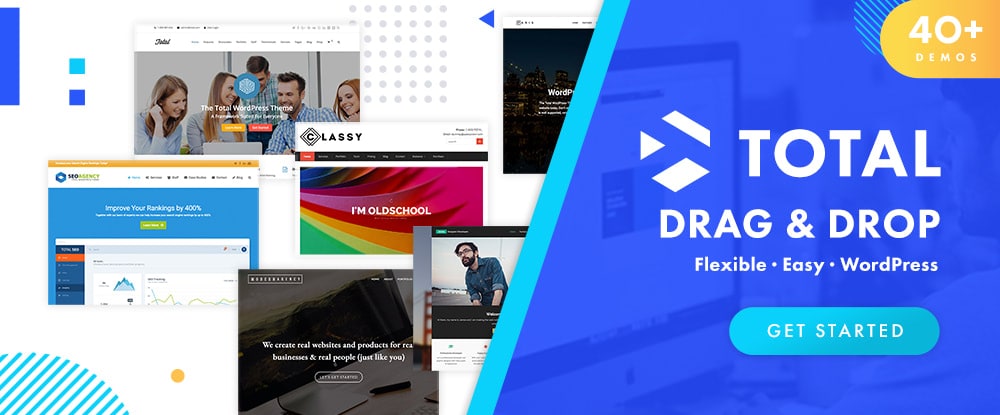 If you prefer a modular drag and drop approach to web design, Total is for you. If you're not familiar with a modular design approach you're in for a treat. Total also makes your design effort easier with –
A quick start demo importer
40+ prebuilt demos
Popular plugins including premium sliders
Plus, Total is developer friendly, WooCommerce ready, and features hundreds of built-in styling options.
"Phenomenal theme. We use it for our agency and recommend it to all our clients wanting to rebuild their websites and using WordPress." – aaronfrankel
Check Total out by clicking on the banner.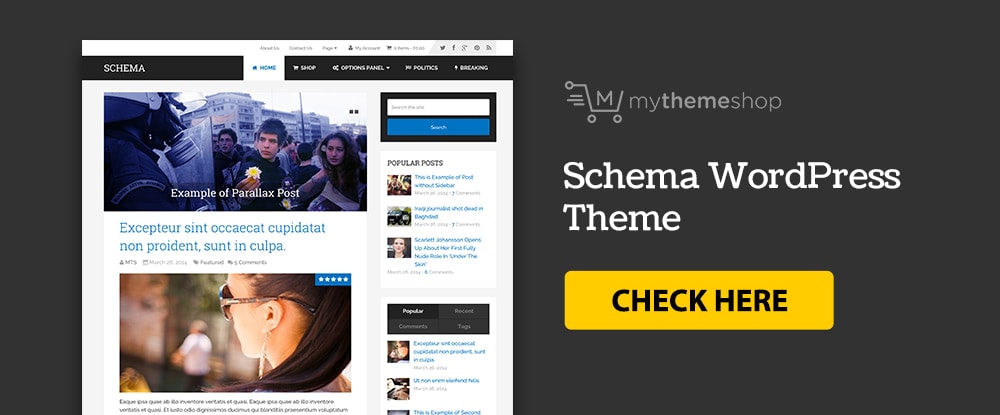 This fully responsive, ultra-fast, SEO ready theme has everything needed to qualify it perfect; include a feature you won't find in most other themes –  the capability to make SEO an easy task rather than an arduous, worrisome one.
Schema sees to it that search engines will discover everything good about your site and rank it accordingly. Now that's a wonderful investment!
Click on the banner to find out more about Schema.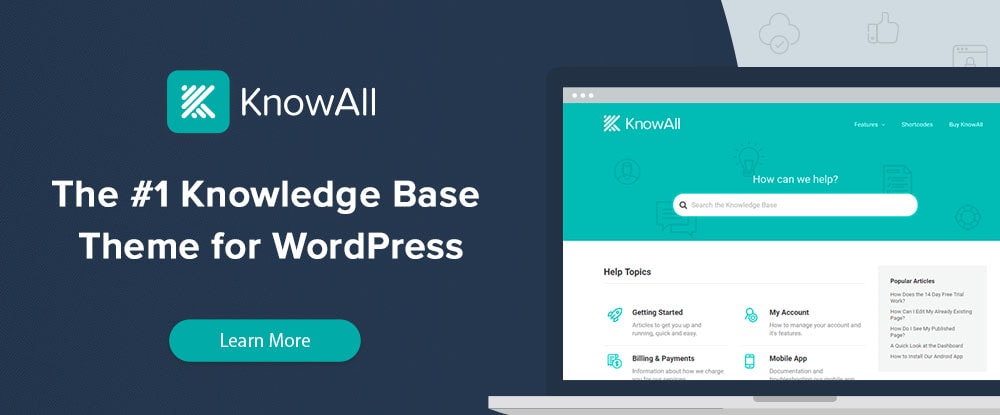 KnowAll, the most popular knowledge base theme for WordPress ensures that visitors will no longer have to rely solely on simplified answers to FAQ questions, answers that seldom provide the in-depth information they may be looking for. Key features include live search and instant answers, plus suggested content for those who are unsure of what they should be searching for, together with suggested related content.
KnowAll's Actionable Analytics functions informs you what visitors are looking for, and provides visitor feedback on your site's content.
Click on the banner to see how you can benefit from KnowAll.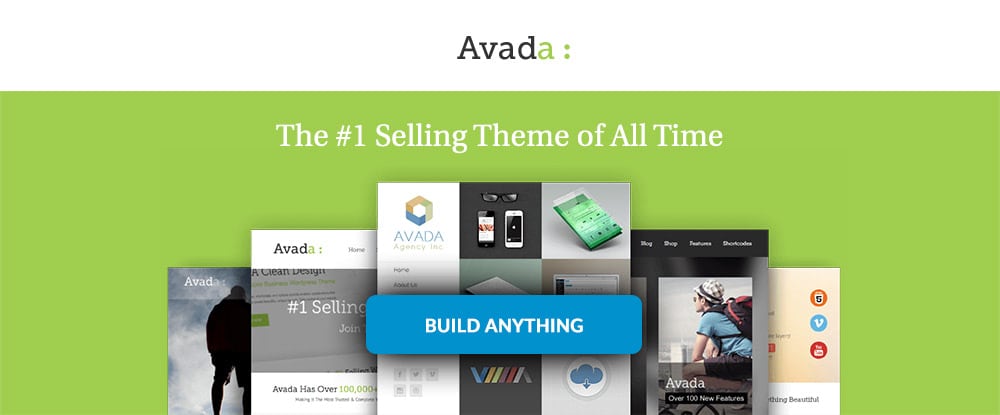 Avada is simply the #1 selling theme of all time. It is incredibly fast, it offers intuitive front-end editing, and it is filled to the brim with demos, partial demos, pre-built websites and more than 60 design elements.
Fusion Builder Avada's drag and drop builder, and the Dynamic Content System gives you unsurpassed flexibility. If have an online shop in mind, Avada flawlessly integrates with WooCommerce.
"Wonderful product for designing my website." – veuts51
Click the banner to learn more.
Pofo – Creative Portfolio, Blog and eCommerce WordPress Theme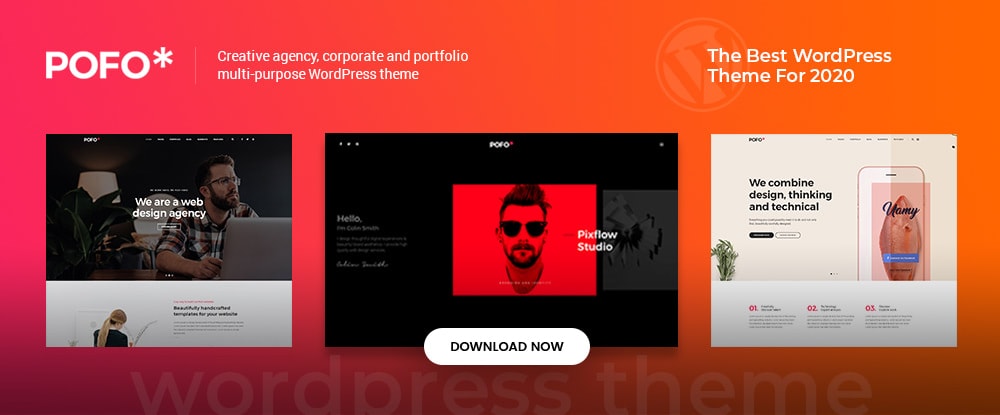 Pofo will be a good match if your website design is to include features supporting blogging, personal and business portfolios, or eCommerce. This modern, creative design theme was designed with creative teams and individuals in mind. Design aids making up Pofo's package include:
More than 150 pre-build design elements
More than 25 ready-to-go customizable home pages
Over 200 demo pages featuring one click demo import
Pofo is a crazy-fast, highly flexible, SEO optimized theme. It's well documented and provides highly rated customer support.
"Excellent theme, highly flexible and easy to customize. Customer support has also been quick and responsive to my needs, couldn't ask for more." – twofortheworld
Click on the banner to see if Pofo is right for you.
Hongo was specially curated for bloggers, company websites, and WooCommerce store owners. This modern, multipurpose theme is highly flexible, features customizable design elements, and exhibits quick loading speeds.
Key features include compare products, wishlists, catalog mode, and product video.
The package also includes selections of ready store demos, templates, and creative design elements.
 "Amazing theme and better customer support! Highly recommend! Really enjoying it." –  madhavnarrowfab
Click on the banner to learn more about this highly rated theme.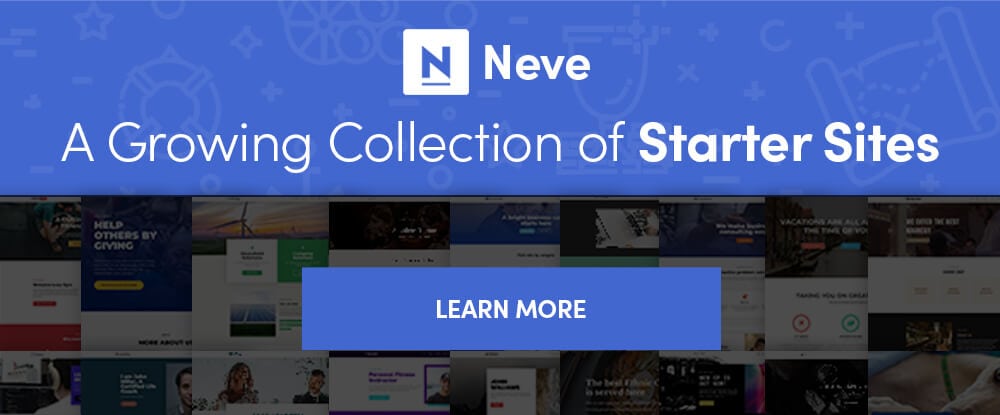 Neve is a super-fast, easily customizable, AMP optimized, and highly extendable theme. Among the benefits you may be looking for is building sites that enjoy top rankings in Google search results. Neve is among the top fastest WordPress themes available.
Neve is also responsive and WooCommerce ready, Elementor and Gutenberg compatible, and comes with more than 50 ready-made starter sites for all major industries and niches.
"Neve is a simple, fully customizable & fast theme that I can wholeheartedly recommend to all Elementor users." – abdulmuhajir (@abdulmuhajir) on WordPress.org
Click the banner to learn more about this powerful yet simple to use theme.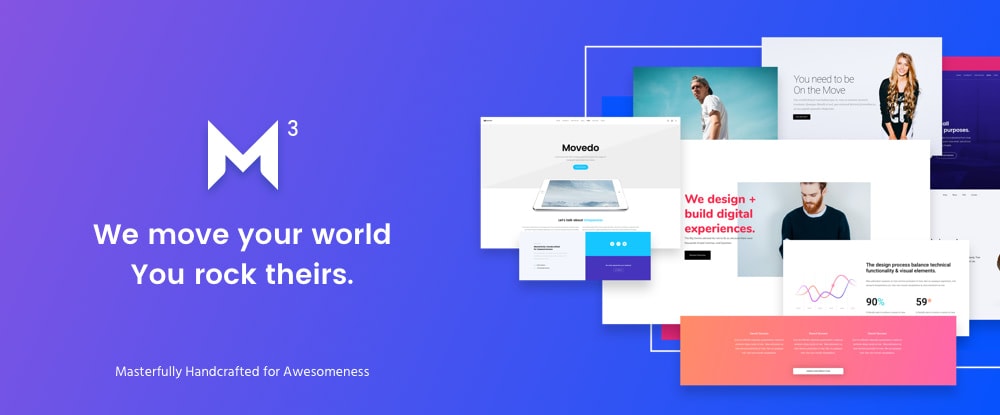 Movedo is a premium quality theme by a top-rated author – with a difference. Some might call Movedo "quirky", although in a highly professional sense, because of the many dynamic parallax effects that can be incorporated into any website type.
Special effects can be quite engaging from a user point of view. The highly flexible theme also features some amazing responsive options, 24/7 online support, a knowledge base and video tutorials.
 "In addition to the graphic aspect, modern with attention to detail, the support is fast and useful. Highly recommended!" – eDotto
Click on the banner to visit Movedo; it's a journey!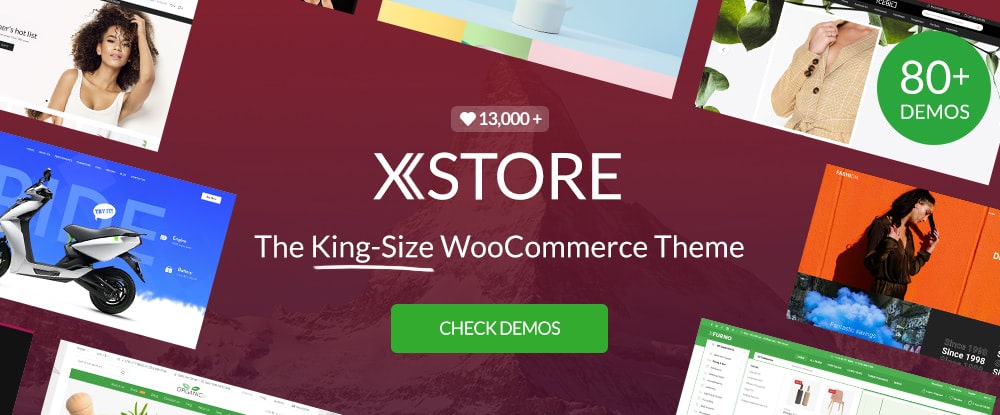 If you want to get a quality online shop up and running ASAP, XStore is probably your best bet. The fact that it's advertised as a WooCommerce WordPress theme says something, but the real selling point would have to be XStore's 80 good-to-go shops, which should be more than sufficient to get any online store up and running in record time.
There are of course plenty of supporting premium features like the single product page builder, $300 worth of premium plugins, and a host of useful individual product and landing page demos.
 "This is by far the best theme on ThemeForest. It adapts to a lot of the plugins, and their customer support is great. I really love this theme! Thanks." –  dmanning0201
Click on the banner to shop for your online shop.
With tens of thousands WordPress themes available, finding a responsive theme to your liking can often be an arduous task.  To help you find the right one for you, we've looked at sales figures, reputation, and usage, and rounded up these 14 top rated and highly popular multipurpose WordPress themes.
We wish you well, and we hope you'll share this article with others.
Like what you're reading? Subscribe to our top stories.