Everything You Need to Know About YOOtheme, a WordPress Theme and Page Builder
Looking for a great page builder to help jumpstart your website design projects?
YOOtheme Pro is a powerful theme and page builder for WordPress. It has everything a designer needs to create a neat design and is packed with premium features for developers to create websites and themes. The tool is from YOOtheme, which has been known as a top theme provided for more than a decade.
Here's a look at YOOtheme Pro and how you can use it for upcoming projects.
The YOOtheme Pro Page Builder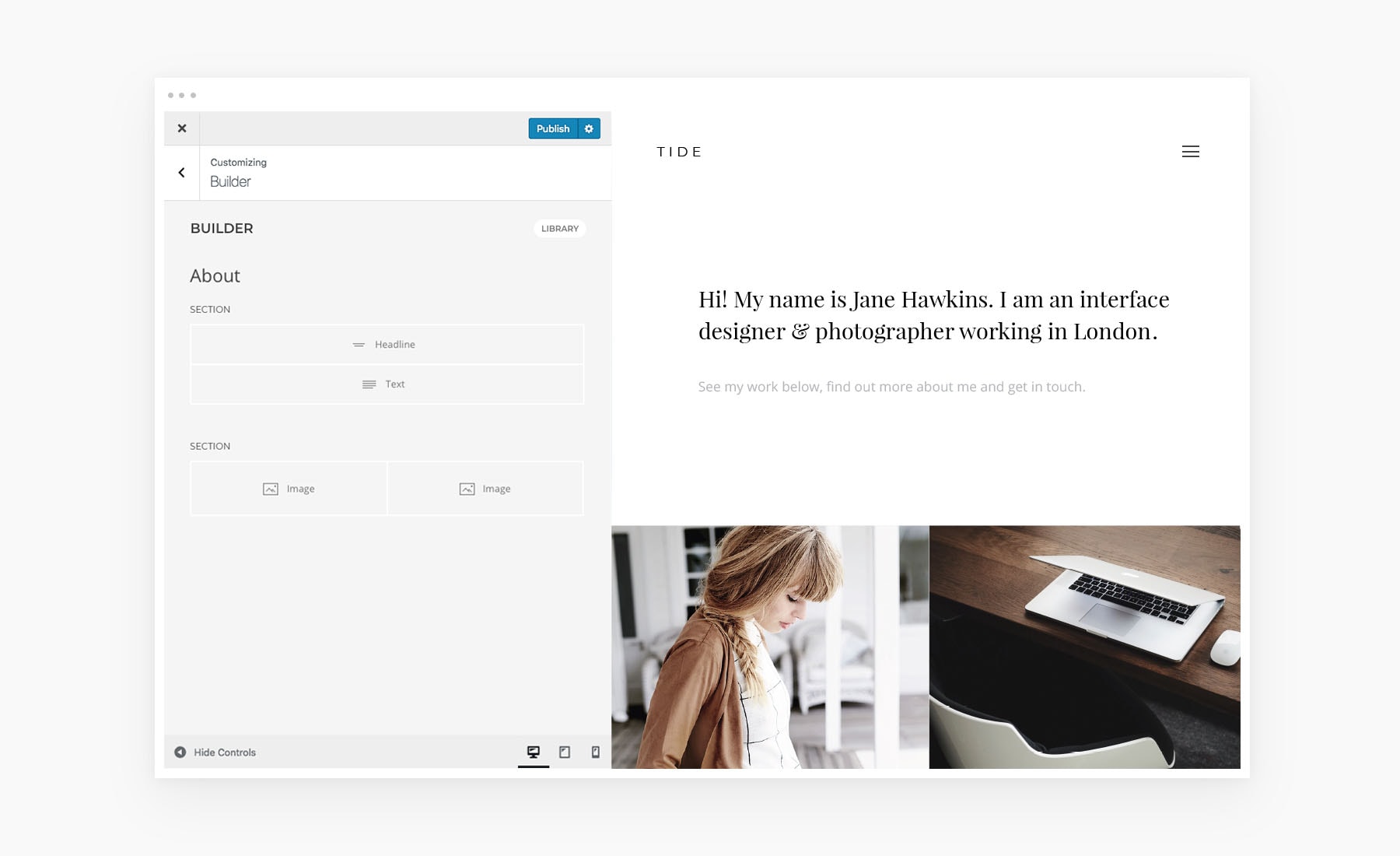 YOOtheme Pro is a visual page builder that features a drag and drop interface. It's a great addition to WordPress tools that you might already know and understand; plus, it features clean, semantic code (making it a developer-friendly option).
YOOtheme Pro allows users to divide content into sections, rows and grids to create layouts with a set of building blocks. Just drag and drop to add new elements, including images, slideshows or galleries. Every element is responsive, and you don't have to write a single line of code if you don't want to.
No-Code Email Template Builder
With Postcards you can create and edit email templates online without any coding skills! Includes more than 100 components to help you create custom emails templates faster than ever before.
Try Free
Other Products
You can see changes live as you make edits, making YOOtheme Pro a great option if you are looking to get a site online fast.
Create Sophisticated Layouts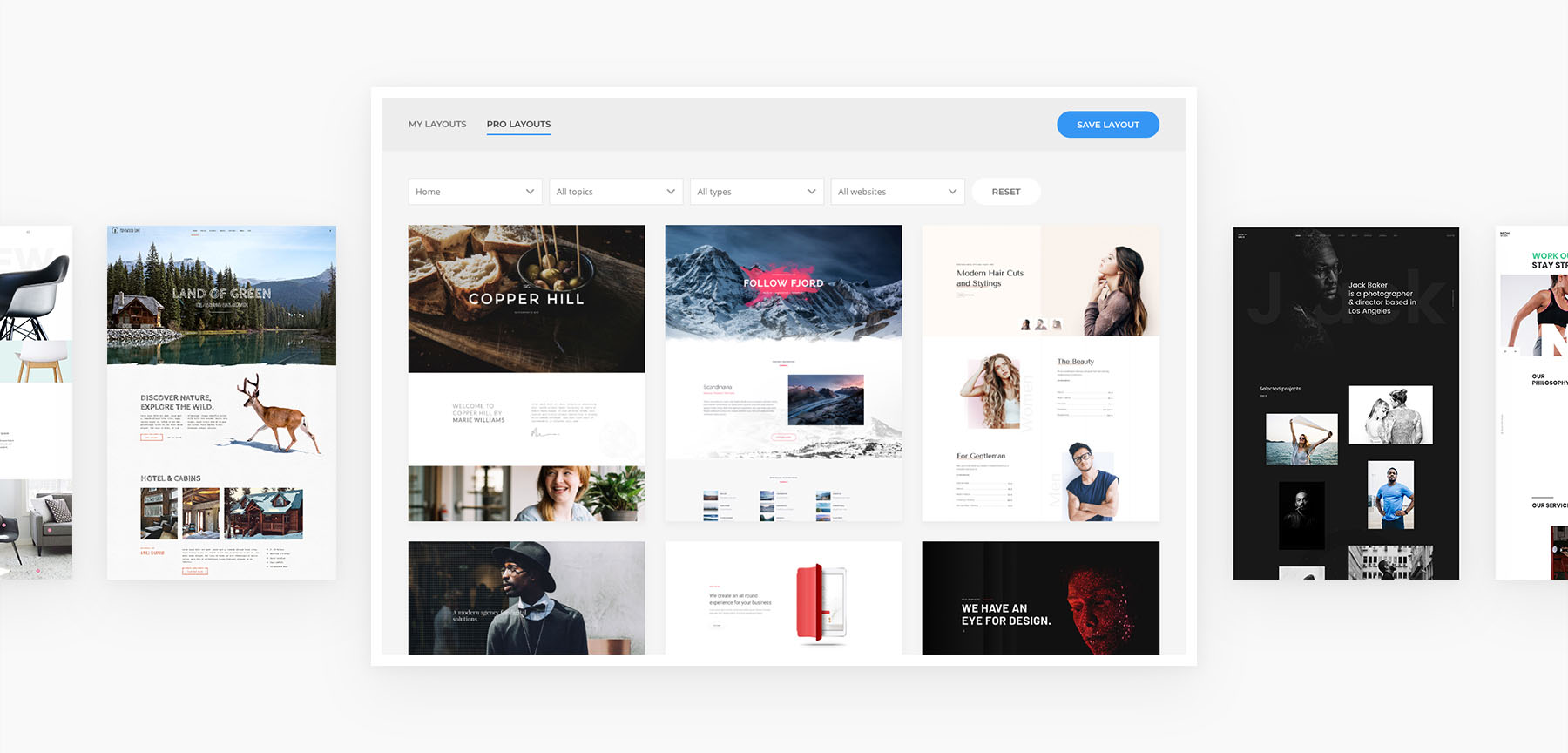 YOOtheme Pro is more than just a page builder. It also comes with plenty of tools to help you create a professional, sophisticated website.
There's actually a professional team of designers working on website concepts for YOOtheme Pro. Every pre-made template and design contains a planned structure featuring today's design trends. With more than 100 layouts to start with, you can definitely find something that suits your fancy.
What's more is that every layout is easy to find within the YOOtheme Pro interface. Filter layouts by topic, or even create and save your own for later use. YOOtheme Pro is packed with almost a limitless number of options that you can mix and match to create a website that's uniquely yours.
Massive Element and Style Library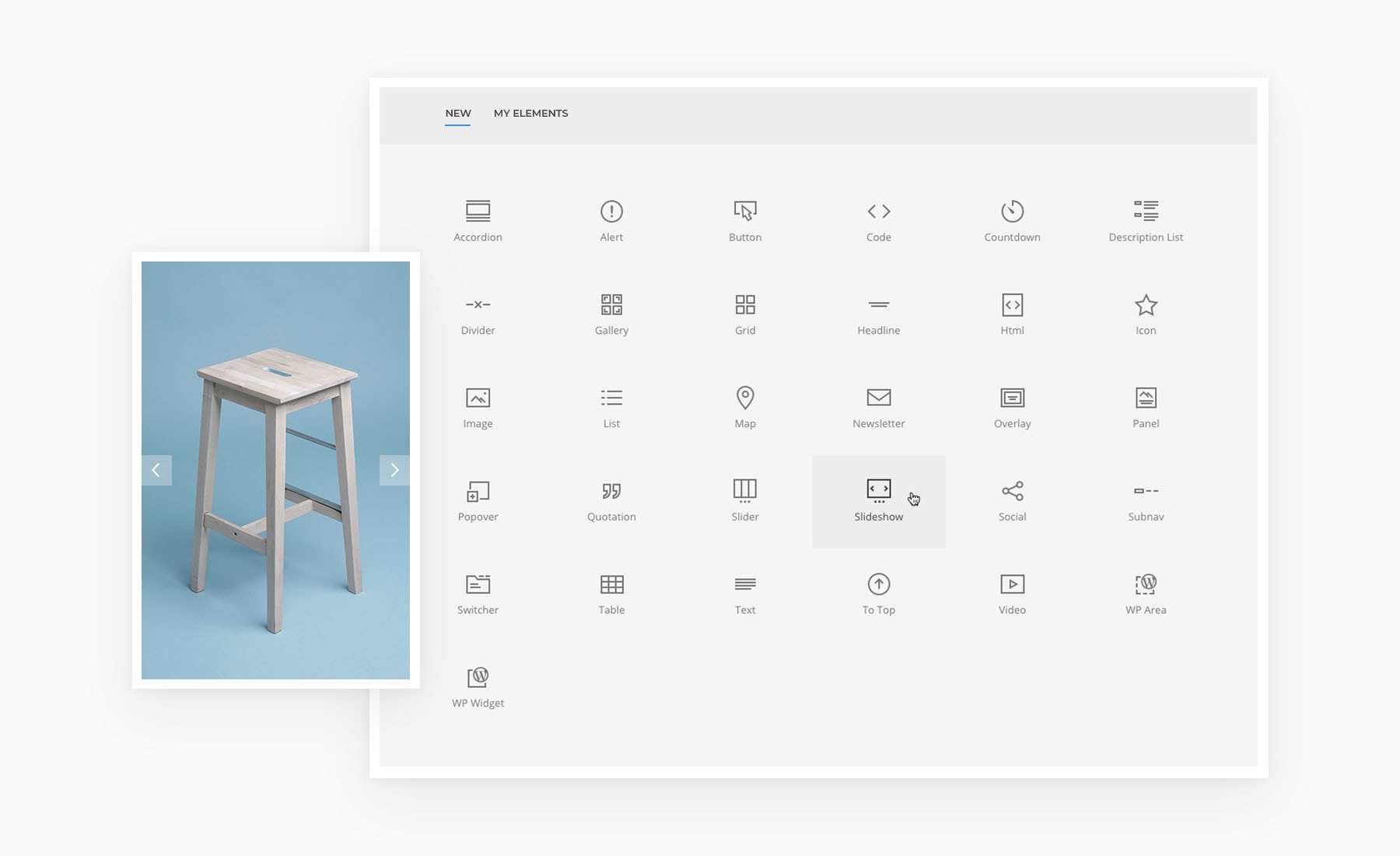 The current YOOtheme Pro library contains more than 30 different content elements, with more options in the works.
Elements include popular items such as:
Heading
Video
Panel
Slideshow
Slider
Gallery
Everything is built using the UIkit framework, which is a bonus for developers with a modern, lightweight codebase. (This means your website will be fast when complete.)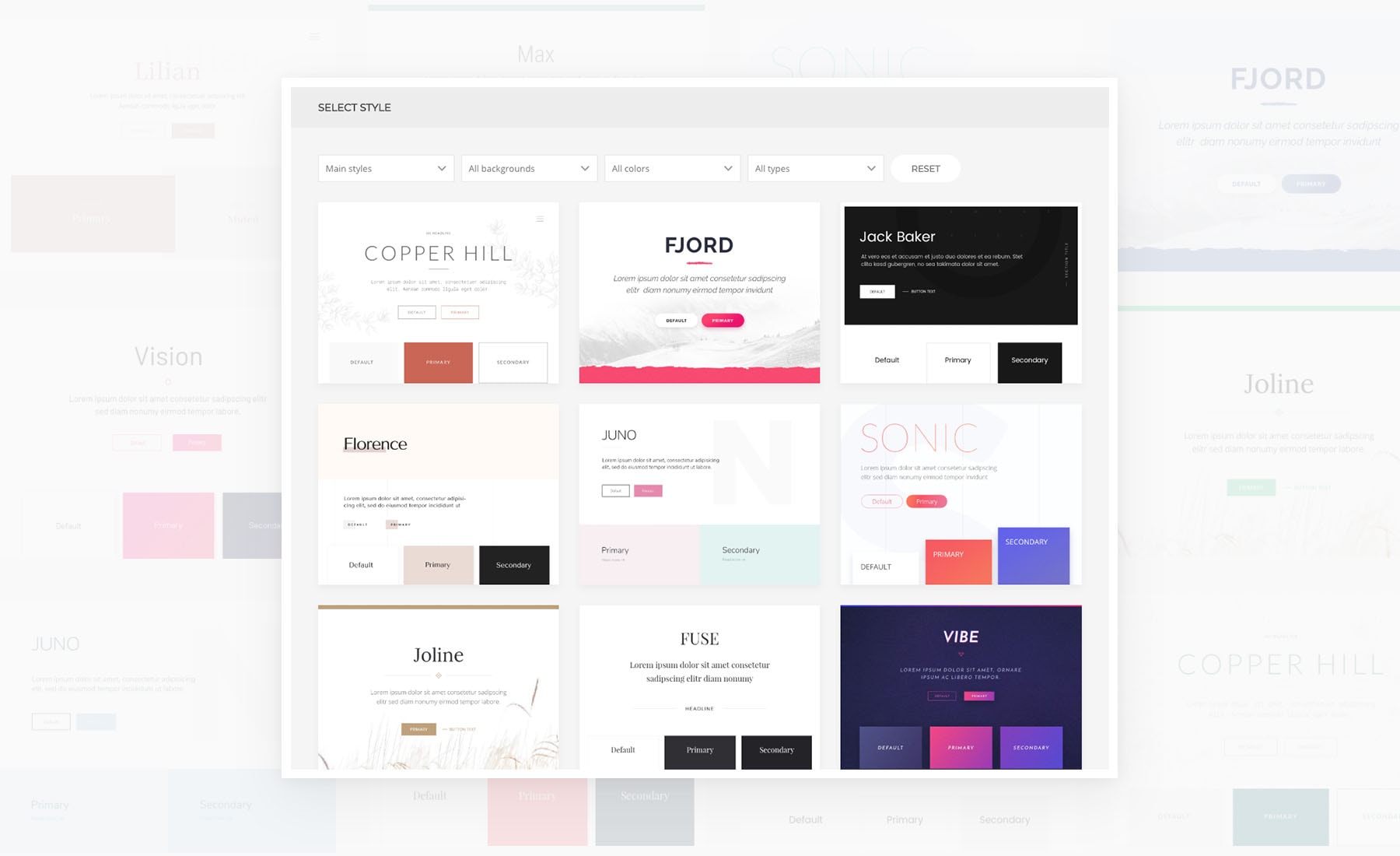 In addition to content elements, YOOtheme Pro includes a style library with more than 70 options to help you get started with one click. Styles range from minimal website patterns to colorful, more extravagant designs (and every single one has a modern, trendy design).
After adding a style, customization options are limitless. Change the style of individual elements or apply global changes that impact the aesthetic of the entire design. (Plus, you can do it all without code.)
Stock Photos are Built In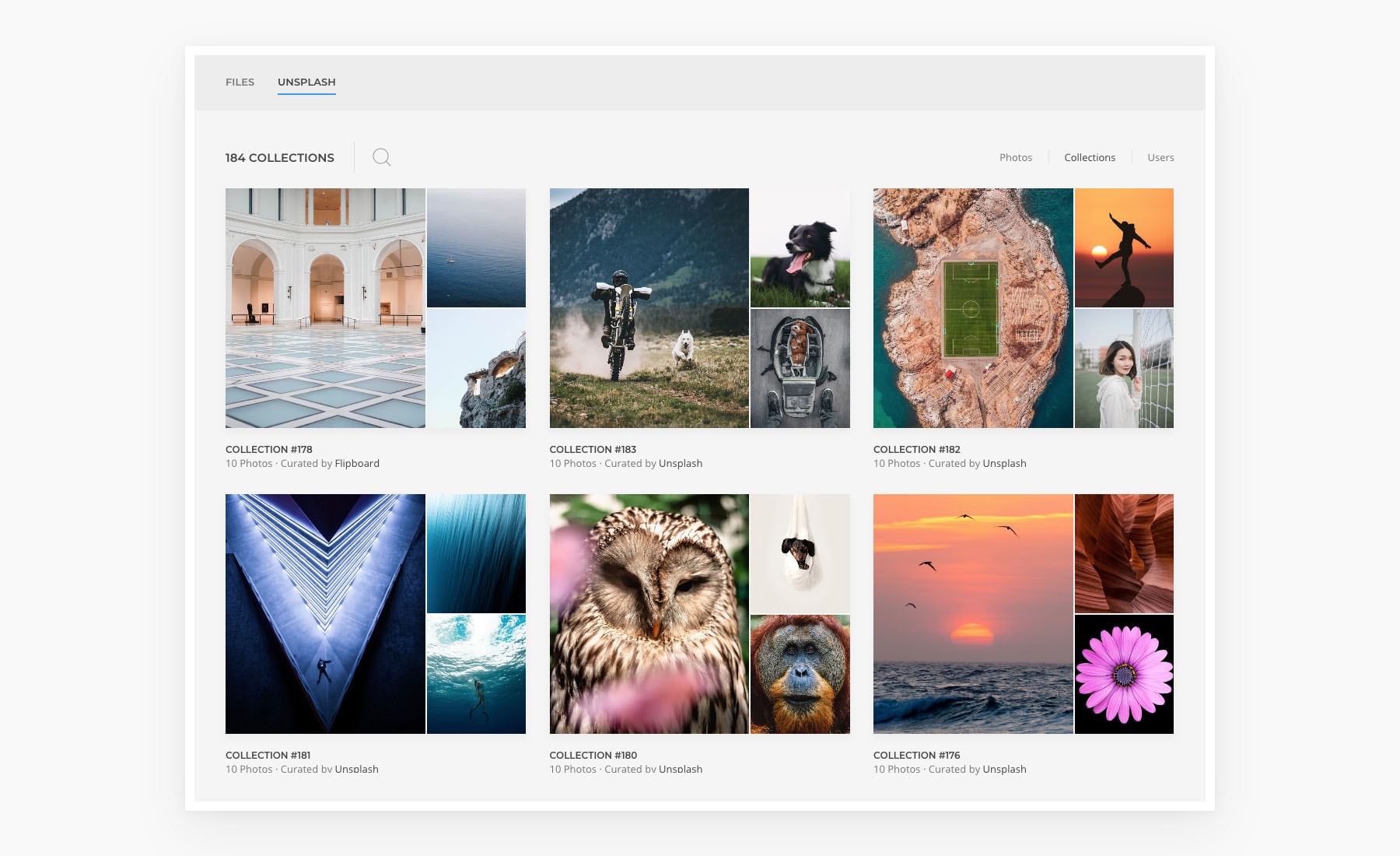 One of the biggest problems for many website owners is finding great images to draw users into the design. YOOtheme Pro solves that problem for you with an integrated stock photo library from Unsplash.
Every photo is ready to use and free. Search the massive collection of professional-quality images without having to go to another website or download (and upload) images.
Filter, browse and insert images into your design right inside the YOOtheme Pro page builder. (Now that's a serious time-saver!)
Fast and Developer-Friendly
YOOtheme Pro has goodies that developers will like as well. It is powered by Vue.js and UIkit to ensure a great user experience that starts with speed.
Other features that developers will appreciate include:
Lazy-loading images
Auto-generated scrsets
WebP image format
Locally-stored Google Fonts
Ability to override anything with custom elements, CSS or JavaScript
Plenty of documentation and video tutorials
Other Features
Finally, YOOtheme Pro includes every feature you would expect from a premium theme, right in the page builder. With a fully customizable suite of elements, this page builder is more robust than a single theme because you mix, match and create a design that's yours with elements and blocks that are ready to use.
Some of these premium features include:
Global UI components
Local Google Fonts
125+ icons
Easy-to-use color picker
16 header layout options
3 mobile header layouts
Custom footer builder
Multiple blog options
WooCommerce integration for online sellers
1-click updates
Conclusion
YOOtheme Pro makes it easy to get started or expand your WordPress portfolio. Try it now. The first 30 days come with a risk-free, money-back guarantee. And you get it all for the price of one premium theme.
Like what you're reading? Subscribe to our top stories.