Best Alternatives to Wacom Tablets
As a designer, I find it difficult to have freedom in sketching digitally using a mouse. Through practice, I have made a pretty decent job in creating illustrations but felt that to fully realize my imagined designs, I had to upgrade. That's why I bought a Wacom Intuos ($150) graphic table tool.
At first, it was a little bit challenging to shift from drawing as if you're holding a bar of soap to a more traditional manner but overall, I liked the experience. I even bought a wireless kit (around $25) to make my tablet more mobile.
The decision in choosing Wacom isn't difficult. Wacom is clearly one of the most popular brands in drawing tablets. But it does make me wonder, are there alternatives? And if there are tablets worthy of even being compared to Wacom, are they even worth a try?
So I collected 10 Wacom Drawing Tablet Alternatives, hoping that once you are tasked to make the same decision I made, you'll have to at least challenge Wacom to improve more because it's not your only choice.
Best Wacom Alternatives
Trust Flex Ultra Thin Design ($47)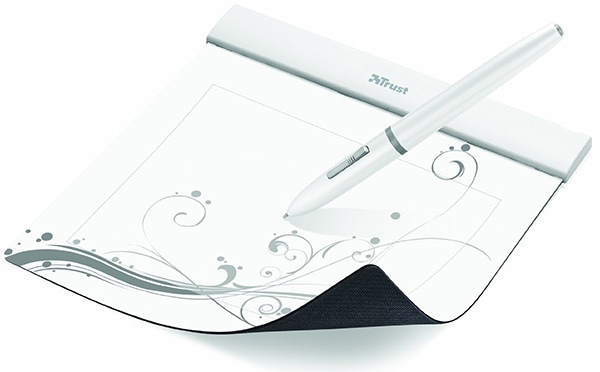 Trust has an arsenal of graphic tablets specifically designed to allow you to realize imagined designs. Its products are aimed toward making graphic-creation easier, for left- and right-handed people.
No-Code Email Template Builder
With Postcards Email Builder you can create and edit email templates online without any coding skills! Includes more than 100 components to help you create custom emails templates faster than ever before.
Start Free
Its package includes a stylus pen that boasts 1,024 step pressure sensitivity and comes with two pen tips and a removal tool. With two spare nibs and a tool remover, you can enjoy creating graphic elements without a hitch, or worry of putting the quality of design in jeopardy.
Trust has also included an editing software called Artweaver. It is a painting application, much like Illustrator or PaintTool Sai, fit for any user, newbie or expert. The app also has a macro recorder that allows you to replay your steps for other users. Aside from that, Artweaver also includes tools like layering, filter effects, and more. All packed within an intuitive program.
Drawing in it also feels tactile. Designed using a paper-thin lightweight material, and an anti-skid base, Trust's products are mobile and energy-efficient and make sure your drawings will be assured to be as accurate as you created them.
Compatibility: Windows 7, 8 and Vista. Recommended for both left and right-handed users. Dual monitor capable, wide-screen capable. Adobe CS3 to CS6 compatible.
VT PenPad  ($45.75)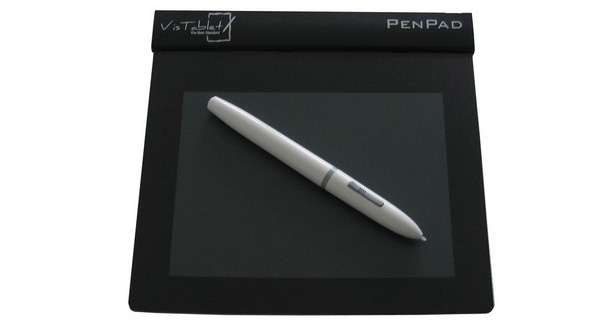 VisTablet has tagged PenPad as its most affordable graphic tablet in the market today. If you are just starting to learn how to use a graphics tablet and pen and are not sure whether it'll be a good investment to your job, then PenPad might be the one for you. In a reasonable amount, you can be able to control strokes and produce desirable results.
It's relatively thin, with overall dimensions measuring up to 7.5 by 7.5 inches, it is suitable for designers who love to travel, or maybe students who are always on the go.
Like many standard tablets, PenPad's pen has 1,024 levels of pen-pressure to control the amount of stroke each like gets.
Compatibility: Microsoft Windows Vista, Windows XP (SP 2), Windows 7, and Apple OSX (10.3 or later).
Aiptek Slim Tablet 600U ($78.31)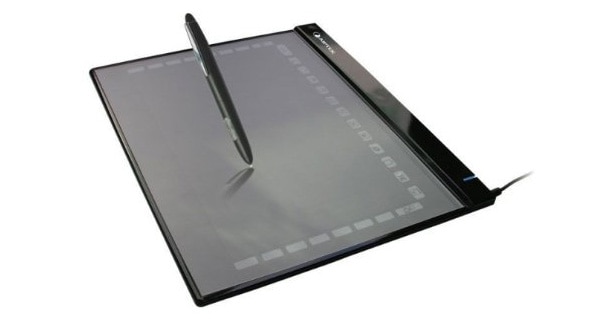 Aiptek's Slim Tablet 600U is relatively larger than the Wacom Intuos, but cheaper. Its 10.0 (254 mm) by 6.25 inches (158 mm) by 5mm dimensions take advantage of more space making it easier to draw. Also, with 600U's 29 programmable Macro Keys, it becomes a great choice for designers who would want to make the most out of their money.
Compatibility: Windows XP SP1 and above. Mac OS X 10.4 and above.
Genius F610 ($85)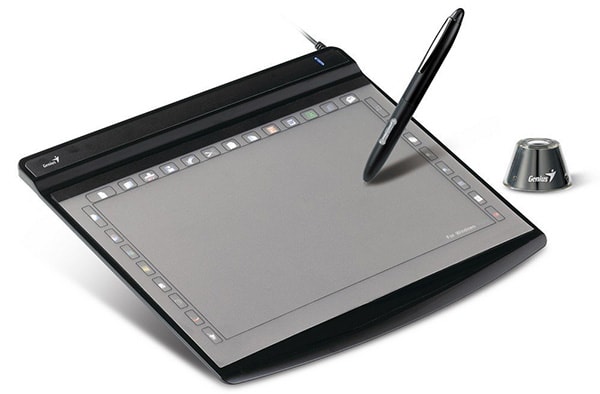 The F610 graphics tablet is the slimmest produced by Genius. Although it only has a working area of 6 by 10 inches, the control is unparalleled. Packed with a cordless pen that comes with two buttons and a 1,024 level pressure sensitivity, you will be able to draw, sketch and write in a more convenient way. And because it's so space-saving, you can use it in a coffee shop table, or in your own big office.
Compatibility: Windows 8/7/Vista/XP, Mac OS X 10.2.8 or higher.
Aiptek MediaTablet 14000U ($101)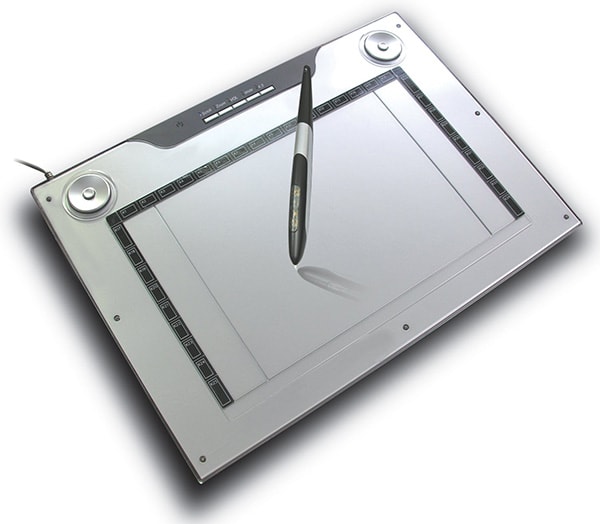 Apitek's Media Tablet is one of the most ergonomic graphic tablets available. It's larger than most of the tablets in this list with 14 inches but is accuracy is something to be desired. You can create astonishing outputs in such precision that you will never imagine to be possible. Its work area has a resolution of 4000 lpi and its pen has a standard 1,024 pressure levels. If you are into drawing website mascots, illustrations for infographics or creating web-based elements, this is a great choice.
Compatibility: Windows 8 / Windows 7 / Windows Vista / Windows XP and MAC OS X
VT Mini Plus 5-Inch Graphic Tablet ($60)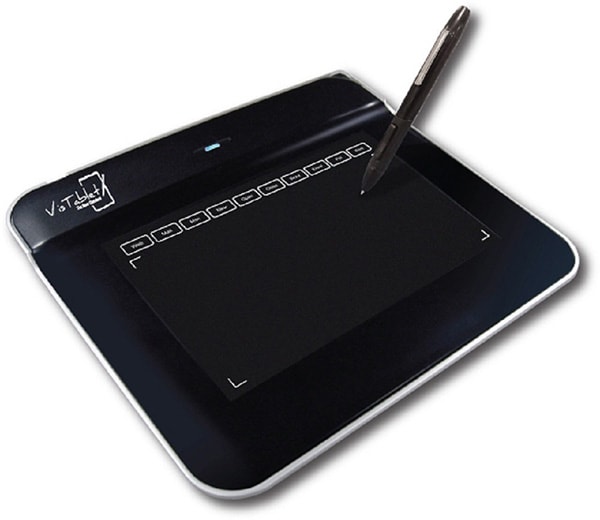 VisTablet's 5-inch graphic tablet is small, but its power transcends its size. Despite its small size, the VT Mini Plus is admired for its control and precision, something that many designers and artists need. The tablet has a patented technology and its 1,024 pressure sensitivity pen jives with it to give a natural tactile feel. It's also compatible with major graphic design software like Adobe Photoshop and Illustrator, and Corel Painter.
Compatibility: Windows 8/7/Vista/XP/2000, Mac OS 10.4 and above
Huion 420 ($25)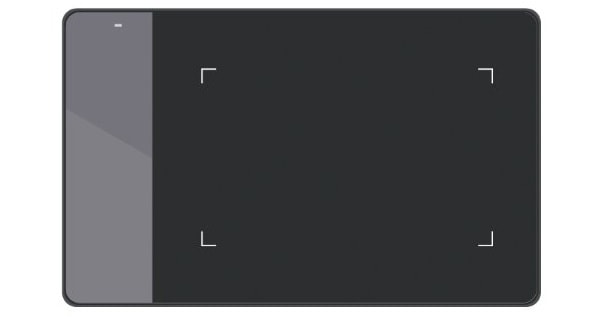 Simplicity is the name of the game for the Huion 420. Created as a compact device, it fits a 4000 LPI resolution into a work area of 4 by 2.3 inches. The tablet itself is designed with less clutter, without any buttons thus taking advantage of the smaller space. Topping that up is its high-pressure sensitivity pen that boasts a stellar 2,048 sensitivity level.
Compatibility: Windows8/Windows 7/Vista/XP/Mac OS 10.4
Turcom Tursion TS-6251 ($90)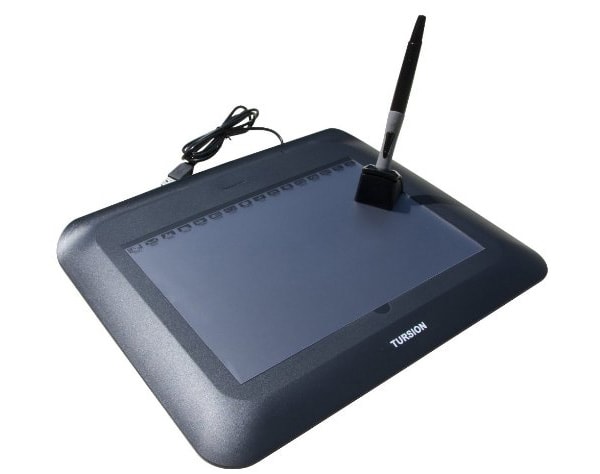 Turcom's Tursion graphic drawing tablet has almost surgical precision that allows you to take control of the cursor and efficiently and effectively create an eye-popping design. It is easy to use and helps your hands relax with its ergonomic design.
Tursion comes with a favorite program/shortcut area where you can easily navigate the programs you need. Aside from that, it has a Pen Commander software which gives you the ability to run any program or menu from the tablet. It also has a Pen Signer which allows you to sign documents and drawings. With its Pen Mail, you can also send handwritten emails.
Compatibility: Windows 8/7/Vista/XP, Mac OS X 10.3.5 or higher.
Ugee EX07 ($70)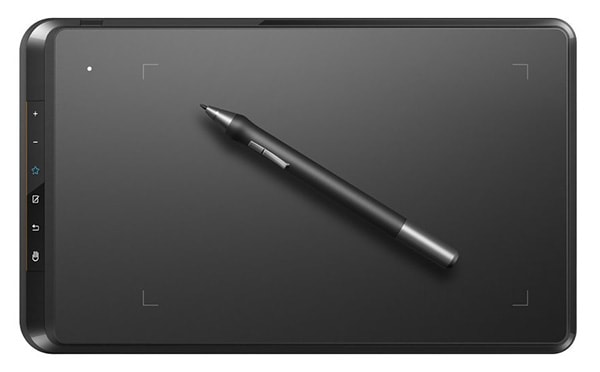 Ugee's EX07 is a small graphic tablet built using Electromagnetic Digitizer technology. Although it's just 8 by 5 inches in area, EX07's resolution is a monstrous 5080 LPI, allowing an accuracy of more or less 0.01 inch. Its pen comes with 2,048 levels, double the standard value. Using this tablet will not only save you space and money but will allow you to take full advantage of your creativity and produce outstanding results.
Compatibility: Windows/XP/Vista 7/8, Mac OS
Monoprice 10X6.25 Inch ($51)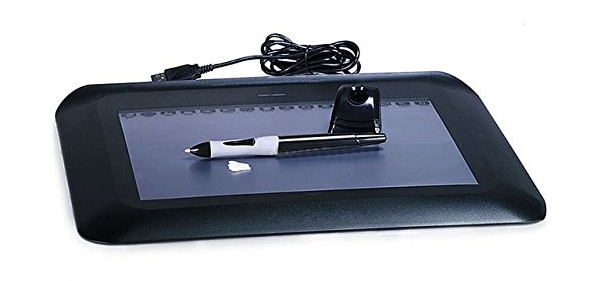 This large tablet (10 by 6.25 inches) is a tool in graphic design and illustration that offers great precision. And while it allows you to create outputs that you will be proud of, it helps your hand reduce the risk of strain, allowing you to extend the longevity of working.
Compatibility: 2000/XP/Windows Vista/Windows 7 and Mac OS X 10.3.5 and later.
Conclusion
There you have it. Ten tablets to choose from, in case you can't afford, or don't want to buy a Wacom. These are all alternatives and I suggest that if you are going to buy one of these, make sure that you really like the product. Because having a great tablet is always a good investment for a designer. Once you get used to using your device, you'll never want to use a mouse ever again.
If you have tried one of these Wacom alternatives, and would want to say something about it, let us know in the comments section below. Happy designing!
Like what you're reading? Subscribe to our top stories.