Interview: How to Earn $1,000 with a One-page Website
Today, we will tell you the story of how one of our partners earned $1,000 in the first month using the Designmodo affiliate program. You might not think that's a lot of money, but the essential part of this story tells that this amount was earned (and, by the way, continues being earned) with a one-page site.
So, let us introduce to you Ahmet Sülek – creator of Flatuicolors.com
A few weeks ago, we launched Flat UI Pro, and before that, we launched a free version of Flat UI. After the knockabout and much debated launch of Flat UI, a couple of resources dedicated to Flat UI have appeared on the Internet (Drupal plugin, WordPress plugin, generators, etc.), but the most useful resource was Flat UI Colors, which became a point of departure for designers.
After the launch of the paid version, Sülek decided to try our affiliate program. Ahmet added a link to our paid products – a link which does not hinder to use his service – to the paid version of Flat UI. And as interest in Flat UI grew and continues to grow, Ahmet began to earn money.
We asked Ahmet Sülek a few questions about the earning potential and value of the Designmodo affiliate program. We hope you are inspired to try it as well.
Hello Ahmet, to start, tell us about yourself, what you do and where you're from.
I'm a tech & design geek from Istanbul, Turkey. I've done design and coding for 13 years. I was a Computer Science & Engineering major, but I took many courses from Visual Communication Design. Since I was 14, I have never stopped creating user experiences and user interface designs. I really enjoy the process of applying designs/ideas into daily life. I'm able to both design & develop an application from scratch to the end and that's why I call myself "idea to life converter." The dream of an end product being used always motivates me to keep learning and researching in different areas and combining them into a beautiful integration to our lives really excites me. Currently I mainly work on Pillter and Prisync as co-founder and CTO.
How did you find out about Flat UI, and why did you decide to create such a useful resource for designers and developers?
I always liked minimalistic and simple designs and in the past 8 months flat design became more and more widely used over the Internet. I came across with Flat UI when I was looking for a simple bootstrap theme for my ongoing project and after I found it, I repeatedly start using it. It was not only the ease of rapid prototyping of the Flat UI kit that made me use so much of it, but the colors were put really well together and I started to use these colors for my other projects as well.
No-Code Email Template Builder
With Postcards you can create and edit email templates online without any coding skills! Includes more than 100 components to help you create custom emails templates faster than ever before.
Try Free
Other Products
First, I released an OS X Terminal Theme and it became really popular in a very short time and showed me that I'm not the only one who is in love with the combination of Flat UI colours. As a Front-End Developer and a Designer, it's such a pain to copy the color codes between design applications and text editors repeatedly, so I created Flat UI Colors to speed up my development and design process and made it public for the needs of others.
When you were creating it, did you think of earning money from it?
Actually, I have never thought turning this idea into money; if it wasn't for Designmodo, there would be no chance to make money with such a simple single-page application.
How did you like working with our affiliate program?
I'm glad that I'm involved in a program that meets my interests. Everything is working great; I already got my first paycheck!
Are you satisfied with the results of the first month of working with us?
Transforming six hours of design and development process into $1,000 monthly income, can't say no to that. :)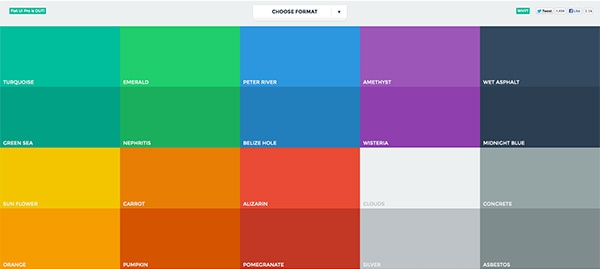 Will you expand the functionality of the service, and if yes, then what new features should we expect?
Now I'm working on a different project which applies this color picker tool into different color palettes and this project will have some other features as well.
What could you recommend to our partners to achieve good results?
I think it's all about targeting and presentation. People in need of the Flat UI Color Picker tool are those who are using it for faster development and design progress and that's why I promoted the affiliate link with just a simple "Flat UI Pro is OUT!" text on the very top left. I didn't push anyone to buy something or disgrace the design for the sake of earning money, the only thing that I was doing is to inform the users about the new Flat UI Pro kit. Keeping it simple won again.
Personally, do you like Flat Design and its principles?
I think the progress of design was stuck at the stage of applying visuals from the real world into digital interfaces. Flat Design is showing us that we can still reach the beauty in interfaces and engage strong user interaction while keeping the design simple and clean.
Thanks Ahmet, we wish you good luck, and more interesting projects.
Thank YOU! They will be coming soon!
Like what you're reading? Subscribe to our top stories.