Verify Email Newsletters for Spam and Test Deliverability
When you're creating a newsletter, you want it to look absolutely perfect. Having the most impactful campaign is something that every company is attempting to do, so having tools and resources that help is crucial. With new tools coming out nearly every day, it can be hard to keep track of what's worth paying attention to and what isn't.
One of the things that any brand wants to avoid is ending up sending out an email that lands in the spam folder. There are tons of things that can contribute to this, but many can be avoided if you know what you are doing. When you have a tool like Unspam.email working for you, this is no longer a time-consuming and expensive process. We recommend you to read our article about email deliverability and sender reputation.
Basic Details About Unspam Email
When you first visit the Unspam Email website, you'll find that it's functionally designed and intuitive to get started with. It explains exactly what it offers you and underneath, there is a feature where you can test the service.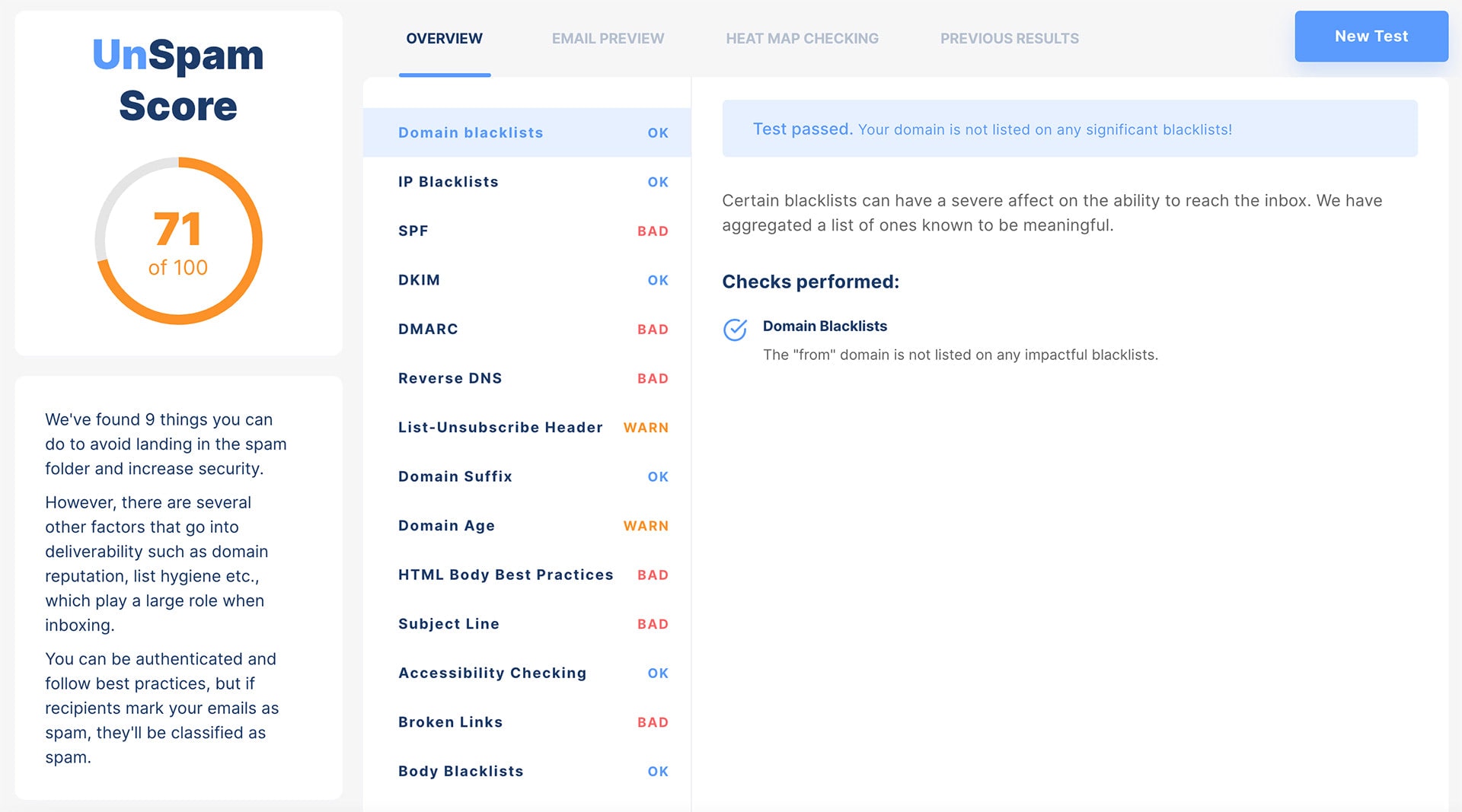 All you have to do is send one of your email newsletters to a specific testing address, and you'll get copious amounts of information about how you can improve things.
Top Features Provided by Unspam Email
Creating the perfect email newsletter is a lot of hard work. Even when you work with templates and analyze your data correctly, it can still take a lot of time to build an ideal campaign for your audience. Unspam Email offers lots of features that can help you keep your email campaign running without a hitch. A few are especially notable include:
Blacklist Detection Servicers – It's crucial to be aware right away if your IP address or your domain has been blacklisted. Emails from blacklisted domains will automatically be sent to the spam folder, which has to be addressed quickly. If the domain is blacklisted, you will need to make changes and ask the site to remove you from the list.
Full Accessibility Checks – Another thing that is important when sending emails is being sure every user who receives them can properly read them. That means that you need accessibility checks in place, something else that Unspam.email offers for free. This is an exceptional tool to make sure that designers, marketers, and developers send out emails that can be read and enjoyed by a diverse audience.
Email Preview Feature – As mentioned earlier, making sure the email looks great is part of an excellent email newsletter campaign. Since recipients use a broad array of clients, browsers, and email services, this can be easier said than done. This website offers a way to preview the email for any device, operating system, and platform so you can be sure it looks great for every viewer.
Eye-Tracking Prediction Heat Map – Working to keep customers attention is a never-ending job for any company. However, you can use data to make sure you stand out and have better performance from your emails than the competitors. Unspam Email shows you where people spend most of their time looking at your email so you can make improvements for the next newsletter you send.
Keep in mind that there are many other features offered by this tool. This only gives a small look into some of the most incredible things that Unspam Email offers to its users. We'll talk about some of the other features later on in this article. This service, supported by Postcards, has a robust set of features that will make your company stand apart from other companies like yours.
No-Code Email Template Builder
With Postcards you can create and edit email templates online without any coding skills! Includes more than 100 components to help you create custom emails templates faster than ever before.
Try Free
Other Products
What Unspam Email Provides Through Email Testing Services
Once you send in a test email to the Unspam Email service, it will give you something called an Unspam Score. The score will range from zero to 100. It also lists the things that you're already doing right, as well as what changes you can make to ensure your emails end up in an inbox instead of the spam folder.
For example, our test email gave us a score of 68 out of 100. We have docked points for not including a list-unsubscribe header, domain age, HTML best body practices, subject line, and broken links. But that's only a few of the things that Unspam checks for. The service also looks at:
Domain Blacklists
IP Blacklists
SPF Records
DKIM Signatures
DMARK Authentication
Reverse DNS Configuration
Domain Suffixes
Spell Checking
Accessibility Checking
Body Blacklists
Short URLs
Each of these checks can be clicked on to get more information about it. For example, if you click "HTML Body Best Practices," it offers information on linked images, text-to-image ratio, obfuscated text, HTML fonts, HTML tags, HTML elements, embedded HTML elements, link URL sizes, HTML body link count, and spammy language.
Under each heading, you can learn more about what each item is and how you can improve it to create the best email newsletter possible. Then it's as simple as making a few changes and sending through an email for a new test to see how you've improved things. It's simple and straightforward to use.
Understanding the Email Preview Feature
Another tab under your Unspam Score is the email preview. This is relatively intuitive to use and understand. There are three choices at the top of the service to choose between desktop, tablet, and mobile. Switching between the three is simple and quickly gives you access to information on what an email will look like on various devices.
Is one of the previews looking less attractive than the others? Making some changes through the Unspam Email dashboard can improve your newsletter before sending it out to the masses. This is an excellent way to ensure that your emails look precisely the way you would like, no matter how or where they are opened.
Delving Further Into Heat Map Checking
The heat map that Unspam Email offers can ensure your emails are getting the right kind of attention. It consists of two different parts, including an attention map and a clarity heatmap. Both of these work in tandem to create the perfect email campaign.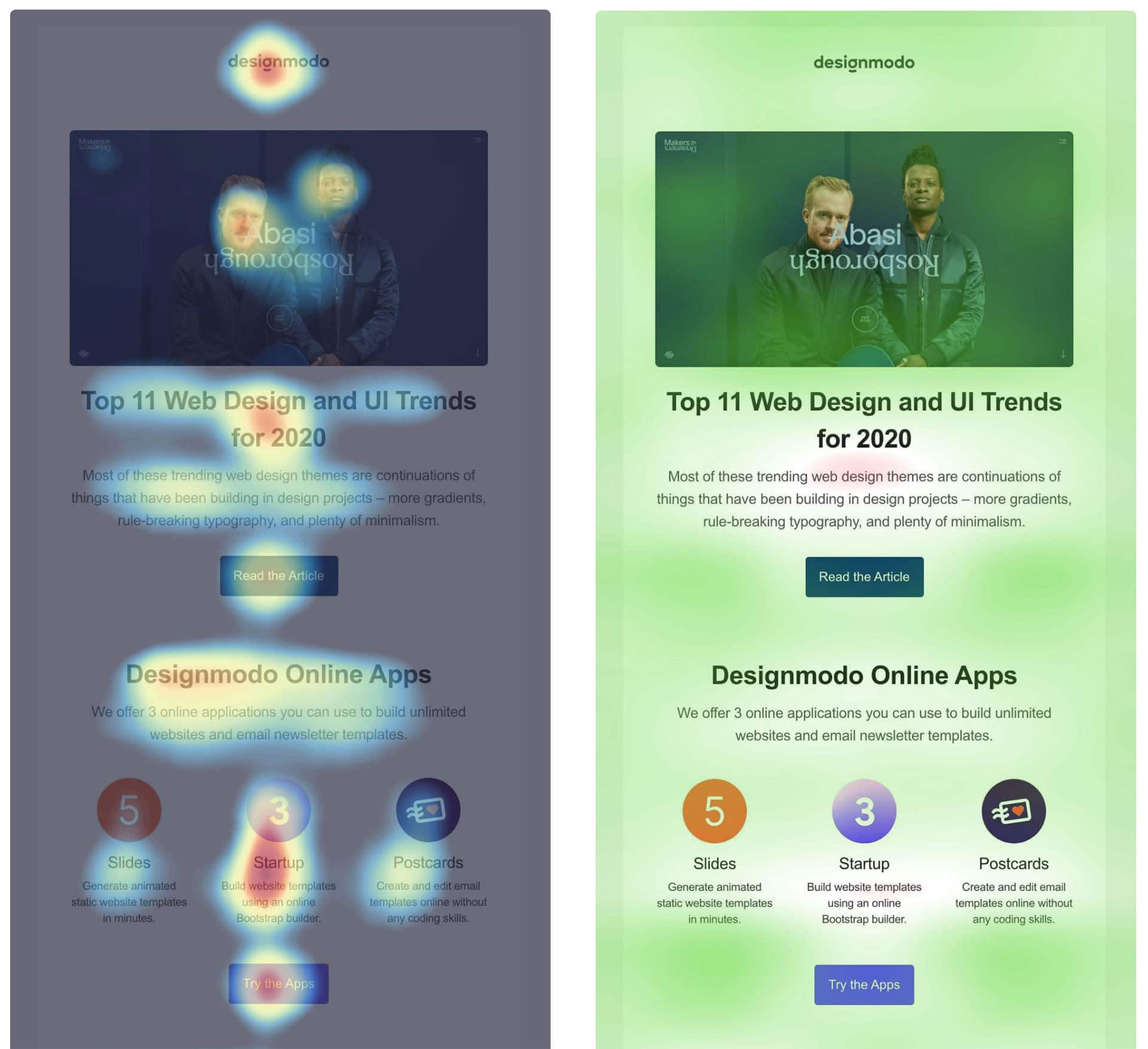 Attention Map
An alternative to the five-second test and eye-tracking studies is the Unspam Email attention map. You can see which parts of your email are drawing in eyes and which parts people are passing over at a glimpse. The heat map ranges in color from dark reds to light blues with the bright red colors holding the most "heat."
This lets you know what parts of the email work well and gives you the chance to change the things that aren't working the way you would like. It's a colorful feature that is entirely free for users of the service. It offers a lot of insight that can help you surpass your competitors in terms of engagement.
Clarity Heatmap
On the other side of the screen, you can take a look at the clarity heatmap. This is designed to show you what parts of your design are too cluttered to be clear. When you look over the clarity map, you can make changes to increase your clarity score and ensure users understand your full email. It acts as a diagnostic tool to help you remove unnecessary information.
Rather than having a wide range of colors like the attention map, the clarity map is mainly green and red. The green applies to areas that are clear and perfect in your email newsletter. The red areas are the places on your email where can be improved so that all the information you're sending is clear to your specific audience.
Things to Keep in Mind When Using Unspam Email
Unspam.email offers tons of options to improve your email, but there are a few things it cannot do. For instance, if someone on your email list marks one of your emails as spam, it's going to go to the spam folder. Nothing you do can change that. However, when it comes to the things you can control, this service lets you really tighten up your content so that customers want to read it and click on your call-to-action.
Of course, many factors go into having your emails reach someone's inbox. Everything from the reputation of your domain to list hygiene will affect how you hit an inbox. However, with the help of Unspam Email, you now have a free and easy way to optimize your emails to be a hit with your audience. This is an excellent tool that is well worth learning more about!
Like what you're reading? Subscribe to our top stories.