How to Hire a Web Designer or Design Firm
So you need a great website, right? Everyone does.
But if you are not skilled in the art of web design or development, you will need to hire a designer or design company to complete the job for you. This can be a daunting task if you have never done it before. But we can help.
This article will take you through some questions to ask and things to look for when hiring a web designer or design firm, so you can take as much stress out of the web design process as possible.
Getting Started (Before You Talk to Anyone)
Before you even start looking at design portfolios or calling firms, you need to figure out what you are looking for in a website. Is your project a fresh design or redesign? How soon do you plan to launch?
And be realistic about the timeline and timetables. While a simple website can likely be completed in a short turnaround, a larger-scale more complicated project can include hundreds of hours of work.
Do your homework and answer these questions:
No-Code Email Template Builder
With Postcards you can create and edit email templates online without any coding skills! Includes more than 100 components to help you create custom emails templates faster than ever before.
Try Free
Other Products
What do you need? Is a website part of your marketing plan?
Do you have branding materials and style guidelines handy?
What type of content are you planning to include on the site? Is it available for the designer to work with?
What are the goals of your website?
Who is your audience?
What's unique about your website and it's content?
How Do You Find a Web Designer?
Once you have answered those questions, you need to actually start finding someone to do the work. There is another crossroads here – working with an individual or freelance web designer or a design firm.
For most people, the choice comes down to scope of the work, time and budget. Freelance web designers can be a great option for smaller projects that can be done and handed off; firms or small design groups can work better if you think you will need longer-term maintenance or care for your website.
Actually finding someone to work with – either an individual or a firm – starts with talking to people you know. Ask the owners of websites you like who did the work. Talk within your network and see who does web design. Also consider checking with your area chamber of commerce or better business bureau to find a list of web designers and their references.
Best Places to Find Freelancers and Companies
Behance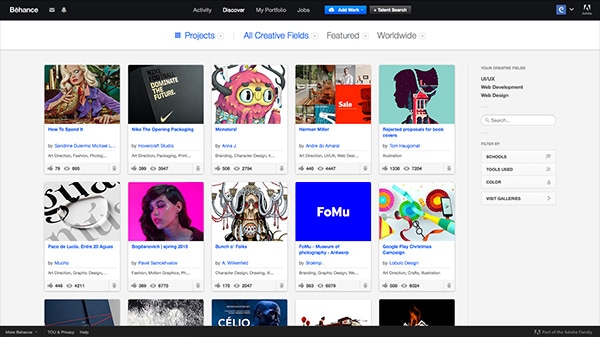 Dribbble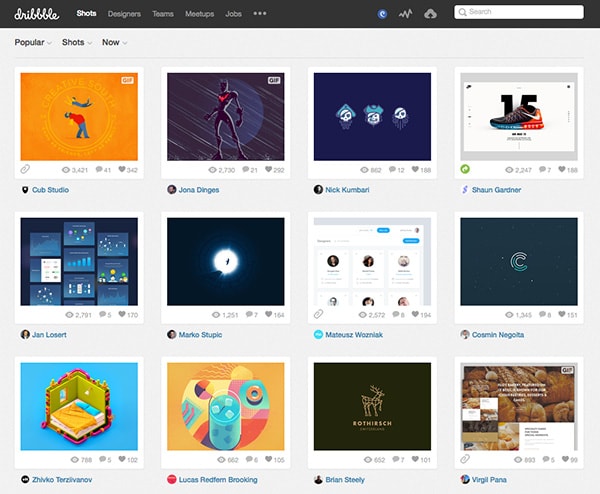 Envato Studio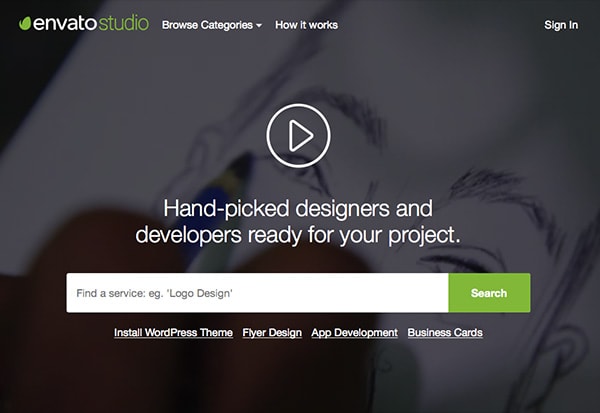 Interview the Designer or Design Firm
You would never hire an employee without going through a design interview process, and the same is true when hiring someone to design your website. You want to take a look at the designer (or design firm's) work, check references and ensure that it will be a good fit.
There are eight things you should look for with every candidate:
Portfolio: You need to like the portfolio of the web designer you hire. Many designers have a signature style or are better with certain techniques than others. Match the designer to the type of work or site you desire.
References: Ask for references and check them. Do projects from this designer get good reviews or do they have client testimonials? Look for a designer or firm that has been in the business three to five years as a starting point.
Experience: Check a potentials web designer's resume. As you would with any other job candidate, you will see elements that can impress or concern you. Ask questions about that scope of work and how it could relate to your project. Consider following up with previous employers to learn more about a candidate.
Time: What kind of turnaround time do you expect versus what the designer can provide? Are you a get-back-to-me-right-away kind of person? Then you need a designer who can do that. Make sure before you hire a designer that he or she has the time available for your project.
Creative workflow: Learn how a designer or design firm works? What is included in the price and scope of the project? Understand what communication will happen along the way, what you are expected to provide for the project and what elements will be given to you once the project is complete.
Education and training: Check out a designer's pedigree. A well-designed website is not the same as having a computer science degree. Does your web designer have some type of design and technical know-how? Where did they receive education and training?
Communication skills: Hire someone that you can communicate with clearly and easily. It can be tempting to hire someone halfway around the world, but if you are going to want to have face-to-face meetings about the project, you need someone closer to home.
Do you click?: Trust your first impression: Does this web designer seem like someone you get along with? Remember you will spend a lot of time working together and communicating during the project and you should be able to work well together.
Consider the Type of Site You Will Get
Think about your website in more technical terms as well. Will you own the site once it is complete? What type of framework does it have? Will you be able to use and maintain it?
These are important considerations, especially if you are hiring on a per-project basis and not a person or firm that will continue to work for you or your company.
Consider the following carefully:
Will you own the website and your domain name? (For almost everyone, the answer should be yes.)
Do your prefer custom development or a standard or open source framework? If you plan to have a website that does not change or need updating, custom can work well. If you plan to have a website with lots of interactive, updatable, changing features, consider a standard framework with a common content management system, such as WordPress.
How will you maintain or upkeep the site after the web design process is finished and the site is live?
Work Within Your Budget
Finally, you need to think about budget and payment. What type of web designer can you afford? How will you pay them?
Set a project budget from the start and be clear about what that budget is so that you can work within the scope. Get all contract terms and payment in writing before any work is done.
Know that there are wide ranges for what this type of work can cost. You can find web designers for as little as $25 per hour or hundreds per hour. You have to do your homework and compare cost to scope of your project.
Think about how to plan paying for the site as well. Consider multiple payments for work as specific timelines or milestones are met rather than paying half before the project starts and half after it is finished.
Conclusion
Hiring a web designer or design firm can be a challenge, but it also offers a great opportunity to look at some great work, talk to some creative people and open up the process as you plan a website design or redesign.
What do you look for in a website designer? Do you have other tips? Share your thoughts with us in the comments.
Like what you're reading? Subscribe to our top stories.