Peristyle, a New Typeface from Hoefler & Co
Peristyle (perystilylum) in Hellenistic Greek and also in Roman architecture, is a row of columns surrounding the perimeter of a courtyard or of a building. Essential elements of the times, the peristyle was a defining element of ancient Roman society.
The architectural value of the peristyle resides in the contrast that the element added to roman domus (houses) and villas of the time. While, as an architectural construct, the element may seem to be similar to ancient Egyptian structures, the peristyle was a unique architectural construct.

Peristyle, the font, is a monumental typeface, designed to have an immediate effect on readers but without falling into the extremes of exoticism or triviality. Designed for print, the condensed, high-contrast sans serif also looks great on screens. However, it's pretty obvious that it's a header style font. It comes in six weights from Light to Black, plus Peristyle Stencil, and two additional layer styles for chromatic typography.
Peristyle, Elegant Instead of Eccentric
While the typeface has some historical and futuristic calligraphy traits, it is designed to distinguish itself from retro or sci-fi fonts that explore contrasts. Just like its architectural counterpart, Peristyle creates drama, elegance and style, but without falling to eccentricity.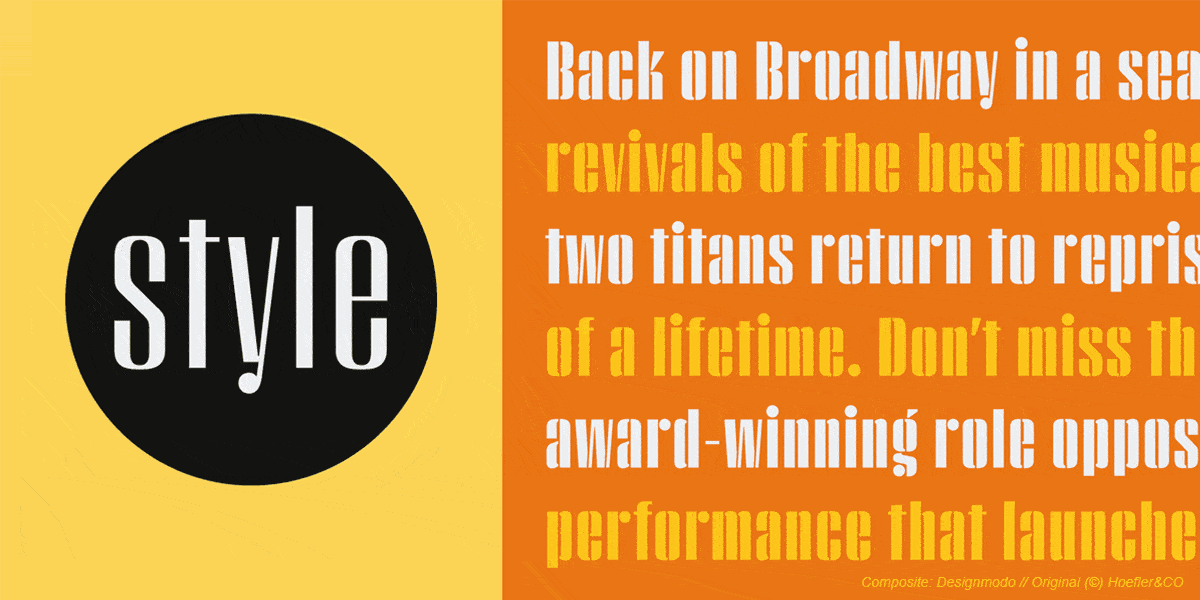 No-Code Email Template Builder
With Postcards you can create and edit email templates online without any coding skills! Includes more than 100 components to help you create custom emails templates faster than ever before.
Try Free
Other Products
Further, Peristyle avoids repeated gesture patterns, typical for most condensed typefaces, by adding a couple of functional artifices to keep readers engaged.
"Circular ball terminals on letters like y and r help drive them apart from their cousins u and n, and vigorous wedges on letters like k and g help distinguish them from the workaday h and q. These dynamic shapes recur throughout the character set, and across the full range of weights, creating an effervescent rhythm everywhere the font is used." // H&Co – Introducing Peristyle
Stylistic Sets
Peristyle also takes advantage of OpenType's Stylistic Sets feature. Instead of hunting for glyphs alternates and inserting them manually in the text of OpenType fonts, related alternates are grouped together and can be inserted at once through the selected text. Most modern apps support this feature, so it's a time saver for anyone looking to use peristyle in the body text.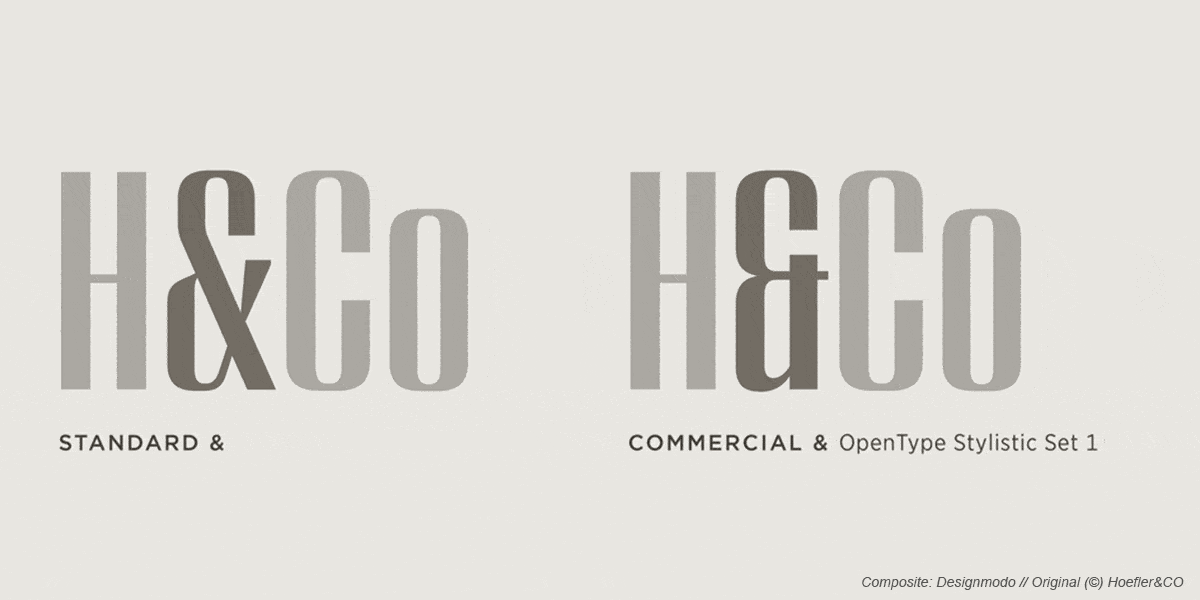 Peristyle includes a "commercial" ampersand, allowing designers to use a more suitable display of the symbol in text.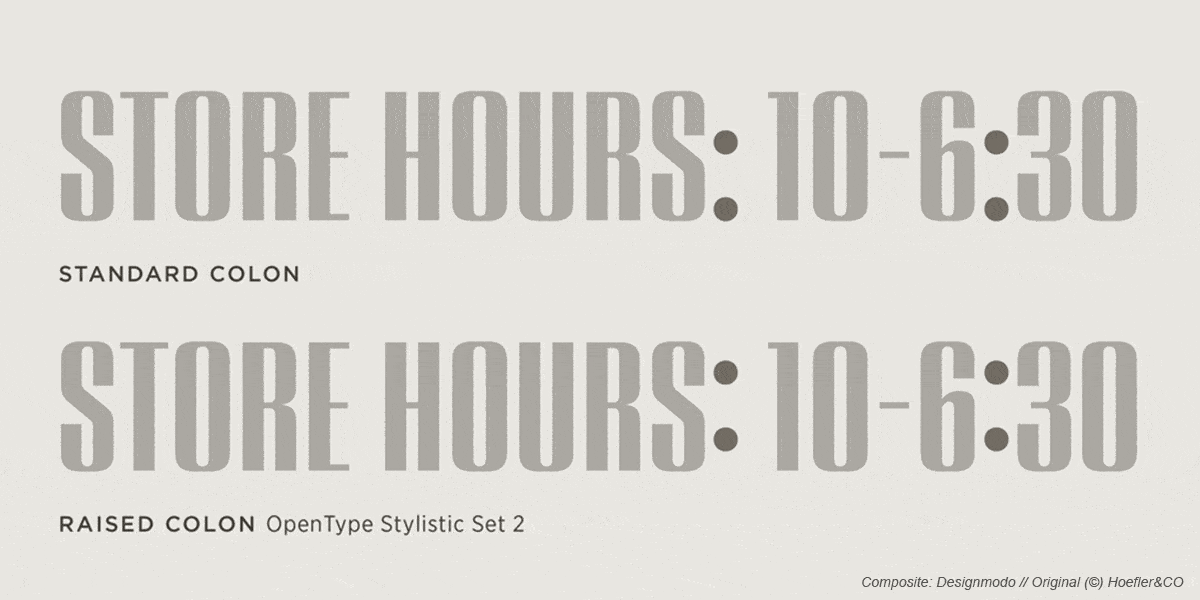 Exquisite typographers will also appreciate the alternative design for the colon. In contrast to the standard option, where the colon is placed at the baseline, aligned visually to the position and scale of the lowercase, the alternate version raises the colon to the center of the capitals, a good choice when setting timetables or any other numeral focused texts.
Color Balance
One of the most efficient typography technique for adding contrast, personality and distinctiveness is color balancing. It can be used to create a secondary rhythm of alternating hues, to highlight elements or engage a reader's attention to the designer's message. It's an exciting technique to explore when designing wordmarks or headlines, however, it's prone to errors from even the most experienced designers.
Most notably, the biggest issue is color concentration. Naturally, letters are divided into left and right halves. In two-color typography for example, separating a character into two colors may not seem too complicated when a letterform has two equal halves. However, it gets tricky for letters with one stroke (like i, l, and t) or with three (such as m and w).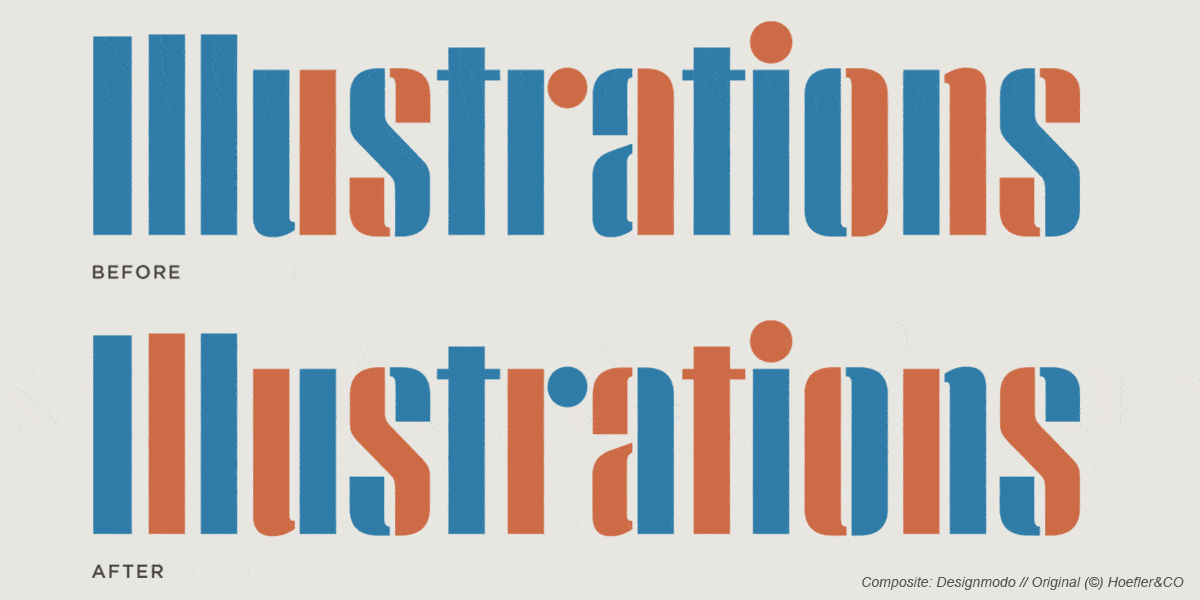 The Peristyle typeface comes with a stencil design that solves this problem. In addition to the standalone Peristyle Stencil font, the family also comes with two bi-color layered styles. The layered styles can be tinted in different tones and stacked together to preserve the rhythm and the balance of color throughout the line. Peristyle Stencil is designed to automatically reverse the color orientation.
Language Support
Hoefler & Co., the creators of Peristyle, are moving their library to OpenType. And because OpenType fonts are virtually limitless in the number of characters contained therein, Hoefler & Co. chose to expand their language coverage by establishing the Language Research Program in 2005. The initial product of this research is the Latin-X™ character set. The set which expands the horizons of the type foundry to an additional 200 million readers worldwide, reflects the current landscape of languages and cultures.
Availability
The pricing for the complete set is $199 per computer. The stencil variation, plus two additional layers can be purchased separately for $79 per computer. If you want to see the font in action, try it here. And if you are buying Peristyle, do yourself a favor and get Hoefler & Co.'s Sentinel font as well. The two fonts make a great pair.
Like what you're reading? Subscribe to our top stories.