Beautifully Designed Weather Mobile Apps
Undoubtedly, mobile applications are at the peak of its popularity nowadays. Developers contrive to please us not only by great idea or advanced technical side, but also with gorgeous truly remarkable interfaces that can easily overwhelm any person by incredibly attractive appearance.
Generally, iOS designers are accustomed to pay high attention to details whether it is a design of application to the game, or just ordinary layout for alarm program. So ultimately, you as an end-user will definitely get amazing truly sophisticated interface, spiced up with skeuomorphic or stylish flat elements.
Today we have collected magnificent examples of weather-related mobile app interfaces that will instantly focus your attention on graphical weather forecast presentation, sleek transparency, subtle shadowing, fantastic photo integration and oozing minimalism.
Examples of Weather Mobile Apps Design
WEATHERIA – iOS APP by First Draft Studio is a vibrant photo-based mobile interface with semi transparent blocks, simple white icons and bold typography.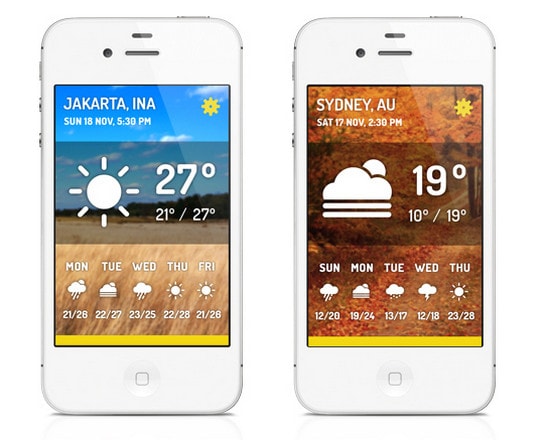 Weather Helper by Creative Family is a color-driven interface that depends on weather. If it is warm, background gets orange color; when it becomes cold, the application receives a blue tint.
No-Code Email Template Builder
With Postcards you can create and edit email templates online without any coding skills! Includes more than 100 components to help you create custom emails templates faster than ever before.
Try Free
Other Products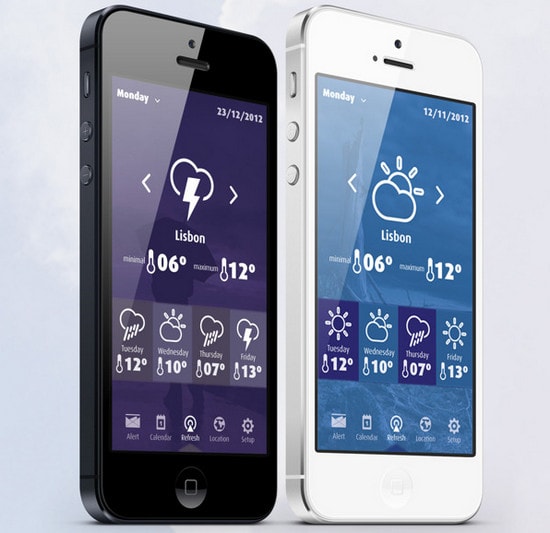 Weather App UI by Harshil Acharya beautifully visualizes climate conditions through a great deal of graphical stuff, including lovely knob and light color palette.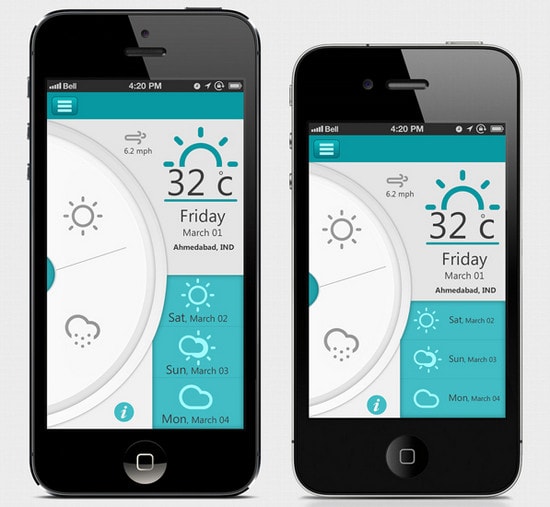 Partly Cloudy – The Ultimate Infoviz Weather App by Timm Kekeritz includes both pictorial and numeric visualization of meteorology, based on a completely intuitive way.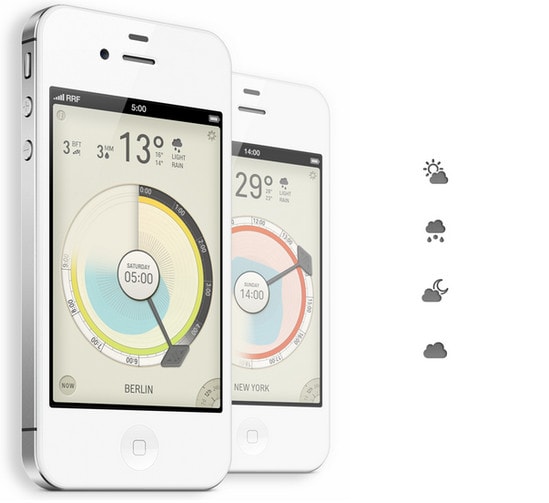 Weather Forecast iPhone App by Nesil AKSOY is another beautiful example of application that consists of spectacular slightly blurred photographic background. Plain typography and outline graphics, realized in white color, perfectly stand out.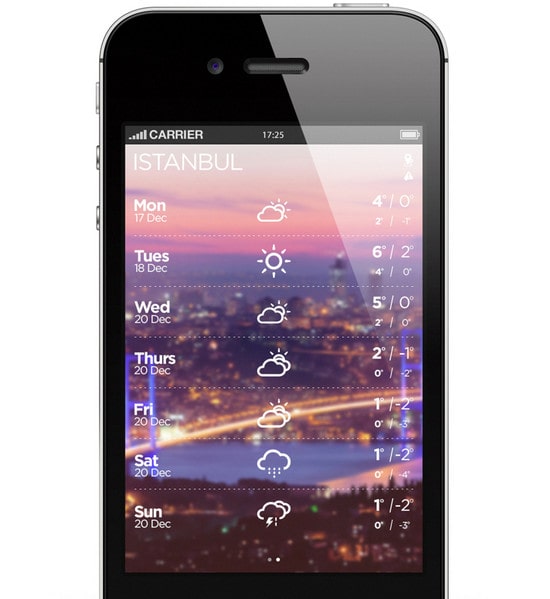 Weather App by Zsolt Baritz does a great job of utilizing flat style, introducing weather features via trichromatic chart.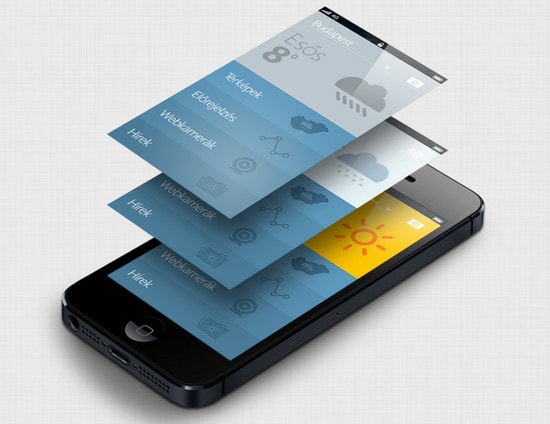 Morning Rain – iOS Weather App by Roberto Nickson leverages really huge icons that go perfectly well with picturesque urban image background.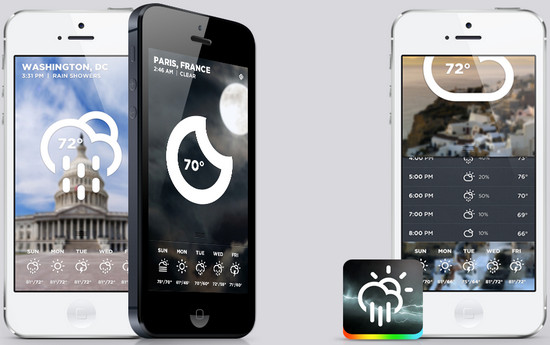 Meteo & Clock iPhone App by Benoit Morin features horizontal stripe layout made in muted tones, including only necessary, compactly arranged data.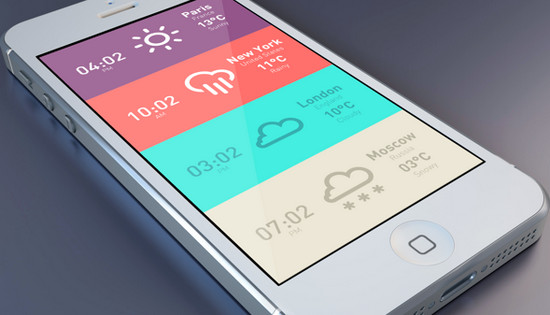 Just Weather App by LEX NAU As you have already noticed, photo-based application interfaces are really popular, and our next example is not an exception. It wonderfully incorporates photo background that attracts onlookers by means of astonishing nature-inspired shots.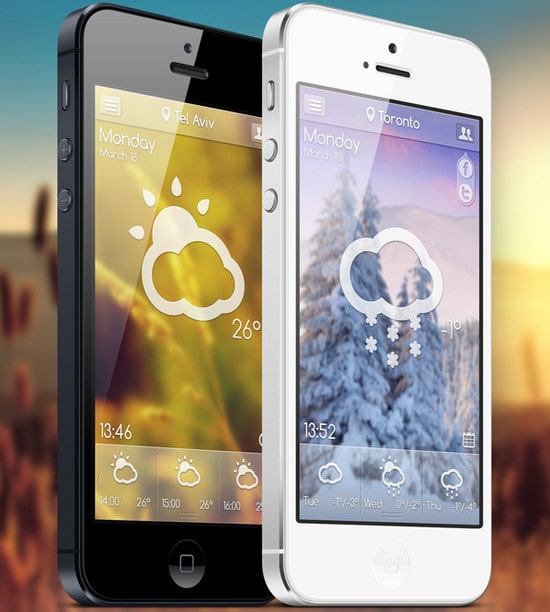 Brisk breaks the monotony of customary background, utilizing minimal approach. It includes glaring gradient background and only 2 elements: first one is a temperature in Celsius, and second one is an ordinary icon, that symbolizes weather situation.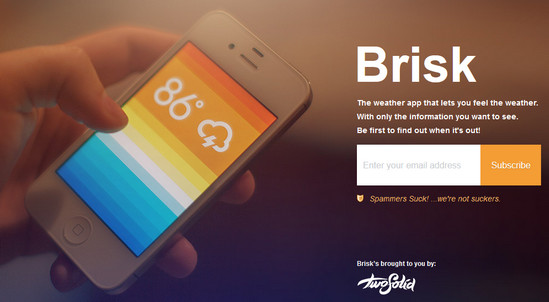 Weather Tile App by Magnus Strand Nekstad has a colorful Metro8-inspired interface, which represents all data via tile concept. It mainly helps to track the weather in all of your favorite places.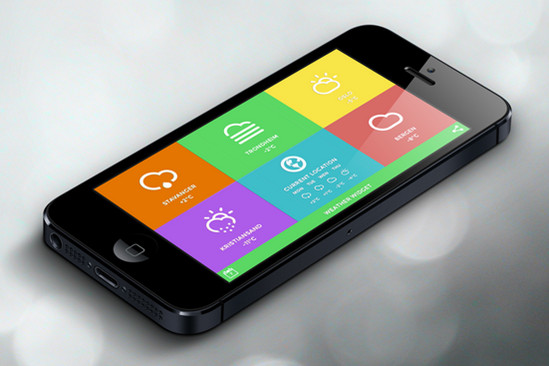 Weather App "Outside the window" by Artem Svitelskyi has a rather minimalistic vibe, that includes monochromatic background, light typeface and icons. All in all, application is able to easily and cozily showcase multiple weather features.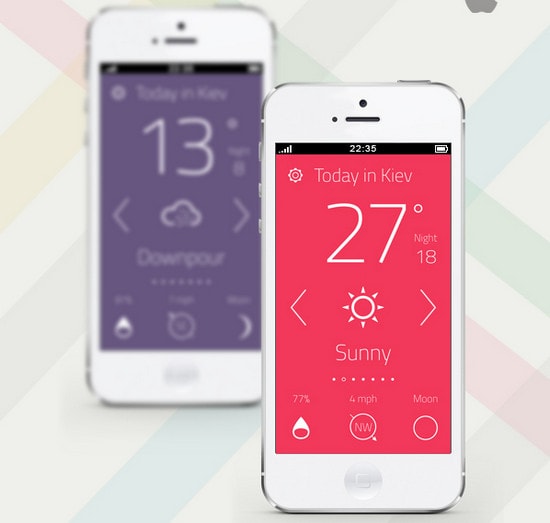 Minimal Weather by Pablo Chavida features dark interface, which shows all the information about 7-day forecast you want to see. Designer plays with a contrast, making foreground items light and clear, and, at the same time, leaving them inornate and apprehensible.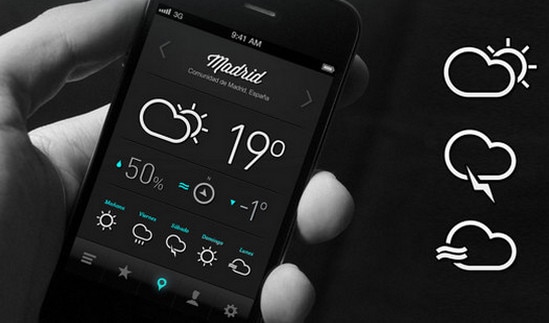 Weather by Webshocker is a great source of inspiration for those who adores nature-inspired designs. The app engages users with amazing type treatments.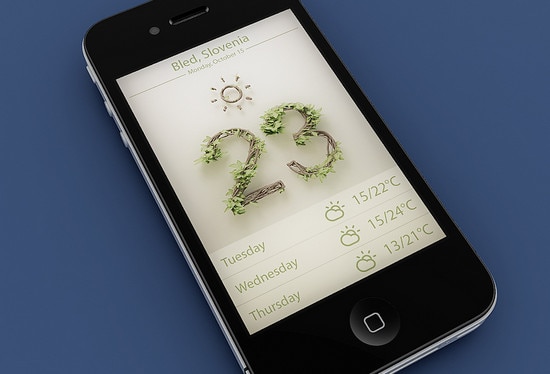 Weather app by Michal Galubinski and thoke design is driven by vector graphics that instantly makes weather situation clear. Moreover, visual components are supplemented by detailed description.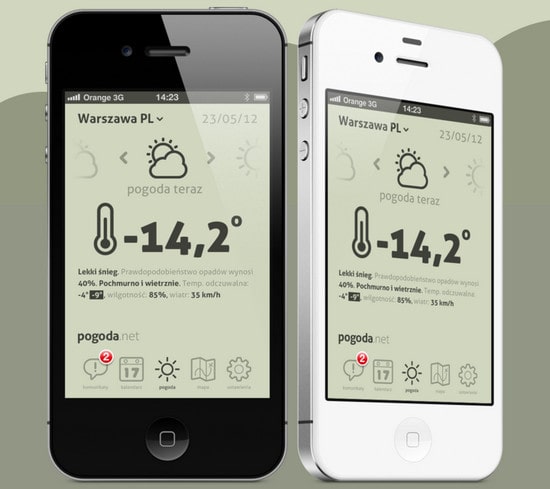 Weather App by Ben Wouters looks sleek and sophisticated, featuring spectacular heavily blurred photo background and set of light semi-transparent foreground data blocks.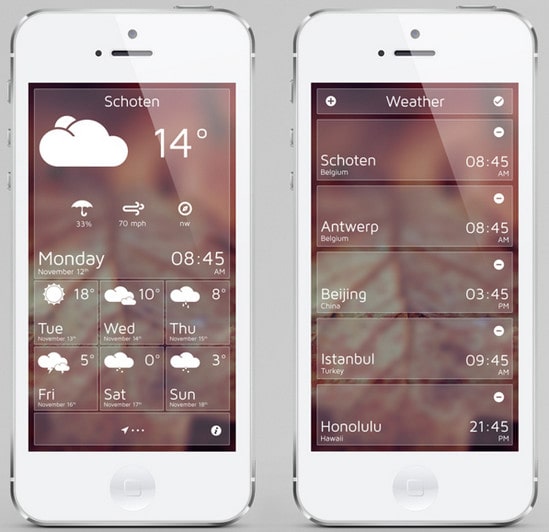 Cube weather by Ilya Kulikov makes use of striking 3-dimensional cubic illustrations, which vary depending on the season, although the display looks slightly busy due to large amount of represented data.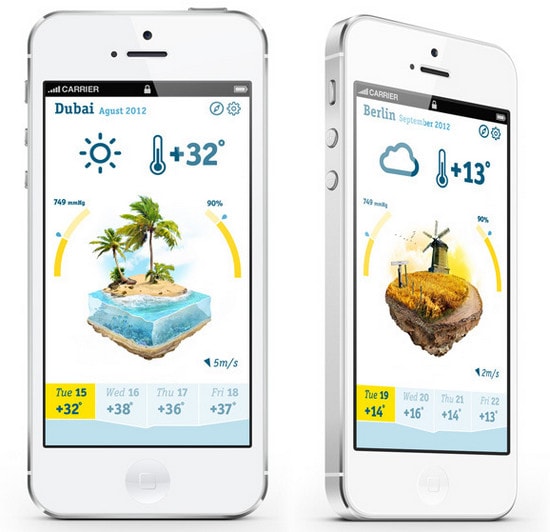 "Cloud" weather application by Tim Roeleveld has a beautiful skeuomorphic vibe, showcasing realistic interface with subtle shadows and nice lighting.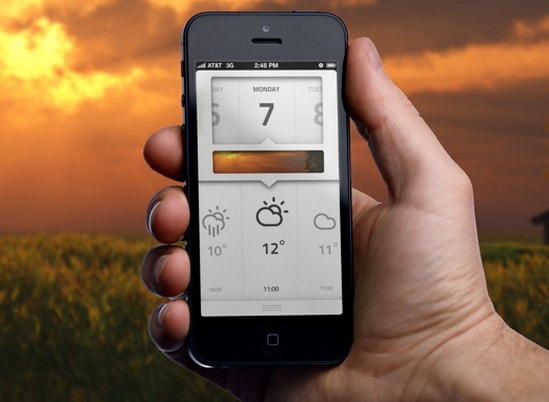 MINIMETEO for iPad by Alberto Antoniazzi charms by really intuitive layout and represents almost hourly forecast. Simple monochromatic background doesn't distract attention from the weather features.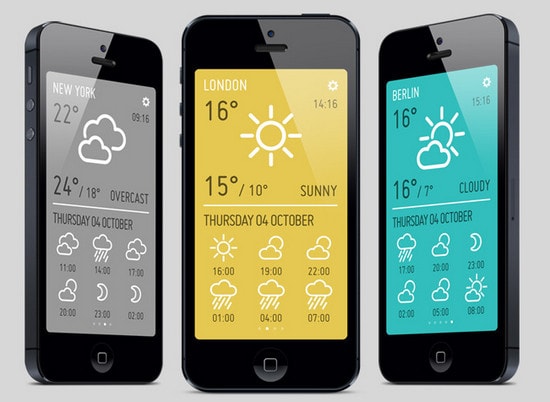 WeatherHelper app by Michael Nunes informs users about weather conditions, providing them with seamless and comprehensive interface.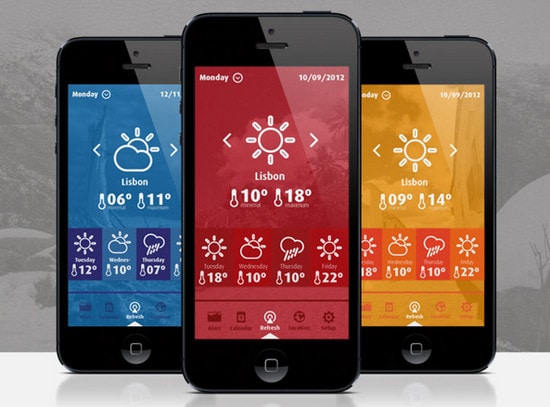 Solar – iOS App and UI Design by Kuro Interactive lets you feel the weather, featuring bright old-school gradient that divides screen into 2 functional sections.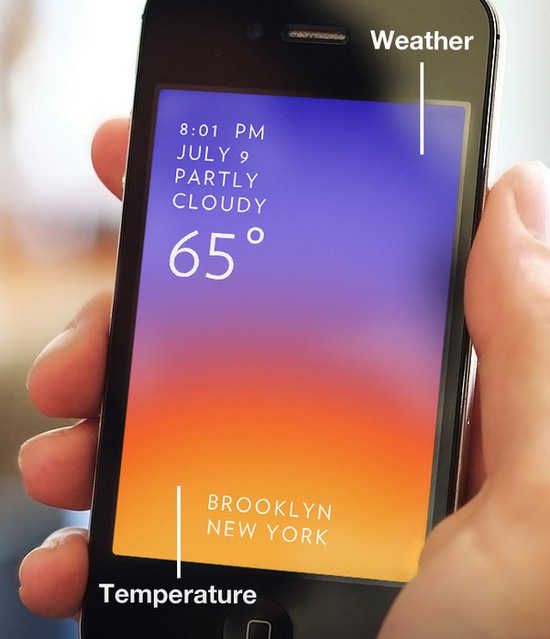 Weather GUI App by Yasser Achachi has an accurately made interface with a high attention to details that combines together regular monotonous background, plain typography and simple icons.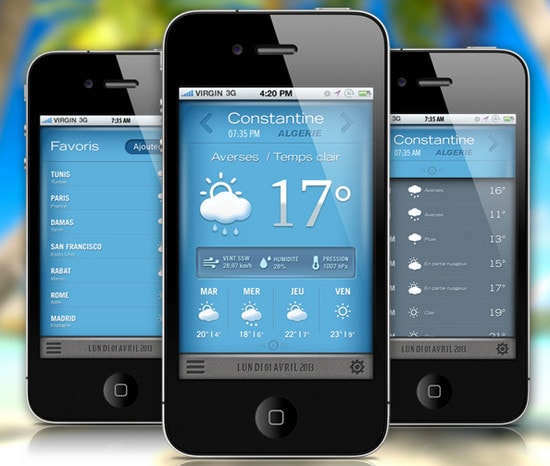 Authentic Weather by Tobias van Schneider strongly differs from its competitors. It includes neither photo background nor accustomed graphics or temperature sign, all you get is a simple, but rather emotional note that will explain weather conditions in writing. It was mainly made for those who like to complain about the weather.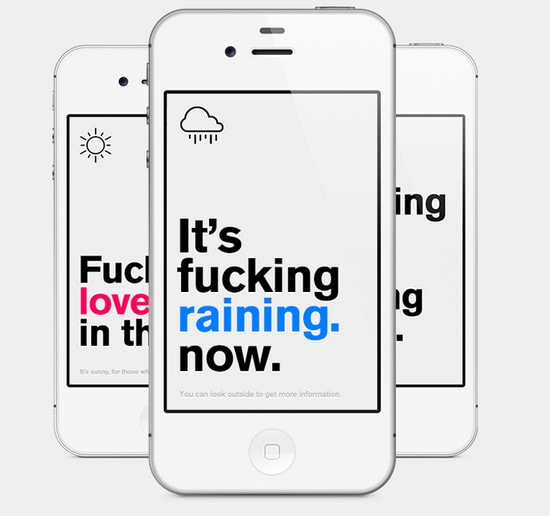 Weather App by Tsvetelin Nikolov looks elegant and fresh due to amazing realistic background with glass touch and beautiful and smooth data blocks.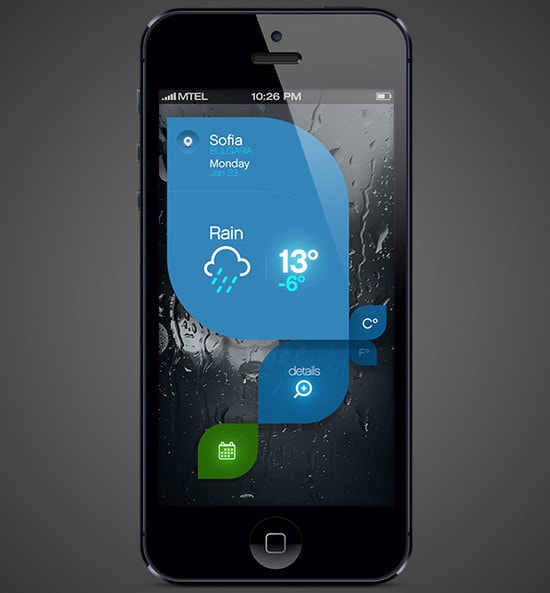 Safe zone by Tobias Björsberg is a modern take on infographic-style interface that keeps track of weather conditions during a long period.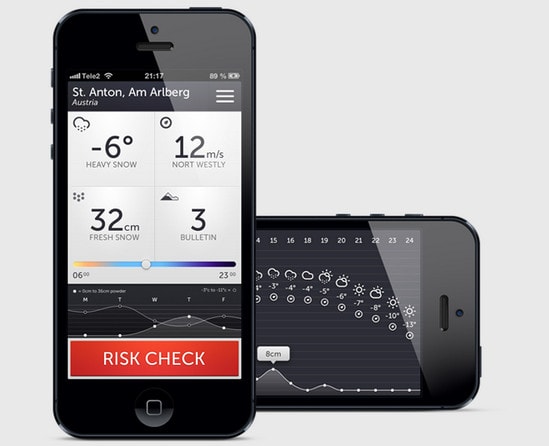 App UI by Yu Huang helps to dive into weather forecast a lot deeper, showing different graphs and data in tables. On the whole application looks truly organized and informative.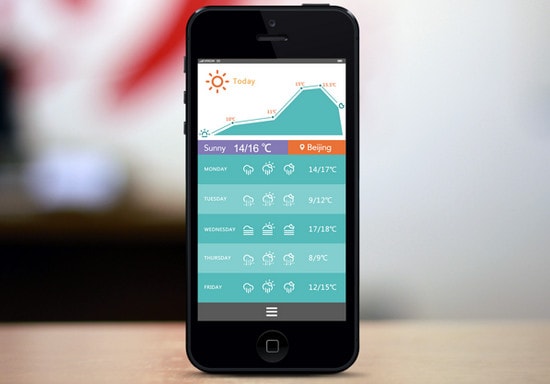 Chamonix Experience iPhone app relies on intuitive unenlivened illustrations that give an immediate idea about the weather outside.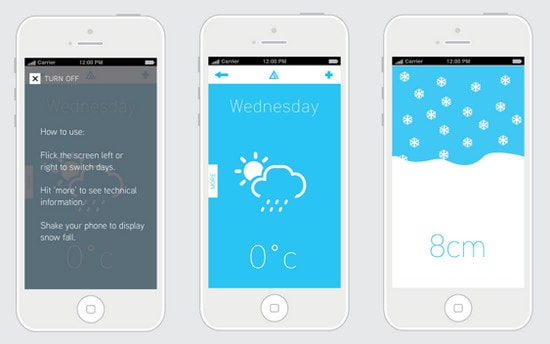 Weather Forecast Mobile App by Saulius Kirklys utilizes tabular approach in representing forecast. It graphically showcases temperature, wind force and direction, amount of precipitation and weather situation.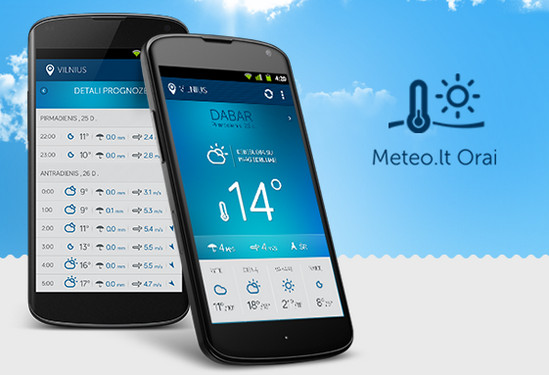 iPhone Weather app by Ali Osman has stylish artistic atmosphere with a wonderful illustrations that instantly apprise customers about weather.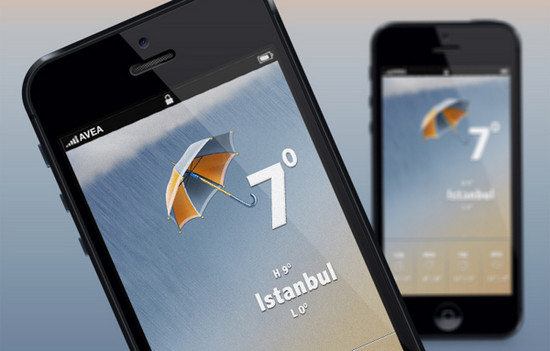 Reflection
Generally weather app interface includes only necessary data that is represented by means of intuitive icons and couple of digits. Minimal approach of providing forecast data is really appropriate in such cases, the more so that designers manage to spice up layouts with spectacular photo backgrounds, making interface look vivid and fresh.
Do you know any other good examples of clean and good-looking weather application designs? Tell us what do you think of intuitive pictorial presentation of weather forecast? Share with us your opinion via comment section.
Like what you're reading? Subscribe to our top stories.