Beautiful Examples of Login Forms for Websites and Apps
Login forms are one of the most important user interface elements in mobile applications and websites with a members-only area.
Why are they so important? They are the doors to the world that you have created. People are always a flight risk when they try to fill in a login form. Even the tiniest detail can scare them away. And there isn't an alternative, you cannot remove the login form and just let everyone in.
Let us get to the basics of login forms, consider good UX tips, get clues from beautiful login form examples to find out how to create a pleasurable experience, and eliminate user obstacles.
Login Form Essentials
Unlike other types of user interface forms, login forms do not come in all shapes and sizes. They are limited to the number of fields that are used. The reason for such a minimal and capsule approach is trivial: people do not like to fill in forms. You cannot be pushy by asking for too much information. These forms should be simple, familiar, and straight to the point.
As a rule, the login form includes two inputs, links to alternative scenarios, and a submit button. Even though you have to be concise, still there is plenty to choose from:
Username field
Email field
Telephone number field
Password field
Alternative login options (Facebook, Twitter, Amazon, Adobe, Apple, etc.)
Forgot password link
Submit button
Show password option
Keep me logged in option
Registration link
As a rule, developers prefer to use these fields:
Online Email Template Builder
With Postcards you can create and edit email templates online without any coding skills! Includes more than 100 components to help you create custom emails templates faster than ever before.
Try Free
Other Products
Email field
Password field
Alternative login options
Forgot password link
Submit button
Depending on the purpose of your login form, you may choose one or another field or extend this default pack with other options.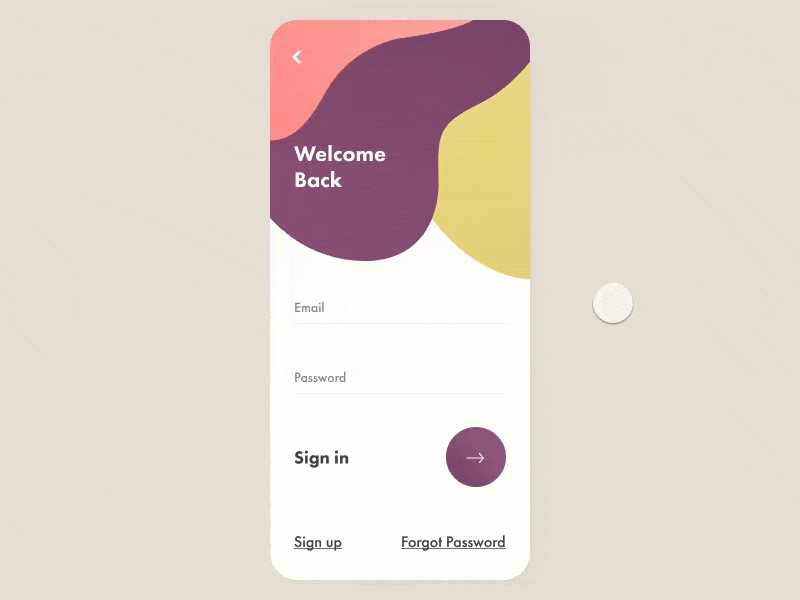 Sign In App UI
Future of Login Forms
One of the practices that we see on e-commerce websites is that instead of using username field or email field as the first option, platforms employ telephone number.
After you submit it, you get a unique code on your telephone that you need to enter into the next field. That is all. You do not have to remember a username or recall a password.
This solution is straightforward, quick, painless, and hassle-free, and it certainly leaves a positive impression. Yes, it demands your telephone number; some people may find it unacceptable. Chances are you will share your telephone number with the platform eventually. Second, with cellphones becoming more secure, this tension may disappear.
As the mobile phone industry evolves, we are starting to see other options as well, such as login forms examples where all you need is to use your finger to enter the website. This is just a beginning, but it is hard not to notice the potential of TouchID and face recognition. Therefore, it is highly recommended to keep these two approaches in mind.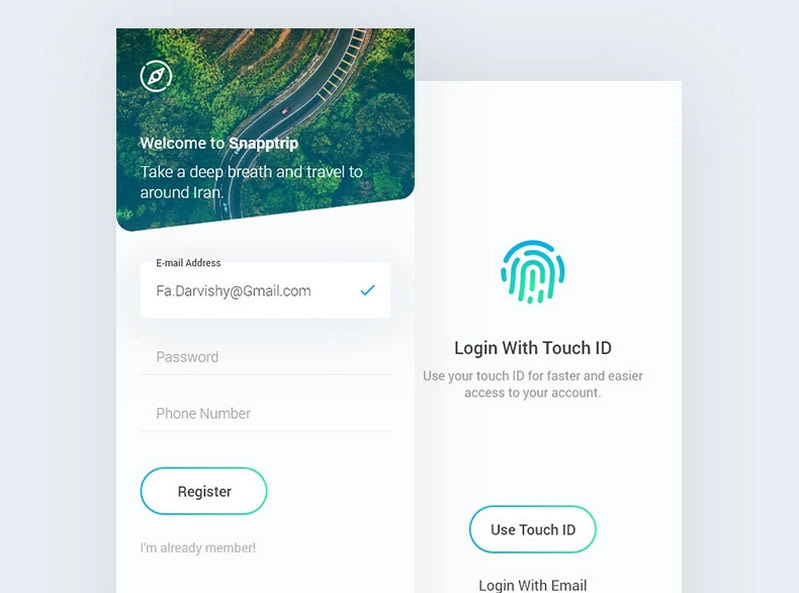 Snapptrip
Purpose of Login Forms in Projects
Before jumping into exploring UX tips for creating the best design for your login form, ask yourself "what is the purpose of the login form in your project?"
Read also: 33 Examples of Login Form Designs for your Inspiration
What input fields should you include to make the experience with the login form comfortable and pleasant? Do you want to let all potential clients in immediately? Or do you want to filter? Do you want to meet the expectations and behavior patterns of your target audience? Or do you want to make the experience standard?
Also, ask yourself questions concerning the purpose of the design. Do you want to use the login form solely for this purpose? Or do you want to make it a part of your brand identity? Do you want to make it a part of the reading flow or marketing campaign?
Decide on the purpose of the login form, and then move to the design.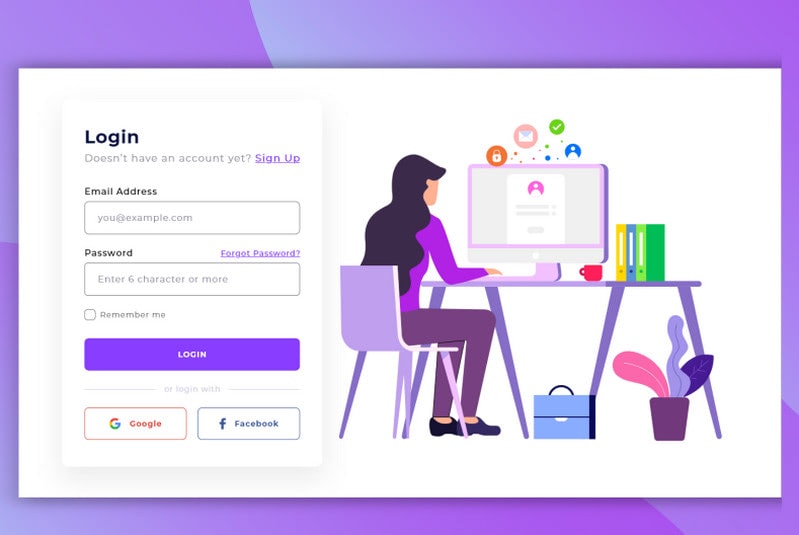 Login Page Screen
Best UX Tips to Build Login Forms That Rock
In website design, user experience is everything; and the login form is no exception. If you want to avoid creating login walls, interaction with the form should be flawless. There are a dozen best practices that help to build login forms that rock.
Make a link to login form stand out. Do not hide it.
If your website cannot properly function without immediate entering, then show login form in the hero area.
Use a "Registration" link instead "Sign Up" in the menu since the latter can be easily confused with "Sign In."
Never use "Sign Up" in the login form markup, only "Registration."
Do not use two forms side by side. The best practice is to create an individual page for each form.
Do not use small corner pop-up modals for login forms.
Include only vital input fields. Two inputs are typically enough.
Use the email field or telephone number field instead of the username field.
Automatically keep users logged in, though leave them an option to undo this.
Immediately validate fields. Tell users what is wrong right away. Do not wait until the submit button is pushed.
Do not use many security rules.
If caps lock is on, immediately notify the user.
Make an error message that is eye-catching but not intrusive.
Auto-focus on a field that should be filled in. Therefore, it comes without saying that the first field should have an auto-focus by default.
Use placeholders or labels so that users can instantly see what information they should put inside the field.
Always add the "Forgot Password" link. You do not have to make it an eye-catcher. However, it should be evident. What's more, remember people forget their passwords all the time. Therefore, you should think through this flow.
Allow users to see what they type in a password field. This way, you will avoid the annoyance of mistyping passwords.
Do not lock the account after two failed attempts. First, notify the user about this situation, then let them try again, at least 4-5 times.
Add alternative options for logging into the website using social media profiles or other popular platforms. For example, if you have a regular website, then allow clients to use their Facebook, Google, or Twitter account to enter. If your website can be related to other services like Pinterest, LinkedIn, Instagram, Adobe, Apple, etc. then you can add them as well.
On a related note, if you decide to add multiple options for logging in, it is better not to overdo. The more choices users have, the harder the decision-making process will be. Therefore, stick to 2-3 options to avoid confusion.
The list is big, but these tips are not difficult to implement, though they require some time. Remember, if you follow these best practices, you will undoubtedly take your login form to the next level.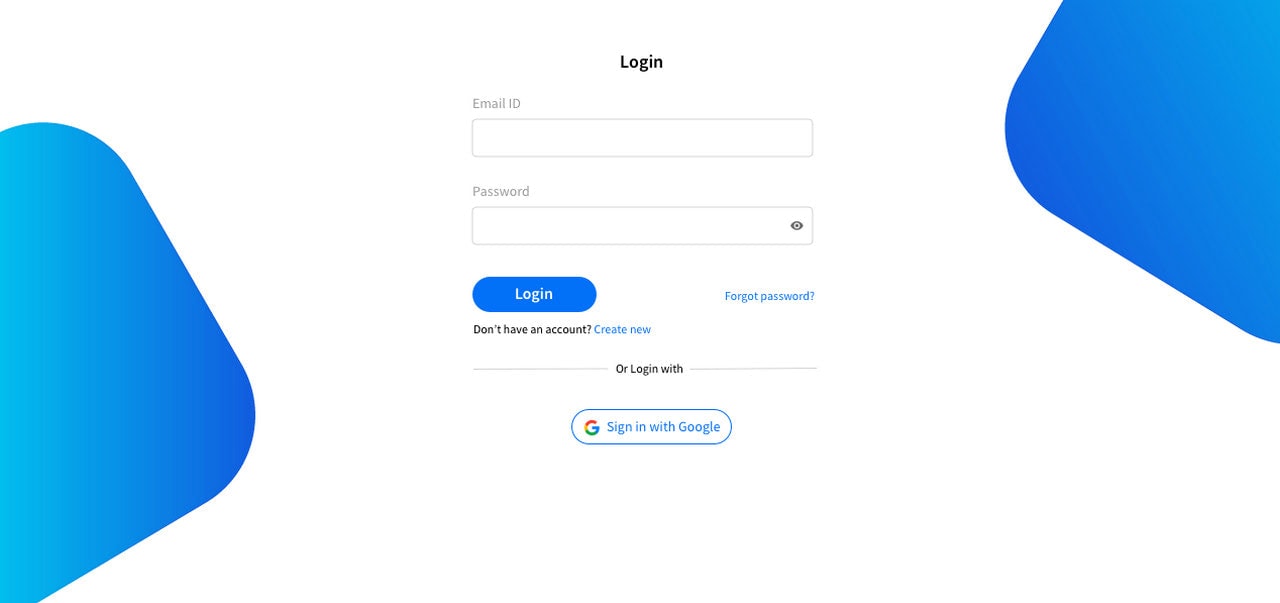 Login by Poonam
How to Create Login Forms: Basic Steps
Creating a working login form is a challenging task. Unlike contact forms that can exist on their own, login forms are the part of the User Authentication Mechanism that has a database in its core and requires a registration system. This requires several steps:
Create a valid HTML5 markup. Choose the proper type for input fields, set data attributes. Add necessary elements like links to the "Forgot Password" flow or "Keep Me Logged In" option.
Create browser validation.
Style forms with CSS3. Test the design on cellphones, tablets, and desktops to make it look perfect across devices and browsers.
Create a PHP script to get data from the form, send a query to the database, get the response, and initiate corresponding protocol.
While the first three steps require essential knowledge of HTML5, CSS3, and JavaScript, the last step is the one where you need to master your skills in PHP and MySQL. It may be difficult; however, with good tools and guides, everything can be done. Check out these helpful tutorials to get started: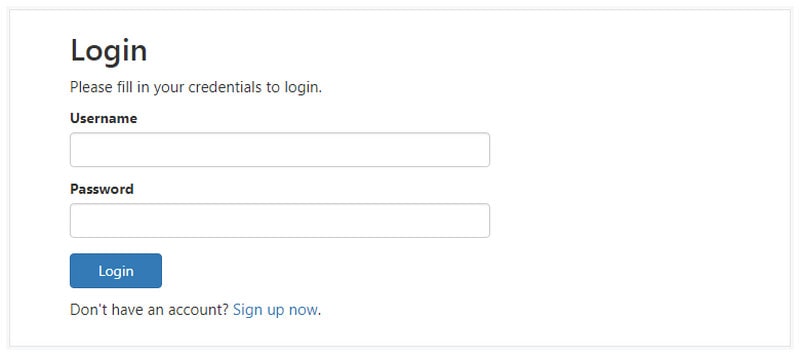 How to Design Login Form: Tips and Tricks
Designing a good-looking, intuitive, and handy login form is not as simple as it may seem at first. Although it may have just two fields and a button, you can still ruin everything by overlooking vital things like responsiveness, mobile-friendliness, optimal readability, good contrast, accessibility, and more. There are many things to pay attention to. We have compiled a list of helpful tips so that you take into account even the tiniest details.
Less is more. You cannot afford to be overwhelming.
Use styles and time-tested design solutions. Do not confuse users with extravagant ideas.
Do not rely on modern tricks or animations. They may not work consistently across various devices.
Use vertical login forms instead of horizontal ones so you will not have to change the behavior for small screens.
Keep a healthy distance between fields and elements of the form. The login form should be compact, but the elements inside should not be tightly packed.
Use red for errors. As a long-standing convention, it is highly effective.
Do not distract attention with vibrant full-screen image backgrounds, videos, or dynamic solutions. Keep it simple.
You can use accompanying illustrations or graphics, but they should support rather than distract attention from the prime task.
Do not clutter the login form with information. If you want to say something, this is not a time. First, let people in, and then say whatever you want.
Never use text-based submit buttons. Buttons should be evident, prominent, and pushy. Do not make them blend in; make them pop off of the page.
If you have more than one button, use a different style for each one. For example, make the submit button blue, whereas the registration button is grey.
Provide all vital components with a sharp contrast to ensure readability.
Be cautious with font size for cellphones. By default, iOS uses 16px that can ruin aesthetics. Sometimes it is better to use a pop-up message instead of trying to fit everything in a 320px width screen. (Not everyone has an iPhone 11 with a big screen.) You have to take into account all the variants.
Accessibility is a real issue. Always provide fields with data areas for reading devices. Make the contour of fields as bright as possible so that people with impaired vision can delineate inputs from the background.
According to WCAG 2.0 guidelines, a minimum touch target size should be 9mm by 9mm. Keep this in mind when you set height and width for your controls.
Make the input size bigger for cellphones. Remember, people will use their fingers to focus the input field, therefore make this interaction hassle-free.
Keyboard interaction shall be provided.
Test your login form across various screen sizes, devices, and browsers.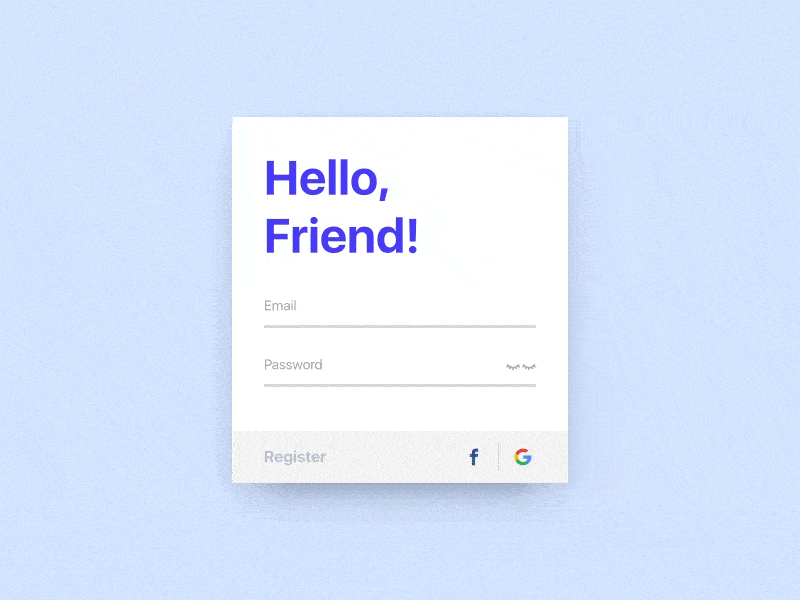 Login And Register by Max Gorokhov
Beautiful Login Form Examples for Websites and Apps
We have compiled a list of beautiful login form examples for websites and apps so that you can thoroughly examine concepts and real-life projects to get helpful insights on how to bring our tips to life and make your next login form a superstar.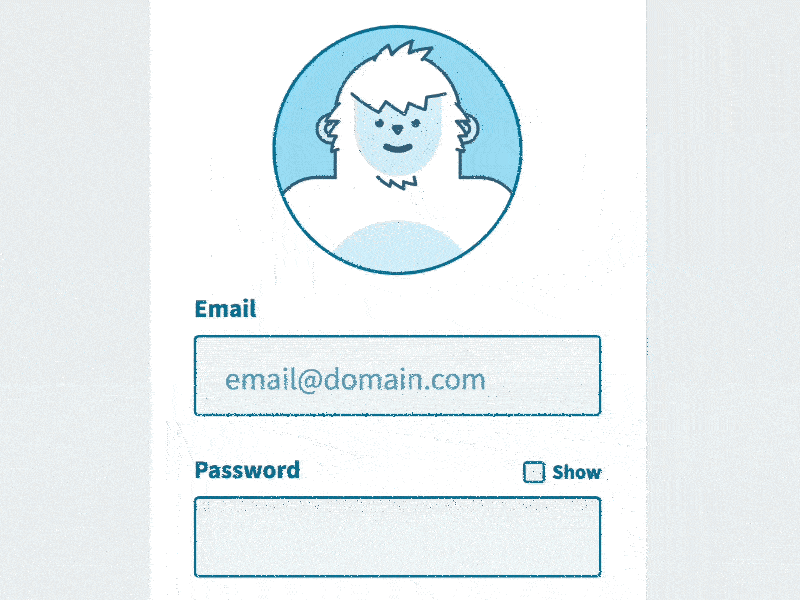 Yeti Login by Darin
Yeti Login by Darin made a lot of fuss several years ago. This concept was so inspiring that it gave a boost to numerous projects out there. The thing is, Darin has shown us how to use illustrations not just to establish the proper atmosphere or add a touch of brand identity, but also to assist the process.
How? Easy. He created an animated Yeti that follows the user's actions, thereby transforming interaction with the login form into an enjoyable play. This trick certainly decreases a sense of tension in the air. Even if you do something wrong, it will be a mere pleasure to repeat all the routine once again.
Darin's concept is one of those login form examples that demonstrate how to make the artistic approach to work for you and provide users with an unforgettable experience.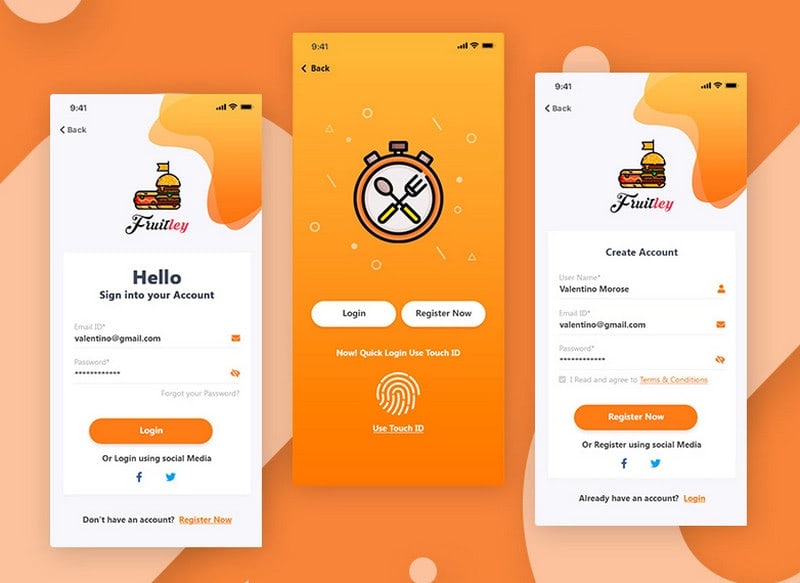 Restaurant Registration by Vihaan AK
Restaurant Registration by Vihaan AK is a neat and smart concept that shows us the advantages of splitting "sign-in" and "sign up" into two separate screens and using an illustrative approach.
First, is a splash screen with several options. Along with buttons that lead to logging in and registration, there is a TouchID option that is super handy for iPhone owners. This trick certainly adds a touch of sophistication to the concept.
Second, each process has a screen where fields and elements comfortably sit.
Third, graphics and coloring speak on behalf of the brand, but the focus still is on the form.
Finally, each form has only necessary elements with beautiful designs that offer a smooth experience.
As a result, the concept is handy and pleasant to use.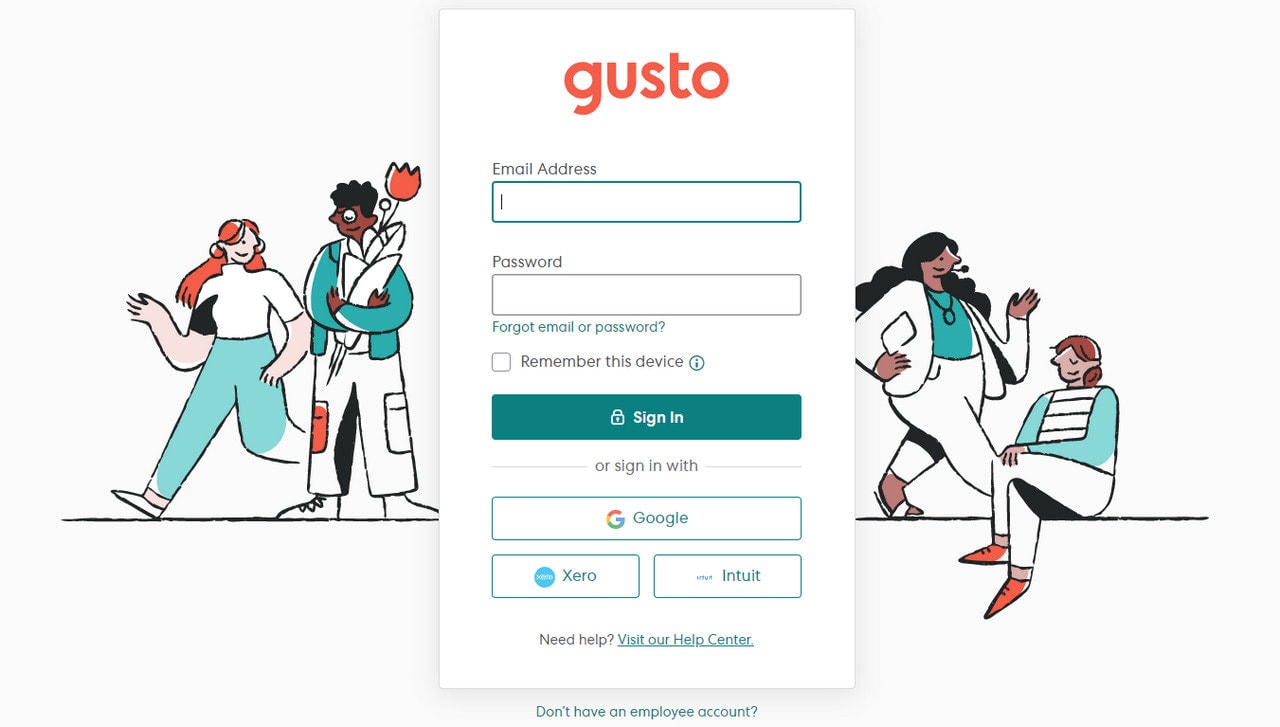 Gusto Login
Gusto is another login form example where an illustrative approach adds to the user interface.
The team has skillfully used human drawings to appeal to our nature and hint about the services provided by the platform. Even though graphics are attention magnets, the form is the star thanks to contrast and an enviable central position. Simple yet effective.
As for functionality, the login form has two fields (email address and password) and alternative options that are uncommon. Xero and Intuit may seem a bit odd at first sight; however, they fit here since these platforms have the same target audience.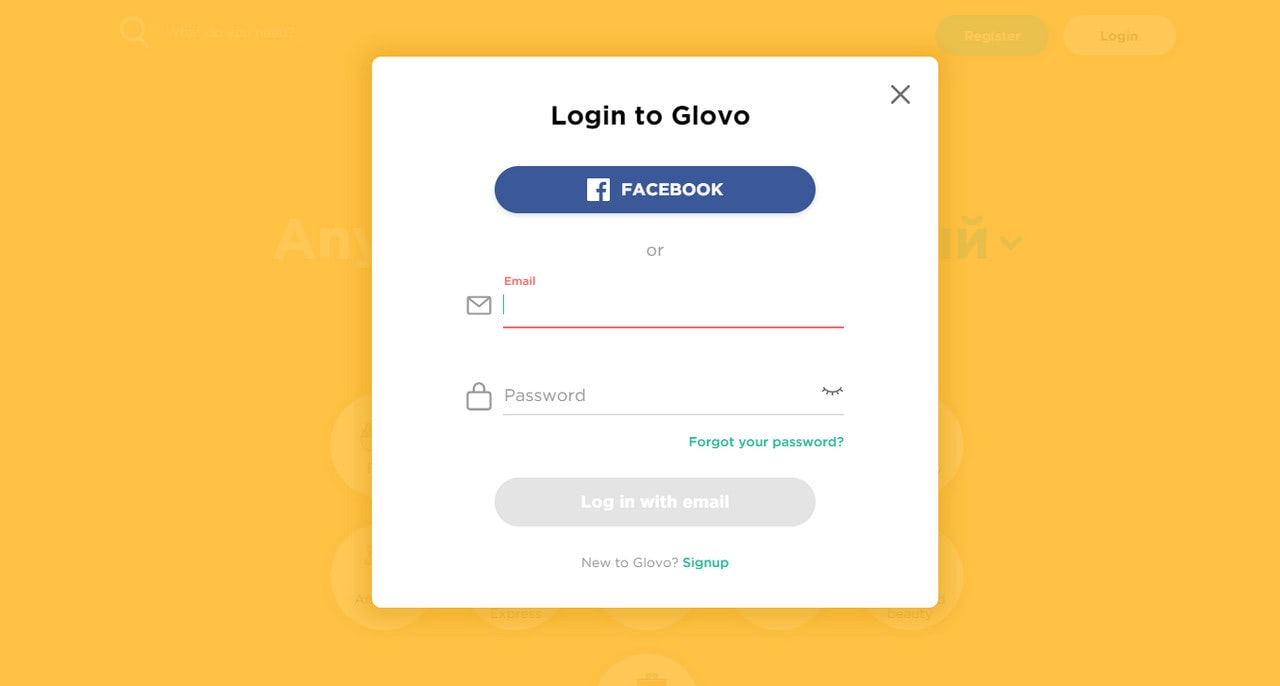 Glovo App is an excellent case in point for those who prefer using modal windows. When it comes to lightboxes that invade the entire screen eliminating all accidental escapes for the visitors, this trick can certainly work.
Here the login form is inside a modal window that is stretched from top to bottom and from side to side. Thanks to a solid monochrome backdrop, nothing distracts user attention. The latter has a minimal design, and includes everything you may need: two inputs, a Facebook button to connect, a link to "Forgot your Password" flow, an icon to show the password, and a link to sign up.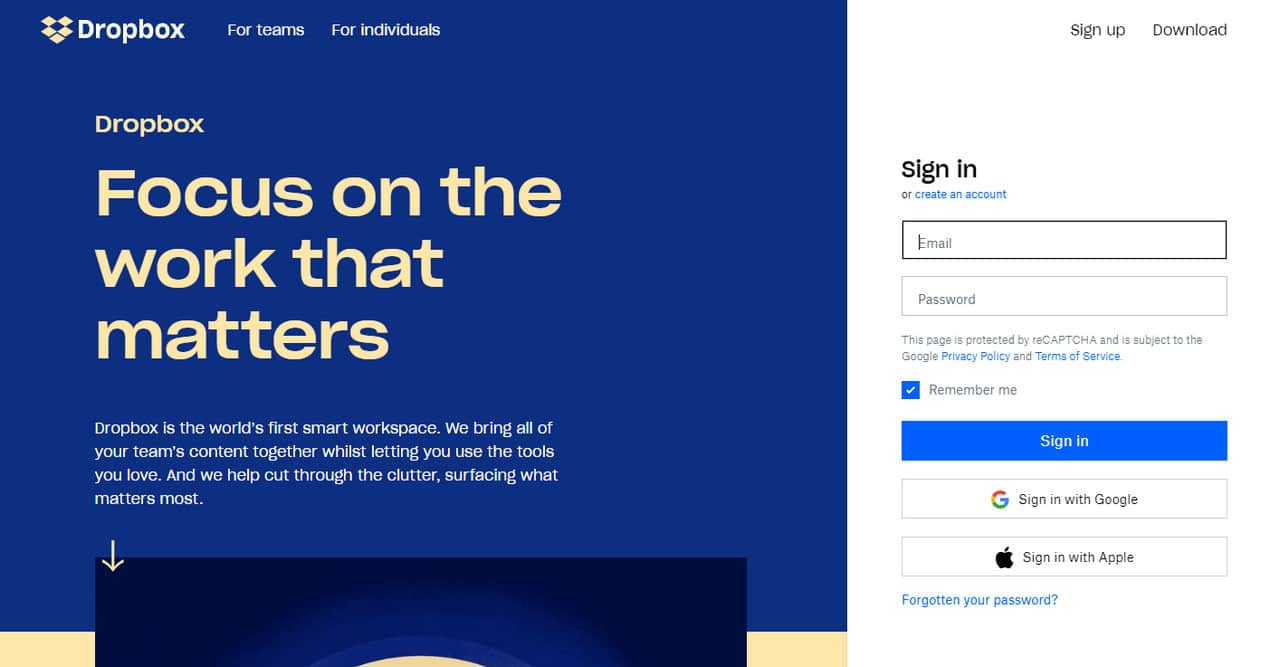 Dropbox is one of those excellent login form examples where the component is exposed right away. You can see a panel with the registration and sign in form. Dropbox is a platform that requires you to log in first. It is only logical to provide users with convenient access to their accounts.
Note, even though the hero area is a bit clumsy due to lots of information; thanks to split layout, forms have a solid foundation. They do not have proper visual weight, but it is enough for engaged users to get what they need.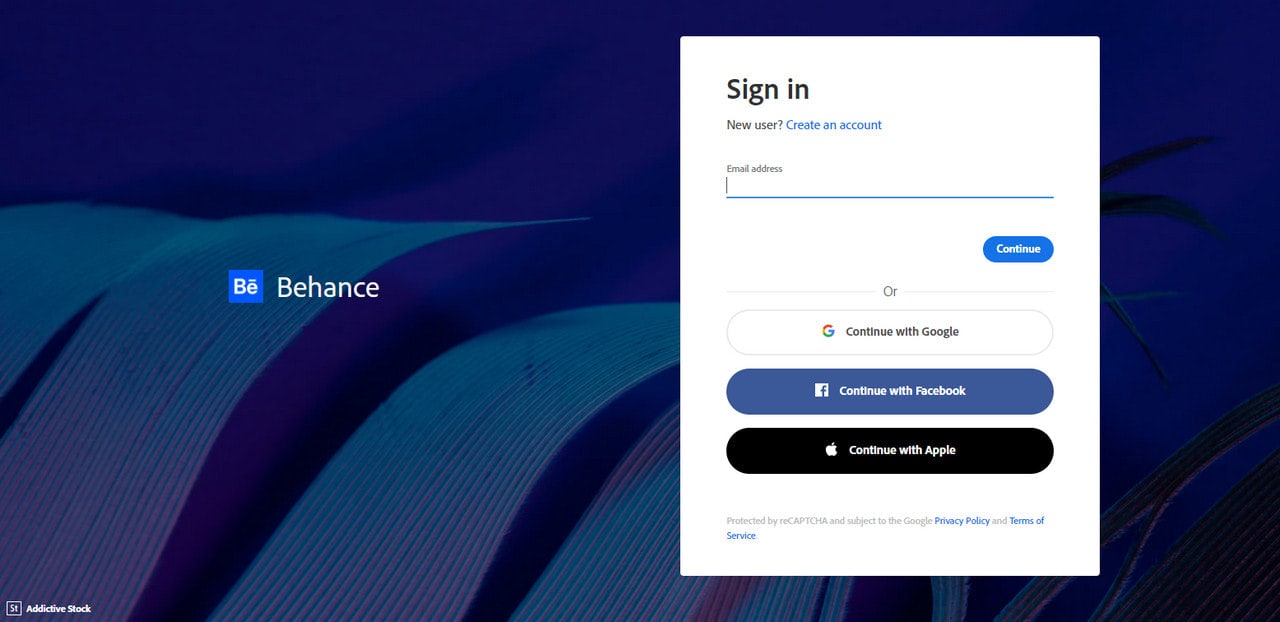 Behance
We have said earlier that using full-screen image background can distract the user's attention. Therefore, it is considered a bad practice. However, if you use it wisely, things may work out for you. Behance is one of those examples that prove it with its login form page.
Here you can see a beautiful backdrop. It is used to hint about the platform's sphere of expertise. The design team masterfully played with contrast by darkening the image and placing the form on the clean white canvas. Of course, the login form lacks a proper visual weight. Still, it is enough to transform it into a second focal point.
As for realization, the login form has a two-step system. First, enter your email address and then your password. Alternatively, you can use your Facebook or Apple account. The solution is excellent for people who often confuse input fields.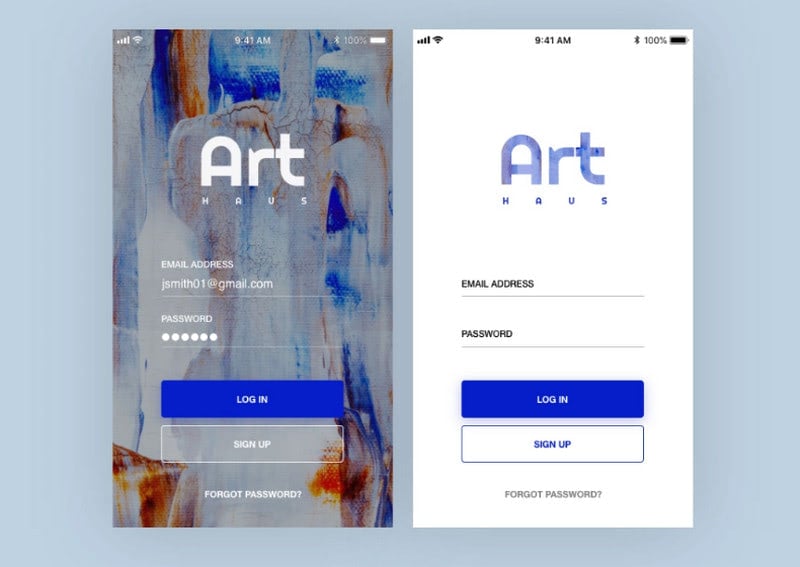 Login by Todd Piersall
Login form by Todd Piersall is an excellent concept where you can see for yourself how a full-screen background can ruin everything, whereas a solid monochromatic one can save the day.
The project includes two variants of sign-in form. Compare and contrast them. Both include the same range of user interface elements; they have the same styles and arrangements. However, the first certainly provides a worse user experience due to insufficient contrast.
The screen on the right is a different story. It has a clean white backdrop. It is more comfortable to use. In such a distraction-free environment, users will easily complete their mission.
More Examples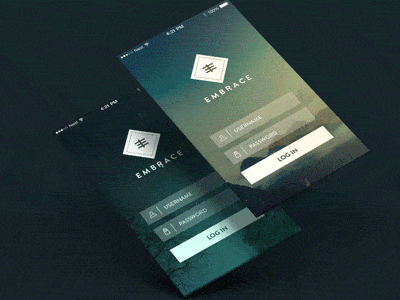 In the spirit of the release of iOS7, this login screen takes the subtle animation of iOS7 backgrounds to a new level. Here, the background is a completely animated graphic – possibly a gif.
Although the background is actually not too subtle, it is something you don't see often.
Once more in the spirit of iOS7, this login screen and accompanying interface, embrace blurry but colorful background and keep things simple. Both interfaces are minimal, with the thin lines and lack of actual input field backgrounds. But, the lusciously colored background adds a bit of personality to make this interface friendly and awesome.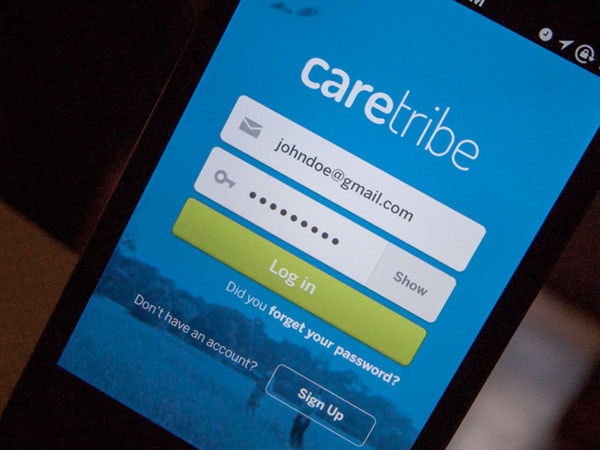 A lovely design if there ever was one; the blue background is bold compared to the crisp white logo, text, and input fields. The green button actually looks like a button – although the rest of the UI is flat – and the hue works well.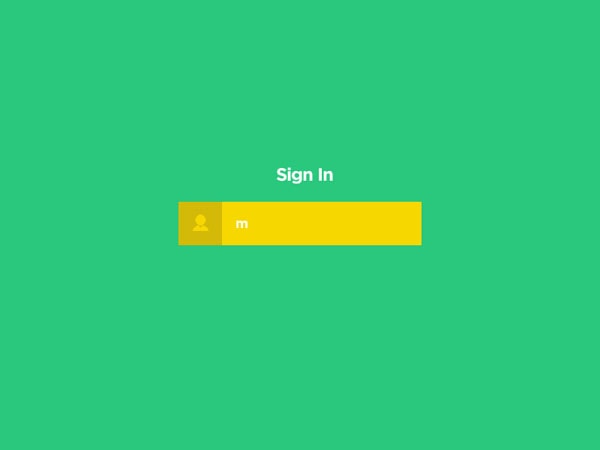 What a strong color palette! And, of course, what a different way to think about logging in; the reason this is not a common sign up flow because it has its usability flaws. But, in terms of design, we can all dream about this out of the box login.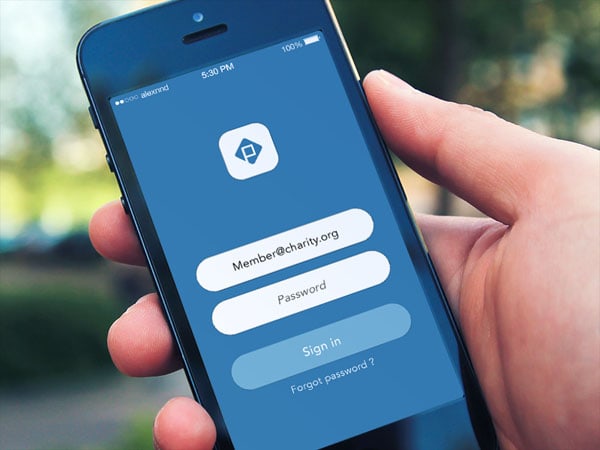 Compared to the previous shots in this line-up, this one is fairly calm and simple. The color choices are wonderful. The page is very to the point; it does not have any unnecessary or, worse, distracting shenanigans as no login page ever should.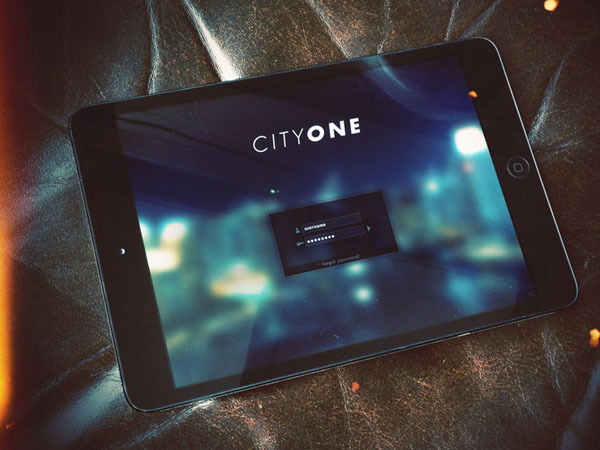 Here, the dark login UI in addition to the dark and blurred background and the bright, slick and thin text has a very good essence of mystery and glamour going on. What else could you possibly want but a sexy login page?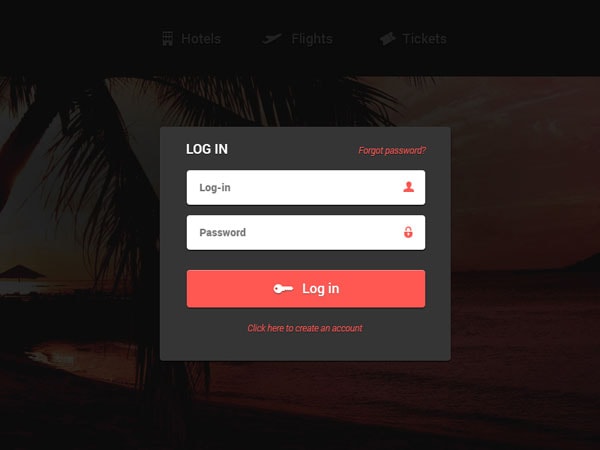 Now we are presented with a dark login and an unconventional red text and red button. It is different and daring, let's applaud that.
The fear with red in buttons is irrational as it is the context in which a red button is used that determines how the user will react to it not the color itself.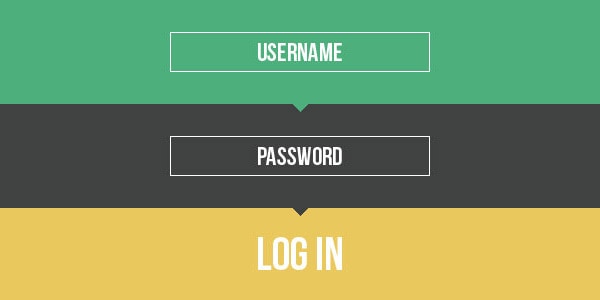 This shot is simple and clean but not boring. The color combination in this design is amazing as these three different shades work so well together. And, it looks so good! What a way to create a simple but good looking login interface.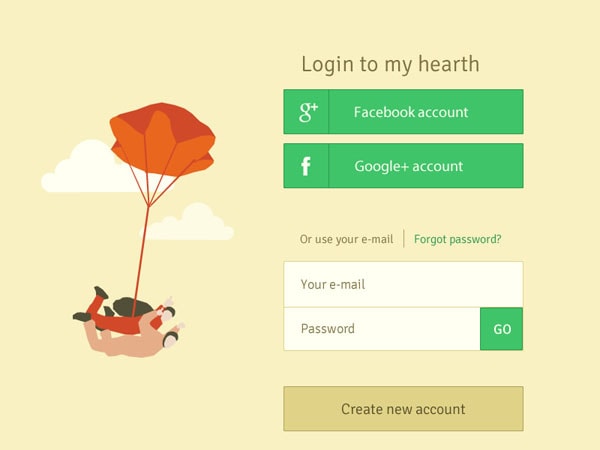 Here is a bit more complex and more extensive interface. As with many platforms, you are allowed to login with preexisting credentials from Google, Twitter, or Facebook and forego creating a new account. But, if you want to you still can create your own account.
Thanks to the handwritten notes and arrows, the color scheme is quite nice and different from the typical blue and silvers we see everywhere. At the same time, the background images are not a focal point like we see on every landing page, it is a light login/register page and that is it.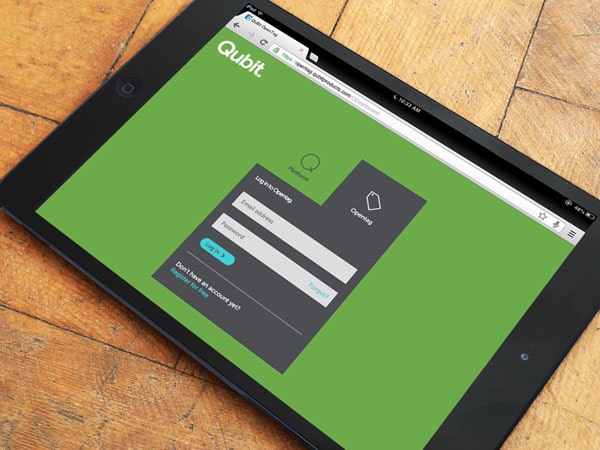 This clutter-free design is nice. There is no navigation to distract you; there is no side content to annoy you either. The user flow is simple, and so are the user goals: you can choose between Platform and Opentag and just login. If this is your first time here, you are welcome to check out the create an account link toward the bottom.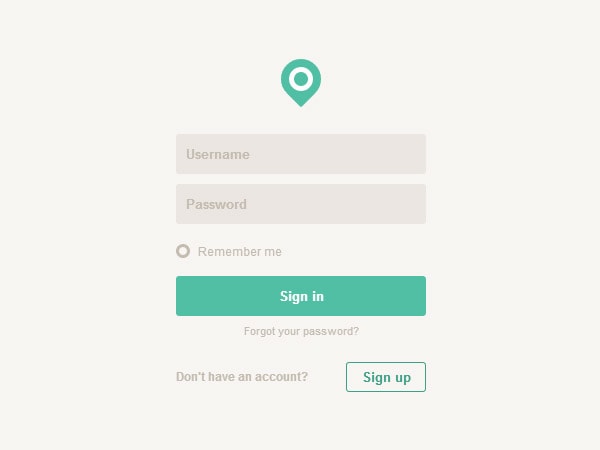 The simplicity of this flat design is ideal. The focus is on logging in. You have a clear logo present and if you don't have an account you have a way of creating one as well. On top of that, the color choices are cohesive and work well together.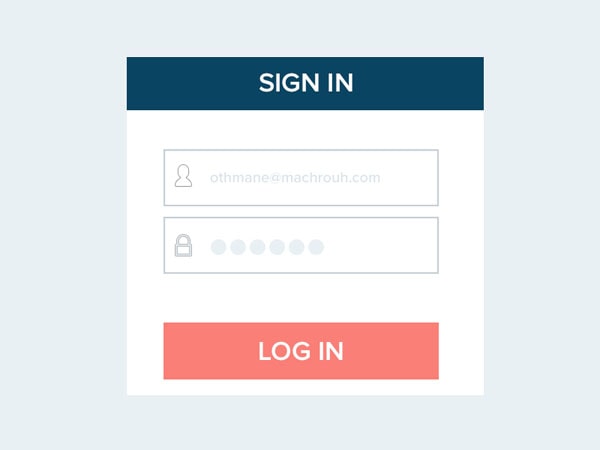 This design includes things that are big: the login button is big, the text on the button is big, the icons are big. Additionally, the login button is bright orange so you can't miss it.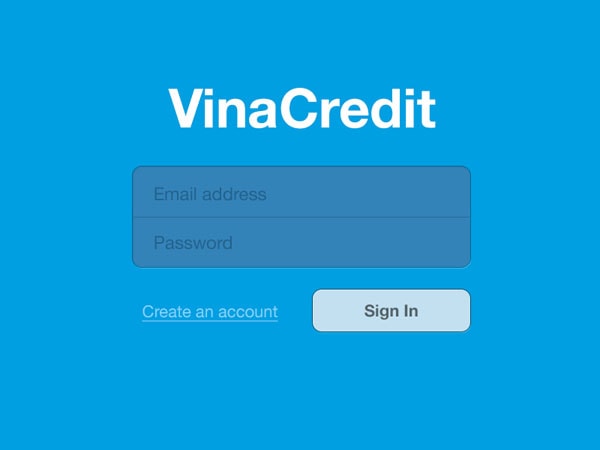 The color choices here are a little off, with a lack of contrast between the input background and text colors. But the two input fields are attached because they obviously belong with each other. The sign-in button stands out.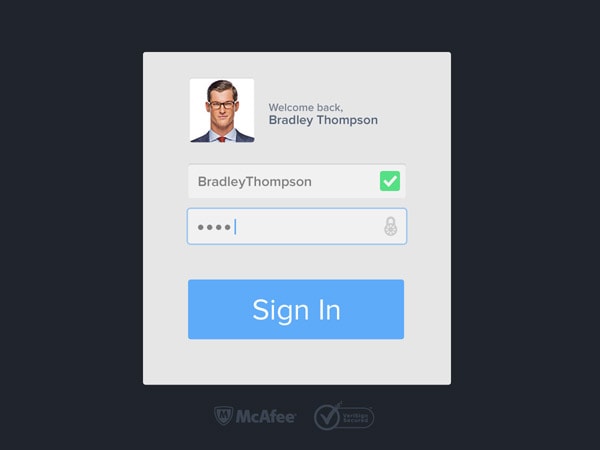 The fact that the website remembers who you were before you were logged out is awesome; it is actually pretty cool. By the looks of it, this is meant to be a secure login and it does feel as such thanks to the two logos – McAfee and VeriSign – below it.
The comical avatar used for this is fresh and makes the experience pleasant even though it is supposed to be serious.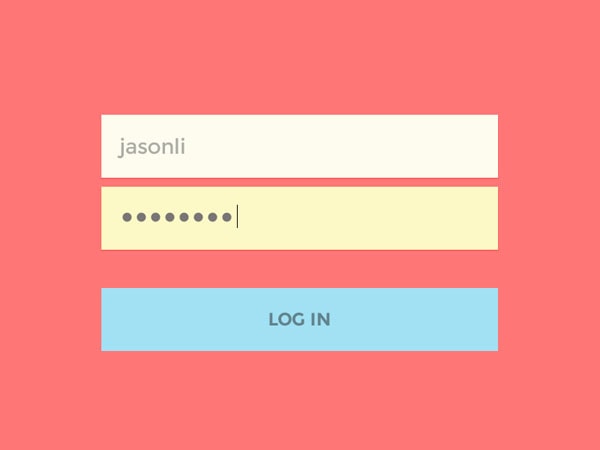 Yes, this is a flat design; yes, this is so elementary is can be boring, but it is not. Flat design with well-picked colors can often come off as friendly and character-filled and this login interface is exactly that!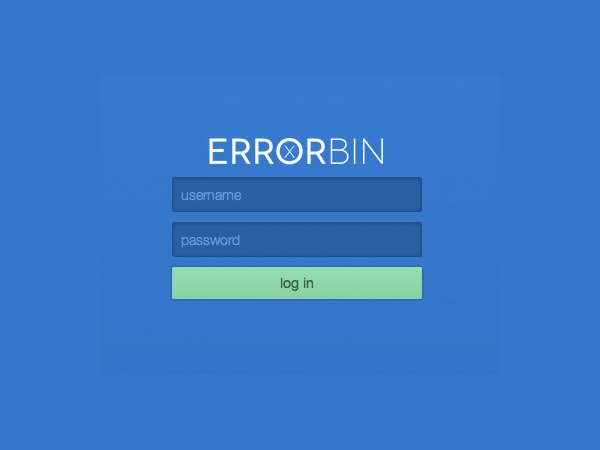 One more blue interface! The green here is questionable, but the blue shades work well with the white text. Informal lowercase text gives this interface some personality as well.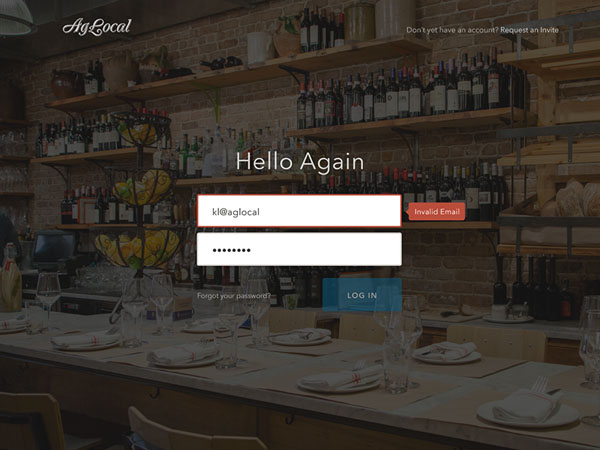 This form is obviously the focal point of the page. Sure there is a logo and a registration invitation link but they are nowhere as prominent as the big login UI. Against the darkened background, bright inputs call for your attention.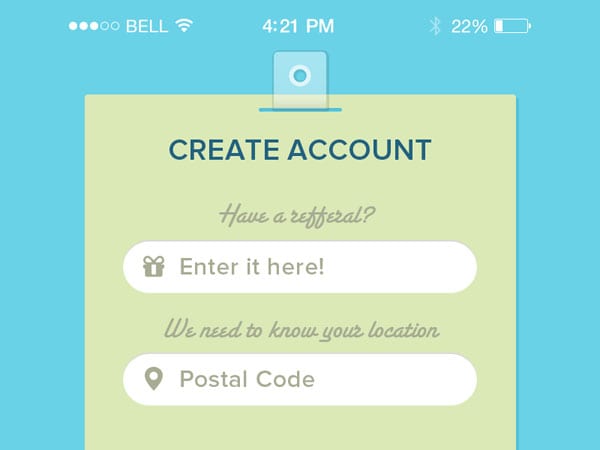 Here we have a combination between a skeuomorphic badge and flat UI. This is done quite well. Do not think about insulting the shadows in the badge as they are not hurting the design, it is quite cute thanks to hints of skeuomorphism, as well as the font choices and color scheme.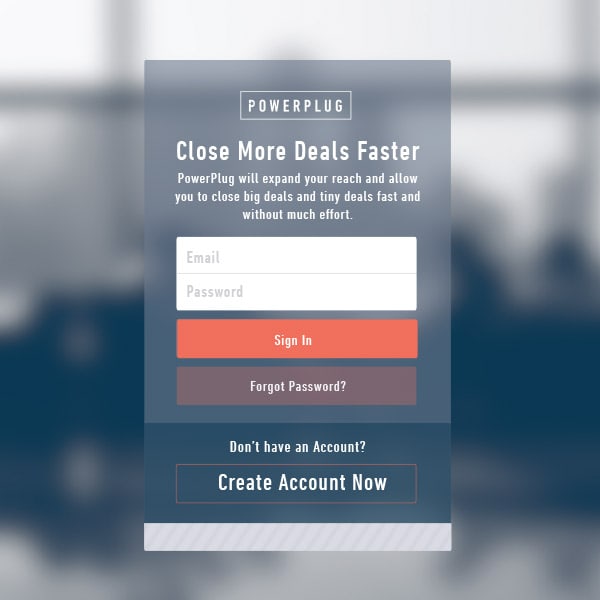 Once more we have a fascinating login the screen; it is actually more busy then some examples in this post but the color scheme used is well chosen and makes the whole thing come together pretty well actually.
The first option looks more artistic and creative; however, it fails to provide a comfortable workflow for the users. The second option is preferable.
Conclusion
Even though login forms for websites and apps are as old as the hills, people still experience problems with handling them properly. Many things can scare them away: too many options, fancy input fields, confusing design, suspicious elements, to name a few. Therefore, it is your task to convert a login form into a UI unit that provides a comfortable user experience.
Follow our guide, use UX tips, and get some inspiration from our collection of the best login form examples to achieve this goal.
Like what you're reading? Subscribe to our top stories.