Abstract Can Help You Design with Confidence
Some days the hardest part of your job – and the biggest time suck – can be searching for files, exporting across tools, and gathering feedback. But design work can be easier.
That's where Abstract comes in. The tool is designed to help your team create a single source of truth for design files, so you have more confidence that projects are moving along as intended, versions are up-to-date, and so that you know where everything is located.
Here, we're going to take a look at the tool and how your team can make the most of it.
What is Abstract?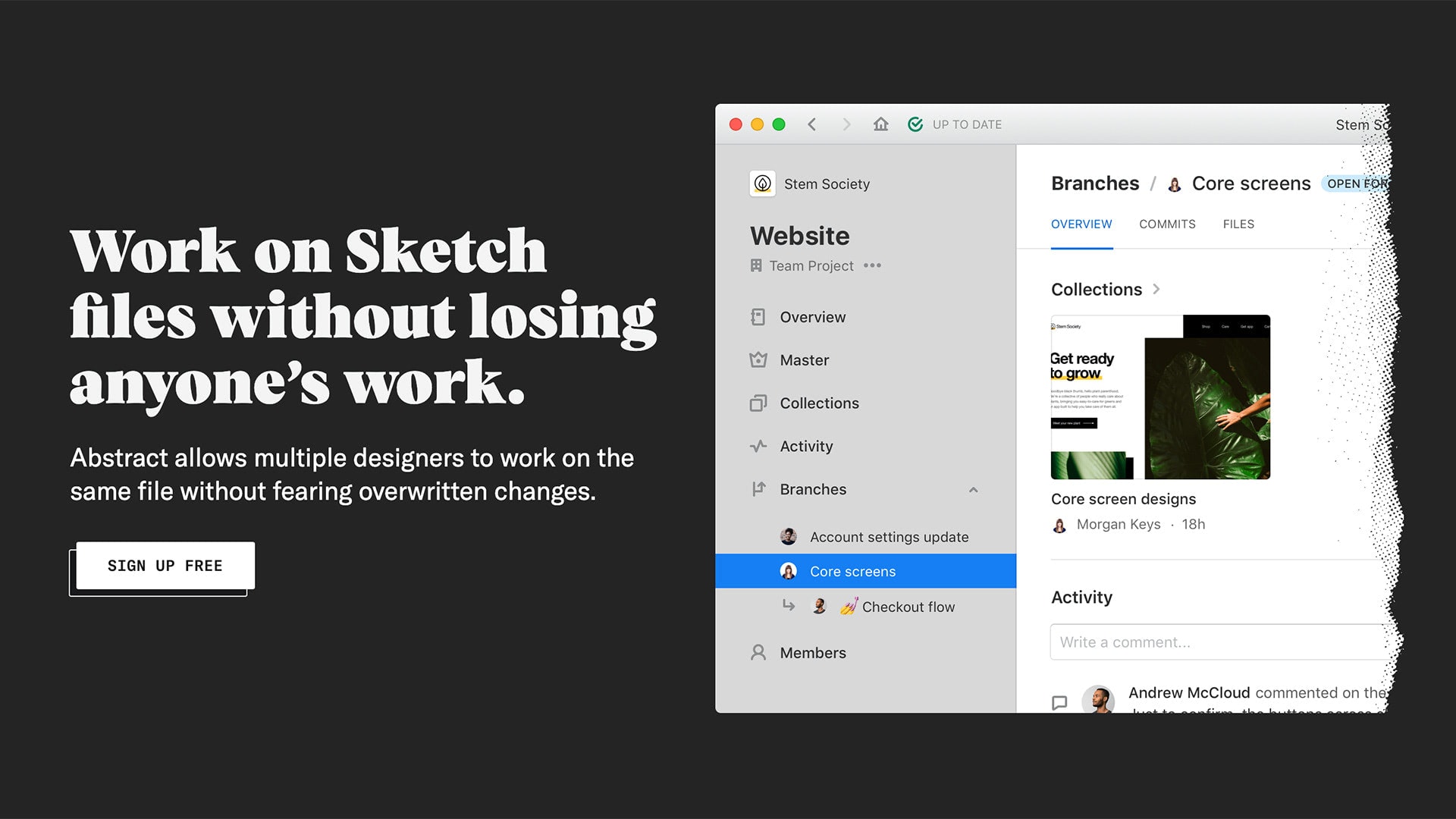 Abstract is a lot like GitHub, only for designers. It helps you bring all of the design workflow into a single stream where designers, developers, and even third parties can collaborate to keep projects moving ahead.
The tool is a design workflow management system that allows you to control the entire design process in one place with feedback, specs, and even Sketch files. (Plus, Adobe XD file support is coming soon and already in beta.)
Abstract can help you eliminate threads of emails to collaborate on designs or feedback because teams can share, comment, and redline files in one place. Add files with a simple drag and drop, and Abstract starts saving a history of changes and feedback from the team.
The tool is already being used by some companies with serious design credibility, such as Spotify, Comcast, Instacart, and Microsoft and is built by a name you might know.
Josh Brewer, a former Twitter principal designer, founded the company and in just two short years has helped Abstract grow to more than 100,000 users. (And every one of them is spending more time innovating and collaborating and less time searching for files or version numbers.)
Workflow Tool for Design Teams
The primary benefit of Abstract is it can speed up your design team workflow. At the end of the day less time looking for files or working on multiple versions means more time innovating in the product design phase. (And that can help your bottom line.)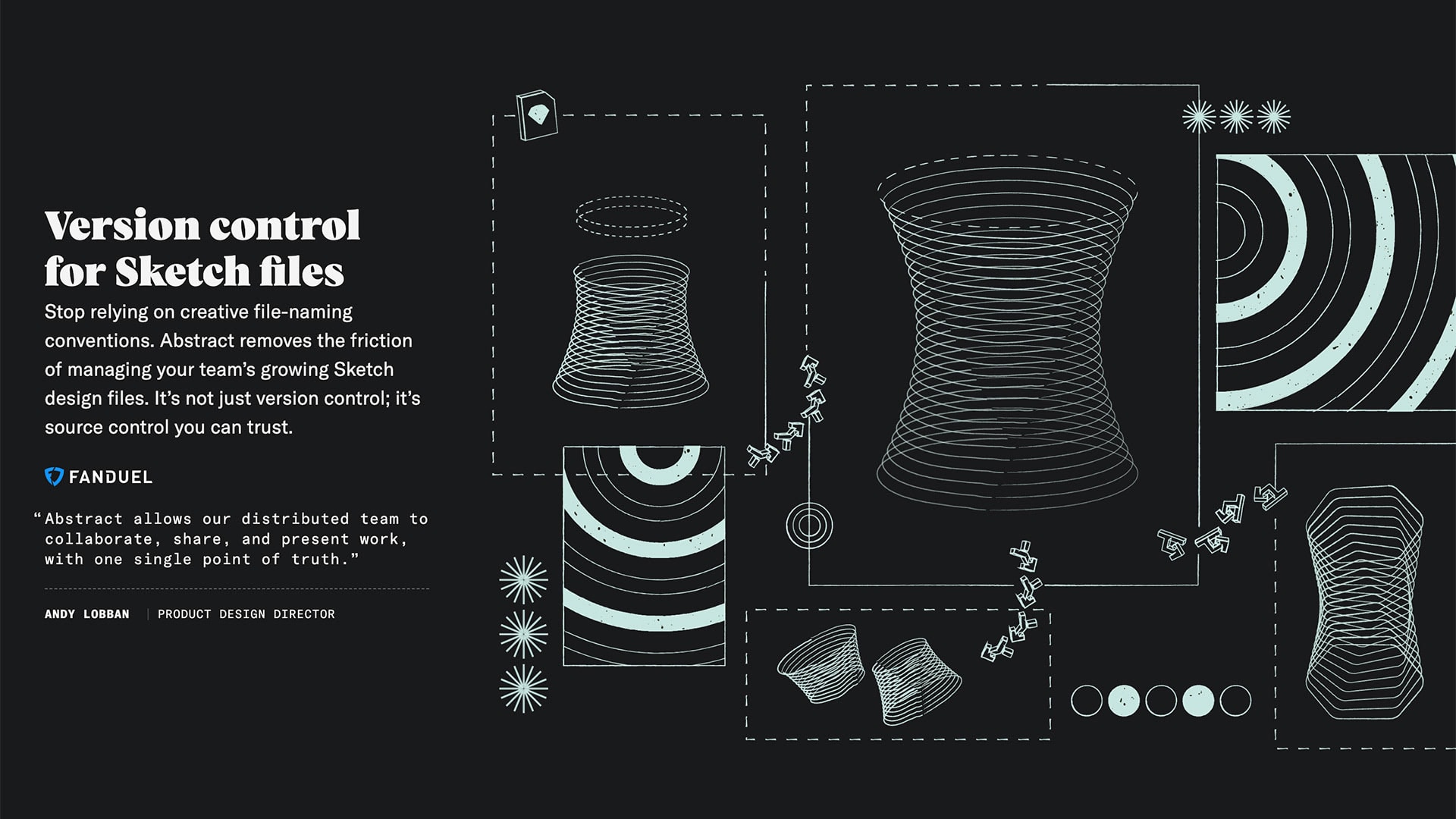 Version control can solve common design team problems: spending a frustrating amount of time searching for files, exporting and importing tools across sources, consolidating feedback, and never really knowing what changes have been incorporated and approved.
Abstract creates a space with end-to-end collaboration within a single platform that works online and offline.
It's one space for:
Versioning design files and storing them

Requesting reviews

Collecting feedback

Presenting work

Handing specs off to development
And that's what makes Abstract an efficient tool for your team.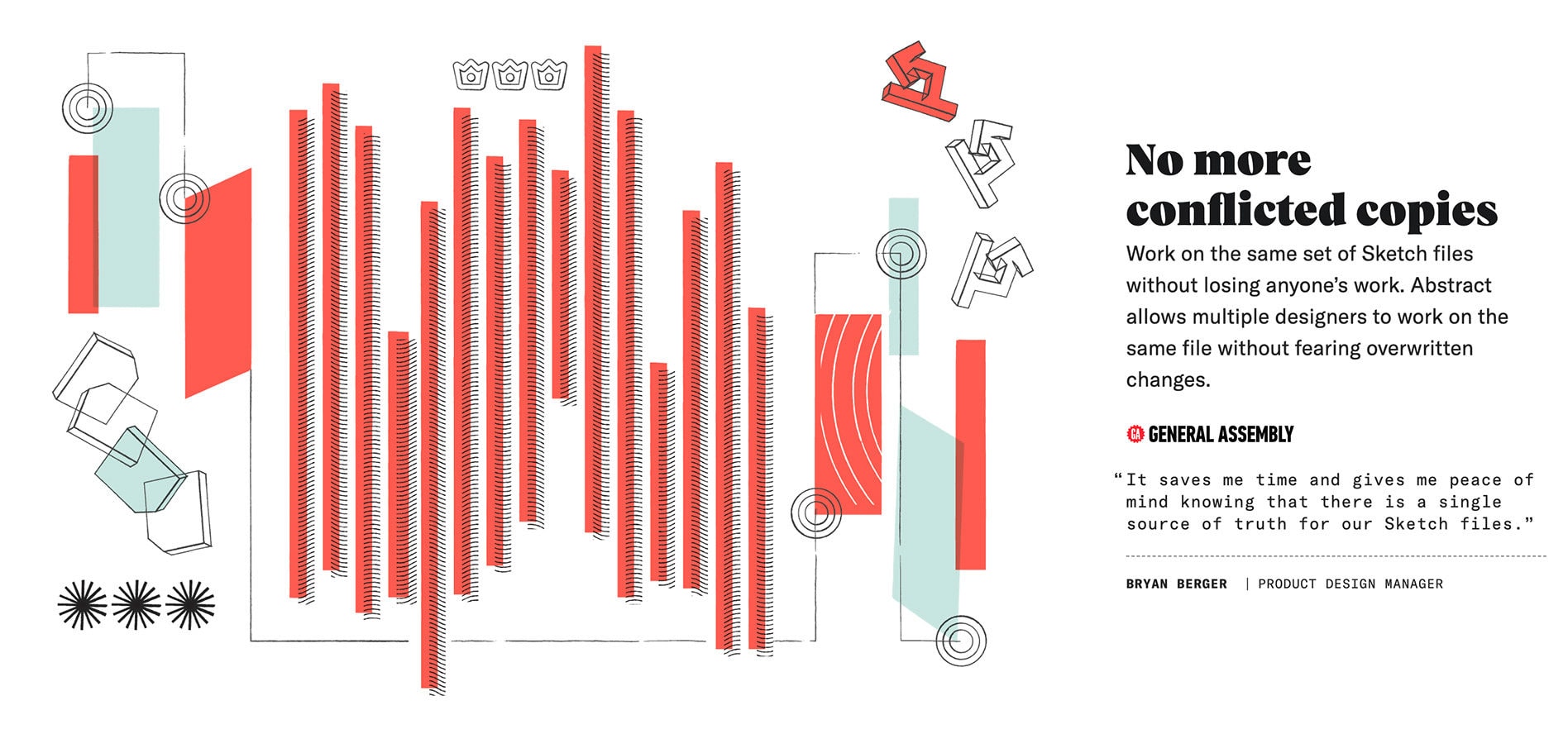 Make Abstract Work for You
Abstract can help you create efficiency and better use your time. Beyond assisting with file management, the tool improves collaboration and transparency between designers and engineers who are implementing designs.
Here's what company founder Brewer says about it: "In 2019, communication and collaboration means just looking at the design and knowing that as the work evolves, updates will appear automatically. We're leaving the 'where's the latest file?' world behind. And it feels so good."
Key Features
Abstract is packed with tools that will help your design team work smarter and faster. If you work in Sketch, trying Abstract is almost a no-brainer.
Key features include:
Ability to bring in Sketch files and use shared libraries within Abstract

Design together and iterate on the same file, without changing the original

Compare changes in side-by-side window previews

Version control for better design workflows with branches, commits, and merging

Ability to initiate collections for design reviews

Ability to review requests and approvals

Inspect design specifications

Simplify new designer onboarding because they can see history and context for an entire project

Stay focused with personal workspaces for each team member

Secure hub for design files
Pricing
You can get started with Abstract absolutely free; you don't even need a credit card.
If you like it – and that's a strong possibility – Abstract has a few different plans based on the needs of your design team.
Starter ($9 per month per contributor): Includes basic file management and version control with 250Gb storage, and an unlimited number of viewers.

Business ($15 per month per contributor): Includes everything in starter plus review requests for collaboration, collections for design reviews, inspect and assets for seamless implementation (including all specifications and CSS).

Enterprise (contact for pricing, best for teams with 10+): Includes everything in the business plan, plus even more advanced security features, custom legal terms, and priority support.
Conclusion
Abstract is the design workflow management system that empowers design teams and stakeholders to seamlessly manage, version, and collaborate on Sketch files. With Abstract, design finally has a single source of truth.

Visit www.abstract.com and sign your team up for a 14-day free trial.