Best Pingdom Alternatives in 2023
Started as a small project in 2005 in Sweden, today Pingdom is an internationally-used, US-based product that is a top-rated web speed test tool among web developers. However, it is not only designed to analyze the load speed of web pages and find out how to make them faster. It is also a leading monitoring solution for websites, applications, and servers. DevOps teams trust it with their projects to do a waterfall analysis, diagnose performance issues, catch a bug in time and simplify the end-user experience. There are several Pingdom alternatives that can be used to monitor website uptime and performance.
As website monitoring software, Pingdom offers crucial features and functionalities:
Real user monitoring collects data about a user's interaction with a website.
Transaction monitoring to provide a complete picture of customer activity.
Infrastructure monitoring to offer visibility into servers and the overall web environment.
Uptime monitoring to check whether a website is up and running during a specific period.
Alerting to notify the team about the problem.
Root cause analysis to identify the problem that caused a nonconformance or a factor that should be eliminated to improve the system's performance.
Pingdom comes with a plethora of features and micro solutions that help teams stay on top of a system's health and network outages and address issues on time.
Despite this richness adaptable to various use-case scenarios, Pingdom does not suit every need perfectly. It has some shortcomings, including:
Slow and tricky web interface.
Poor customer support.
Complex and intimidating reports.
Regular breakout of service options.
Absence of modern features in status page and badge builders.
A limited number of applications for integration.
A relatively expensive price.
Therefore, some companies find it not as powerful as needed, whereas startups and mid-sized businesses consider it too much, thereby choosing solutions that are less powerful but more tailored to their specific goals.
If you are one of those who are looking for Pingdom alternatives concerning monitoring and observability functionalities, we are here to help you. We have compiled a list of the top application performance monitoring solutions that are the best Pingdom alternatives in 2023.
No-Code Email Template Builder
With Postcards you can create and edit email templates online without any coding skills! Includes more than 100 components to help you create custom emails templates faster than ever before.
Try Free
Other Products
Read more about other alternatives:
Best Pingdom Alternatives in 2023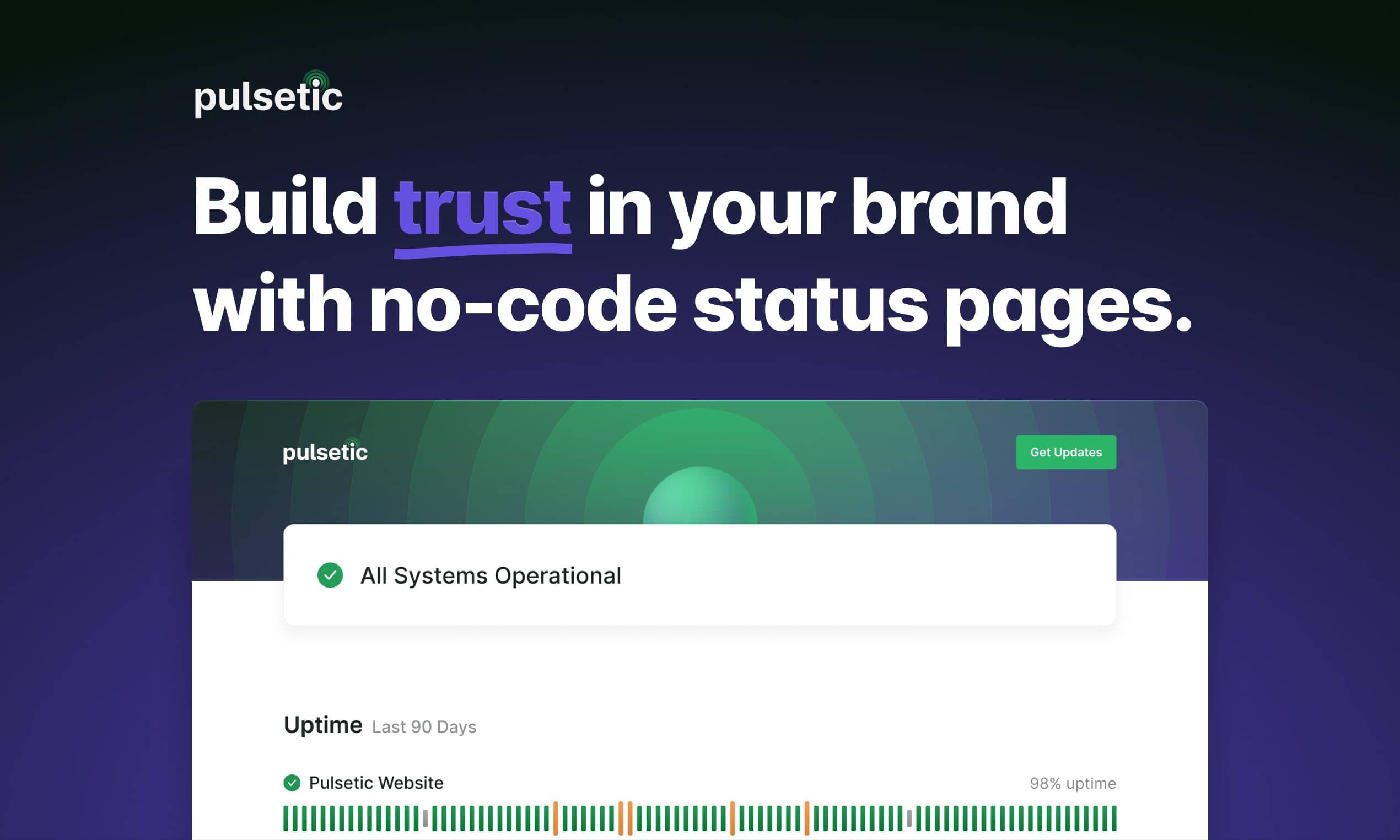 Pulsetic is the first in our list of Pingdom alternatives. Why? Because this top-notch product offers the best value for its price – that is the first criterion for most companies.
Unlike Pingdom, it does not try to embrace the immense: it just does its job perfectly in its sub-niche by covering the popular use-case scenarios among small and mid-sized businesses.
For instance, it is the best solution for monitoring uptime so far. Not only does it efficiently track the system, but it also uses multiple locations to confirm the downtime before triggering an alert to avoid false positive situations.
As for alerting variability, it is flawless: it delivers website downtime notifications just in time to fix an issue and avoid drastic situations with the end-users. It is fast, accurate, and, most importantly, works with popular means of communication such as Slack, Telegram, email, and traditional yet still vital phone calls and text messages.
Another great advantage of Pulsetic is that it automatically creates incident management reports to inform visitors. Their status page builder is one of the most powerful, versatile, and updated in the niche. It has stylish designs, pre-made components, and features like charts or graphs to deliver boring data in an easily digestible form. On top of that, the platform offers integration of status badges (visual representations of the current system's health) that are proven ways to increase the company's credibility and provide a quick connection to an incident report.
There is more. Pulsetic localizes outages, guarantees redundancy, generates a detailed regional report, manages maintenance windows, and covers everything in one intuitive dashboard. It simplifies IT teams' stacks and allows managing all crucial functionalities from one place, avoiding complexity and providing significant savings.
Speaking of which, the platform comes with three tier-based plans and one free plan to try out the product or use it for one project. The cheapest plan costs $19 per month and lets five teammates monitor 50 websites with check intervals of one minute.
OffAlerts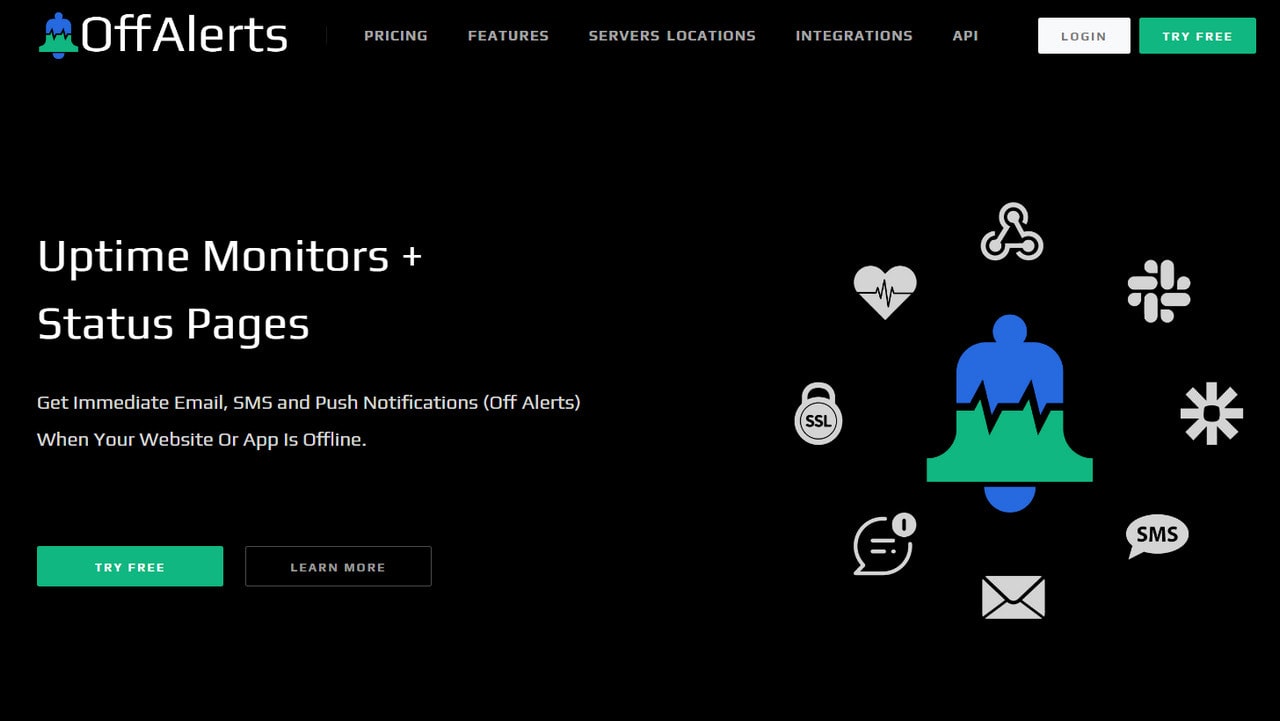 OffALerts is one of those Pingdom alternatives created for companies that consider Solarwind's product too advanced and ipso facto too much for their budget, team's capabilities, and current targets. Although it is less potent than Pusletic, it still has something to offer, especially for startups and solopreneurs.
The platform focuses on two main features:
Uptime monitoring. It tracks a website from multiple locations worldwide and monitors the SSL certificate to ensure the web project is not only up and running smoothly but also meets the crucial web security standard. Its alerting integrations include Slack which can be connected through a simple webhook, SMS, and emails.
Status pages. The platform allows the team to notify users about uptime and downtime and share some report details through the branded status page.
OffAlerts leverages cloud technologies to be fast and accessible and integrates with more than 2,500 SaaS apps to provide flexibility to companies.
Pricing for this small, narrow-focused yet viable and reliable solution is average. The basic plan starts at $12 per month, which allows for monitoring ten personal projects. To cover the needs of at least 50 websites, the team should pay $60 per month.
Dotcom-Monitor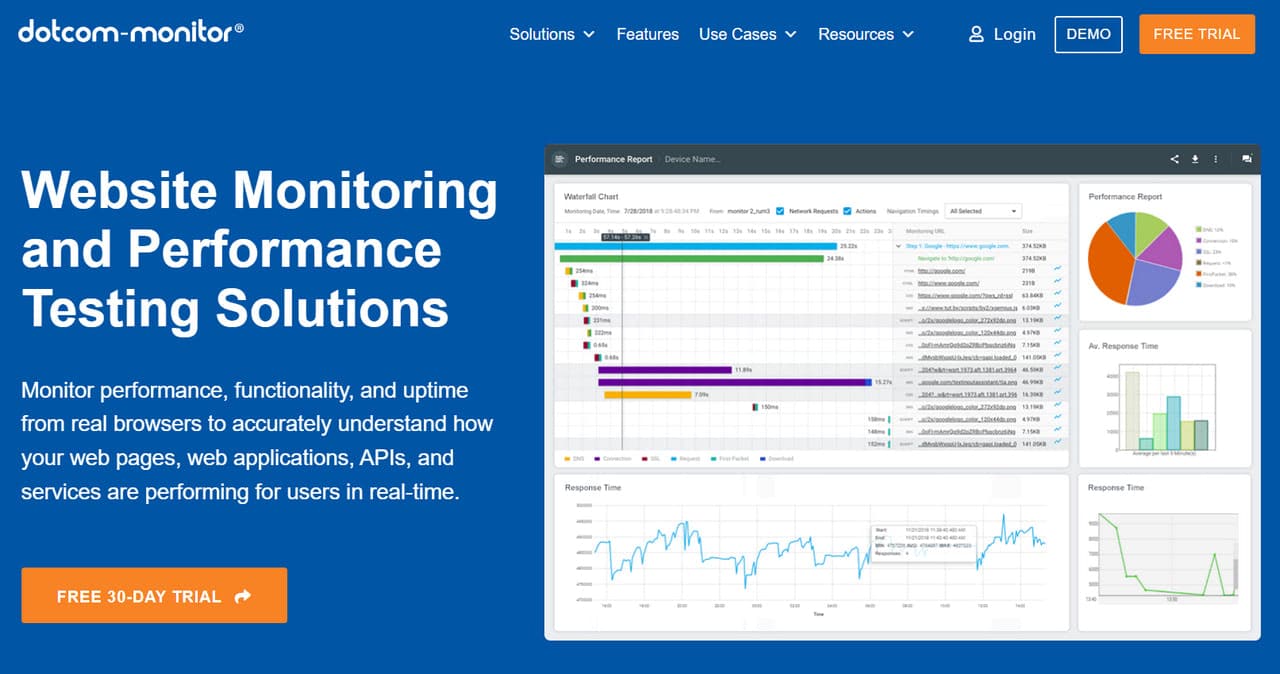 Dotcom-Monitor is a powerful performance monitoring solution, including these main features:
Monitoring of core web services such as SOAP, GET/POST, TCP, ICMP, and SSL certificates.
Monitoring of uptime and downtime.
Monitoring of load time of web pages and aspects of the infrastructure.
Monitoring of multi-step web transactions.
Monitoring of memory, disk utilization, and bandwidth.
On top of that, it comes with worldwide monitoring locations. You can track the web application, service, or specific device from North America, South America, Europe, the Middle East, South Asia, and even Africa.
With such extensive coverage and a massive arsenal of tracking units, it is no surprise that Dotcom-Monitor can meet multiple use-case scenarios and the needs of companies of various scales. As proof, it is already popular among companies that hunt for reliable tools to track and analyze web services and web app environments.
Though, it has shortcomings. It does not have instruments to deliver incident reports to regular users in an easily-digestible manner, such as the status page. While it may sound like a not big deal, as practice shows, it is crucial for many companies whose profit depends on transparent relationships between brand and customers (that is, every project in eCommerce and SaaS niche, by the way).
Another drawback is that Dotcom-Monitor does not have a transparent pricing policy. The final price largely depends on the company's needs, which include the type of device that needs to be monitored, the number of targets, and the frequency of monitoring. To make matters worse, you have to waste your precious time contacting a pre-sales engineer by filling out the form to get an answer.
UptimeRobot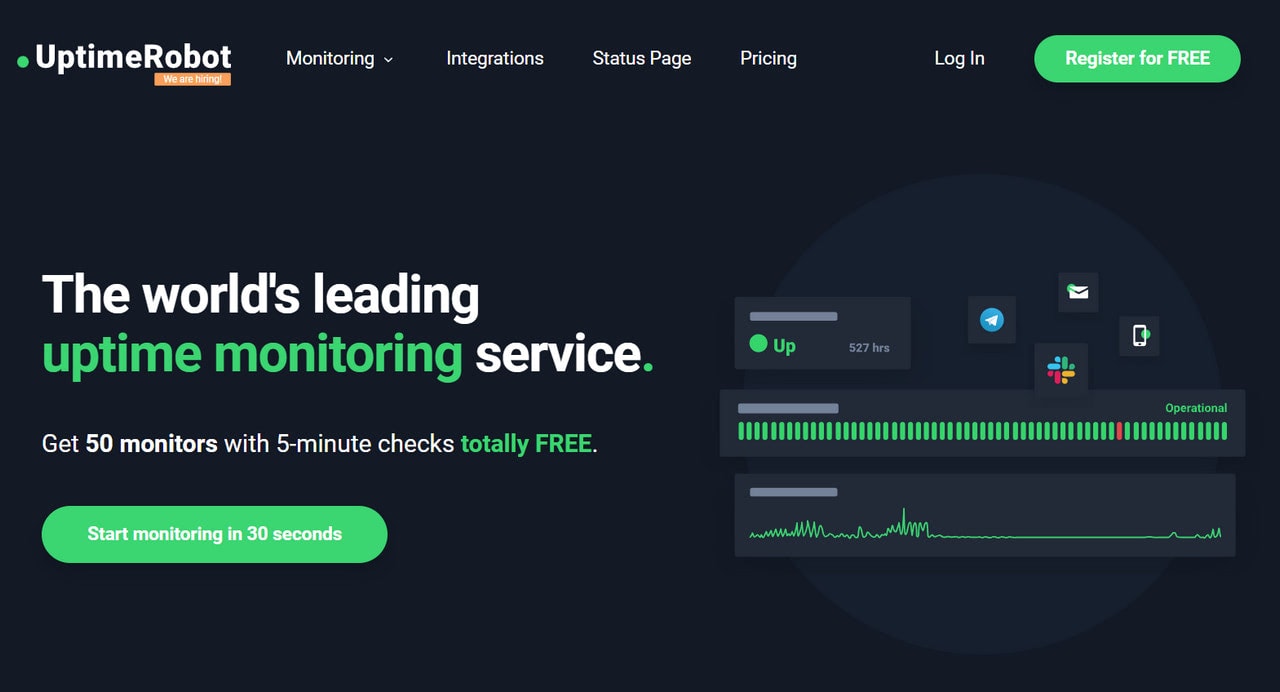 If you are looking for a transparent one-plan-fits-it-all, you might consider UptimeRobot, since it is a Pingdom alternative for getting a bunch of monitoring capabilities in a single plan.
While it does not suit small and mid-sized businesses that hunt for specific features to focus and check or a solution for a minimal use case, nor does it fit those who seek pocket-friendly options, but it certainly provides the best range of tools for those who want to have it all under one roof and do not mind spending some extra buck.
UptimeRobot is the world's leading platform for monitoring system health. It tracks everything: uptime, downtime, SSL certificate, recurring background jobs, intranet devices, services running on specific ports, and even keywords and pings.
The platform also comes with such features as multiple integrations with notification systems, basic status pages, maintenance windows, and shared incident reports with subscribers.
It is the perfect solution for those who require total control of the system. However, to unlock its potential and enjoy all these features, the company should pay at least 54 per month by choosing the annual billing option. Note this plan allows only five teammates to collaborate. More seats should be purchased additionally.
Hexometer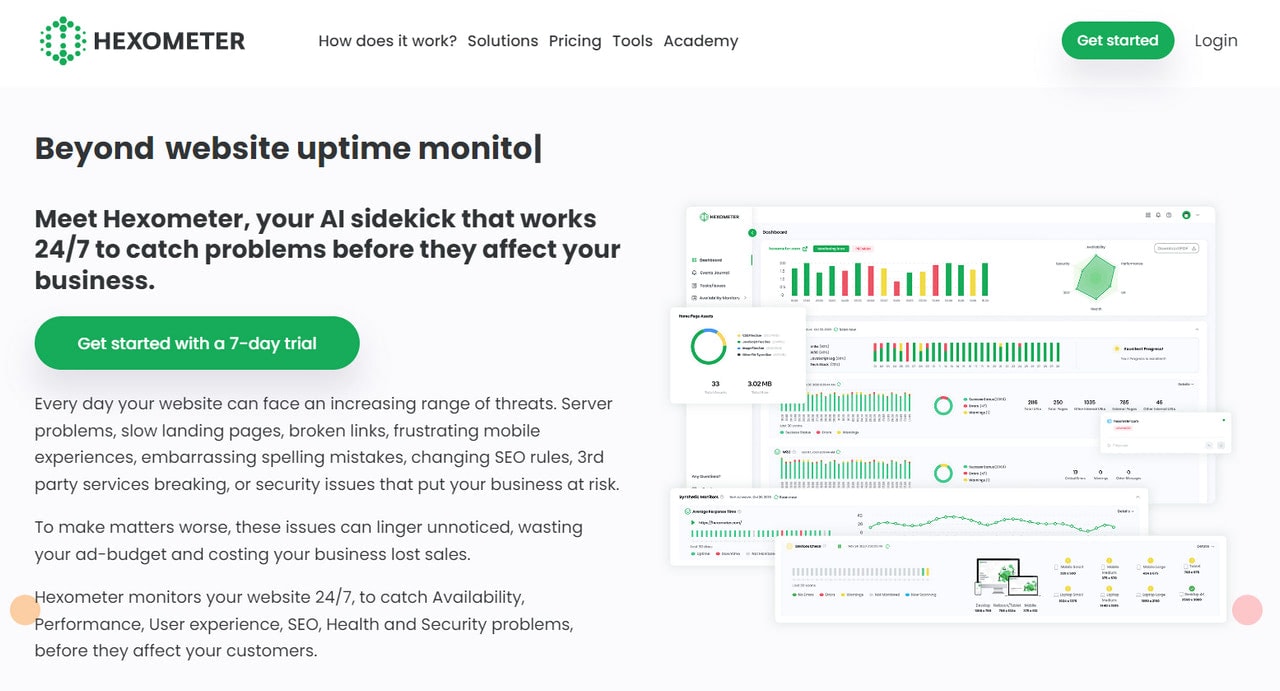 Hexometer takes incident management, uptime monitoring, and status pages and creates a single product with an intuitive dashboard that the non-tech-savvy crowd can easily handle. Although it is not as powerful as Pingdom or Uptimerobot, it still has a target market to serve. For instance, it is an ideal option for IT teams who need all basic uptime monitoring capabilities along with complete system coverage, including SEO.
Hexometer tracks six core areas: availability, performance, user experience, health, SEO, and security, and sends real-time notifications when issues are detected using the most popular communication channels such as Slack, Telegram, and Trello. Plus, it integrates with over 1,000 applications through Zapier, Integrately, and SyncSpider. With a proper plan and settings, the team may take control of every detail of the website's performance.
Another benefit of the platform is that it is a cloud-based solution, so the team can get started immediately and access data at any time, anywhere.
The main drawback of the platform is its price – it is on the expensive side. The company has to pay $12 per month to monitor just two websites. On the bright side, there is a free trial, so teams can try out the service and leave without strings attached if it does not fit the bill.
Conclusion – The Best Pingdom Alternative
Looking for a tool to monitor uptime from international data centers and deliver incident reports through beautifully-designed status pages to end-users, Pulsetic is the top Pingdom alternative. If you are hunting for a tool only to track uptime or monitor certain websites' units or services, then OffAlerts or Dotcom-Monitor may fit the bill. However, if you are up to a fully-fledged Pingdom alternative with a bunch of capabilities and advanced solutions, then you should check out Hexometer and UptimeRobot.
Like what you're reading? Subscribe to our top stories.