Best UptimeRobot Alternatives in 2023
Website, SSL certificate, cron job, keyword, port, and even ping – UptimeRobot was created to monitor them all. It is a powerful platform that uses 1-minute intervals to check and test the website and its environment to see whether everything is working correctly or meets the criteria set by the dev team. If it detects an error, misconfiguration, or blackout, it sends a notification so that team can take appropriate measures to prevent, minimize and eliminate bugs in time.
The platform allows teams to complete a range of tasks crucial for keeping the system healthy such as:
Check response time and present it through a handy graphic chart to analyze the situation more efficiently.
Use multiple locations to check the unit from various points across the Globe to avoid false-positives alarms.
Set up maintenance windows to prevent alarms during this period.
Use custom HTTP requests to create an advanced header.
Create customized status pages and link them to a custom domain.
Share incident reports with email subscribers.
Collaborate with popular applications and communication channels, including Zapier, Microsoft Teams, Google Chat, Slack, and Telegram.
With such impressive monitoring capabilities, UptimeRobot has acquired over 1 million users. However, there are situations when the platform has failed to deliver to its customers the functionality they need. The deal is it has some shortcomings that make clients choose other options in this niche. Consider the cons and possible issues that teams usually experience with the platform:
Incorrect and late monitors and reporting.
Lack of some functionality to meet popular use-case scenarios.
Limited and outdated status page builder.
No status badge builder and its integration into a website.
No flexibility and variability in the notification system and incident management report.
Customer unfriendly changes in running contracts.
Ocсasional appearance of false positives.
Read more about other alternatives:
Some of these issues are not critical, while others can be fixed with the help of the support team. However, they may still take time, ruin a finely-tuned workflow or distort the overall picture. Suppose you are one of those who have already stumbled upon this situation. In that case, examining UptimeRobot alternatives that may meet your standards and deliver better results is always a good idea. After all, there are multiple solutions for monitoring uptime and delivering incident reports. We have compiled a list of the top five UptimeRobot alternatives in 2023.
Best UptimeRobot Alternatives in 2023
Pulsetic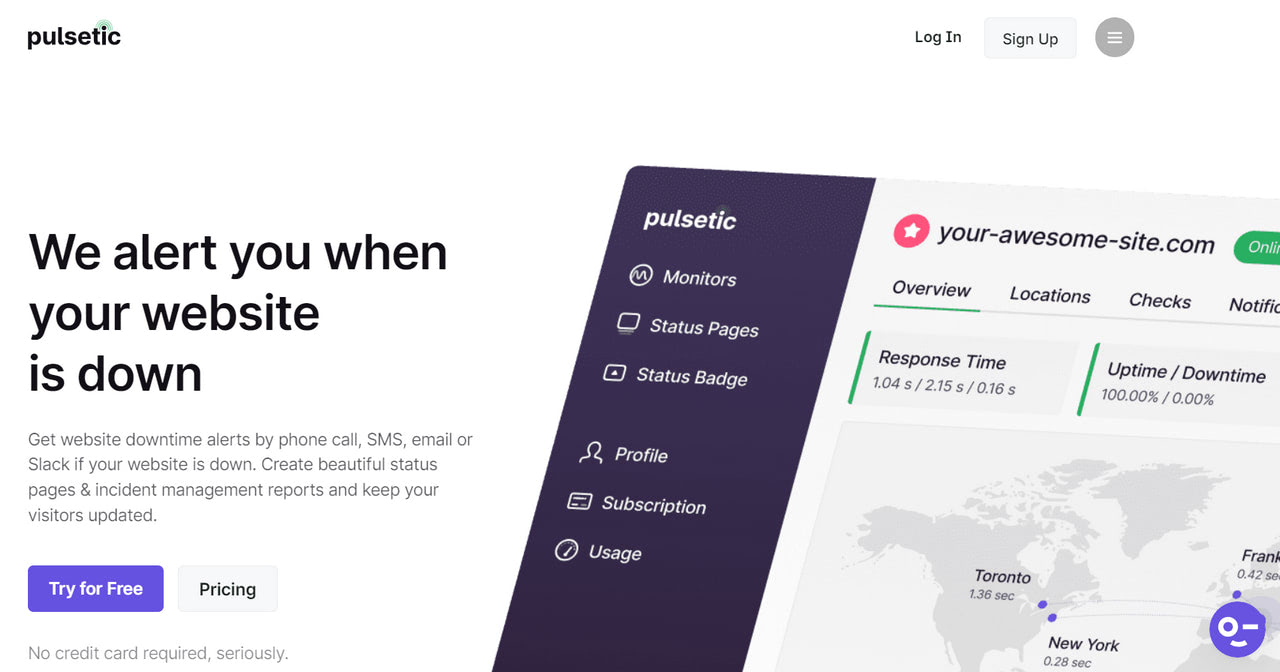 Pulsetic has been around quite a while and has a complete monitoring product for uptime. Although it cannot check pings and cron jobs, it is the best for monitoring uptime and response time, sending alerts, and delivering incident management reports. It reliably detects and reports downtime and is not inferior to the most famous names in this arena with recorded downtime events.
No-Code Email Template Builder
With Postcards you can create and edit email templates online without any coding skills! Includes more than 100 components to help you create custom emails templates faster than ever before.
Try Free
Other Products
Among its main features are:
Uptime, downtime, and website speed monitoring through multiple international data centers.
SSL certificate monitoring.
Customized requests.
Real-time updates for subscribers through email notifications.
Powerful status page builder with stylish designs and regularly updated units. Plus, custom domain.
Protected internal status pages that can be accessed by password.
Custom status badges with ready-made templates.
A collaborative environment where the company can set roles for every participant.
Alerting through popular communication channels.
API access.
It is an ideal option for startups, small and mid-sized businesses, eCommerce and SaaS projects, and dev teams that hunt for a handy, unobtrusive, and clear way to use advanced settings to set up requests and responses.
The good news is their pricing is the best in the niche. The basic plan sets the company back just $9 per month, letting it add five teammates and monitor 50 websites or APIs with one-minute intervals from five different regions. The most popular plan costs just $39 per month. It significantly extends the possibilities of the basic plan by giving freedom and flexibility to companies. For instance, it allows for 20 teammates and 200 websites to be monitored at fast 30-second intervals.
There is a free plan explicitly created for solopreneurs and hobbyists. It allows for ten monitors, unlimited status pages with custom domains, and unlimited email alerts.
Pulsetic can be considered a newer entry in the market compared to UptimeRobot, which has been here for years. Still, despite its young age, it has already cemented its position and served thousands of happy clients so far, offering the best value for its price.
SuperMonitoring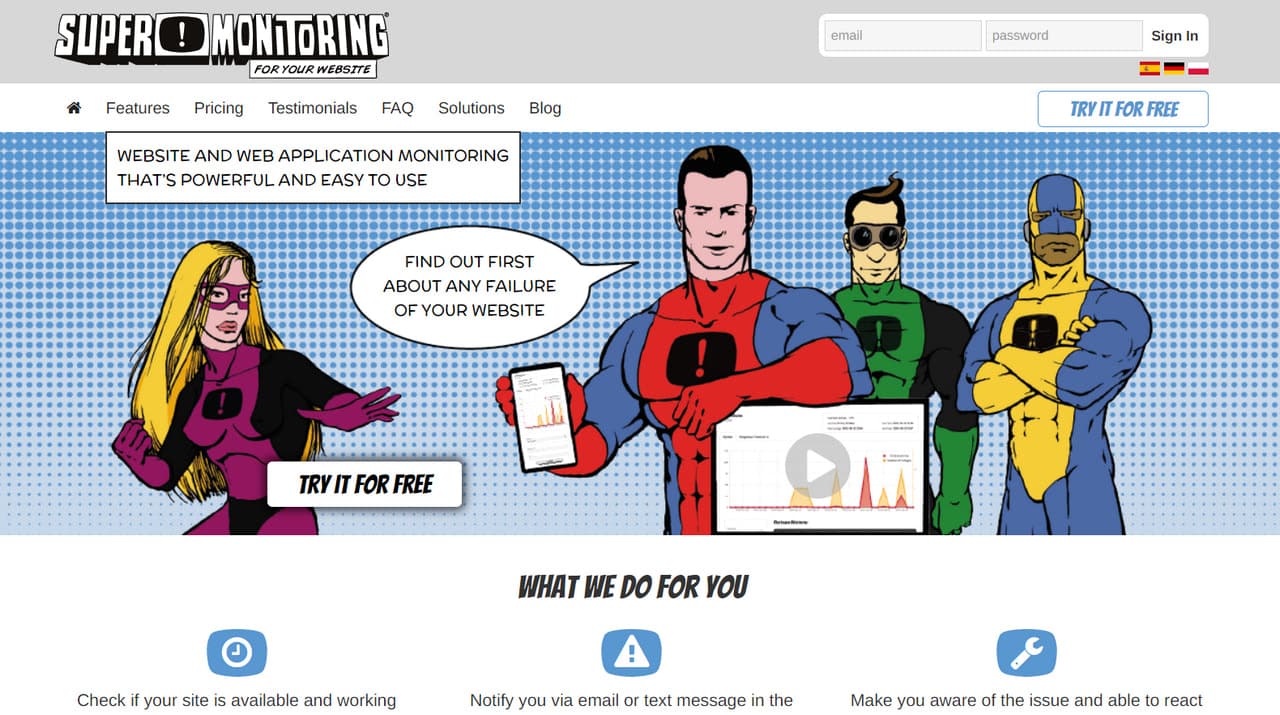 SuperMonitoring is an oversimplified solution for users looking for basic uptime functionality. Although it lacks some unique UptimeRobot capabilities, its obsession with just one task keeps it tall in the niche and provides users with one of the best services for monitoring uptime.
Consider its main features:
Detect failure and its nature.
Catch unauthorized changes.
Check response time, overall website performance, and page speed.
Test processes according to the scenario defined by the client.
Measure the website's core web metrics.
Check up on the domain and SSL certificate.
On top of that, the platform offers immediate alerts by email or SMS (unfortunately, the platform does not support popular communication channels like Slack or Telegram). Plus, customers may create public status pages. They can be rough and outdated but are still workable solutions.
As for pricing, it is a little tricky because the platform charges extra for SMS alerting: customers have to buy SMS credits whose prices vary depending on the country. Therefore, the final price largely depends on your needs.
The good news is, SuperMonitoring has a flexible 5-tier pricing policy. Consider the most popular plans:
The basic plan starts at $5.99 and caters to the needs of solopreneurs, small blogs, and landing pages.
Plan for medium-sized businesses starts at $19.9 and allows 5 URLs to be monitored with one minute as a maximum testing frequency.
Agencies and corporations may enjoy features of the last tier that allows monitoring up to 20 websites; it costs $39.99 per month.
There is a free trial that lasts two weeks, so teams have plenty of time to see whether it meets their targets.
Down Notifier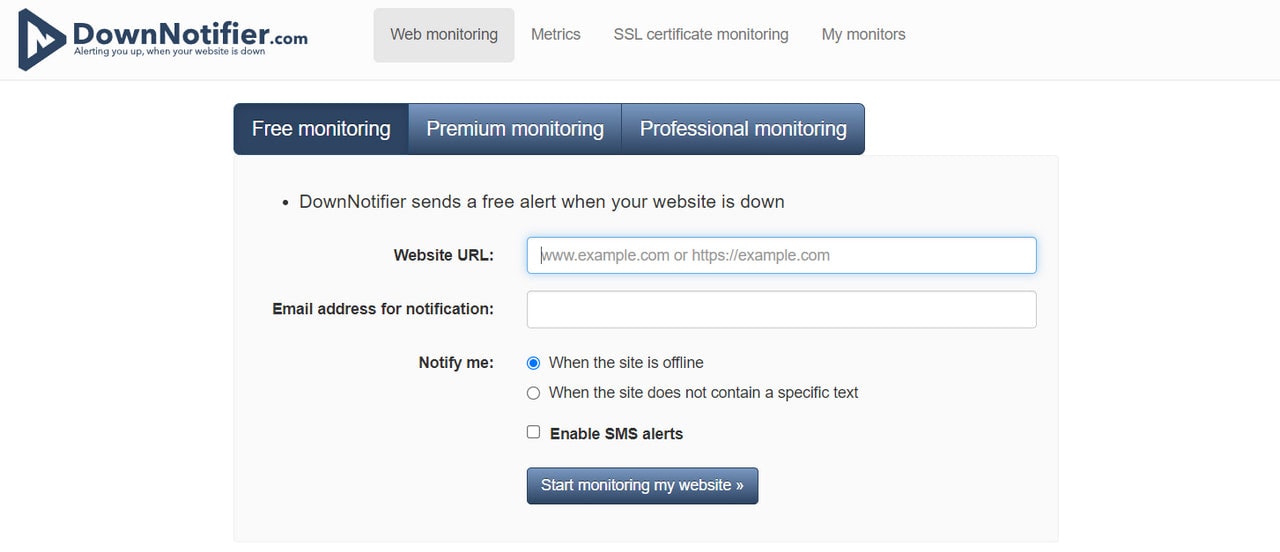 Down Notifier is one of those UptimeRobot alternatives that sticks to simple, narrow-focused, yet effective solutions that are perfect for solopreneurs, hobbyists, and small teams. If you require only monitoring of a website's availability and getting notifications when the outage occurs without sharing it with end-users through sophisticated status pages, then Down Notifier is right for you.
It provides tools to monitor uptime and SSL certificates, get a graphical overview of data collected by the team and linked to the platform through API, and set limits for your metric to analyze the performance better.
The main benefit of the platform is that it has the lowest price in the sector. It has three main plans. The first one is free. All you need to do is leave your email address and a link to a website you want to track. The platform will check its availability every ten minutes and notify you by email or telephone if it is down.
The second plan is premium. It costs just $14.95 annually and allows the monitoring of ten websites every minute, alerting multiple recipients and creating comprehensive reports.
The third plan is professional and sets back users $99 per year. For that sum, they can monitor up to 25 websites at super-fast 20-second intervals, get notifications through WhatsApp, and access seven days of full monitoring logs.
It is important to note that the platform has volume discounts if you need to check hundreds or even thousands of websites.
WebsitePulse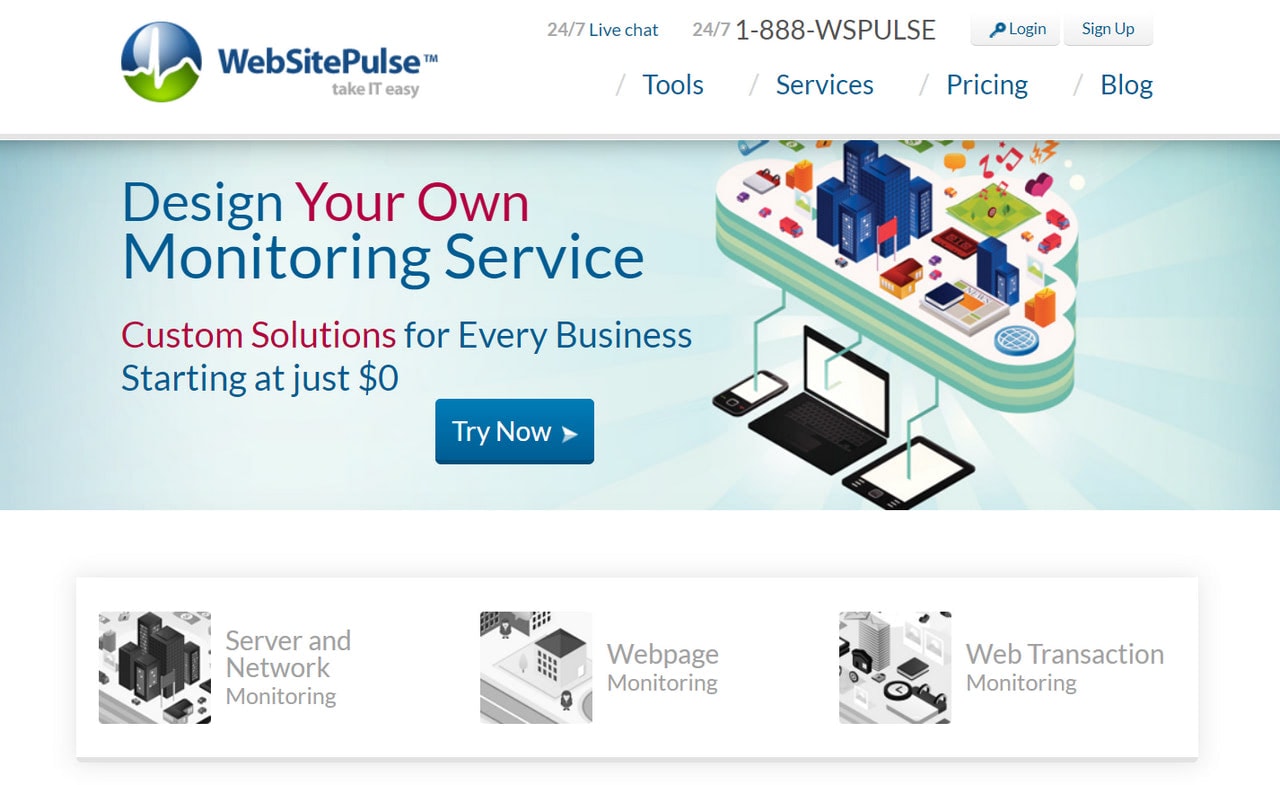 WebsitePulse is one of those UptimeRobot alternatives that ships in a wealth of capabilities.
Server Monitoring
Website or Webpage Monitoring
Web Transaction Monitoring
SSL Certificate Monitoring
Vulnerability Monitoring
Blacklist Monitoring
Email round-trip and even custom monitoring
On top of that, the platform offers:
Alerts to help teams quickly detect malfunctions and fix them in time
Reporting error detection and verification to improve the system's performance
Testing speed and performance according to specific criteria
If you are looking only for uptime monitoring and incident reporting, WebsitePulse may not be the best option since it is overcomplicated and a bit overwhelming. At some point, it may require special skills to be handled. Plus, be ready to spend a bunch of your precious time to make it work for you. However, if you need to expand control over your website environment, and focus on inner units and devices, it is the top UptimeRobot alternative.
As for pricing, there are no traditional plans. The platform is flexible: teams can choose what to pay for. However, since it is priced per particular service, it can be tricky to calculate the final price. So, you may get a big check at the end of the day.
Site24x7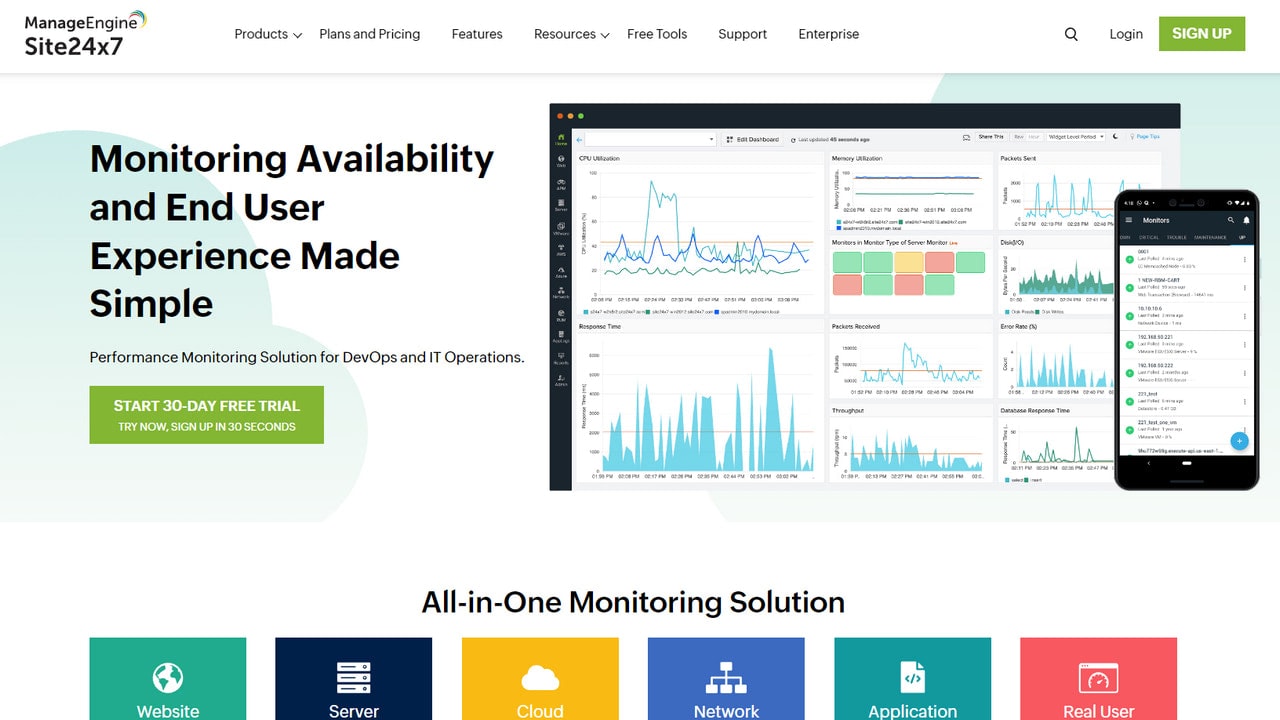 Our list of the best UptimeRobot alternatives would not be complete without Site24x7. Seek a platform that tracks uptime and sends alerts when something is wrong and has more capabilities to expand your control over the whole website environment or get complete visibility into your application's infrastructure stack? Your searches are over with Site24x7.
Site24x7 has an API that allows for easy bulk customization of monitors. According to reports, it handles traditional uptime monitoring and incident management report tasks and catches many more minor downtime incidents than its counterpart, UptimeRobot.
Apart from uptime monitoring, it comes with these capabilities:
Real user monitoring.
Monitoring for critical environment devices, units, and services.
APM insights and performance issues.
Tools to troubleshoot applications, servers, and network infrastructure.
This one-in-all solution comes with its price. Due to its advanced features, it can be complex and intricate to handle, making it not the best option for non-tech-savvy entrepreneurs, startups, and some mid-sized businesses. Although it offers fully customizable workflow features, it can be intimidating to make the most out of the platform.
As for pricing, it is pretty reasonable. For instance, the starter plan costs $9 monthly and allows ten websites to be monitored. To monitor at least 40 web projects, the team has to pay $35 per month which is average.
Conclusion
The web is teeming with UptimeRobot alternatives. Some provide almost the same functionality, like Site24x7 or WebsitePulse, serving as all-in-one instruments to cover multiple use cases.
Others occupy the middle ground by focusing on the most vital and in-demand capabilities – uptime monitoring, alerting, and incident management reporting – like Pulsetic, which provides the best value for its price in the niche and saves teams from all the hustle and bustle of over-complicated solutions.
Some prioritize just one feature offering an oversimplified yet complete solution for monitoring, like SuperMonitoring and Down Notifier.
How to decide? Consider your current goals, budget, and team's capabilities. These criteria will help you find the best solution for your company now.
Like what you're reading? Subscribe to our top stories.