Best Better Stack Alternatives in 2023
Created to serve the needs of IT teams, Better Stack is a popular infrastructure monitoring platform that detects system vulnerabilities, tracks the availability of specific units, and calls the right person on your team to solve the issue immediately. It focuses on three main areas in this sector:
Incident management to provide all the debug data company might need to fix the incident's root cause.
Uptime monitoring with screenshots of errors to clarify an issue right away.
Status pages to share uptime, communicate ongoing incidents, and let customers subscribe to email updates.
Moreover, it has a standard alerting variability with on-call schedules and flexible notification options. The platform informs the team by phone, SMS, email, or push notification. If necessary, it can be integrated with Slack and Microsoft Teams.
Read more about other alternatives:
When you dive deeper into Better Stack, you may find these valuable features as well:
Fast 30-second checks that are subject to premium plans.
Easy monitoring of API, ping, POP3, IMAP, SMTP, DNS, and other generic network units.
Screenshots of API error messages and logs sent to the right person at the right time.
Tracking of CRON jobs and serverless workers.
Integration with popular platforms and services.
Better Stack offers all the tools you might need in this niche to accomplish targets; however, pricing is the one drawback. It is expensive. For instance, those who have only started will pay at least $24 monthly. This plan allows 50 monitors but does not allow integration with other services. Moreover, you cannot invite colleagues to work on the same project.
This may become an excellent reason to consider Better Stack alternatives that provide the same range of tools but for a less price. Another good reason to examine alternative options is that Better Stack has shortcomings.
No-Code Email Template Builder
With Postcards you can create and edit email templates online without any coding skills! Includes more than 100 components to help you create custom emails templates faster than ever before.
Try Free
Other Products
The interface can be clumsy when you have several teams on board
Lack of support for other languages
Limited choice of integrations for free
So, if you are considering switching because you need a better solution or are hunting for the best price for the value, we recommend checking out our list of the best picks among Better Stack alternatives in 2023.
Top Better Stack Alternatives 2023
Pulsetic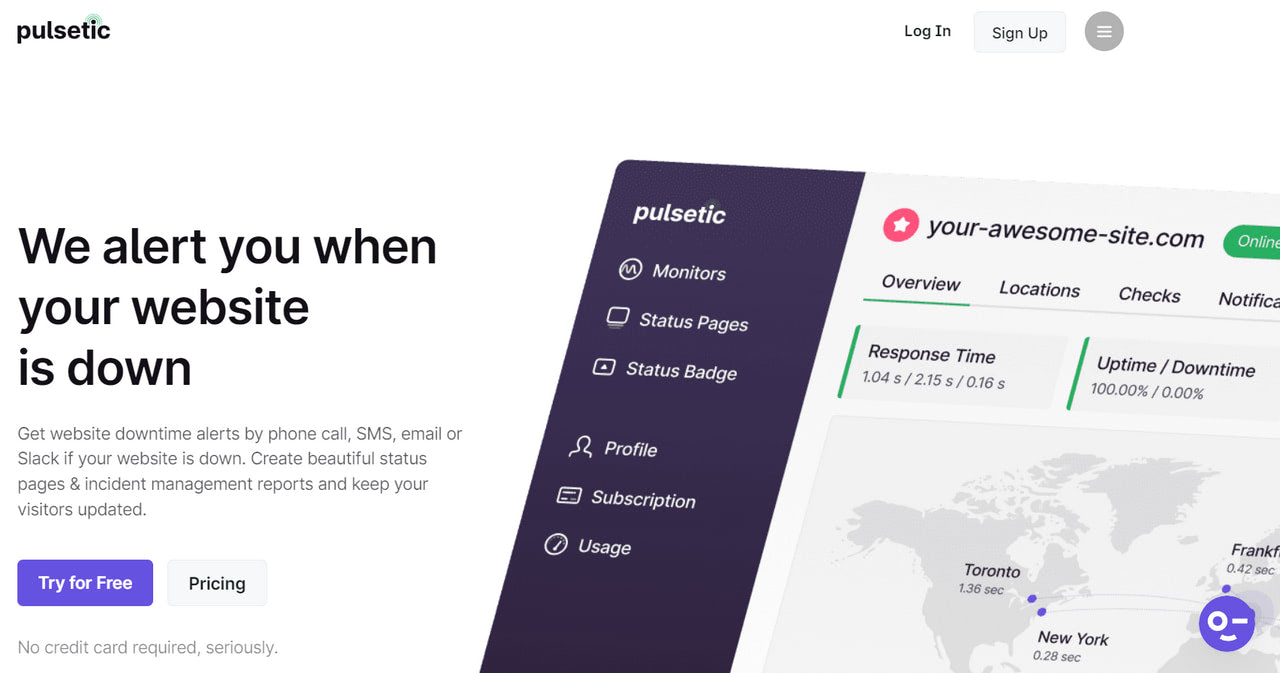 Pulsetic tops our list of the top Better Stack alternatives. This relatively young yet powerful uptime monitoring tool has already earned a reputation as a reliable instrument among some serious clients and IT teams across the Globe.
Unlike its counterpart, it does not chase high revenue at all costs. Its mission is to help small and mid-sized companies track their website availabilities and fix issues when they occur to improve overall system performance and keep their business running. Plus, it prioritizes crucial status pages for businesses to keep their relationships with clients safe and sound.
As a result, the platform covers popular use-case scenarios for a small price. It is perfect for startups, eCommerce projects, SaaS, and dev teams. Among its main capabilities are the following:
Monitor uptime, SSL certificate, response time, website speed, and other aspects.
Monitor from around the World through multiple international data centers.
Offer advanced settings to set up requests and responses.
Generate detailed regional information and comprehensive reports.
Alert via phone calls, email, SMS, Slack, and Telegram.
Schedule maintenance windows.
Use a collaborative environment.
Employ localized status pages with custom domain, unique modern design, event history, and an option to get subscribers on board.
Create password-protected status pages, and introduce a status badge on a website.
Allow fast 30-second checks.
Pulsetic provides the best value for its price. For instance, if you need 100 monitors, you will pay just $39, three times cheaper than in Pingdom. If you are a startup or mid-sized business, you may enjoy a basic plan that sets you back at just $19 per month. This allows five team members to monitor 50 websites with a one-minute check interval from several international points.
On top of that, it has a free tier that suits the majority needs of solopreneurs, freelancers, hobbyists, and those who are only starting in this direction.
Freshping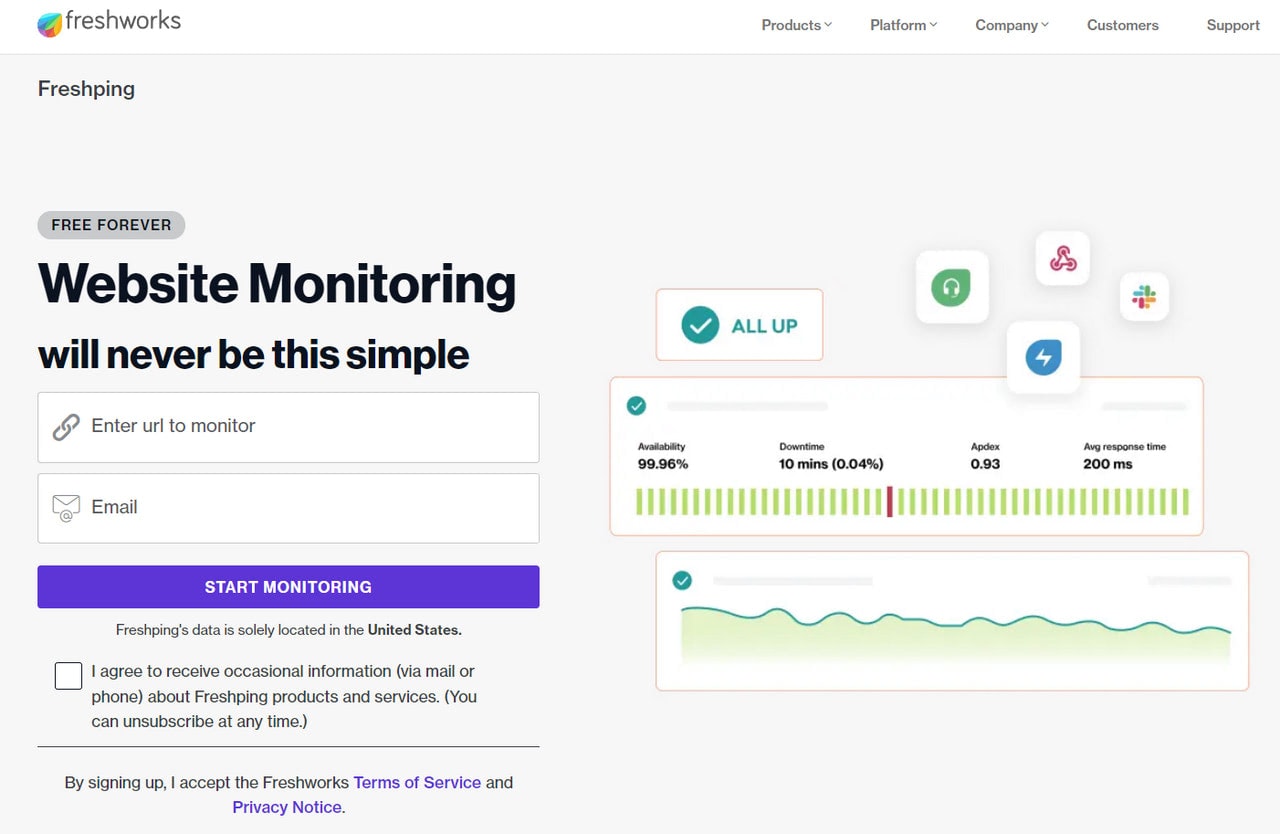 Freshping is famous for its simple yet effective solution to uptime monitoring. It will not confuse you with many features, complex dashboards, and intricate settings. It provides only essentials for website monitoring, avoiding the hassle and bustle of complex platforms crucial to streamlining and simplifying workflow.
For a decade in this niche, it has earned a strong reputation. Its suite of products provides the following capabilities:
Advanced monitoring that implies tracking of HTTP/HTTPS, ICMP ping, TCP/UDP, and DNS.
Advanced reporting through response time graphs and response time metrics.
Integrations with 3d-party applications and platforms, including Zapier, Webhooks, Freshdesk, Slack, Freshservice, and Twilio.
Ten global locations.
Hosted public status pages with custom domains and the ability to integrate status badges into the website.
The main benefit of Freshping is that it offers website monitoring and instant downtime alerts for up to 50 URLs at a one-minute monitoring interval free. Plus, users can publish up to five public status pages. All they need to do is to create an account.
As for premium plans, they also please the crowd with their flexibility. The service sticks to the "Pay only when you grow" ideology, offering companies to start with a free plan and then move to one of two premium options created to meet the company's new targets.
For instance, the basic plan is $11 per month for 60 checks, 12 months of data retention (including reports and data logs), basic authentication configuration, and standard alerting options. Those who need more may choose the plan for growing teams that dramatically expands the capabilities of the previous tier.
Website Pulse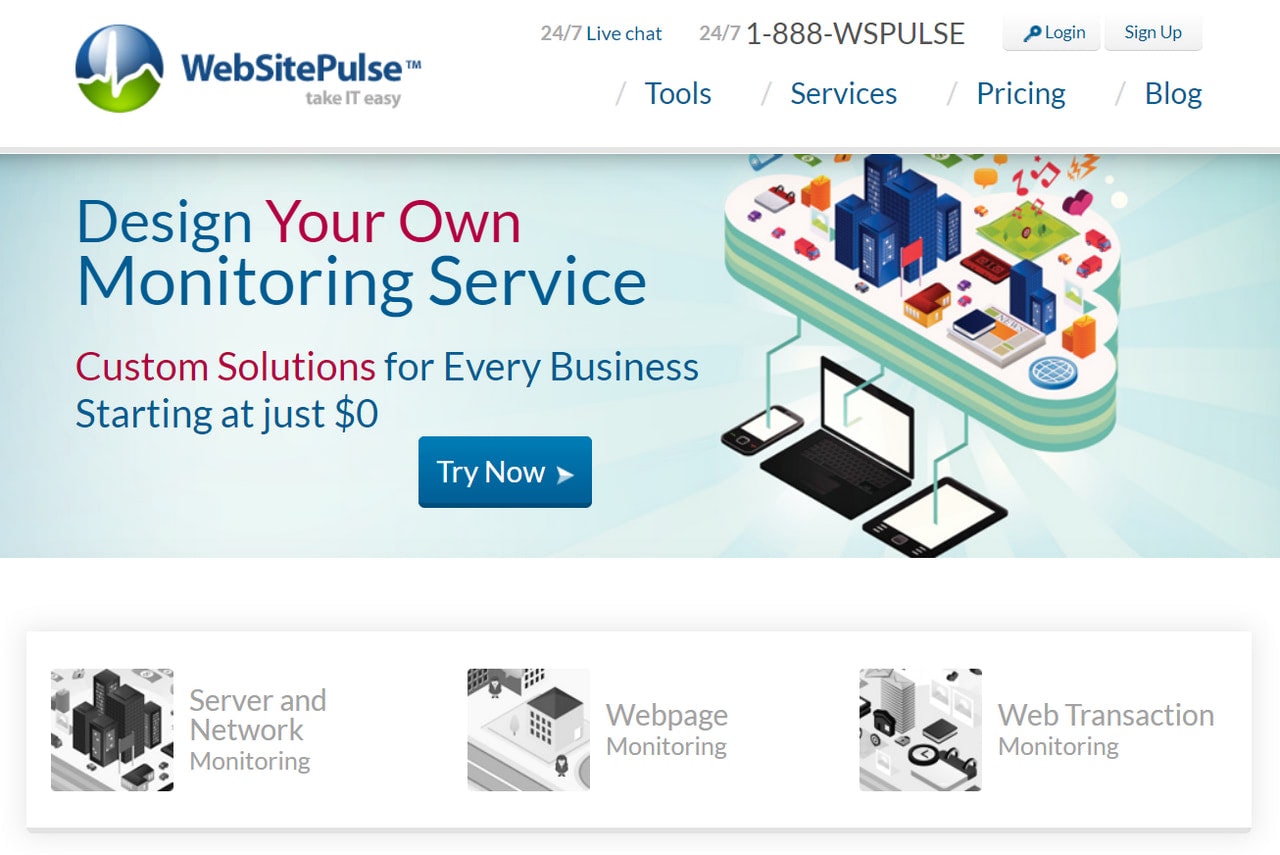 Coming as a small yet powerful web-based Better Stack alternative, Website Pulse provides startups and mid-sized businesses with a fully-fledged solution for proactively detecting and resolving website performance issues by tracking their projects' availability at regular intervals and scheduling on-call duties to reach IT and support teams just in time.
The platform offers a range of tools, including:
Website and web applications monitoring
Server monitoring
In-browser monitoring
Network monitoring
Web transaction monitoring
SSL certificate monitoring
It allows custom monitors, detects vulnerabilities, checks blacklists, generates detailed real-time reports, and offers a multi-user collaborative environment. It also has a versatile and fully customizable alerting system. It may send multi-level location notifications, prevent false alarms, receive alerts only for specific error types, and create custom dependency rules for each target.
It is crucial to note that the platform does not have a status page and badge builder. So, if this functionality is critical for you, this platform may fail your expectations.
Website Pulse has a flexible pricing configuration that allows paying for what the team needs and uses currently by selecting monitoring intervals, specific monitoring locations, and other features to achieve their targets. Compared to other Better Stack alternatives, their fees are expensive. For example, monitoring just one website from one international location with 10-minute intervals costs $9 per month. However, you may ask for a custom price.
Hexometer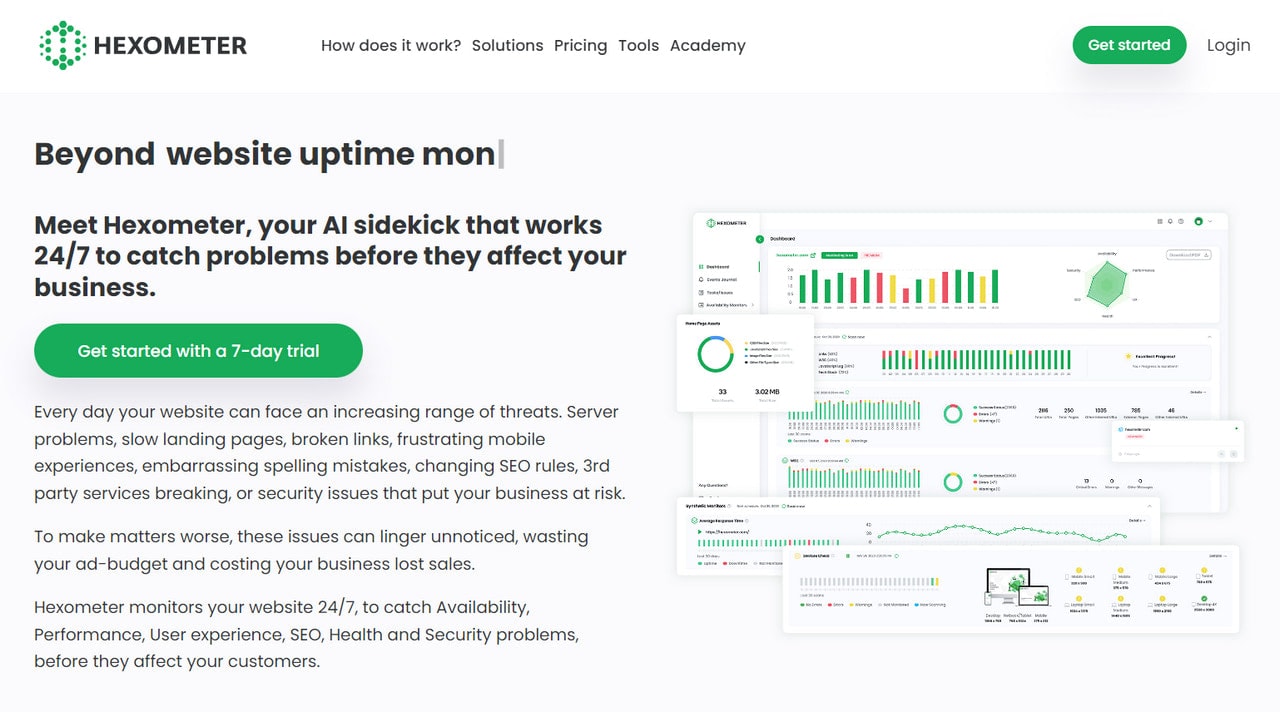 Designed to support eCommerce projects and empower agencies to keep an eye on client websites across all boards, Hexometer is an essential feature-rich Better Stack alternative that utilizes the power of AI technologies to track the website's availability 24/7 and notify the IT team about outages, error or malfunction.
The platform contrasts the previously mentioned Better Stack alternatives because it covers six huge areas necessary to keep the system healthy and improve the project's overall performance. This includes user experience, SEO, Health, and Security.
When it comes to infrastructure monitoring, the platform offers teams these capabilities:
Uptime tracking to check any URL, email server, DNS, CDN, SMTP, POP3, RADIUS, or 3rd party service for downtime
Regular SSL certificate check-ups
Alerts via email, SMS, Telegram, Discord, Slack, and Trello
Integration with 1000 apps via Zapier, Integrately, SyncSpider, or Pabbly Connect integrations
Apart from advanced capabilities, it offers the basic functionality to keep an eye on the website's availability.
The main drawback of the solution is pricing. You will not find a tier explicitly created for infrastructure monitoring. Teams need to pay for access to the entire platform. Therefore, if you are up to uptime monitoring, you still need to pay for some premium features like user experience monitoring or SEO monitoring.
On the bright side, if you are up to Better Stack alternatives that give you a wealth of information about the system's health, Hexometer is the one to try.
Network Monitoring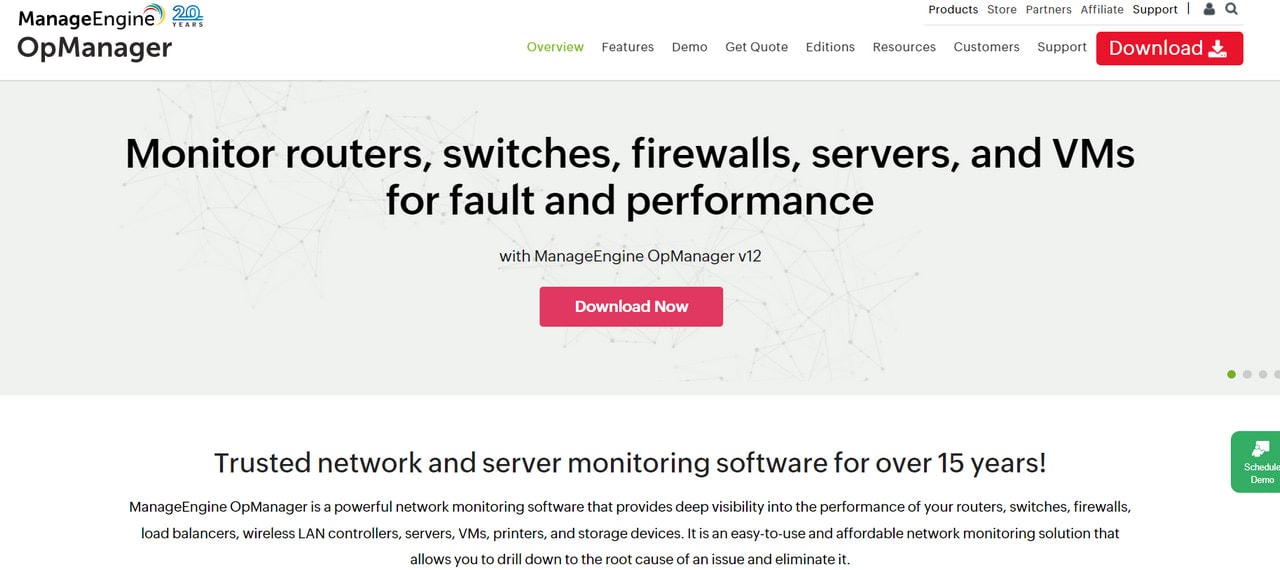 ManageEngine OpManager is a fully-fledged network monitoring solution to get visibility of all units involved in your system's environment, starting with monitoring access points and wireless routers and ending with tracking storage devices like Fiber channel switches or Storage arrays.
This impressive suite of products has a separate network monitoring tool, one of the best Better Stack alternatives in 2023. It efficiently detects outages, anticipates potential issues, and addresses network problems proactively. It tracks the performance of any IP-based device and network service and visualizes its system performance.
Among its main capabilities in this sector are:
Tracking the website's availability and pinging all monitored devices at defined intervals
Notifying the team by email or text message
Detecting and troubleshooting CPU and server bottlenecks
Generating reports based on network performance
Providing customizable dashboards and various visualization options
Unlike the featured above Better Stack alternatives, this product comes as a desktop application that the team needs to configure on their own, which can be a problem for non-tech-savvy entrepreneurs and some startups in the eCommerce and Sass segment.
The good news is you can try the product using a free version, which allows monitoring three devices, or ask for a free 30-day trial period.
As for those, who have already decided on this option, there are two premium plans. The first targets companies and agencies that need to track no more than 1,000 devices from a single server. It costs $345 per one-time payment.
The second premium tier allows tracking up to 10,000 devices or 100,000 interfaces. Its price starts at $11,545 per one-time payment.
Conclusion
Better Stack is an excellent choice for agencies and huge companies. It has uptime monitoring, tools for incident management, and status page templates. However, it asks quite a huge price for this suite of products. Plus, it comes with certain shortcomings. Though, no worries. The web is teeming with solutions that may provide the same range of tools but for a lower price.
If you are up to a Better Stack alternative with the same functionalities but a reasonable price, Pulsetic is an ideal option. It efficiently meets your IT team's uptime monitoring and incident management reporting needs, offering a productive collaborative environment and the most outstanding feature-rich and modern status page and badge builder. Plus, prices are the best in the niche.
If you are up to the cheapest solution and ready to sacrifice some functionalities, then you should consider Freshping. It provides the most critical features yet asks for a pocket-friendly fee.
For those who need Better Stack capabilities and even more because the time has come to expand control over other areas of the system's health, then WebsitePulse, Hexometer, and Network Monitoring, with a wealth of monitoring capabilities, will do the job. Though, expect to pay some extra buck for them.
Like what you're reading? Subscribe to our top stories.