Pulsetic Review – Free Website Uptime Monitoring Service & Status Pages
Uptime website monitoring plays a vital role in every online business operation. Having a website that is always up and running is more important than ever because it's how you serve your customers or end-users to market your product or services and take revenue. While you can't control when your website goes down, you can take a few steps to check if everything is running smoothly at all times automatically.
Websites can malfunction and go online for several reasons, including hosting or network issues, DDoS attacks, and development errors. Fortunately, there are methods to monitor your website's uptime/downtime and take precautions, such as uptime monitoring before it reaches critical status.
If downtimes and operational performance issues go unnoticed, it will not only inflict loss of website visitors or potential customers but can also lead to loss of revenue, brand, and reputation damages. That's where website uptime monitoring comes in.
What is a website uptime?
Website uptime refers to the amount of time a website is live and available to website visitors or end-users measured through an uptime monitor service. The uptime is calculated monthly or yearly and is represented as a ratio of available time divided by total time. Hence, the availability of a website is typically expressed as a percentage for a selected period of time.
In most cases, the availability of a website is expressed as a percentage, such as 99.999 percent availability which is a high availability score. One hundred percent uptime is an impossible goal for websites since many external factors can affect a website's uptime over time.
The opposite of uptime is called downtime, which is the amount of time a website is unavailable and cannot be accessed by website visitors or end-users. Downtime is sometimes related to getting the following web page or server errors when a customer or end-user visits your website:
No-Code Email Template Builder
With Postcards you can create and edit email templates online without any coding skills! Includes more than 100 components to help you create custom emails templates faster than ever before.
Try Free
Other Products
404 page not found
500 internal server error
503 service not available
504 gateway timeout
505 HTTP version not supported
What is uptime monitoring, and why does it matter?
Uptime monitoring is the process of automated checking of a website's availability or uptime. Uptime monitoring detects the problem and notifies the customers, business owner, and development team about the outages or performance issues when a service fails.
Various website monitoring services online can check for events that may cause your website to go down. A good monitoring solution should check for downtime in the following components: web servers, regions, firewalls, response, and content. Furthermore, website uptime monitor services often offer features such as status page, status badge, and monitoring metrics, among others which are highly recommended to be utilized.
Using a website uptime monitor service is highly beneficial because it aids in determining the dependability or stability of website operational performance. The most obvious benefit of an uptime monitor is that it will notify you when your website goes down, enabling you to fix issues soon as possible quickly.
In addition, the following are some of the benefits of subscribing to an uptime website monitoring:
Prevent the loss of revenue.
Build trust, reliability, and credibility with customers and end-users.
Reduce customer support inquiries.
Avoid potential cyber-attacks.
Quickly monitor your downtimes and performance issues.
Provides historic uptime/downtime metrics to demonstrate website efficiency.
Collaborate with the development team & solve incidents faster.
Test your website and server performance.
Provides better problem-solving and preventive maintenance.
Improve website operational performance.
Manually schedule planned maintenance and service status updates.
If you want to be quickly notified when your website malfunctions, you'll need a reliable uptime monitoring solution.
Factors to consider when choosing an uptime monitor
The cost of downtime and the variety of factors that could cause it is critical to every successful online business operation. The best website monitoring services are always well utilized on servers worldwide and are packed with valuable features. When searching for the best uptime monitor service, certain factors are to consider.
The following are some factors to consider when choosing an uptime monitor service for your website:
User-friendly. The service should be easy to use despite offering some considerably advanced features.
Feature-Packed. Features are important. It should offer valuable features designed intuitively to make the monitoring process quick and easy.
Alert System. The notification feature is also noteworthy. You can set up alerts to ensure that no downtime and performance issues go unnoticed. The uptime monitor service should notify you via text, email, or another supported notification platform whenever a problem is detected.
Price. The price should be reasonable. Some uptime website uptime monitor services are overpriced.
In general, website monitoring is very important and should be considered by anyone who relies on their website for revenue. A good uptime monitor tool or service will help you keep your website up and running and solve incidents faster.
Using Pulsetic Website Uptime Monitor Solution
There are various free and paid website monitoring solutions available online. If you're looking for the right service provider to monitor the performance of your website, you've come to the right place.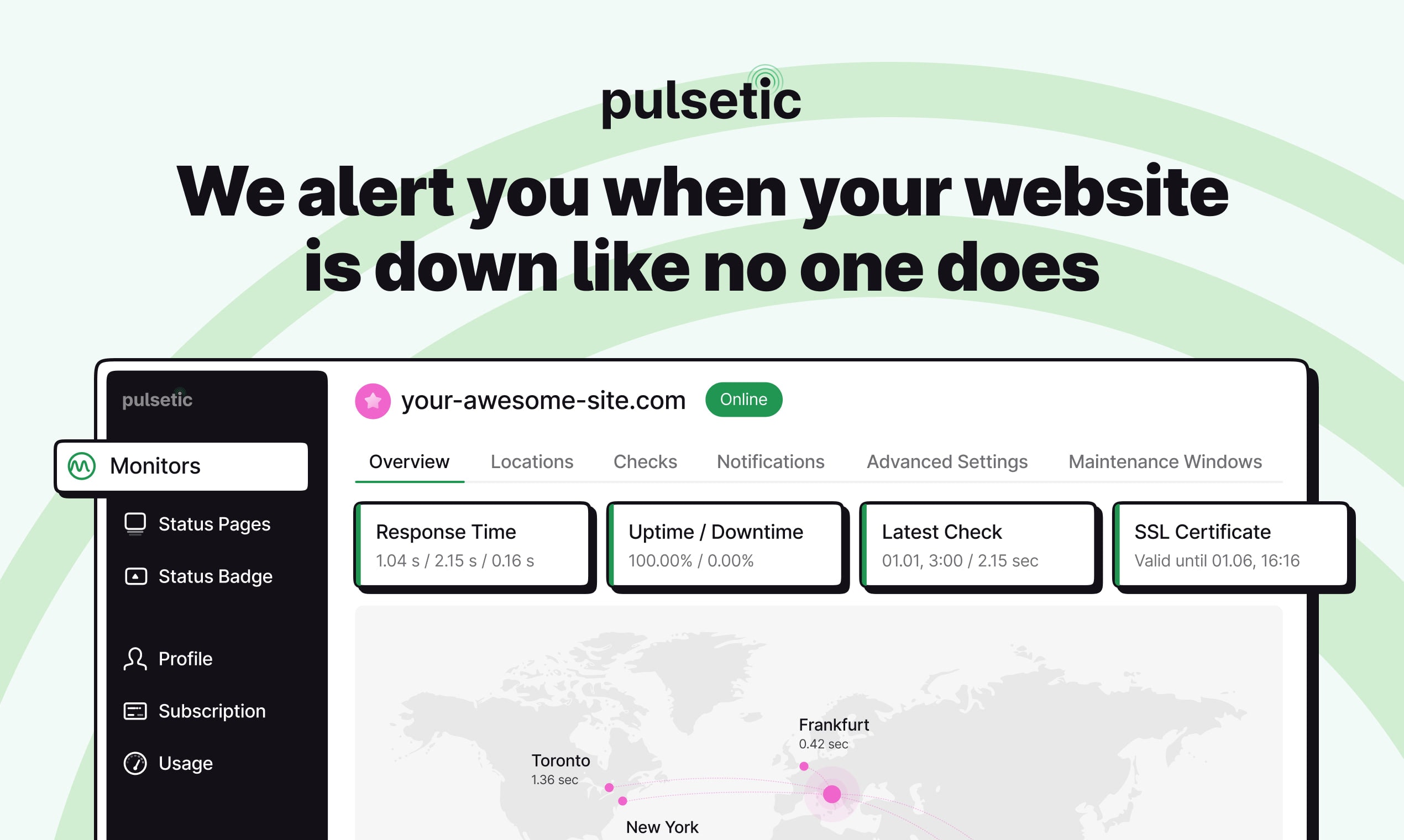 Pulsetic is an uptime monitoring service that offers real-time browser monitoring while allowing users to manage incident reports by giving downtime alerts via phone call, SMS, email, or Slack when a user's website is down. It has four pricing plans that can be subscribed to on a monthly or annual basis.
Pulsetic provides a reliable monitoring service with customizable frequency checks from various data centers worldwide to ensure no false-positive reports are generated and indicate where your website is down or slow, keeping your customers or end-users well informed about specific incidents. In addition, it sends requests to your website, records response time, and generates reports based on your website's uptime and operational performance.
Among its main features are:
Beautiful status page generator. Here is how to create status pages.
Status badges generator.
Website uptime monitor.
Website speed monitor.
SSL certificates monitor.
Failed check monitoring on different data centers or locations across the world.
Detailed reports about every request.
SMS/Voice calls, Email, Slack, Telegram, Webhook, SMS notification alerts.
Integration with Twilio and SIGNL4.
Subscribers notification.
Team collaboration.
Advanced settings for developers.
Pulsetic Website Monitor
With Pulsetic, setting up a new website monitor is quick and easy. To get started, click on the Monitors link located on the left menu sidebar. On the upper right corner of the screen, enter your website URL and click on the Add Monitor, as seen in the image below.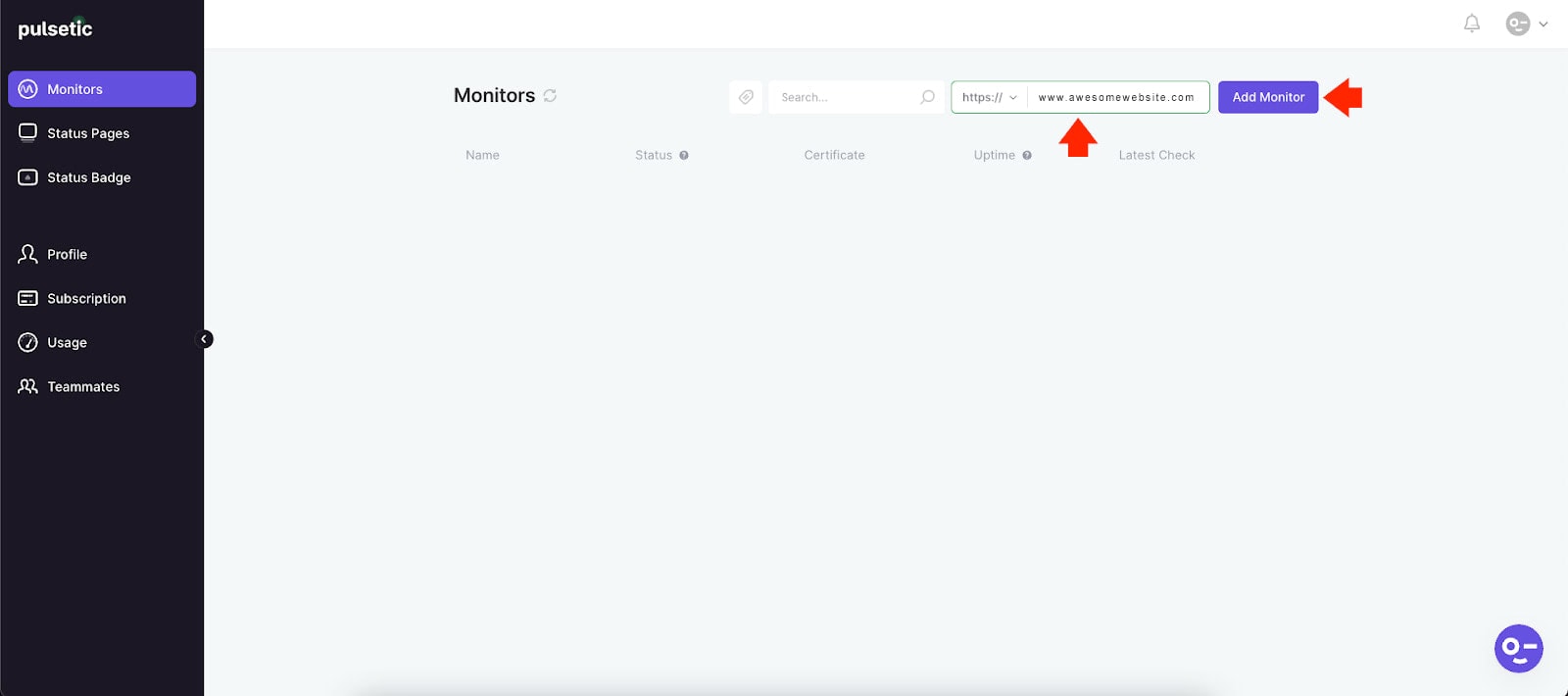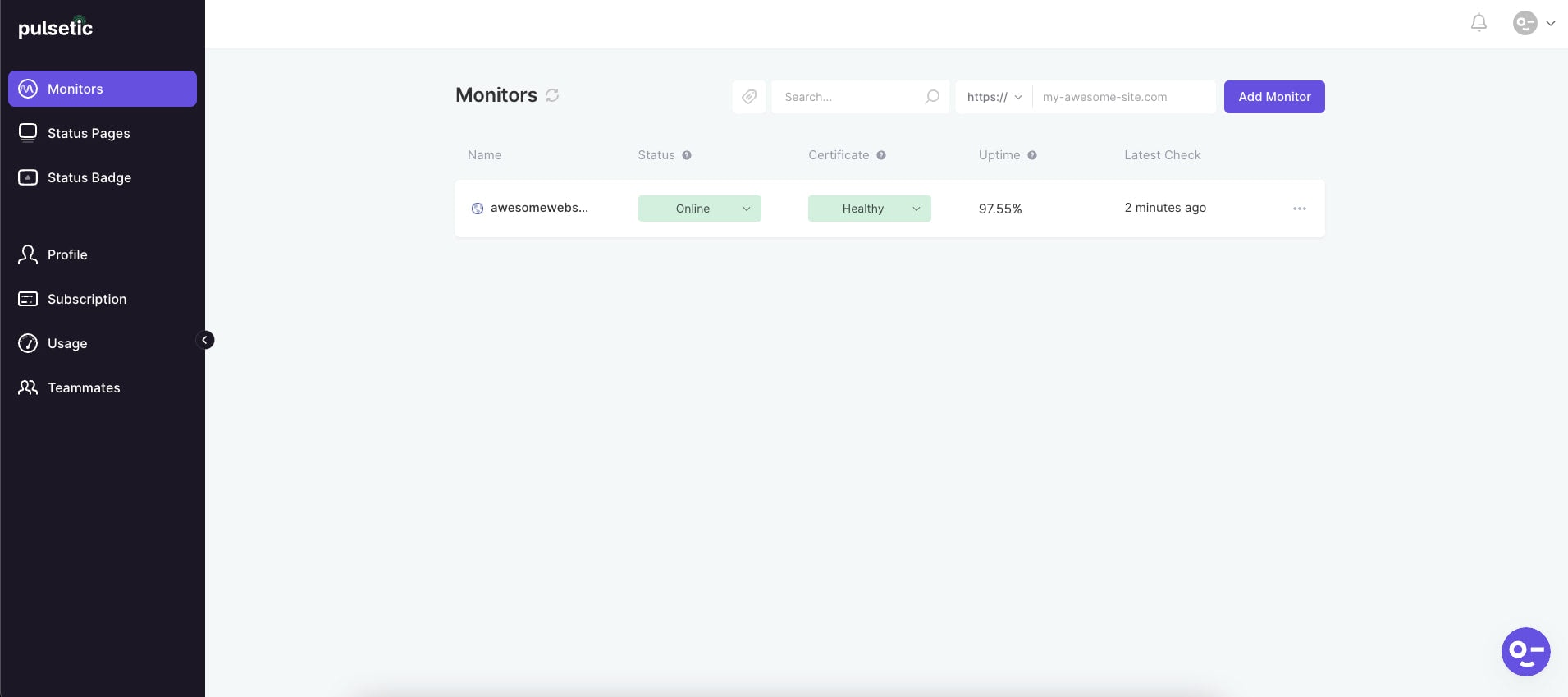 After some time, Pulsetic will add our website to the Monitors dashboard. This means that Pulsetic will now periodically monitor our website's uptime and downtime, as well as the system operations status, based on the frequency settings and maximum time outset in the website Monitor's general settings.
To check your website's monitor report, click on the URL of your website. Additionally, you can check each specific information by clicking on the three dots icon located in the last column of your website's URL row.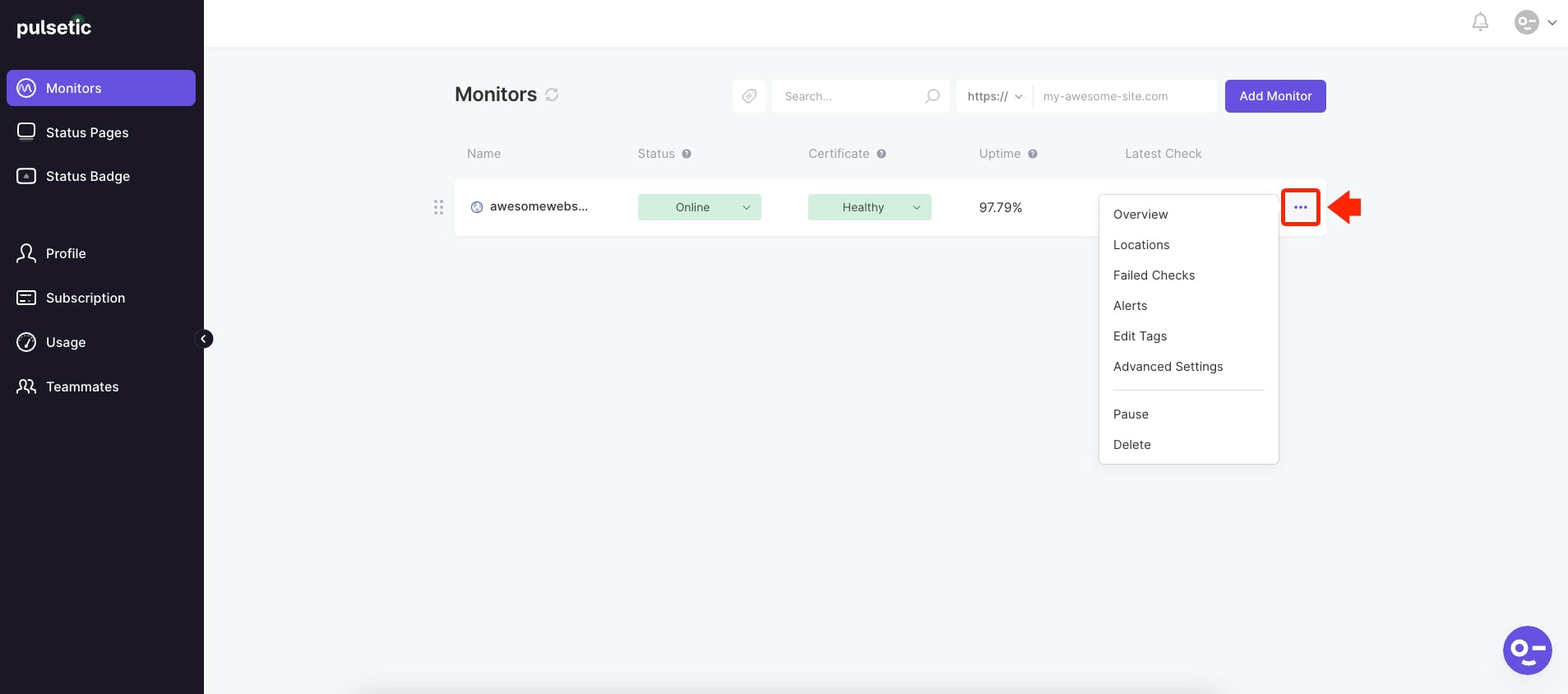 Below are the series of report tabs that Pulsetic provides under the Monitors dashboard:
Overview – contains general reports, including response time, uptime/downtime, SLL certificate, performance, SEO, etc.
Locations – contains reports about different regions or countries where your website is down or slow. Provides specific uptime and response time rate information.
Failed Checks – contains reports indicating that Pulsetic was unable to check on your website for specific regions or countries using a specific response code.
Alerts – provides the option to specify contact information, including text, emails, SMS/calls, and other venues to which Pulsetic will send alert notifications about your website in case of outages or performance issues.
Advanced Settings – provides the option for developers to utilize the request and response settings, including HTTP request and response Headers and Text.
Delete Monitor – provides the option to delete your website from the Monitors dashboard list.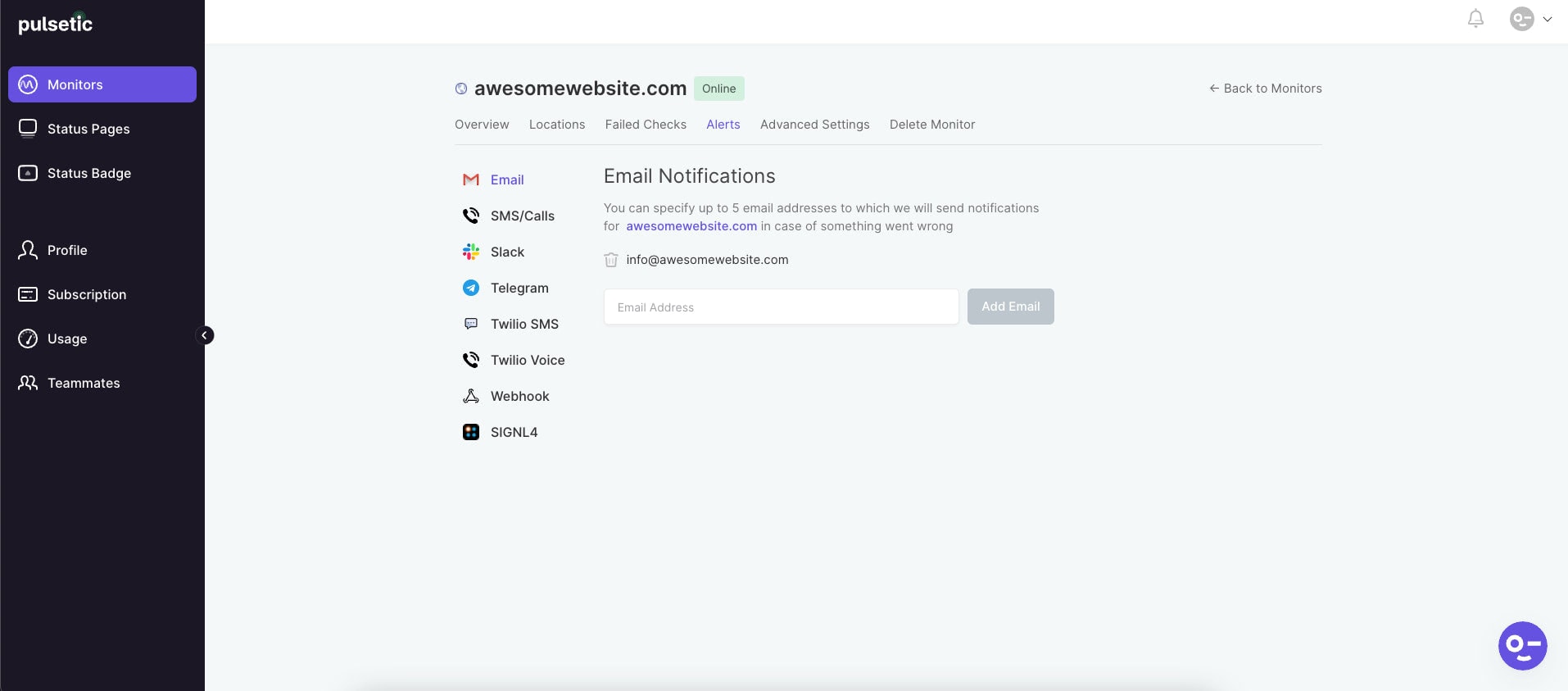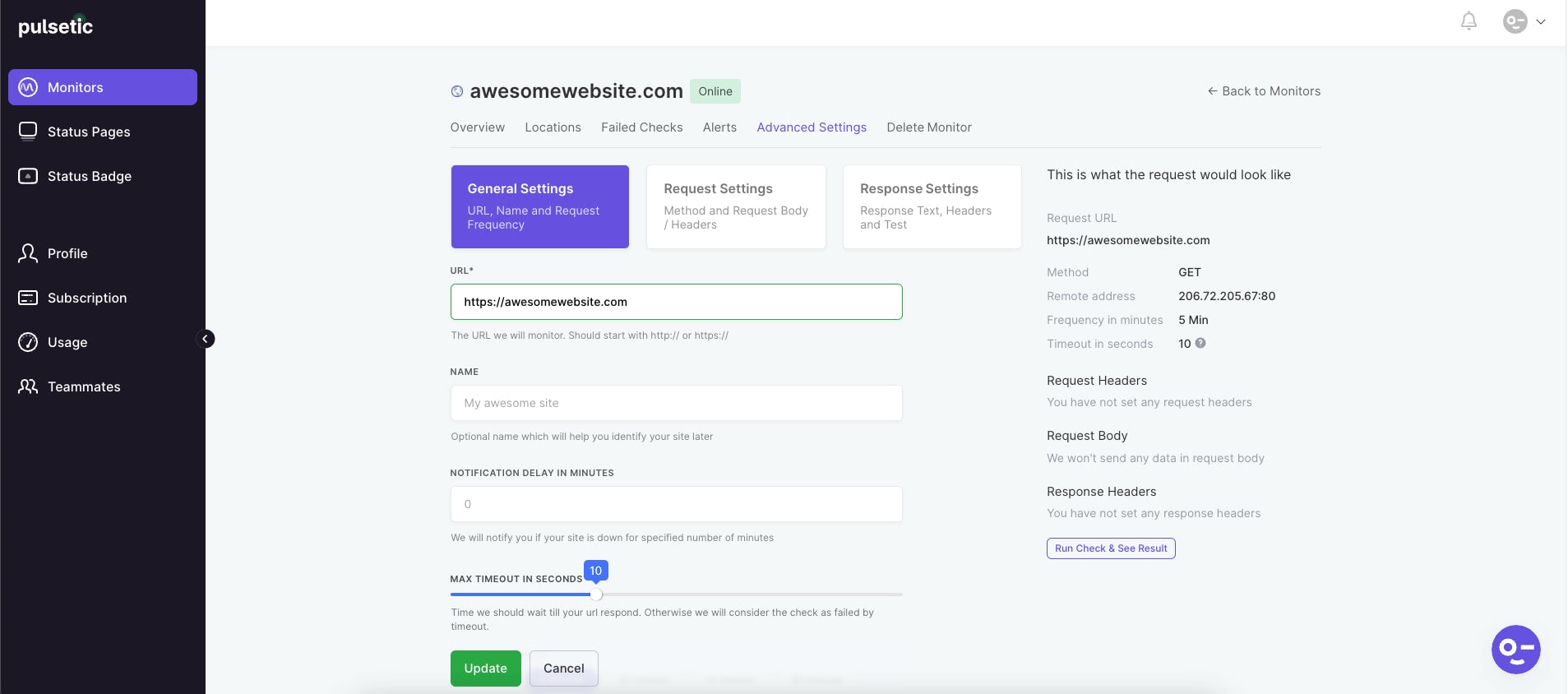 Pulsetic Status Page
Creating and customizing your status page with Pulsetic is feasible (status pages examples). To generate a status page, go to the Status Page link on the left menu sidebar and click the Add Status Page button in the middle of the Status Page screen, as shown in the image below.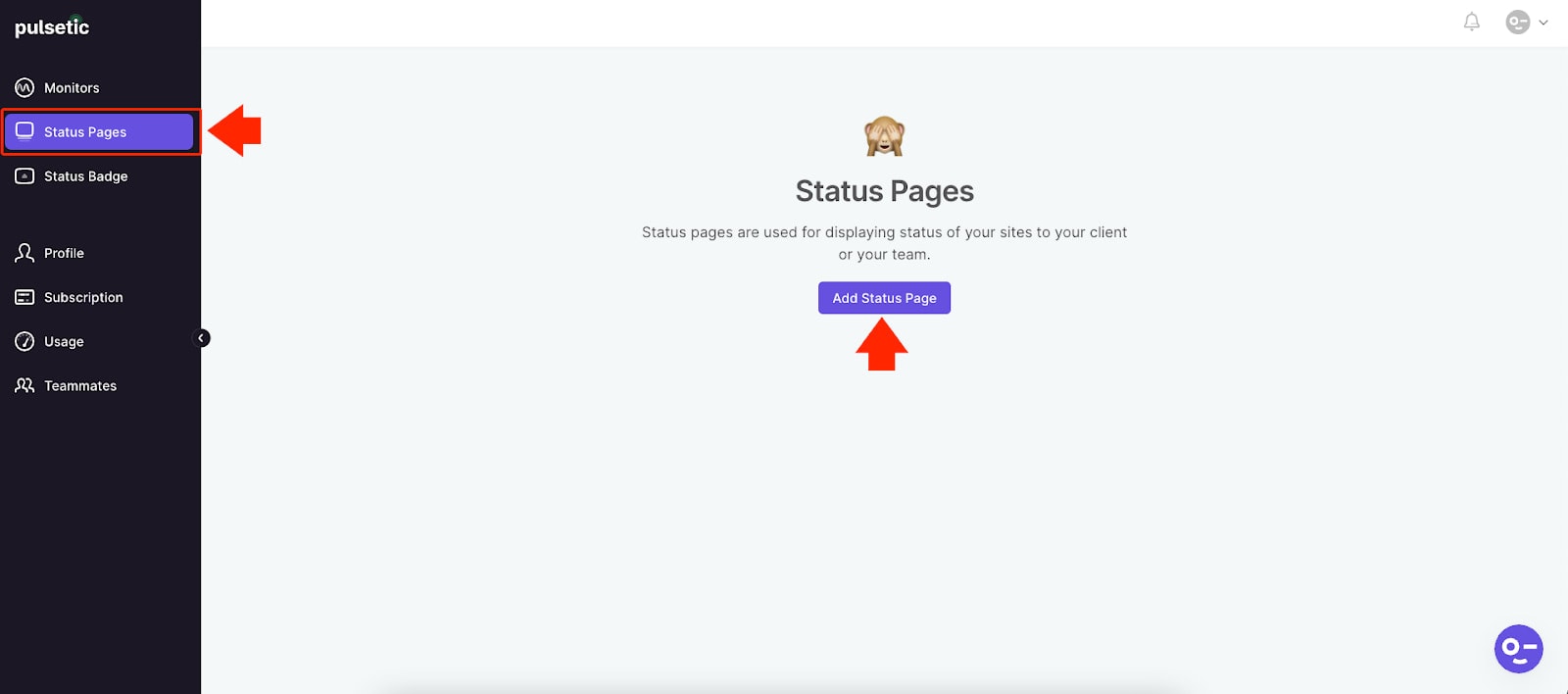 At this point, you need to enter some information about your status page which consist of the following:
Title – the title of your status page.
Custom Domain Name – the domain name or website URL.
Custom Meta Title – the custom meta title for your status page.
reCAPTCHA Site Key and reCAPTCHA Secret Key – the reCAPTCHA Site Key and reCAPTCHA Secret Key for your status page. You can follow this guide if you are unsure how to generate these.
Uptime threshold – specify how long is too long when it comes to server response times for your website.
Monitor to display on Status Page – the website URL to monitor on your Status Page.
Remember to click on the "Save" button to save the information you entered.
To finish the process, you need to connect your custom domain to your Pulsetic account's newly created status page, you must add a CNAME record for app.pulsetic.com within your domain provider. In this article, we cannot discuss all possible ways to add a CNAME record to your domain or hosting, as steps might differ depending on your domain or hosting provider's option. However, keep the following information in mind when adding the CNAME record for your newly created Status page on your Pulsetic account:
Type field– CNAME Record.
Host Name field – @ or domain name.
Value field – app.pulsetic.com.
TTL field – Automatic, 30 mins, or 1 hour.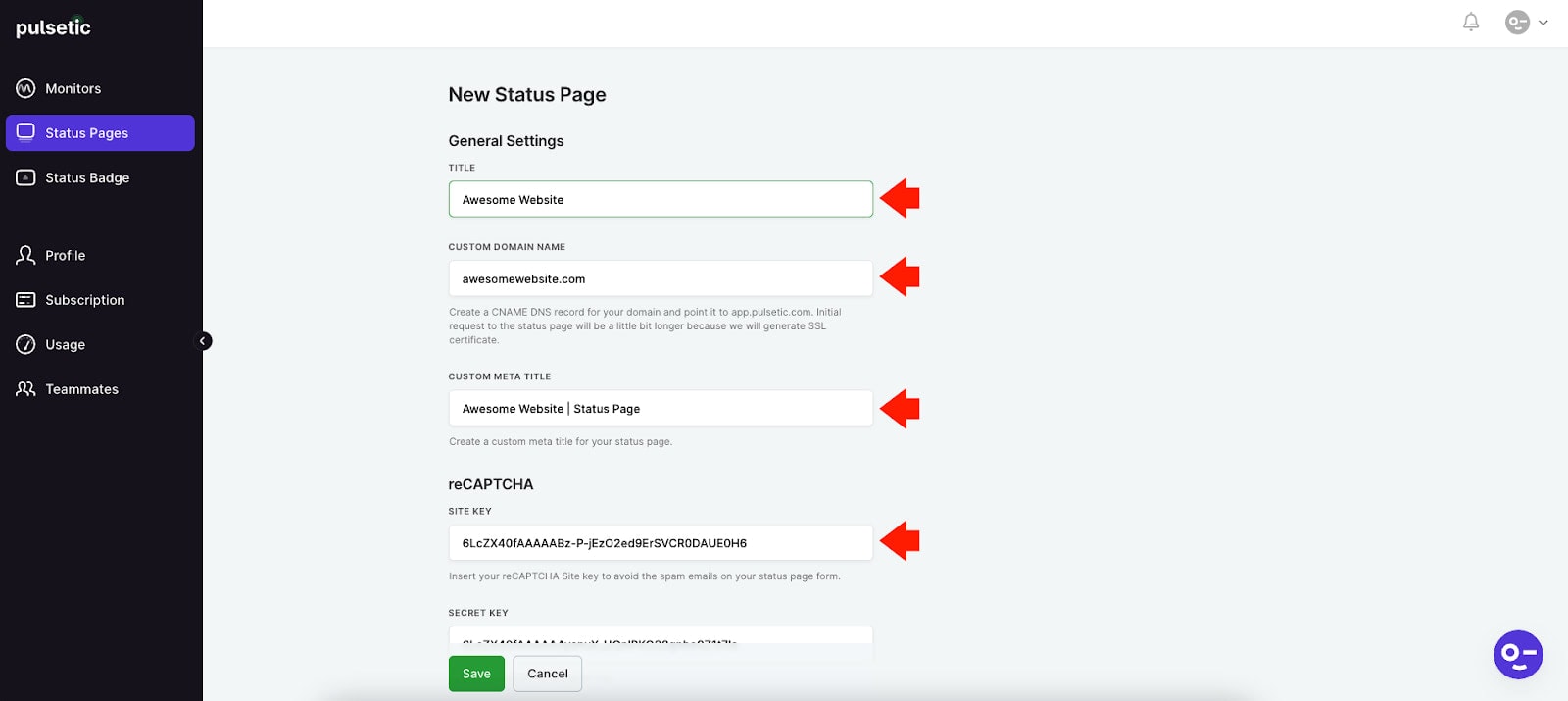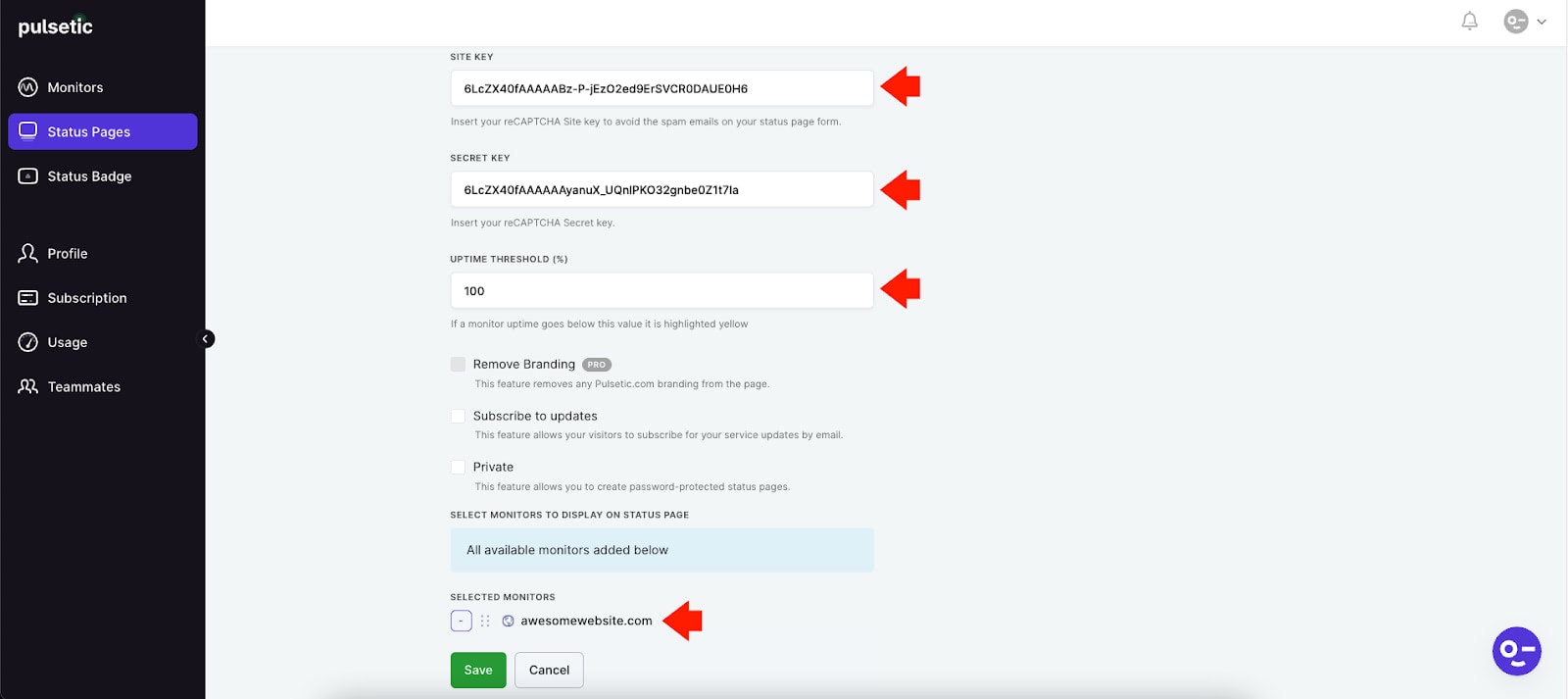 To check on your newly created status page, click on the Status Page Public link, and your browser will open the status page of your website.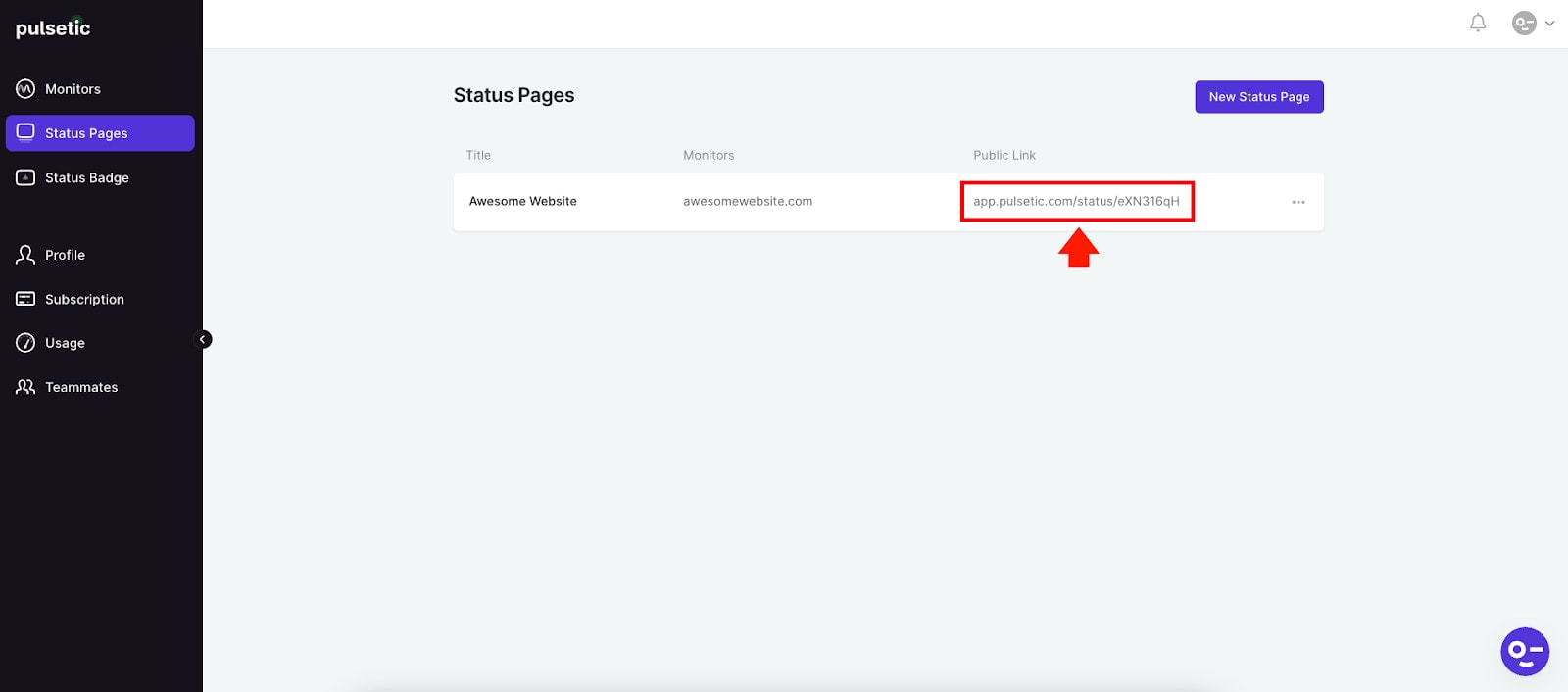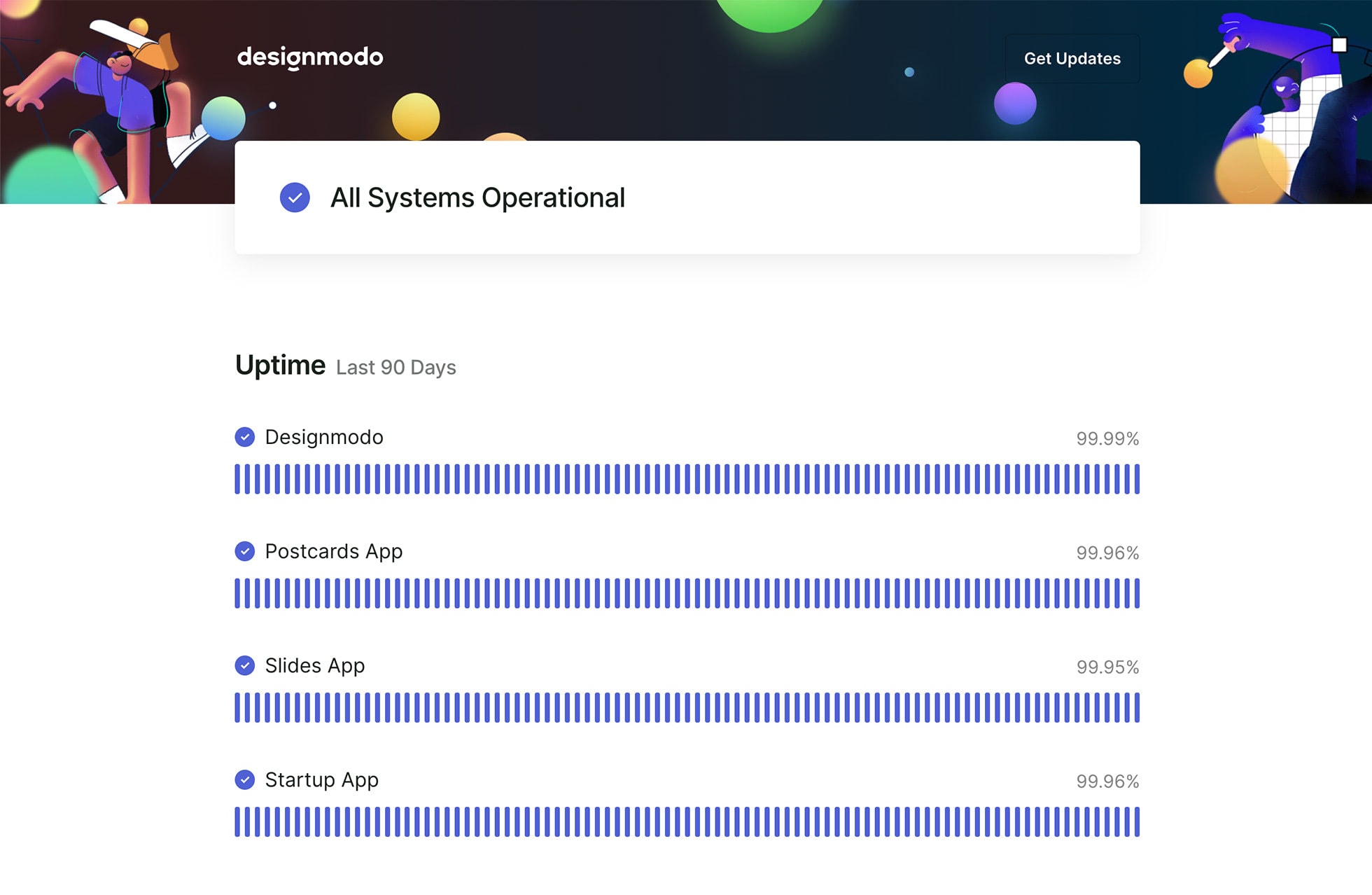 Congratulations! That is just how easy it is to create a status page with Pulsetic.
Note: Notice that there is a Get Updates button on the upper right corner of the status page. This is another helpful feature that Pulsetic offers. In every instance of the status page you create within the platform, your website visitors or end-users can subscribe to the updates on your website. In this way, they will be notified via email whenever there is an ongoing incident on your website.
If you wish to customize the design of your status page, click on the Customization link on the Status Pages Dashboard, as seen below.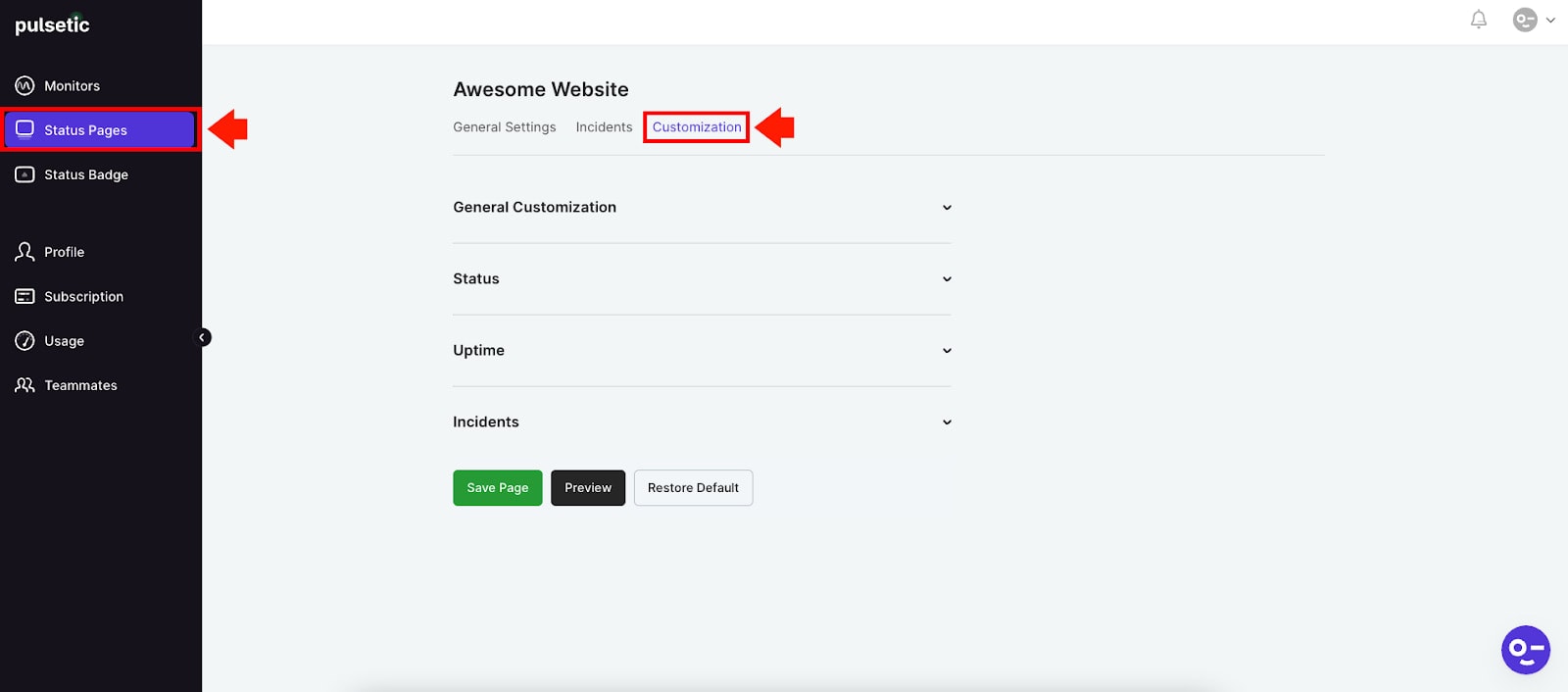 You can change the following properties on this page:
General Customization Tab – allows you to customize the status page logo, header image, color style, links color style, text style, get update button, and status style icon. Additionally, you can also use your own custom CSS.
Status Tab – allows you to customize the design of the status bar from frame style to text style.
Uptime Tab – allows you to customize the style of the uptime/downtime bar from uptime style to uptime percentage style.
Incidents Tab – allows you to customize the configuration of the incident reports, such as each incident report's frame style and state style.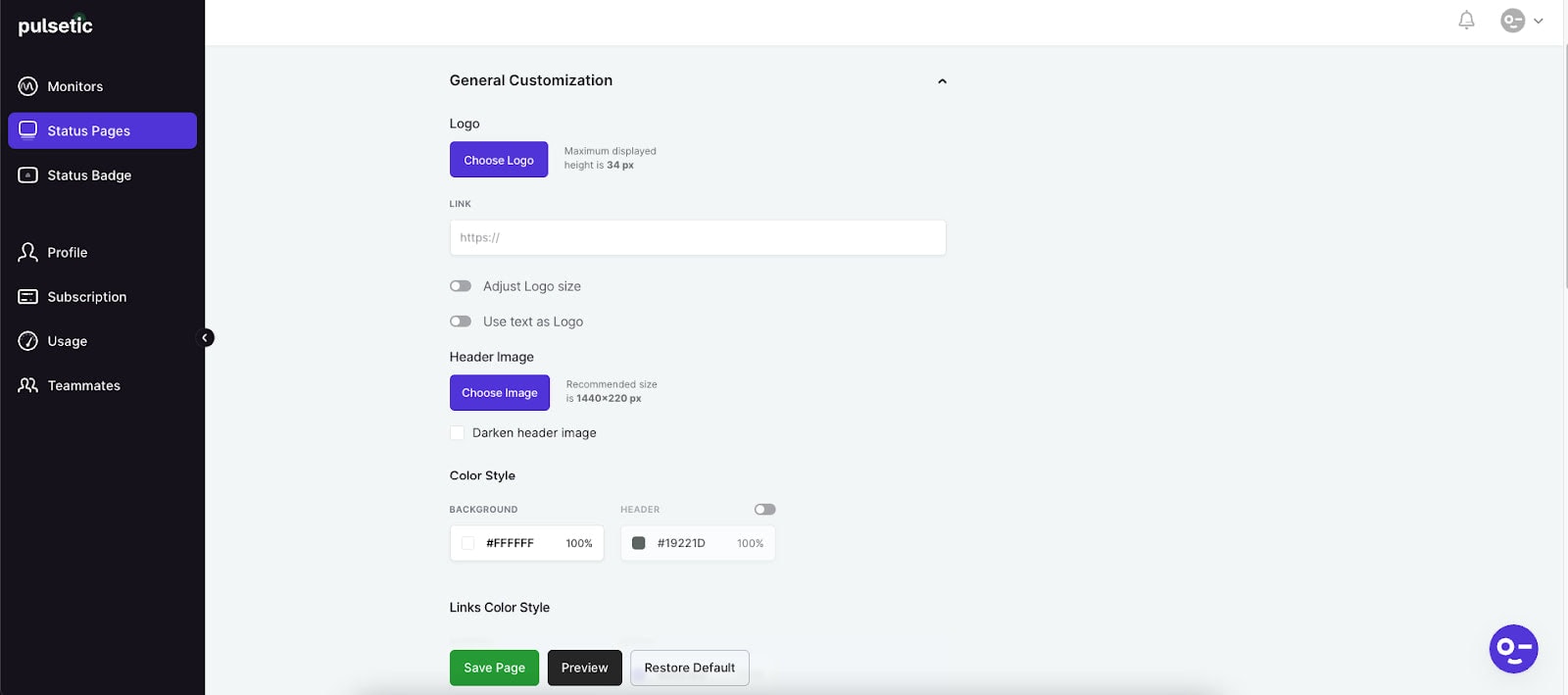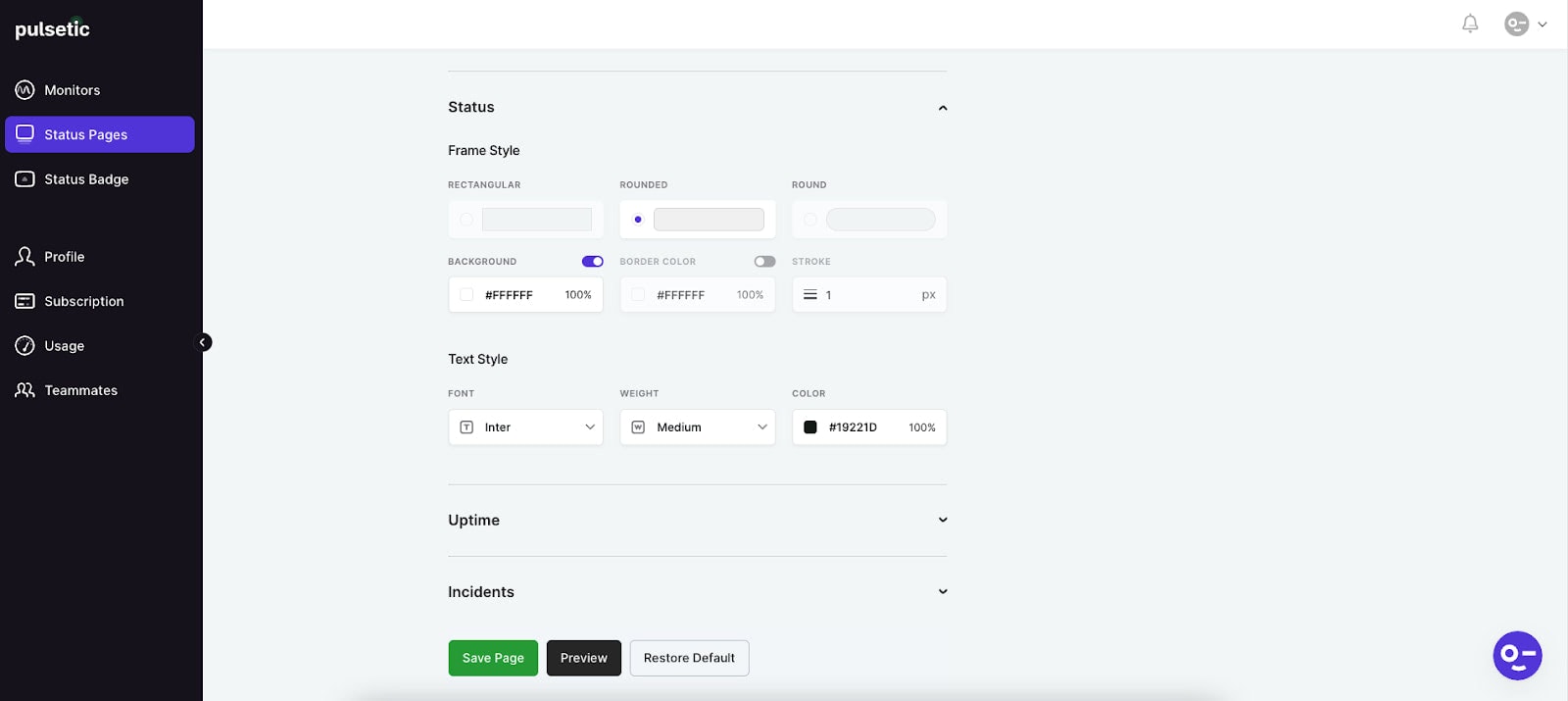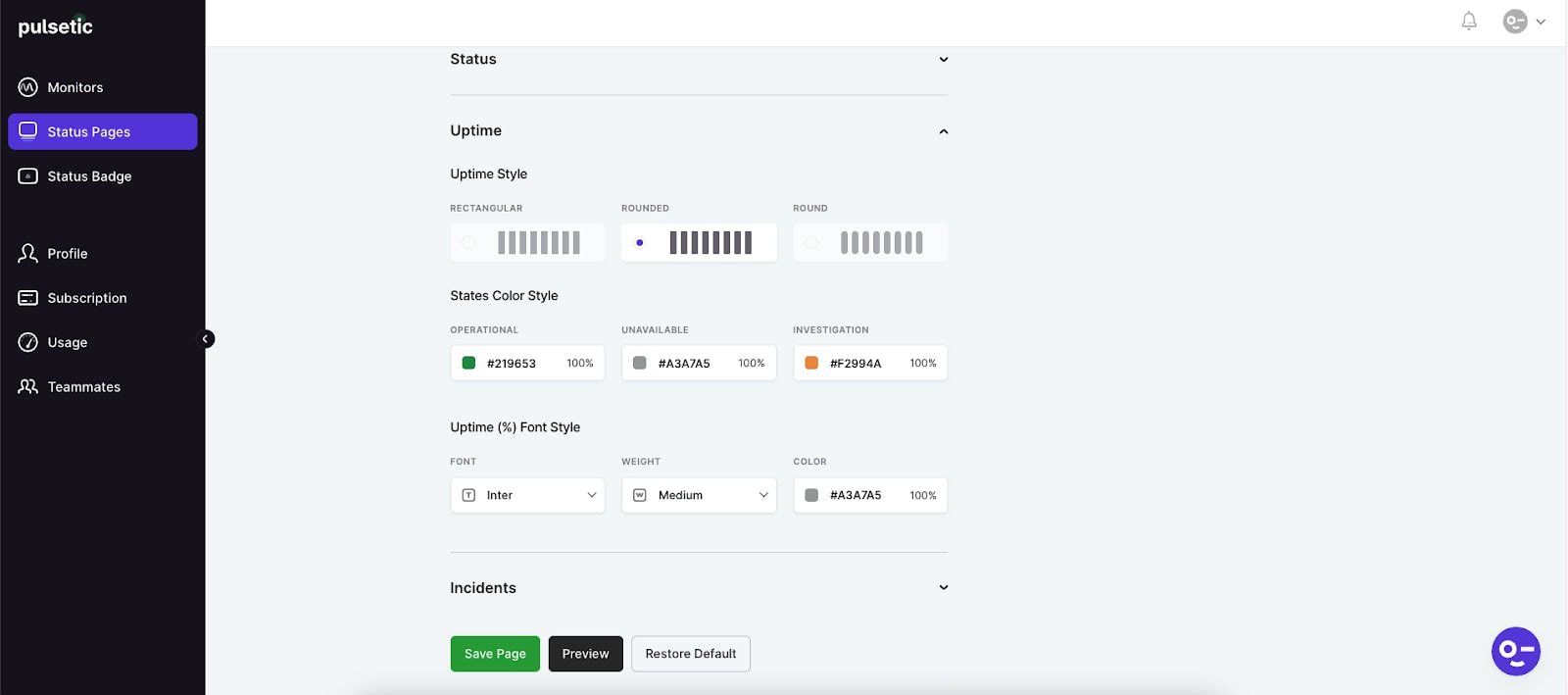 To manage your status page incident reports, go to the Status Pages Dashboard and click on the Incidents link, as shown below.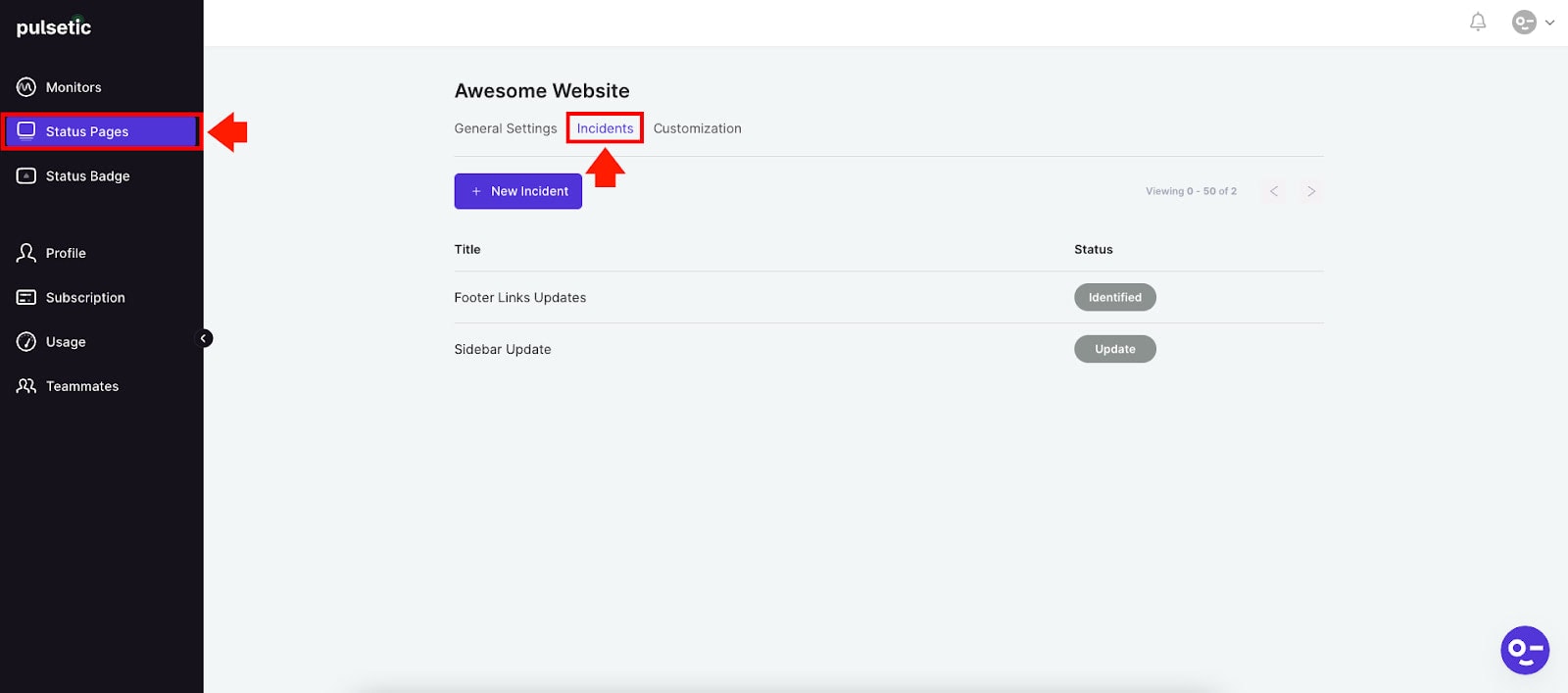 On this page, you can create an incident by clicking on the + New Incident button located near the Status Pages Dashboard menu links.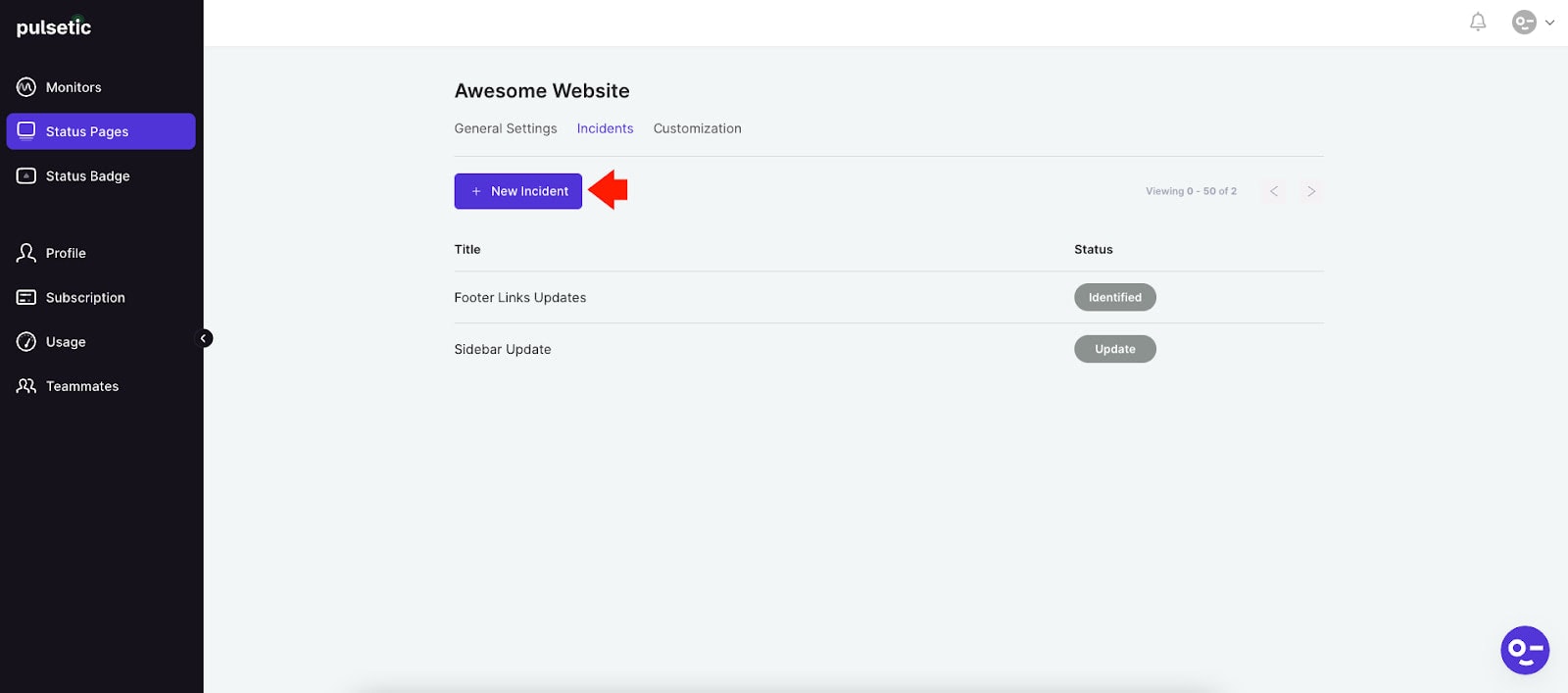 You can tag your incident report as Exploring, Identified, Updated, or Resolved depending on the current status of the incident or the website.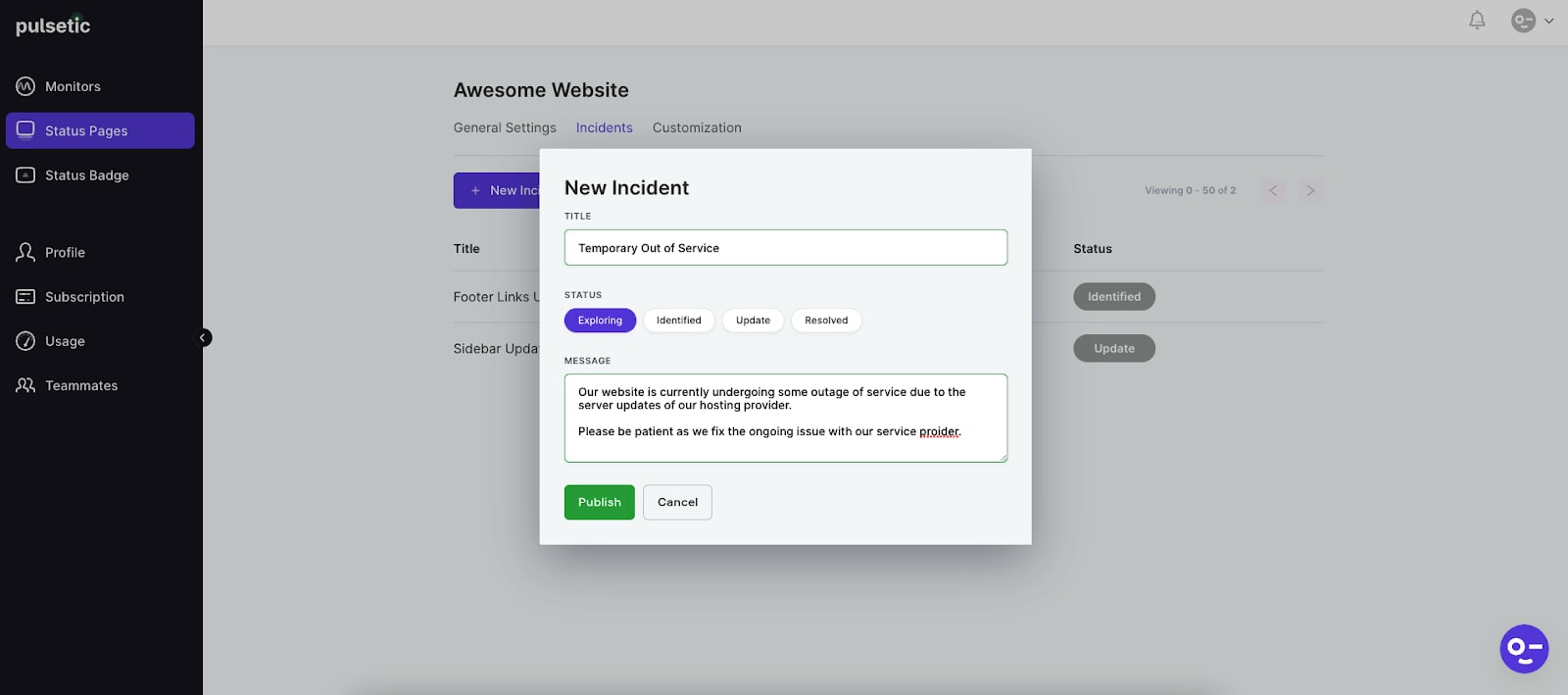 Pulsetic Status Badge
You can display a summarized version of your website uptime and operational status in different layouts with a status badge. To create a status badge using Pulsetic, click on the Status Badge link on the left menu sidebar.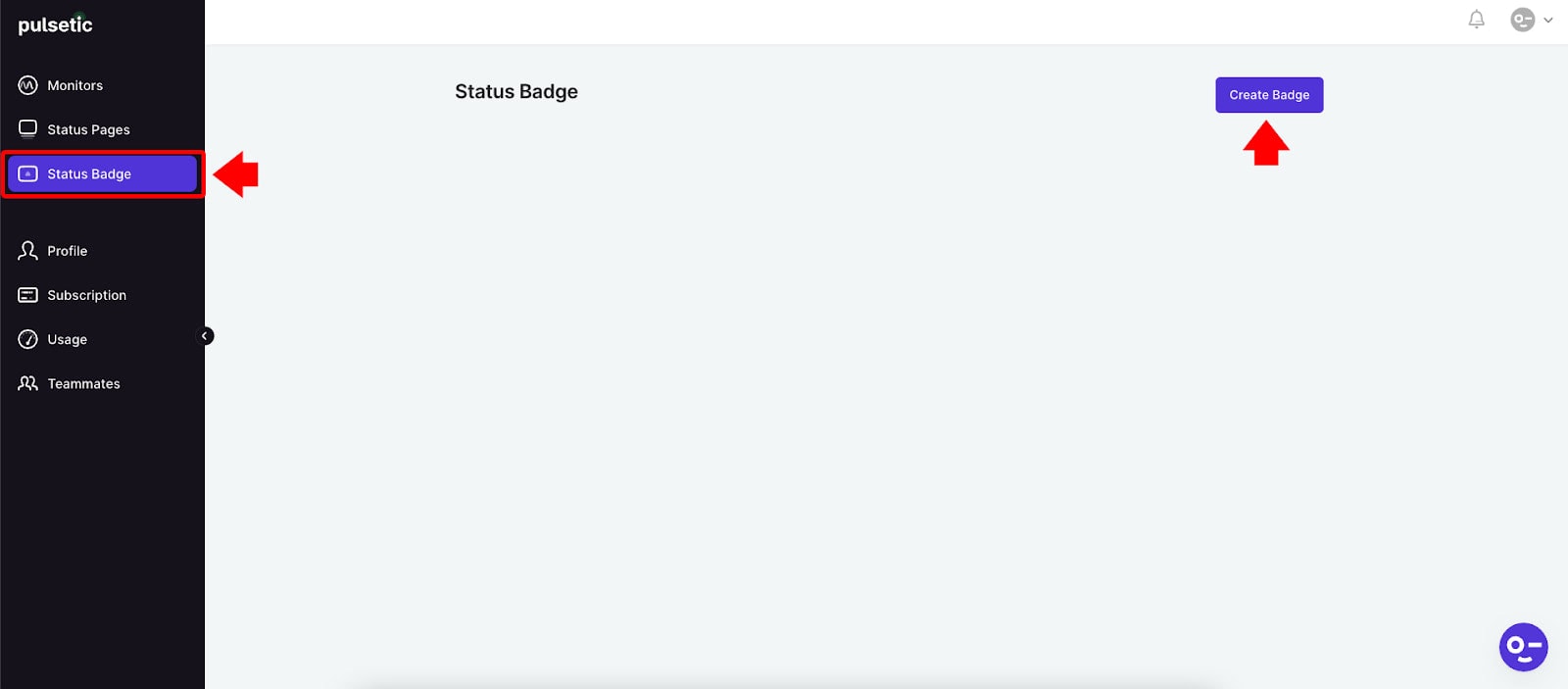 Then, click on the Create Badge button in the upper right corner of the Status Badge page. Select the website URL you added to the Monitor's List from the Website dropdown.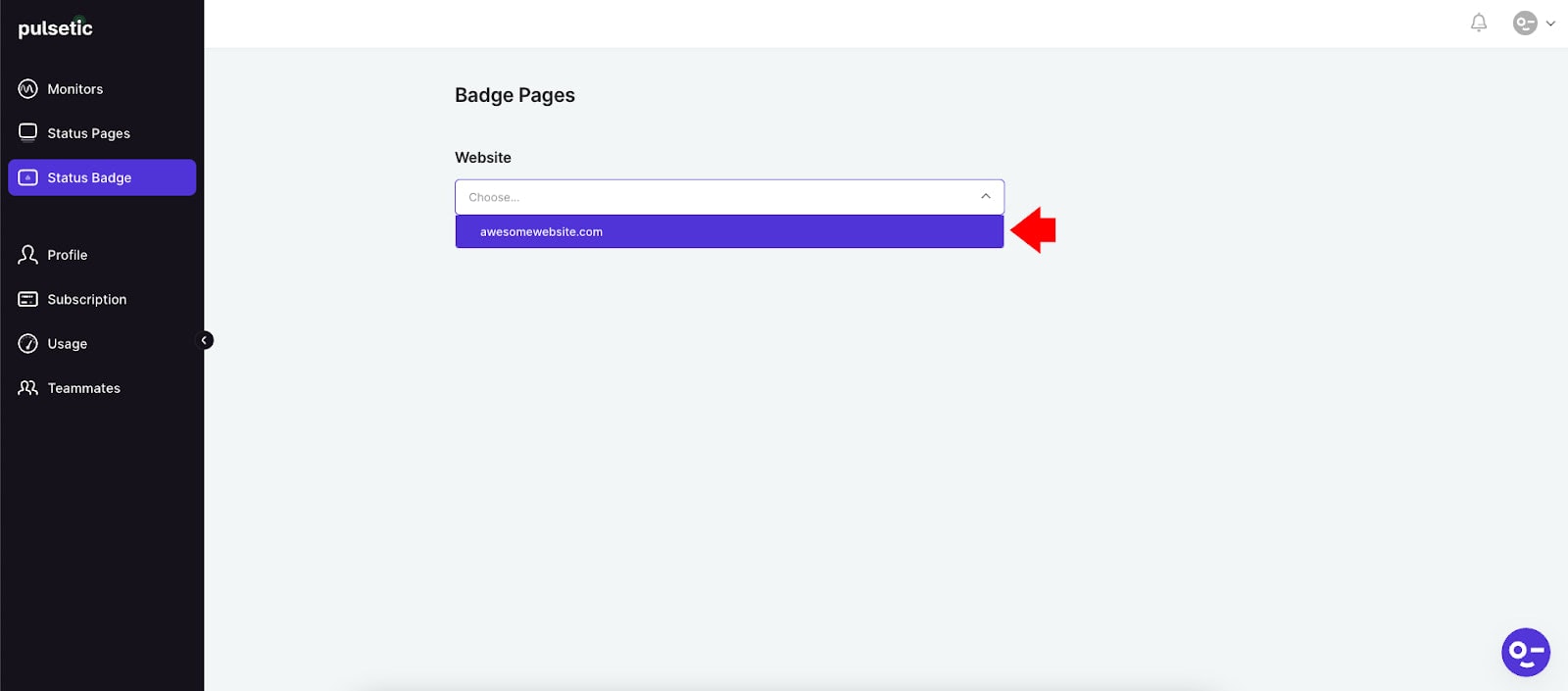 On this page, you can customize the design of your status badge. The following is a list of the properties that can be customized on the Badge Page.
Style
Roundness
Font-Style
Text Color and investigation.
Symbol Color
Frame Background Color
Custom Text
Custom CSS
Badge URL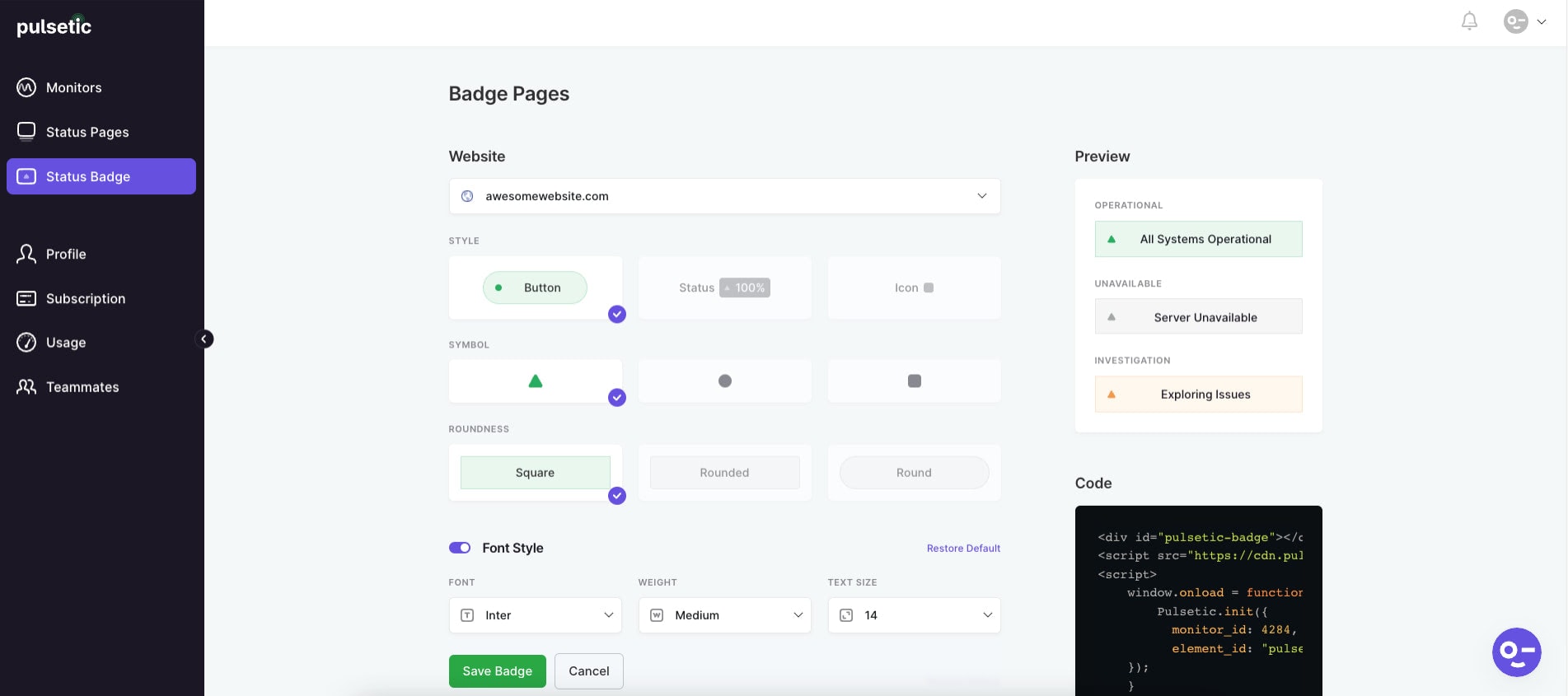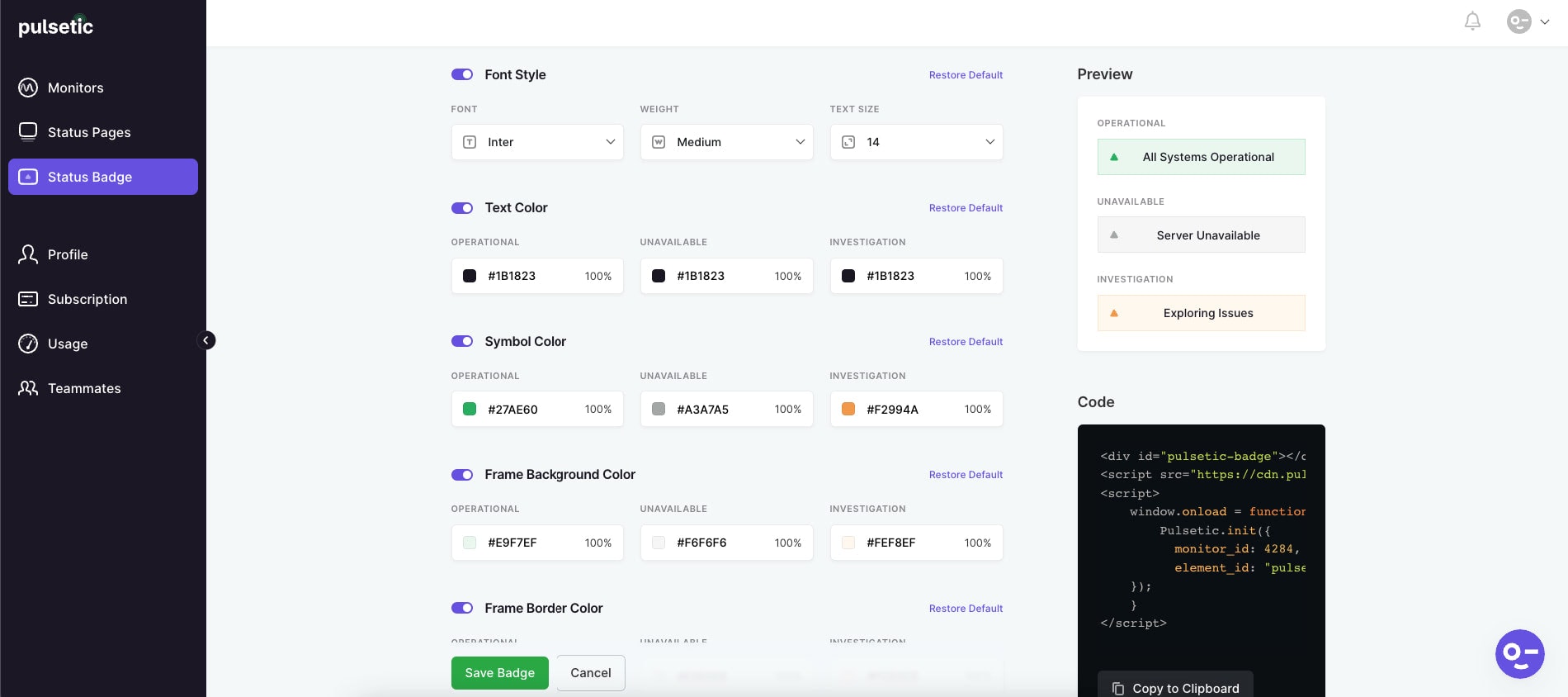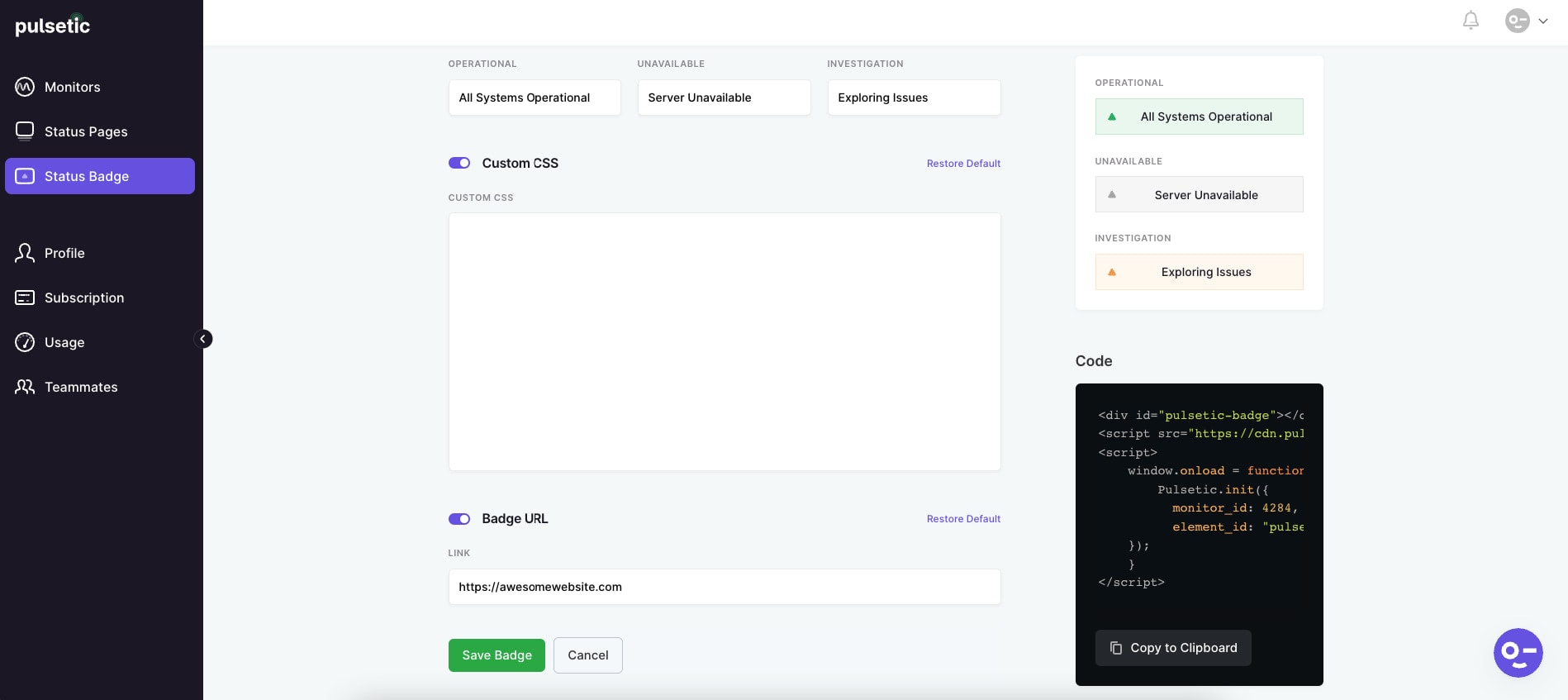 Remember to click on the Save Badge button each time you make any changes on the Badge Page.
Lastly, to embed the Pulsetic status badge to your website, copy the code for the website URL you entered from the Badge Page and paste it somewhere on your website. The location where you might want to put the code may differ depending on the type of website on which your website is built.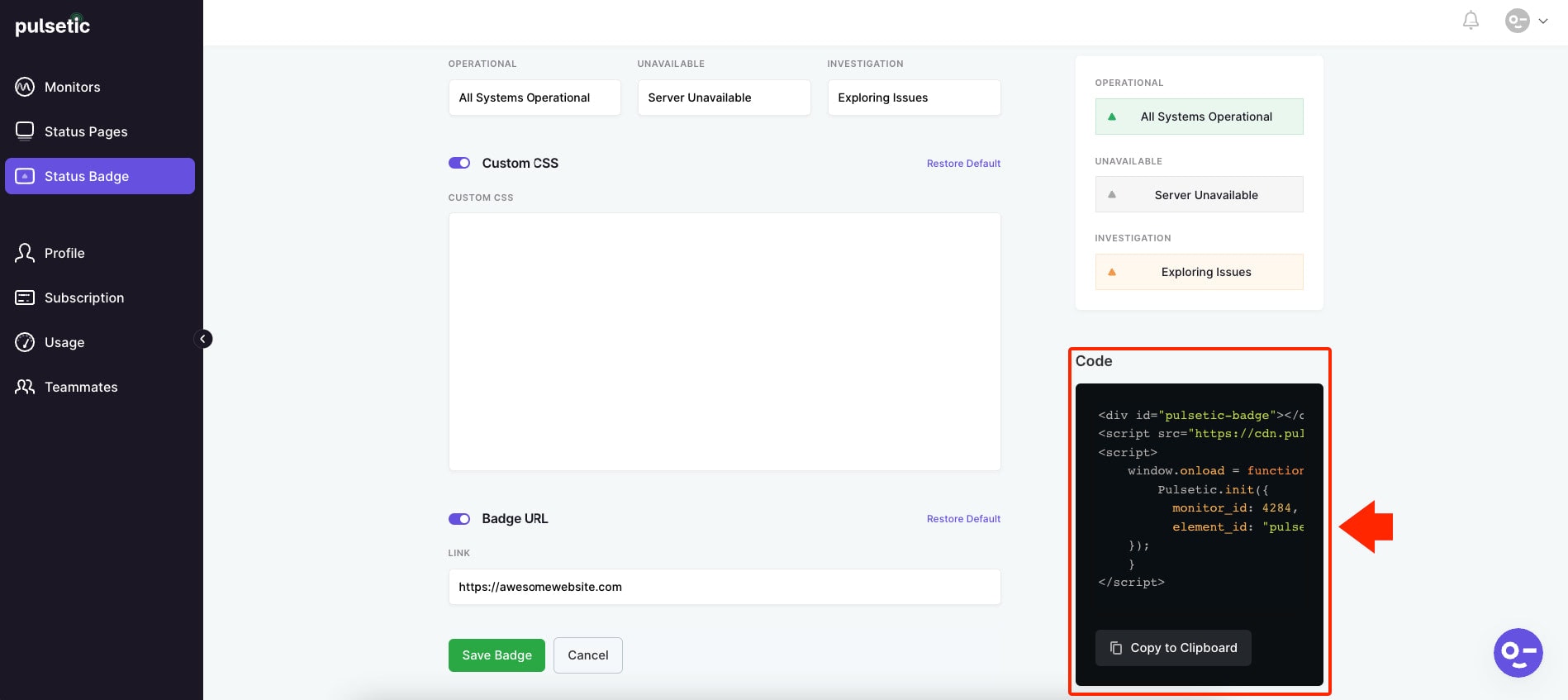 After you've added the code to your website, you should see the status badge in the section where you added the code, as shown in the image below.

Give Pulsetic a try
No website can guarantee a perfect uptime. However, the inability to maintain high levels of uptime can significantly impair a team's ability to work productively and may lead to significant financial losses if not detected earlier. While precautions and redundancies are essential, system failures, human errors, and natural disasters are inevitable, along with many other factors that are impossible to predict. Nonetheless, website uptime monitoring is a worthwhile investment.
Pulsetic is one of the best modern website uptime monitor platforms that provide uptime/downtime overview, performance metrics, and incident management reports while giving you downtime alerts via SMS/Call, email, or Slack when your website is down along with other helpful features. These features give you a holistic view of your website performance metrics, which can help you troubleshoot issues faster.
There are many uptime monitoring tools online for you to choose from, and it can be challenging to select one. For automatic and in-depth uptime monitoring, we strongly recommend you to look into the website uptime monitoring service we provide within Pulsetic and its excellent features. A free plan is available for you to test out all of its website monitoring features.
Try it for yourself and see what you think!
Like what you're reading? Subscribe to our top stories.