New Features of Adobe After Effects CC
Adobe After Effects application is used by video professionals for creating motion graphics and cinematic visual effects. Video pros use After Effects for 2D and 3D animation purposes, creating dynamic text animation using typography tools, applying nondestructive effects to video using various tinting and adjustment methods, isolating objects from their background using rotoscoping technology, and correcting for camera shake by utilizing cutting-edge stabilization features.
Besides the ability to edit, After Effects also integrates with several other Adobe applications like Photoshop for animating 3D layers, Premier Pro with shared effects and copy and paste support, and Flash Professional for creating web animation sequences.
There is a new release available now for the members of Creative Cloud. It is After Effects CC that has a few new fantastic features that we will talk about in this review.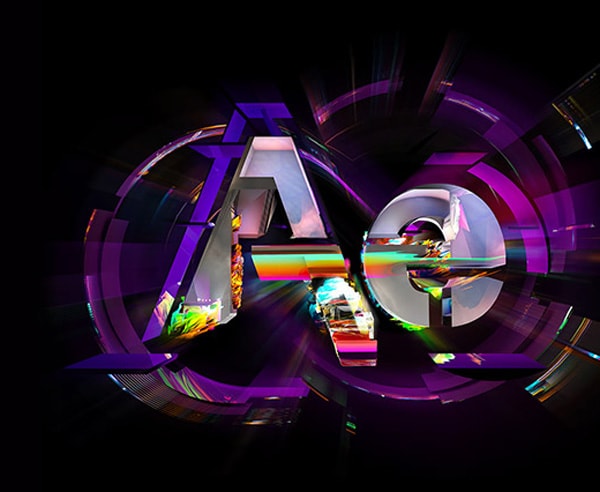 The first thing I would like to say is the fact that After Effects CC will not work on 32-bit operating systems. The performance benefits of 64-bit systems allow the best way of coping with demanding technical challenges when working with video materials, especially with the content in HD and higher resolution.
Live 3D Pipeline
Adobe worked with one of the leading vendors in 3D, CINEMA 4D creators, Maxon, to present a mixture of After Effects and CINEMA 4D. You are no longer required to re-render or repeatedly render between the two applications, and you can work directly with 3D geometry inside your compositions. You can take native CINEMA 4D scenes as assets in After Effects and apply CINEMA 4D's multi-pass workflow as layers to achieve your vision with new CINEWARE in After Effects CC.
No-Code Email Template Builder
With Postcards Email Builder you can create and edit email templates online without any coding skills! Includes more than 100 components to help you create custom emails templates faster than ever before.
Start Free
When we update the CINEMA 4D scene the results will be immediately seen inside After Effects. CINEWARE can be used to create new CINEMA 4D scenes directly in After Effects CC. Now you can create photorealistic renderings directly in the After Effects CC viewport. It means that you can adjust the render quality and you have total control over the balance between image quality and performance, render scenes with real reflections and global illumination.
By the way there is no need to buy a full CINEMA 4D license, since CINEMA 4D Lite is included in Adobe After Effects CC and offers all substantial basic functions.
Refine Edge tool
The Refine Edge tool and the Refine Soft Matte effect is believed to be an improvement of the Roto Brush that is already present in After Effects CS6. When in fact the Roto Brush only allows to create hard matte lines, the Refine Edge tool allows to automatically separate complicated foreground elements like frizzy hair or motion-blurred edges from poorly lit or complex backgrounds. Refine Edge stroke calculates a finer-detailed alpha channel (together with partial transparency) along the Roto Brush's segmentation boundary.
The Refine Edge Tool can be used together with the Roto Brush or also with any other rotoscoping or keying technique.
Warp Stabilizer VFX
Warp Stabilizer VFX feature allows controlling of the track points, maintaining framing, and more. With dynamic link, it can be still fast and easy to put into use. Now instead of just stabilization, you can focus on the creative control of the shot. You can decide whether to reverse stabilize or have the shaky footage where you aimed the camera to work that way or focus on specific elements within the scene and allow the stabilization process to work with effects. Warp Stabilizer VFX can also be directed to not stabilize the scale of a shot, which comes in handy when stabilizing fly-throughs or other shots with constant motion. You can also now disclose the underlying tracking points in a shot that Warp Stabilizer VFX is working on, including the ability to delete undesired points.
The Warp Stabilizer can occasionally be thrown off if a portion of the shot it assumed was supposed to be stable actually moved (such as actors moving in a different direction than the camera movement), requiring masking or other tricks to hide the offending pixels from Warp Stabilizer.
3D Camera Tracker
With the 3D Camera Tracker it is possible to recreate the original camera movement in a scene so you can add new layers as well as video and text layers. It also now features much-needed Track Optimization, so you can refine tracking points over time.
The previous version of the 3D Camera Tracker had no true idea where the floor or ground is in a shot, so the Position coordinates it creates can seem a bit random. Now you can select one or more points, set a target, and proclaim that this is where the Position 0, 0, 0 is in the scene, as well as the position of the ground plane.
Pixel Motion Blur
There is a common issue with many 3D renders in footage shot with a too-fast shutter speed. It is in the fact that fast motion exhibits strobing as objects jump from one location to another between frames. Pixel Motion blur in After Effect CC is a technique to smooth over these difficulties. Preferably, you leave the shutter open long enough to capture a nice motion blur trail, or your 3D program is capable of rendering nice motion blur. Pixel Motion Blur analyzes video materials and synthesizes motion blur based on motion vectors.
Bicubic resampling
In After Effects CC you can pick between the new bicubic, and the previous bilinear resampling algorithms, sampling for selected layers scaling and other transformations. You can select these choices by right clicking on a layer or clicking in the "Quality and Sampling" box for the layer. It is believed that bicubic sampling in After Effects CC works better than in Photoshop with extreme zooming.
In addition, the last release of After Effects streamlined user interface. You can find missing fonts and effects in your compositions with new Find Missing Effects, Find Missing Fonts, and Find Missing Footage commands. New layer and mask snapping performance makes aligning both 2D and 3D objects much simpler, while there is no need to calculate and type in values. The DPX importer in After Effects CC can import 8-, 10-, 12-, and 16-bpc DPX files, as well as DPX files with an alpha channel and timecode. The DPX importer in previous versions only worked with 10-bpc color.
Like what you're reading? Subscribe to our top stories.