These Responsive Web Design Trends for 2020 are Worth Paying Attention To
Website trends come and go. Some are passing fads that are generally best avoided. While those that show signs of having staying power are worth spending your time and energy on.
Nowhere is this more apparent than in the area of responsive website design trends as covered in this article. A clear majority of users view sites of interest on their mobile devices. This as created a challenge for web designers.
How do you go about making sure your website will look great on every browser and on every device like in these examples?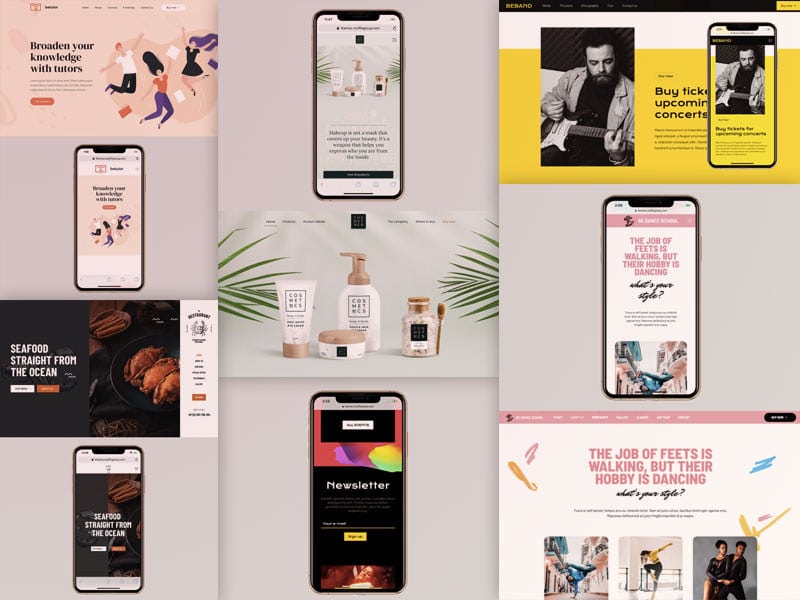 They illustrate several web design trends and techniques you can and should use to get things right. This will always be the case whenever you select one of BeTheme's 500+ pre-built websites to provide the basis for your web design.
Responsive Websites Design Techniques that Will Help You Get Things Right
Ensuring your website will display the way you would want it to on virtually any browser or device typically involves adhering to a variety of design requirements and specifications that address responsive design. This can entail a great deal of work for anyone building a website from scratch.
You must, for example, create a responsive design that will –
Encourage Leaner Desktop Experiences
Eliminate Excess Content
Leverage Available Space
Enhance Readability
Put a Spotlight on Visual Content
Collect More Leads
A premier WordPress theme like BeTheme can make adhering to these responsive requirements. Also it can make adhering to other technical requirements, a piece of cake.
As noted before, a majority of website traffic now takes place on mobile devices, according to data from StatCounter.
It's also worth noting that the search engines, especially Google, reward mobile-friendly, responsive sites. They are making high quality responsive design, without ignoring desktop users, a must.
Responsive web designs that will encourage leaner desktop experiences
A side benefit of meeting the challenge of accommodating smaller and smaller Internet-enabled devices has been that in doing. Therefore, we have been able to create leaner, more efficient, and often more attractive desktop website experiences.
Note, for example, how the website for designer/developer Rob Grabowski appears on   a mobile screen: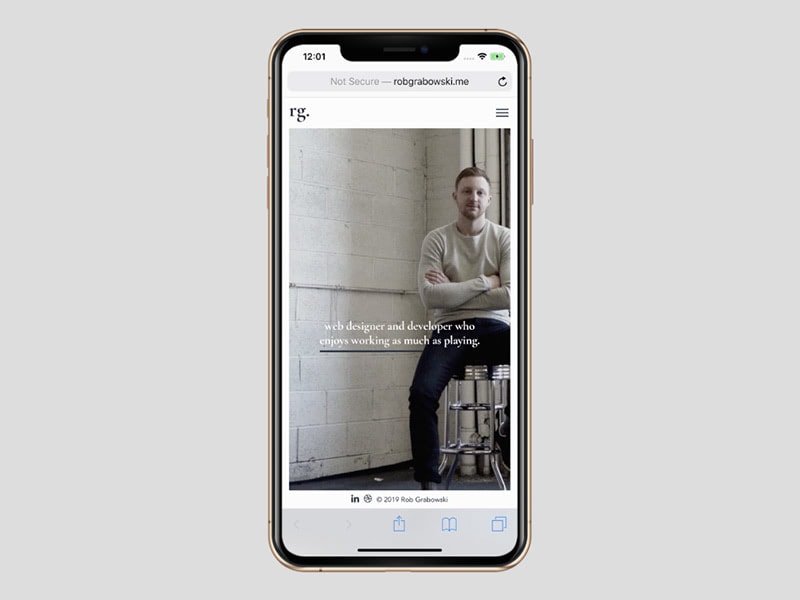 Navigation is out of the way and the logo has been minimized, allowing the visitor to focus on the welcome message.
Desktop visitors encounter the same experience.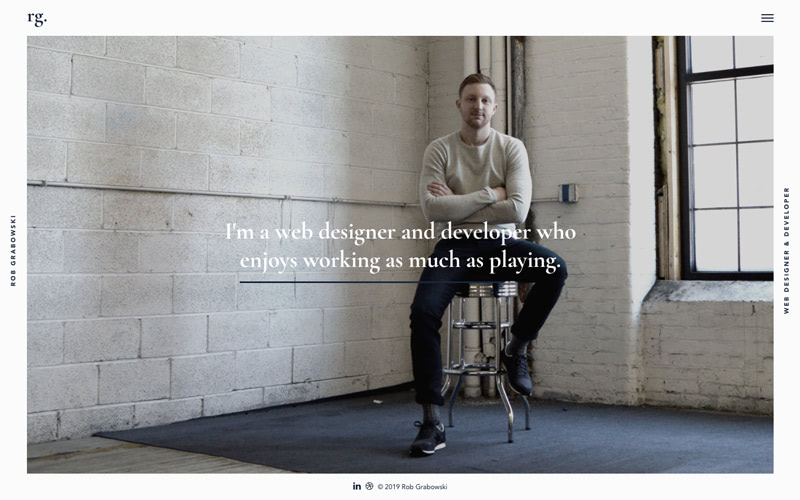 Note how the transition between mobile and desktop, and back, is virtually seamless.
Responsive designs that cut out the excess
Mobile devices have become famous, or infamous, for giving us more and more features. They offer options, and choices to work with with virtually every new release. Website design has in the past followed this same pattern. A situation that can make it difficult if not impossible to fit all the "important" information into a smaller and smaller screen.
Fortunately, designers have several responsive design techniques at their disposal. They make it easier to present content to visitors in a way that helps them review their options and make their choices.
BeRepair, one of BeTheme's 500+ pre-built websites, demonstrates this perfectly: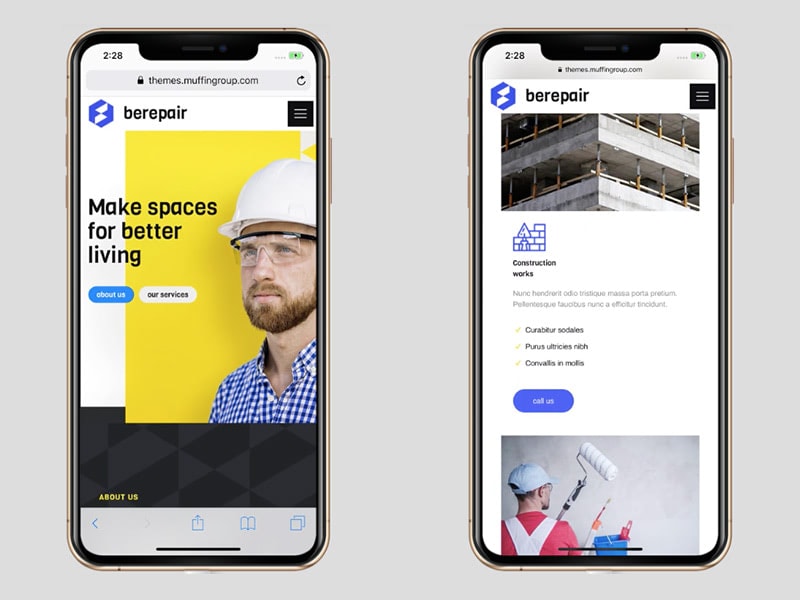 Note how the responsive layout allows the visitor to focus on what's important. An excessive or superfluous information should not distract the visitor.
The BeRestaurant pre-built desktop site is another excellent example of this technique.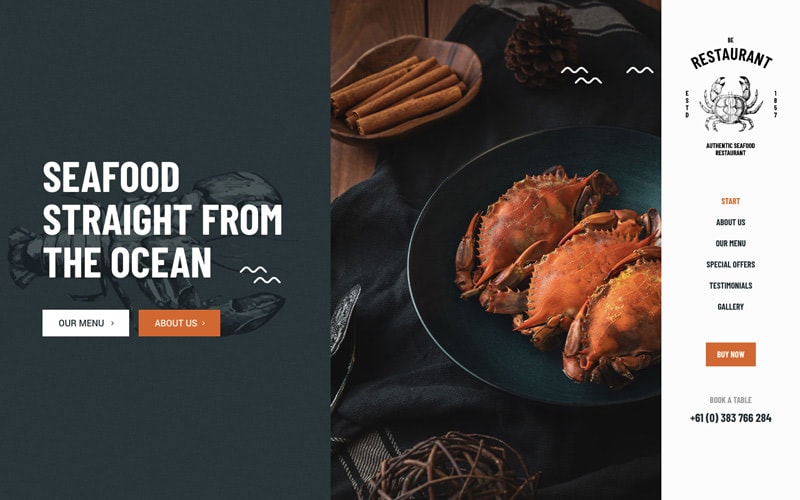 How do you go about presenting this desktop presentation on a mobile device?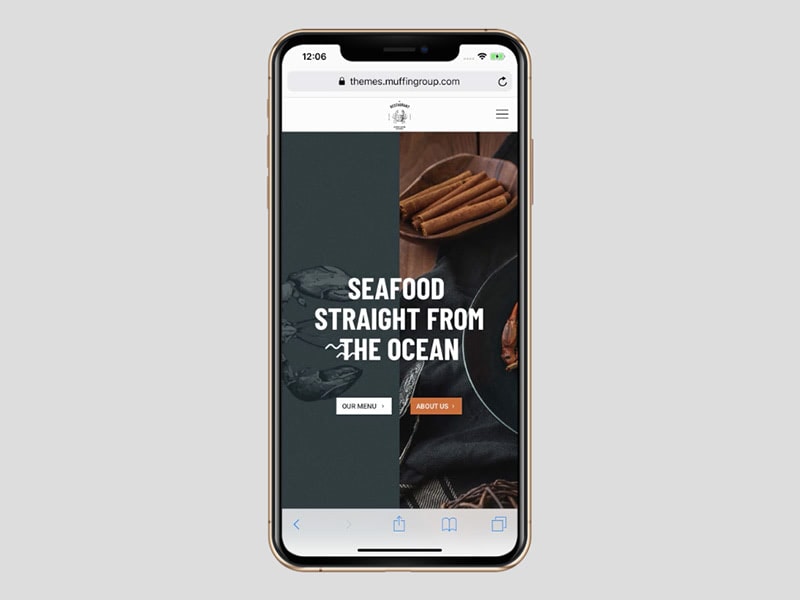 Simply moving the message does the trick.
Responsive designs that cut out the excess
Think for a moment about the formats desktop and mobile devices typically display. For the desktop, it's a landscape format, while for mobile displays, portrait formats tend to dominate.
If you've ever had to convert a landscape image to a portrait image you know that something usually has to give. It generally involves cutting out non-critical content, moving key information to the center, or both.
For instance, the desktop site for BeITService looks like this: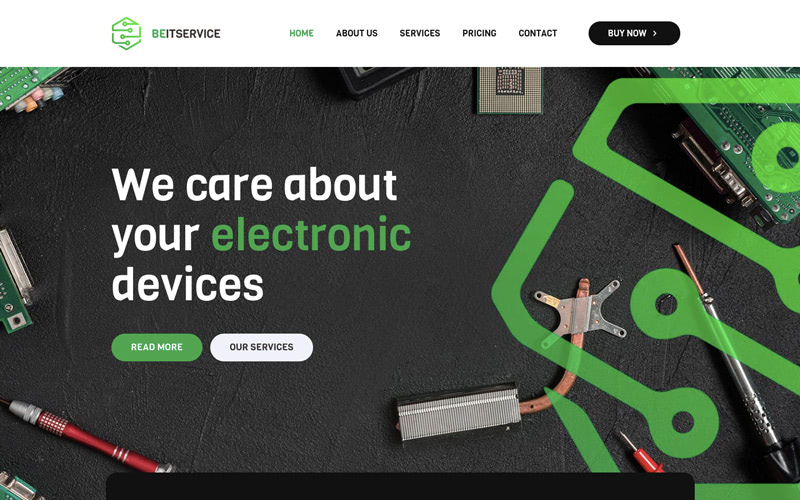 The home page's hero banner is exceptionally clean and well-balanced and conveys a crystal-clear message.
It is also responsive, as you can see from the way it appears on a mobile device: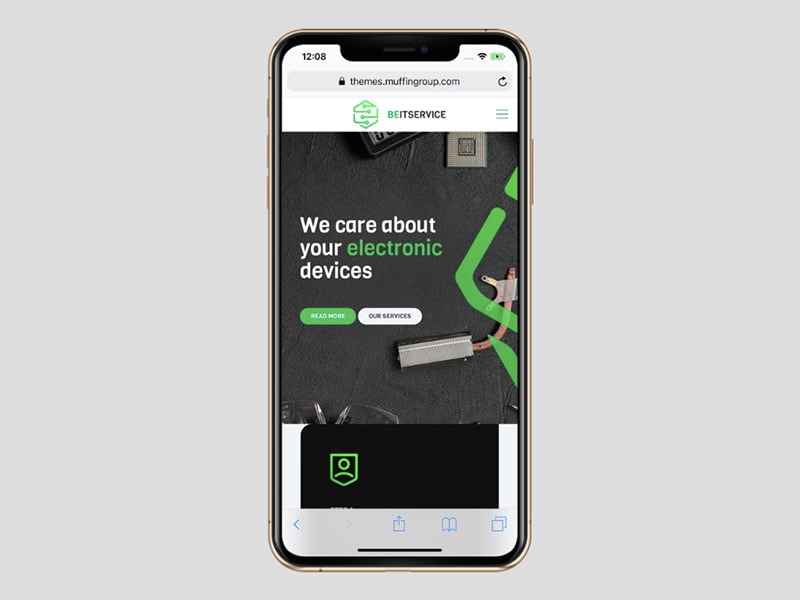 Granted, the image does not appear in its entirety, but there's nothing lost in the translation from desktop to mobile. You could even make the case that whatever is missing was of secondary importance at best.
Culturally Connected does something similar: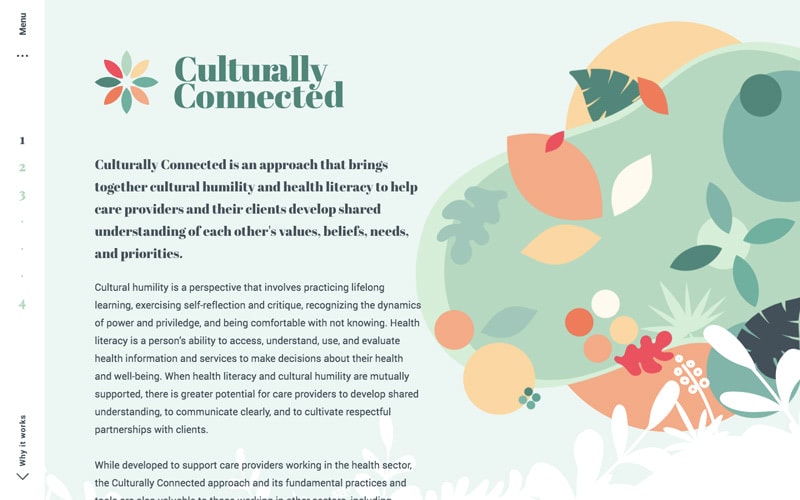 The desktop version features a rather elaborate background graphic. Most of them can be easily eliminated in the mobile version, which looks like this: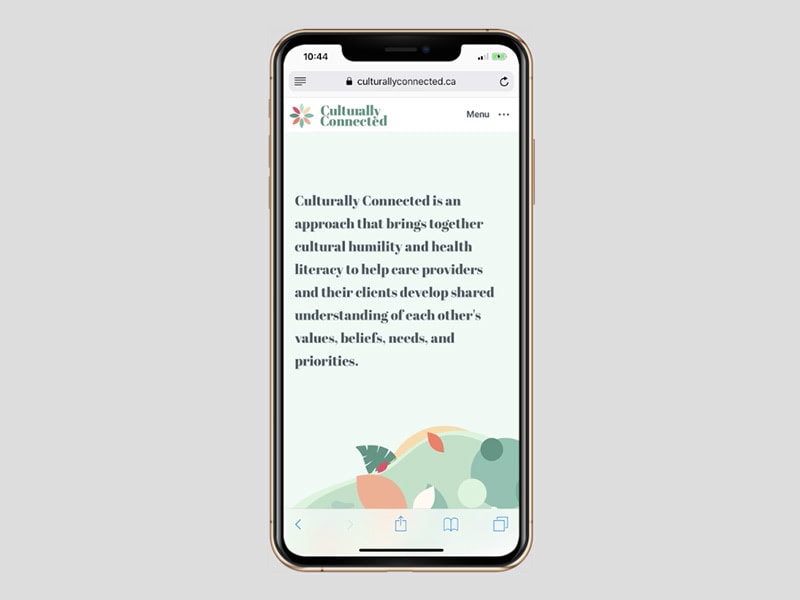 The text is now centered. Although a portion of the graphic has been moved to the bottom it still plays an important and effective role.
BeTutor takes a slightly different approach. The desktop version looks like this: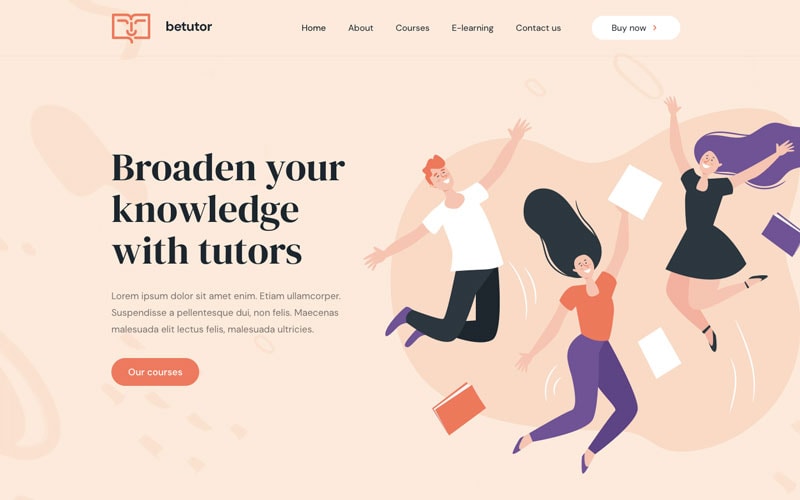 To create the mobile view, the main title remains while the smaller text has been removed. To avoid cramping, the main message and CTO button have been moved above the graphic.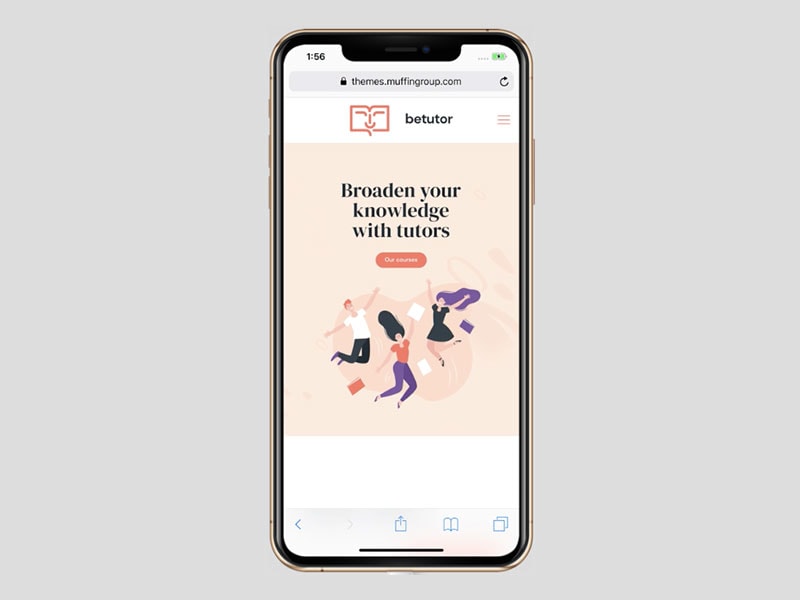 All the necessary information about the services being offered is shown in this uncluttered mobile view.
Examples of responsive websites that leverage their space
If reducing the amount of content will not be a satisfactory solution, a web designer should consider leveraging space and using different ratios to do the trick.
1987 Masters is a good example of this approach: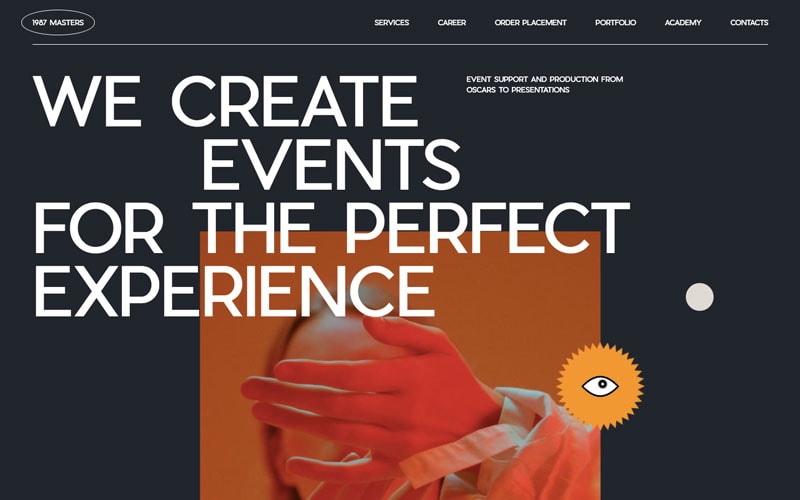 The mobile version allows less space to the image, rearranges and changes the size of the main message, and adds a secondary message. All to great effect.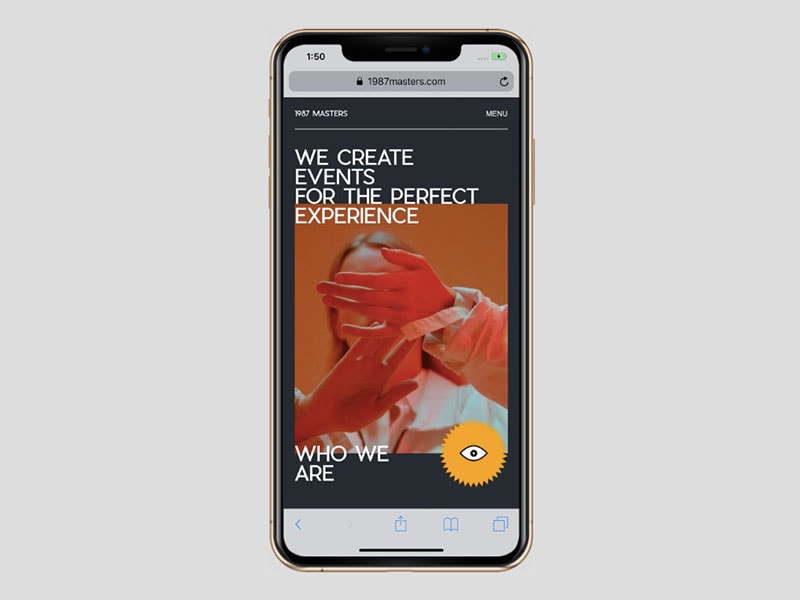 A mobile screen often provides an opportunity to make greater use of vertical space. BeCosmetics provides another example of this approach.
First, the desktop view.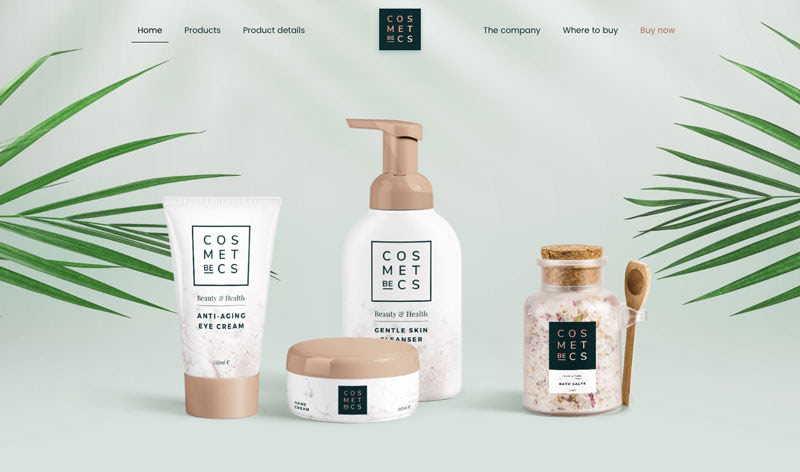 Followed by the mobile view. Note how vertical space can be effectively utilized to provide added useful content.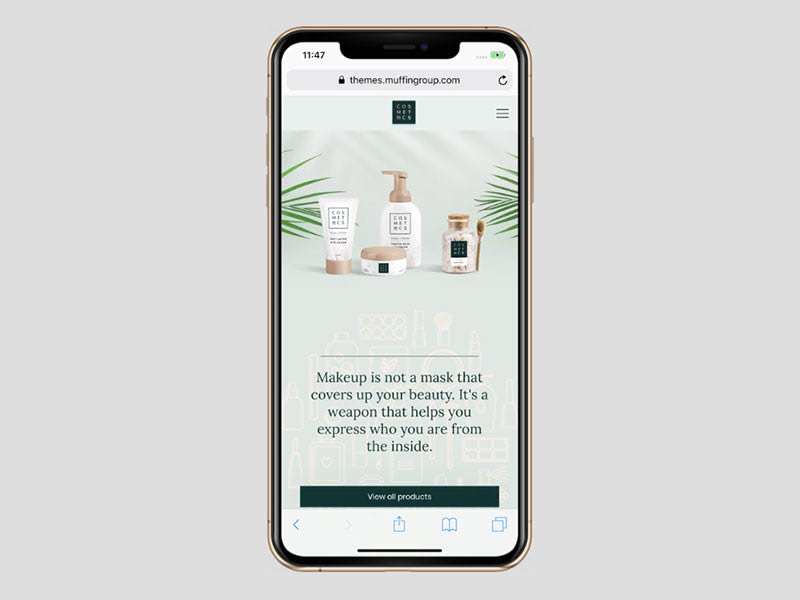 Responsive websites that enhance readability
Take, for example, the BeDanceSchool site: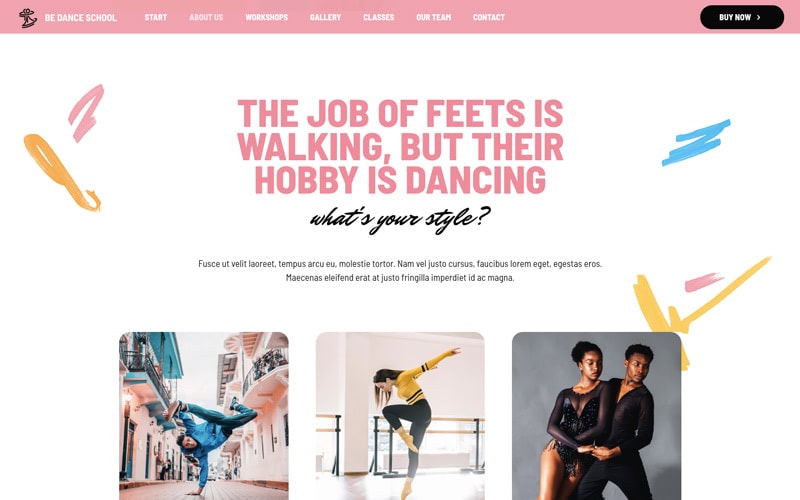 An attempt to cram all of this information into a portrait format simply won't work.
Eliminating the funky graphics around the main message is one helpful step. Eliminating one, or better yet two, of the bottom images is a second helpful step.
The resulting mobile version is actually somewhat easier to read.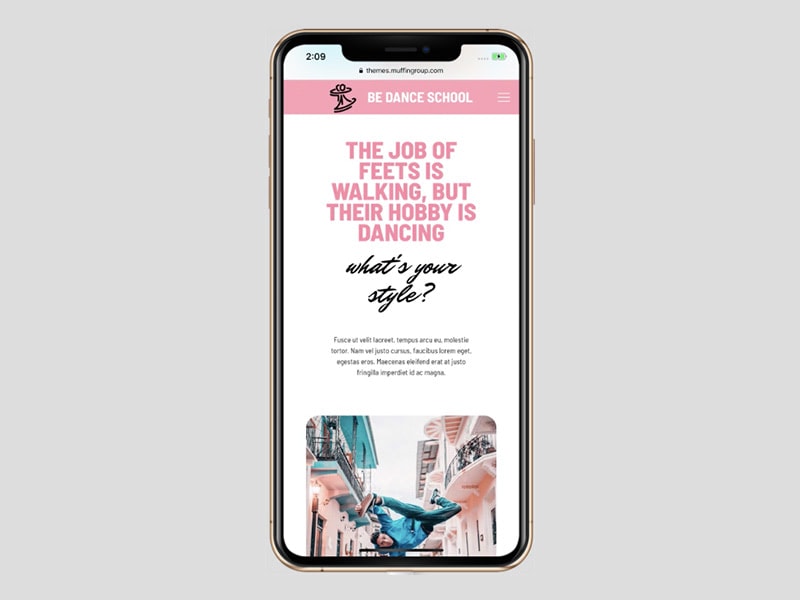 It's also worth noting how readability can be enhanced by a careful variation of front sizes and styles.
Base Coat is another example of how the right font style and size can make a home page more engaging.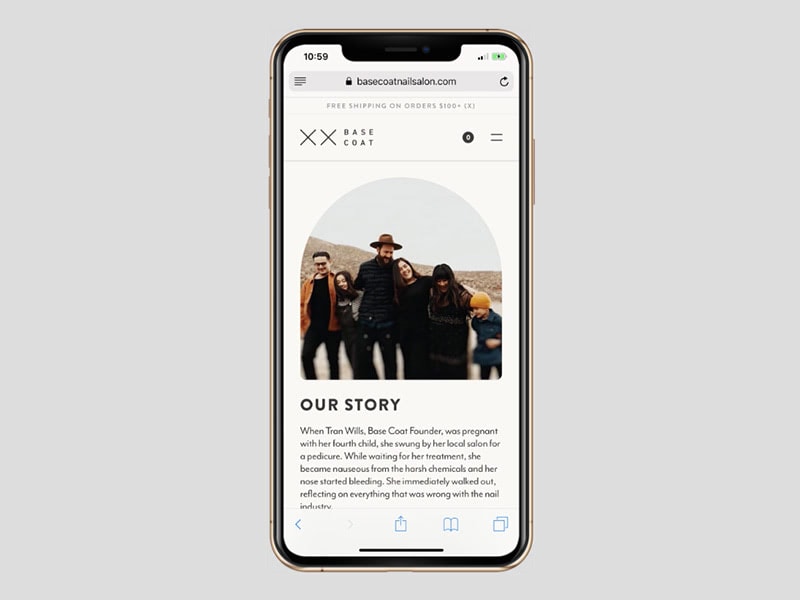 In an example like this you have to take care to end the text at the right spot so the user doesn't have to scroll unless you want him or her to do so.
Mobile sites that spotlight visual content
It may seem counterintuitive, but mobile screens can be great for storytelling. Simply because of the way content is capable of responding to smaller screen sizes.
Take the BeBand website as viewed on a desktop for example: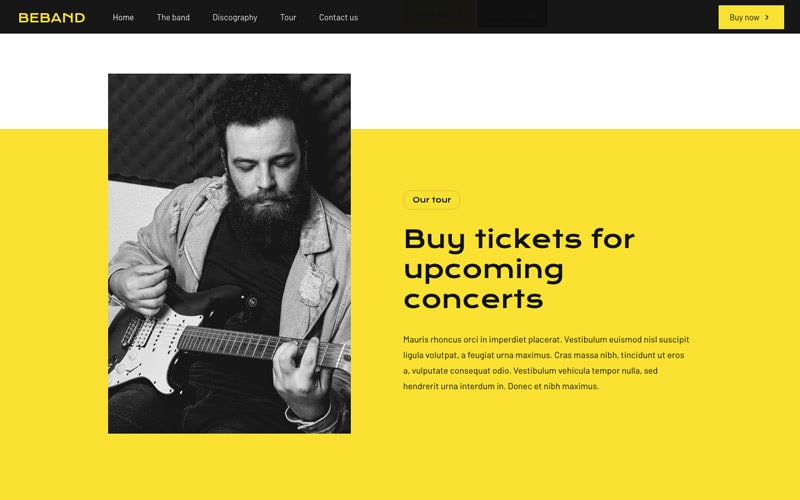 The mobile version shines a light on images you choose. Images supported by text are excellent for conveying a lengthy message or telling a story.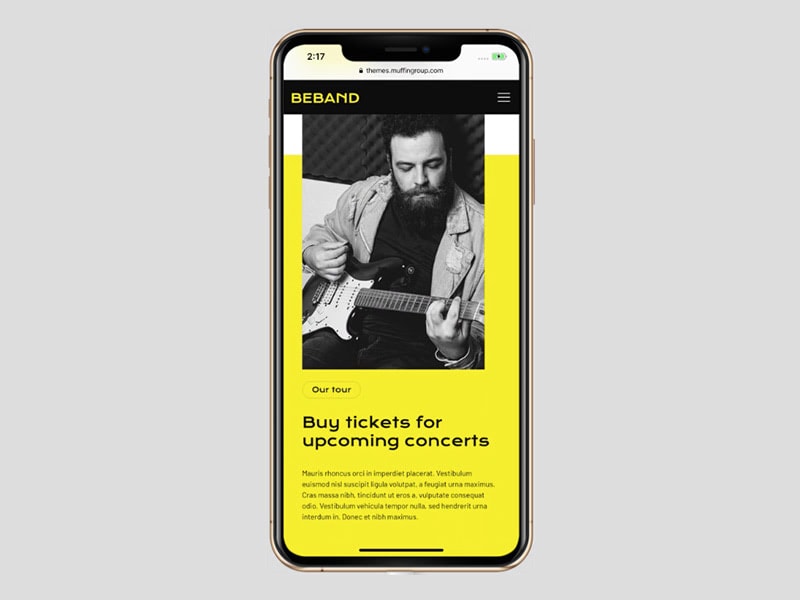 This approach is by no means limited to using static images. The Scott Resort invites its first-time visitors to watch a video: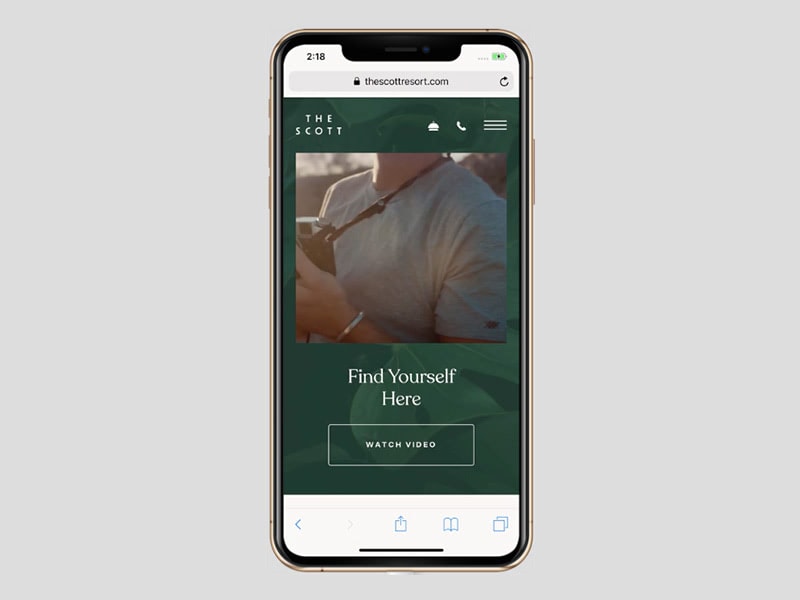 Note how a video automatically conforms to the width of the screen.
A "wide-screen" desktop version would look like this: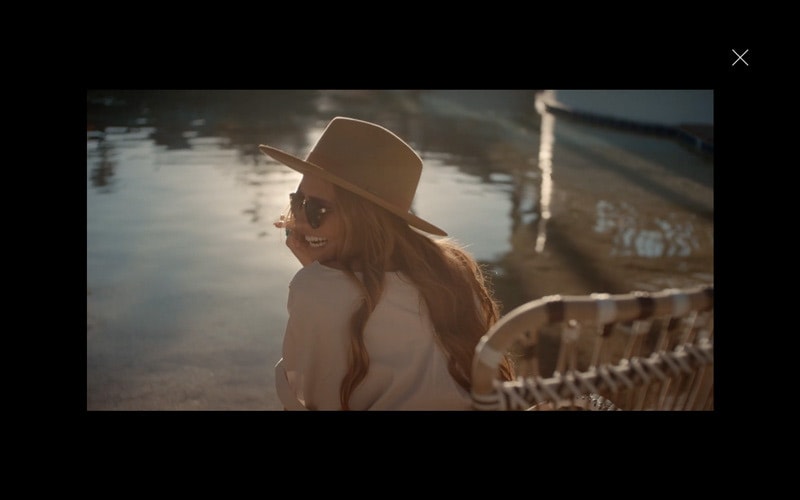 While the same video on mobile looks like this: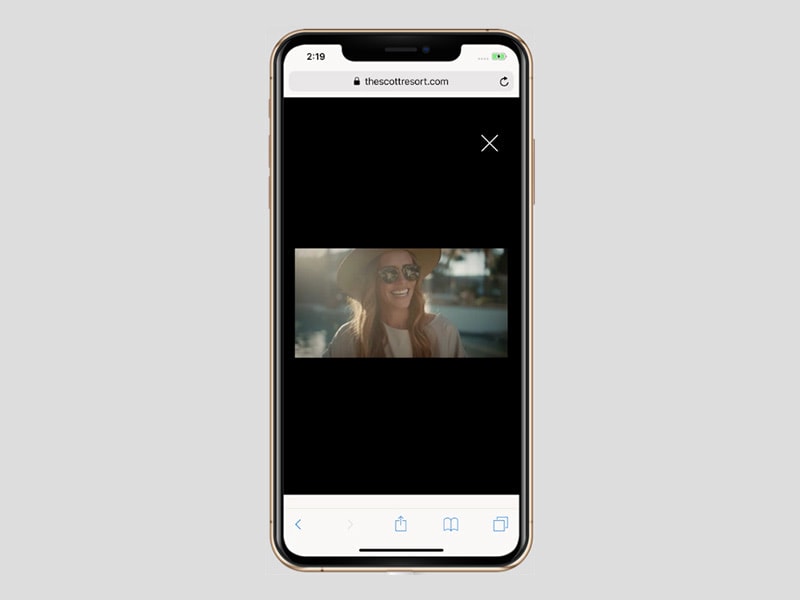 Proper selection of a video for the task at hand is of course all-important.
How mobile responsive sites can collect more leads
The fact that more traffic tends to be generated from mobile devices is good news. Unfortunately, mobile conversion rates are much more difficult to come by than those that can be achieved on desktop. This pre-built site for BeClub provides a great example of how to effectively deal with this conversion issue.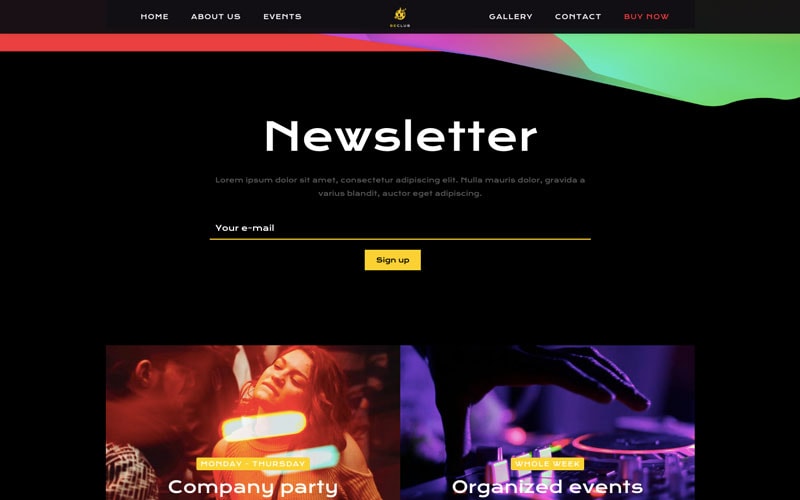 In this example smaller but more dedicated mobile space can match and even outperform the desktop version. Part of the secret is the e-mail invite. Your visitor can revisit your site on any device or screen size he or she might be using.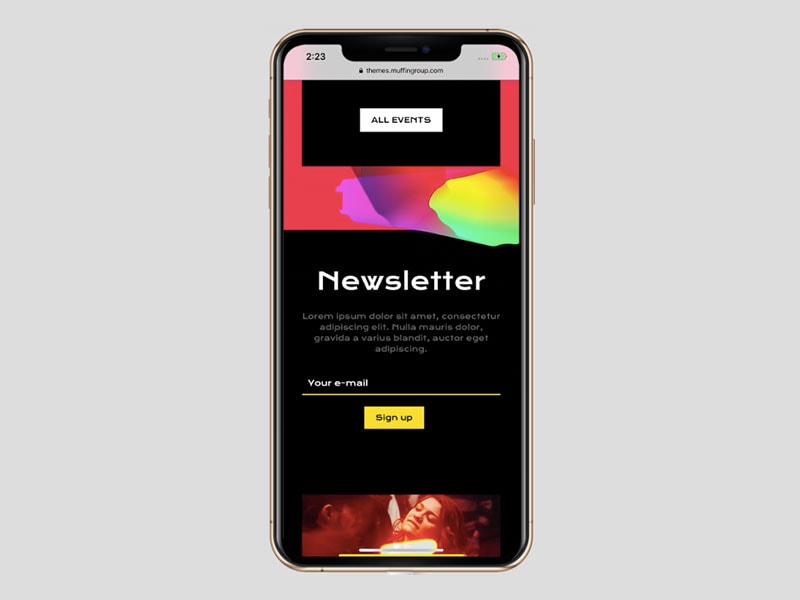 Now that You've Got the Message for Winning Responsive Web Designs
which consists of
Encouraging Leaner Desktop Experiences
Eliminating Excess Content
Leveraging Available Space
Enhancing Readability
Putting a Spotlight on Visual Content
Collecting More Leads
And, encouraging leaner desktop experiences as a useful byproduct, the next step is to find a tool that will allow you to make it all happen.
BeTheme is such a tool. When WordPress users look for a website-building theme they typically look for:
Cost effectiveness
Powerful and easily usable features
Customizability
Overall design quality
Responsiveness
Not every WordPress theme is designed with mobile users in mind, however.
BeTheme is different. Every one of its 500+ pre-built sites is totally mobile responsive. The net result; you avoid unnecessary stress and save time and effort in getting a responsive site up and running and in front of consumers.
Like what you're reading? Subscribe to our top stories.