Create a Flat Smartphone Illustration in Adobe Illustrator
So, for some time now Apple's iPhone has created a real craze in such a way that there are now tons and tons of flat styled illustrations depicting the device. Don't get me wrong I love the thingy but I kind of got sick and tired of the same old same old depiction so I decided to make a cool little gadget that uses familiar elements but stands out as its own.
Of course I've also cooked up a short tutorial for you guys, showing the process that led to the illustration you see below.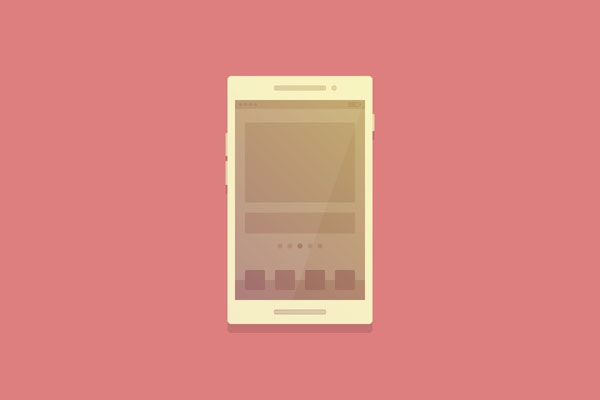 Step 1 – setting up our document
Open up Illustrator and create a new document (ctrl + N on a pc, cmd + N on a mac) with the following settings:
number of artboards: 1;
width: 1200px;
height: 800px;
units: pixels;
color mode: RGB (as we're designing for devices and not print);
raster effects: screen (72 ppi) – only use higher values when you intend to later print your artwork;
align new objects to the pixel grid: checked – as we want everything to be crisp.
Once you have your file set up, we'll start layering it so that you can work easily.
No-Code Email Template Builder
With Postcards you can create and edit email templates online without any coding skills! Includes more than 100 components to help you create custom emails templates faster than ever before.
Try Free
Other Products
Step 2 – layering the document
Using the layers panel, create 6 layers and name them from the bottom up as below: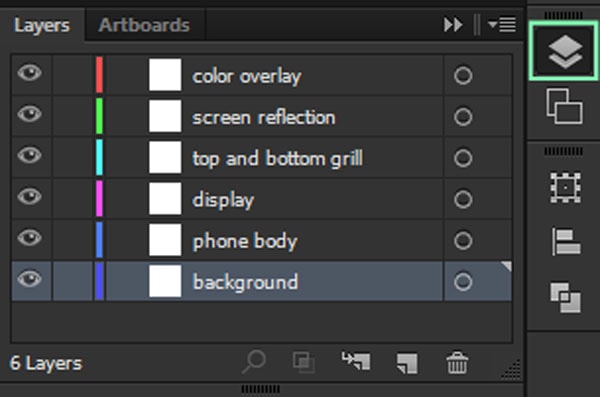 background;
phone body;
display;
top and bottom grill;
screen reflection;
color overlay.
Now that we have everything set neat and tidy it's time to start pushing buttons.
Step 3 – building the shapes
3.1. The background
Make sure you're on the background layer and with the help of the rectangle tool (M) create a 1200 x 800px object (#DE7F7F) and vertically and horizontally center it to the artboard (make sure the align to is set on the Artboard and not selection) using the Align panel.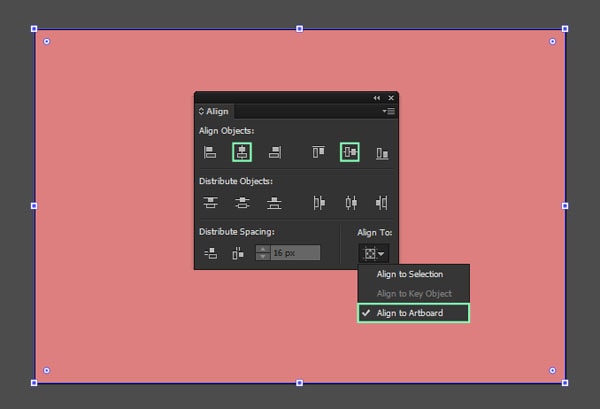 Quick tip: in case you don't see the Align panel, go to Window>Align and it should quickly pop up.
3.2. The phone's body
As with any illustration, we first start defining our base shapes and then add little details that help build up our imagery.
So, assuming you've moved up to the phone body layer, grab the rounded rectangle tool and create a 290 x 496px shape with an 8px corner radius. As before, make sure to align the object to the arboard using the same steps as above and then change its color to #F4F2CB.
Next, we need to create the side volume and lock buttons. To do so, we will create an 8 x 46px rounded rectangle with a corner radius of 2px and color it slightly darker #D6D5B2.
Position it to the left side of the phone by using the Transform panel (Window>Transform):
x coordinate: 455px;
y coordinate: 289px.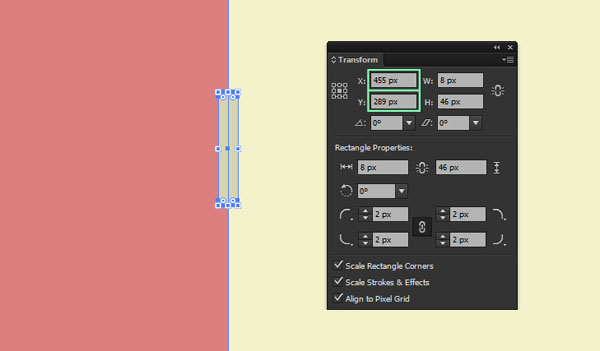 Duplicate the object by selecting it and while holding down alt (option on a mac) drag it downwards. Now select them both and using the Align panel position them at 10px from one another.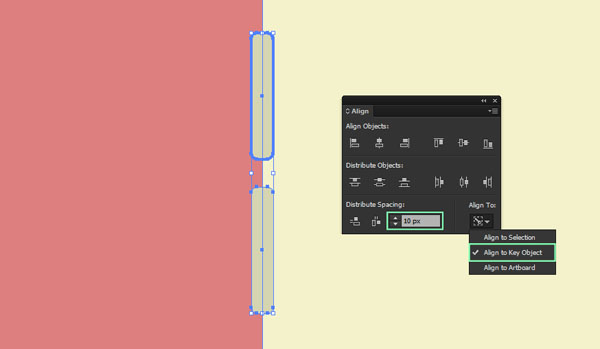 Great! Now let's take care of the lock button. Again, using the rounded rectangle tool create a 8 x 34px shape with a 2px corner radius. Color it as the volume buttons and then using the transform panel position it as follows:
As you might have noticed we have a small problem as all of the buttons appear to be on top of the phone's body. To correct this select the phone, then right click>Arrange>Bring to front.
To keep things flat, add a subtle shadow by duplicating both the phone and buttons, uniting them and then after changing the color to #C47171 move the new shape 18px down using the Move option (right click>Move).
If you followed every step correctly your illustration should look something like this.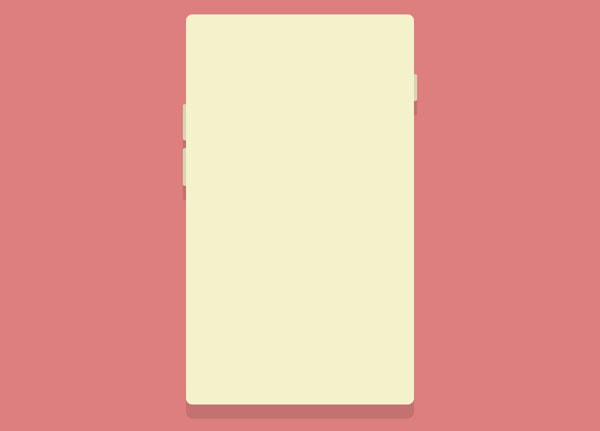 3.3. The display
For the display part, I thought we should keep it flat simple by creating a dock, a notification bar and some widgets.
Let's start by creating a 260 x 400px object (#AAA88E) which we will position it in the center of our document. Now, create another 260 x 40px rectangle which will act as our dock. With both it and the previous object selected, align the dock to the bottom of the display.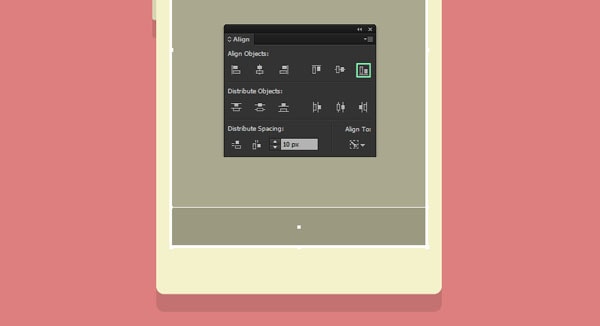 Next we need to add some icons, so using the rounded rectangle tool, create a 40 x 40px shape (#8C8B75) with a corner radius of 4px, duplicate it 4 times and then horizontally space the icons at about 20px. Once you've done that, group them, then vertically align them and after that position them so that the top line of the dock goes straight through the middle.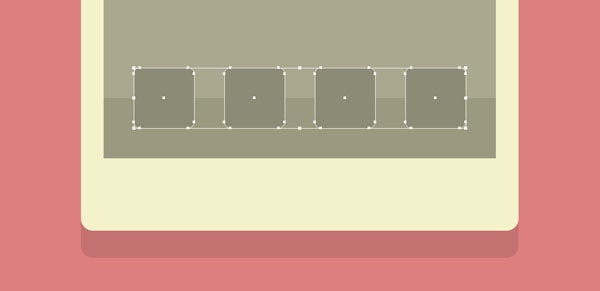 If we go a couple of pixels up, we have the home screen indicator which is composed of 5 simple circles. In order to replicate it, grab the Ellipse tool (L) and draw a 10 x 10px object, which we will color using #9B9A81. Duplicate the shape 4 times, horizontally align them, and then position them at 10px from one another.
With all of them selected create a group (ctrl + G on a pc, cmd + G on a mac) and then use these coordinates to nudge them in the right spot: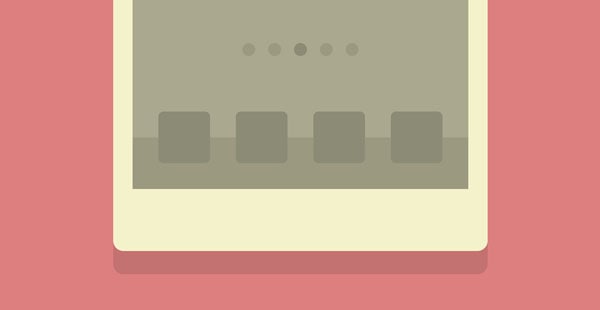 Change the center circle's color to #8C8B75 so that it indicates the current screen.
For the widgets section, we need to draw 2 rectangles with the following values:
top widget: width: 220 / height: 160px;
bottom widget: width: 220 / height: 42px.
Great! Now select both them and the home page indicator bullet group, and distance them at 20px from each other.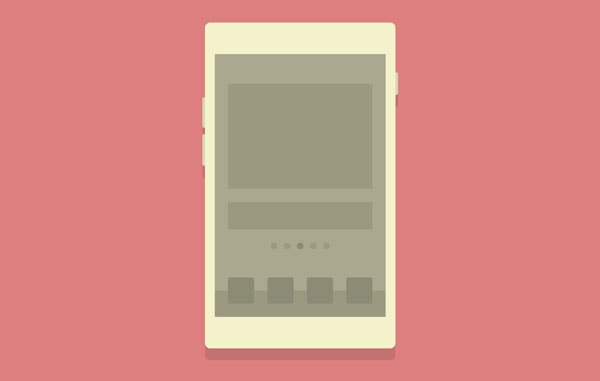 Last but not least let's add the notification bar. Create a 260 x 18px rectangle, color it #9B9A81 and then align it to the top of the screen. Then grab the Ellipse tool (L) and make a 6 x 6px circle (#8C8B75), duplicate it 3 times and then horizontally distance them at 4px from one another.
In order to position them, first make sure you have them grouped and then using the Transform panel input the following coordinates:

For the battery indicator create a 22 x 10px rounded rectangle (#8C8B75) with a corner radius of 2px. Next, draw a 4 x 6px object and position towards the right side of the previous shape.
Then, create another 6 x 6px shape with a corner radius of 2px. Enter isolation mode by double clicking on it, and using the Direct selection tool (A) delete the left side middle anchor points and unite the remaining ones using ctrl + J (cmd + J on a mac).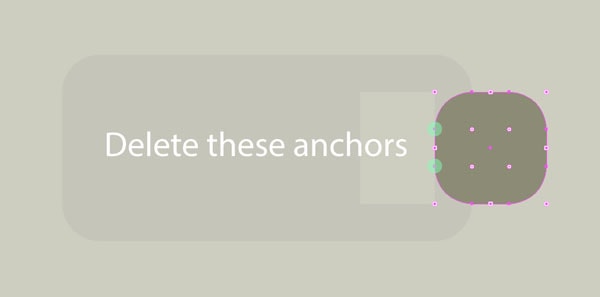 You should see the phone taking form.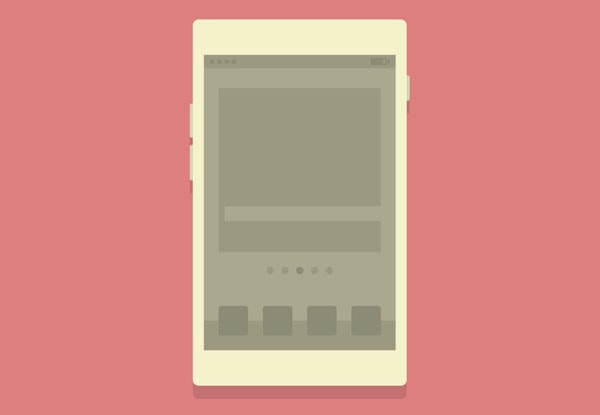 3.4. The top and bottom grills
Now it's time to move up to the next layer, and start working on the top and bottom grills.
Using the rounded rectangle tool, create a 100 x 6px shape with a corner radius of 2px. Color it #D6D5B2 and then position it using the values underneath:
Then, create another 104 x 10px object with a 4px corner radius, color it #C7C6A6 and position it under the previously created one (right click>Arrange>Send Backward).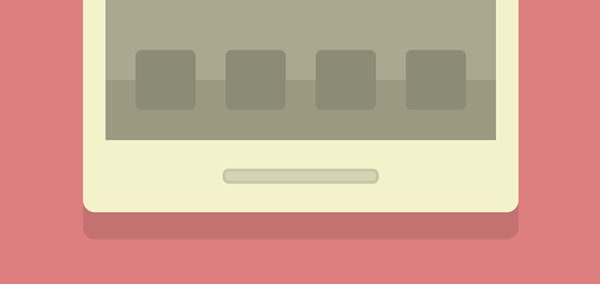 Group the two and then duplicate them by copying and placing them in place using ctrl + F (cmd + F on a mac). Using the Transform panel move them to the following position:
Add some little details to the top piece by creating 24 circles (2 x 2px) distanced at 2px from each other and the vertically and horizontally align them to the grill.

Create a front facing camera with the help of the Ellipse tool by drawing a 6 x 6px shape (#D6D5B2) that sits on top of a 10 x 10px object (#C7C6A6). After grouping the two (ctrl + G on a pc, ctrl + G on a mac) position them at 12px from the top grill.

Congrats! You've now recomposed the illustration, all we need to do now is add some effects.
Step 4 – Adding the screen reflection
Before you move on from the display layer, make sure to copy the main rectangle onto the screen reflection layer as we will use it to create the effect.
Assuming you've copied it, change its color to white and then select the right bottom anchor point using the direct selection tool (A). Once you do that, first right click and then go to Transform>Move and enter –146px in the Horizontal field.
Then simply change the blending mode to Soft Light and lower the Opacity to 14%.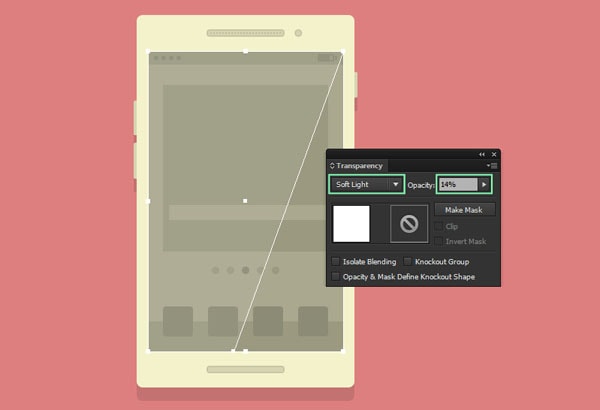 Step 5 – Color enhancing using overlay
The final touch to our illustration will be focused on giving the overall color scheme a little pop. To do so, we will first copy the main shape of the phone as well as the side buttons and paste them on to the color overlay layer.
Select them all and then using Pathfinder unite them into one single object. Next, create a linear gradient using #9E005D for the left color and #FBB03B for the right one, making sure to change the angle to 45º.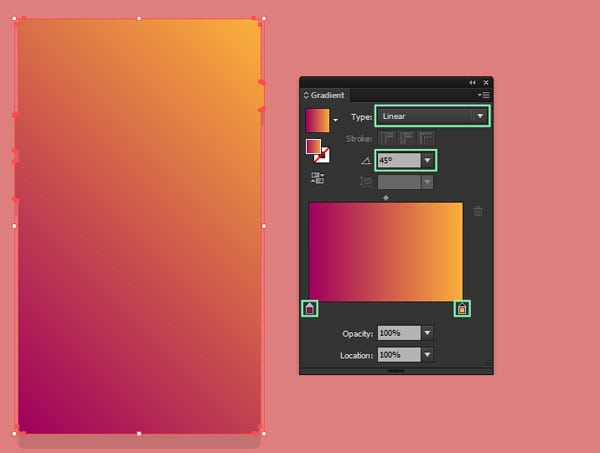 Now all we have to do is change its blending mode to Overlay and lower the Opacity to 40%.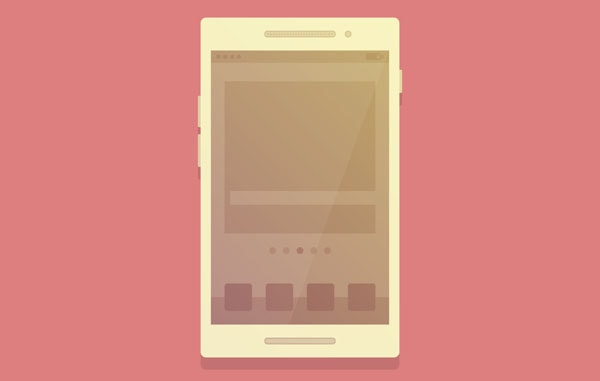 That's it!
You should now have a flat-gorgeous phone and learned a bunch of interesting tricks along the way.
Like what you're reading? Subscribe to our top stories.