Streamline Your Work Life with Invoicely
Pay attention designers and freelancers: Your new favorite tool is just a few clicks away.
Invoicely is the must-have time-tracking and invoicing tool to make getting paid that much easier. (You won't know how you functioned without it.)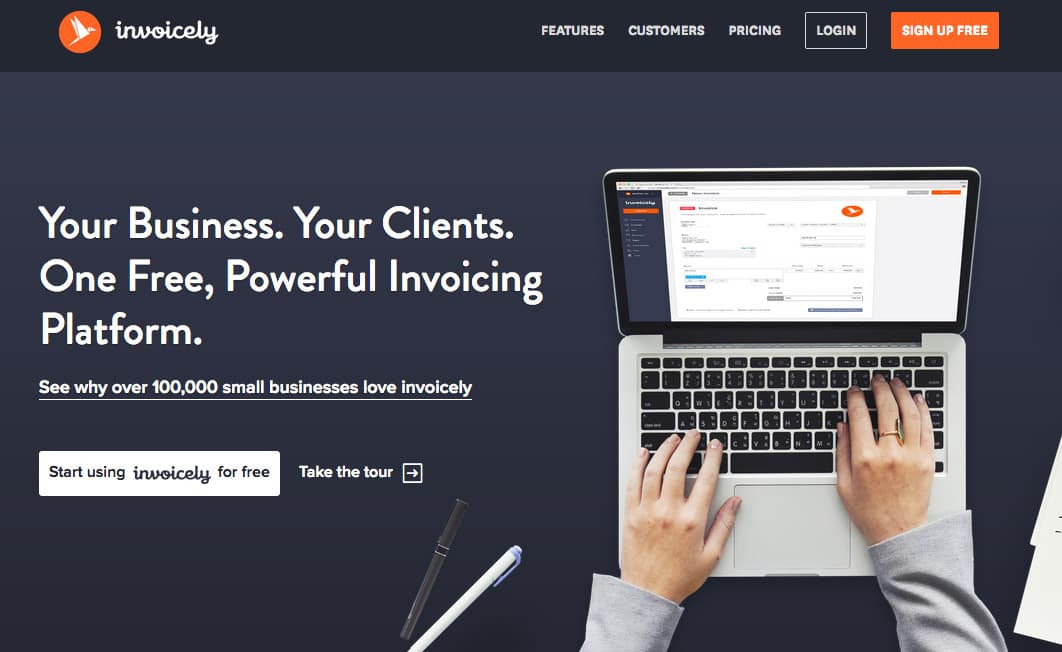 Here's a look at the service and how it can work for you.
What is Invoicely?
Invoicely is a company that specializes in invoice and billing software solutions. The company uses cloud-based tools to help small business owners track finances in a manageable way.
The software platform is well-designed, easy to use and makes tracking income and expenses a breeze – even if it is something you don't want to do. With great integrated reports, Invoicely users can see exactly what their finances look like at a glance. (And you won't need an accountant to understand the reports!)
No-Code Email Template Builder
With Postcards you can create and edit email templates online without any coding skills! Includes more than 100 components to help you create custom emails templates faster than ever before.
Try Free
Other Products
Why Should You Try Invoicely?
Invoicely provides an automated way to streamline your business workflow. As designers and developers, it's likely that your strength is not in accounting. Invoicely helps you with that (and provides information in a platform that you can share with your tax accountant at the end of the year).
The tool is designed to help you save time and get paid faster. Invoices go right to client inboxes and you know when every invoice is viewed and the system generates automatic receipts for payment. Invoicely will make you stand out for stellar service when it comes to billing communications with your clients.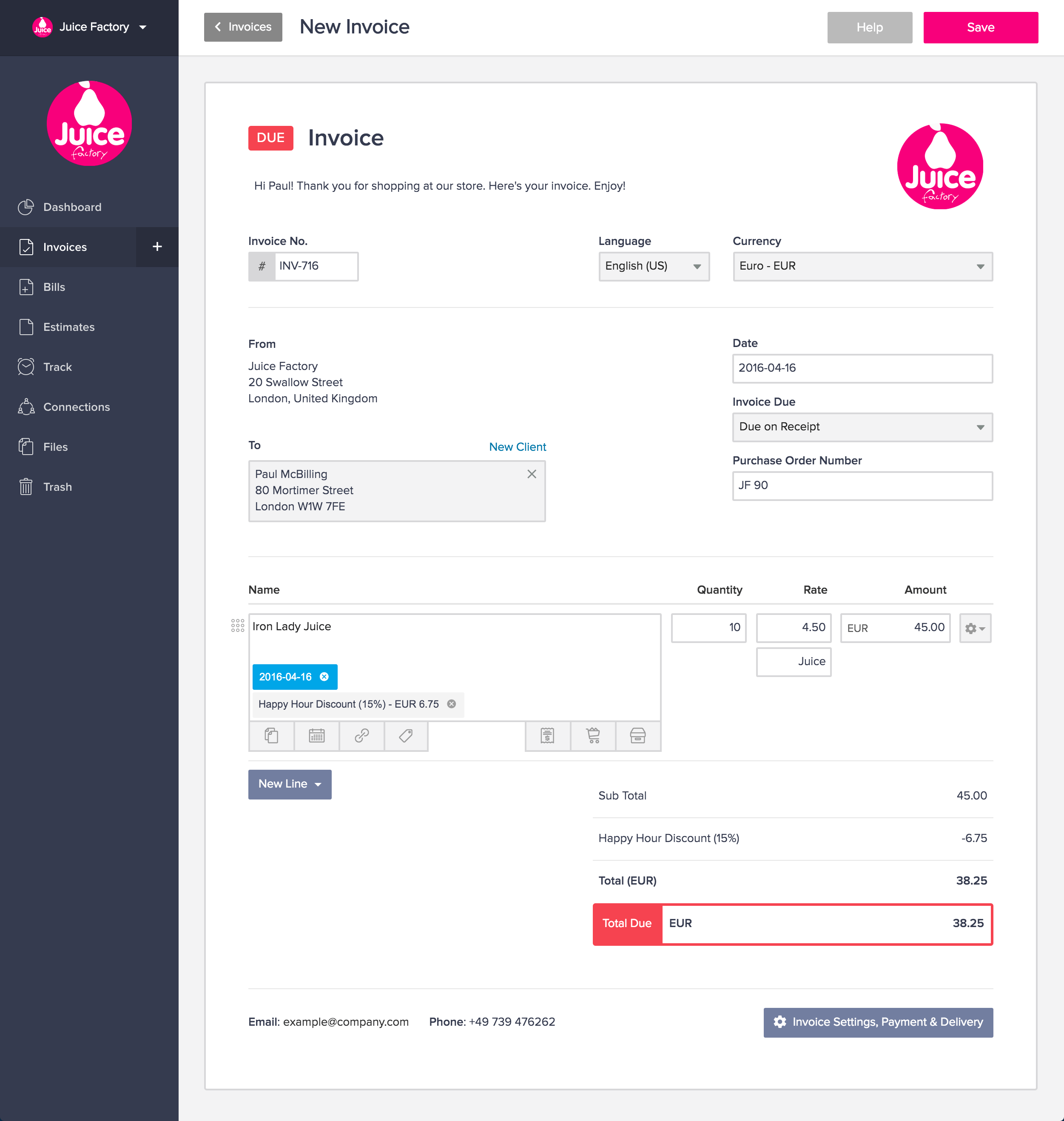 Plus, every bit of the platform is customizable, so you can brand it to match your business and even set up the sleek Invoicely display to match your brand colors and style. It's hard to find a tool that looks this good and works this well.
The other great thing is that set up is easy. It doesn't take long to create your custom design and adding new clients only takes a couple clicks and entering a name and email address.
Key Features
Invoicely is packed with features that are designed to make your life easier. (I've been using it for a few months and can't even count how many hours I have saved when it comes to creating estimates and sending invoices to clients.)
Here's a look at what Invoicely can do for you:
Effortless invoicing: Every invoice has a professional (and consistent) design that can be sent in any language and to fit any type of currency, delivered directly to clients.
Turn estimates into invoices: Use Invoicely to create estimates or quotes for clients and those can be converted into invoices for accepted projects with just one click.
Accept payments online: The tool connects your PayPal account and other services such as Millie, stripe, PayLane, Authorize.net or wepay to make billing a breeze. Clients can click and pay using a credit card, PayPal or bank transfer. (Plus, Invoicely does currency conversions in real time.) And if they are more old-school, any invoice can be printed and mailed.
Track time, expenses and mileage: Invoicely does more than just send invoices. It's a full-service tool that can help you turn hours, miles and expenses into invoices and bills so you know what each project costs and make sure those expenses are covered.
Stay on top of regulations: Invoicely allows you to bill in accordance with local regulations in terms of taxes, discounts and shipping with lines you can automatically add to invoices, if needed.
Branded billing: You can adjust every bit and piece of the control panel, login screens and statements so that every invoice is uniquely yours.
Manage more than one business: Every Invoicely plan allows you to set up as many businesses as you like.
Manage clients from anywhere: On vacation and have a client looking for their bill. Log in from anywhere and resend.
All your finances are in one place: Reports are just one click away so you can see all the money coming in and going out at a glance.
Secure network: Invoicely works securely in the cloud.
Pricing
Invoicely has four different plans so you can find the one that best suits your business. Whether you are a full-time freelancer, have three employees or just dabble on the side, there's an invoicing and payment plan that should suit your needs.
Free plan: This plan gives you basic invoicing and allows PayPal payments. It's best suited for those who send sporadic invoices.
Basic plan ($9.99/month): Includes all the features of the free plan, plus development of estimates or quotes, time and expense tracking, recurring invoices, customized branding, multiple payment types and allows two team members to access the account.
Professional plan ($19.99/month): Upgraded version of the basic plan is for teams of up to 10.
Enterprise plan ($29.99/month): Upgraded version of professional plan is for teams of up to 25.
Invoicely offers unlimited invoicing and support for multiple businesses on any account plan and offers additional savings for annual billing.
Conclusion
Personally, I made the switch to Invoicely a while back and it has been worth every penny. I was able to brand invoices with my logo, personal message and set up payments in just a few minutes. Every invoice is tracked and the reports are great! (You can even check to see who hasn't paid you.)
One of my favorite tools though is recurring billing. This is an awesome feature for web designers or developers with clients that are billed the same thing each month. Take a few minutes to set up the client info and the invoice can be automatically delivered on the same day each month. (It doesn't get any easier than this!)
You can try Invoicely for free. Take it for a spin today!
Like what you're reading? Subscribe to our top stories.