All Start-ups Should use Jamf Now, the Ultimate MDM for Apple Devices
Do you know that feeling, when you have an idea, and you know that it's the next best thing, right? And then, your idea becomes a start-up. The sky is no longer the limit.. until you fail. Most tech start-ups fail at the beginning. You can have the best idea, but if you don't have the team and the tools to do it, then you'll never reach sustainability. It's a lesson I learned as a legal consultant for an amazing tech start-up. We had all the ingredients for success, but we were spending too much of our time and resources on… installing and configuring Macs. And then we discovered Jamf Now!
Here is the story. Everybody predicted that the start-up wouldn't survive past the first batch of financing. However, knowing the two founders, I did not have a single doubt. Here is a little background. They've made a living from developing iOS apps. Both had a rough childhood. When kids like me dreamed action figures, they dreamt of a place to sleep. However, they overcame their difficulties. Today, they are changing the world!
The start-up is aimed at vulnerable groups who want to build a better future for themselves and for society. Students, orphans, and unemployed individuals, are offered the opportunity to learn coding, design, 3d modeling, graphics and more in a comfortable and safe environment. Ok, so where is the sustainability in that? Many of them will join the core team in various projects: software testing, prototyping, developing and more. Currently, we are testing beta apps, developing integrations, providing support and we even have an in-house design studio. In addition to that, we offer on-site and online courses for everyone looking to explore new opportunities. Moreover, if everything goes well, by September, we will also offer computer training services for public officers.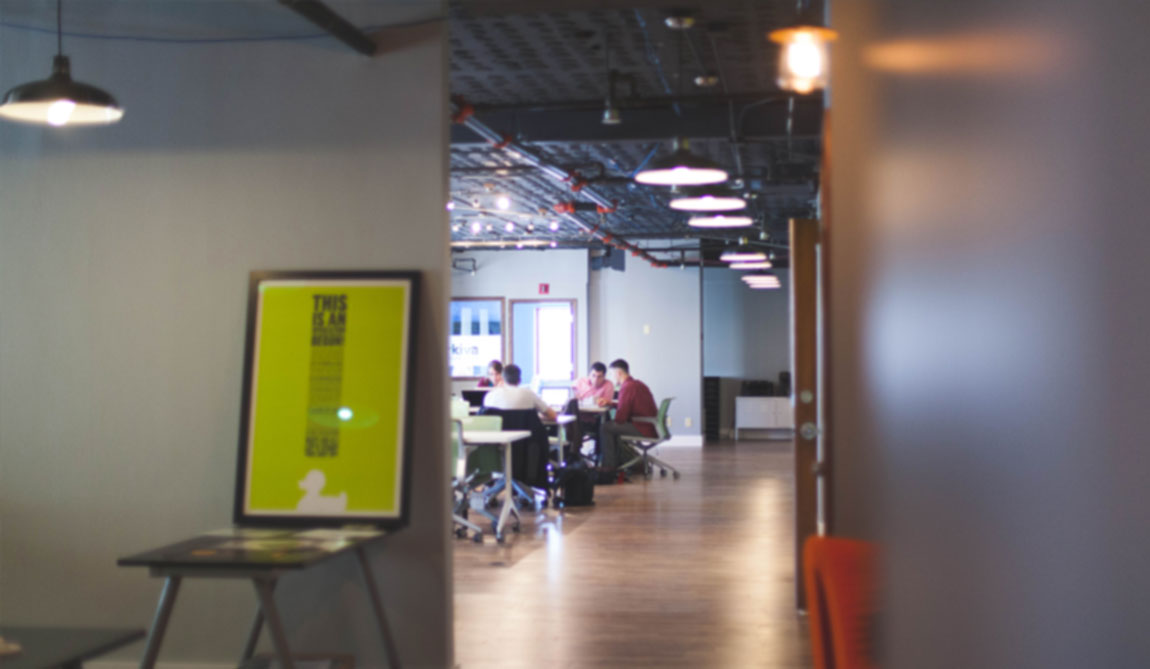 The initial funding came with a dozen iMacs and iPads. Considering the multitude of scenarios that the devices were subjected to, nobody thought that the devices would survive their warranty period. They did, thanks to Jamf Now, the ultimate device management solution for iPads, iPhones, and Macs.
We were looking for a tool that would help our small IT department. When you have a limited workfoce, 40+devices that need to be managed, configured, or updated, and a multitude of software that needs to be deployed and tested, you need to think outside of the box. Most mobile device management (MDM) solutions were out of our budget range or were lacking essential features.
The Business Benefits of Jamf Now
Signing up for Jamf Now was a strategic decision that helped us reach our milestones. It became an integral part of our workflow and a valuable tool in our management and logistic efforts. Thanks to Jamf Now we:
No-Code Email Template Builder
With Postcards you can create and edit email templates online without any coding skills! Includes more than 100 components to help you create custom emails templates faster than ever before.
Try Free
Other Products
Increased our IT department operational efficiency by significantly cutting down working hours on setting up and managing Apple devices;
Enhanced our data security and integrity with an additional layer of protection;
Streamlined our license and asset management flows;
Simplified our on-boarding processes;
Improved in-house collaboration;
Jamf Now Device Setup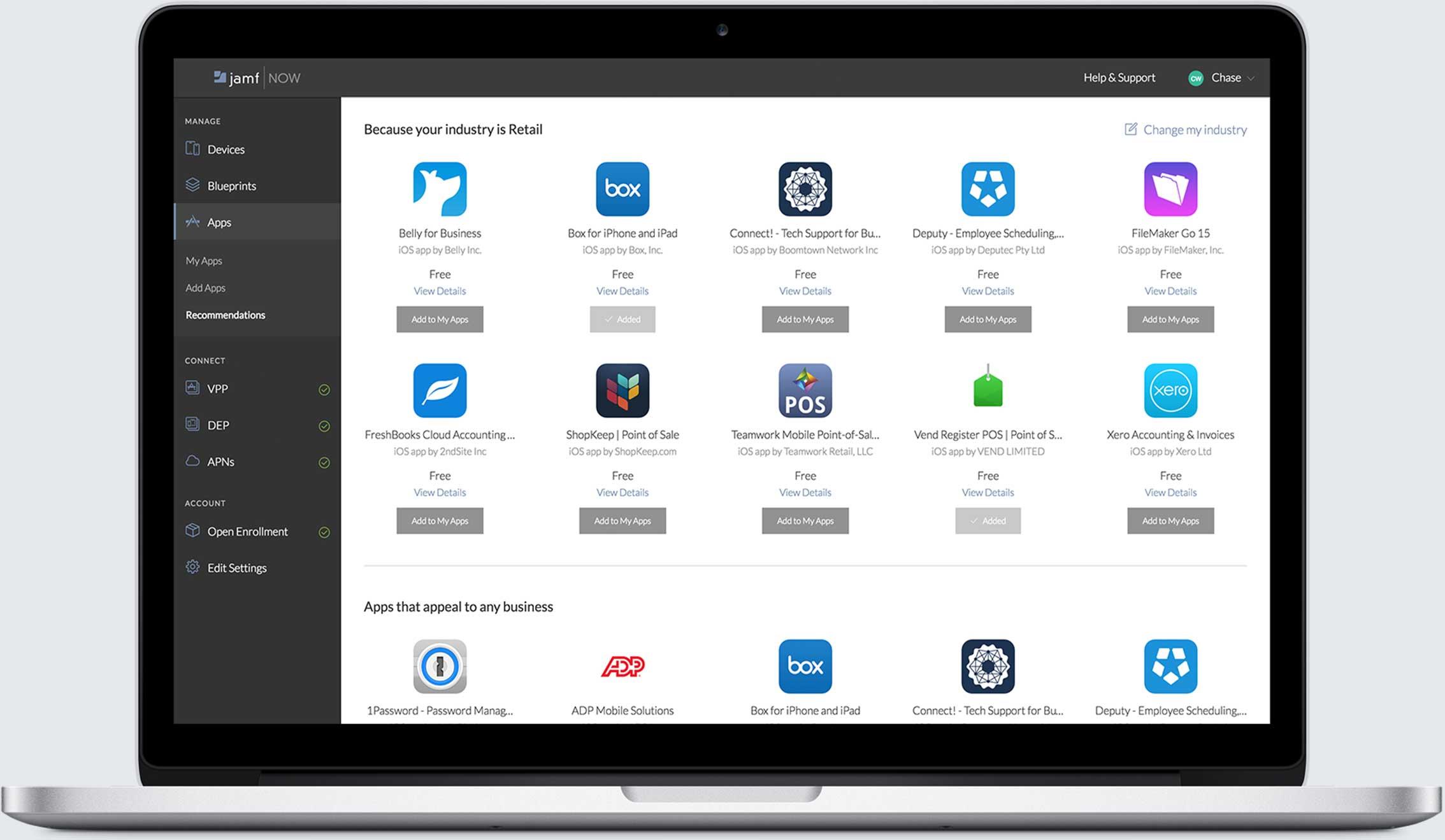 With Jamf Now you can set-up a "device blueprint." Once you configure the settings, you can quickly send them to every device. Individual devices can be customized to suit specific needs including role-specific apps, data access and audit, and more in a convenient, secure and time-efficient manner. Every employee gets access to settings, accounts, and applications associated with their role. Brilliant.
Jamf Now Device Management
Managing inventory and asset management is an excellent Jamf Now feature. Scaling and predicting your requirements is made more accessible via the export functionality. For an added plus of functionality, the report also features all the critical information for every device, making compliance assessment and enforcement a less convoluted task.
License management is another essential feature. You can track assets and licenses to minimize software costs and cut your operational costs. Also, you can acquire and deploy new licenses and apps to devices via Jamf Now integration with Apple's Volume Purchasing Program.
You can also automatically install apps from the App Store to all of your devices. Enroll with Apple's Volume Purchase Program (VPP) to buy apps in bulk and easily distribute them to users of your choice. As your needs change, you can reclaim and reassign the apps to new employees.
Jamf Now and Device Security
We had a few incidents where some of our iPads were lost or stolen. A case that put us on the edge of despair was our Commercial Director's MacBook Air. If the data from the device would have fallen into the wrong hands the implications would have been immense. Jamf Now keeps everything secure by encrypting data and information on the device and enforcing strong passcodes. Additionally, when a device is lost, you can remotely lock the screen, display a message on the lock screen or remotely wipe all sensitive data from the device.
I bet you are wondering what happened with the MacBook mentioned above? I was about to send the wipe command when we got a call from the owner of a flower shop who recognized our logo. When we asked if we could somehow reward her gesture, the woman stated that we had already rewarded her. How? Well, one of our former students created a beautiful website for her shop. We checked the website and it was beautiful.
Jamf Now Pricing
To start you can manage three devices for free and you get all of Jamf Now's features: automated app distribution via the App Store and the Mac App Store, separated environments for personal and work apps data, device settings configuration, email and Wi-Fi configuration and remote locking and wiping. You'll be amazed at what you can achieve with Jamf Now. Additional devices are $2USD per month. As simple as that.
If you do the math, you'll probably conclude that it's a great investment, not only from a cost reduction perspective but also from an operational efficiency perspective. With Jamf Now you can shift your IT department priorities from wasting their time with trivial and tedious tasks to critical operational tasks.
Support
Jamf Now support is available via Live chat and e-mail support. However, from our experience, the extensive knowledge base was more than sufficient. The documentation covers every aspect of the software in detail. You'll find everything you need on deployment, setup, enrolling devices, configuration, blueprints, devices, apps, settings, troubleshooting, and more.
Should you use Jamf Now?
I do hope that our example inspired you. If you are a Project manager, a CTO, or even an enthusiast, have a look at Jamf. If you are a developer, a designer or you are committed to your team, send them the link to this article. Or, grab a coffee (or a smoothie) and talk to your coworkers. Jamf Now may be just what your team needs to add a mix of security and productivity to your workflows.
Try it now!
Like what you're reading? Subscribe to our top stories.