Restaurant Web Designs: 40 Yummy Cafe & Restaurant Websites and Trends
What actually do we want from a restaurant website? Once we enter a website belonging to some café or restaurant, the first thing we start looking for is the menu. Fortunately, most of the restaurants managed to improve their online menus by replacing PDF-only downloads with web alternatives that are more user-friendly. The next thing we would be glad to see/read is specials and happy hours info including social promotions (e.g. Twitter specials, Facebook promos, etc.). It's a great advantage of any restaurant if they have online reservation system. It's really fast and convenient to book a table from home or work, or while you are on the go with your mobile phone. Hours of operation, contact info, address (preferably with the link to Google Maps) is the other necessary information online visitors are expecting to find on the website.
If created and used effectively, websites can be a huge boon to restaurant businesses. Though the restaurant industry is notorious for having bad websites, we will prove that it's not exactly true. A lot of restaurants managed to create really memorable websites dedicated to offer all valuable information in the most attractive and welcoming way.
In this post, we will look at websites from the restaurant industry and try to illuminate their common trends and how these trends can better serve them. Further below you will find a collection of attractive websites that strike with quality "yummy" images and thought-out design.
Common Trends on Modern Café & Restaurant Websites
What makes an excellent café and restaurant website? In the search for the answer, we looked through the dozens of attractive websites from this industry and noticed some common features.
Visual attraction & Full-screen photography
Photography is a mighty tool. And it's hardly possible to find a restaurant website that is not decorated with images. Mostly all restaurant web designs use food photography in a variety of ways to put the focus on their services, special offers, etc. Some of restaurants or cafés prefer big high-quality pictures to dominate their websites. Whether it is a full background or in a slideshow, the images play an enormous part in attracting visitors and arousing an overwhelming desire to taste the dishes.
Boarshead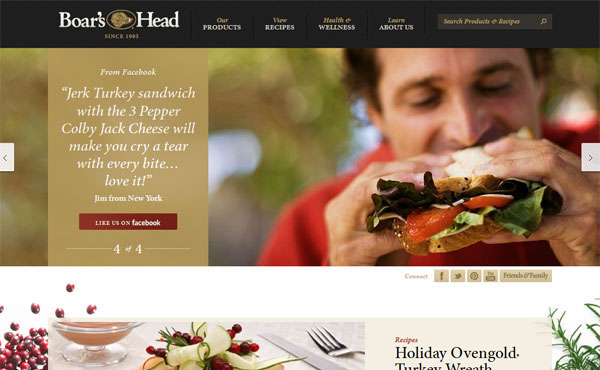 No-Code Email Template Builder
With Postcards you can create and edit email templates online without any coding skills! Includes more than 100 components to help you create custom emails templates faster than ever before.
Try Free
Other Products
Boar's Head website is one of the vivid examples of restaurant web design featuring catchy images that simply mesmerize visitors.
Empellon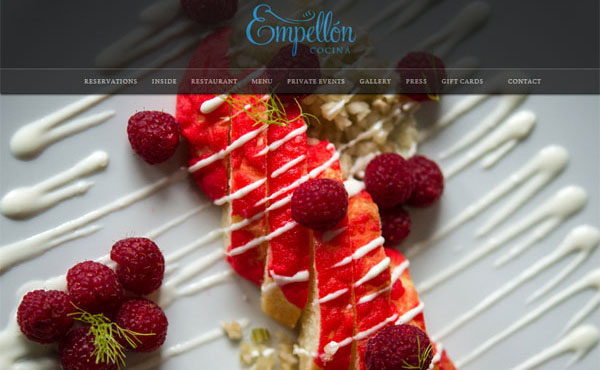 Like many other restaurant websites, Empellon Cocina website mostly relies on full-screen photography. It makes the minimal design memorable and stylish.
Focus on Responsive Web Design
Restaurant web design keeps up with the time by using responsive layout adapted to the viewing environment (from desktop computer monitors to mobile phones). Responsive design, being a more advanced way to make a website mobile friendly, provides better usability and more relevant content, as the site is automatically abbreviated down to its most basic information.
Yborbunker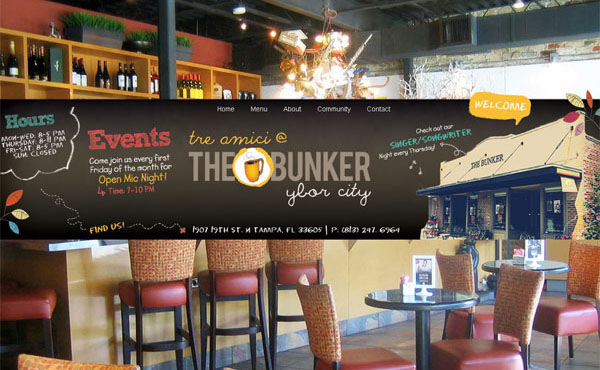 This website is designed to provide an optimal viewing experience across a wide range of devices. Different CSS style rules, fluid grids, flexible images – that's what makes this design fully responsible. To check it simply resize your browser window and watch the layout respond.
Ease of Use
Usability is by far the most important factor of any website, not only restaurant related ones. Forget about downloadable menus, obnoxious flash animation that slows down the website. Avoid long text paragraphs that no one has ever or will ever read. Everything must be clear, simple and to the point! High quality photography is definitely a great advantage.
Careit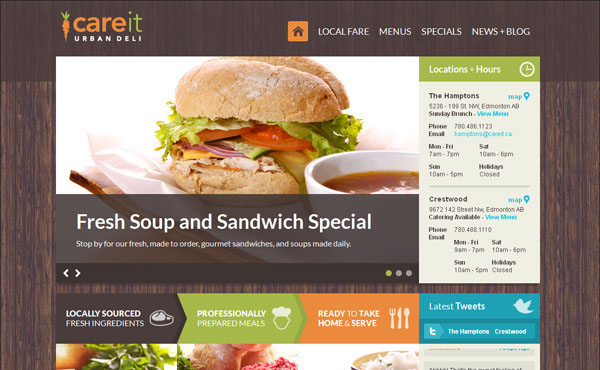 CareIt website design is characterized by extreme usability. It possesses everything what a good restaurant website possibly need. The design, focused on the services, is perfectly thought-out and structured. It features an eye-catching image slideshow; specials info & today's menu is presented with the help of the well organized design boxes. Locations & Hours info can be found on the most obvious place.
eCommerce Integration
Most of the restaurants use their online presence not only for describing their services, featuring menus, specials info or providing online reservation; they also sell their dishes online. Online store integration is a good practice, since they no longer need to create another domain and divide their efforts, maintaining two websites simultaneously.
Mariecatribs
Marie Catrib's website has a distinctly e-commerce design.
Social Media websites are a great way to drive more people to your restaurant. And a lot of café and restaurants are already using Facebook, Twitter, Pinterest, YouTube and other web sites for marketing and to boost sales. Social websites allow restaurants to easily connect and engage, get feedback and promote their services. They don't have to spend a lot of time writing an engaging copy. All they need to do is to get to the point, by tweeting or posting on their Facebook page something like: "Our lunch special today is ham & swiss cheese omelet with bacon and toasts". Cafés & restaurants also tweet photos of their food, different recipes, special offers and events.
Labanquise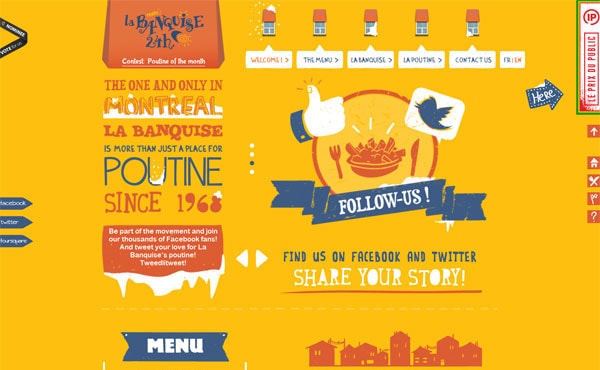 Take a look at la Banquise restaurant website. They invite visitors to join them on Facebook and Twitter, by placing a follow-up message in the main content area on the home page. By the way, it's a prediction though, but it seems the background color has been chosen intentionally, as yellow is often associated with food and greatly stimulates the appetite.
Showcase of Yummy Café & Restaurant Websites
Below are some more examples of café and restaurant websites. High-quality photography, user-friendly navigation and elaborate layout – that's what makes them really worth looking.
Mellowmushroom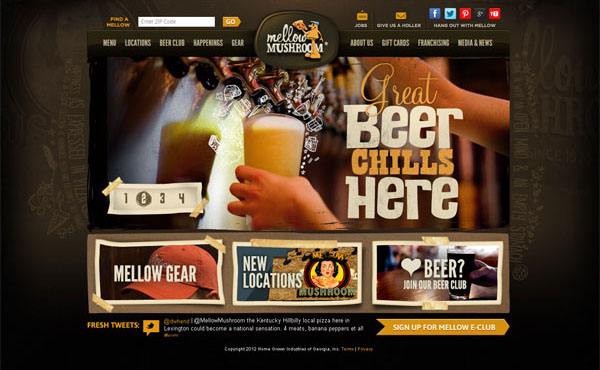 Chipotle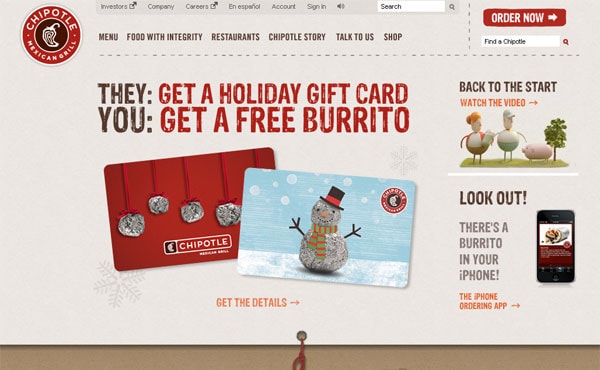 Caravanonexmouth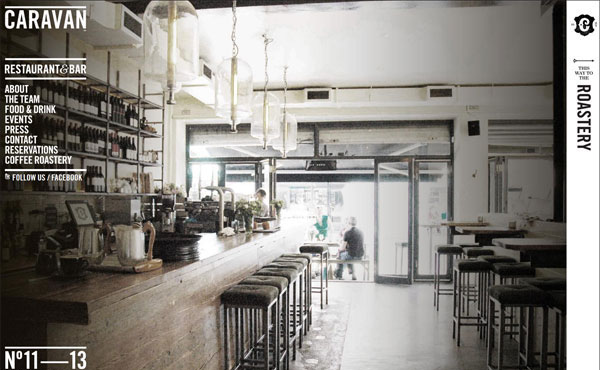 Lamaddalena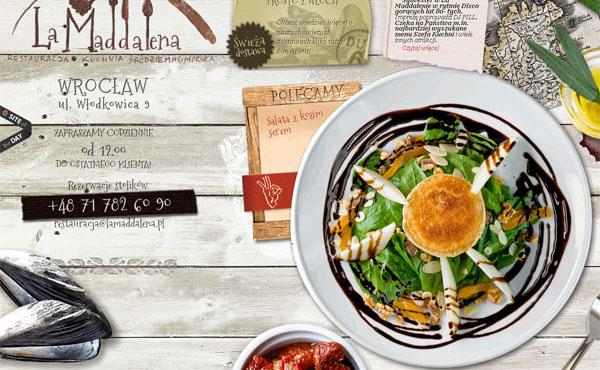 Philippechow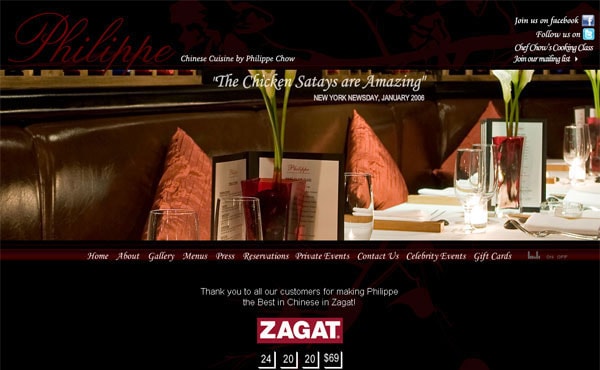 Sushi8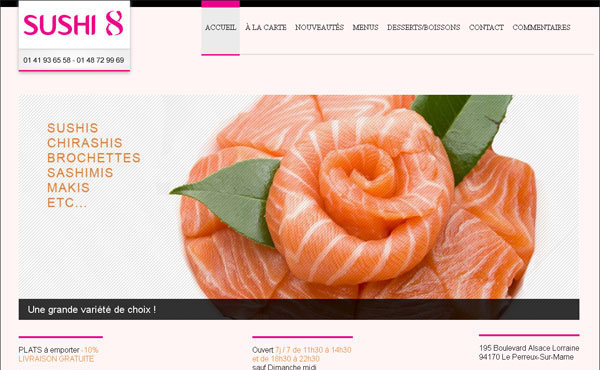 Harboursixty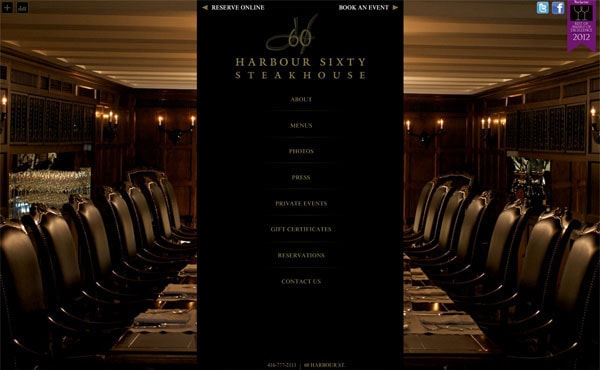 Zizzi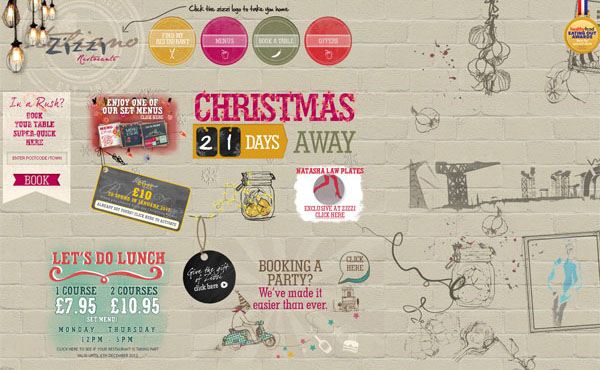 Aupetitpanisse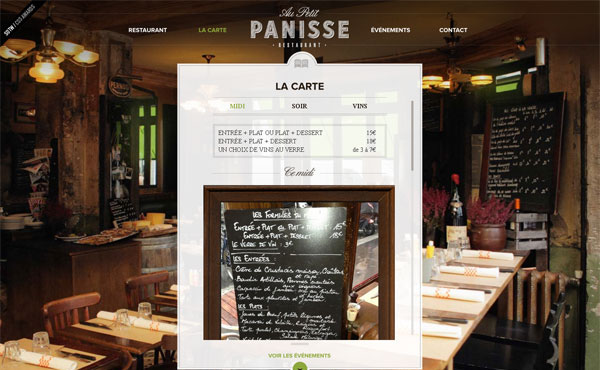 Havanabar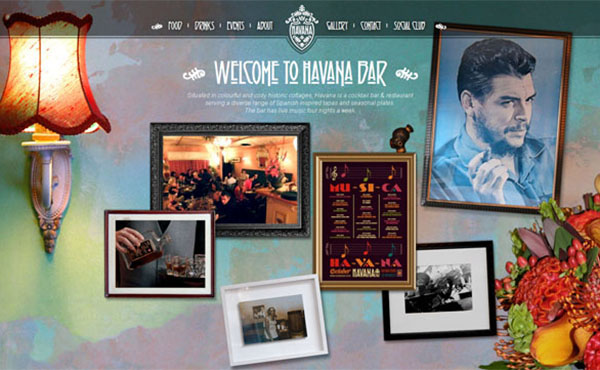 Thenoodlebox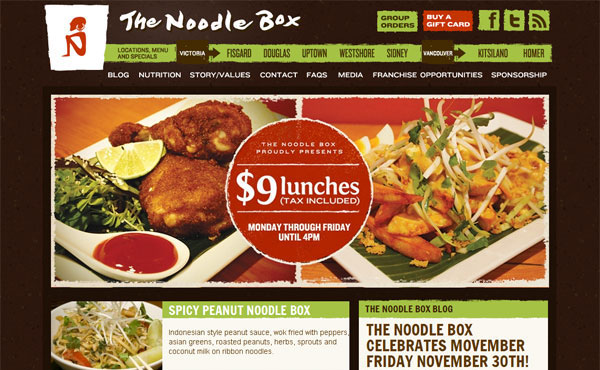 Olivegarden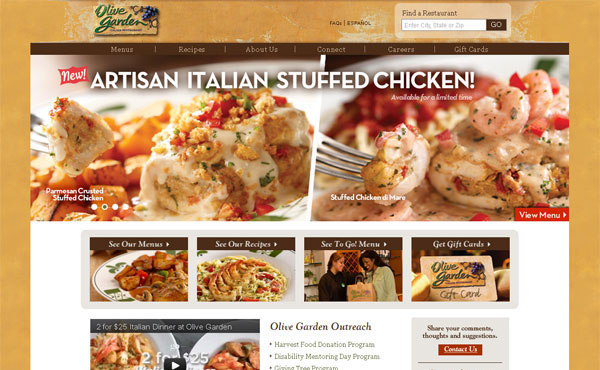 Wendys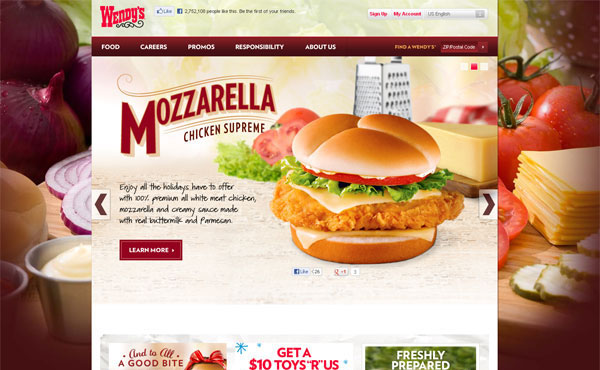 Auberge-de-l-ill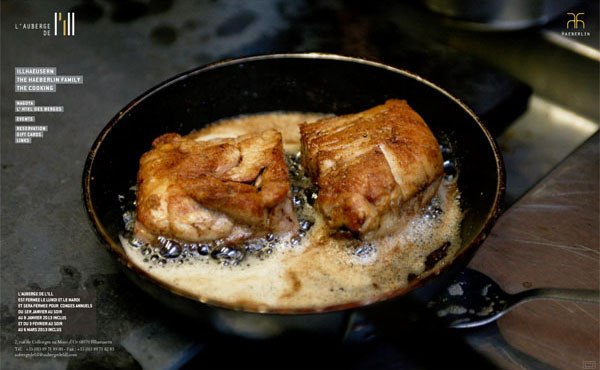 Vedatakeout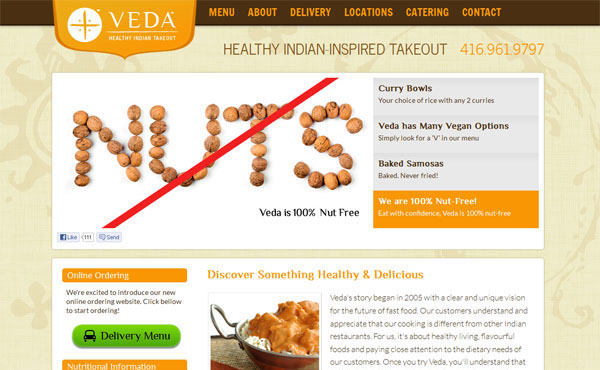 Delmonicosrestaurantgroup
Giraffe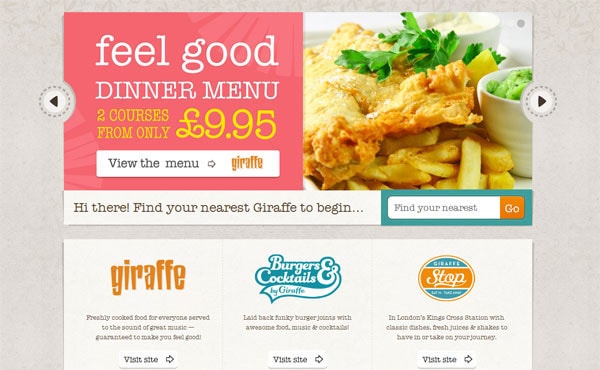 Hoddows-gastwerk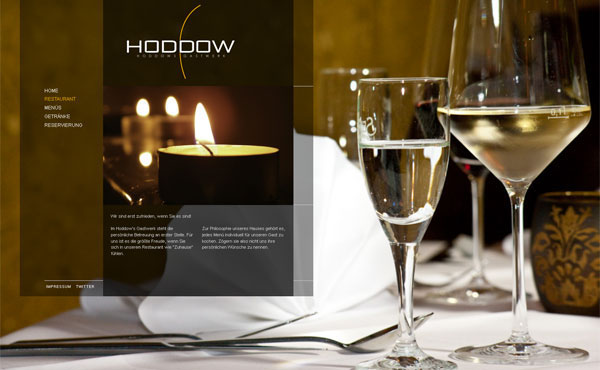 Thepalm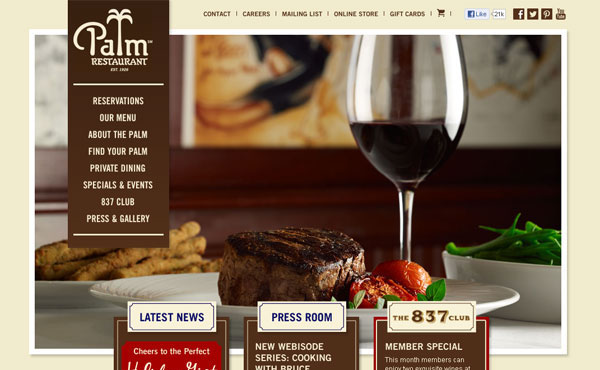 Fedoranyc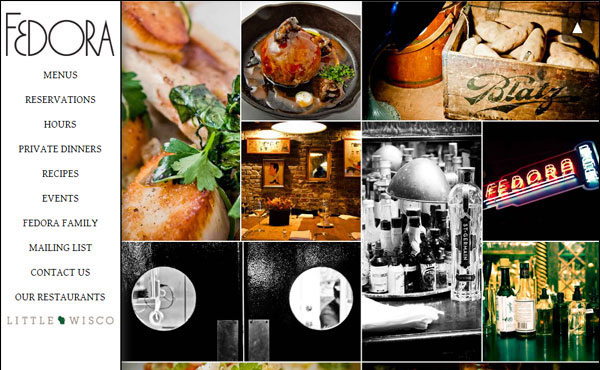 Parkgrillchicago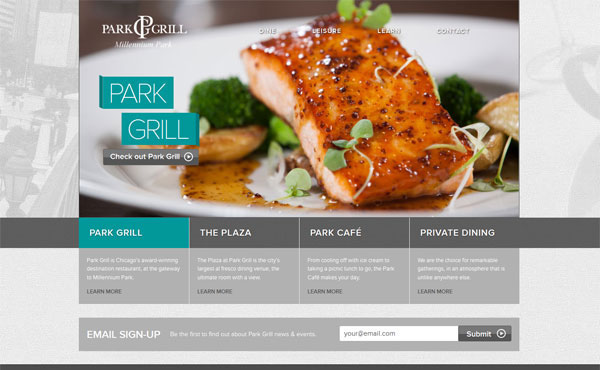 Benitos-hat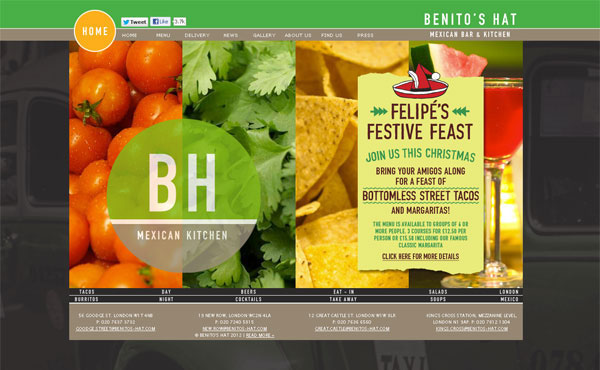 Peiwei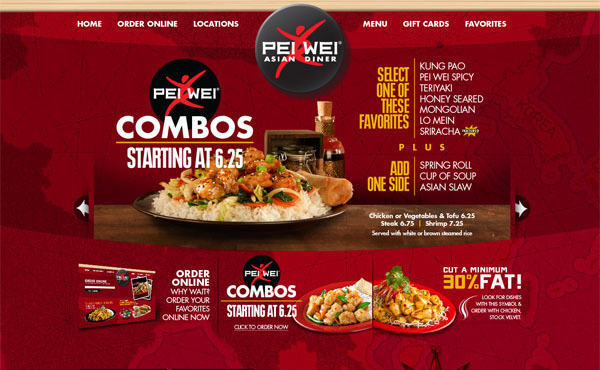 Dillydelitulsa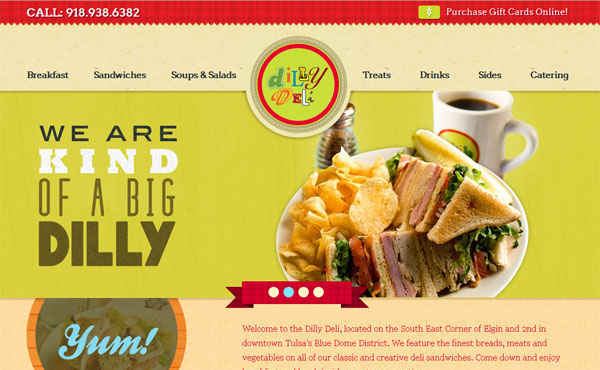 Rubytuesday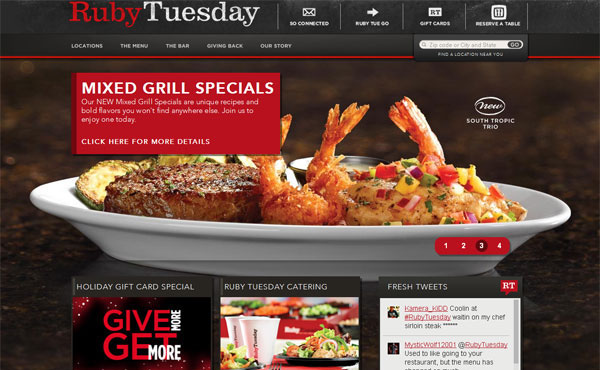 Restaurantecouveflor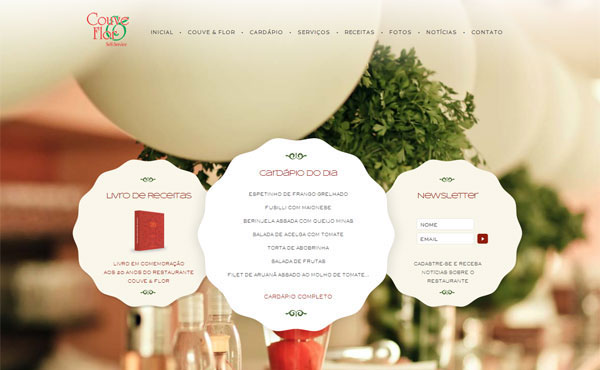 Socarratpaellabar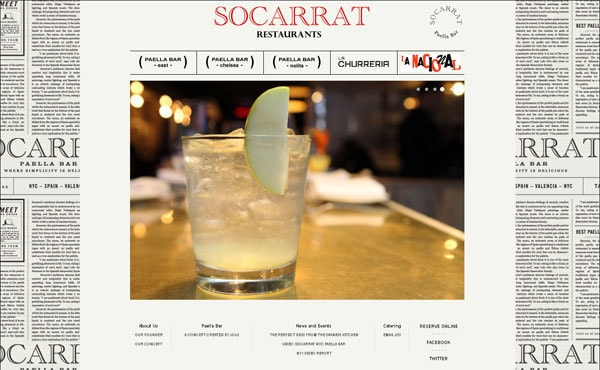 Bonefishgrill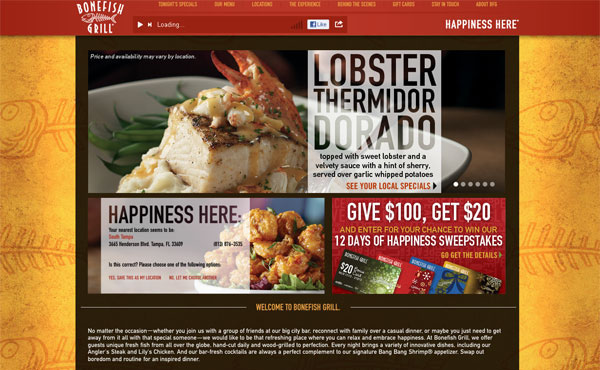 Sweetbasilvail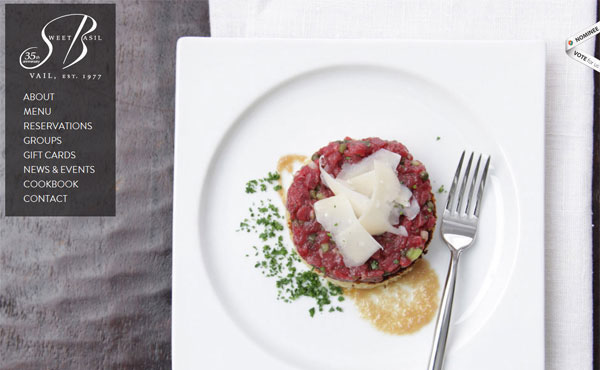 Jungsik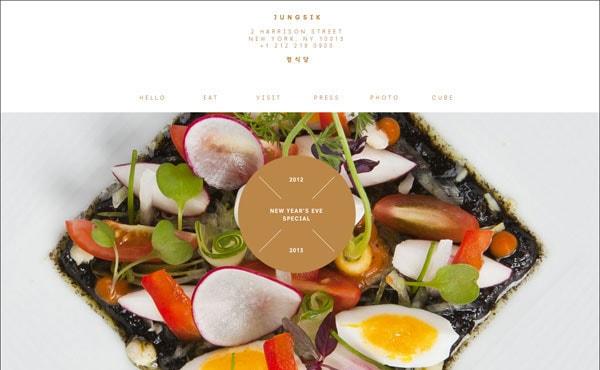 How do you rate the restaurant web design in general?
Like what you're reading? Subscribe to our top stories.