35 Beautiful Examples of Sliders in Web Design
Content Sliders or simply sliders as we call them, have become an almost integral part of web designing. While we all know that the concept of web designing is based on adding an attractive visual effect to the web page, these sliders help a lot in the business. Now, the question is what are these sliders? Content sliders are a set of exceptionally resourceful variety of navigation tools that are utilized to present different types of information (images or pictures, posts or blogs, variety of news as well as information about different types of products and their features) in the web pages.
Various forms of sliders are available to make your web page look more attractive. They range from sliders which automatically present a slideshow to those which get activated through usage of a specific tab or button. The high popularity of the modern web pages and blogs can be attributed to the successful usage of the sliders which act like focal points on the web pages and are indeed one of the smartest ways of online interaction between the users across the globe.
In this article, we will discuss the different types of sliders used. With more and more competition in the virtual world of online business, new designs and concepts of sliders are being innovated every day. There are sliders which contain stylish and gorgeous layouts. The user can navigate through these sliders and change the images by using arrows. Certain sliders contain highly textured backgrounds containing excellent color designs which attract the users easily.
As discussed earlier, apart from the conventional sliders, there are certain sliders that change automatically from one image to another. However, the images in these sliders can also be changed by clicking a tiny button. There are some sliders which present a slide show when activated. These sliders have an extremely beguiling as well as pleasing effect on the user. You can also move from one image to another by simple click of an arrow or tab. Certain sliders contain images or descriptions of painting or drawing, museums and other forms of human craftsmanship. They contain a series of image or information than can be gone through by simple clicks of mouse.
Examples of Sliders in Web Design
StackSlider: 3D Image Slider

The slider is tailored to fun. Coming with a lovely 3d feeling and some catchy twists, it will definitely become a highlight of your project, which in addition is aimed to place your multimedia content on a prominent place.
Newsletter Template Builder
With Postcards you can create and edit email templates online without any coding skills! Includes more than 100 components to help you create custom emails templates faster than ever before.
Try Free
Other Products
Grow Interactive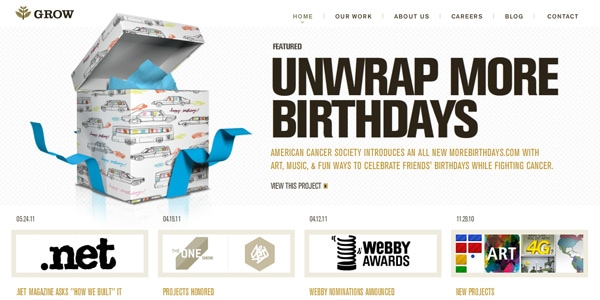 Grow Interactive's slider has to cover lots of content both multimedia and textual and display it in a non-intrusive way. Not much white space worsens the situation. However, compactly arranged and neatly formatted block with data on the right and a series of thumbnails are managed to save the day.
Mark Dearman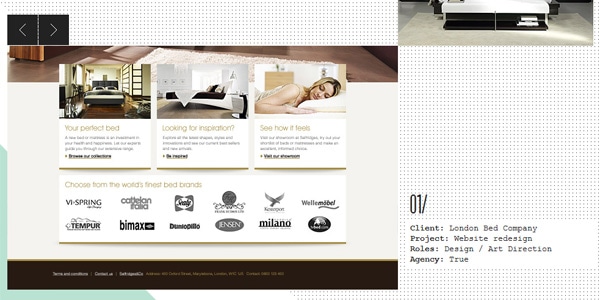 Mark Dearmn's portfolio incorporates a plain yet elegant content slider that skillfully combines areas for image and description. The design aesthetics perfectly echoes with the overall theme, while simple control buttons provide users with an intuitive tool for browsing through the work section.
Bitfoundry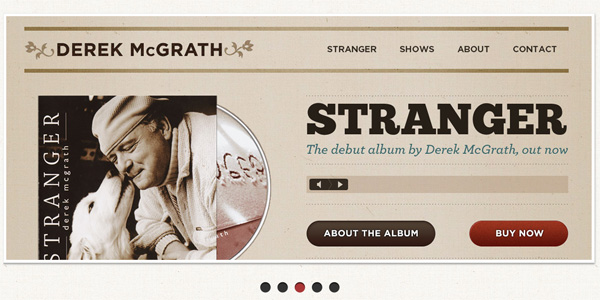 The layout of Bitfoundry's main slider is anything but conventional. There is a distinctive area for HTML content supported by a set of circular graphics that serves as a navigation. What does strike the eye is a design that has a strong dose of creativity and refinement. Soft coloring, ornamental details, neat structure, sleek shadow, and gradient buttons handle the fantastic appearance.
BigEye Creative

BigEye Creative has a seamless slider that ideally fits to the overall design and complements the general feeling. It offers 2 plain arrows for navigation that is quite sufficient to move comfortably through the small number of items.
Büro Maisengasse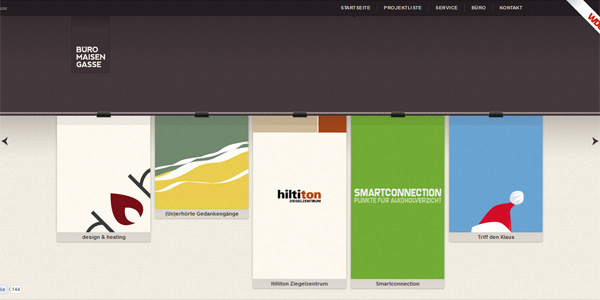 Büro Maisengasse's front page is marked by a unique content slider that at first glance seems to be conventional and boring. However, everything changes when you hit a next or previous button, and the new portion of data appears. The information is broken into digestible pieces that are beautifully framed. The transition is accompanied by some lovely effects that make the component look a bit alive.
Mathieu Clauss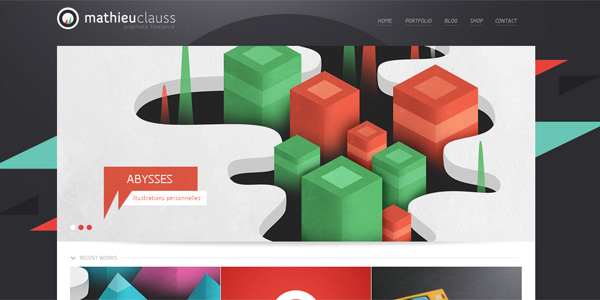 Mathieu Clauss leverages a classic, elegant image slider that takes up the whole browser screen and adapts to its dimension, providing users that come from tablets and cell phones with an optimal experience. It skillfully sheds the light on the best works of the artist, preventing them from overlooking even tiny detail.
Elless Design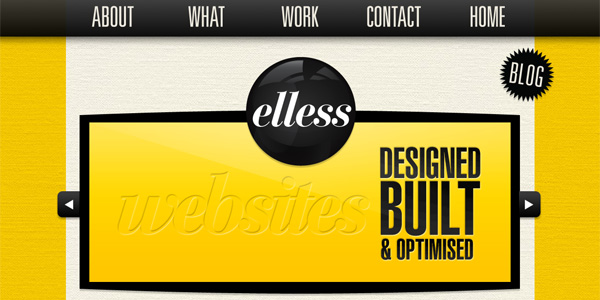 The website shows the consistency in design. It is constructed from components that are made in the same style and fashion. Thus, the slider is based on a primary 2-tone coloring, uses some extras decorative tricks that spice up text and images, and has distinctive bold borders that set it apart from the environment.
Marco Rotoli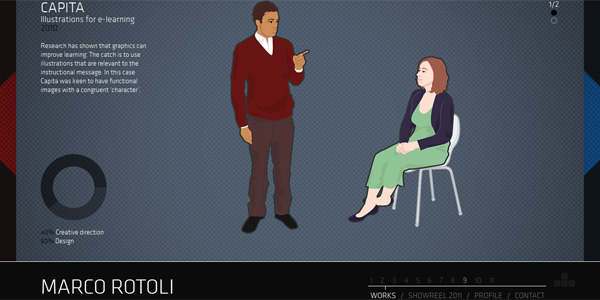 The content slider has the same illustrative aesthetics as the whole website. Subtle pattern, nifty circular controls, densely packed together text and lots of space for visuals seize the users attention and direct it to the important points.
Banneton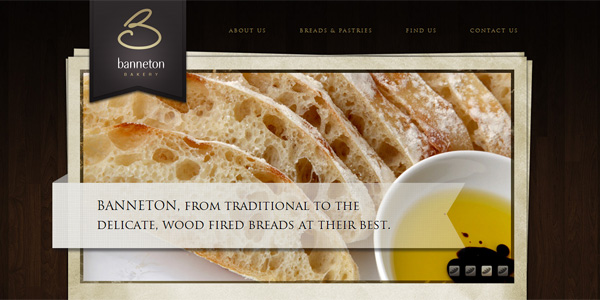 Banneton's homepage features a marvelous slider that boasts of an artistic nature and a certain charm. With its ribbon style block for displaying description, a sophisticated textured backdrop that mimics pile of old papers, tiny square shaped buttons for navigation, it easily puts the selected content above everything else.
Instrument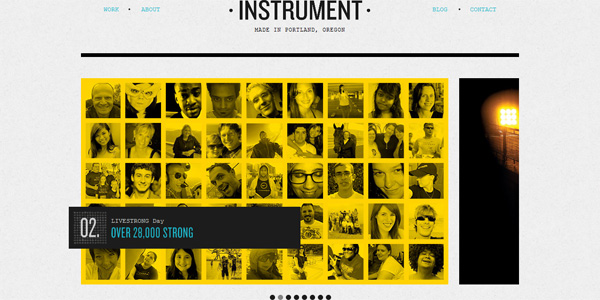 Instrument's landing page has a clean and crisp appearance, so does the chief slider. It employs standard circular buttons for moving between items and has a solid dark box for showing extra information that thanks to its relatively wide size does not go unnoticed.
 Jérôme Détraz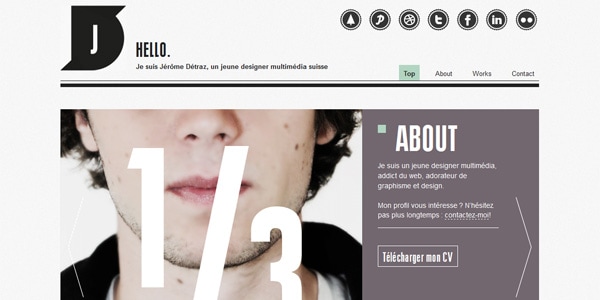 Jérôme Détraz's personal portfolio omits needless things, and as a result, the huge content slider instantly catches the eye. It has a flat style appearance and beautiful coloring that lets the component naturally blend into the composition. Each slide is split into two parts to showcase the information in a straightforward way.
Boerdam

Boerdam makes use of a regular full-screen slider that gives the featured content the top priority. For the better readability, the designer utilizes solid stripes that stand in sharp contrast to foreground captions, bluish buttons that look eye-catching and flat plain arrow shaped buttons for simplifying navigation.
DigitalConvulsions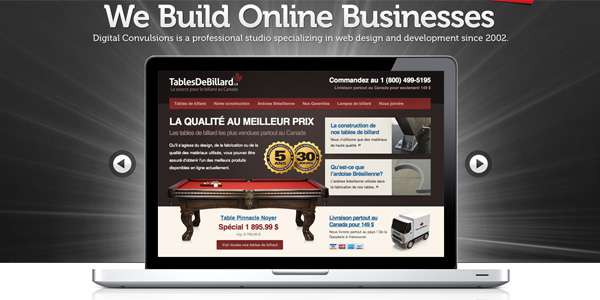 Digital Convulsions employs a seamless content slider well-suited to the composition. Tiny circular buttons with a glossy surface and emboss touch go well with semi-realistic device mockup. The background with highlighting effect reinforces the composition.
HyperX Media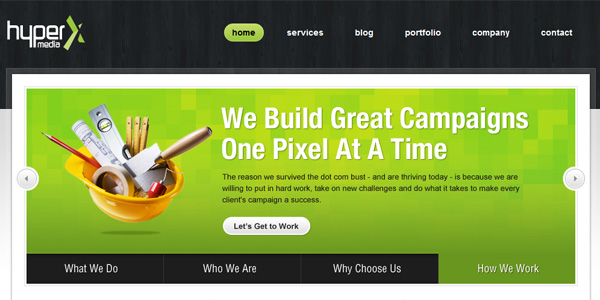 HyperX Media has a slider that looks simple yet functional. The structure is neat and sleek, double borders make the component more prominent and vivid, and the footer provides users with the aid panel that includes links to the other slides.
Doopsuiker Poppies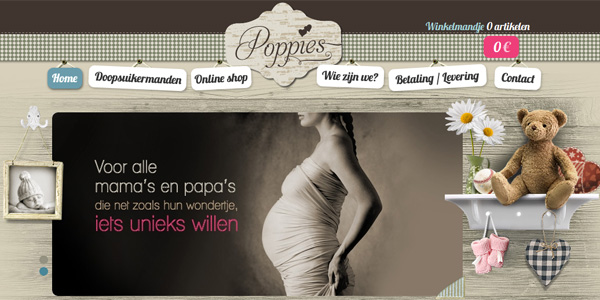 Doopsuiker Poppies' slider works well with the whole environment. Surprisingly, it has a pretty plain design with no decorative elements at all, yet this only benefits it, allowing providing users with comfortable experience. In such a complex and intricate composition, this oasis of simplicity and straightforwardness is exactly what is needed.
Philadelphia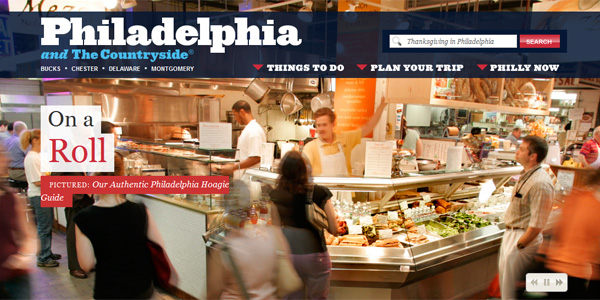 Philadelphia makes use of a huge responsive slider that puts the content to the center stage. As befit, the title and description are supported by the solid and monotone backdrop that offers an optimal contrast for great readability.
TravelBuzz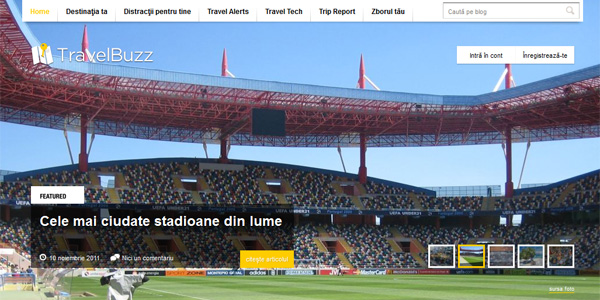 TravelBuzz slider keeps with the style and occupies the leading position. Much like the previous example, it is a responsive component that does not have any clear boundaries. Set of tiny thumbnails on the bottom acts as navigation, while semi-transparent dark canvas is used to hold and display the extra data.
Wearesignals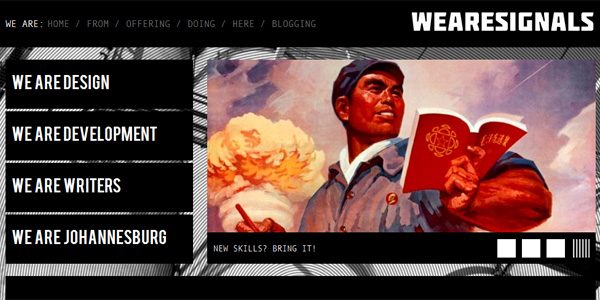 Wearesignals' primary slider takes up the two-thirds of the browser screen width and is adjacent to the accordion. The latter slightly lessens its importance, yet it still seizes the attention and directs it to the images. The interesting detail is pagination that is performed as a set of solid squares that have an original active state.
Malcolm Reading Consultants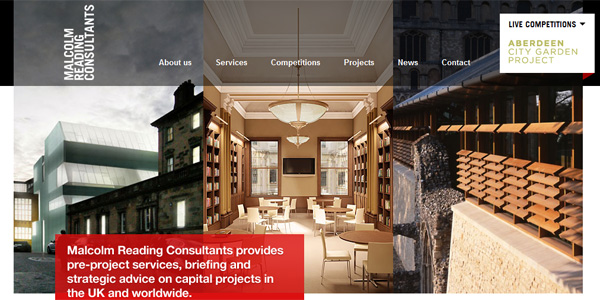 Malcolm Reading Consultants has a content slider that is broken into 3 even parts. Such solution enables to embrace more data simultaneously. It is also stretched to the top to act as a backdrop for header section. Red backdrop for displaying description is an excellent choice here.
Rottefella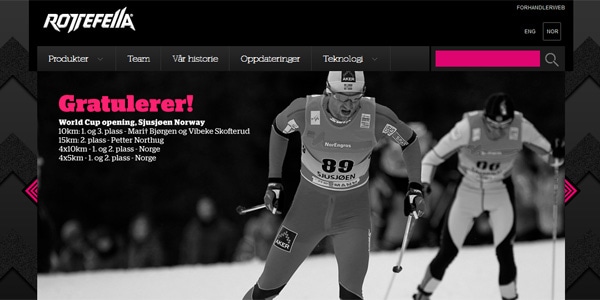 Rottefella's slider employs the same coloring as the main website, ideally complementing the aesthetics. Huge bold titles look prominent and distinctive thanks to drastic pink shade. Darkened images allow the main text on the left to be easily readable and scannable.
Jax Vineyards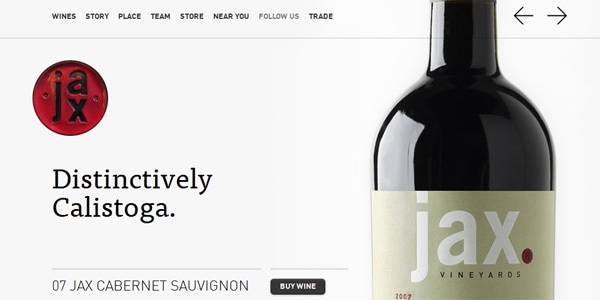 Jax Vineyards' slider does not have much to boast of, yet it certainly looks elegant and stylish. The transparent backdrop makes the component an integral, almost inbuilt detail of the composition. Ultra-narrow arrows on the top may look a bit seamless; however, they fit like a glove.
relogik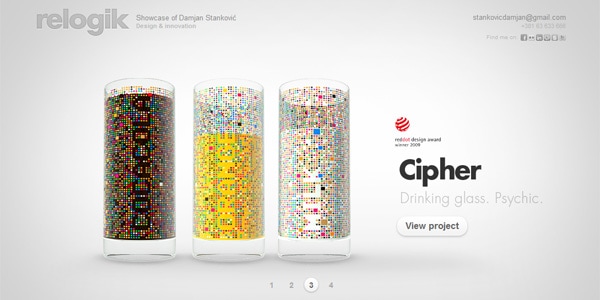 Relogik's slider does not break away from the whole theme line. Grayish coloring makes it look more elegant. Although gradient style CTA is too small for such area, yet due to a ton of white space, neat arrangement and scarce amount of text it does not get lost.
 Design Royale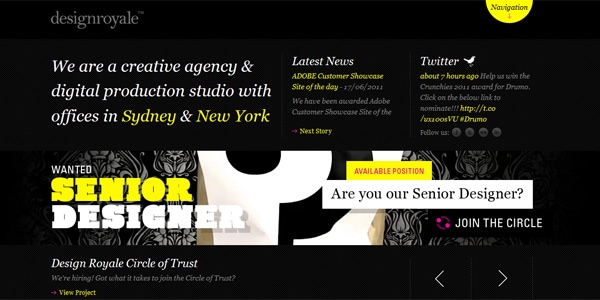 Design Royale has an ultra-narrow slider that barely excels from the overall content flow. This is not a standard solution, yet it has its benefits. The navigation is straightforward, and nothing distracts the user attention from images and description.
Like what you're reading? Subscribe to our top stories.