Seobase Review: SEO Tools for Rank Tracking & Keyword Analysis
An online data tracking program with a penchant for comprehensive reporting, SEOBase proves itself to be an invaluable tool for online business owners looking to streamline and compile data for the purpose of upward growth. SEOBase provided software allows for a compilation of data which can shed light on things like organic traffic mapping, commonly known and used keywords, and growth potential. With many businesses going digital, this information is vital in a new and growing industry.
With the state of the world being what it is, consumers are home and using their devices more than ever before. The competition for online products and services is a fierce battleground that strives and thrives on information. Now more than ever, the drive to establish a  business presence in the online realm is furthered by the need to grow with the times. Social media, commonly used search engine phrases, and ad information gathered from day-to-day internet use is among the most effective information a business can use to establish a need and gauge a common experience for the average user, and that's where SEOBase really shines.
SEOBase At Its Core
Like we briefly touched on, SEOBase stands as one of a few completely online data gathering programs which go on to report vital information to businesses looking to expand or grow their online business.

Armed with the knowledge that growth comes from well-informed data, SEOBase customers are provided a compilation of competitive and user-based information that aims to determine a business' baseline in the hopes of also isolating opportunities for growth and the potential for improving the performance of the specialized website.
With this effort in mind, SEOBase offers packages that can include up to 5 make-or-break features that can be used by their subscribers. The features included in each package are strictly intended to streamline and optimize traffic and the use of websites involved. Once the analysis is complete, the focus then changes to promoting growth organically, isolating the most effective traffic sources, and ensuring the best-listed keywords for growth in the future.
SEOBase Features
Features offered by SEOBase are formulated to track data and compile the information into easy-to-read reports to help in the upward growth of its user's businesses.
No-Code Email Template Builder
With Postcards Email Builder you can create and edit email templates online without any coding skills! Includes more than 100 components to help you create custom emails templates faster than ever before.
Start Free
1. Rank Tracking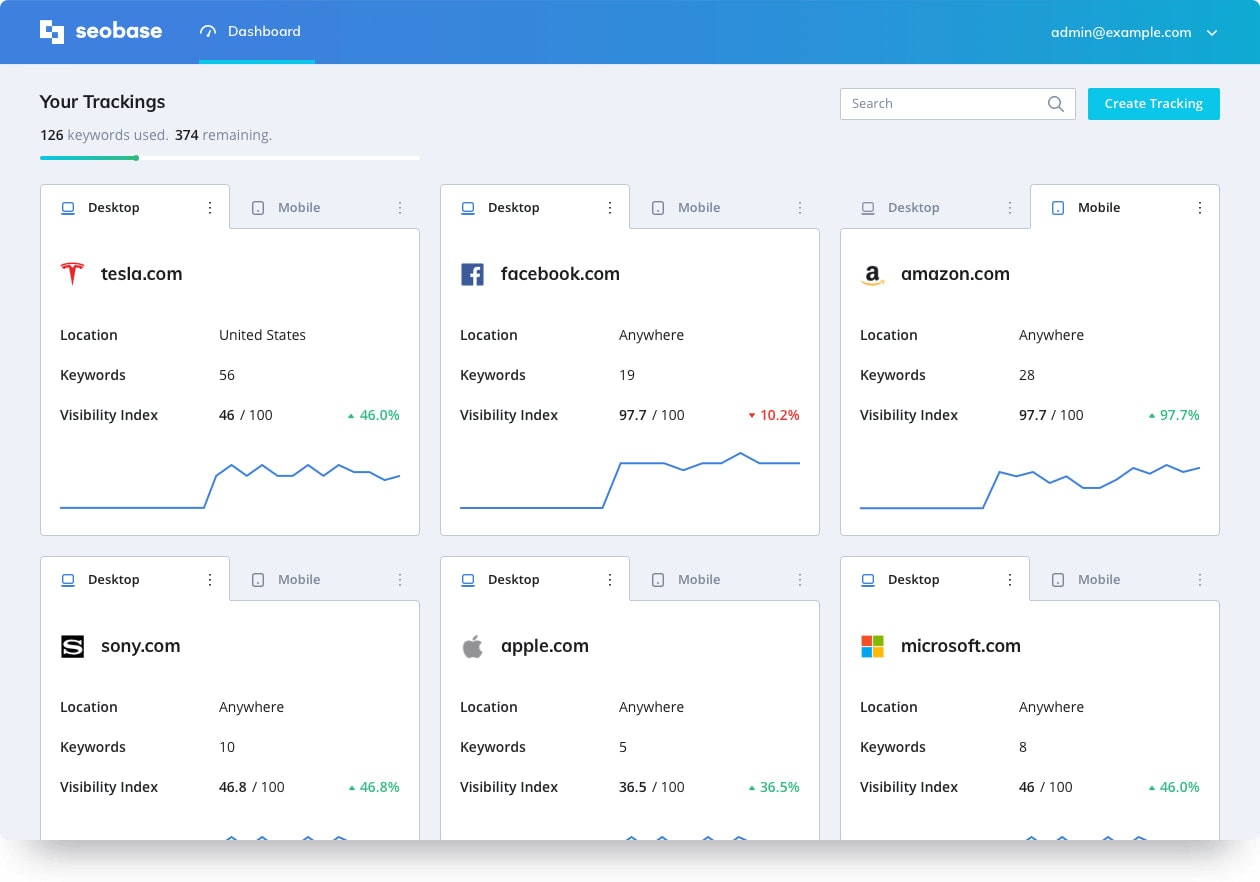 Rank tracking is a feature that offers an in-depth look at metrics plucked from search engine performance data. Rank tracking being used in this way compares the efficiency of business advertising and how often your website can be found in a basic search.
SEPBase offers rank tracking with the ability to differentiate desktop versus mobile traffic which can make it that much easier to decide what can better promote your business in the online space. Additionally, the time frame aspect of this feature allows for a complete look at changing trends and needs of your viewers.
2. Keyword Management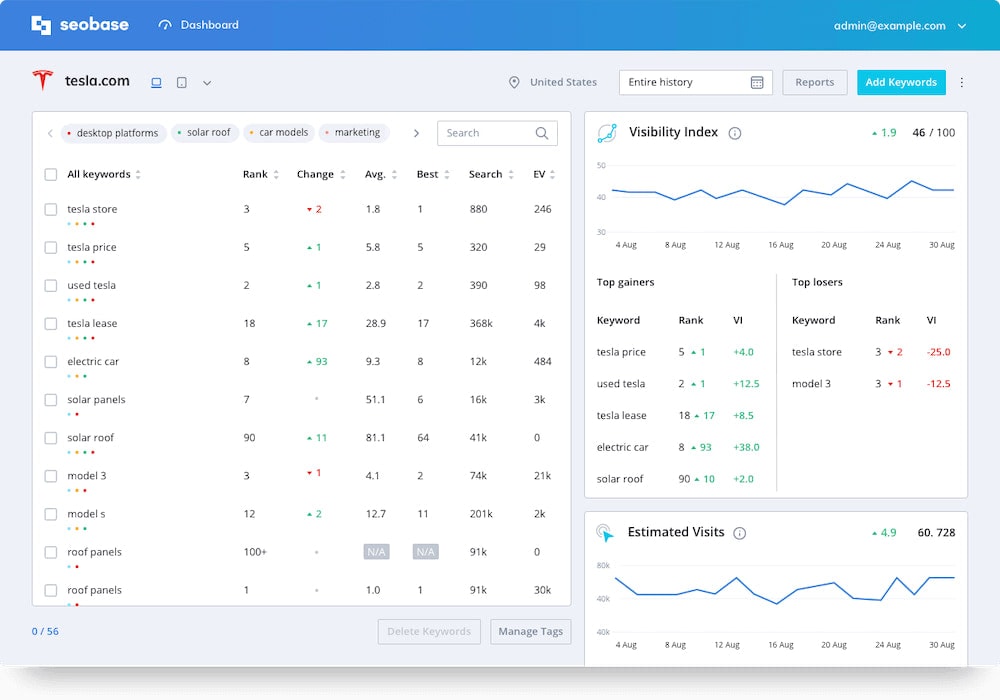 Based on organizing data, Keyword tracking and management is, at its core, the art of monitoring the frequency of occurrence in specific terms having to do with a product or service.
With the information this feature provides, a business can better understand the efficiency of a search term and how they can change the terms they use to promote their business, leading to upward growth. This feature, like many others on this list, can change depending on your tier of subscription, but the higher levels also include URL ranking and more.
3. Tag Management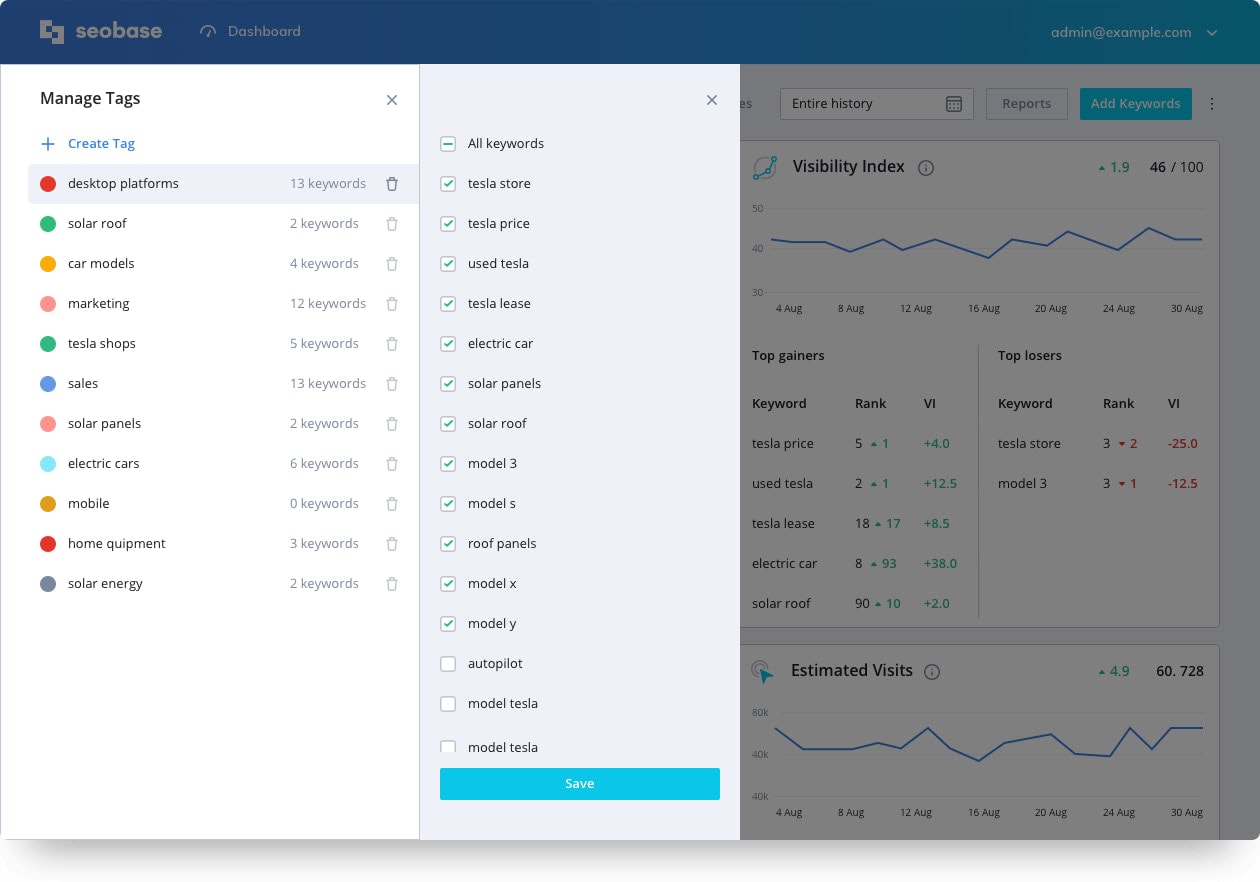 Going hand in hand with Keyword management,  tagging keywords allows for a business to better organize their keywords for the purpose of easier viewing. Different options for colored tag categories make it easy to find and recognize predetermined types of keywords, which can help map the mobility and activity of the trend changes in those terms.
4. User Management
User management is a feature that allows for the addition, subtraction, and overall management of users available to your project. Subscriptions can vary in terms of how many users can be added to a project, so the ability to make changes and specify roles in one place makes for an easier and more stress-free management option. Teams are important, and having the best person for the job can make all the difference.
5. Easy Reporting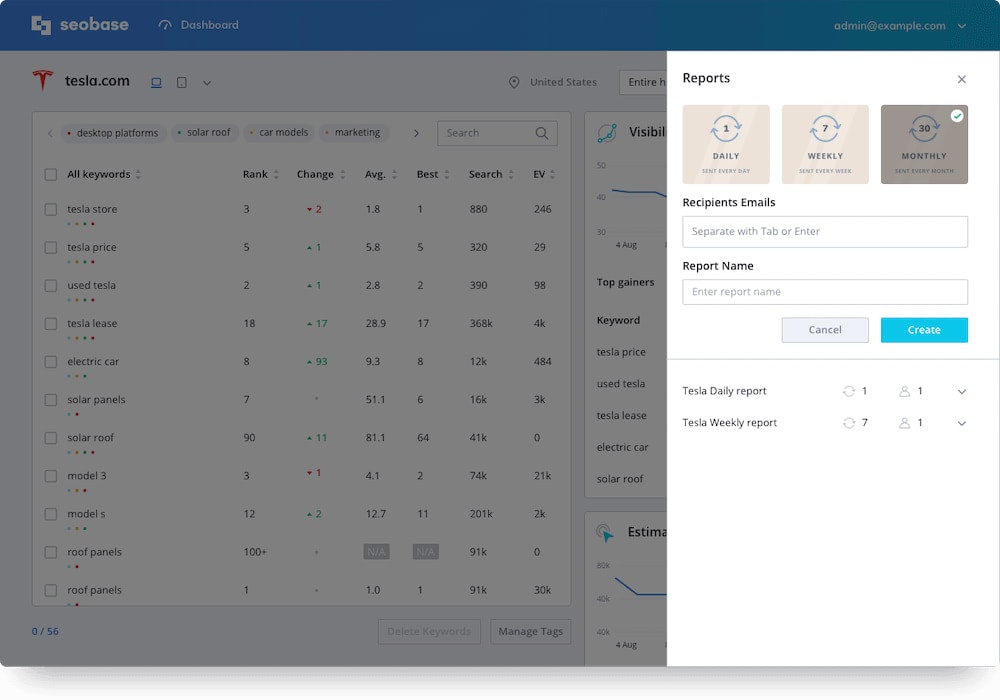 Gathering information is one of the primaries focuses for most SEOBase features, but really understanding the content can be tricky. The Easy Reporting feature streamlines the information gathering process and puts it into an easy-to-understand viewing platform.
This option provides the user with availability and viewability of all affected areas and allows for comprehension across the board. In addition, the user interface allows for multiple-person sharing, which makes it easy to collaborate with a team.
SEOBase Subscription Options
Because business needs are so varied, the subscriptions available to you as the user are wildly different to cater to different needs.
As it stands, the four subscriptions currently offered by SEOBase are equally varied in cost and packaged features.
Depending on your business needs, the free version of the subscription can offer a trial period through which you may decide to upgrade. It includes a bite-sized sample of the features listed above, one WordPress monitored website, 3 keywords attached, and similarly pint-sized portions of the content. For the right setup, this may be a good way to go, but mostly acts as an introductory plan.
The standard and most common tier is the basic package. Priced at $7 a month, and a slight discount if billed annually, the basic package includes information analysis for up to 50 keywords and 5 websites. This tier includes up to 2 additional team members. This package also includes tag management, complete data reports, and desktop and mobile device support as well.
The premium tier of service is a little costlier than the previous two, averaging at a $27 monthly average cost. This cost, like with most plans, changes with a yearly subscription and ends up at $22 monthly if billed by the year. Premium includes all perks included in the less inclusive plans and more. Subscribers with up to 50 websites, requirements for up to 500 keywords, and the need for 5 team members for support will have no issue in the premium service, and customer support is included.
The last tier is the Professional package. With the cost sitting at $97, ($78 if billed annually) this subscription offers a whopping 300 websites, 3000 keywords, and 30 members limit. This tier includes premium customer support and all other SEO tools for the base cost.
Extra Information
As it doesn't cost, a subscription to the first tier (free) doesn't ask to put a payment method on file. The need for a credit or debit card may be asked if upgrades or changes to the service are made, but those additions can be found in account settings in the main SEOBase dashboard.
Auto-renew is the general policy for all SEOBase packages. Changes in services, contact information, and payment methods can be changed at any time. Deletion or postponement of the account can be done at any time throughout the billing cycle.
Invoices are auto-generated and are available in account settings for all purchases and changes.
To Finish
Based all around the globe, SEOBase offers a comprehensive look at a user's website from a business perspective. They offer incredible insights into functionality, needs, and potential for further growth. Customer support is included with all sold packages and help is never far with the team of dedicated and customer-friendly support staff.
Quality is at the heart of everything SEOBase does, the streamline behind their service allows for thousands of happy customers across the world to weed out pitfalls in their websites and services to promote growth in an industry marked by fierce competition.
Like what you're reading? Subscribe to our top stories.