Get Real-Time Weather Data for Your Website with Weatherstack API
Provide an extra element that will delight, inform, or help users with live weather information right on your website. It's easier than you think with Weatherstack API.
Use the tool to retrieve instant – and accurate – weather information for any location in the world using a lightweight JSON format.
Want to know more? Here are the details of Weatherstack and how to make it work for you.
What is Weatherstack?
Weatherstack is an API-based tool to help you provide real-time data and weather information on your website. You can use it anywhere in the world – when I visited the website it knew my current location and included accurate weather information – to help enhance user experience on your website.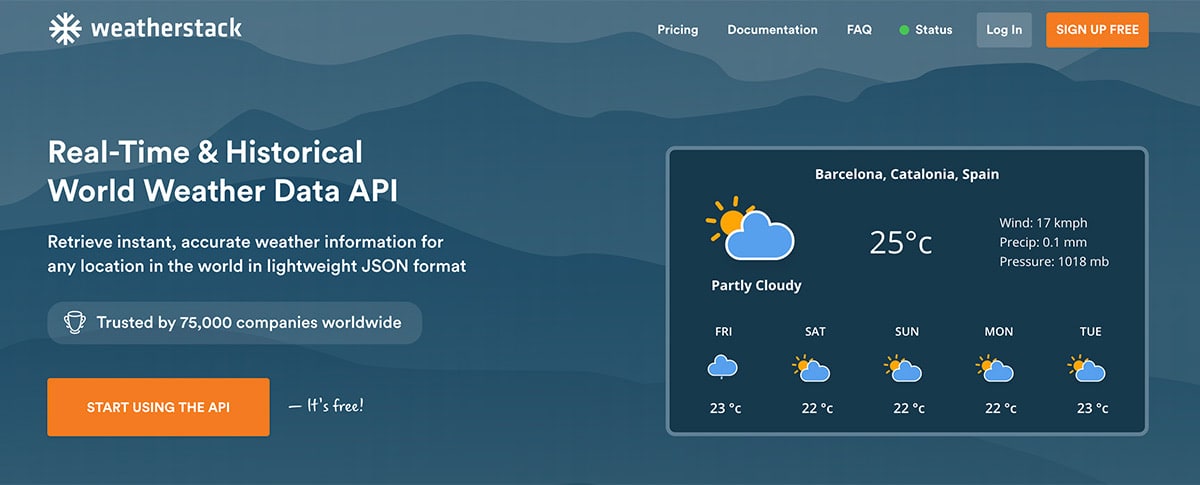 The API provides global weather data, history, and forecasting. It's all from reputable sources so you can count on it to be accurate and reliable. Weatherstack actually licenses data from some of the largest weather stations in the world to ensure consistency and reliability.
The best part for you might be that it's totally developer-friendly with plenty of documentation. Once you have an API key, setup is straightforward and can be done rather quickly.
What Does It Do?
Weatherstack uses location information and weather data to provide real-time, historical, and future weather information for users.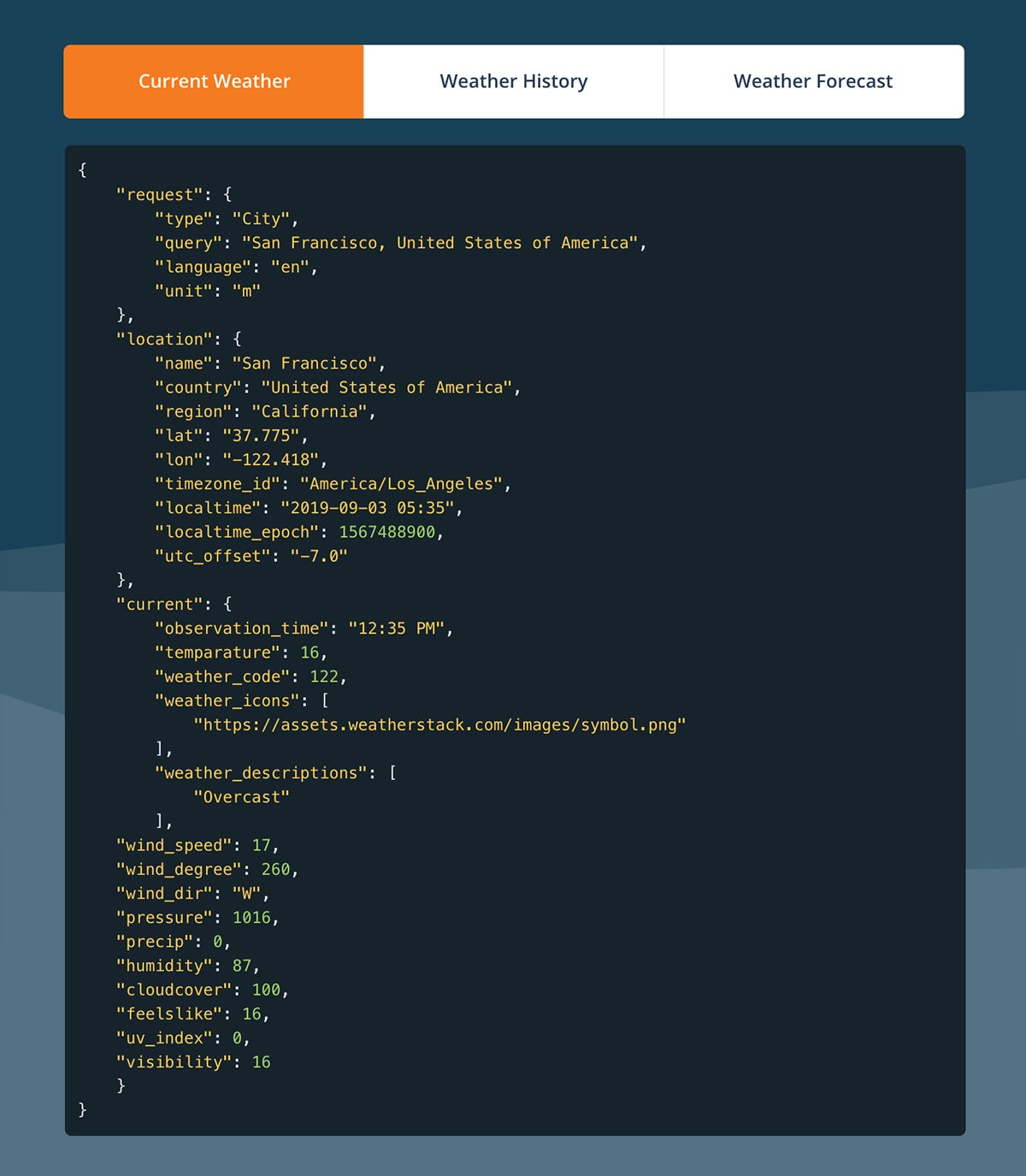 The tool provides accurate data for any geo-point in the world.
Get:
Real-time weather data
Historical weather information
Weather forecasts
Location autocomplete
Bulk API endpoints
And once the code and API are installed and working, you don't have to do anything to display this information on your website. It's a great compliment for all kinds of content, including event information, travel, and so much more.
Key Features
For such a simple concept, Weatherstack API is packed with features to make it a robust and interesting tool.
It's a scalable service. Even if your website needs are minimal now, you might need to grow into higher usage. Weatherstack can grow with you because it is powered by the strength of the apilayer cloud infrastructure, a system some of the world's most popular real-time API services are running on, making it highly scalable and flexible at any step of the way.
Other key features include:
Nearly 100 percent uptime rate
Speed of information delivery that won't slow your website down
Live updating all over the world
Free signup and API access
Extensive documentation that makes the tool easy to use and deploy
Flexible location lookup by city or region, ZIP code, IP address, or latitude and longitude coordinates
Top (bank-level) security with industry-standard 256-bit HTTPS (SSL) encryption
Used by businesses (large and small) as well as individuals for all different types of websites
Pricing
Weatherstack is free to use at the most basic level, which includes up to 1,000 calls per month. You don't need a credit card to get started and include real-time weather data on your website.
If you need more information or have higher traffic volumes, Weatherstack does offer more robust options with affordable paid plans.
Standard is $9.99 per month and allows for up to 50,000 calls per month, real-time weather, location lookup, HTTPS, astronomy data, hour by hour data, and full historical data.
Professional is $49.99 per month and includes everything in standard plus up to 300,000 calls per month, 7 days of historical data, bulk queries, and support for 40 languages.
Business is $99.99 per month and includes everything in professional plus up to 1 million calls per month
Custom pricing is available at the enterprise level and there are discounts for annual prepayment.
Conclusion
If you need to include any type of weather information as part of your interface design, this tool is worth a try. It's been used by more than 75,000 companies around the world (so you know it works) and connecting is easy with all the documentation from the company.
The best part is that forecast and weather information can help you better connect with and establish a loyal user following. Get started today with free features to see if Weatherstack will work for you.