Online Appointment booking systems: How do you choose the perfect one for your business?
Over the last decade, it seems that everything has been happening online, doesn't it? People like the feeling that they are just a few clicks away from whatever they need. With that in mind, if you are a business owner, you should know how to take advantage of that.
One of the newest trends is making all kinds of appointments online. Why? Because it is simple, easy, and fast. So, if you run an appointment-based business, a good online booking system is an absolute must.
There are two ways to manage your appointments online. You can either build an appointment website from scratch or you can use a customizable booking system.
And while the results are quite the same, a good booking system will make this process a lot easier. However, it all comes down to choosing the right one.
5 Things that Make a Good Online Booking System
#1: It Has to Be Mobile Friendly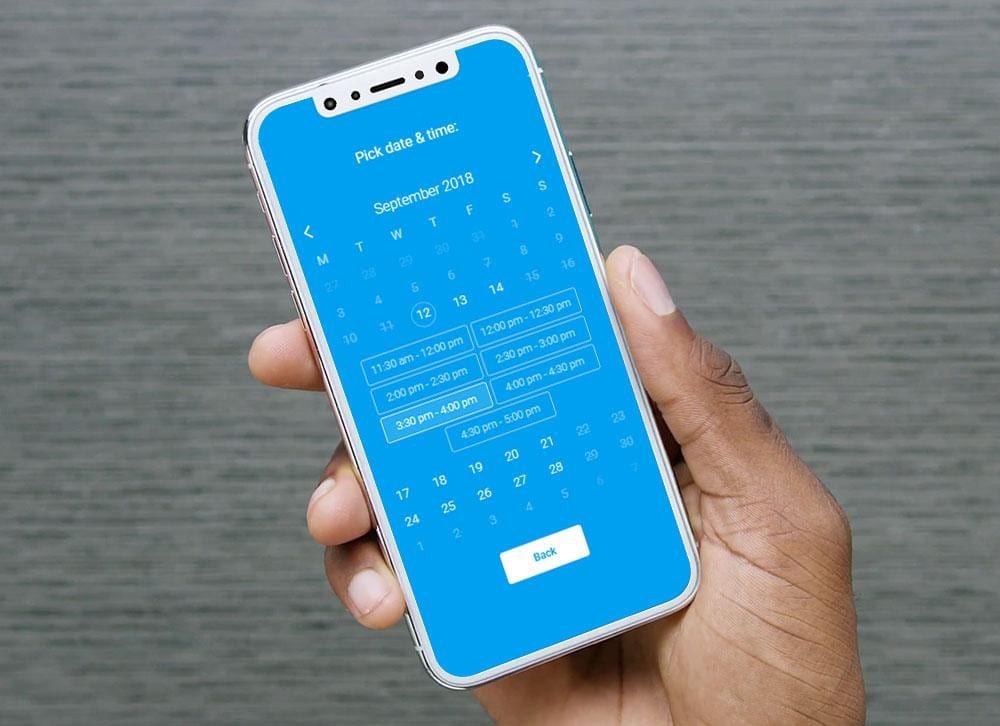 The whole point of making appointments online is to make the process as easy and quick as possible. With that in mind, you need to count on the fact that many people will want to schedule appointments on go.
Whether they are on a coffee break or they catch a minute of their time during a walk, people will often want to use their phones to book an appointment.
No-Code Email Template Builder
With Postcards you can create and edit email templates online without any coding skills! Includes more than 100 components to help you create custom emails templates faster than ever before.
Try Free
Other Products
If you want that to work successfully, you need a mobile-friendly software that will make it possible for people to schedule appointments anywhere anytime.
#2: It Has to Be Easy to Use
When talking about software, you always want to make sure it is quick and intuitive. Basically, everybody who uses it needs to know how to use it without trying too hard to figure things out.
If a client needs to "learn" a software to be able to use it – you will lose them. It's as simple as that.
#3: It Has to Automate Appointments Management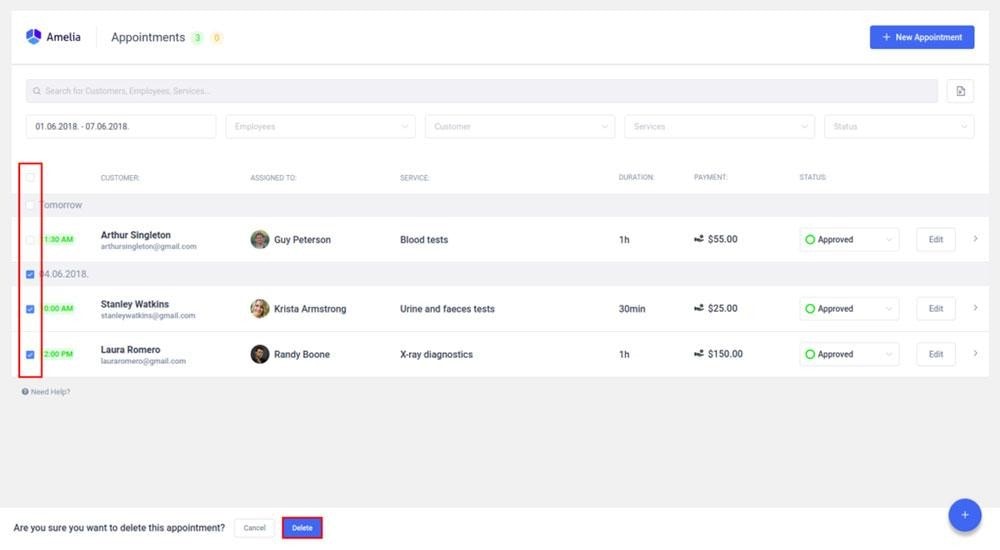 Making an appointment is just the first step. However, the more important part is what comes after that – managing appointments.
You need a software that will automatically send confirmations, reminders, and cancelation alerts. And integrate with standard private schedulers, such as Google Calendar.
Not only does it save you time, but it also saves you money you would have to pay to a person doing all these tasks. It also helps minimize the number of the clients who forget to cancel their appointment or who are no-show.
#4: It Has to Be Customizable
When talking about appointment software, having a lot of customization options is always a good thing.
After all, a software of this kind is basically just a foundation for your own brand. That means you need to incorporate your own design and style into it that makes your company recognizable.
Things like a company logo, specific company colors, and all kinds of familiar content make your brand stand out from the competition.
#5: It Has to Support Multiple Payment Methods
Now that we have mentioned it, you probably perfectly understand why it is important for the payment process to go as smoothly as possible. After all, if a customer has to go through a million of steps to send you money, they will probably just give up.
You need to do everything in your power not to lose clients due to little things like this.
Choosing an online appointment software that supports multiple payment methods will make the whole process much easier and faster and your customers will surely appreciate it.
Amelia – A Brand-new Automated Booking Specialist
Amelia is one of the most efficient and easy to use online appointment system out there.
It is a WordPress plugin that not only books the appointments 24/7 but it also manages them in the best way possible.
One of its biggest plusses is the fact that it is completely automated. All you have to do is install it, set it up, and your work is done there.
From that point on, Amelia will make the appointments for you, send automated confirmations, reminders, and cancelation alerts, and help you stay always 100% up to speed with your schedule.
You can set up your own calendar, check on the appointments, and manage them as well as your team in any way you see fit. And as Amelia integrates fully with WooCommerce, Google Calendar, and WordPress itself it can be smoothly embedded into your existing ecosystem.
Let's take a look at some of Amelia's most important features:
Search Interface for Bookings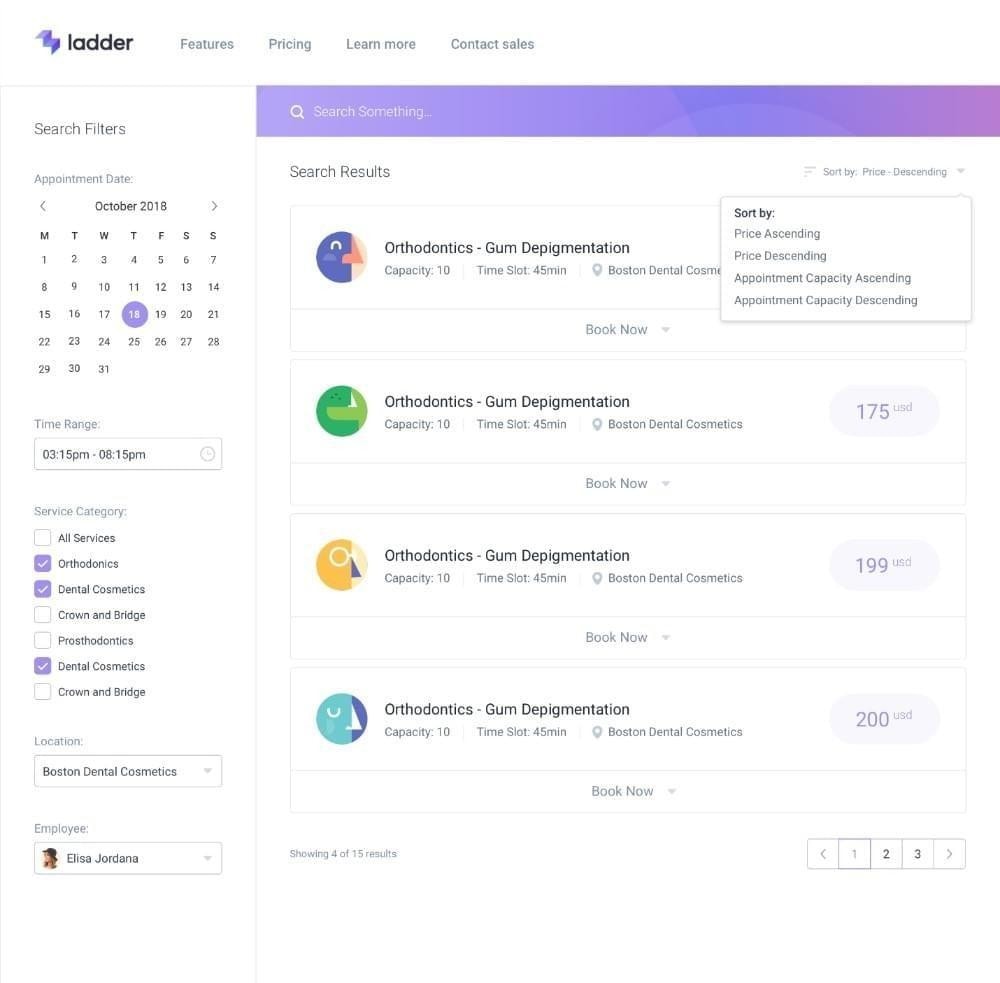 You can choose one or more filter criteria to find the service, time, and employee that best fits your needs.
Step-by-step Booking Wizard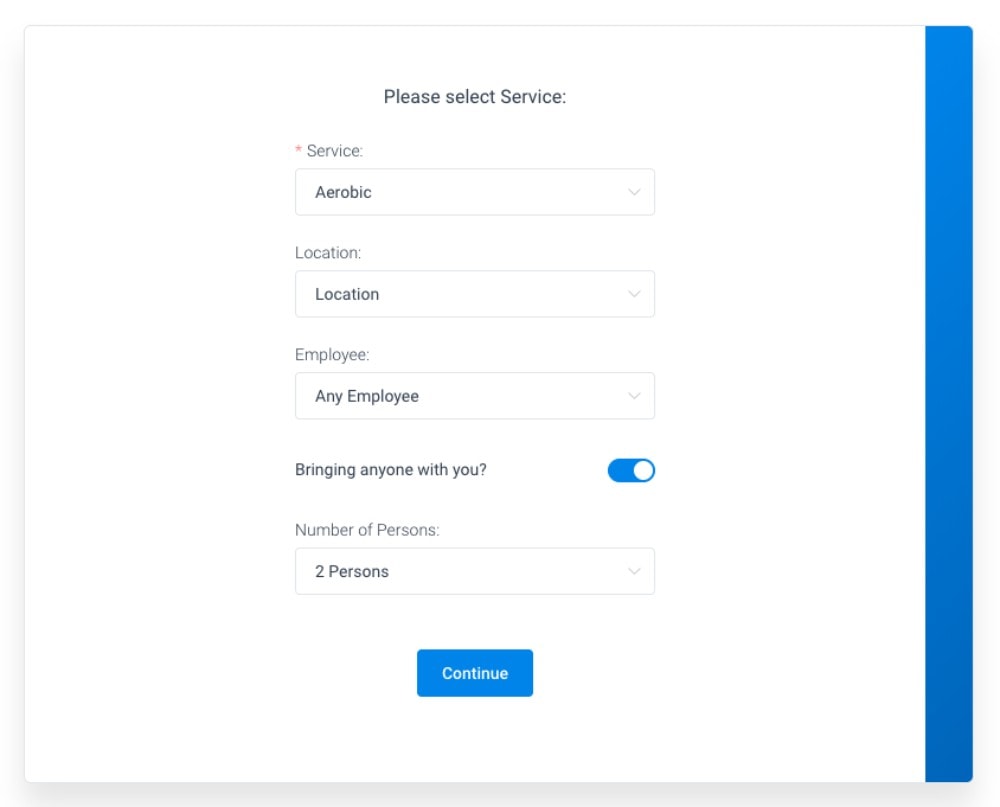 You can choose one parameter such as service, time, employee etc. at each step of scheduling your appointment.
Insightful Dashboard, Tracking, and Reporting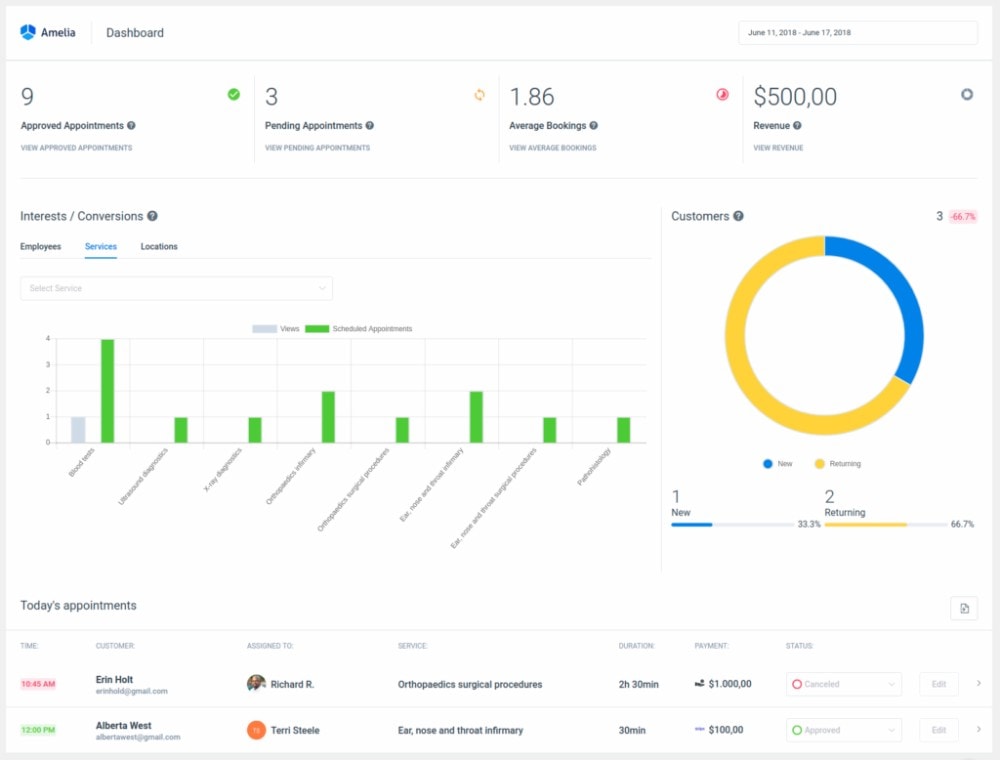 Stay informed about your business' performance at all time. Amelia keeps track and reports on all financial and conversion-related KPIs. You can check the dashboard for yourself through the back-end demo.
Set the Minimum Time Before Booking and Before Cancelation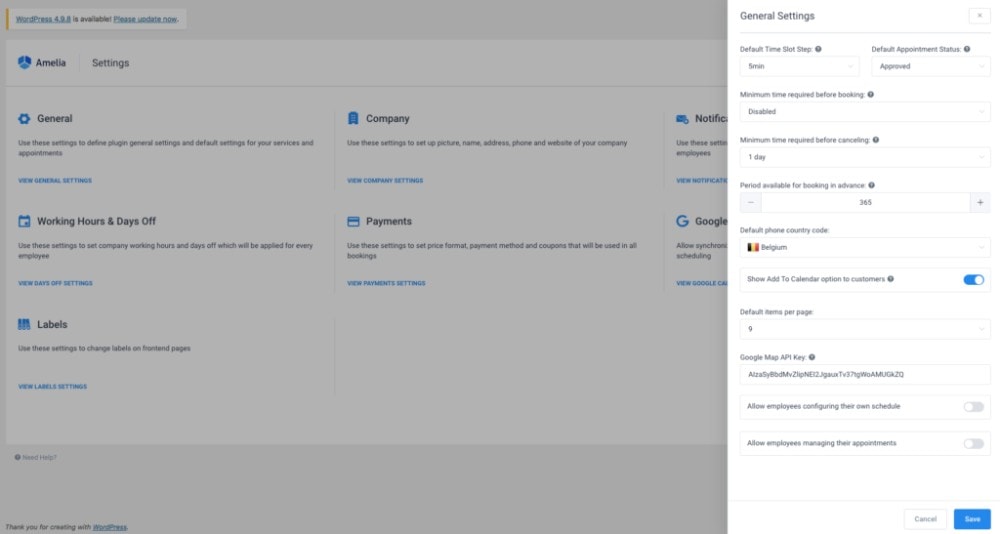 You can set the minimum time before booking and before cancelation in the way that best suits you and your business.
Automated Notifications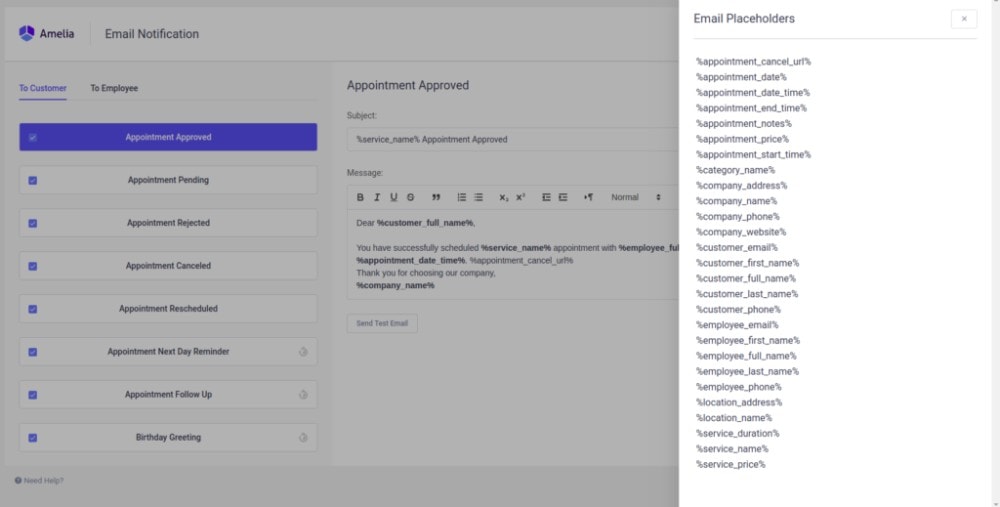 Automated notifications and reminders are sent to both the employees and the clients. Everybody will be informed in a timely matter about all active bookings, cancellations, rejected appointments, birthday greeting, appointment follow-ups etc.
Schedule Settings
You can set schedules for your business and for each of your employees separately. Enter your working and non-working days, business hours, holidays, adjust schedule individually for your employees etc. Each employee can sync his schedule with Google Calendar (with 2-way sync), and can be able to manage his own availability.
Multiple Online Payment Methods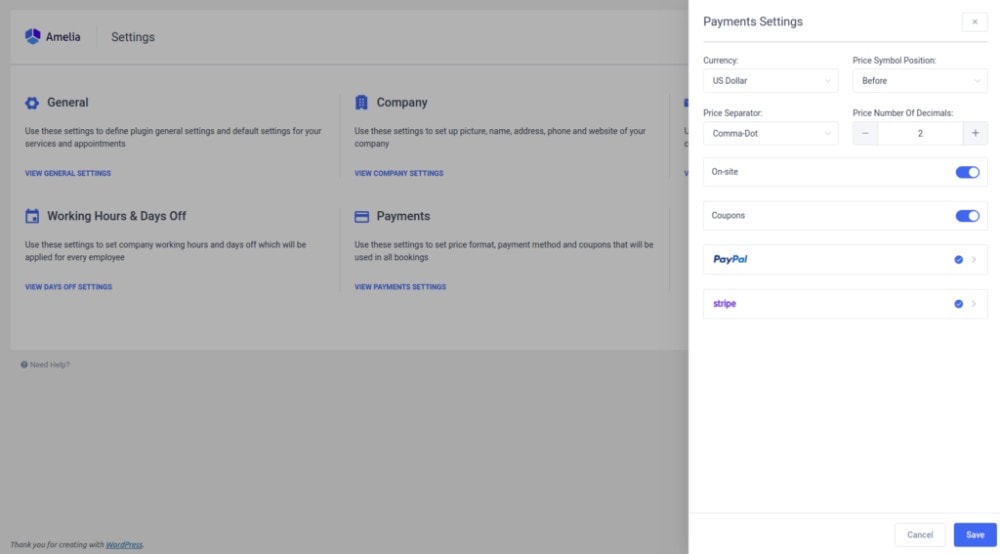 Amelia offers payments with the most popular payment systems in the world: PayPal and Stripe. Additionally, it natively integrates with WooCommerce, that brings multiple benefits: easy VAT/tax management, invoicing, and support for any payment provider that is integrated with WooCommerce.
Customizable Design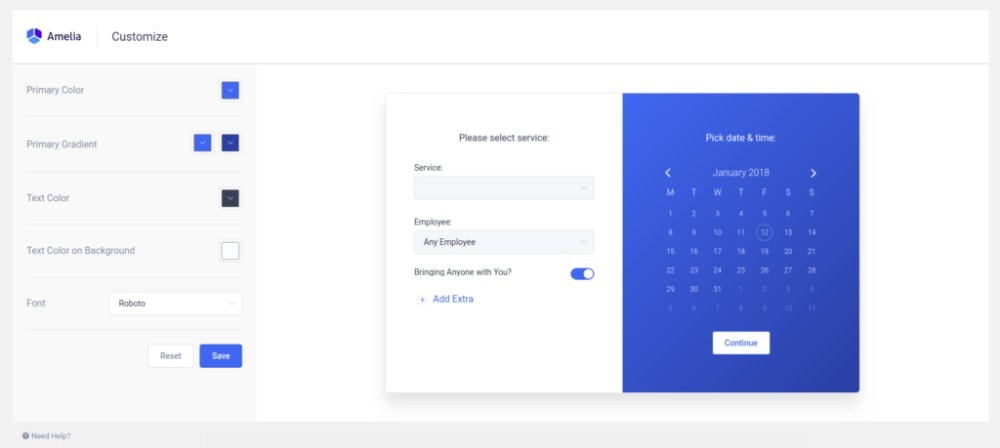 Customize the design of your online booking system according to your brand. Choose colors and fonts, and personalize the design to represent your company's style. Additionally, you can customize all the labels that will appear on the site's frontend, and add custom fields to the booking process.
Conclusion: Why You Should Try Amelia Now
If you want to stay on top of the market, you need to find a way to stand out from the competition.
Amelia is a great way to have the best online appointment system. It will save you both time and money, and it will help your clients book the appointments quickly and easily.
With Amelia, you will be able to schedule and maintain the appointments 24/7. Thanks to automated reminders, it will also significantly reduce the number of no-shows.
You can find out more about Amelia and all the benefits it will bring to your business right here.
Like what you're reading? Subscribe to our top stories.