Best Website Designs from France: The Citadel of Fashion and Art
France is considered to be the citadel of fashion and a cradle of numerous art directions and movements. Web artists, who live in such a fertile and inspirational environment, are destined to come up with original ideas, exquisite designs and matchless projects; and the burden of proof lies on the best French website designs that are presented in the list below.
French culture plays a significant role in forming creative minds. Whether you are studying fine arts from ancient, almost pristine Celtic and Roman periods, or medieval period with its Merovingian art, Carolingian art, Romanesque art or Gothic or just seek some inspiration in Modern period with its Impressionism, Post-Impressionism, Surrealism or even Pop art, it certainly has awesome, impactful, bizarre, thought-provoking and uplifting things.
Add to this lavish French Renaissance, Baroque, Classicism, Rococo, Neoclassicism and you will get an explosion mixture that gives you a burst of energy, which you just need to channel in the right direction. And Gaulish creatives know perfectly well how to curb it, so let's take a look at their masterpieces.
Best French Websites
Dior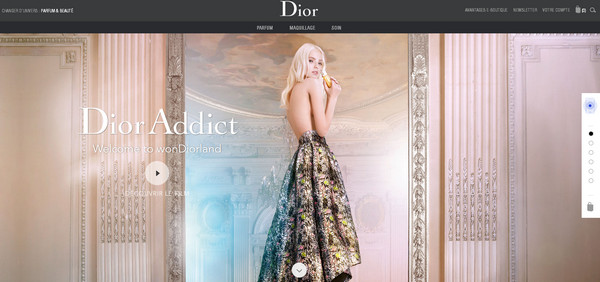 The team managed to give the website an elegant and refined appearance, using a gorgeous fashion photo, magnificent video, wonderful coloring, sleek typography and artistic touches.
Tissot T-touch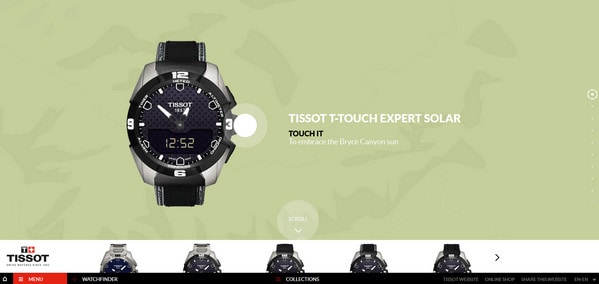 No-Code Email Template Builder
With Postcards Email Builder you can create and edit email templates online without any coding skills! Includes more than 100 components to help you create custom emails templates faster than ever before.
Start Free
The team goes for a quite advanced solution by incorporating several dynamic features that make promoted products look more desirable. Here, interactivity is professionally executed.
Quechua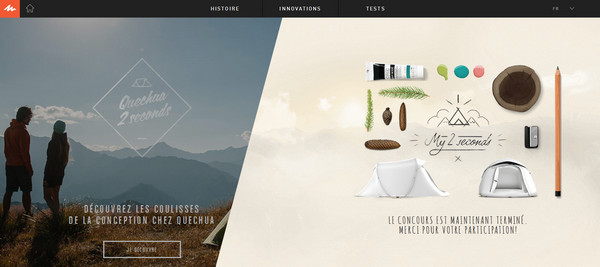 Quechua is famous for its unique and original website designs that, as a rule, meet current trends. The updated website also follows modern tendencies by incorporating a popular "hero" image mockup, subtle contour graphics and flat color scheme.
Brice Darmon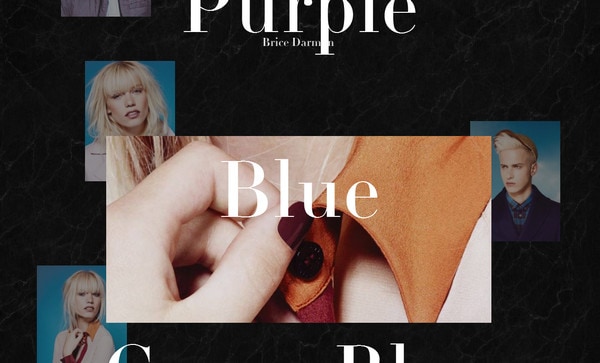 Brice Darmon is a professional photographer who owns a high-end online portfolio that certainly catches the eye. The front page is made intentionally out of balance in order to add an extra flair to the whole appearance and clearly highlight the works.
Jacob de Boer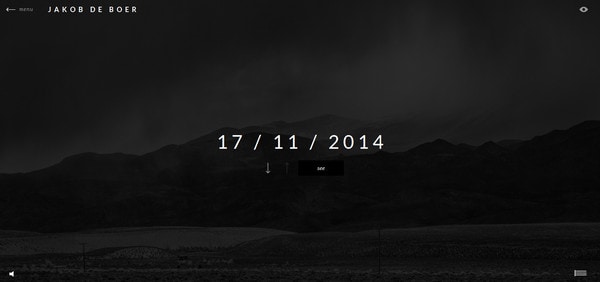 Much like the previous example, this is another matchless online portfolio that reveals works and reflects the strong personality of the talented photographer. The designer also opts for gloomier coloring in order to subtly emphasize the works.
New Jumo Concept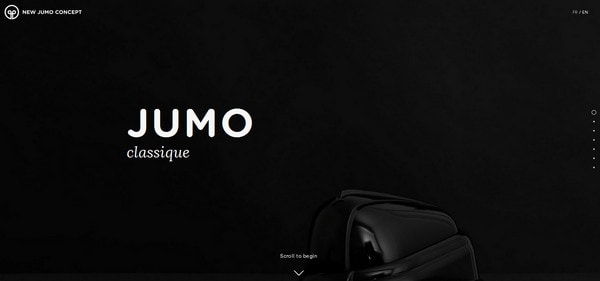 The eyes naturally flow through the website thanks to calm and pleasant color differentiation and a horizontal stripe layout. The front page features a vertical sliding, where each slide features a beautiful picture of the product.
Take Your Pulse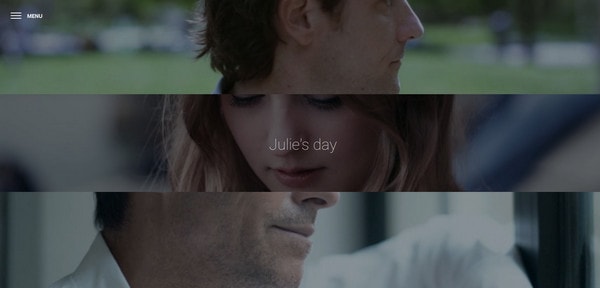 Take Your Pulse adopts a quite simple yet winning approach that involves incorporating images and massive complex navigation menu. The landing page looks splendid: A subtle "hamburger" button works perfectly well with a series of full-screen pictures and ultra-narrow font.
TWLVR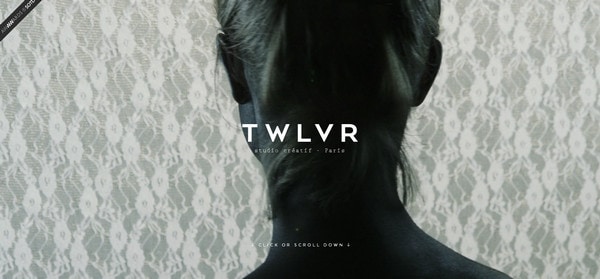 The "welcome" section looks extremely intriguing due to a creatively executed cinematographic background. The image with motion in tandem with complementary slightly enigmatic environment produces a strong effect.
Make Me Pulse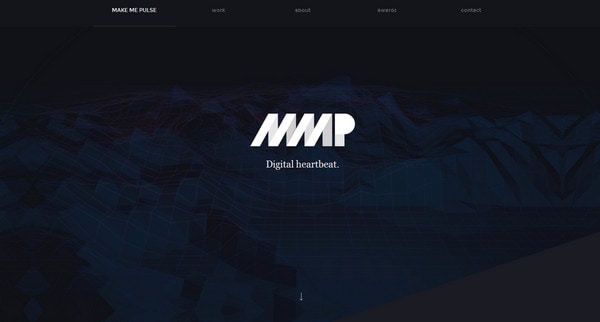 The team efficiently utilizes the notion of pulse, making it a part of the website name and a main tagline as well as trying to reflect its natural dynamics through interactivity by including a responsive 3D background and matching animation.
Celebrating Monogram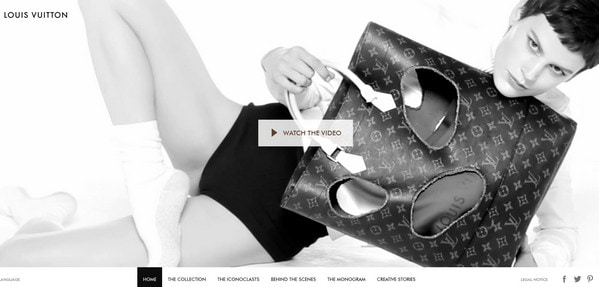 The website is made in the spirit of the brand, neatly establishing sophisticated and luxurious air inherent to this fashion house. The front page greets regular visitors with a series of short videos that draw attention.
Many Rivers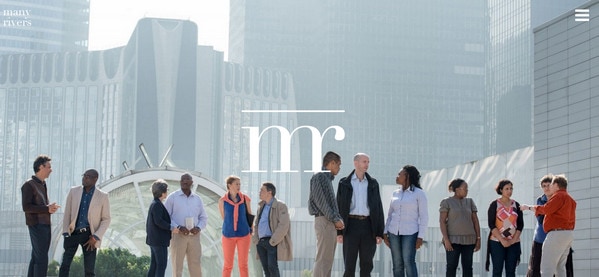 Wonderful two-tone coloring, high-quality photos, flat canvases, nifty graphics, urban vibe and some catching dynamic effects give the website a quite refined look spiced up with a calm, businesslike atmosphere.
Piaget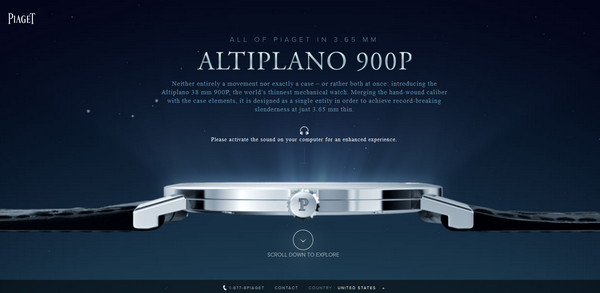 Piaget instantly impresses on their visitors a sense of delicacy and dignity. The mind-blowing highly-realistic mockup of the product placed in the proper surroundings is a prime focus.
Bottega Romana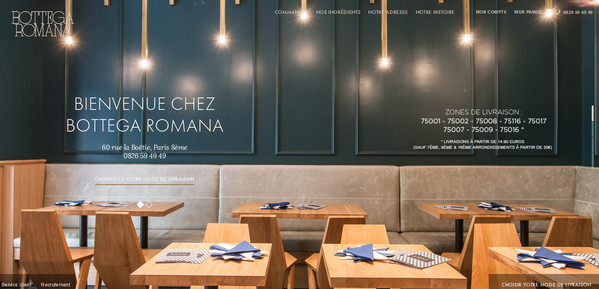 The carefully-selected choice of types in collaboration with professional shots and images of delicious meals gives the website an intensity of positive emotions as well as establishes a pleasant and appealing atmosphere.
Nerisson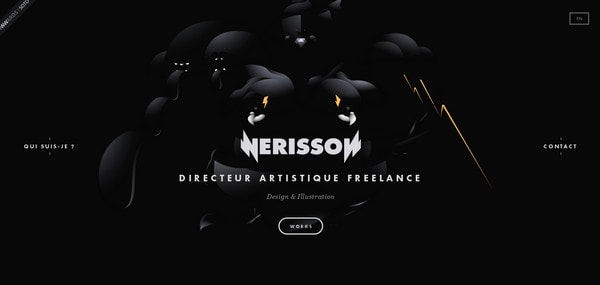 Nerisson radiates brutality and creativity. The dark appearance coupled with splashes of warm color, white type and geometric style tagline pull the design together and provide powerful aesthetics.
Paris La Nuit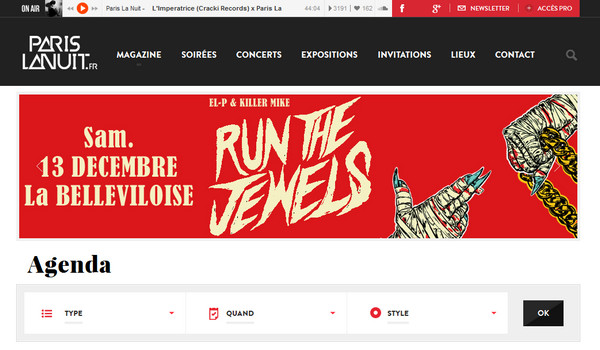 Paris La Nuit has successfully achieved a modern look thanks to a wonderful color scheme, lavish renderings, artistic touches and balanced blog-style layout.
Econocom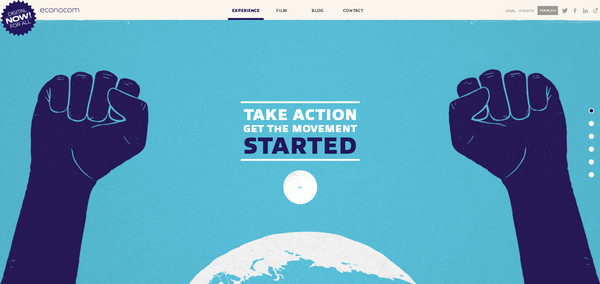 Econocom is another professionally-crafted visual storytelling project powered by flawless illustrations. Each section is bolstered by tiny subtle effect and animation, to say nothing about the slightly grainy yet awe-inspiring complementary drawings.
30,000 Sourires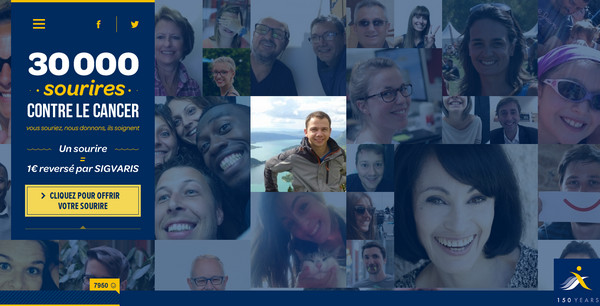 The team is managed to showcase dozens of smiles of the people in non-intrusive manner, through using a grid-style layout that makes everything look balanced and harmonious. The smooth bluish coloring and densely packed content also enhance the design.
Orange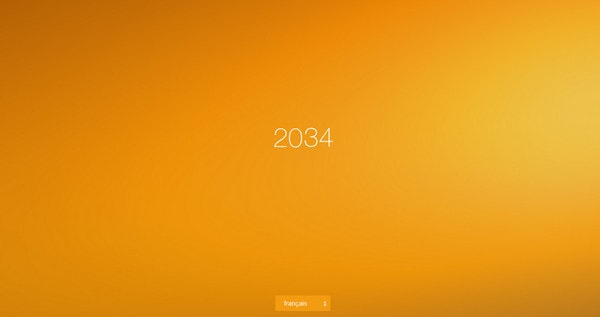 The latest version of Google Chrome enables the website to demonstrate its whole potential; so that if you want to feel the unique and powerful experience then switch to it.
Velvet Hammer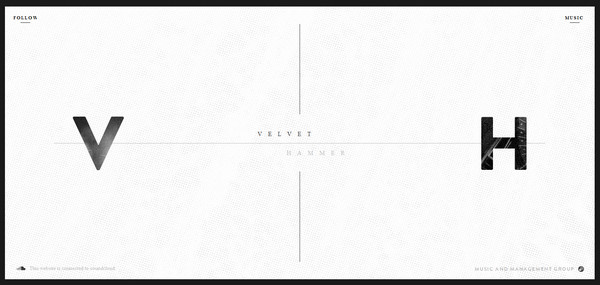 Although the website offers visitors a conventional layout with nothing extraordinary. However carefully executed textured backdrops, wonderfully dished up monochromatic images and a classic color scheme create a distinct impression.
Guillaume Bouvet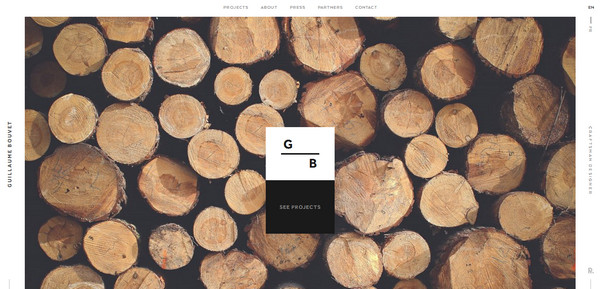 The website provides the audience with a marvelous user experience. Here you find loading page animations, visually-appealing effects, interactive elements, and of course, carefully executed design.
Dagobert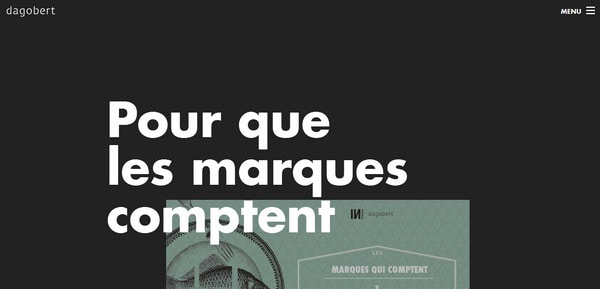 The team opts for a more simplistic look thereby helping the website with a neat, accurate and subtle appearance to stand out from the crowd. It also features an optimal balance between copy and design.
Immersive Garden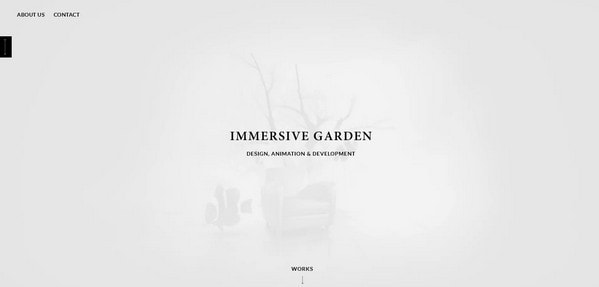 The website creates enough esthetics to reinforce the main tagline "Design. Animation and Development," vividly demonstrating that the agency is well versed in this sphere.
The Korner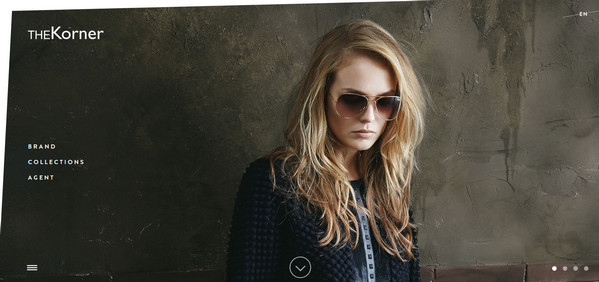 The Korner has a first-class website that fascinates by its interactivity and harmonious symbiosis between images and content.
Spintank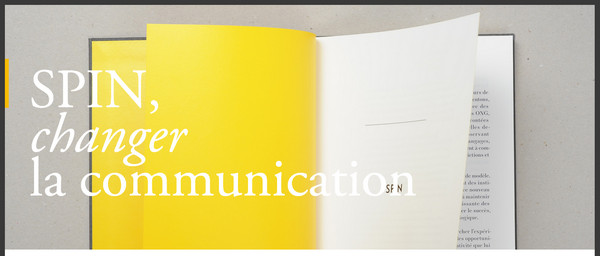 The design naturally moves visitors' eyes from top to bottom, revealing portfolio pieces and some key moments through design tricks. It features an optimal mix of lush visuals and clean flat elements.
SOS Mobiles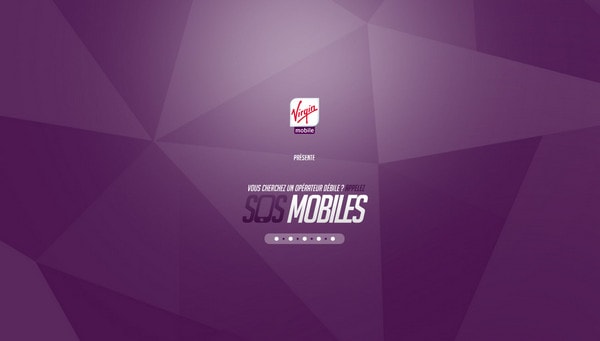 A polygonal background in cooperation with a classy violet color palette as well as some fantastic renderings and appealing videos certainly charges the website with creativity.
Conclusion
"Sophistique and extraordinaire" as the French would say could define this collection of website design projects, and this is entirely true. Gaul web projects shine with stately elegance, ingenuity and cleverness.
Like what you're reading? Subscribe to our top stories.