Optimize Conversions with GetSiteControl
GetSiteControl is a web-based solution that can help you increase website engagement. The tool allows anyone to quickly add widgets such as subscription forms, contact forms, chat widgets, social media integration and more to their websites.
Launched in 2014, the tool is based on years of experience in user interaction. Unlike other tools, built to address a problem, the conversion problem, GetSiteControl was designed to avoid the problem altogether by providing easy conversion optimization functionality out-of-the-box.
Built with a focus on flexibility, the team behind GetSiteControl managed to create a robust, yet distraction-free tool. GetSiteControl is not the usual all-in-one bundle. It's a single app with five distinct functionalities. You won't get the noise that comes with similar services. Instead, you'll get all the practical option you'll ever need, packed in a streamlined and cohesive package.
The Widgets
The seven widgets available with GetSiteControl are more than enough to help keep your audience engaged. Whether you are a beginner or a pro, a blogger or an entrepreneur, GetSiteControl is an excellent addition to your toolset.
Subscribe Widget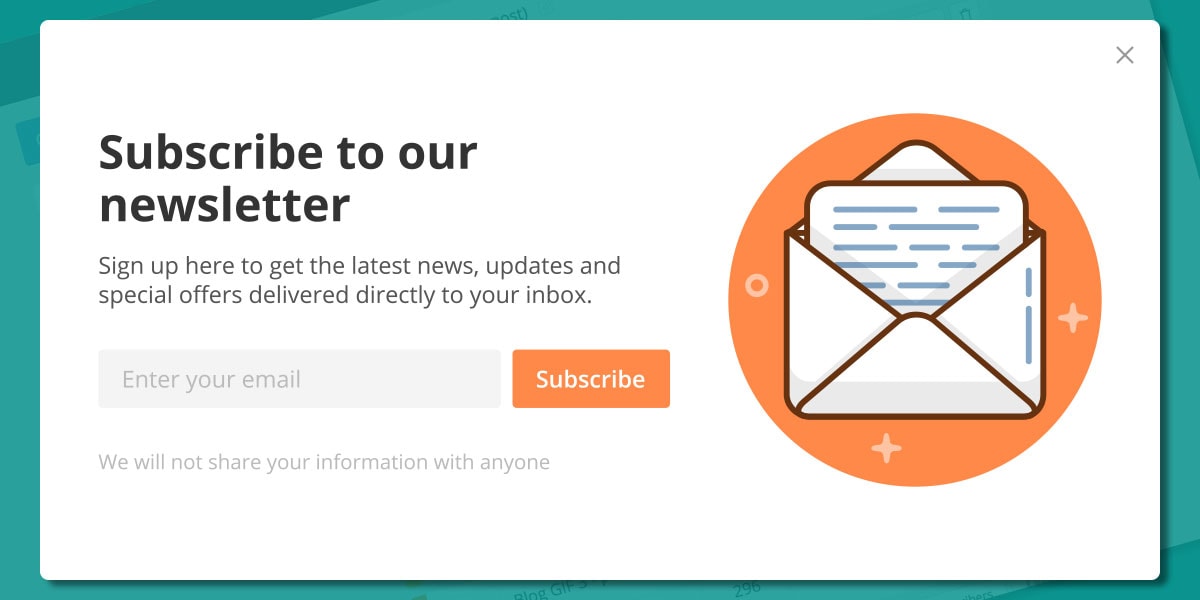 The subscribe widget, a must have for any website, will help you build up a subscriber email list. The widget works with any email marketing services you can think of.
No-Code Email Template Builder
With Postcards you can create and edit email templates online without any coding skills! Includes more than 100 components to help you create custom emails templates faster than ever before.
Try Free
Other Products
The subscribe widget is so much more than a placeholder for your favorite services. For example, after subscribing, users can be redirected to a thank you page where you can share a bonus, deliver a thank you message or provide an onboarding experience for subscribers. The subscribe widget also features an autoresponder. More on that later.
Contact Widget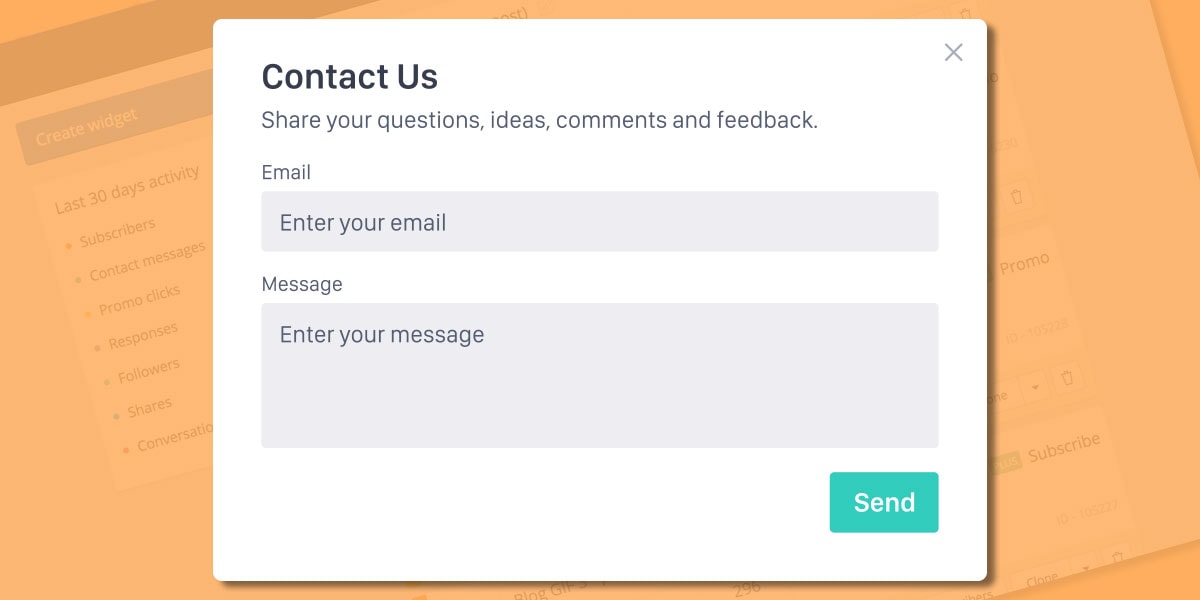 The contact widget provides a user-friendly channel of communication between you and users. As expected, the widget works with most email marketing services, and, just like the subscribe widget, features a thank you page redirect and autoresponder.
Promo Widget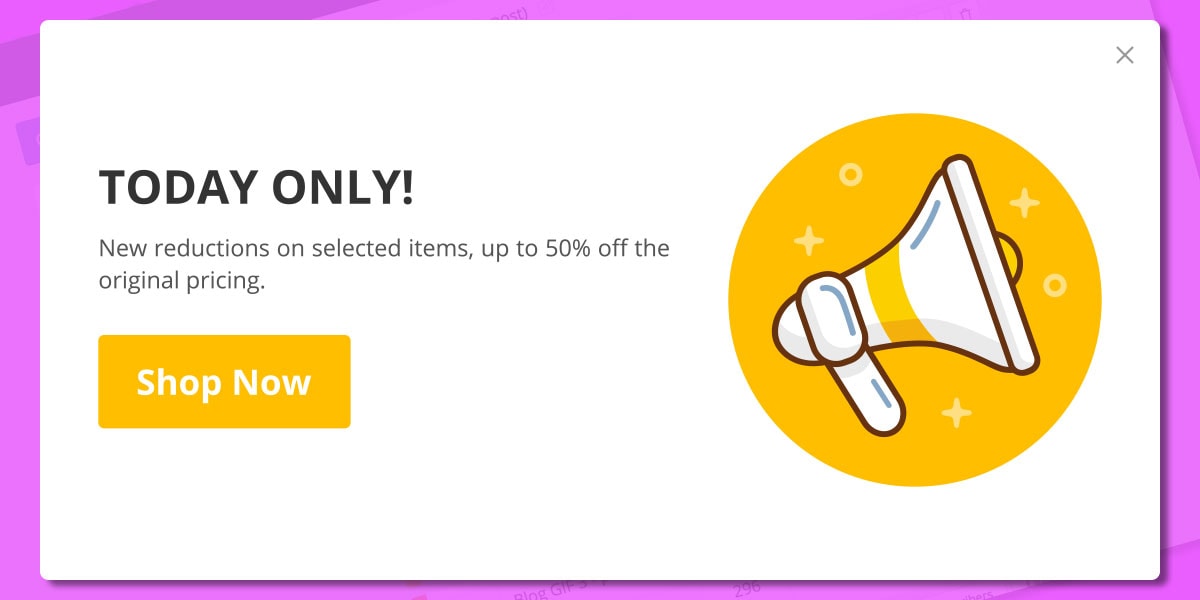 The promo widget can be used to deliver announcements, sales, discounts and any other lead-generating pages. Easy customization and flexibility can help anyone build an effective communication medium with their visitors. The easy to use editor is virtually limitless.
Survey Widget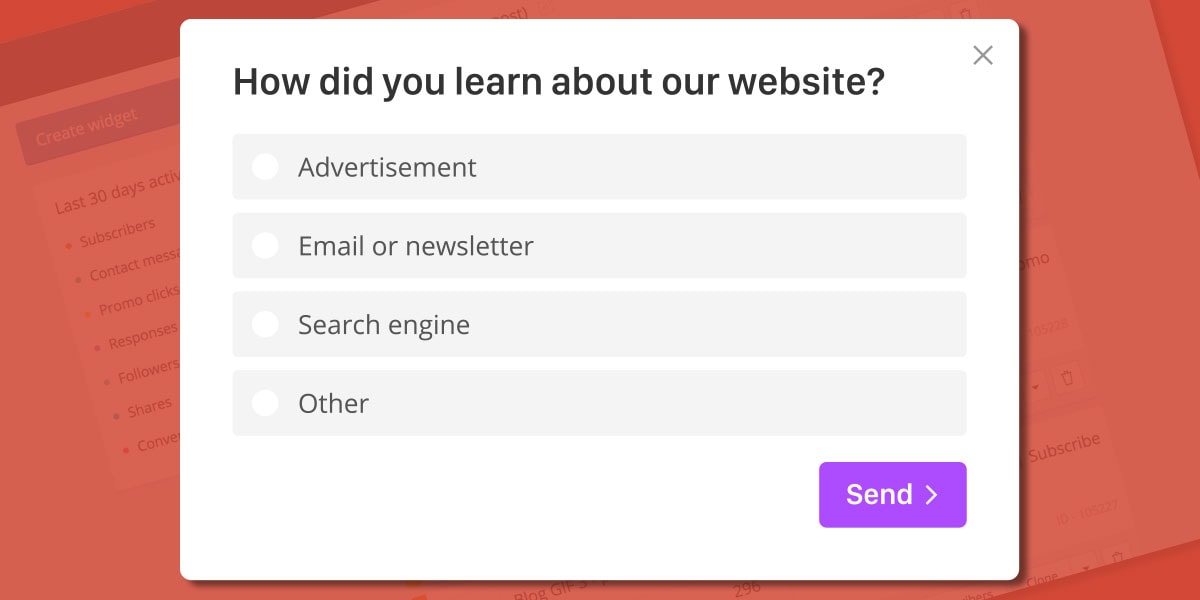 Surveys are great for feedback. The survey widget will help you understand customers and visitors and will allow you to build a better user experience. Furthermore, we all know how much users love to have their opinion taken into account, don't we?
Follow Widget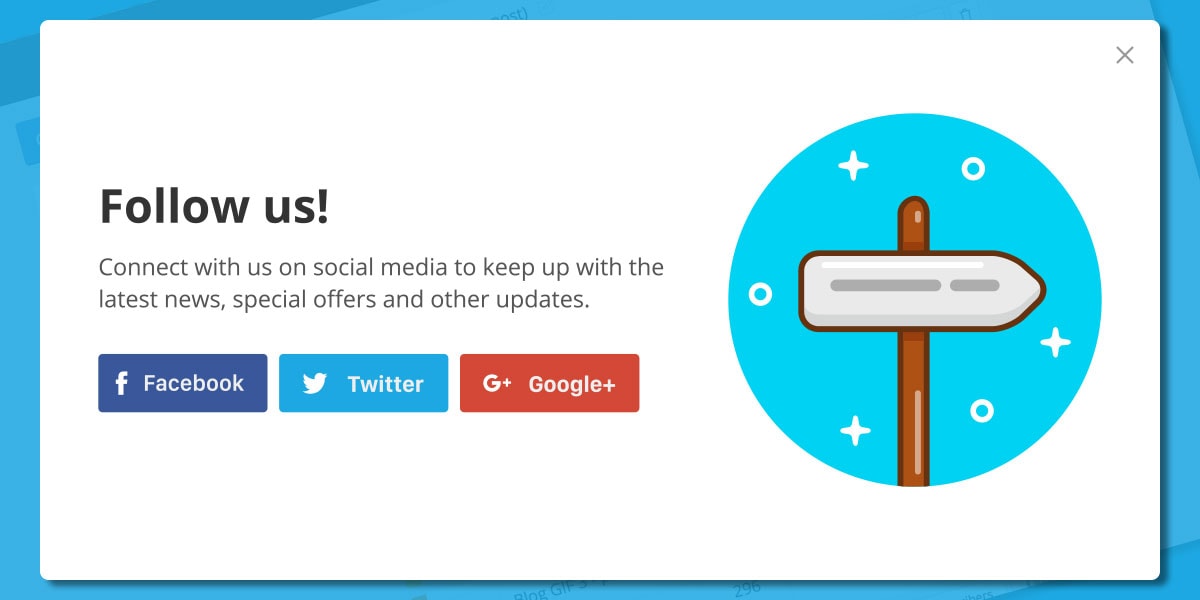 Social networks are a great platform to gain exposure, promote your website, interact with your customer and improve your services. The follow widget will help you keep users in touch.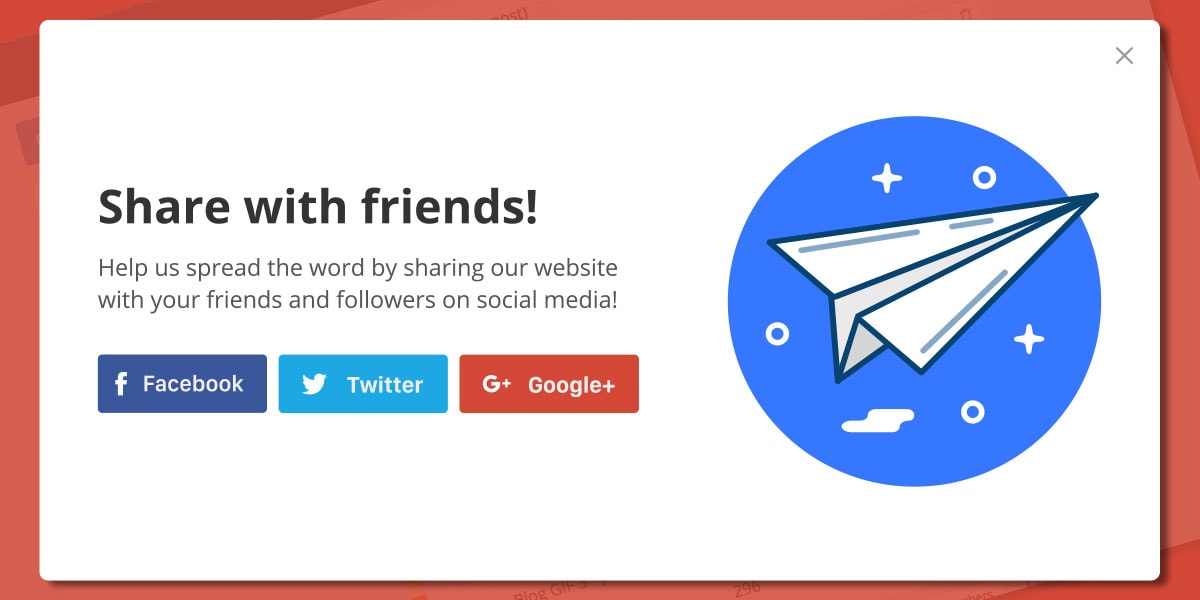 Getting people to your site to read your blog, buy your product or use your services it's tricky. A great user interface, fantastic user experiences, adequate customer support or SEO, should get you there. However, don't underestimate the power of social media. Facebook or LinkedIn, social networks are a great place to showcase your products and services. The share widget will take care of that.
Chat Widget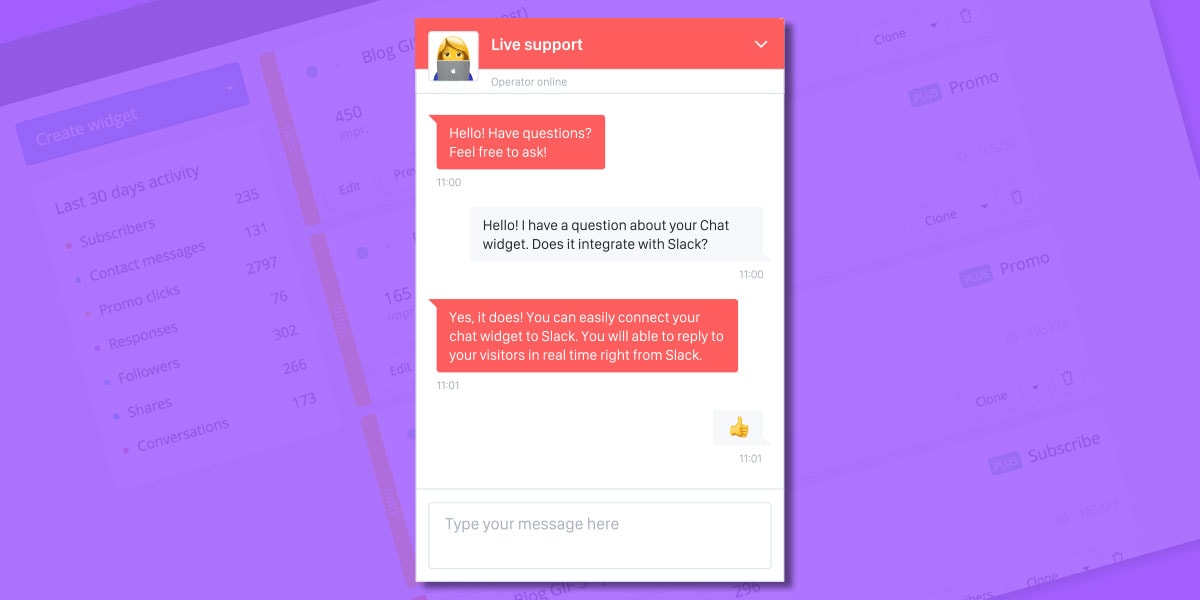 The chat widget adds a direct channel of communication with visitors and potential customers.
Features
The widgets are backed up by powerful features designed to help you optimize social conversions. Each widget can be customized to meet any specific needs you may have.
Flexible
Widgets can be displayed in a variety of positions on your website. Unlike similar tools, you won't have to make significant changes to your layout to accommodate the widgets. The nine predefined locations will fit most scenarios. Widgets can be displayed in bars, pop-ups, sliding boxes, floating menus and more.
Customizable
Each widget can be customized to fit your site aesthetics. Color, fonts and custom images help deliver the brand feeling you should strive for. Additionally, each widget can be tailored to react to users based on specific actions, triggers or behaviors. Customization options are grouped in tabs so that you won't get overloaded with options.
Appearance Tab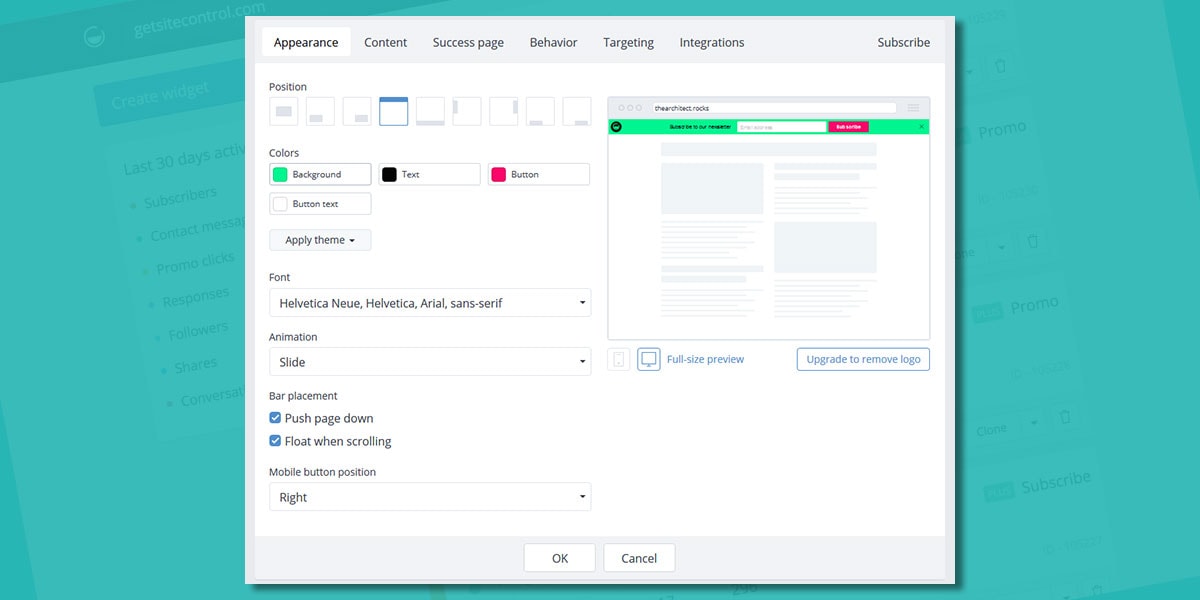 Here you can select the position of the widget, choose the font and change the colors. The pro plan also includes the option for custom images.
Content Tab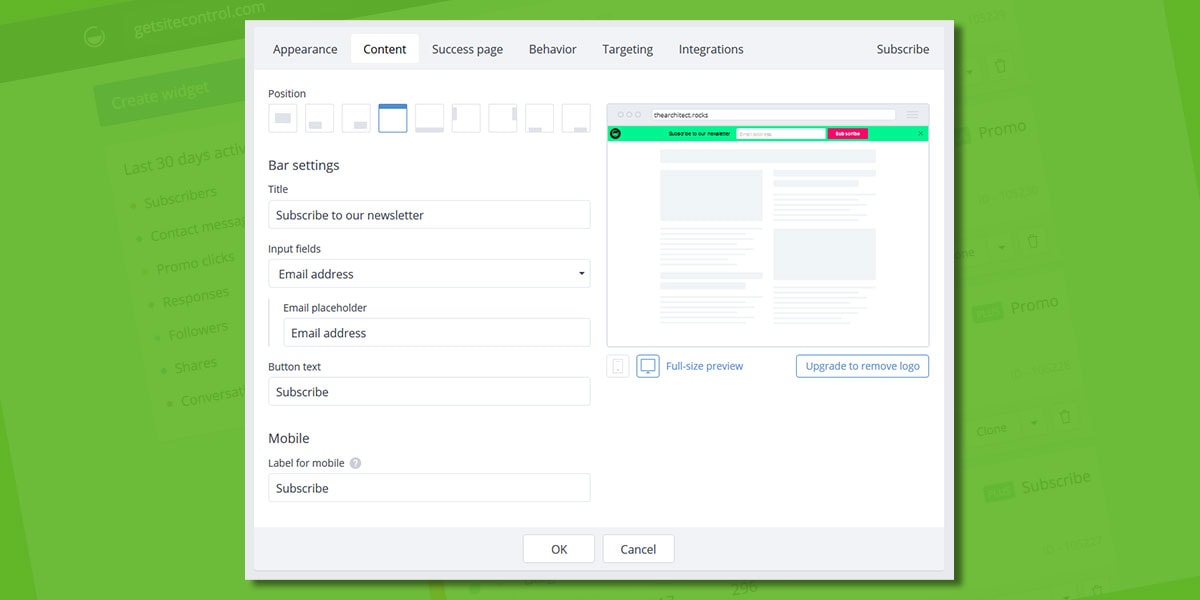 The content tab is where you add content to widgets. Depending on the type of widget, the input fields vary.
Behavior Tab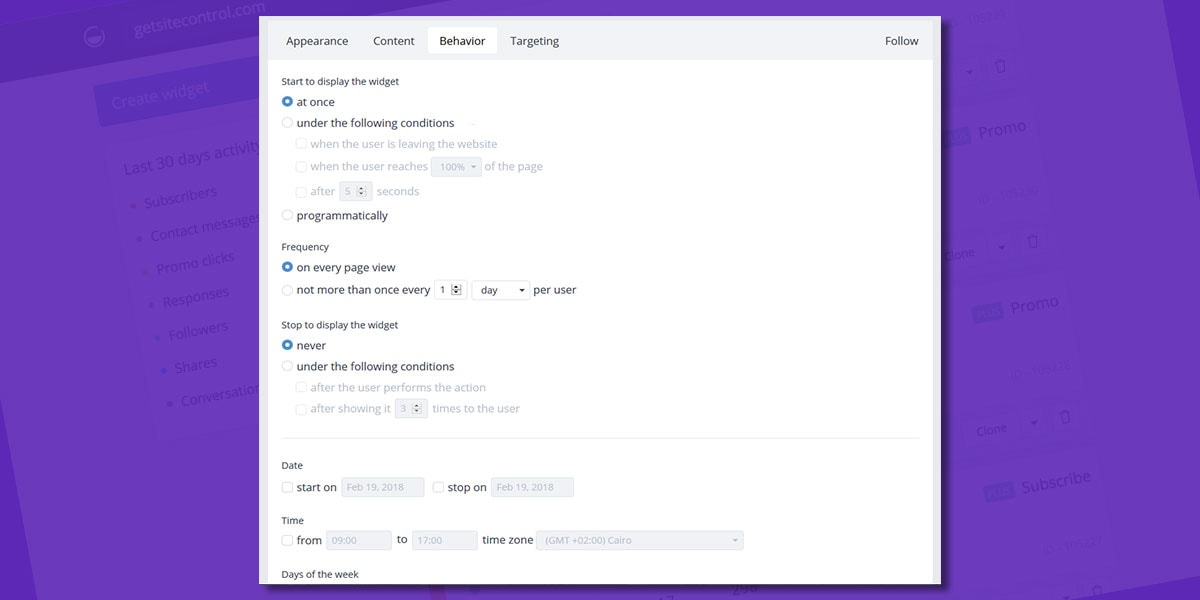 This tab packs the essential features of GetSiteControl. Here you get complete control of your widget behavior. All the power options you'll need are here.
Targeting Tab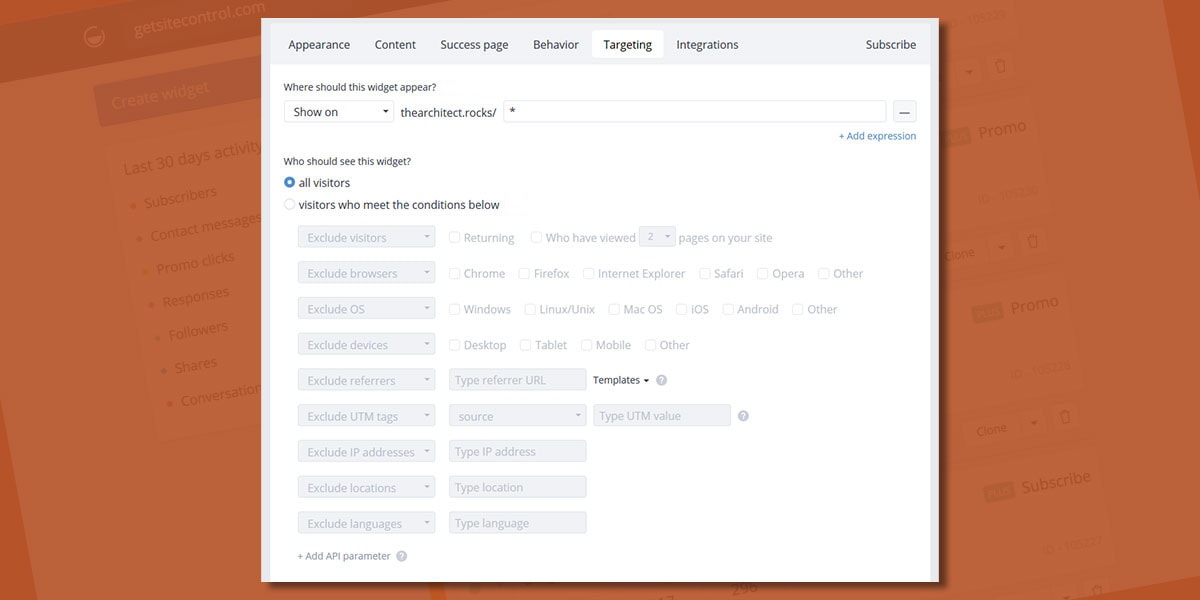 In this tab, you'll narrow widgets by an audience or any condition you can think of.
Integration Tab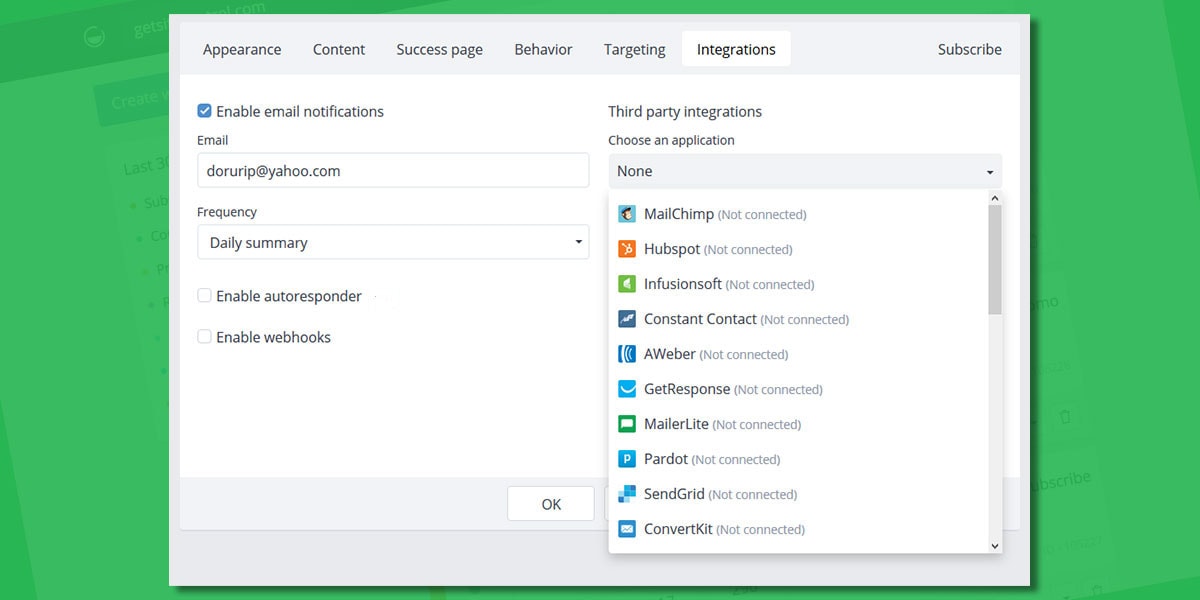 In this tab, you can connect GetSiteControl's widgets with other marketing tools.
Targetable
Here is where GetSiteControl is leading the pack. Instead of nagging every single visitor to subscribe in the first seconds, you can choose to target those who are more likely to engage (based on the scrolling, time spent, referral source, particular page, etc.). The same technique can be used during e-mail campaigns or any other promotional events.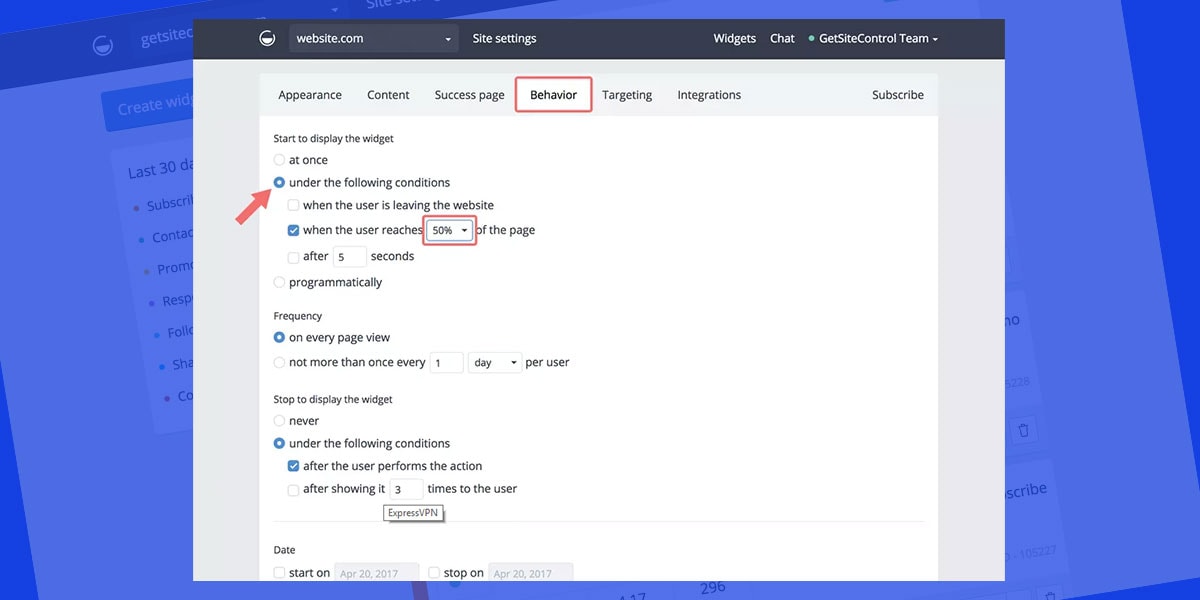 Widgets can be displayed dynamically as you can set up triggers that will react to user activity. For example, when a user reaches 50 percent of a page and stops scrolling, you can display, after a set time-frame, a call to action notification.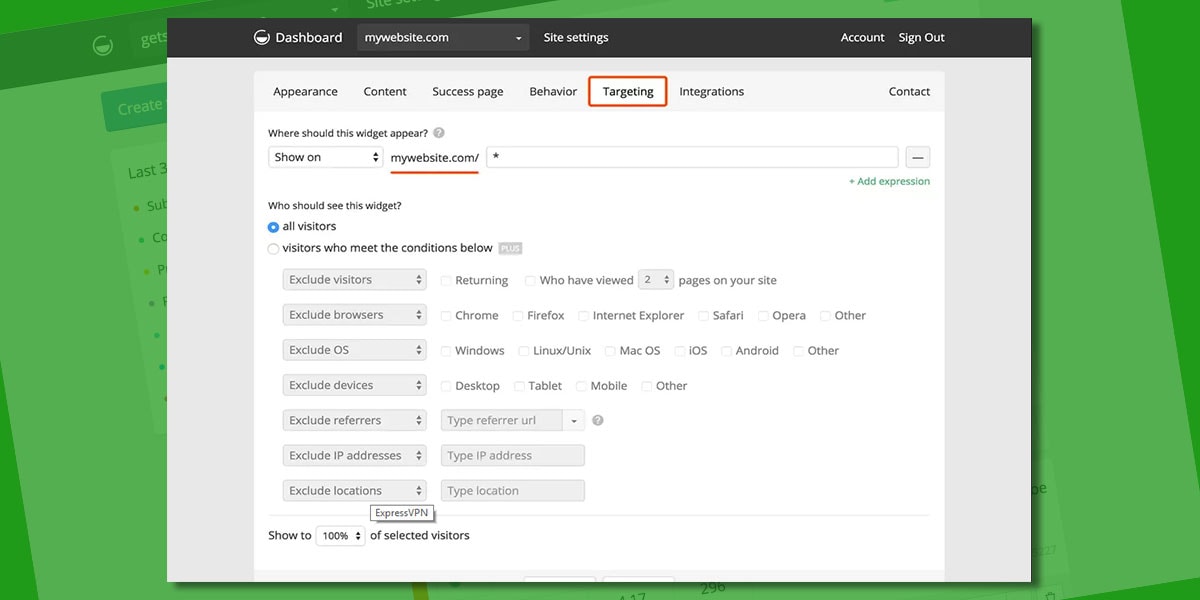 React to various scenarios by delivering widgets to specific hardware platforms or traffic sources. Widgets can also be customized to be displayed only to new visitors. You also can limit widgets to specific pages on your site. There are plenty of options here.
Compatible with Third-Party Tools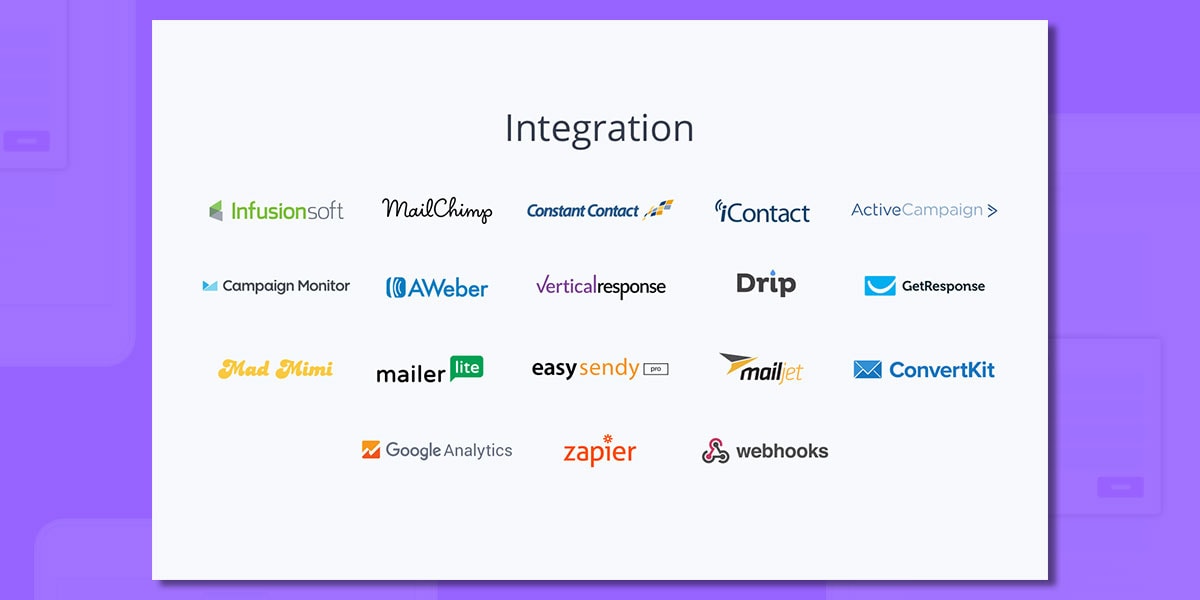 GetSiteControl plays well with most social marketing services. The list of integrations is extensive and includes MailChimp, AWeber, Constant Contact, Campaign Monitor and more.
But there is more:
Autoresponder functionality: The subscribe, contact and survey widget, can be configured to automatically email visitors upon completing a specific action.
Real-time statistics: All widgets are backed up by live data displayed in easy to understand graphs, maps and downloadable reports.
Mobile friendly: Widgets are designed to look great on desktop displays and mobile screens.
Unified experience: Except for some widget-specific attributes all widgets customizations options are similar, so you'll find your way around quickly.
Analytics compatible: GetSiteControl supports Google Analytics, the powerful tool for power users. If you are in the mood for some fine-tuning, you can test the success of particular widget setups using A/B testing.
Get Started with GetSiteControl
The onboarding experience with GetSiteControl is as easy as it gets. Create an account, enter your website address and GetSiteControl will generate a code snippet. Add it to your site, and you're all set. There is a handy plugin for WordPress users that will add the code to your website. Once the code validates, you are ready to start building in two clicks. In addition to WordPress, the tool can be used with various platforms including Joomla, Tumblr, Shopify or any other platform that allows custom code.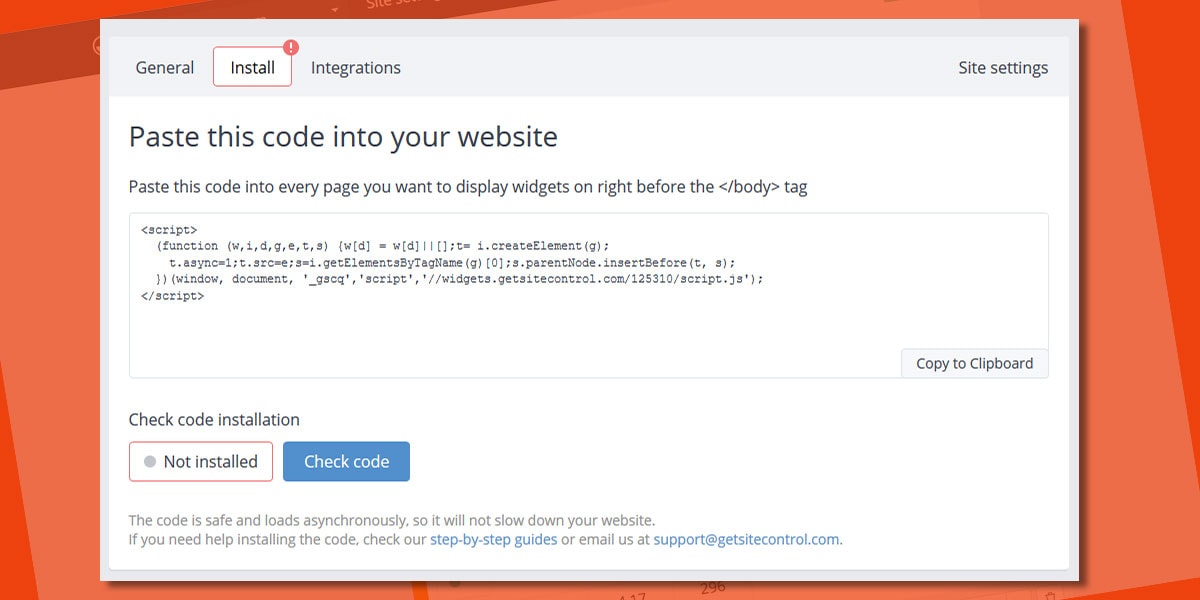 Next, select a widget and start customizing. Save the widget to see it in action on your website. It's that simple. Of course, you should take the time to work on your widgets. GetSiteControl offers you fine-tuned control over any aspect of your marketing strategy, but it's up to you to make the right choices.
Free for Everyone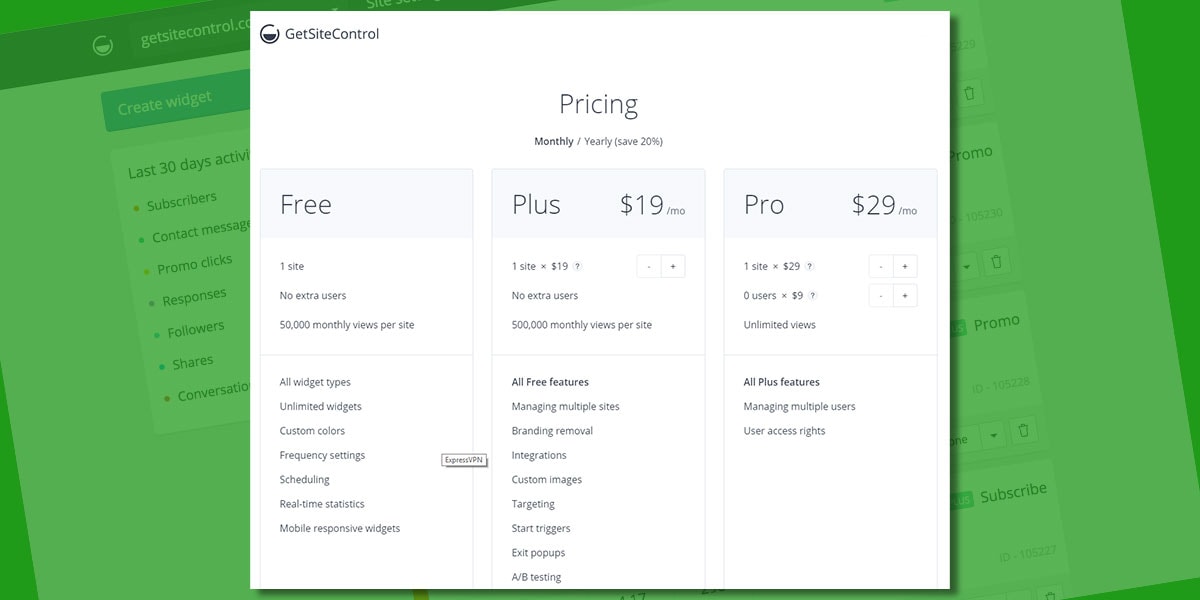 GetSiteControl is built on a fremium model. Most of the features are available in the free version. However, for $15 per month (annual rate), you get branding removal, integrations, survey logic, start triggers and the ability to manage multiple sites. However, these options are not essential for starters, and, if you already have an established online presence, it's a small price to pay for advanced functionality and features.
Conclusion
Over the years, I've found myself using various plugins/scripts for e-mail, chat or subscriptions per project. Sometimes, keeping all these plugins working together is daunting and tedious. Vulnerabilities, poor quality code or lackluster features were another side I had to keep an eye on.
Now, I've set-up a few tools that I use by default on most projects. GetSiteControl is one of the tools I prefer when it comes to conversion optimization. It comes from a single developer, it's cohesive, feature rich and is backed up by outstanding support. Here are some use case scenarios where you should use GetSiteControl, and don't forget to check each widget's page where you can easily simulate its behavior. Should you try it? Why shouldn't you?
Like what you're reading? Subscribe to our top stories.