Getsitecontrol Evolves into Email Marketing Software
Getsitecontrol, the app we're using to collect emails and promote special deals on the Designmodo website, has recently undergone a significant transformation. In 2023, it expanded its offerings to include a comprehensive email marketing suite, targeting a broader audience.
The new version of Getsitecontrol allows users to generate leads, send bulk promotional emails, create audience segments, and build automations.
In this article, we will delve into Getsitecontrol's new feature set, explore its revamped interface, and discuss its pricing structure.
What is Getsitecontrol?
For the past several years, Getsitecontrol was known as a website popup builder that allowed for adding opt-in forms and promo popups to any website, without coding. You might have spotted one of these popups on Designmodo: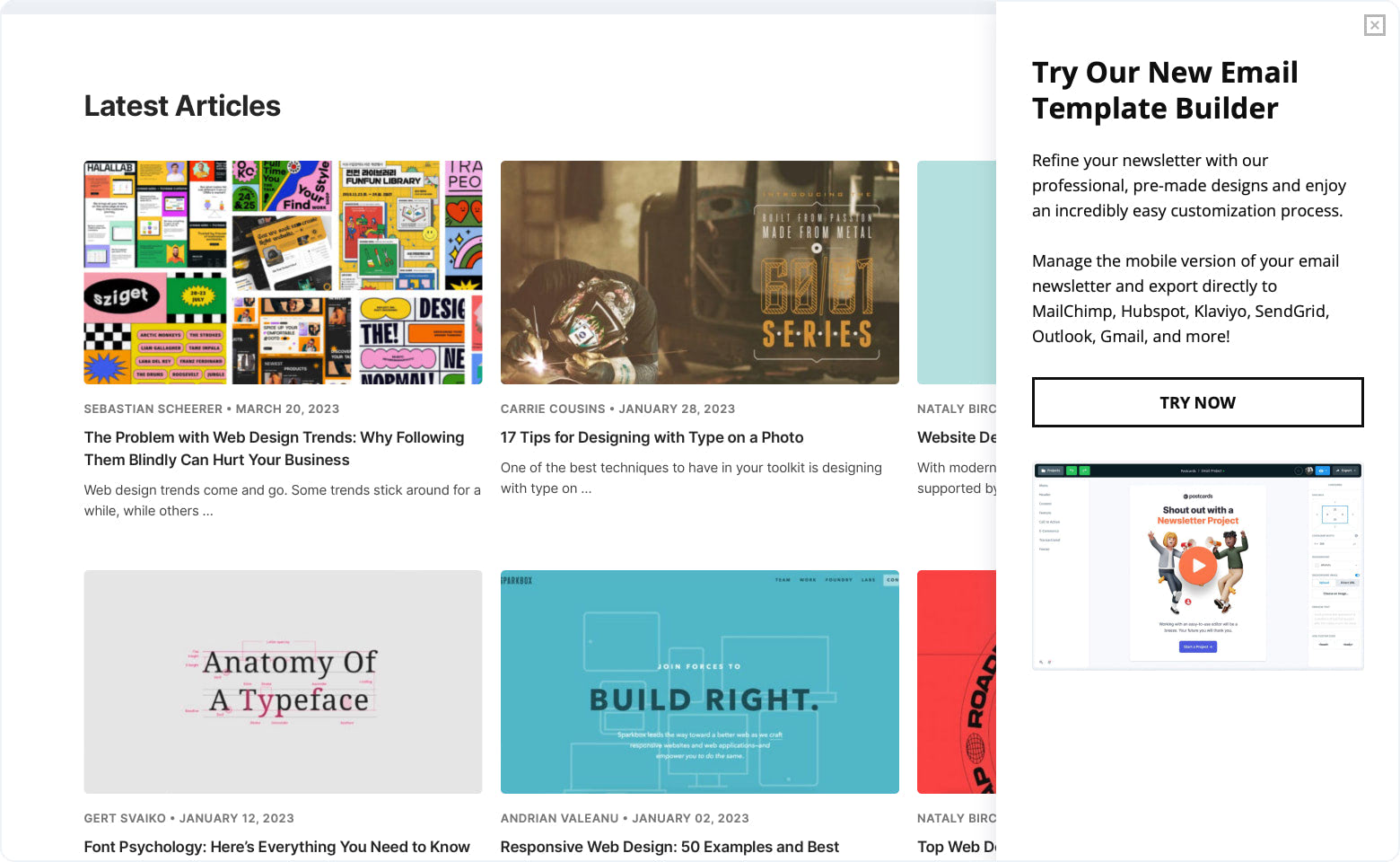 However, in 2023, the Getsitecontrol team released a series of updates and expanded its feature set to email marketing.
The new version of the app allows for promoting special offers on a website, capturing email addresses, tagging subscribers, sending promo emails, and building automations.
No-Code Email Template Builder
With Postcards you can create and edit email templates online without any coding skills! Includes more than 100 components to help you create custom emails templates faster than ever before.
Try Free
Other Products
Let's see what these features look like.
Getsitecontrol review: key features
Since Getsitecontrol started as a popup builder, popups are still an important part of the platform. You can create newsletter signup forms, coupons, promos, and surveys – and use them to collect leads for your future email campaigns. However, now, instead of using 3rd-party software to run those campaigns, you can perform everything under the same roof.
Versatile website popups and forms
To help you get started faster, Getsitecontrol offers a large gallery of inline and pop-up forms, as well as promo widgets. You can actually view the gallery even if you're not logged into the app.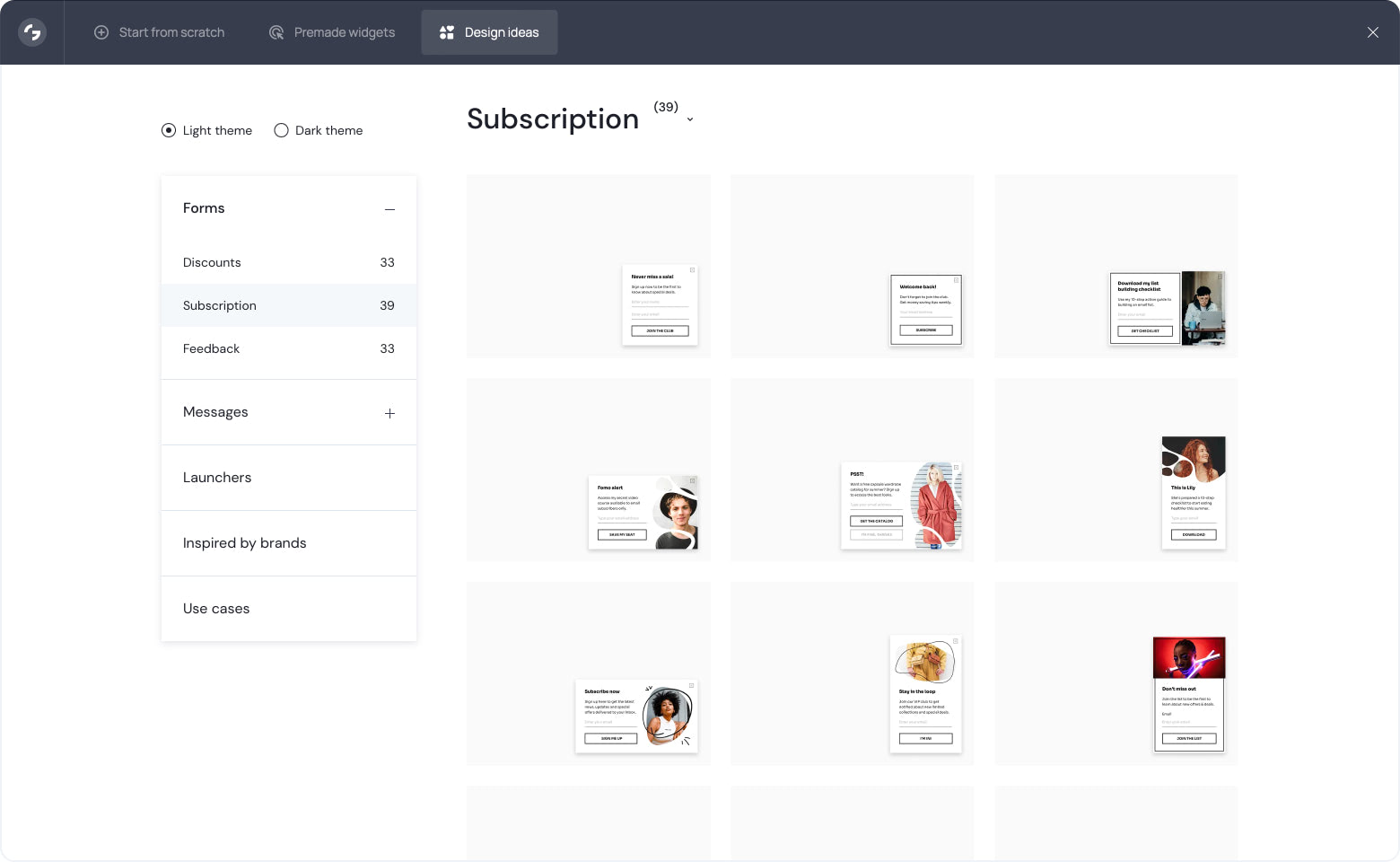 Once you've selected a template, the built-in editor will help you to fine-tune the text of your offer and customize the appearance of the widget to make sure it matches your website aesthetically.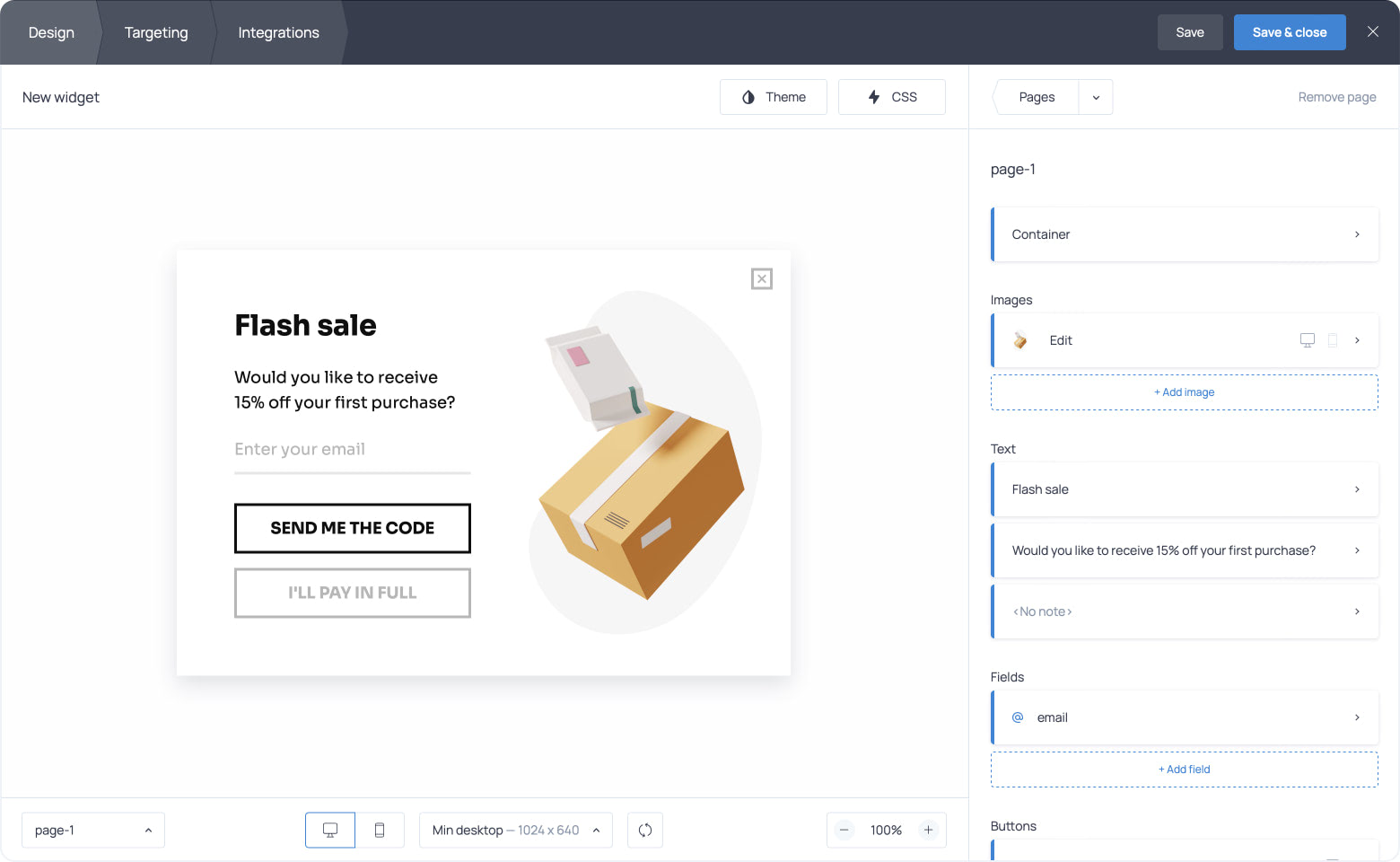 The email addresses you've collected through the forms will be stored in your Contact database, along with the rest of the information you've captured from each lead. However, you can also connect 3rd-party software, such as Hubspot, Google Sheets, or any apps from the Zapier library. Besides, there's an option to import your email list to Getsitecontrol via a CSV file or directly from Mailchimp.
Contact segmentation
The contact database allows you to view how each contact has joined your list, and whether they've interacted with your emails (more on that in a moment). Yet, the most crucial feature here is tagging and segmentation.
There are several ways to build segments in Getsitecontrol. First, you can tag new subscribers automatically when they join your list and specify their purchase interests or preferences.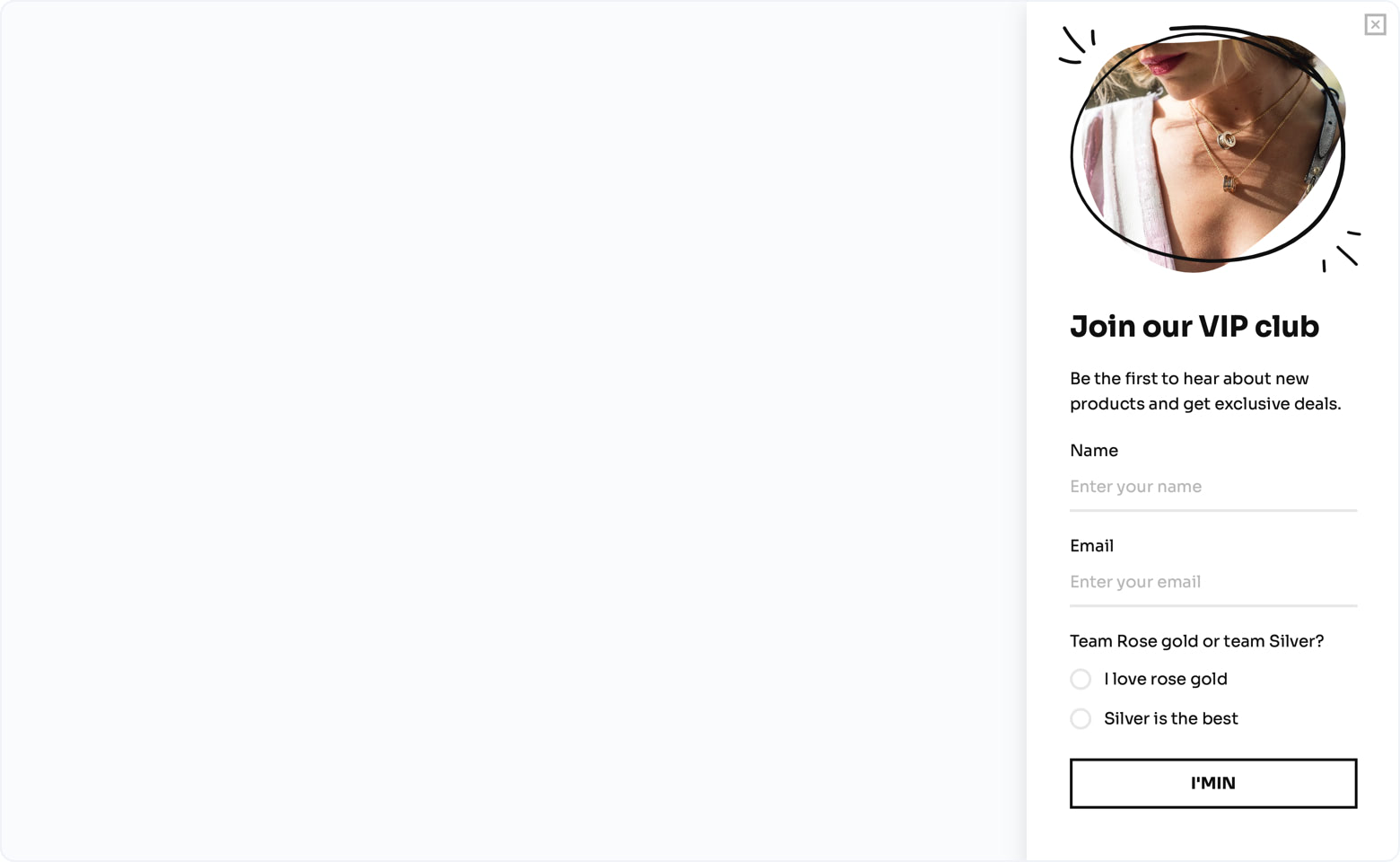 You can also use email marketing automations to tag contacts based on the email links they've clicked. And if you're importing contacts from a different app, just keep the tags that were already assigned to them.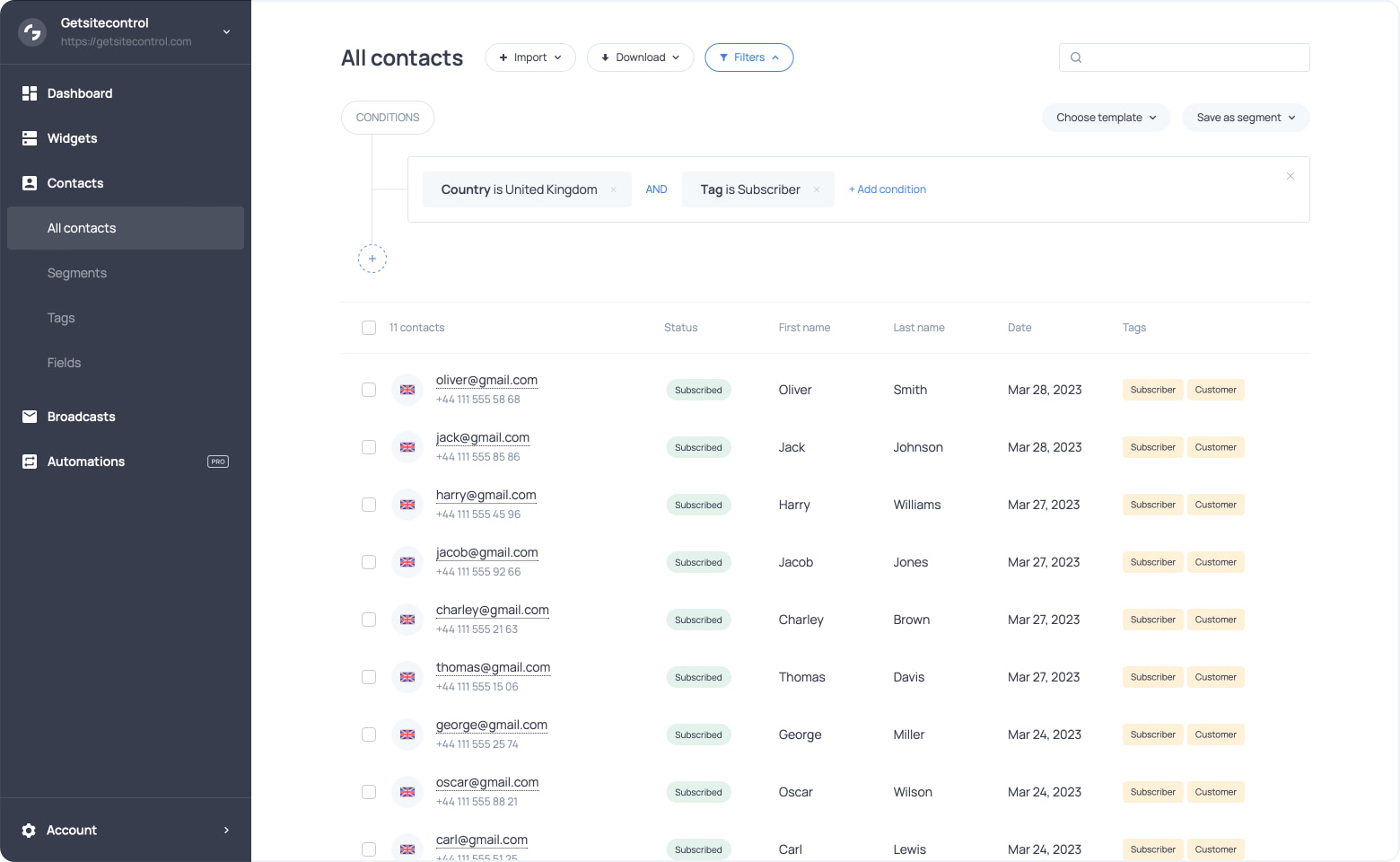 Using tags and other contact parameters – such as location, OS, and UTM – you can build audience segments and plan more comprehensive, personalized email marketing campaigns and broadcasts.
Email broadcasts
Email broadcasts allow you to send promo emails to all your contacts or to a particular segment. It's a straightforward feature that helps promote special offers, products and collections, back-in-stock items, upcoming sales, or any other important updates about your business.
Just like with website popups, there is a gallery of email templates you can use to get started faster and avoid the blank page paralysis: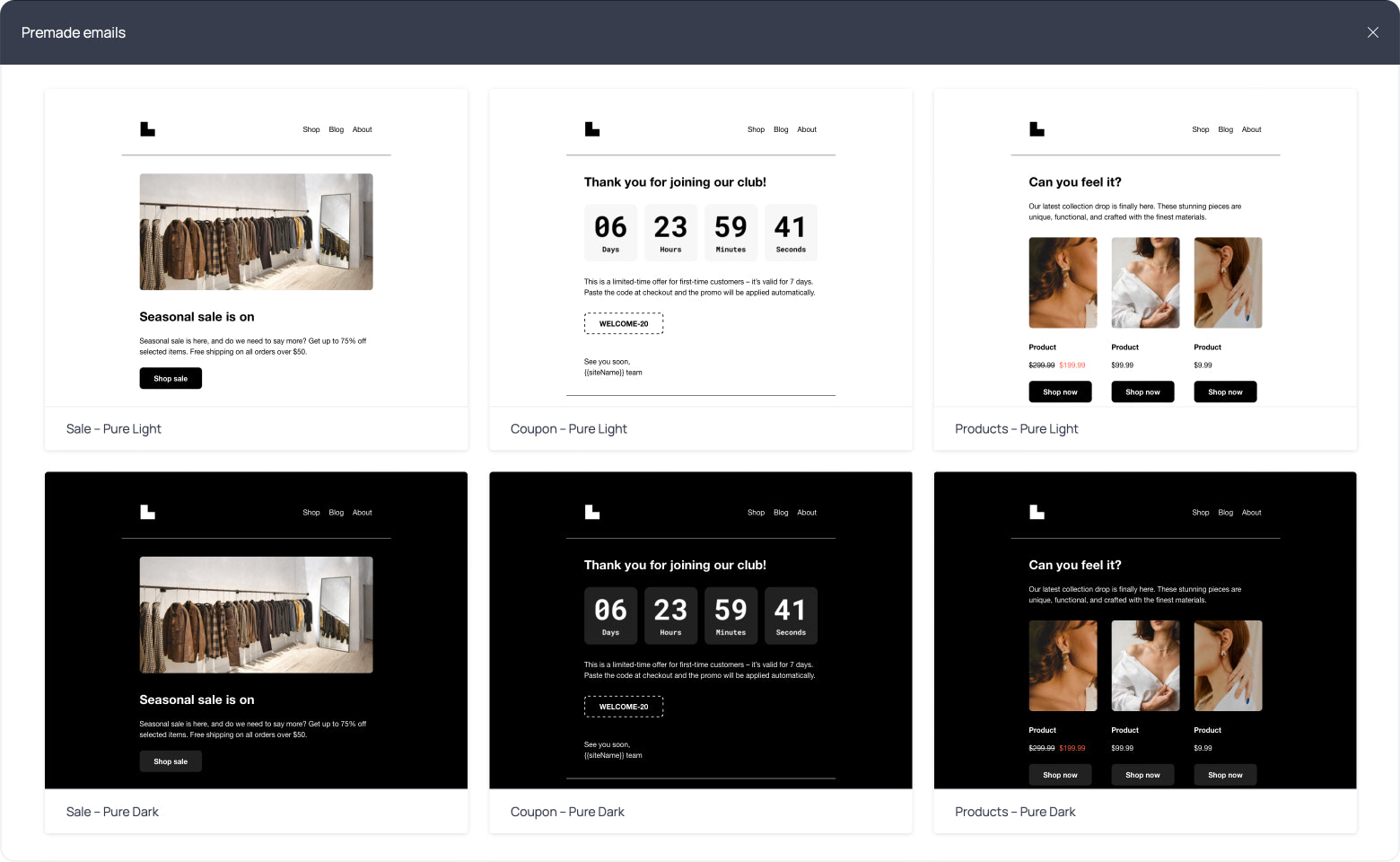 You can use the built-in email editor to fine-tune the template you like or design professional-looking emails from scratch. All the engagement elements, like product cards, coupons, a countdown timers, are available in the editing menu, so you won't need any design or coding knowledge to craft a beautiful email.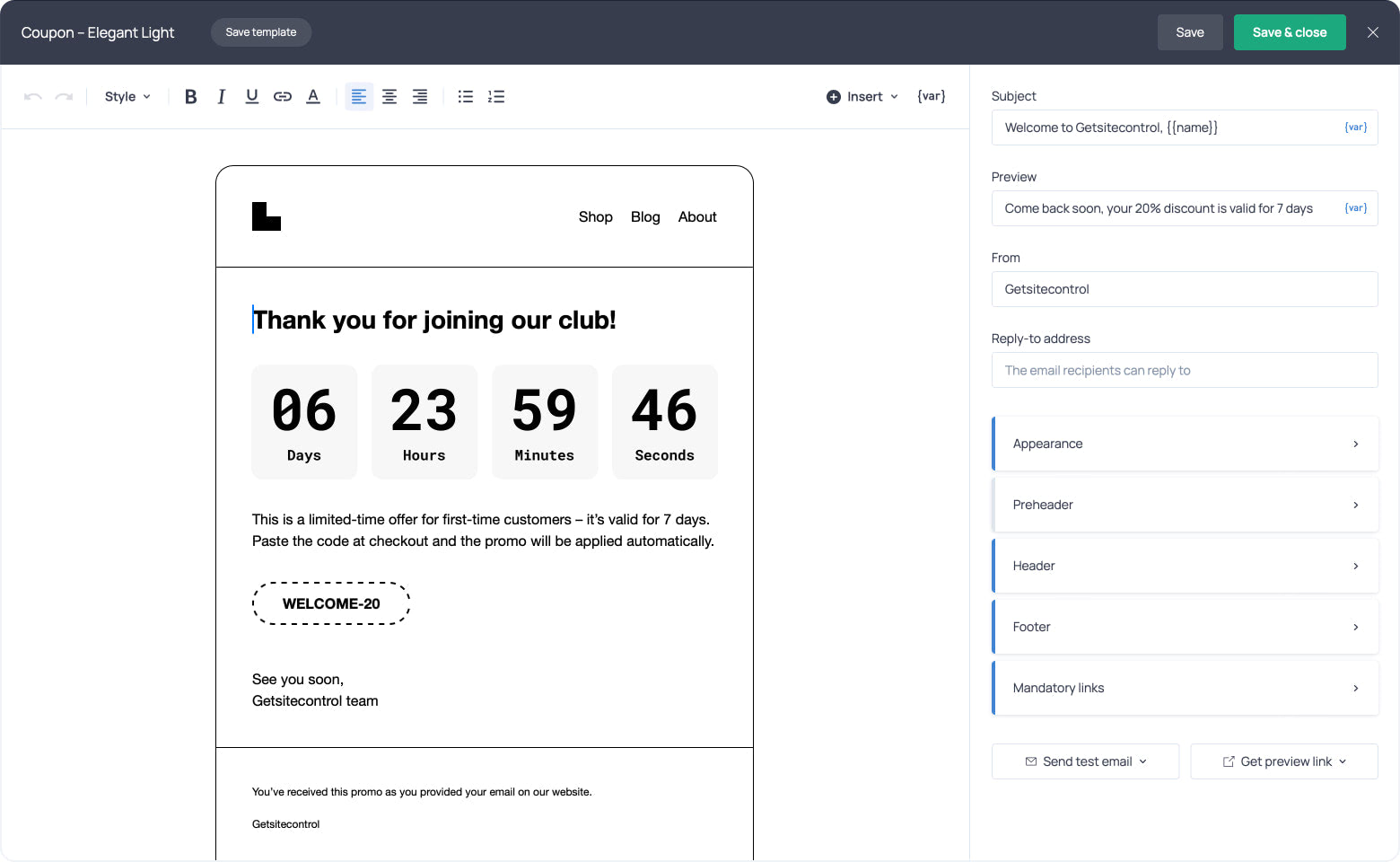 Once the email is ready, select who should receive it and launch your campaign – or schedule it for a future date.
Email marketing automations
Automations in Getsitecontrol enable you to send emails and tag your contacts automatically. For example, you can create a welcome sequence and use it to build relationships with your new subscribers by introducing your brand, showcasing your bestsellers, and recommending products they might be interested in.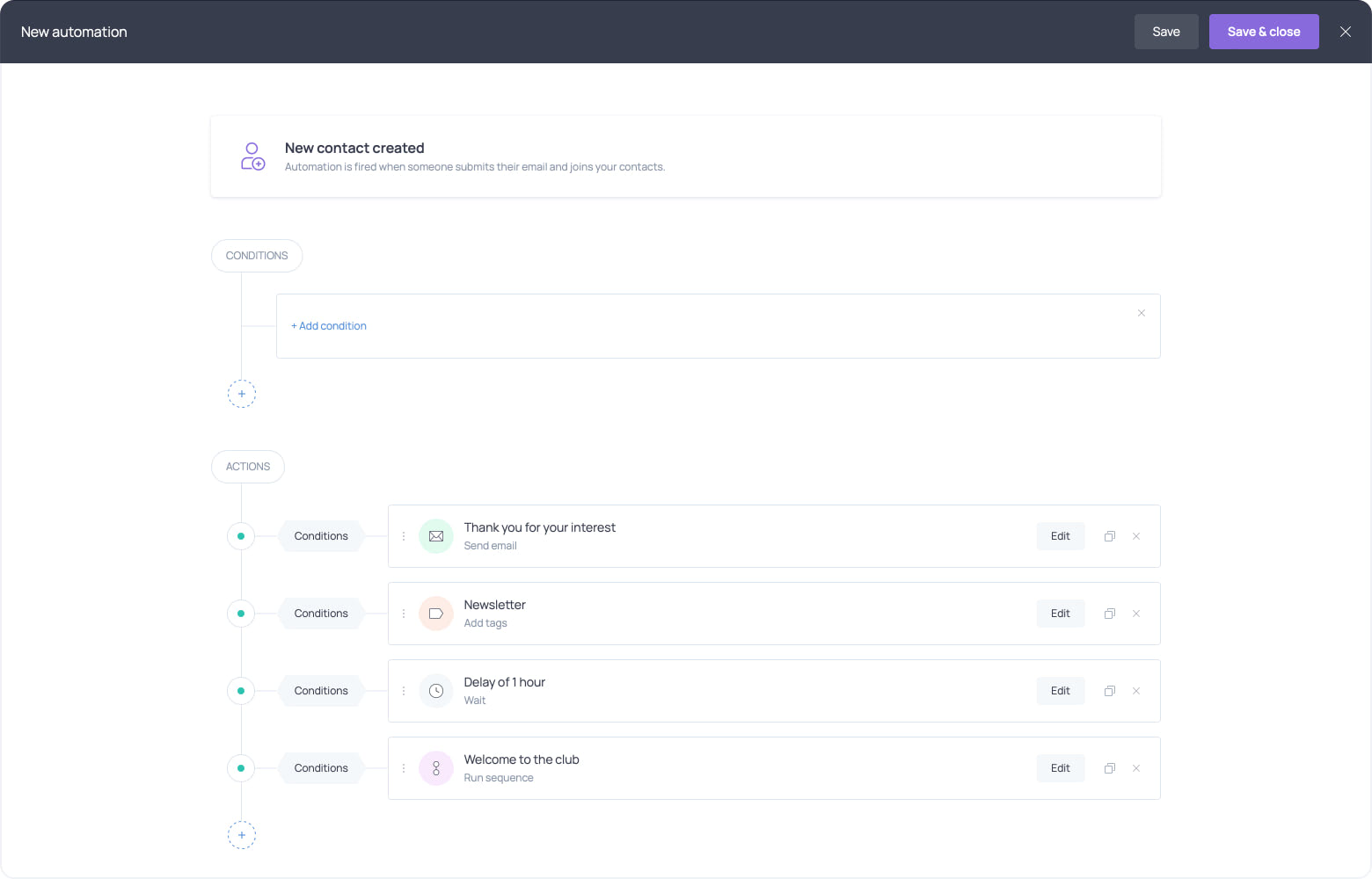 All you need to do is to create an automation once, and it will be launched on autopilot each time the trigger fires.
In the current version, automations can be triggered by a contact joining your email list or a contact clicking through one of your emails. You can also build separate reusable sequences and launch them within other automations.
Pricing
Getsitecontrol offers three subscription options: Creator ($9/month), Pro ($19/month), and Pro Max ($29/month).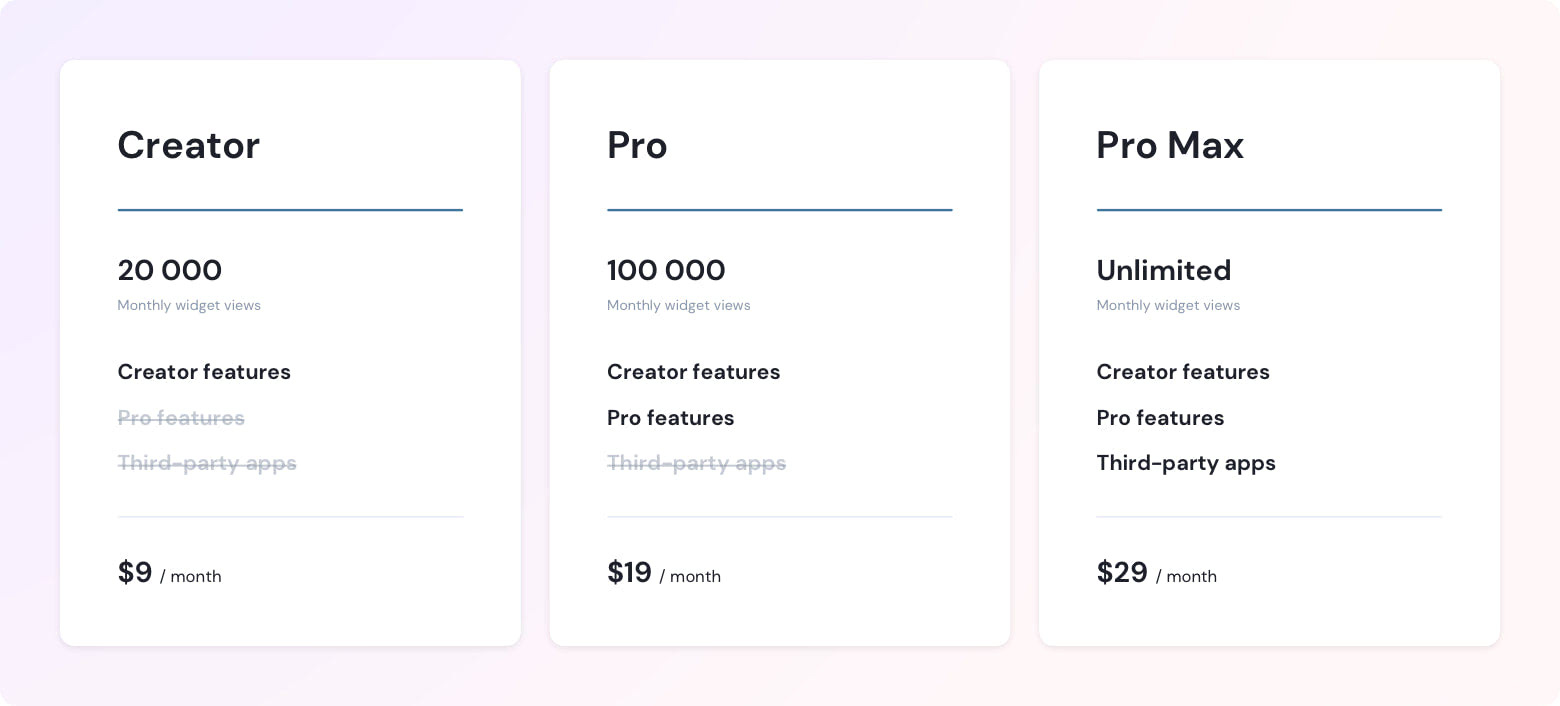 Each plan caters to specific needs, providing varying levels of features. For example, if your main need is to collect subscribers, promote offers, and send promo emails, the Creator plan will work well for you. However, if you'd like to use advanced audience targeting features and automations, they are only available in the Pro plans.
Notably, unlike many platforms, Getsitecontrol won't charge you for the size of your contact list. When using broadcasts, you'll only need to pay for the number of emails sent, and as a welcome gift, you get to send your first 1000 emails for free.
Wrap-up
If you're selling products or services online, email is one of the most efficient marketing channels that can help you increase sales. The new version of Getsitecontrol brings a complete toolset to help you set your email marketing strategy on autopilot.
You can use its popups and forms to promote your offers and generate leads; and its email marketing tools – to nurture your subscribers and turn them into repeat buyers.
Getsitecontrol has a dedicated app for Shopify, a plugin for WordPress, and an app for Wix, however, you'll be able to use it on any other platform as well.
Getting started with this app is easy, and the setup will take you less than half an hour. If you ever encounter any problems, their support team is available 24/5 via live chat.
Create an account today, and you're likely to see the first results by the end of your trial.
Like what you're reading? Subscribe to our top stories.