Progress Indicators as an Essential Part of Website
Used mainly in online stores in order to increase conversion rates, progress indicators make users pass the required procedures which are necessary to complete the purchase. Along with a shopping cart, it is the basis of quality and thought-out site. Each of you encounters it numerous times and not necessarily during visiting an e-commerce site. Majority of large respectable sites with open member systems or those who provide various services such as booking or ordering includes such type of procedure.
Being similar to breadcrumbs it also helps to navigate users but in a more advanced way. It is an important part of the cooperation between users and application. The main task of which is to walk users through the different multi-step process by making it easy and intuitive.
It should inform users about the following aspects:
What tasks the user has completed, preferably with visual results
The current section he is on
Which and how many steps still remain also preferably with a clear designation
In order to be sufficient and effective each part has to consist of explanatory data. First of all, it should have a proper title and tiny description that will briefly explain the purpose of this step. Secondly, it is usually supplemented by various user interface elements such as polls, contact or any other kinds of form.
Approaches of creating progress indicators
There are no particular methods of creating excellent progress trackers. Always remembering of how your users interact with the system – is the key to success. Generally, designers prefer to create process steps as simple as possible in order not to confuse users even more. Furthermore, a paucity of visual effects will dramatically optimize your site, but it doesn't mean that your system should be plain and dull. To make it user-friendly you should embody several features:
Numbering the steps
Show the direction of movement, as a rule it is from left to right
Distinguish the current step
Incorporate an indicator that shows successful completion of a step
Visual representation of progress using tabs or simple links can be very confusing
Don't make the process too long (3-5 steps will be enough)
Greeting final message with results
As for standard progress tracker design, it includes rather plain interface, simple outline fields to complete and a bit of graphics which are used only to make the system fits perfectly into whole website design.
No-Code Email Template Builder
With Postcards you can create and edit email templates online without any coding skills! Includes more than 100 components to help you create custom emails templates faster than ever before.
Try Free
Other Products
Along with them there are nonstandard designs that often lie in the use of unusual shapes and vivid graphics. You can easily meet the implementation of such an approach on design-oriented websites. On the one hand, such a method makes the process more cheerful and entertaining, but on the other hand it can bring confuse and misunderstandings. Although with well-thought structure and a small number of tasks this option may be winning.
In the list below I have put together different examples of process tracker designs that mainly focuses on rather simple but truly effective designs.
Progress Indicators Examples
Form steps v2 by Ionut Zamfir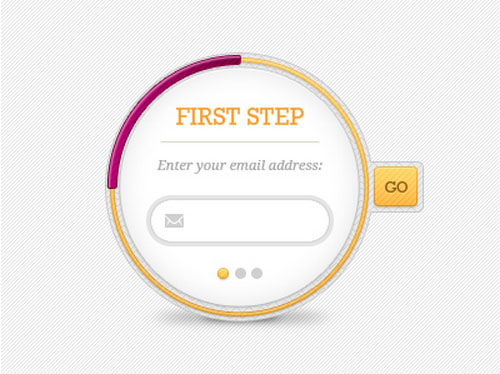 Form steps v2 by Ionut Zamfir break the monotony of classic and banal horizontal striped progress bars with the help of a circular form. It demonstrates excellent use of textures and coloring as well as takes advantage of divine roundness. This 3-step component embraces all the essential details, laying out them in an original manner.
Welcome Steps by Luke Beard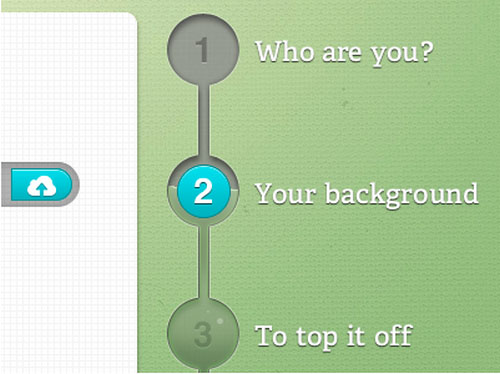 Welcome Steps by Luke Beard exploit vertical orientation that naturally guides users' eyes from top to bottom. Thanks to skillfully applied embossed effect, the indicator perfectly cooperates with the textured environment and blends in. The liquid-inspired inner part along with glossy touches creates splendid artistic aesthetics.
UI Sliders by Ashish Thakkar

UI Sliders by Ashish Thakkar pull their identity from lush and intricate skeuomorphic style. The traditional horizontal progress bar looks fantastic. Tiny details such as subtle shadow that make the tooltip stand out from a canvas or shiny metallic button that draws the attention create the whole buzz.
Steps by Nadine Haardt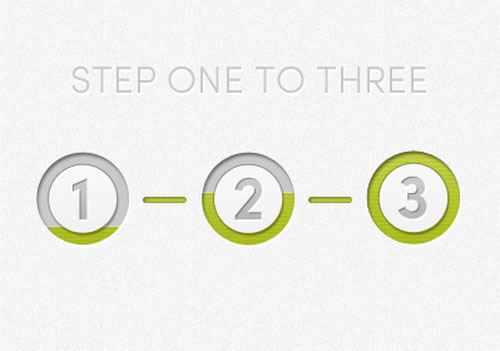 Steps by Nadine Haardt have a less realistic appearance than the component in the previous example, yet it also looks naturally inbuilt into the background. Grey and green nicely cooperate with each other while a subtle diagonal pattern adds zest. An idea of adding liquid-styled filling easily separates the component from the others.
Checkout page for Madein33 by David Cadusseau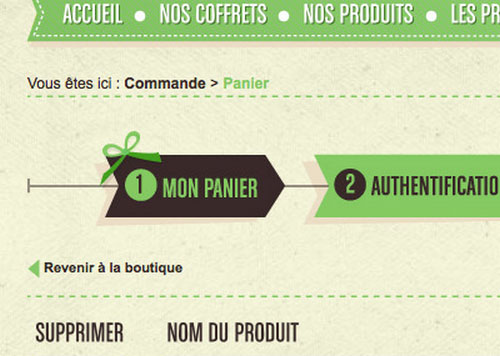 Checkout page for Madein33 by David Cadusseau gets its beauty from a ribbon shape and some neatly crafted elegant ornamental details. Each step has a shape of a relatively huge arrow that points out the path. The artist leverages flat style to make it look clean and shadows to give an extra depth.
USCIS Case Tracker Widget by Sebastiaan de With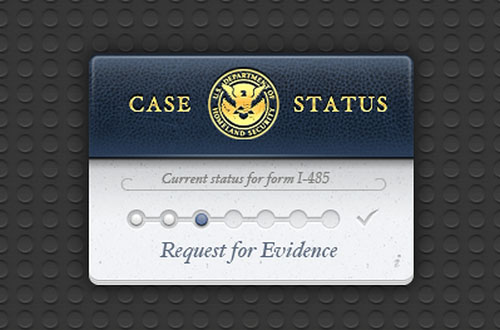 USCIS Case Tracker Widget by Sebastiaan de With has a serious personality and a casual language. The artist is managed to reproduce the proper atmosphere by using leather textures and decorative elements such as golden emblem or delicate cursive typography. The main part of the widget stays clean and easy to perceive. The embossed progress bar does not have any special traits, but it fits the theme.
Progress Steps by Justin Roberts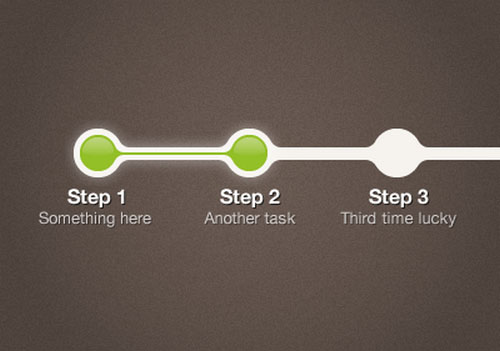 Progress Steps by Justin Roberts shine and magnetize with glossy and vibrant appearance. The component looks even a bit toxic because of a bright green tone. It utilizes a standard horizontal orientation to look more natural to the users.
Payment Gateway API: resources for developers

Payment Gateway API features a classic progress indicator with a polished and refined appearance that effectively embraces numerous stages of the payment process. Not only does the artist go for a time-tested layout to make the process more intuitive but he also uses color differentiation to visually separate checked and upcoming stages.
Form Step 2 by Pim Luiten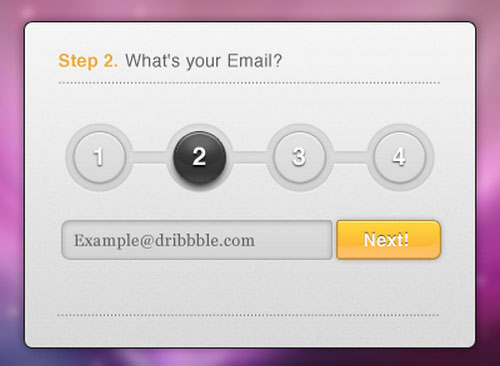 Form Step 2 by Pim Luiten looks nice and fresh. Grayish coloring recreates a businesslike feel while a splash of orange color puts the focus on the submit button and adds warmth. The artist utilizes skeuomorphic-inspired elements to give the widget more sophisticated and intricate look.
Steps left by Mihai Mări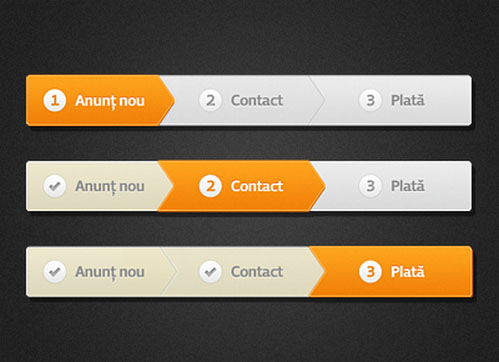 Steps left by Mihai Mări have a breadcrumb-like appearance that thanks to a bright orange shade charges interface with the energy. The author utilizes three-tone coloring to clearly indicate various statuses of stages such as default, checked and unchecked. The shot also shows the component in action step by step.
1 2 3 Done! by Eryk Pastwa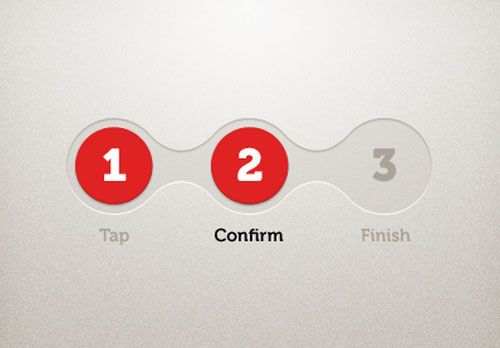 The component manages to pull off elegance and delicacy with an ease. The component looks refined and subtle. Smooth lines and circular shapes recreate a marvelous appearance. Red color gives checked stages more dominant position and points out the progress right away.
Steps by Bruno Martins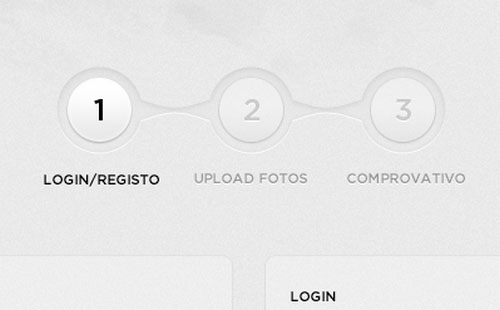 Steps by Bruno Martins look much like the previous example. It is also a three-stage progress indicator where round shape sets the tone and underlies the aesthetics.  However, there is no accented color that will provide users with focus anchors. The author goes for a matching and seamless palette that makes it look modest and casual.
Flight Tracker for iPad by InnovationBox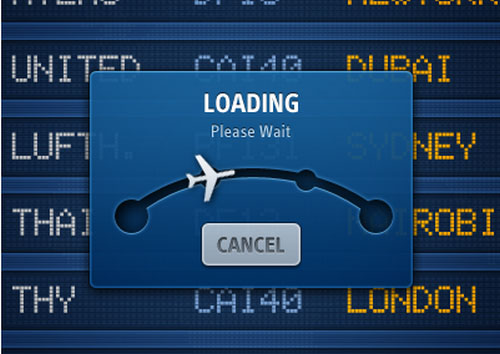 Flight Tracker for iPad by InnovationBox pursues consistency in style and significantly supports the overall theme with its unique and original plane-like indicator. The widget has a glossy and slightly transparent background and uses deep blue to mimic glass surface. An arc styled path with round pointers contributes to the flight theme while semi-realistic metallic button serves as a nice finishing touch.
Checkout progress bar – Web UI by Jason Wu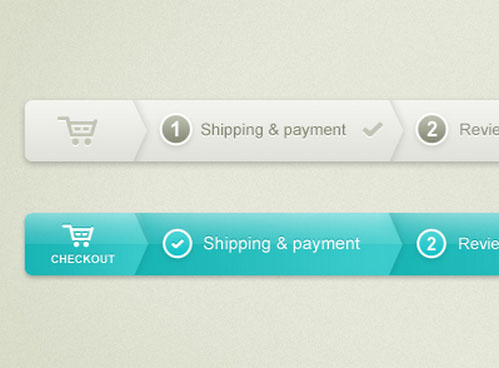 The author demonstrates two versions of the design: the first one is the default and the second one shows the component with the completed stage. They differ from each other only in coloring. The first one is made in a soft combo of gray and beige while the second option derives smoothness and serenity from gorgeous turquoise. Subtle shadows and embossed effect add spice and enhance the appearance.
Schedule A Session by zee7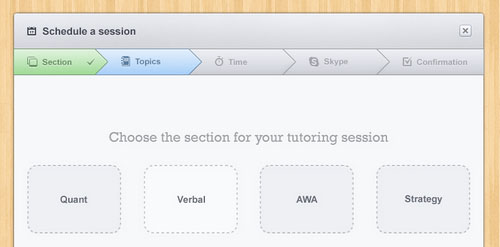 Schedule A Session by zee7 has a seamlessly inbuilt breadcrumb-styled progress bar that takes up not much space on the top and perfectly collaborate with the overall design. Green is used for passed stages, blue is for selected, and gray is for upcoming ones. The color palette is matching and the overall design is harmonious.
Step Process by Danny Keane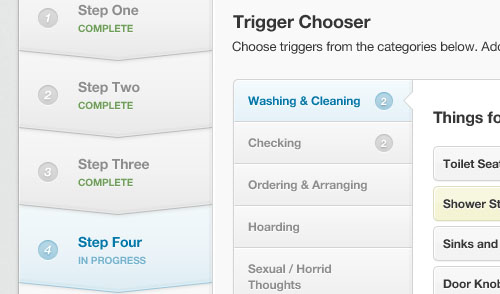 Step Process by Danny Keane utilizes a simple and ordinary layout and vertical orientation. The progress indicator is straightforward to users. Much like in the previous example, the artist uses three various shades: green, blue and gray, to strengthen difference among basic states.
Step 2 by Rareview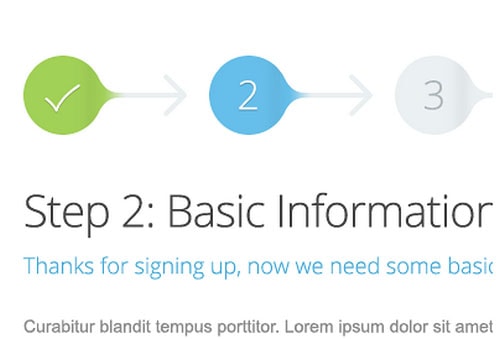 Step 2 by Rareview is a three-stage progress indicator that not only gets the most out of color differentiation but also makes skillful use of captions. The latter transforms from a number into a check sign when the stage is completed. The component has a smooth and fluid appearance and creates a distinct eye track due to arrow styled backdrops.
Order Steps by Gabriel Seabra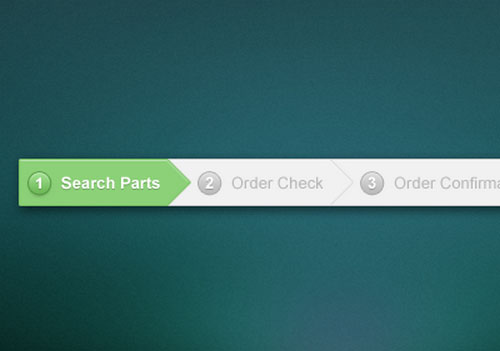 Order Steps by Gabriel Seabra naturally lead you through all stages. The progress bar has a neutral and calm color scheme in which green indicates completeness. Although it is ultra-narrow, and there is no much free space,  yet the author is managed to embrace all the integral details and even enrich the aesthetics with ornamental details such as 3d dimensional feel and embossed touch.
Delivery Status by Wouter Bread&Pepper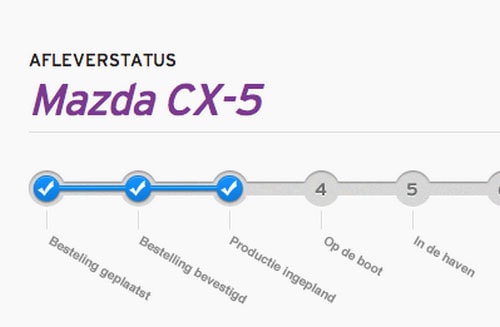 Delivery Status by Wouter Bread&Pepper matches the tone of the project and echoes perfectly with the environment. Since it needs to demonstrate plenty of stages the author goes for a more plain and ordinary appearance, standard structure, supporting titles and neutral color scheme. In such a way the interface does not overwhelm online visitors. Here check mark paired with blue color signifies the completed stage.
Getting Started Wizard by Missy Titus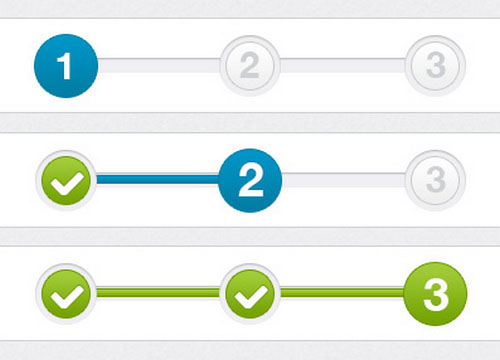 Getting Started Wizard by Missy Titus has a classic appeal that is appropriate for the wide audience. The artist skillfully combines flat style elements with those that have a subtle 3D dimensional feeling. As usual, green, blue and light gray recreate the whole aesthetics. The component is fairly conventional and intuitive.
Steps by Tiago Camargo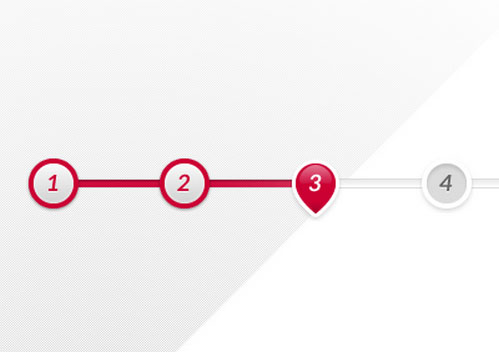 The artist tries to set the component apart from the others using shape instead of the color to indicate 'selected' status. The primary color scheme also has a twist: here, red is used for completed stages that is a quite rare choice for such purposes. In the rest, everything is conventional.
Search Flight by Tanveer Junayed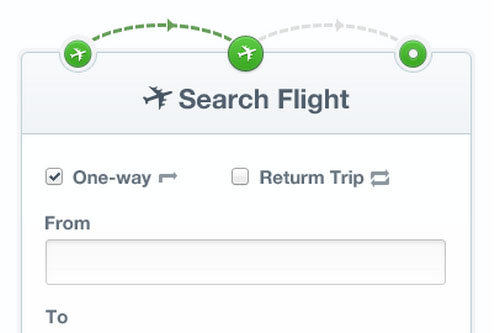 Search Flight by Tanveer Junayed perfectly echoes with the overall theme, making its important contribution. The progress bar features miniature planes that perform a role of stage indicators. Dashed line that links steps together meets the spirit and strengthens the theme.
Progress Trackers by Ondrej Lechan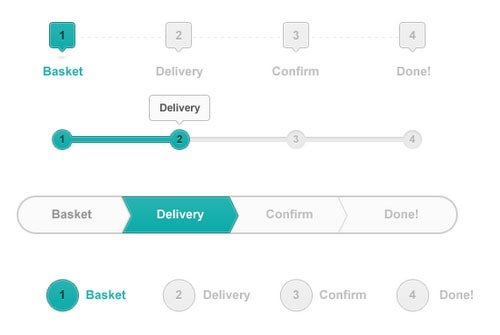 The artist plays with shapes and remains faithful to one yet beautiful color scheme. Thus, the first option is based on a squared chat bubble form; the second one is a classic interpretation; the third one is inspired by breadcrumbs, and the last one is composed of 4 separate circles.
Order Progress Tracker by Luci Rebecca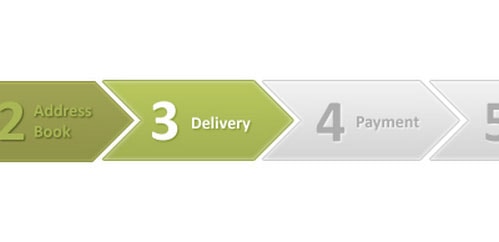 Order Progress Tracker by Luci Rebecca has a bit massive and oversimplified appearance that instantly catches the eye. Its beauty lies in a gradient that stretches throughout the all stages. Smooth transition from dark to light green helps to convey movement and show a direction.
UI Kit – progress trackers by Afraz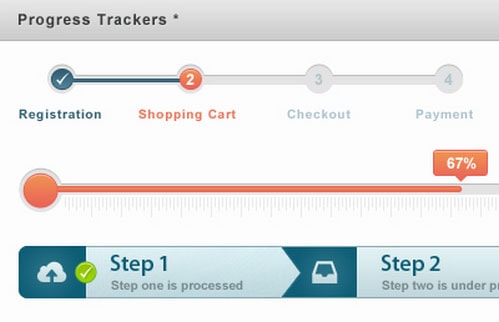 UI Kit – progress trackers by Afraz uncovers three various designs. Each one has a sense of order and boasts of a beautiful matching color scheme. The first two have a minimal design with a scarce amount of decorative elements while the last one looks bold, massive and substantial. All of them are well-suited to business and corporate themes.
Free Progress Indicators PSD Templates
As well as last time I am going to end up the showcase with a small collection of free PSD infographic templates that will help you reconstruct your own process system or build something new upon existing base.
Progress Steps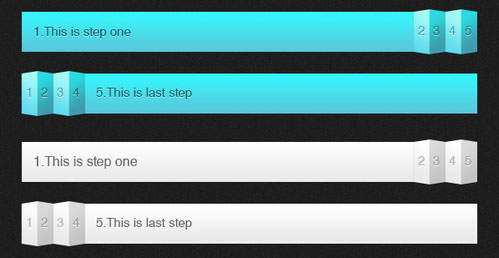 The author takes an original approach to a standard stripe-based horizontal progress indicator. It puts a ribbon shape to good use. The completed stage, as well as the default one is spiced up with the carefully reproduced folding effect.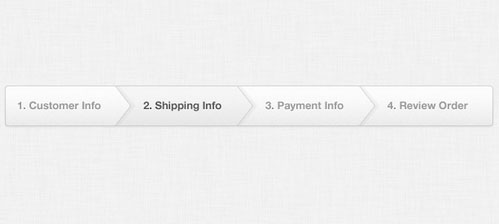 Checkout Process Navigation looks ordinary yet clean. Being inspired by breadcrumbs the component covers all the stages, neatly displays the required information and unobtrusively shows the route. Neutral grayish coloring in tandem with regular yet pleasant typography makes the solution universal.
Progress Indicator Ideas by Jesse Dodds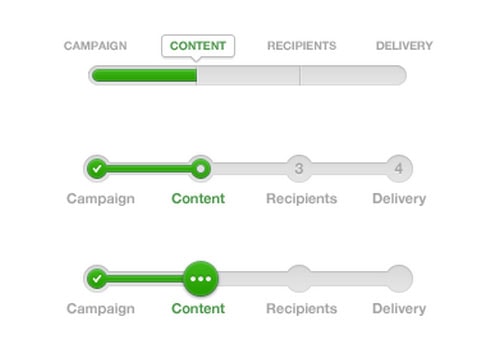 Progress Indicator Ideas by Jesse Dodds cover six variations that differ one from each other in tiny details. The soft and bright coloring and typeface remain the same while the general shape and some integral features vary. There is also one thing in common: all of them are based on smooth lines and round shapes. Some of them have visual clues for more intuitive perception while others rely on titles and numbers that are quite sufficient to guide the users.
Progress by Joshua Scott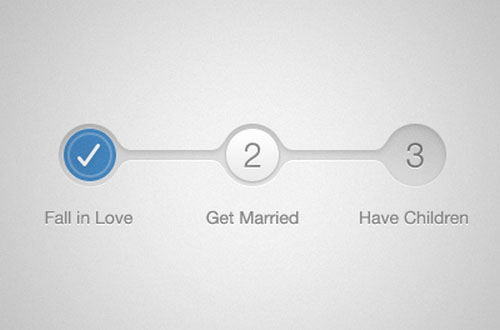 Progress by Joshua Scott has a simple and plain design; though, it is vigilantly crafted. There are tiny details such as shadows, subtle gradient, light effect and delicate and soft traits that make it look elegant and refined. The artist brings into play a popular color choice to convey a businesslike feeling.
Step Badge by Takamasa Matsumoto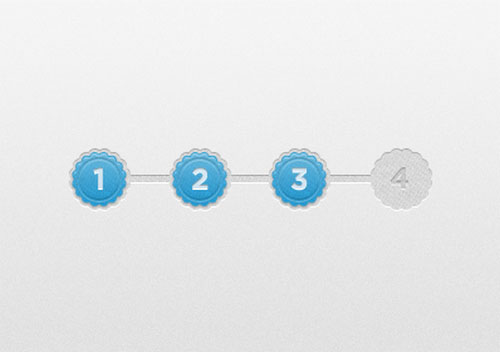 Step Badge by Takamasa Matsumoto incorporates lovely inventive twists that transform ordinary progress indicator into an eye-catching component with an artistic feel. The author utilizes badge shape, diagonal pattern and embossed effect to add depth to the component. Although there is not accompanying titles, yet numbers perfectly indicate the stages and progress.
Progress Tracker Bars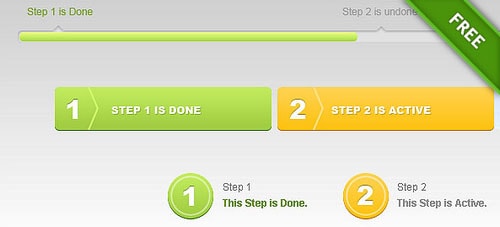 The PSD file comprises five various designs that mostly fall into the classic category. The author leverages basic geometric shapes, bright color scheme, good formatting and sharp typography. Here you will find both minimalist and comprehensive options.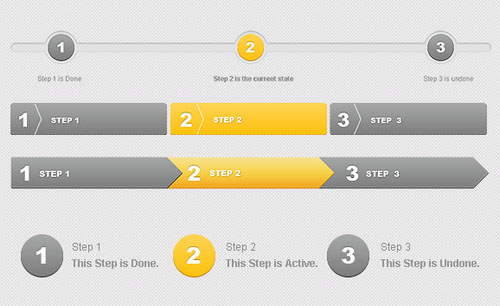 The pack includes four traditional progress indicators, the designs of which were inspired by breadcrumbs. Each component is streamlined and has a professional look. The artist skillfully employs three-tone coloring and does not forget about accompanying titles and numerals to improve each stage.
Rounded Three-Step Progress Bar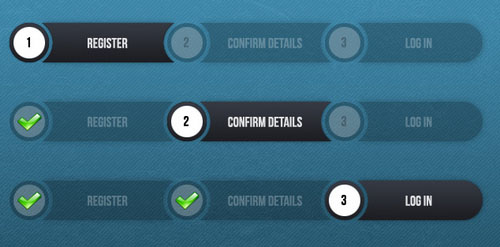 The artist demonstrates three states of the same component, clarifying the look of each stage. It utilizes a casual and businesslike coloring and is based on a semi-transparent background. The latter enables the component to seamlessly blend into the design and become a supporting visual device.
4 step process panel in 2 colors
The PSD file includes two color variations of the same progress indicator. You are free to choose either a clean and elegant universal option made in the grayish color scheme or bright and bold made in a vibrant combo of blue and green. In total there are eight items that are ready to be put into work.
The final step is completed…
If you want to improve your conversion rate, you should definitely start with a progress tracker that, as a rule, stands between you and your profit. Make it easy, understandable and unobtrusive and don't forget about its appearance that also should attract and guide users visually.
What kind of design as a user do you prefer? Do you want it to be as simple as possible or vice versa you don't get distracted by graphical elements? Also, if you have other good examples of progress indicators tell us via the comment form.
Like what you're reading? Subscribe to our top stories.