Top Prototyping and Design Handoff Tools in 2019
Good prototyping tools give an accurate insight to designers as to how a product under design will work once the project is completed. These tools simulate application flow, measure and test expected performance. Also, they create a valid user experience.
Since the UX can vary from project to project as well as from tool to tool, lots of different tools may be put to use, each depending on the situation at hand.
Prototyping has been with us for a long time. Design handoff for coding tools are a more recent project fixture. These tools are put to use when the finished design has reached a point to where developers can take over.
The message is this. Prototyping and handoff tools working in tandem can significantly streamline project workflows. By choosing the right ones for a project you can avoid problems and more easily solve those that can't be avoided.
Looking for the "best" tool in either case may be a fool's errand because "best" may have no meaning. Your focus should be one of getting the right tool for the job at hand.
Overflow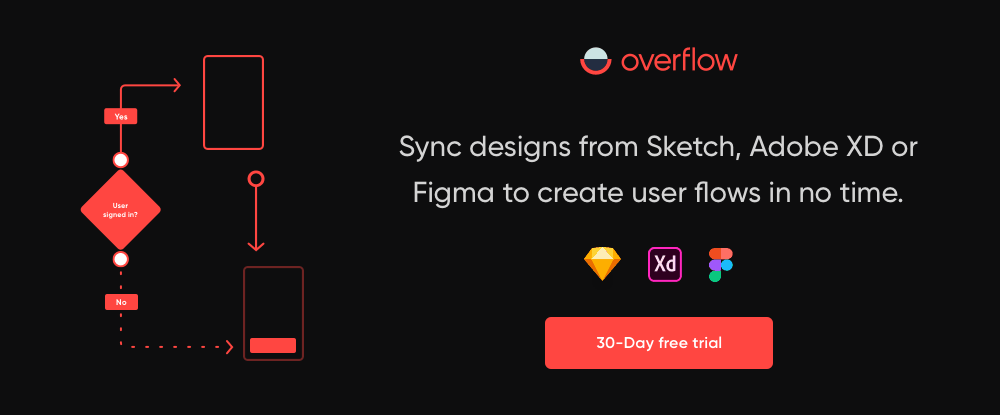 Product teams really appreciate having beautiful, well-laid-out user flow diagrams to work with. Those flow diagrams can, however, be a pain for designers to create. They are time-consuming to build and can be difficult to maintain. Consequently, stakeholders all too often have to work with static digital or printed images, that only allow them to focus on one screen at a time.
Overflow is a powerful cross-platform tool that easily integrates with most design tools to get user flows done right. It is an intuitive and easy-to-learn alternative to the old-fashioned approach of having to use several tools to draw lines, connect between screens, and annotate everything, or having to export static PNGs and trying to fit them into flowchart software that was not meant to accommodate design input in the first place.
Overflow fills what has long been a large gap in any designer's toolkit. With it you can easily create playable, interactive user flows that actually tell a story and share them with other stakeholders for feedback or deliver them to developers to start the development process. MacOS users can take advantage of Overflow's 30-day free trial. A Windows version is not yet available but expected sometime in the future.
Webflow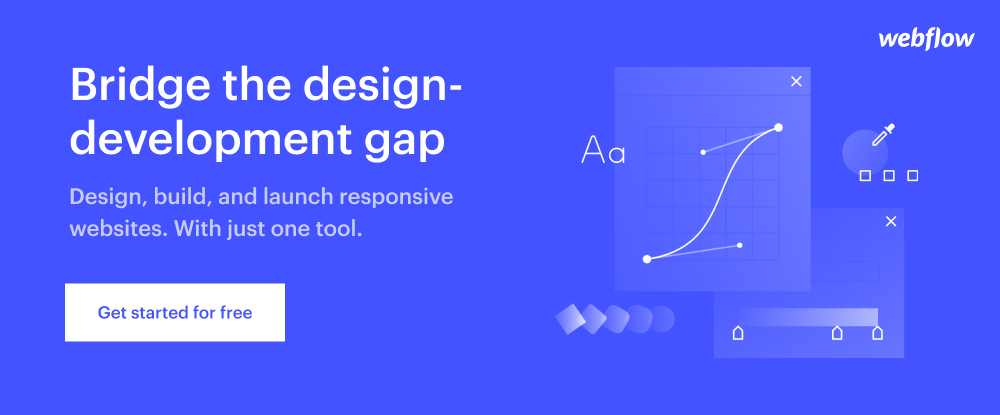 Webflow offers a different approach to bridging the design-development-launch process. First of all, this design-build-launch tool enables you to build prototypes that aren't simply high-fidelity images linked together with hotspots, but are powered by production-ready, semantic HTML, CSS, and JavaScript, a capability other prototyping tools simply don't have.
It doesn't stop there. Instead of forcing you to communicate your interactions and animations to your developers, Webflow enables you to simply build them – without coding. And, you can go a step further and populate your prototypes with real data and content via its content management system, Webflow CMS.
While you're at it, you can build actual responsive experiences instead of designing every single breakpoint, create functional forms with actual error states and validation, and build experiences clients and stakeholders can use on any device, without creating an account.
Having built your prototype, you can use this same platform to launch a website without any need for coding. Lightning-fast and hassle-free hosting is available, without any need for setup on your part.
Doesn't this sound like a plan you'd like to follow?
UXPin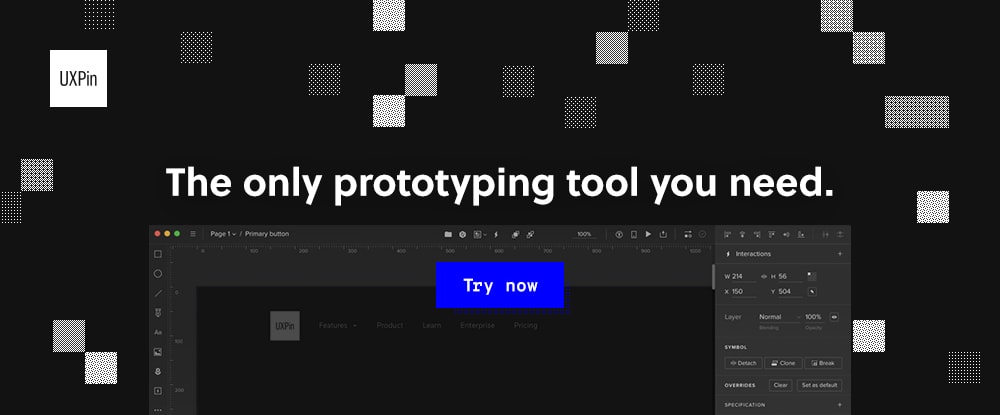 Have you ever made an interactive prototype so detailed and realistic your stakeholders believed it's the real product? That's UXPin users' everyday life, according to what they say on social.
You and your team can build lifelike prototypes with UXPin's library of code-based components, conditional logic, interactive states, and keep overall design consistency thanks to design systems and shared component libraries.
From concept-demonstrating wireframes to collaborative prototyping with the ability to leave comments and share specs with developers, you can create everything in one app, in real time.
UXPin is a design tool used by top companies of all sizes like Microsoft and PayPal, but also software houses and freelance designers. Try it free and see if it suits your needs.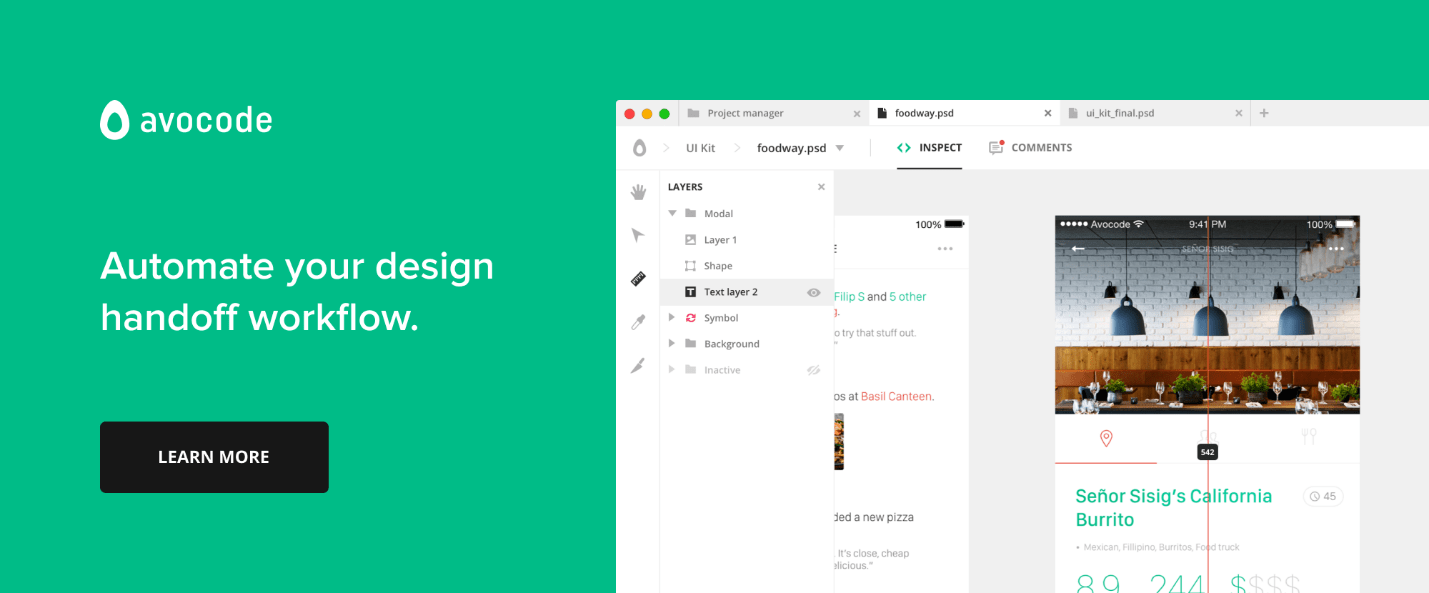 Avocode is a platform-independent tool that supports all types of design handoffs. You no longer need design tools to sync your Sketch, XD, PSD, AI and Figma files. You can simply keep your design files synced and backed up in the cloud and upload them directly in the browser.
You don't have to prepare your files in any special way to enable your team, clients, and project stakeholders view your design, get specs and assets, discuss changes, and make recommendations.
Savah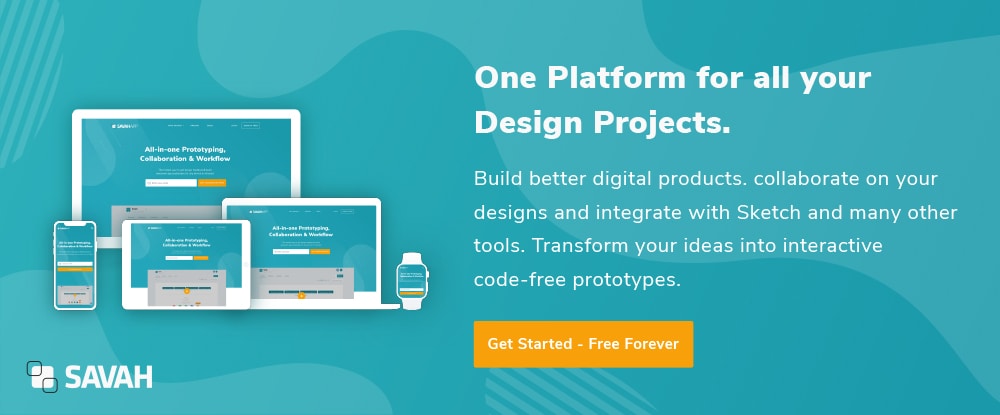 Savah is a design platform for design teams to be transparent and more productive. With Savah, teams can present web and weather mobile app designs in real-time, collect feedback. Savah also assists in your collaboration needs and has a built-in design workflow and approval system. Supercharge your overall design process by integrating with Sketch, Google Drive and Dropbox. Savah offers free forever plan for solo designers.
How do you choose the best prototyping and handoff tool?
It's not an easy task, if only because there are so many tools and methods out there. There's not a single one that's "best of all" because everything depends on your immediate needs – which can sometimes change from project to project.
Your chances of making a good choice can depend on several things:
How easy it will be to collaborate and share with others involved in the project
How easy it is to learn and use
Whether you need low fidelity (testing ideas), medium-fidelity (testing layout and main interaction) or high fidelity (testing micro-interactions, visuals, and more) – or all the above.
Price — it has to be affordable
We're not done yet. You also have to consider the following criteria when evaluating a prototyping or handoff tool:
Fidelity: How well does the tool support visual and interaction design?
Consistency: What features are there that ensure design consistency in your work?
Accuracy: Do the elements you're working with reflecting the "source of truth" in your organization?
Collaboration: Can you easily and accurately collaborate with stakeholders or co-design with others?
Developer Handoff: Does the tool generate the specifications and assets developers must have?
Don't get too tied up trying to find just the right tools. After all, they're simply aids, although they should not place constraints on how your products look or function.
Conclusion
Keeping abreast with the latest prototyping and handoff tools and technologies is important. Choosing the right ones requires some careful consideration. Some tools are obviously more effective than others. It depends on the anticipated level of collaboration with other team members, the size of the team, the use involved, the platform/OS it runs on. Also it depends on other tools you might require to integrate with to maintain a seamless product design workflow.