Spice up your Website with Organic Stuff – Best Practice
Earthy colors, wooden textures, grass photo backgrounds, crocket, flowering trees, pictures of animals and birds, and even regular illustrations and artworks of landscapes – all these instantly determine the organic style. Despite of seemingly apparent limitations of color scheme (it's widely believed that organic style is associated with brown and green colors) designers easily experiment with implicating of other bright colors in order to add to design vivid and bright appeal.
Graphical elements, initially taken from meadows and forests, are able to serve not only as decorative tools, but also as valuable emotional components which aim to make design more unrefined, green and fresh, establishing optimistic and unspoiled atmosphere. So, as a consequence aesthetics of nature and the harmonious riot of colors easily separate website from competitors, bringing to owner considerable benefits.
Ardent and Vivid Organic-inspired Website Designs
Noupe – Opens our collection is perhaps one of the brightest examples of the beautifully-executed organic style in website design. Despite of being regular blog, Noupe is able to draw users' attention not only by its valuable content but also by terrific appearance that is full of foliage and plant decorations.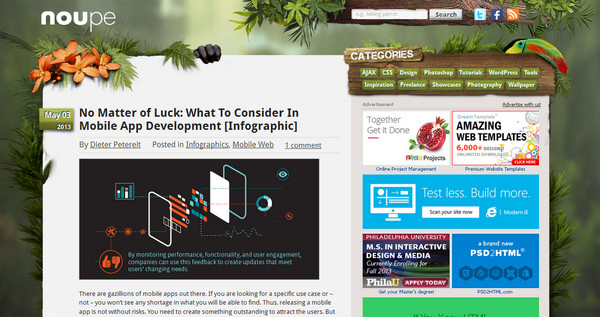 Die Frische Bergbauern nicely blends together vivid grass and fabric textures that compliment countrified photo background on the landing page.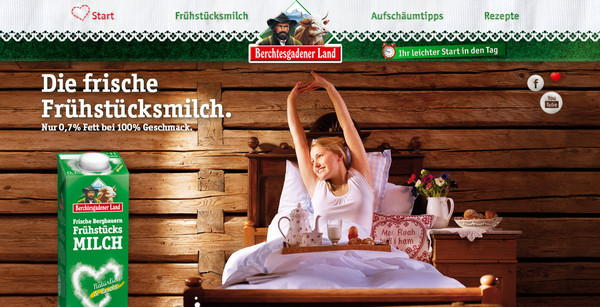 No-Code Email Template Builder
With Postcards you can create and edit email templates online without any coding skills! Includes more than 100 components to help you create custom emails templates faster than ever before.
Try Free
Other Products
Pasazas has an artistic illustration-driven header that features nature-inspired typography, made in muted colors and carrying out a role of a peculiar timeline.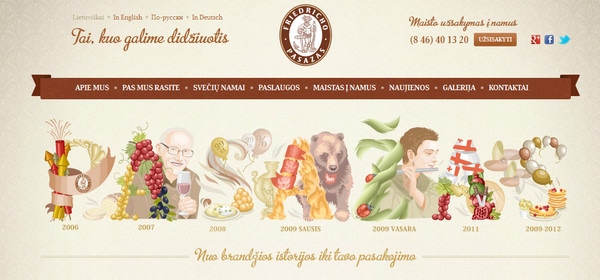 The Last Game uses realistic grass photo background, which, now and again, is harmoniously accompanied by wood-textured widgets.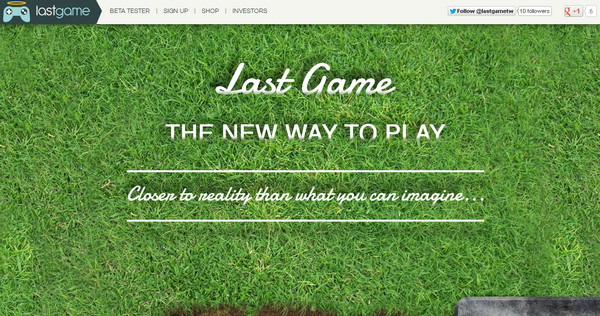 Adline exhibits captivating logotype that is lavishly decorated with vector monochromatic flowers and rough background with soil effect.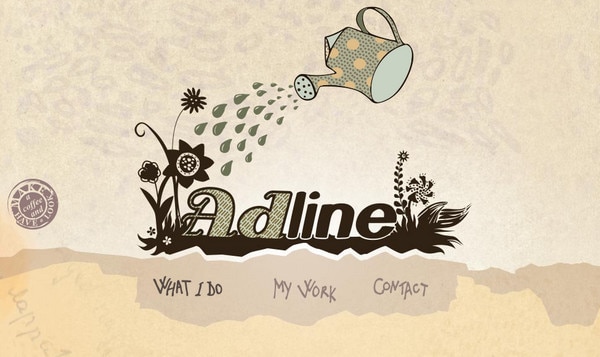 The New Zealand Beer Festival instantly exudes an image of nature by utilizing blue sky background, huge leaf textures along the sides, and plain organic graphical elements that serve as a decorative background for tagline and menu.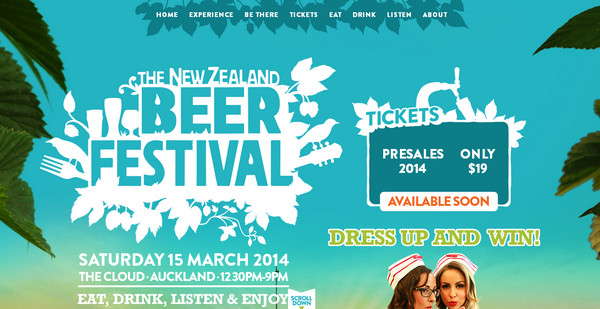 Bouygues Telecom skillfully utilizes full screen slider that includes photo manipulated landscape backgrounds.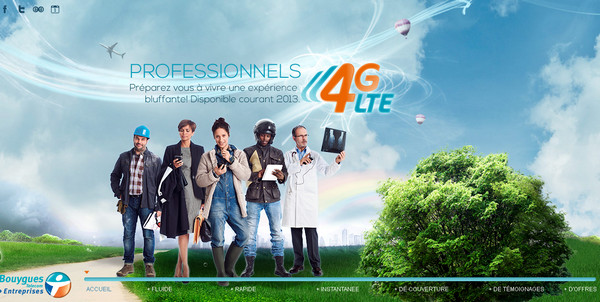 SevenModules ostentatiously adds a hint of nature due to artistic slightly blurred watercolor illustration on the main page.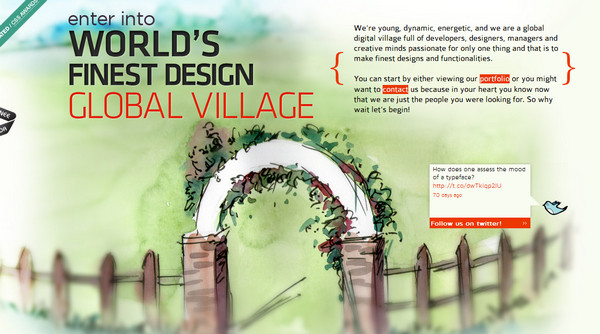 Fruitylife accurately incorporates organic elements in photos. It also capably utilizes the power of color, graphically sorting fruits and vegetables.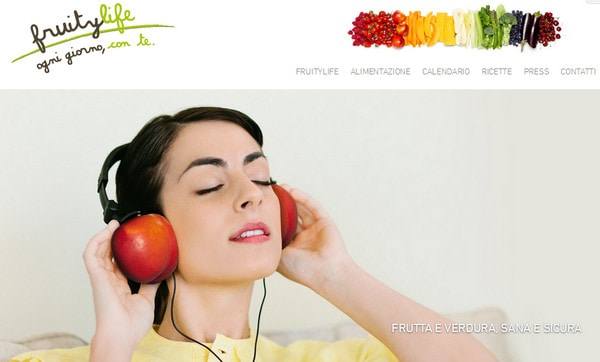 Kyteman is pulled by offbeat root-themed illustration that easily invokes earthen feelings. White spacious background and red standard type help users not to get lost in such complicated interweaving.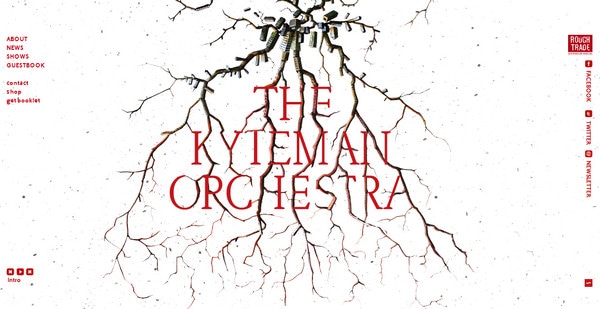 Arcadia is marked by exceptional additional navigation system that is based upon isle-themed background, and easily attracts onlookers by spectacular scenery.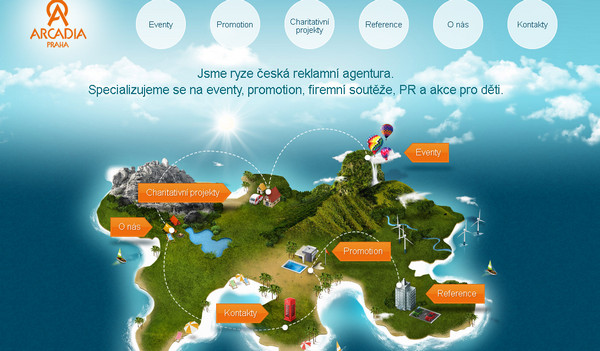 Media Engine also attracts viewers by means of unique 3-dimensional island-inspired illustration that plays a role of a background for optional menu of service section.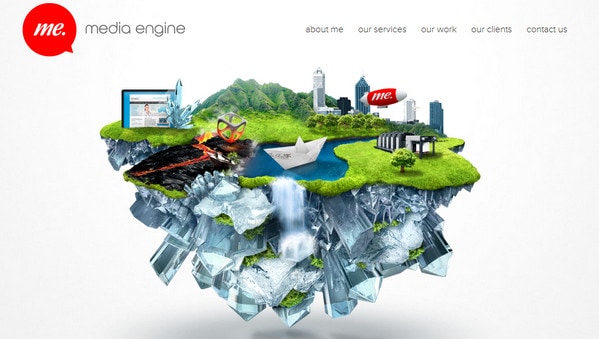 Outdoor Italia benefits from a powerful scrapbook style that adds to site multilayerness and complexity. Sheen, virtually vivacious crocket is accompanied by amazing animated ants that, every now and then, appear in the header.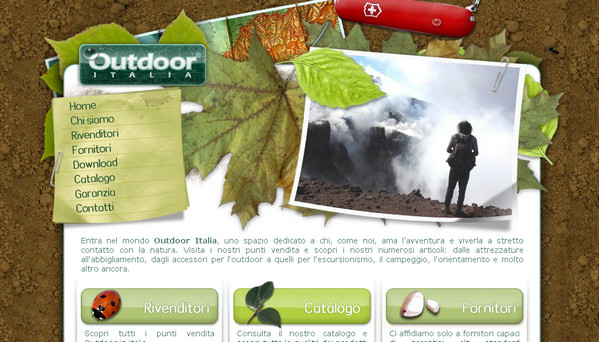 GoedeMorgen! is a modern take on virtual promenade. While you are surfing throughout the site (that utilizes regular parallax effect) it seems that you find yourself in a warm summer park full of freshness and naturalness.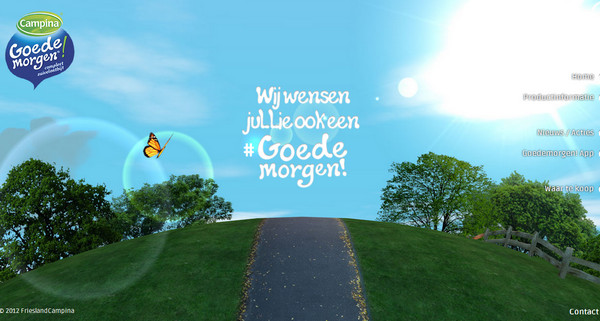 Avioc Web Design – Astonishing high-detailed landscape photo manipulation on a home page gives the site its organic appeal.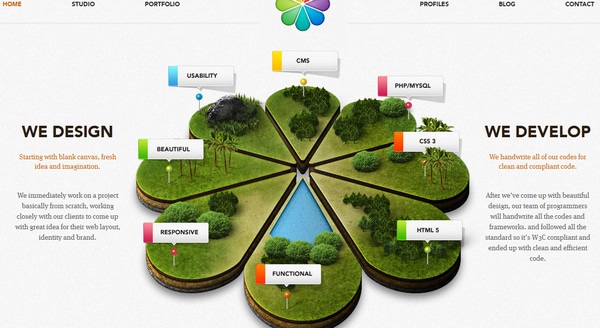 RedMica gets the feel of nature from its meadow-inspired header background that goes perfectly well with tagline, type logo and illustrated notebook.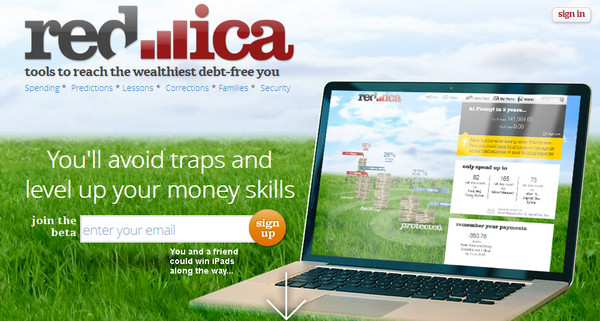 East African Bakery is fully centered around bakery process, wonderfully mixing together dark wood background and garden stuff that have lively skeuomorphic feel.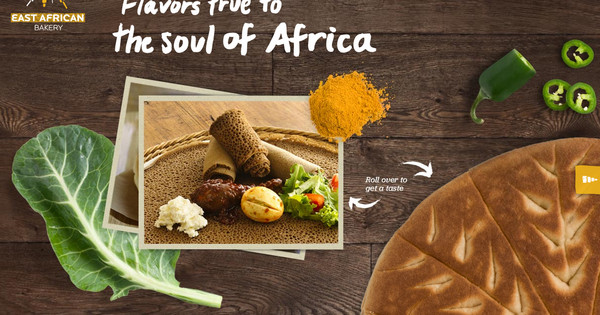 Harris Farm Market grabs users' attention by thrilling doodle of natural paysage in the top. The use of green as a core color and the repetition of the background in a slider section greatly enhance organic appeal.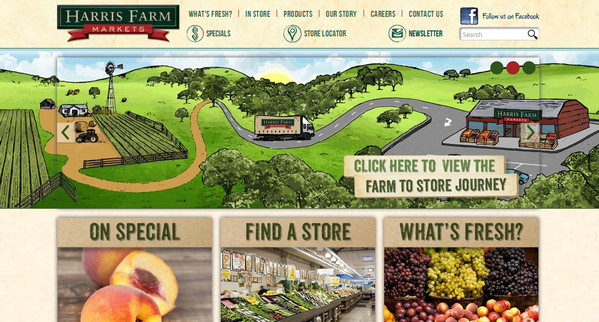 Dan Meek wonderfully melds render of soaring earthen island and hand-drawn tree illustration that all together evoke slightly mixed feelings.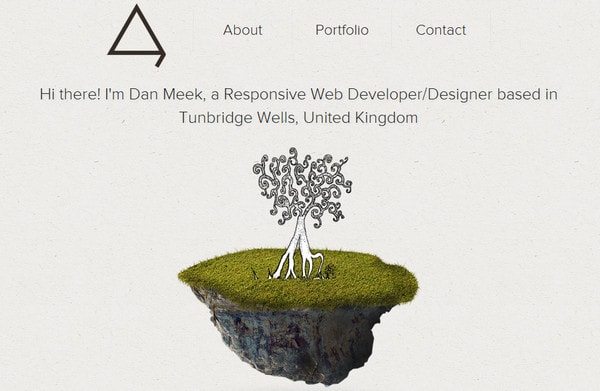 Urban Light has a strong urban vibe with a beautiful grunge touch. Heavily relying on textures, designer easily adds feelings of nature by startling watercolor illustrations that depict soft blue sky and green grassy scenes.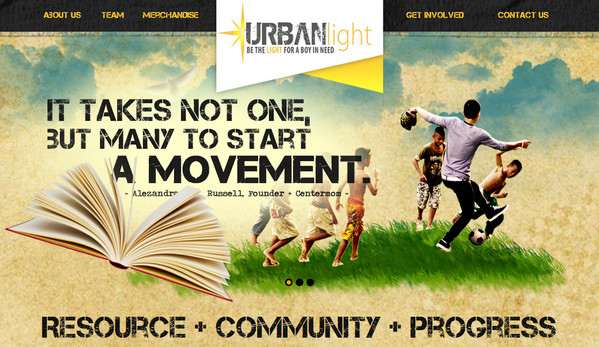 Vitala Foods loudly screams digital scrapbook style. Wooden additions, green type and illustrated dairy produce along with light spotty background establish soft atmosphere.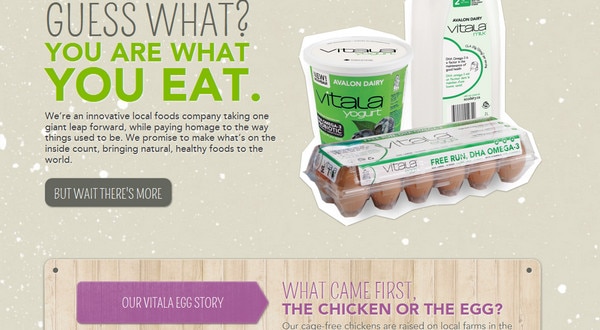 Lab4motion is personified by exquisite earthen photo manipulation that showcases life in miniature. Light grey background adds additional air, making website look spacious.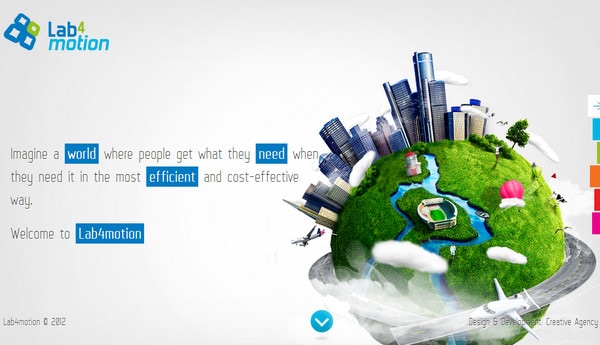 Chinese Institute is another example in our list that beautifully incorporates wooden texture. It easily compliments heavy blurred photo background and red additions; as well navigation system nicely stands out.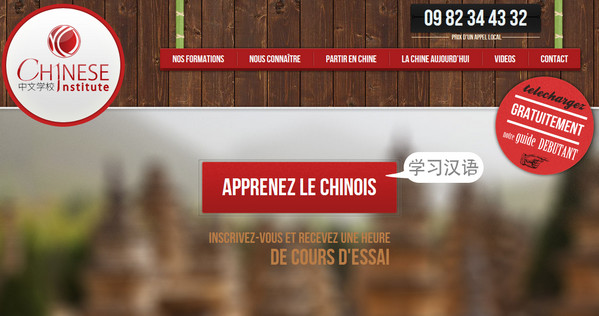 Studio Brun – Organic style appears in several different guises. It neatly manifests itself in welcoming photo in a header as a tree stump, as a purple leaves graphics in a content section, and finally as subtle elegant foliage that decorates tagline.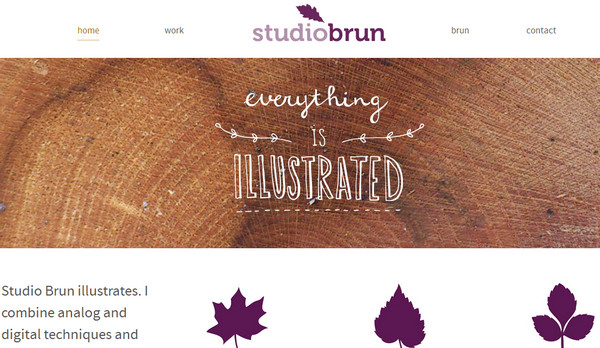 Dagoba features splendid slightly clouded exotic scenery that, on the one hand, brings note of naturalness, and, on the other hand, compliment and help to emphasis handwritten delicate type, light fabric texture and yummy sweets in the center.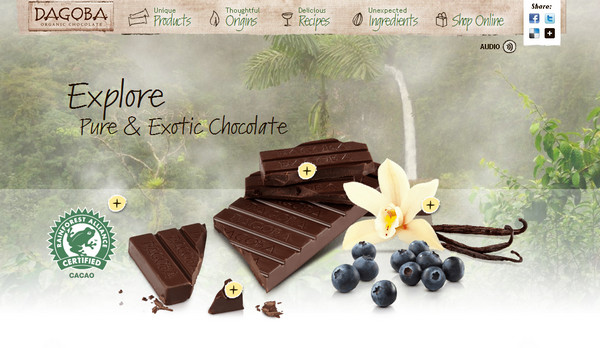 Kooba exhibits spectacular outline landscape-inspired illustration in a header that graphically demonstrates busy office life.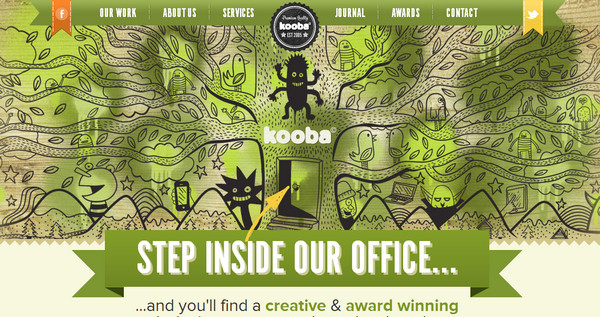 The Organic Supermarket has an organic vibe thanks to realistic background that closely resembles grassy field.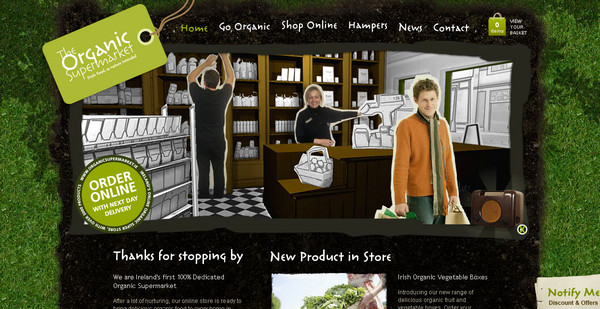 Reflection
Generally designers prefer to leverage foliage, grass textures, plant decorations and wooden patterns in order to provide designs with nature appeal. Websites get a truly scenic look that slightly diluted by multilayer effect, which guarantees harmonious connection between plain and featured parts. However, it is worth noting that extensive utilization of high-detailed textures and quality photo backgrounds increases visual weight of overall design, so it's very important to strike a balance to avoid messy and busy outward.
What do you think about organic-inspired website designs? Do they cause positive feelings?  Do they look balanced?  Do you think utilization of realistic textures and photo backgrounds copes with their work well?
Like what you're reading? Subscribe to our top stories.