Tips for a Perfect Wedding Website
You've probably RSVP'd a few times already, or bought a gift.
It's wedding season.
Summer and fall months are a popular time for nuptials. And couples are finding that a great wedding website is a great way to communicate with family and friends without a lot of added expense. What started as a small trend is becoming more and more popular.
A website can serve as a save the date, wedding information portal (registry information, dress code, directions and more), and place to share photos and videos.
While many couples may opt for an out-of-the-box template-style wedding website, you can make your site stand out from the others. A dedicated wedding site is more personal that a simple Facebook page, and is more accessible to those who (gasp!) might not use social media.
Here we share some tips for creating a great wedding site and examples with a lot of personality – and you don't have to rely on script typefaces and pink ribbons.
No-Code Email Template Builder
With Postcards you can create and edit email templates online without any coding skills! Includes more than 100 components to help you create custom emails templates faster than ever before.
Try Free
Other Products
Emphasis on Landing Page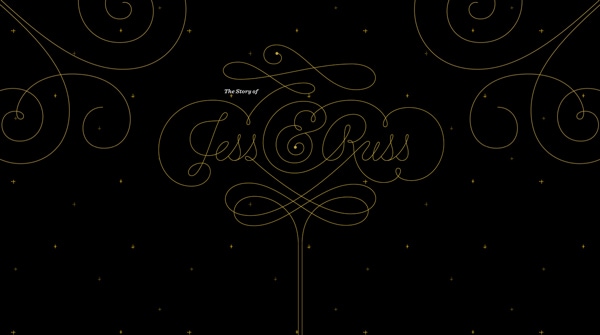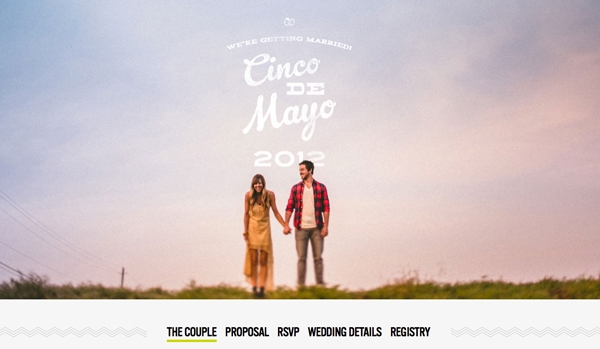 A wedding website can be as simple as a single-page design or as complicated as you can imagine. But the landing page is of utmost importance.
The wedding site landing page (or homepage) should communicate three things: The couple should be clearly identifiable, the wedding date should be visible and all other navigation should be clear and easy to find.
The information a couple decides to put on the page can vary but should often include event information and directions (include accommodation information for out of town guests), wedding-related events, RSVP, gift registry link and contact information.
Make it Personal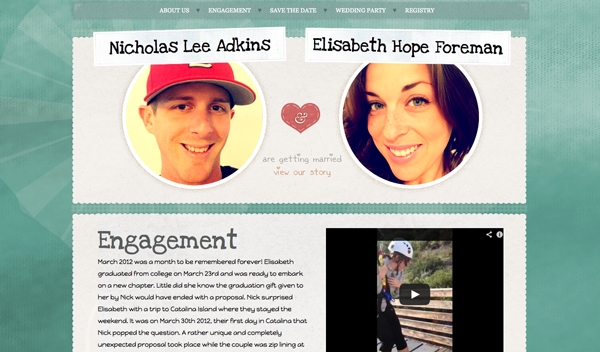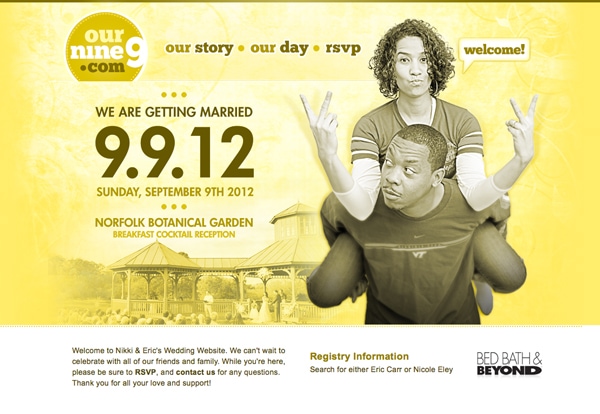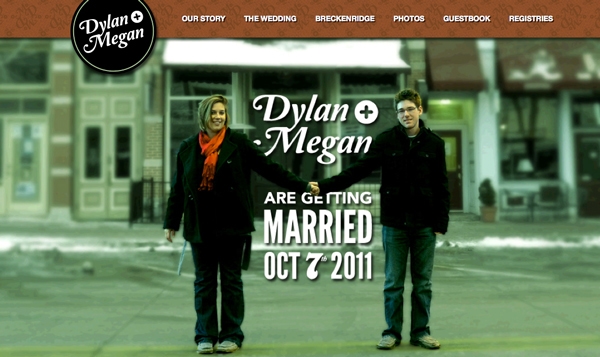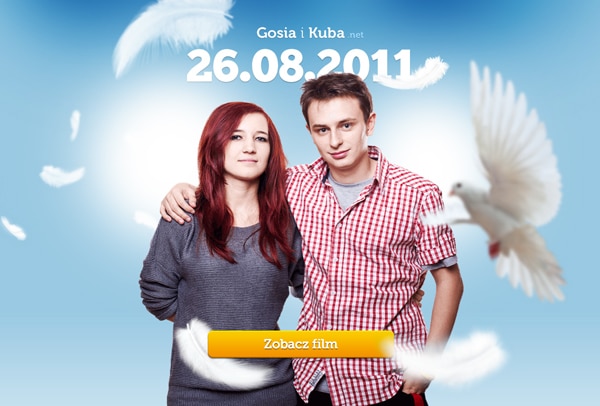 The most important part of designing a wedding website is personalization and personality.
Your site should reflect who you are as a couple. The theme should match your personality – fun, formal, nontraditional or quirky.
There are no rules when it comes to what a wedding site must look like. It should appeal to the couple as a whole. (Too many wedding templates feature a feminine look that is not always universally appealing.) Opt for typefaces and colors that both of you like. Consider pulling the idea for the theme for the big day into the web design, using the same colors and typefaces.
Use the site to tell your story. How did you meet or come to be a couple? What path led you to marriage? Remember some of your guests may not know the full story; this can help them better connect with you before the big day.
Include Photos and Updates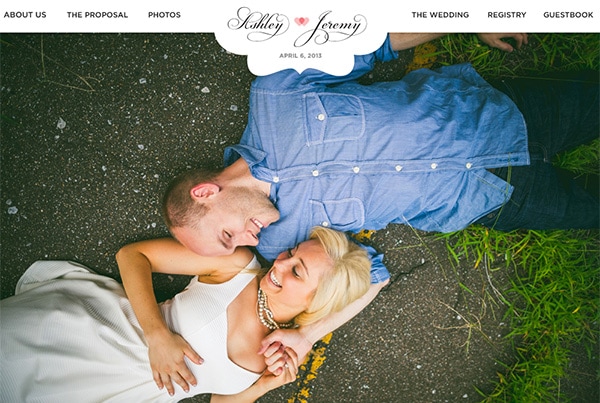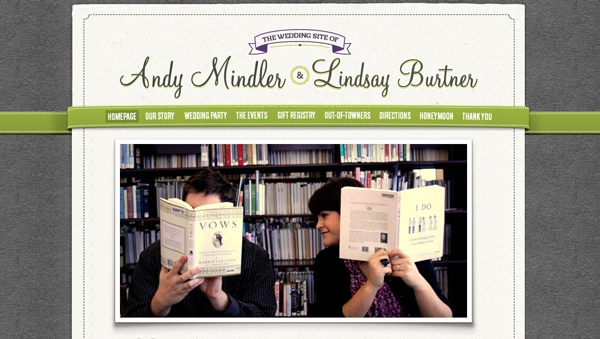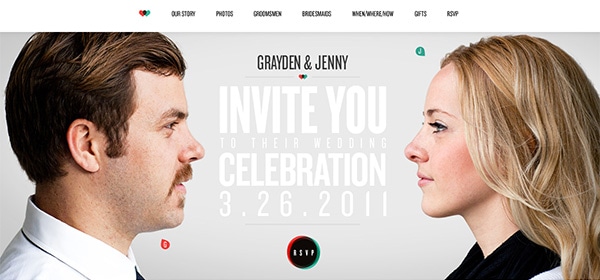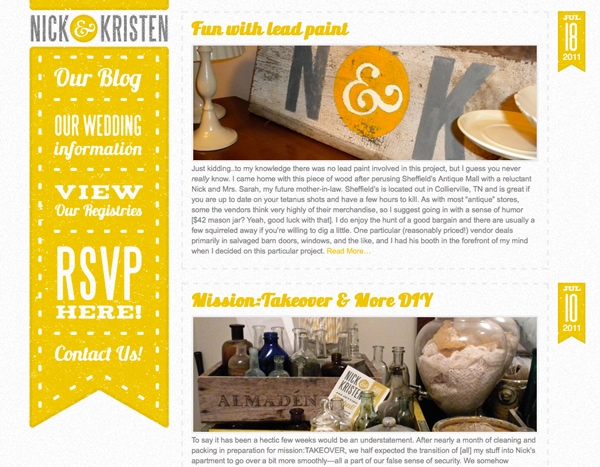 Another way to personalize your site is to include plenty of photos and wedding updates. Some sites go as far to include a blog, which can be a fun way to share wedding news.
Adding photos is a great way to get a lot of bang out of all those portraits as well.
And remember to have fun. Show off your best pictures as a couple – fun moments, portraits and or even photos that showcase some of your favorite places or the wedding venue.
Many couples also continue to update the site after the wedding, sharing photos from the ceremony and reception or honeymoon.
Include Event Information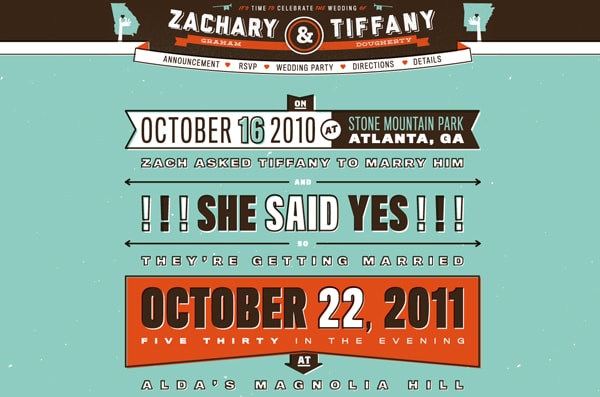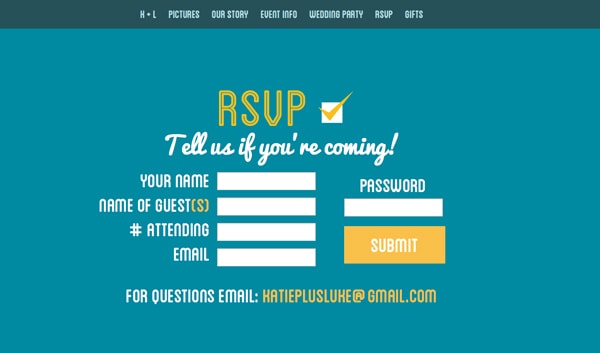 This may not be the most fun part of your website, but it is the part that will get a lot of clicks from visitors and wedding guests.
Make sure to include all relevant event information, from where the wedding will be held and how to get there to dress code, dinner and drink options (if applicable) and whether your event is child-friendly.
Then think about a digital RSVP if you don't want to deal with paper responses. (This can also save you some return postage.)
Include gift registry links as well. While some couples may shy away from this idea, it can make it much easier for people who want to buy a gift.
Finally, make sure to include contact information. Whether it is an email, phone number or physical address, it should be easy for people to find you. Worried about spam or unwanted visitors to your site? Consider using password protection – you can provide the information as a link or in a mailed invitation – or de-listing your site from search.
Friendly User Interface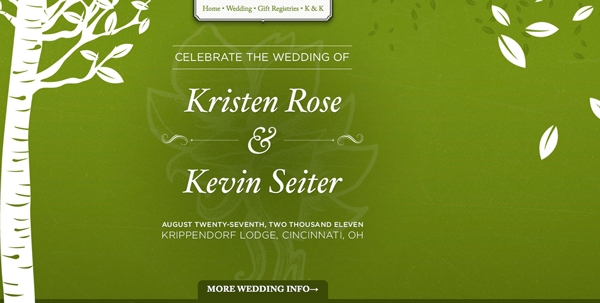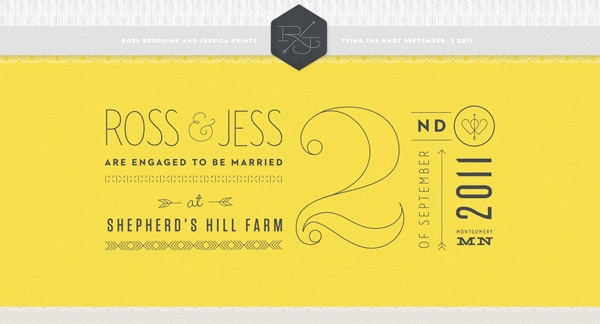 It almost goes without saying, but remember to make your wedding site user friendly.
Links should be easy to find and click. Navigation should be simple. A wedding site does not have to be massive. Many are even only one scrolling page.
Consider a mobile friendly version as well or a website built with responsive design.
Design on Trend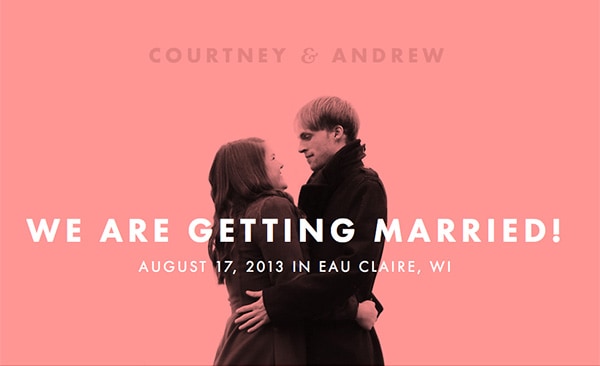 We discuss a lot of trends here at Designmodo and you can make some of these work for a wedding design as well.
Courtney and Andrew's wedding site combines three trends into one great site, using flat design, parallax scrolling, and retro color.
The site has a super-modern look and feel and stands out because of its on-trend look. (We're guessing from the bios that the site looks so great because Andrew has "a knack for web design and web development."
Conclusion
Wedding websites are increasing in popularity daily.
Just like the dress, most couples would rather have a site that is unique and perfect for the day. Whether you opt for a template or custom site, remember to make it yours.
Like what you're reading? Subscribe to our top stories.