Send an Efficient Black Friday or Cyber Monday Email Newsletter
Black Friday and Cyber Monday (BFCM) is one of the biggest events of the year. Everybody is looking forward to it. While offline retailers and online entrepreneurs see it as an excellent opportunity to maximize revenue and get rid of old stock; customers consider it as a chance to treat themselves with good discounts and long-awaited gifts.
Although this event brings joy, it does not mean that you, a business owner, can sit back and relax. It comes with some of the toughest competition ever. Subscribers' inboxes will be barraged with promotional email newsletters, and your task is to get noticed. To meet this challenge and emerge victoriously, we have prepared a guide on how to send an efficient Black Friday or Cyber Monday email newsletter.
An efficient BFCM email newsletter takes some advance work. Prepare to ensure that your email campaign will not fail during the busiest sales days of the year. Let's start with the basics.
Clean Subscription List
Even though BFCM is a special weekend when everybody will be waiting for discounts, it does not mean that you should bombard subscribers who are not interested. Of course, you can send "we miss you" emails with BFCM reminders, but the best thing to do is to send to engaged subscribers. Therefore, clean your subscription list and segment the audience to ensure that your BFCM announcement won't bounce from every inbox resulting in bad rates.
Remember, although BFCM weekend is an apotheosis, yet it is certainly not the end. It is a part of marketing strategy, and an opportunity to secure subscribers and add new ones.
Collect Data in Advance
A good BFCM campaign depends on your ability to shoot straight. Use the year, especially November, to collect data about customers. What do they like? These stats can become a perfect starting point in choosing what deal to stress in your email to lure potential buyers in without much pressure. Make the BFCM newsletter meet the expectations of your subscribers.
Online Email Template Builder
With Postcards you can create and edit email templates online without any coding skills! Includes more than 100 components to help you create custom emails templates faster than ever before.
Try Free
Other Products
Warm the Audience Up Beforehand
Warming the audience up beforehand enhances the Black Friday and Cyber Monday email campaign. As a rule, people start to buy presents before the holiday. Send them a newsletter with a special coupon that will be valid during the weekend. You can also tease customers with upcoming sales sneak peeks to create buzz and interest. Use Postcards for that.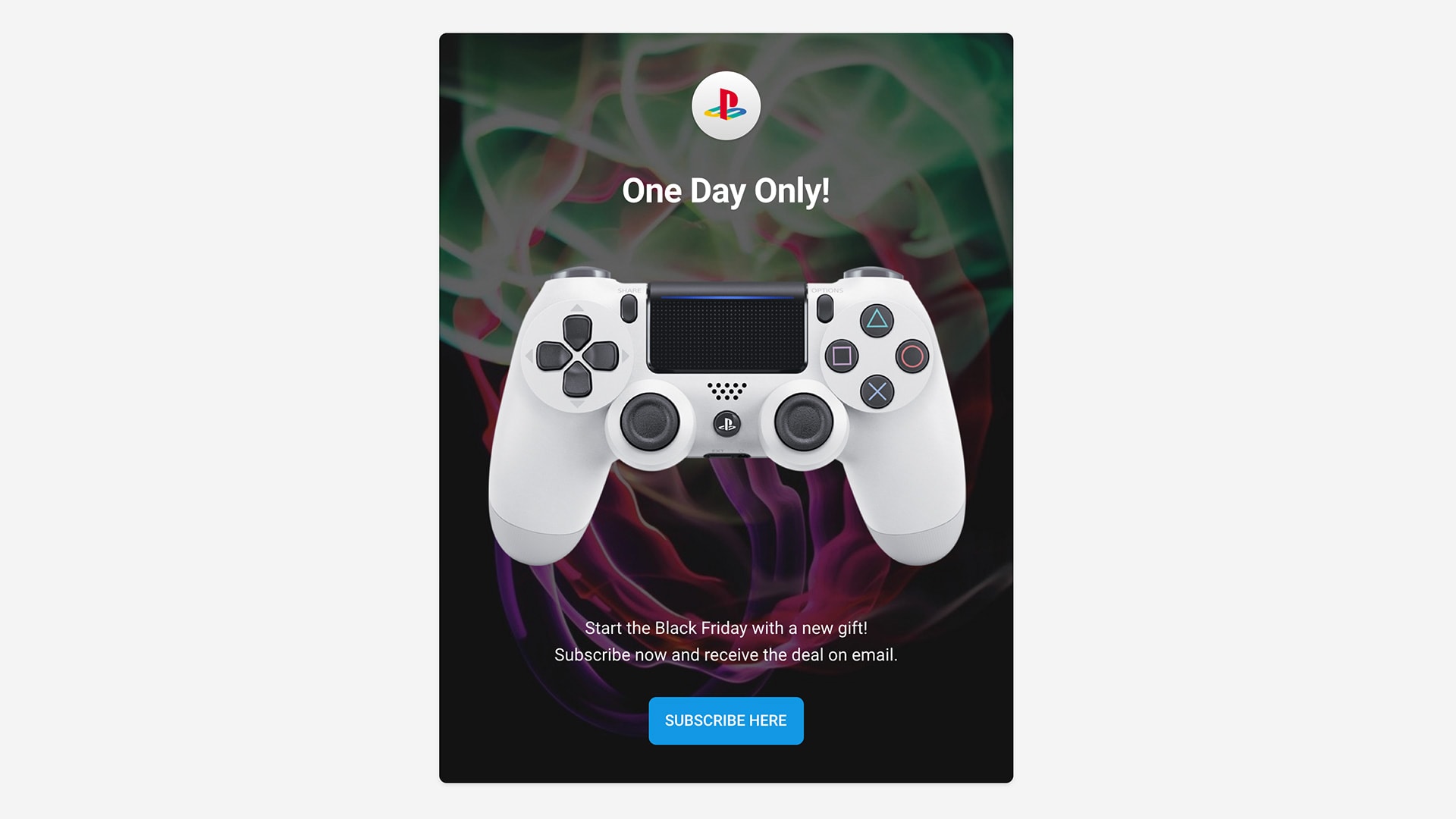 Quickly build a beautiful email newsletter without coding like one featured below to awaken curiosity and direct the attention toward the future event.
Use a Website to Your Advantage
BFCM campaigns are a collective work. Your website is your assistant when it comes to sales so it should be dressed up as well. Use it to create proper anticipation for the event. You can
Add banners
Scatter BFCM-related graphics throughout the design
Emphasize an event in the content using infoboxes
Change the design of the hero area for the holiday
Add to the popup subscription box a small reminder about the big event
Create a landing page
Inform users that special offers for the subscribers are coming soon; so it is better the check the inbox for early bird discounts. Stay consistent across all the mediums.
Use Other Channels
Along with using social media profiles to notify followers about the upcoming event, you can also go for a traditional advertisement on Google, Facebook, Instagram, Twitter, or Telegram. Even SMS can do the trick here.
Email Subject Line
The subject line makes a first impression. Remember your email newsletter will not be alone in the inbox, so you need to motivate subscribers to open it. You can use magic words "FREE" or "Sale." Also, you can spice things up with glyphs and emojis.
The success of the subject line depends on how well you know and understand your audience. Either you analyze subject lines throughout the year and figure out what words are more appealing to your audience, or you do A/B testing to find the preferable variants right before the event.
Email Content
At the heart and soul of every efficient Black Friday and Cyber Monday email newsletter is content.
Get straight to the point and give people what they have grown to expect from you on BFCM weekend: good discounts, special offers, and massive sales. Everybody will be waiting for their sweet deals, so do not disappoint them.
What to Include
Much like with subject line, it is here where you need to figure out what subscribers want the most. Of course, this is not a guessing game – it should be in-depth research conducted throughout the year. Ideally, depending on subscriber preferences, you can segment the audience and send targeted email newsletters. Other best practices include showing
A best-selling product
The most interesting item
The most expensive product with a steep discount
A free coupon
Or even a gift
Do not overwhelm people with too many choices since this can backfire.
Inject Excitement into Copy
While reducing the price of best-sellers is a good idea, it can also be beneficial to inject some excitement into the copy. Try these tricks:
Present loyal customers with specific gifts
Offer exclusive deals that are available only for subscribers
Give away products
Offer free shipping
Extend the sale
These incentives create extra buzz around the event and help to develop stronger relationships with customers to foster their loyalty. A BFCM campaign will pass, but subscribers and customers will stay with you. So why not to make this day special for them by showing appreciations from your side?
Psychological tricks
There are various techniques that appeal to a subscriber's subconscious. We are going to highlight the most viable ones.
Reciprocity
Reciprocity is a powerful thing. Giving something free may and most certainly will cause a feeling of wanting to return the favor by buying a product from your store. Be ready to present subscribers with unique gifts.
Exclude Too Many Options
Having too many options can paralyze decision-making. Limit the number of products to several or even one but make them big. The same applies to CTAs. Subscribers do not need a dozen buttons; they need one that leads to the best deal ever.
Influence buyer behavior with social proof. A picture of a local celebrity who has recently bought your product will do the trick. However, since this is not an option for every budget, you can use ratings displayed near the product. Or you can impress them with numbers displaying how many items were sold during the year. Show subscribers that many people endorsed your goods.
Urgency and Scarcity
Urgency and scarcity are other popular psychological tricks. Even though they are increasingly overused, they do the job. Use such phrases as:
Moving fast
Almost sold-out
Don't wait
And even, sorry you missed out
A timer, number of items that are left, or a "bestseller" badge are popular techniques to boost excitement and encourage customers to make a decision fast.
Tone of the Copy
It is not necessary to change the general tone of a BFCM email newsletter. However, if you feel like adding some spice to your copy, and most importantly you know how to do it (maybe because you have run some A/B tests), then nothing can stop you. Remember, be organic with your BFCM campaigns.
An efficient BFCM email newsletter depends on the design. Subscriber mailboxes will be teeming with special offers; use design t stand out.
Color
BFCM is associated with black designs. However, it does not mean that your email newsletter should be like a piece from film noir. You should use this tone with caution. Consider Free Black Friday HTML Email Newsletter Template as an excellent example.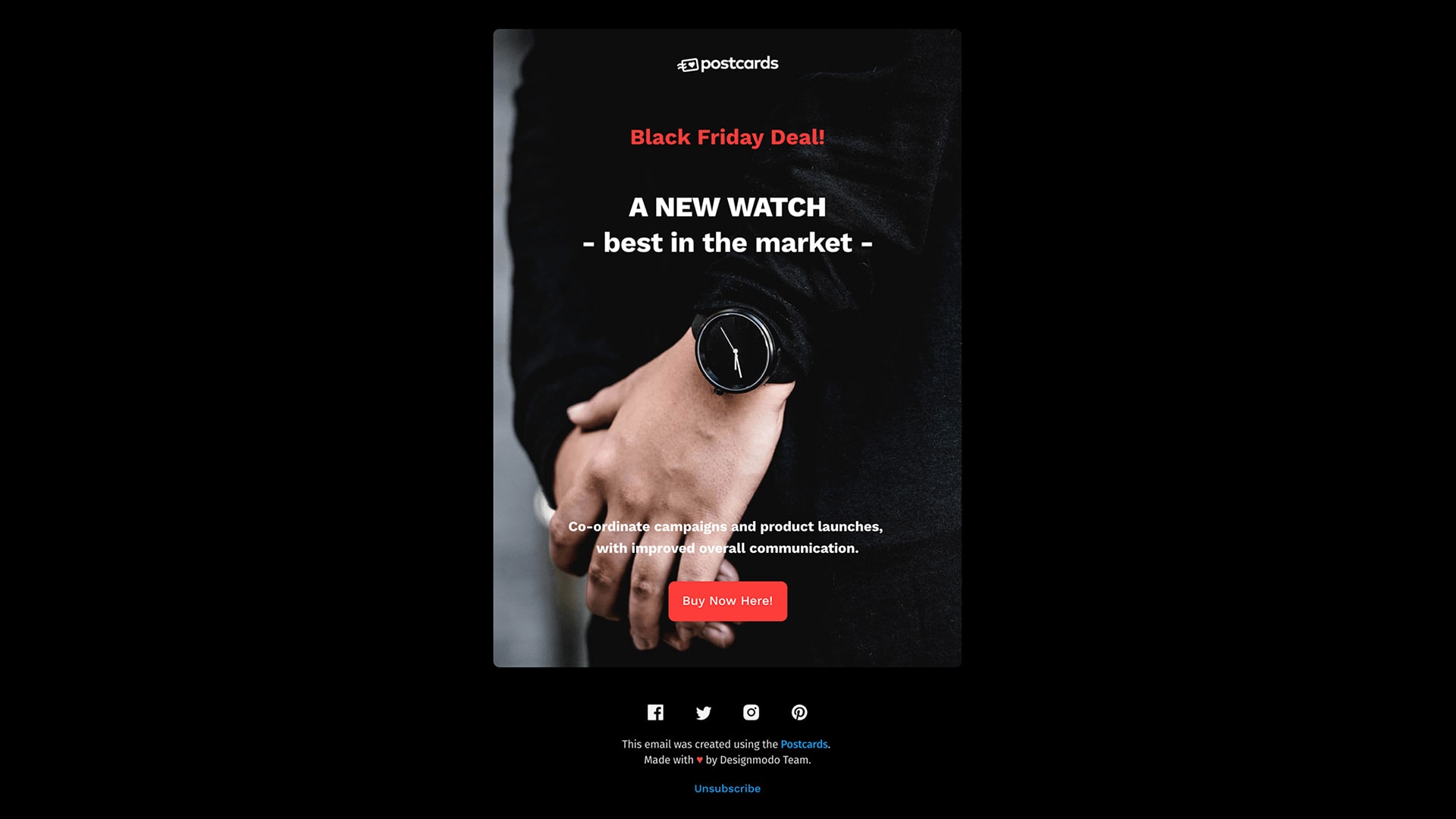 The template exudes chic vibes. That is exactly what is needed for the email newsletter that promotes an upcoming sale.
It matches the businesslike tone and fits the BFCM weekend atmosphere. The design has a dark aesthetic; however, a smart image background obtains it. Therefore, it is not overwhelming. What's more, it creates a perfect foundation for the content on the fore. As a result, the offer and CTA instantly catch your eye thanks to contrasting color.
Structure
When it comes to such events as BFCM less is always more. Make the structure as simple as possible. Stick to a one-column layout. Keep offers above the fold and do not overdo with graphics. If design skills are not your strong suit, seek help with an online HTML email template builder like Postcards. The latter includes everything you may need to create Black Friday and Cyber Monday email newsletter using an intuitive drag-and-drop interface. So you do not have to design and code everything from scratch. There are a dozen handcrafted components that can be quickly edited for your campaign.
Mobile Friendliness
It comes as no surprise that nearly 30% of online orders on Black Friday and Cyber Monday last year were made via cell phone. Like it or not, your design should look fantastic across all devices. A mobile-friendly layout is an absolute must.
Timing
Black Friday and Cyber Monday takes up an entire weekend; however, you don't need to stick to this general rule. Sometimes sales begin earlier and most often end later so you can extend this period. In this case, you can prepare a series of emails to maintain buyers' excitement during the entire period.
BFCM weekend is not all about two email newsletters. It is much more than that. There are several types of newsletters that you can send
Sneak peeks of upcoming events
The first announcement with details of the event or early bird offers
Black Friday and Cyber Monday Email newsletters with the best offers ever
Exclusive offers for loyal customers during the weekend to engage them even more
An unobtrusive reminder before the sale ends
An email with the extended sale as a pleasant surprise
Do not forget about transactional emails like abandoned cart newsletter that certainly may come in handy.
National Geographic Email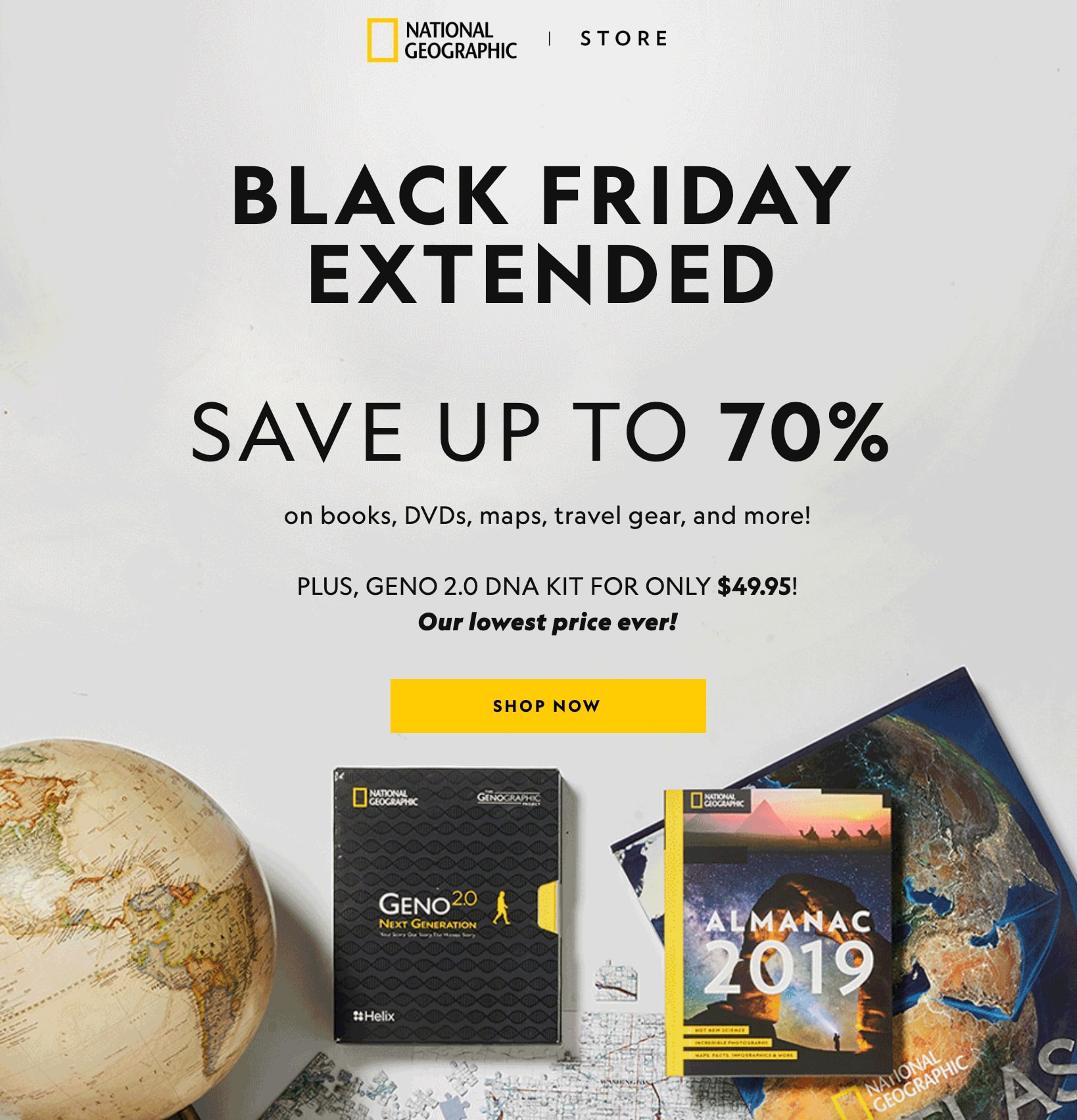 Elementor Email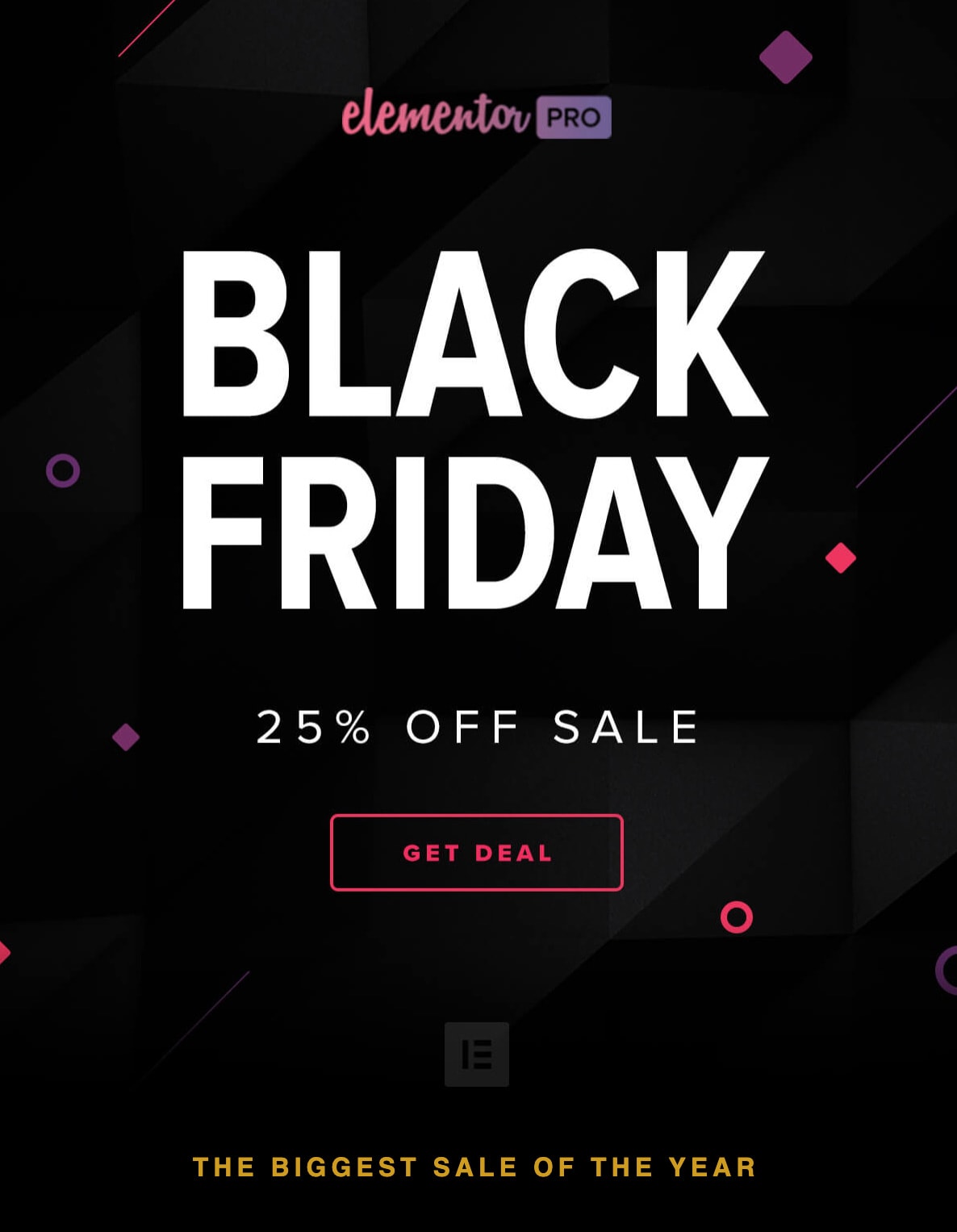 Dakota Email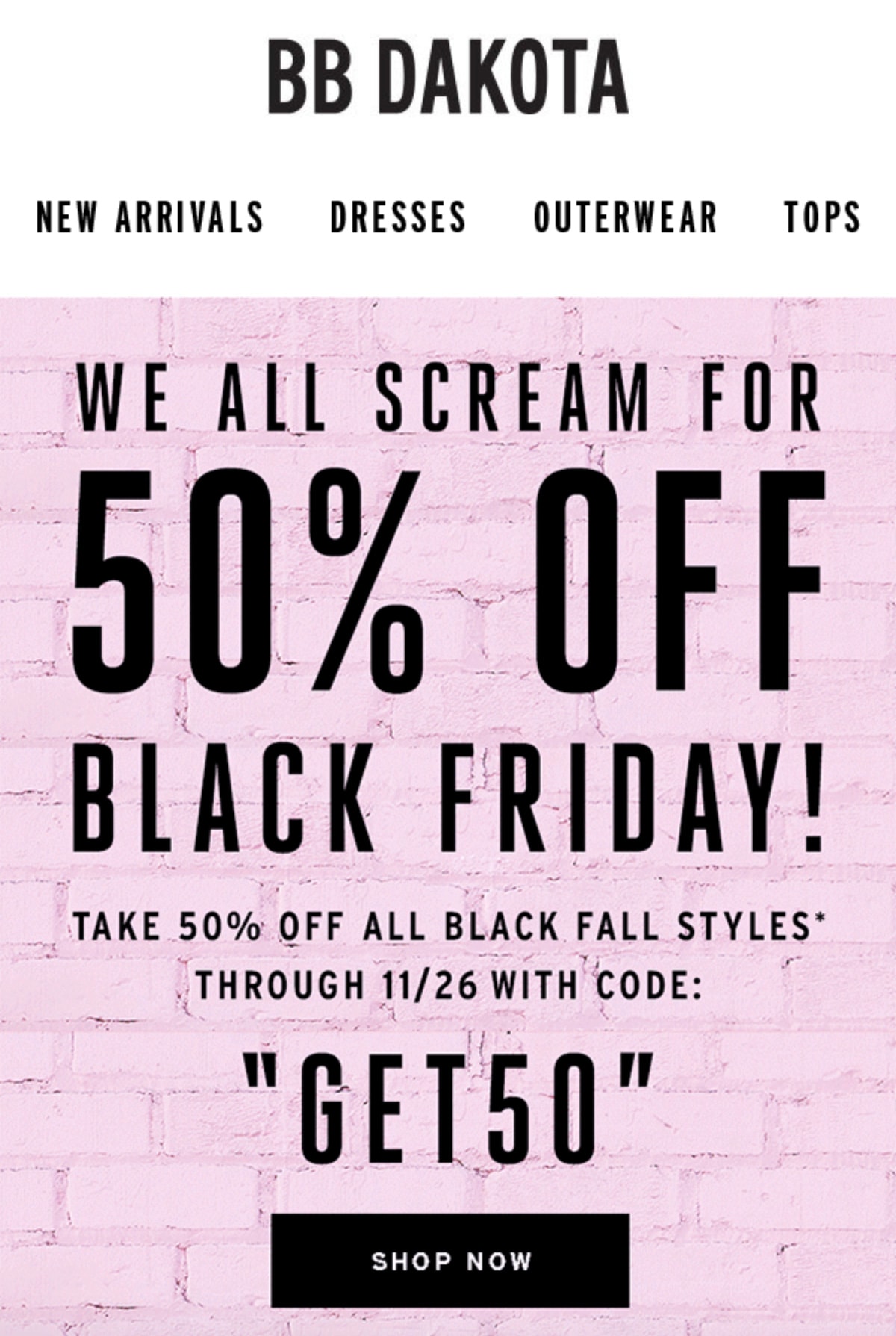 TunnelBear Email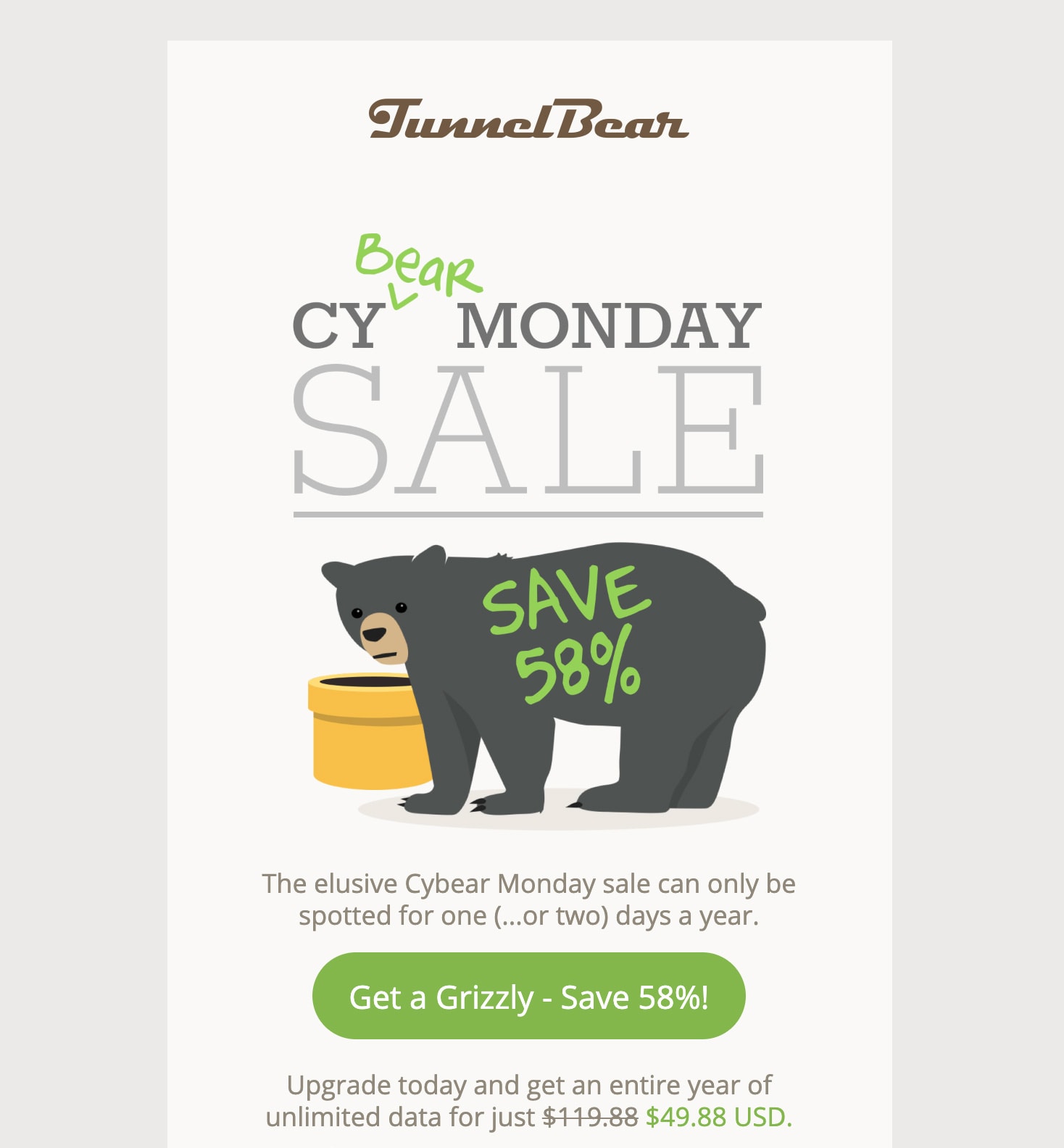 Adidas Email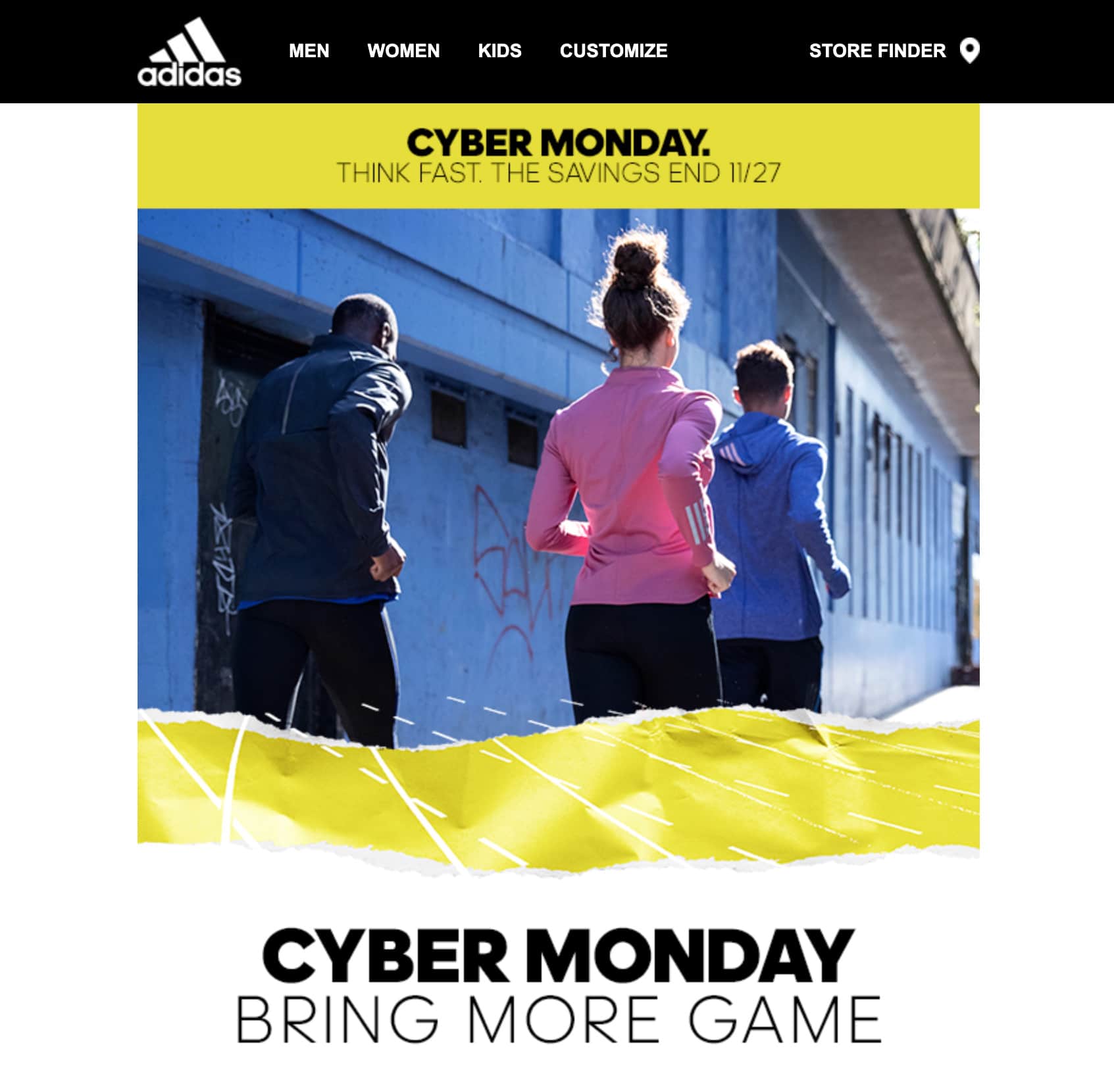 Fossil Email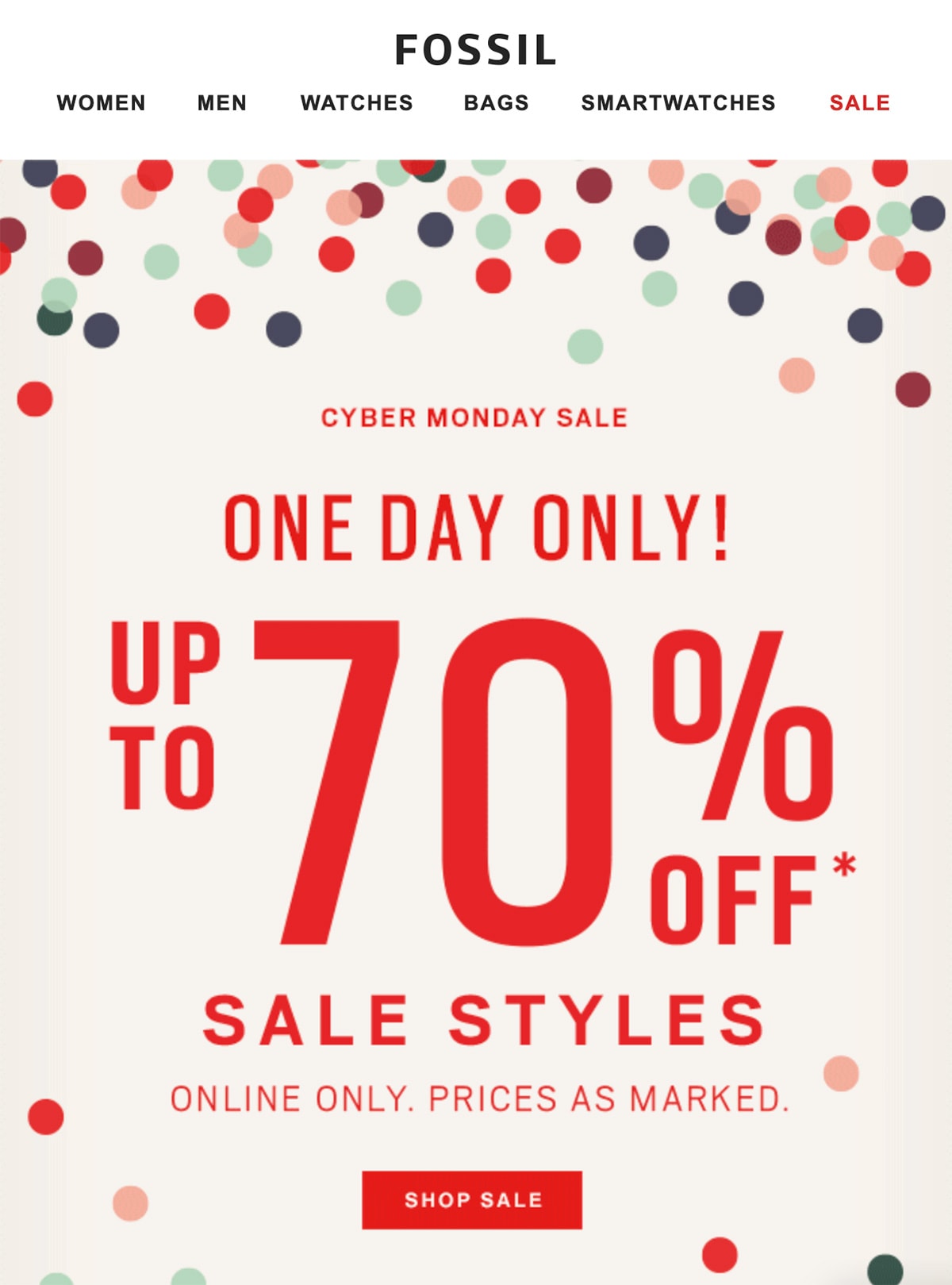 Conclusion
Big events always bring big problems, and BFCM weekend is one of those troublemakers. The secret to sending an efficient Black Friday and Cyber Monday email newsletter lies in a well thought out campaign where all the stages are perfectly done, and the gears run like clockwork.
Like what you're reading? Subscribe to our top stories.