Email Marketing Tips to Help You Generate More Sales
Have your email marketing campaigns failed to deliver the results you were after?
If you're scratching your head wondering how to get email marketing right, let me tell you: when it comes to the email marketing copy, there's nothing a bit of behavioral psychology can't solve.
And to that end, I'm here to give you the most relevant, actionable email marketing tips in the industry to help you write killer emails that convert.
It All Starts With the Subject Line
Sleeknote compiled a list of over 115 best email subject lines organized by categories.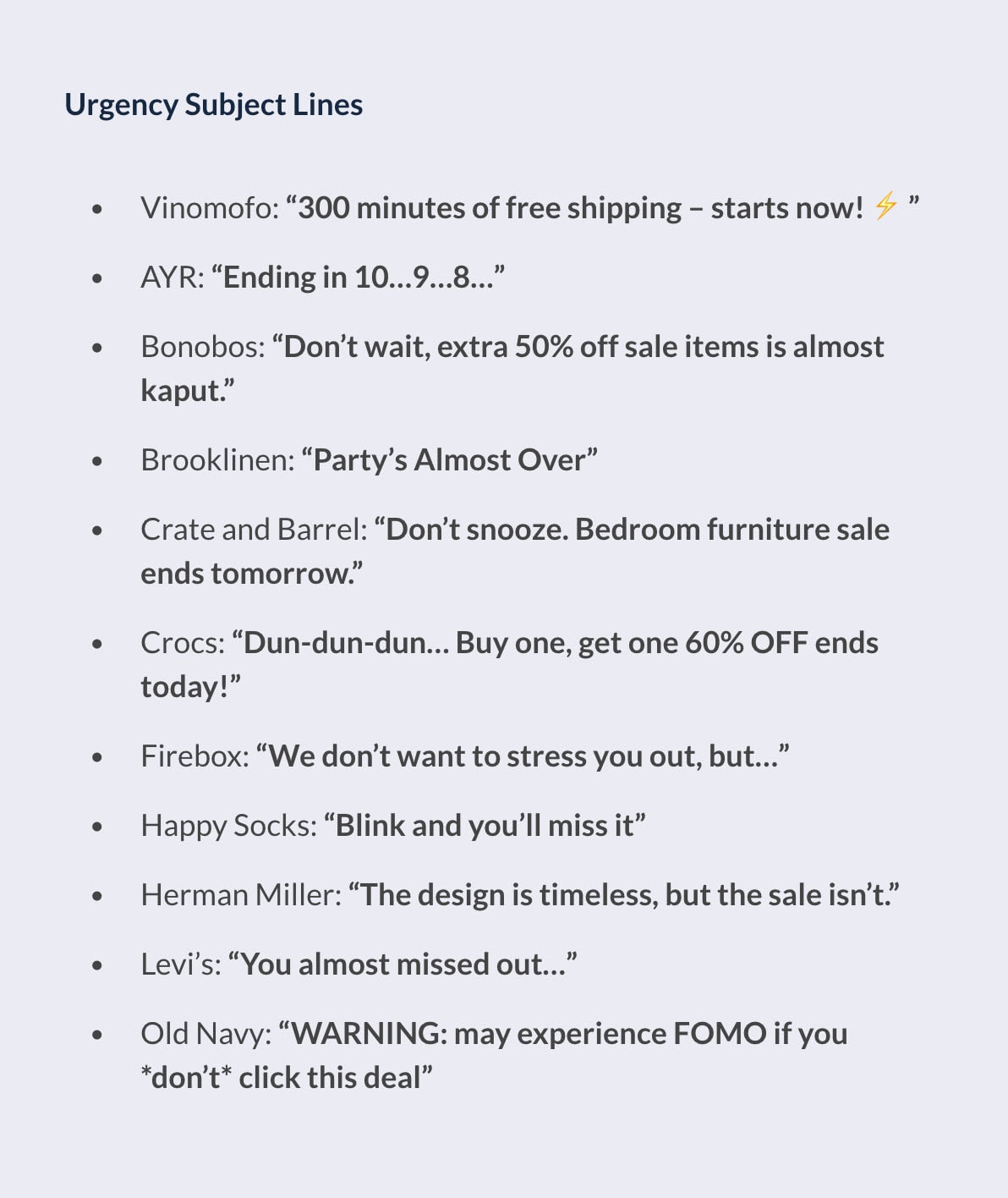 Are you aware that it takes about 100 milliseconds to form your first impression about someone?
The same goes for the subject line of your emails – email recipients judge them at a glance and let me tell you – their judgment is severe and quick.
No-Code Email Template Builder
With Postcards you can create and edit email templates online without any coding skills! Includes more than 100 components to help you create custom emails templates faster than ever before.
Try Free
Other Products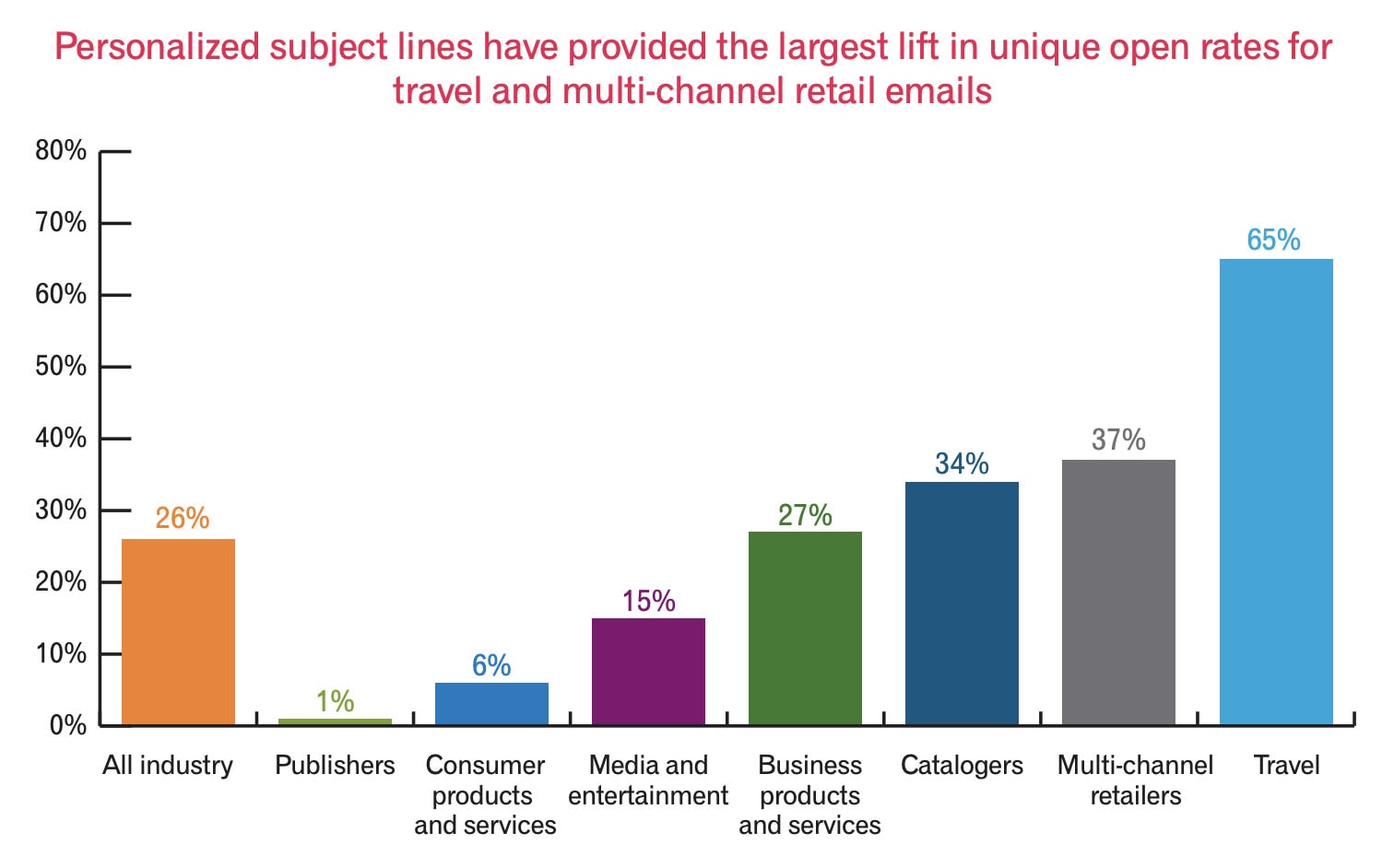 In fact, research shows that emails with personalized subject lines have 26 percent higher unique open rates than non-personalized emails (19.4 percent with personalization compared to 15.4 percent without).
Be Straightforward
The subject line should be concise and blunt.
Let your customers know from the beginning what it's all about. No one has time in the digital era – we're time-starved.
Uber's straightforward subject line inviting people to explore the best things in Chicago.

Image source: Really Good Emails.
Everyone's inbox is full from the bottom to the top. Understandably, people will click through only if the subject line provides them with a hint that the email contains a succinct message.
When it comes to the subject line, cut to the bone!
Provide Value
Don't underestimate clients – you have to put an effort to make it worth their while to click.
Although short and condensed, your email should be all about them and how they will profit from your products and services. The most important thing here is to let your readers know how they will benefit from your emails.
If you want to captivate your customers and make them loyal – put the focus on them.
For example, using educational content in your email newsletter is always a safe bet. Provide them with videos, downloads, FAQs, and product guidelines – if they subscribed to your email list that means that they already hold your company in high esteem.
Check Moment's awesome marketing campaign in which they provided their clients with tips on how to edit photos on your phone. Moment provides educational content for their subscribers.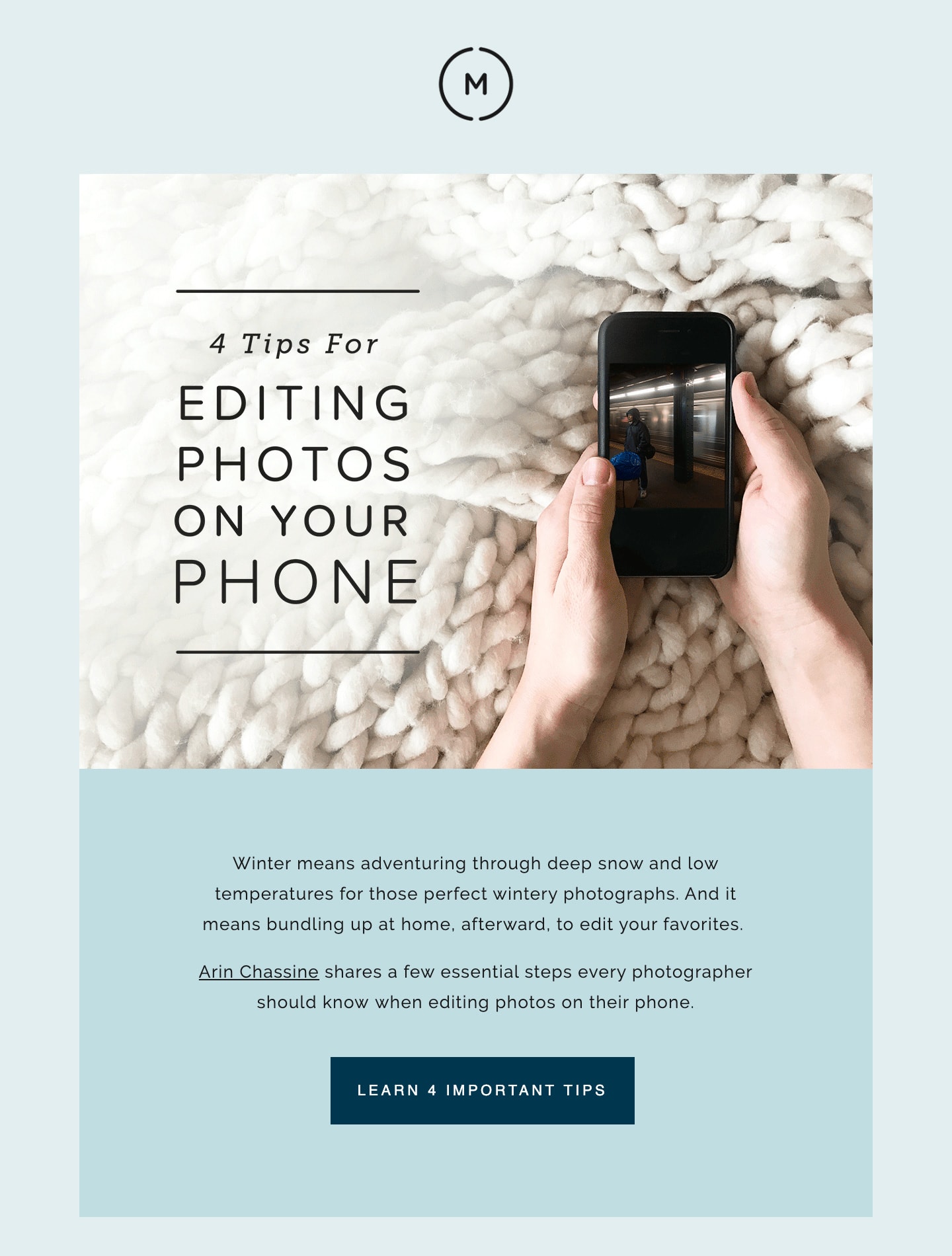 Image source: Really Good Emails.
Use Powerful Language
When in doubt, use powerful words for effective emails. What I mean by "power-words" is – words that will push some emotional buttons – as you already know, customers rarely buy products for a logical reason.
You need words like "limited," "new," "exclusive," "free" and "now."
These words are bound to lead to higher conversion rates as they are more likely to push a customer's emotional triggers. Aside from that, they are benefit-centric and can intrigue customers to find out what's new at your company.
Sumo, for example, has a free list of over 400 power words that copywriters can use in their email content.
Behavioral Psychology Is Your Best Marketing Strategy
Truth is, effective marketing copywriting is all about three key factors: FOMO, an effective CTA, and hooking your readers by providing something of value.
FOMO
Setting a strict time limit works well in email marketing campaigns.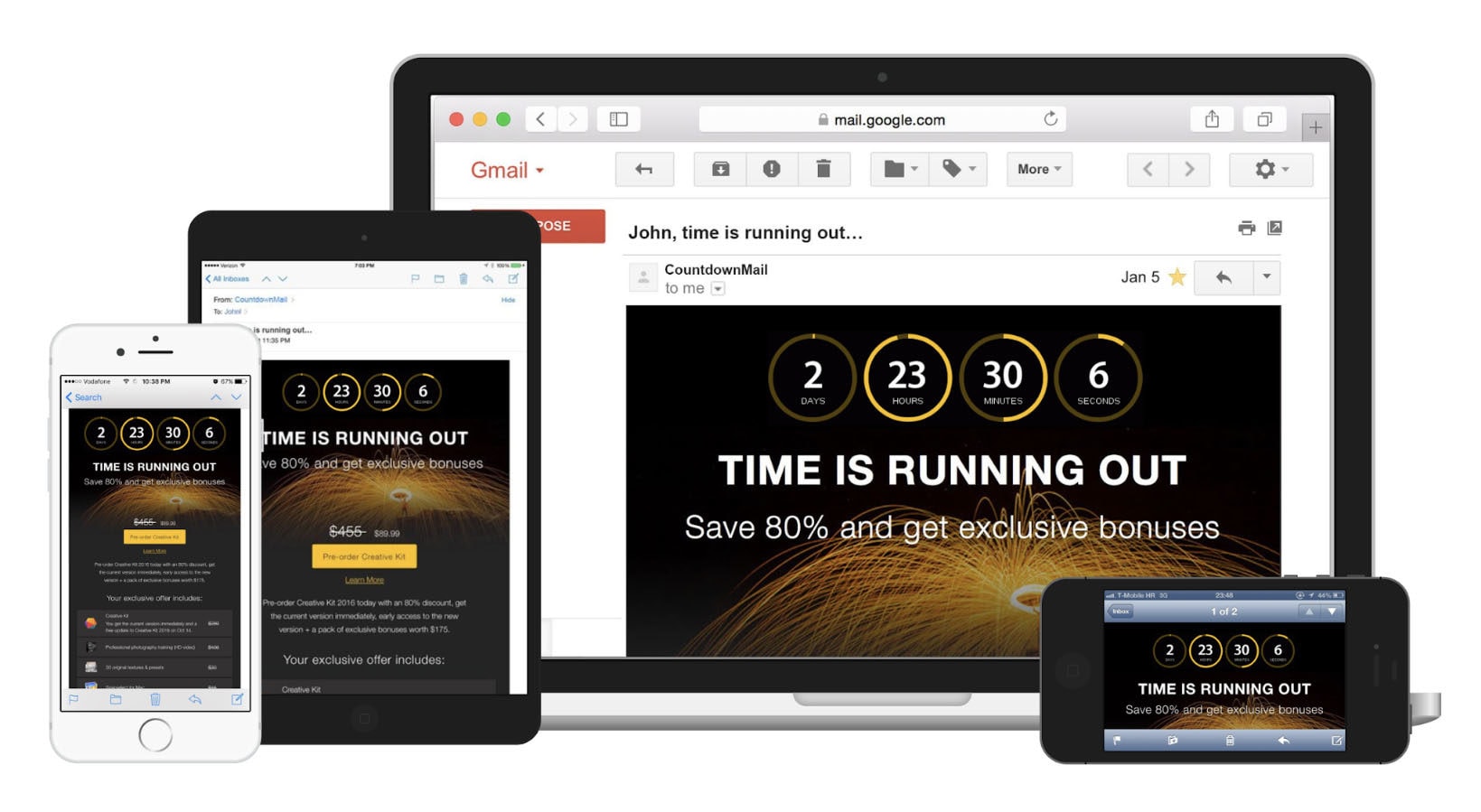 Image credit: CountdownMail.
Savvy marketers are aware of what the fear of missing out (known as FOMO) on a great opportunity does to people, and there are various content marketing strategies you can use for your brand if you want to capitalize on the FOMO principles.
Setting a strict time limit works well as an email marketing strategy. Give them an offer they can't refuse – a 30% discount available only until the end of the day, for example.
Remind them at the start and towards the end of the week. Under the pressure of the clock, customers start purchasing like crazy.
A simple reminder to email clients that they are dealing with a limited-time opportunity is a non-aggressive way to push them to buy your product.
Effective marketing it's an opt-in rather than opt-out system which means that the best email is the one that pushes subscribers to take active participation.
A caveat: if you try the time limit principle – stick to it. If you prolong it – it will give customers the impression that your brand's campaign isn't going well. You can also use an email countdown timer to strengthen the urgency.
The average earned media value for influencer marketing is $7.65 to every $1 spent.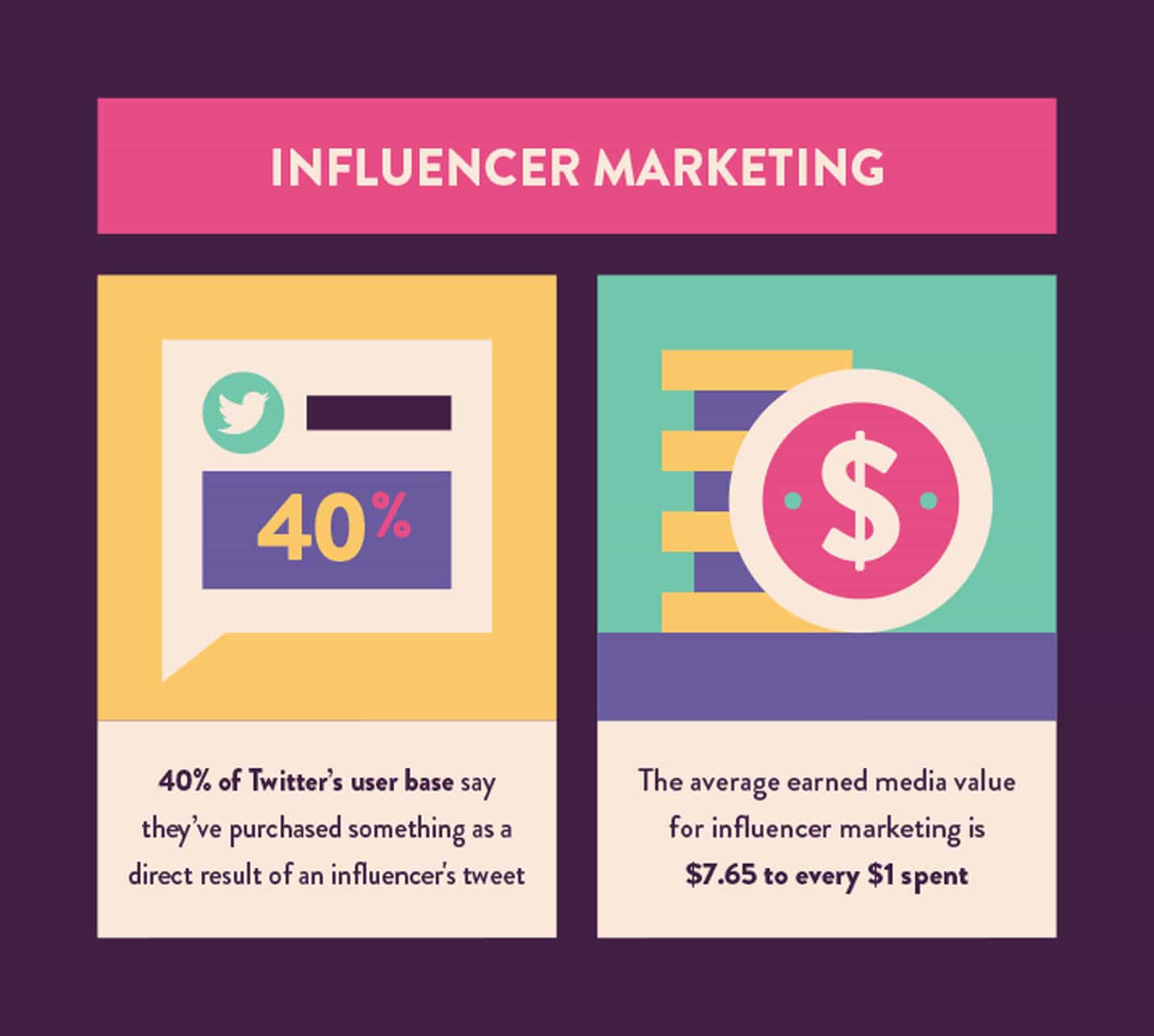 Image credit: HostingFacts.
A good idea is to also mix techniques – you can blend FOMO with influencer marketing. For example, you can announce a huge promotion at your company and quote a celebrity who has already tried your new services and loved it.
Always Include an Effective CTA
Carefully crafted email and an amazing subject line won't do the trick without a tempting call-to-action (CTA). You need a CTA that works – which is easier said than done.
People get tons of emails – they already know that you want them to click through. There are three important things that will help you perfect your CTA game:
Make it personal
Be very clear about the benefits and assuage consumer anxiety
Create urgency
The use of active verbs is crucial – but be cautious when you use them in your CTA – some active verbs can be repulsive and can even stress the reader. For example, words like "enter," "submit," "download" – this is not how you talk to your friends, right? Avoid a cold and aggressive tone and, instead, use verbs like "try," "get" or "find."
Notice how these sound more approachable?
Perfect Your CTA Game
Effective CTAs are all about curiosity and value.
Skillshare appeals to all creatives with its "thousands of classes" and "tomorrow for the taking."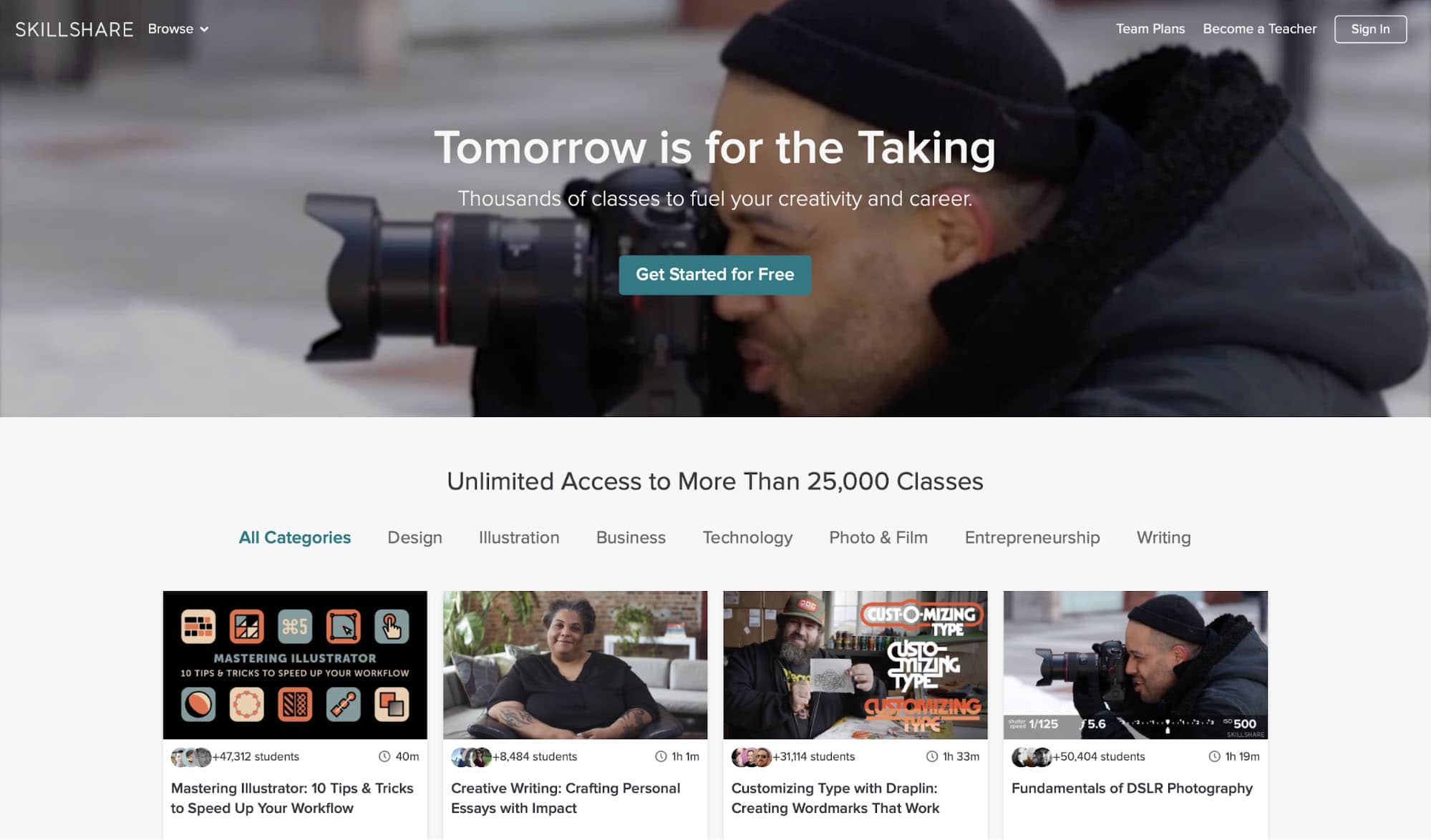 Image credit: Skillshare.
Remember to use the proper visuals for your CTAs by using tasteful colors. And do change your CTA from time to time.
Instead of talking about the features, Hotjar explains the value their software provides – to understand your users.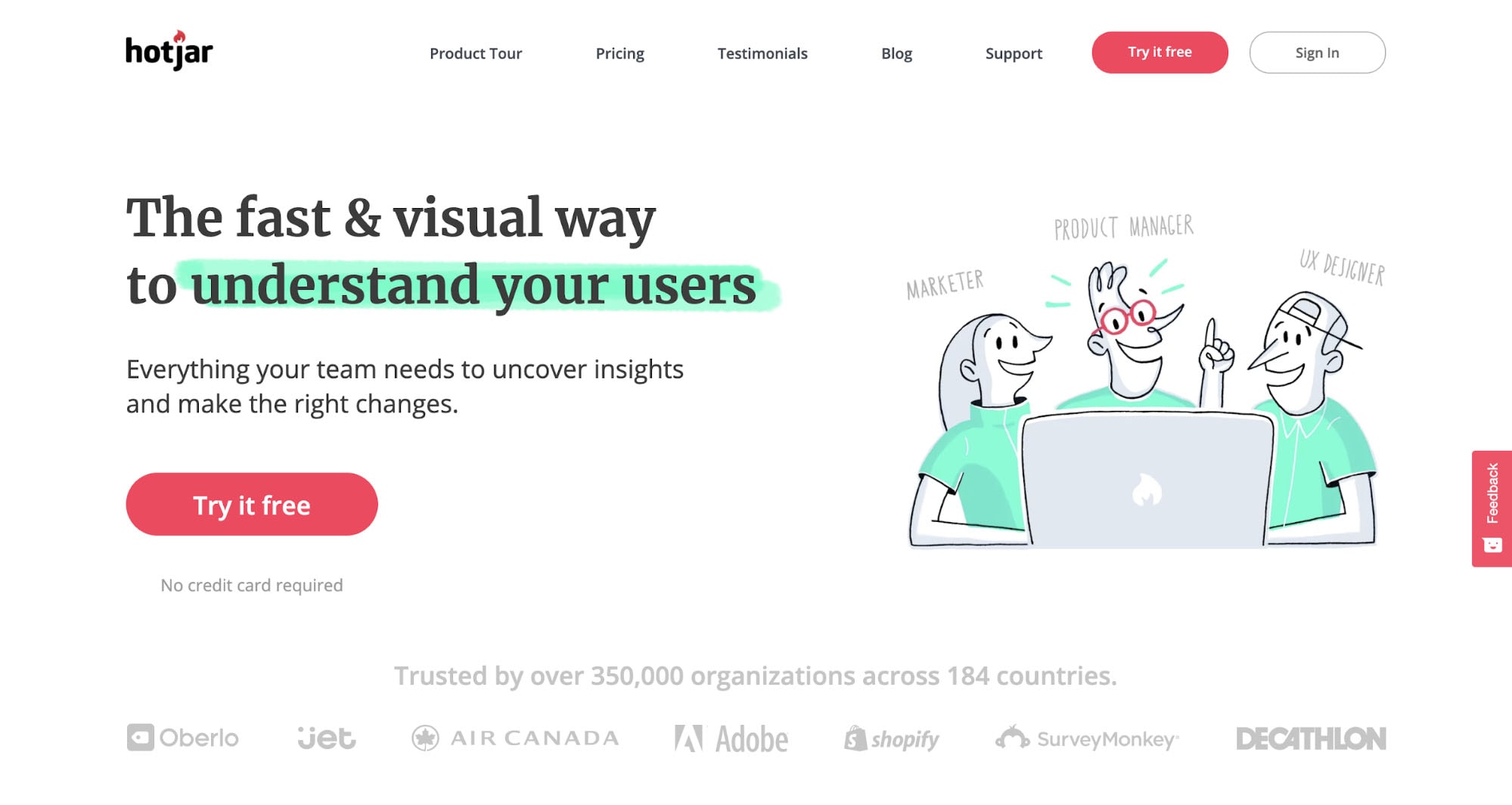 Image credit: Hotjar.
Know Who You're Addressing
To stay relevant to your customers you need to rethink some of the following:
Who is your target audience?
What do your customers need from you?
Do you send personalized emails to your customers?
Do you provide your customers with an option to choose what type of emails they receive from your company?
Rethink the following questions and alter your email campaign according to the answers. Also, keep changing your email campaigns and refer to the questions above every time you have a new product or a new promotion.
Ace up your sleeve with a constant reinvention of your email campaign.
Write With a Clear Reader/Buyer Persona in Mind
Does your company provide services to millennials, baby boomers or generation Z?
The answer to that question is of the utmost importance when starting a new email campaign or designing your newsletter.
Think about your subscriber list's needs – what can you do for them and why did they subscribe to your mailing list in the first place? Try to also think about their values and lifestyles and tailor your campaigns accordingly.
When talking to millennials, it's important to tailor your messages to appeal to them.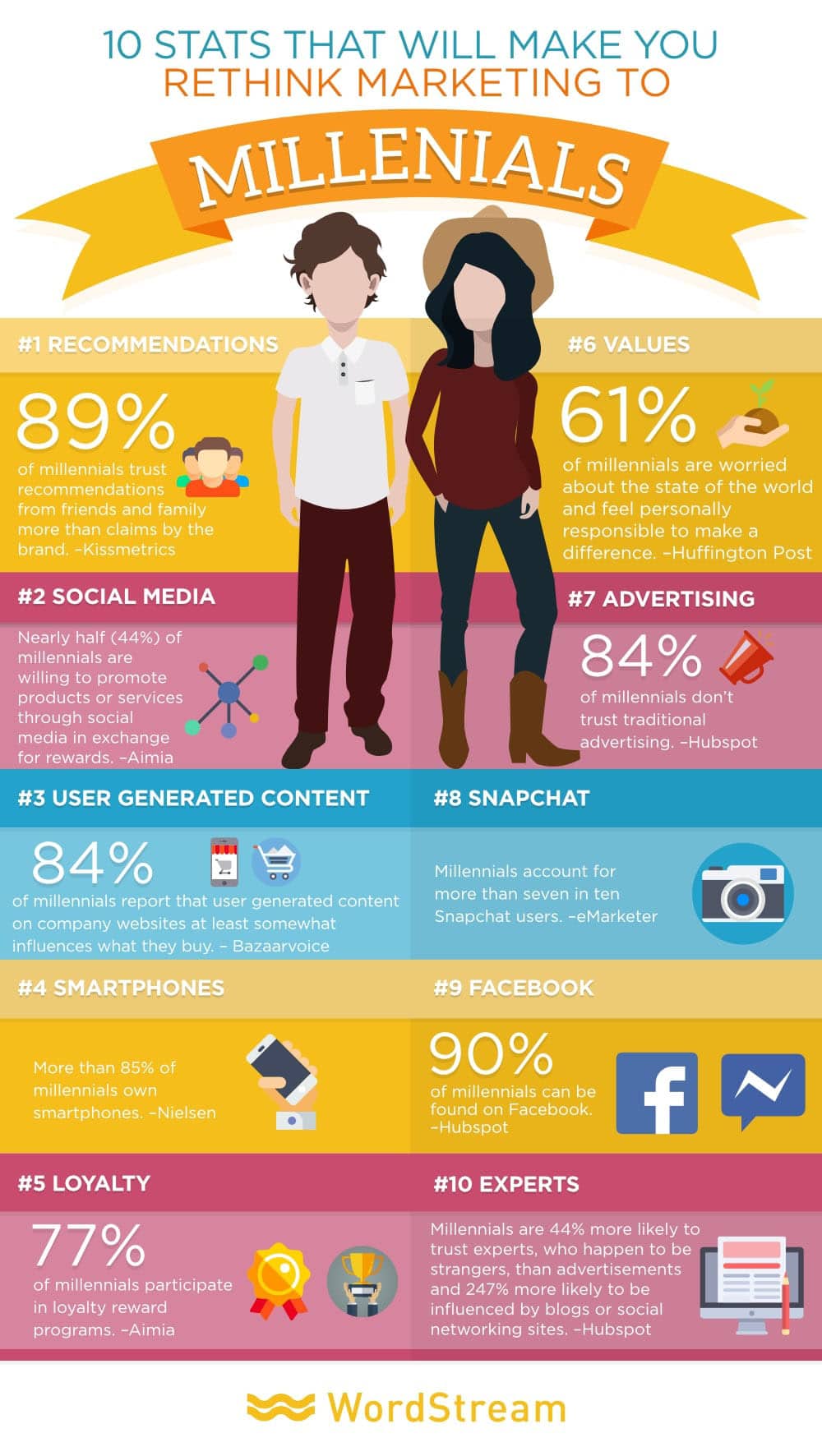 Image source: WordStream.
When you have a clear buyer persona in mind, write to your subscriber list as if you're messaging only a single person. It's impossible to impress people of different ages with the same email marketing strategy. Make them feel important – no one wants copy-paste templates.
For example, younger customers may be impressed if you add a cool quote from a famous influencer in your email copy, but the older generations will hardly connect with it.
If your company is trying to appeal to customers of different ages – it needs to create unique email content based on different age groups' specific buying needs. If you need to tailor your messaging even further, you can try segmenting your emails – but that's a point I'll revisit further down below.
Include an Unsubscribe Option
Provide your email subscribers with an unsubscribe option.
Allowing customers to unsubscribe is not only a basic part of email copy but it's also required by law under the CAN-SPAM-ACT.
Gmail makes it easy from email marketers because it includes the unsubscribe option automatically in the email header. Google has also made the unsubscribe option a part of its Gmail Program Policies.
If you want to keep your emails away from the spam folder, include an unsubscribe option –  the last thing you want is to trigger spam filters.
Don't Be Afraid to Make Your Email Marketing Copy Personal
Aside from tailoring your emails to your particular email audience, if you want to seduce your email recipients the second most important thing is to make your copy personal. A recent survey conducted by Econsultancy revealed that 94% of businesses find personalization is vital for both current and future success.
Try using some of the following personalization techniques to raise your click-throughs:
Ask a simple question
Use humor
Include the recipient's name in the subject line
Send happy birthday emails
A/B Testing
Depending on different industries, a Mailchimp survey estimates that open rates vary from 18% to 28%. Meaning that around 80% of your emails remain ignored.
It sounds bad, but there's one thing you can do to turn things around – start A/B testing.
The Benefits of Split Testing
A/B Tests Are Useful and Informative Tools
The best thing about A/B tests is that they give you the chance to analyze real, factual results. They will give you a clear idea about what provides value and what irritates your customers by comparing simple metrics like conversion rates and time spent on page.
A/B Tests Eliminate Guesswork
Your email marketing campaigns and newsletters shouldn't be a guessing game and A/B tests provide you with the fastest way to eliminate the uncertainty. The only way to convert your visitors into leads and then customers is to know exactly what they want and persuade them that your products are what they need.
A/B Tests Increase Conversion Rates
You should use A/B tests for a very simple reason – it works.
After you compared two A/B test versions you can easily alter your email campaign strategy to whatever works best. Actionable and measurable results are the only way to conversion optimization.
How to Effectively Split Test Your Marketing Email?
If you implement A/B testing as a crucial and regular part of your email marketing strategy, you will easily learn what works for your target audience after some time. And one of the first lessons business owners learn when they start A/B testing is that small changes can make a huge difference.
There are a few key elements you need to focus on when doing list segmentation, and they're all "small changes:"
Subject lines
Length
Personalization
Visuals
Call-to-actions
Copy
As mentioned above, experimenting with subject lines is important because it determines whether your emails will get opened in the first place. Once you get your email open rates increased, you need to focus on click-throughs. Keep your emails short as you don't want to test your customer's patience. When it comes to length – experiment with a few paragraphs.
Always opt for personalization, but try different strategies.
Send one variation of your copy where you address customers by their names and another where you use personal pronouns.
Also, experiment with trigger verbs and trigger adjectives.
For example, follow the difference in your click-throughs when you've focused on action words like "act," "start," and "organize" compared to emails where you have used power words like "guaranteed," "free" or "easy."
Visuals
Another thing you can do is test your visuals.
The internet has wiped off radio ads and television commercials – in the digital era everything is about visuals.
Without proper visual content, you won't be able to stimulate online engagement and growth even if you have crafted the perfect email subject line, followed by the perfect copy.
Use photography, gifs, personalized videos – visuals allow you to explore.
Postcards is a free drag & drop email template builder for your next marketing campaign.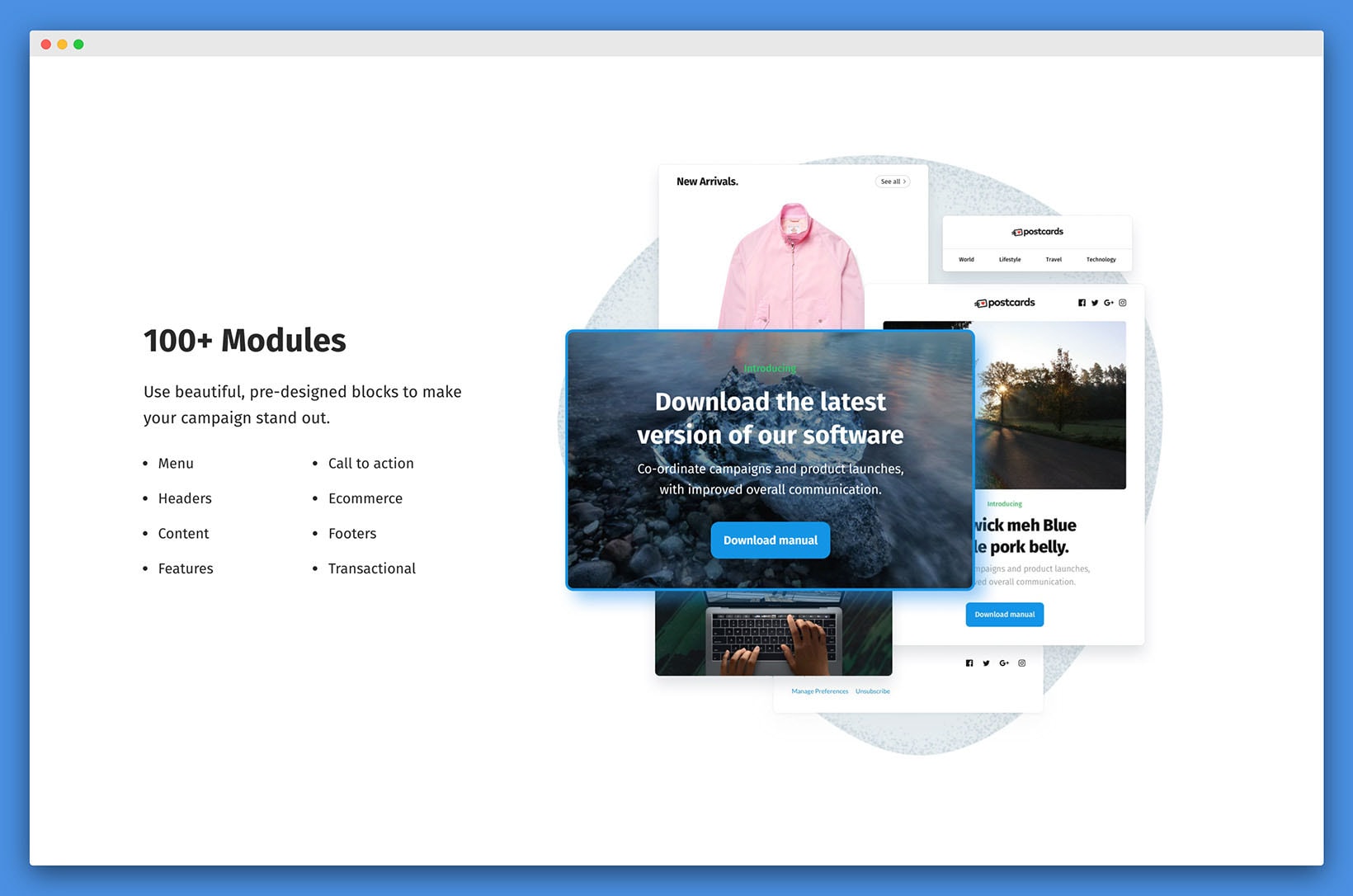 With powerful tools like Designmodo's Postcards, it's easier than ever to create and edit engaging and visually rich email templates online without any coding skills.
Visual storytelling is important because it triggers emotions and transmits messages faster. Compelling images stick in customers' minds and determine the customer's impression of your brand's identity.
Companies usually use text-based CTAs – see if adding an image to your CTA will make a difference in your email conversion rates.
Use product images. No one wants to buy a product they have never seen, right?
Remember to make a compelling image – many marketers are sending product images – so, it won't work unless you give it an interesting angle.
For example, if you are trying to sell whiskey to your audience, put an image of a well-dressed man in a large office. You are trying to sell whiskey, but to do that, you need to put your emphasis on the atmosphere one associates with drinking whiskey.
It's the attitude of the people on the photo that will provide you with a compelling focal point.
Great visual content marketing always tackles customers' deepest needs. If you direct their attention to the prosperous, joyful people drinking it you can sell whiskey even to people who are not into it.
Visual storytelling is all about a compelling focal point.
Optimize Your Emails for Mobile Devices
A recent survey has revealed that 3 out of 5 customers check their emails on their mobile phones. According to WebsiteSetup mobile devices were responsible for <54.3 percent of all client visits to retail sites on Cyber Monday 2018, compared to 34.7 visits from desktops.
It's clear – desktop opens are experiencing a decline.
If you want to stay in the game you need to embrace the mobile era and make sure your emails are mobile-friendly. But how to adapt to your consumers and get mobile-optimized emails?
It's not that hard – you can follow these steps to get started:
Use email templates
Go with a short subject line
Write appealing preheader text
Make sure your copy is short and concise
Use bullet points
Only short paragraphs
Make it scannable
Use compelling visuals
Make the CTA button front and central
Track Your Data and Learn
To perfect your content marketing, you need to constantly reinvent your game. Don't stick to safe solutions and always experiment.
A/B testing provides you with a great advantage to use factual results to perfect your email content and get the most out of list segmentation. But don't stick to one A/B test, successful email marketers are segmenting their email often and regularly.
Focus on simple metrics like click-throughs, conversion rates, and time spent on page and act accordingly. This is the fastest way to generate more sales.
Like what you're reading? Subscribe to our top stories.