Summer Email Newsletter Examples and Best Practices
We all love summer. Spending more time with the family, soaking up the sun on the beach, and barbecuing: It is indisputably the beloved season. It's also the perfect time to send email newsletter campaigns with hot deals.
It is the time of mid-season sales. Business is growing for travel agencies, clothes retailers, companies that sell stuff for outdoor activities, etc.
On the other hand, it is time for lazy days by the pool and warm evenings of procrastination and some people are less likely to read their emails daily. For some companies, summer turns out to be a period of stagnation. However, whatever temptation to take a vacation, resist it. There are several good reasons to keep your email marketing campaign rolling.
First, people are willing to spend money during the beach season. Therefore, they are open to offers and sales pitches. Second, summer is the ideal period to strengthen your relationships with clients. Third, much like any other season, it is full of golden sales opportunities.
Follow our guide to summer email newsletter campaigns and peek inside a collection of the best summer email newsletter examples to get helpful advice on how to drive in more traffic to your website and maximize revenue during this sunny season.
Create Email Design with Postcards Email Builder [Video]
No-Code Email Template Builder
With Postcards you can create and edit email templates online without any coding skills! Includes more than 100 components to help you create custom emails templates faster than ever before.
Try Free
Other Products
Postcards is a user-friendly solution for creating emails, equipped with a range of ready-to-use components for expediting the process. It offers the capability to create various types of emails including promotional, e-commerce, news, transactional, and more.
This tool not only simplifies the creation of aesthetically appealing email newsletters in a matter of minutes but also boasts features such as an online editor, a project management tool, a responsive design approach, and unlimited additional features for an all-rounded email experience.
Here are some real cases for summer email newsletters that could help with marketing campaigns:
Warby Parker's "Staycation or Vacation?" Campaign – This famous eyewear company launched a successful summer campaign where they created two kinds of sunglasses: one for staycation and another for vacation. The email newsletter included a fun, engaging quiz for subscribers to find out which sunglasses matched their summer style. This increased interaction with their customers while subtly showcasing their products.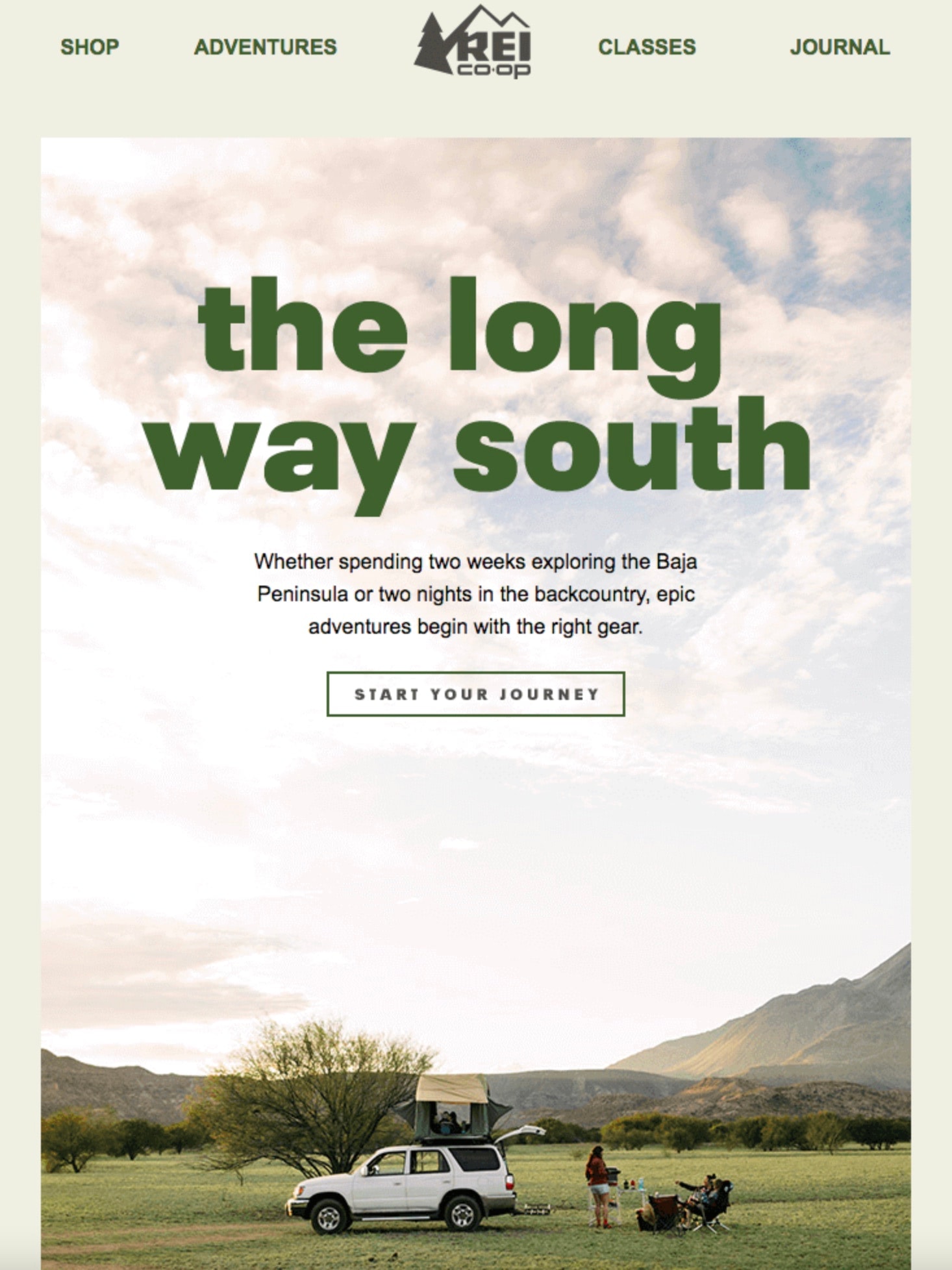 REI's "Summer Checklist" Newsletter – Outdoor equipment company REI released a summer newsletter, highlighting the must-have items for outdoor enthusiasts in the summer season. By providing a checklist, REI ensured their products were at the forefront of consumers' minds when preparing for summer activities.
J.Crew's "Pack for Paradise" Campaign – J.Crew's summer email newsletter was designed with vacation in mind, showcasing a collection of summer clothing and essentials. It offered styling tips and vacation ideas that strategically linked to their products, driving sales in the summer season.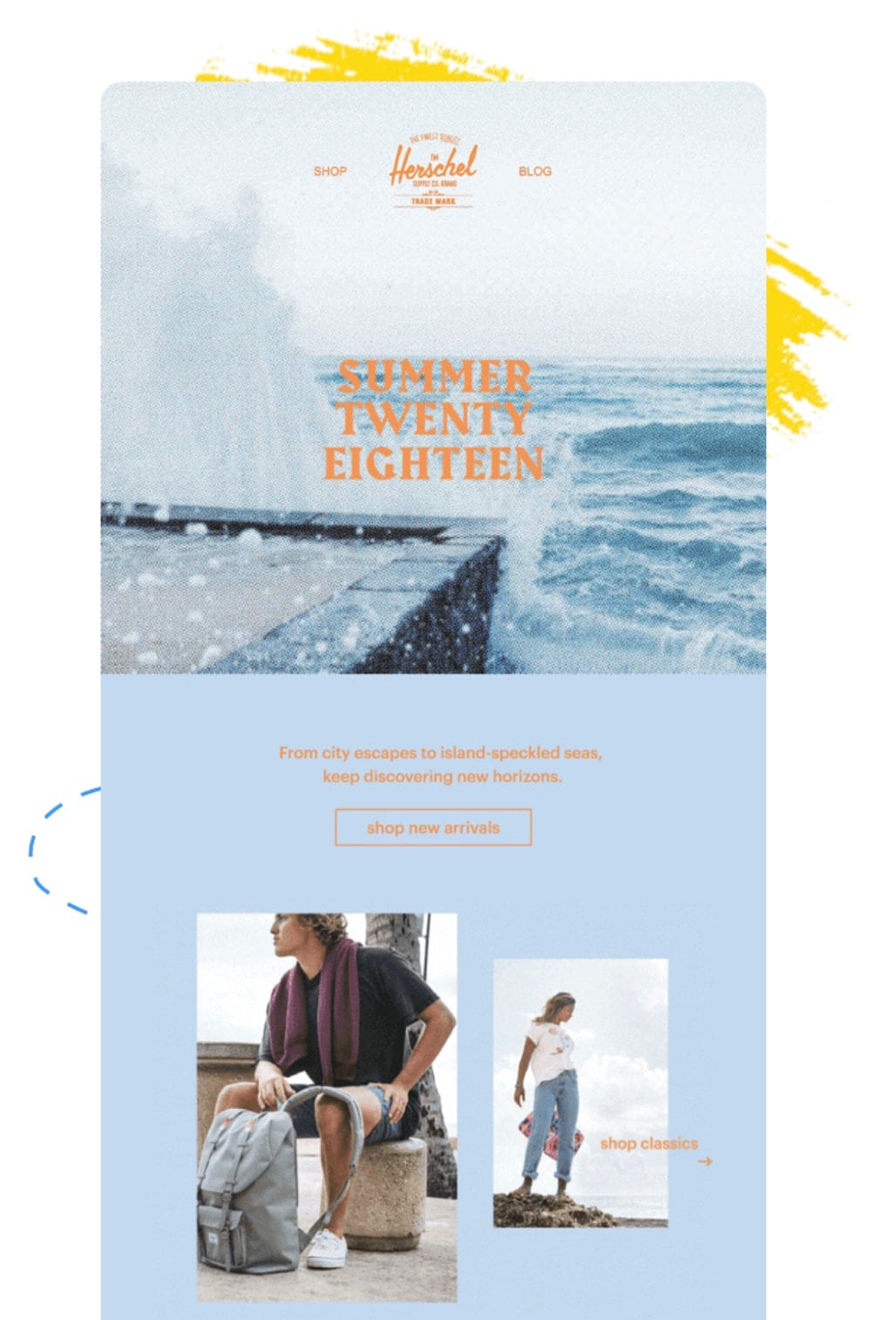 Herschel's "New Summer Arrivals" Newsletter – Herschel launched a campaign showcasing new summer arrivals in their product line. This is a great idea to bring in new products or collections, creating anticipation and excitement among the subscribers.
Birchbox's "Summer Skincare" Campaign – This beauty subscription service sent a summer newsletter that educated subscribers about the importance of summer skincare. They introduced their summer-specific products within this educational context, turning informative content into a marketing opportunity.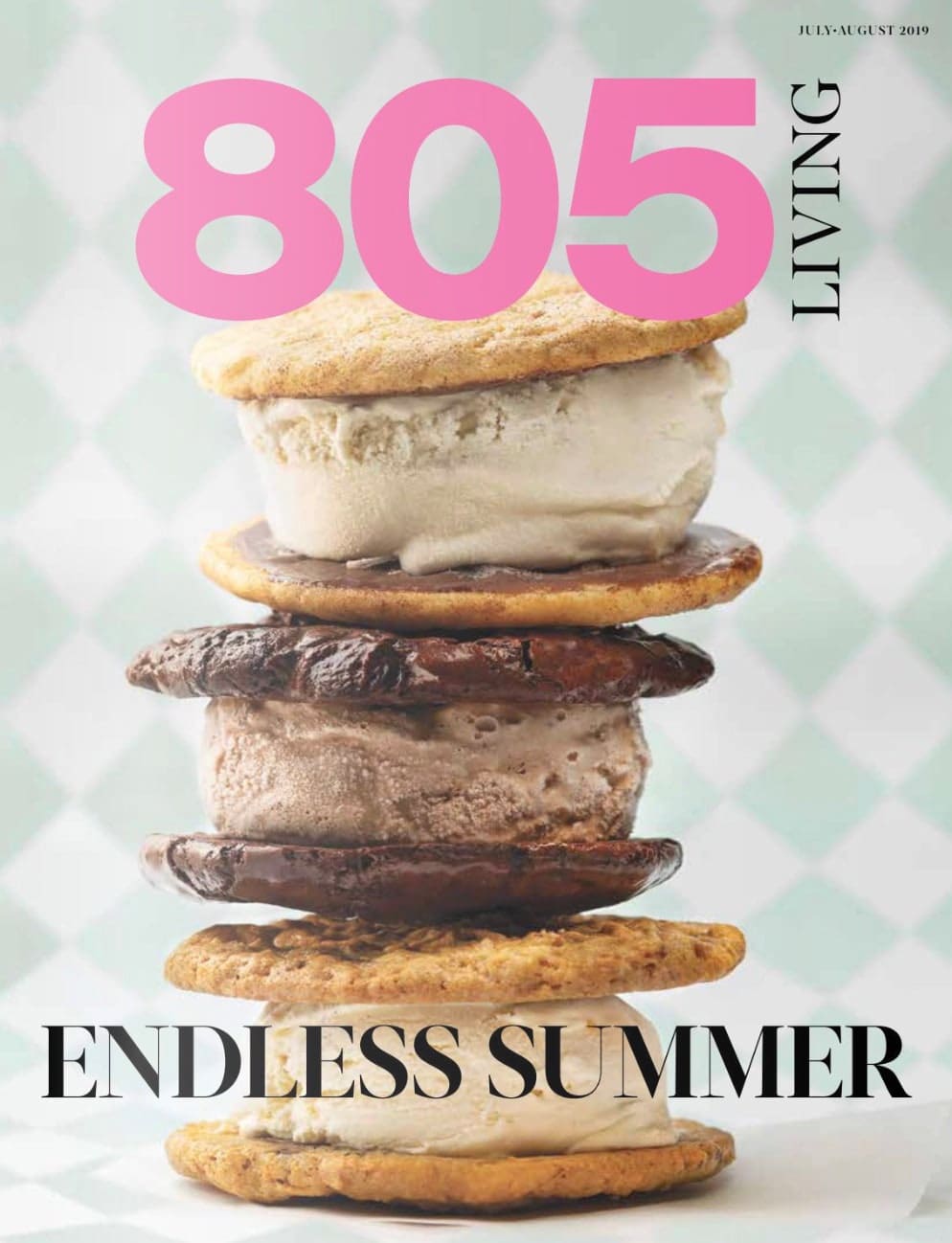 Ben & Jerry's "New Summer Flavors" Announcement – Ben & Jerry's promoted their new summer flavors by sending out a teaser email newsletter. The curiosity factor played a significant role in building hype and creating demand for their new offerings.
Airbnb's "Top Summer Destinations" Newsletter – Airbnb sent out a summer newsletter featuring the most desirable summer vacation rentals. Alongside the listings, they included travel tips and recommendations for each destination, which encouraged readers to book their summer travels through Airbnb.
These examples show how businesses can incorporate their products and services into a summer email campaigns to engage their subscribers and boost summer sales.
Remember, the best summer email newsletters are bright, colorful, and interactive. They showcase products subtly through engaging content that fits with the summer theme.
As we have already mentioned, summer is a lull period for email marketers: readership and engagement statistics drop. The summer email newsletter calendar is poor in big e-commerce dates. There are just a few good occasions, such as:
Children's Day (June 1)
Father's Day (third Sunday in June)
Independence Day (July 4)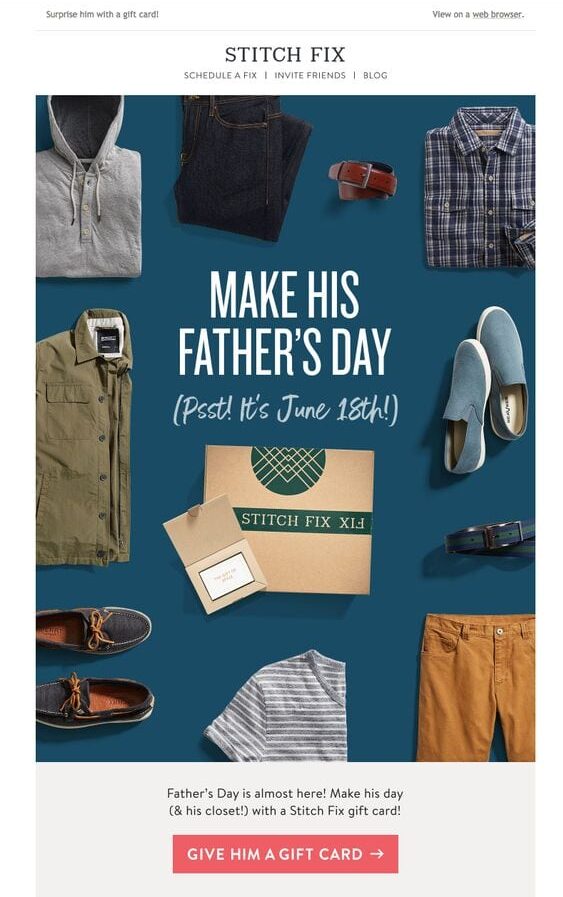 Father's Day from Stitch
Not too much? Well, do not worry; you can fill the void with festivals, shows, and some local and unofficial holidays, for example:
National Go Barefoot Day (June 1)
World Oceans Day (June 8)
Flag Day (June 14)
International Picnic Day (June, 18)
The longest day of the year (June 21)
National Workaholics Day (July 5)
World Emoji Day (July 17)
Back to School (Mid August)
Also, there are some neutral types of email newsletter campaigns that fit every season, such as:
Flash Sale
Mystery Sale
Semi-Annual Sale
Birthday Discount
Office Style Guide
Because It's Friday
New Arrivals
Summer is Coming
Summer is Ending
Autumn is Coming
Teaser Emails – Something Big is Coming
End of School/Graduation
Start of School
Festivals
Some email marketers consider Memorial Day (the last Monday of May) and Labor Day (early September) as great summer sales opportunities. The first gives the season a head start while the latter finishes it off with fireworks. Depending on your marketing strategy, you can also include them in your summer calendar.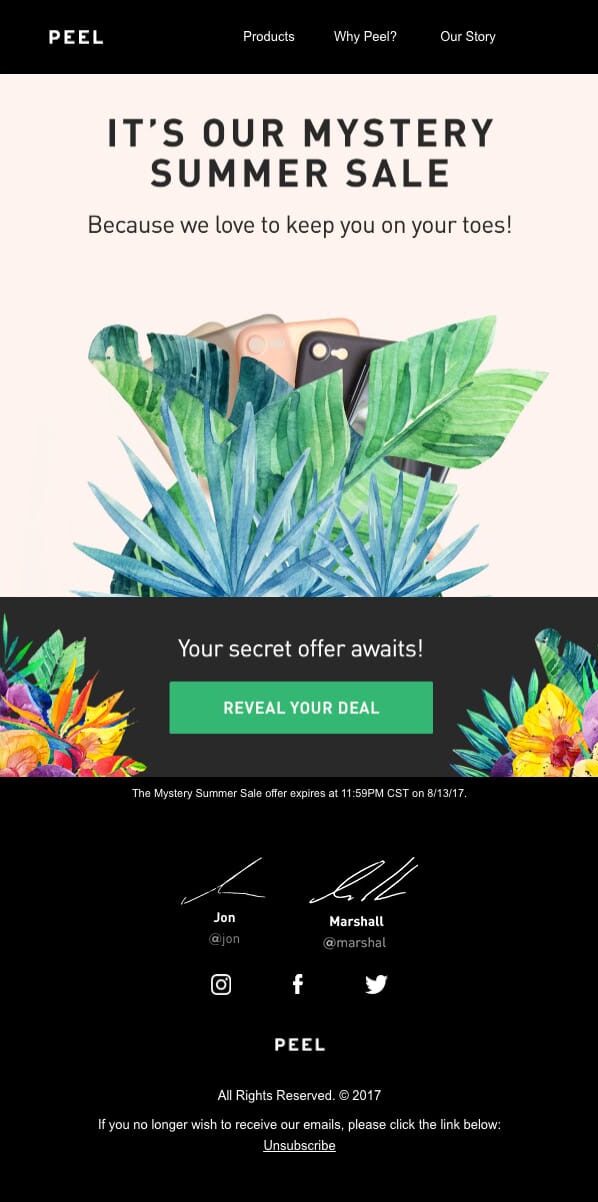 It's Our Mystery Summer Sale
The subject line is the most crucial element of the summer email newsletter campaign.
It ensures good open rates.
It produces the first impression that is vital for the brand image.
It sets the mood breaking the ice between you and your clients.
It separates your newsletter from the others in the inbox.
Most importantly, it stands behind your sending reputation.
If the subject line is poorly done – for instance, it contains spam words – it may trigger filters and automatically get your message into the spam folder. That leads to spam reports and discredit of your email sender reputation and email deliverability.
Follow our list of recommendations to create a sun-soaked subject line for the summer email newsletter that will reach its destination, appeal to the user's eyes, and ensure good sender reputation.
Outline your summer theme from the get-go.
Throw in some hot summer-related language like "fun in the sun" or "beat the heat."
Use puns and catchy phrases.
Portray the sentiment by adding emojis like fire, umbrella, cocktail, watermelon.
Communicate more clearly the benefit for the customer. Start with the offer.
Include a brand name.
Personalize the message. Use the name of the recipient.
Drive interest with exclusivity.
Foster engagement with a huge discount or shopping incentive like free shipping.
Be specific with discounts. Always choose "%" over unspecific "Big."
Use actionable words, though, do not be too pushy and bossy.
Be specific with time-sensitive offers. Do not use "soon," go for "Tomorrow" or "24 Hours'.
Keep it short and sweet. Use no more than 40-50 characters.
Make the most out of preheader. Use this extra space to amp up the subject line.
Employ a sense of humor.
Pull psychological tricks.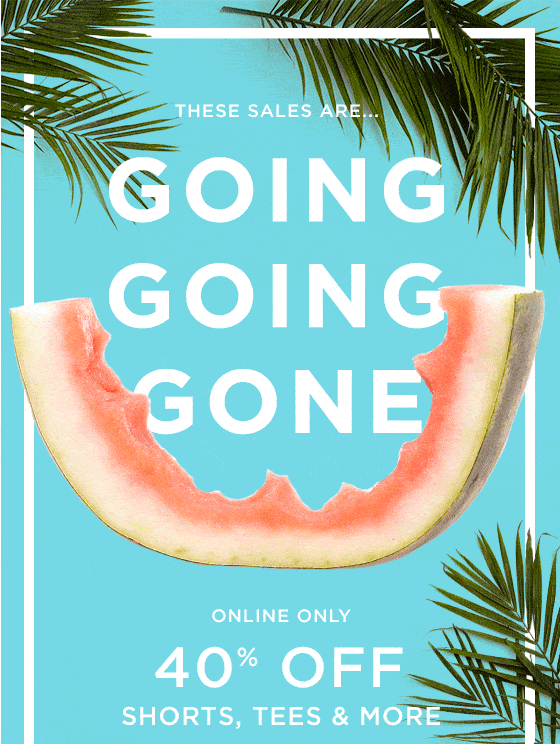 Summer Email Newsletter
Consider these good subject lines ideas taken from real summer email newsletter examples to get some boost in this direction:
Summer Hot Sales
Mystery Summer Sale
Are you ready for the heat?
Swim into summer this year
Summer is coming…
Hello, sunshine! Don't miss these offers
Discounts that are too hot to handle
The heat is on! 30% off
Dive into summer with 30% off
Don't miss these summer deals!
Hot deals for warm weekends
Keep summertime rolling with these savings
Need Some Midsummer Magic? 30% Off
Soak up the Sun & savings – up to 50% off
Beach Me Up! Summer's HOTTEST Sale!
Cool down with these sizzling deals
Get 'em while they're hot
Savings that make a splash
It's Beach Time
Spring into Summer – 24 hr Flash Sale!
Fathers' Day gift ideas
Treat your Dad in style this Fathers' Day
Happy Solstice!
Star-spangled bargains — just for you
Hot promo codes for school leavers
Are you ready for autumn? No!!!
Bye-bye beach…
Goodbye summer. Hello, school!
Back to school checklist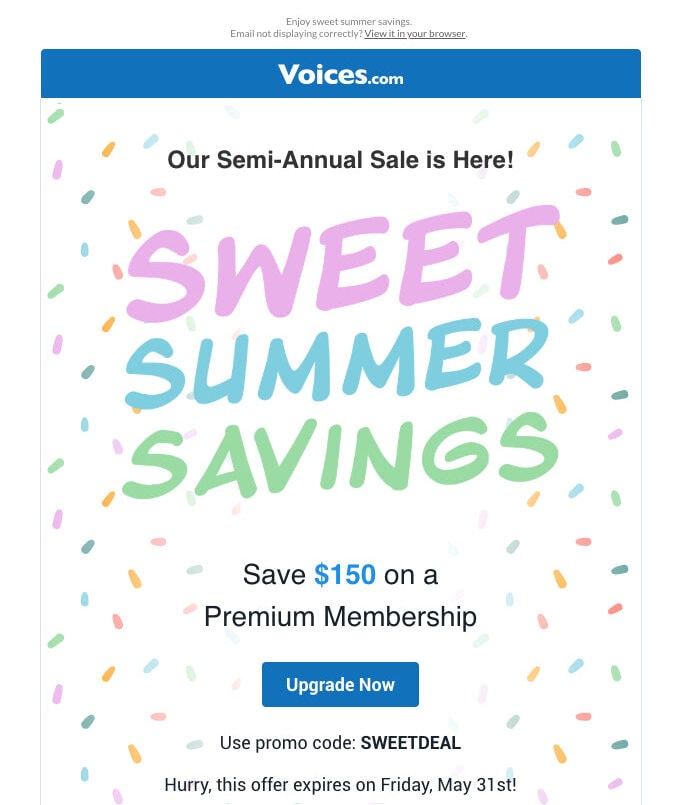 Sweet Summer Savings by Voices
The rule of thumb for every successful email marketing campaign is that you should be on the same page with your target market. Summer is officially holiday season, therefore turn on your beach vacation mood on all types of emails, including the transactional ones, and start to win over your potential clients with email newsletters served in coconuts.
Personalization
Like any other type of email, the summer email newsletter should speak right to customers' hearts. Therefore, make personalization your top priority. Not only is it a modern trend in email marketing in 2021, but it is also one of the main principles of highly successful email marketing campaigns
Use personalization tags in the content and name of the recipient in the subject line. On top of that, focus on creating a personalized experience. Use segmentation, personal data, and behavior statistics to create an email newsletter that brings value to the client.
Themes to Exploit
Another best practice is to tie your sale to a summer holiday as we do it in winter on Christmas or Valentine's Day, or in fall on Halloween or Black Friday and Cyber Monday weekend. However, as we have figured out, there are not so many red days in the calendar.
You have a couple of big holidays, but for the rest period, you have to contend with local events, festivals, projects throughout your community, and unique kinds of promotions. Therefore, you can exploit other themes. After all, summer is a period of various outdoor activities.
So what can you do to get some extra points to your brand and amplify your overall email marketing strategy? First, help your readers to make their summer better and more productive by providing all sorts of guides. Focus on such things as:
Places to visit
Road trips with families
Lawn maintenance
Garden improvements and decorations
Protection from sunburns
Fighting mosquitoes
Grilling out with family
Barbecuing with friends
Staying at home with family
Staying hydrated, etc.
You can run a fun contest for winning free tickets to theme parks, attractions, local festivals, and summer bashes or just give away free beach items with your brand name.
Also, focus on grads. Recent college graduates, those who are going to be back at school next September, and parents, are your target market. In June, you can focus on their free time. Whereas in mid-July and August you can send sales pitches for touting stuff that may come in handy in school and college.
Finally, summer sees the highest number of weddings. Therefore, you can explore this area, as well. Center your email newsletter around flowers, dresses, gifts, music, outdoor activities, shows, and much more.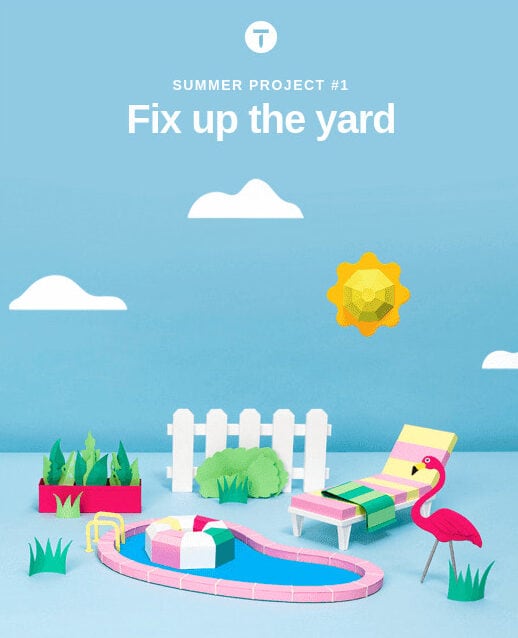 Unpack your bags by Thumbtack
Prepare for Shopping on the Go
Summer is the beach season, so do not expect your customers to sit behind the desk. Forget about laptops and huge monitors. People are going to be out of the office whenever possible. Therefore, you should be ready to shop on the go. Tell a big story in a small space. Make an email newsletter mobile and tablet friendly.
Some good recommendations:
Make graphics easy to navigate on small screens.
Make CTA big to fit the finger.
Place all the vital information on the top so that users do not have to scroll.
Use the bigger size of the font to hit the optimal level of readability.
Use a one-column responsive structure.
Test, test, test.
One Offer Per Email
Summer is vacation time. People become lazy. Therefore, do not expect clients to do more than one thing per email. Focus on just one thing, one offer, and one call-to-action button.

TunnelBear Summer Sale
Cement Relationships with the Subscribers
Summer is the perfect time to concentrate on relationships with subscribers. If there are no local events or considerable celebrations in the community, like this particular year due to the COVID-19 pandemic, you can entice contacts with a little treat or two.
Provide your subscribers with guides or links to helpful resources. Create blog posts, collect advice, run discussions. You can also initiate a reward program. There are so many things to do to connect with your subscribers. Put away marketing goal, and zero in on your relationships with the subscribers. Make your customers feel that they are unique, and you care for them.
Last-minute Advice
Although summer email newsletter campaigns differ from ones run in winter and fall as well as holiday campaigns, however, they still can benefit from the popular email marketing tricks to generate more sales. Therefore, follow these recommendations as well:
Clean subscription lists.
Create segmentations.
Follow modern trends: make email responsive, add interactive features.
Track statistics. Monitor open rates and click-through-rates.
Define the best time.
Verify the email newsletter before sending it.
Focus on accessibility. Add ALTs to images and provide extra information for AT. Clearly define roles for tables and rows.
Do A/B tests to find out what strategy resonates best with your audience.
Switch on summer mode and dress up your email newsletter in a suntanned atmosphere. How do you do it? Play with color, typography, visuals, and content.
Content
Much like the subject line, content should be filled with summer-related language. You can make it less official and more casual to hit the friendly note. Play with the summer theme to blend your brand into the relaxed atmosphere of the season.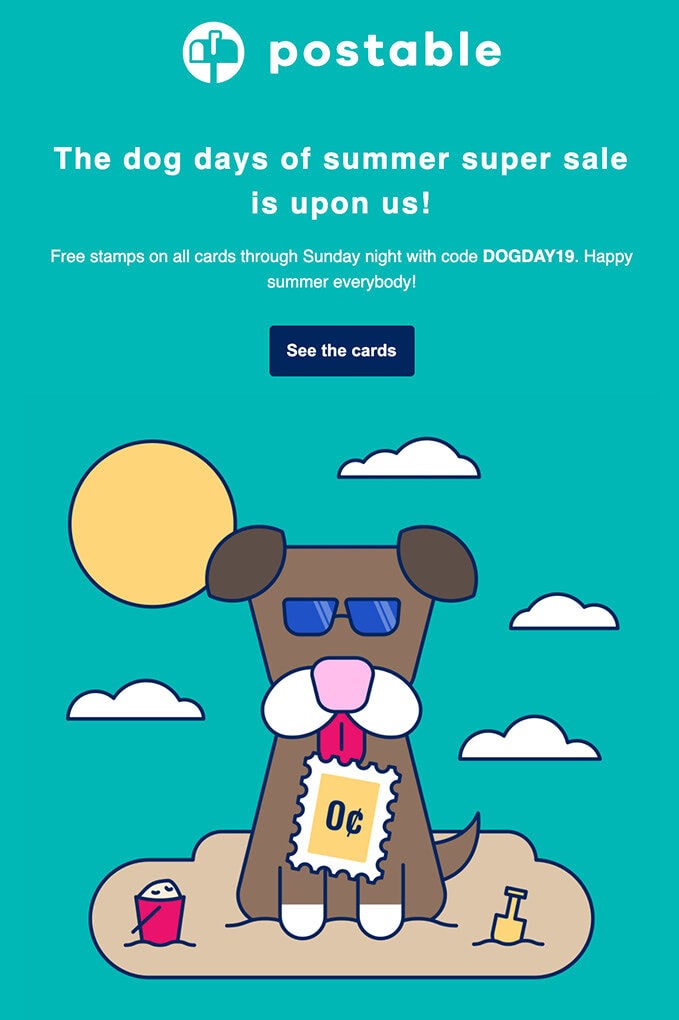 Dog Days of Summer Sale!
Color
Nothing says summer like bright and bold coloring. Go for tropical green, beach blue, sunny yellow, hot orange. Do not be afraid to burst in color, create a riot of tones, apply dazzling gradients, adopt neon touches, and just set splashes of garish hues throughout the design to change the game and make the email newsletter ooze the summer heat.
Typography
Summer is a period of fun. Therefore, shift your focus to fancy and playful typefaces. But do not get carried away. Typography means a lot in an email newsletter. Too many ornamental details may establish a too relaxed atmosphere. Use a typeface with summer vibes for headlines. The rest of the content should stay true to the previously chosen font to provide consistency in the readability during the whole year.
Visuals and Imagery
Imagery as well as patterns, and icons should scream out summer. As a rule, brands use pictures of pineapples, flamingos, Palm leaves, watermelons, popsicles, and long white seashores. However, do not limit yourself just to them. Summer is much more than that. For example, patterns inspired by safari or savannah may easily do the trick.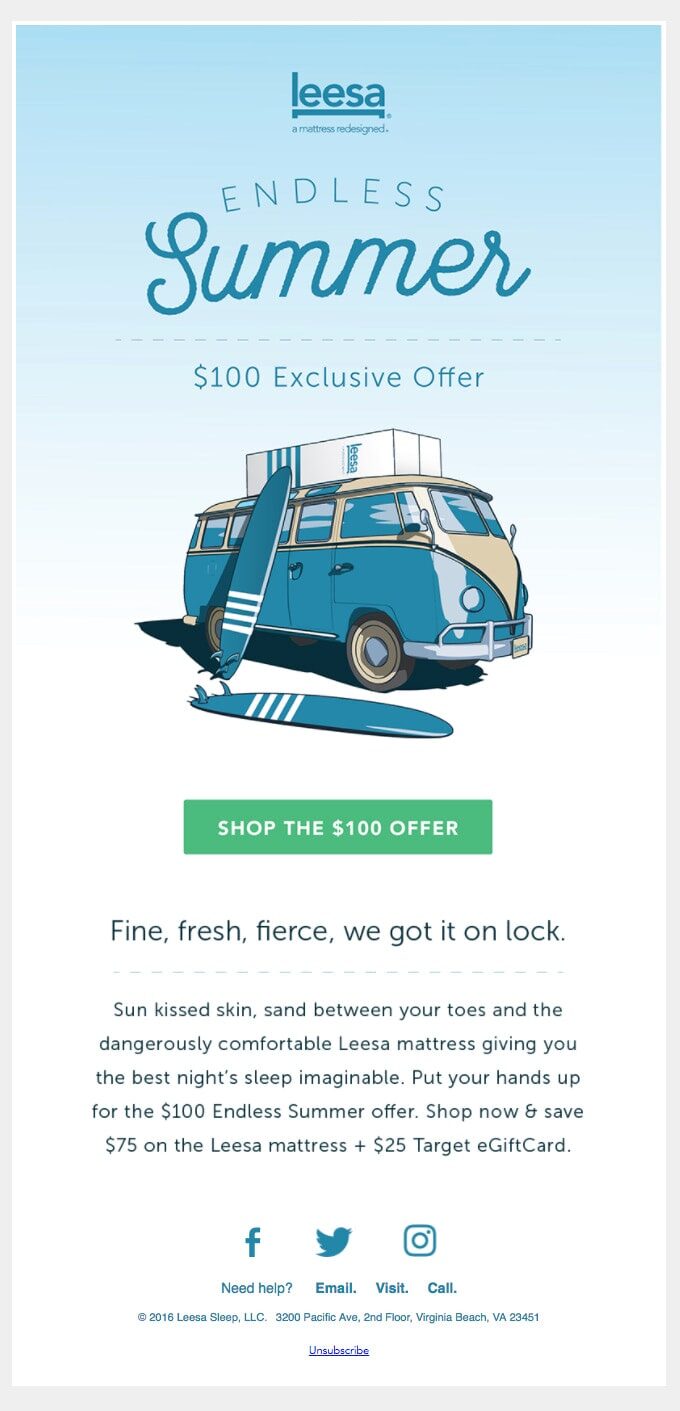 $100 Endless Summer Offer
Animated Gifs
Although summer is a period of procrastination, it does not mean your summer email newsletter should have the same inertness and passivity. After all, summer is the time for outdoor activities, festivals, and parties. Therefore, a dose of dynamics in your newsletter may undoubtedly come in handy. Not only will it cheer up your audience, but it will also drive engagement and naturally draw attention to some important stuff.
Use a Handy Email Template Builder
Creating a summer email newsletter from scratch can be a nightmare. But it can be an enjoyable venture.
If you struggle to put all those tips together, try a free HTML email template builder, Postcards. It has everything you may need to create an email template that turns heads. It comes with a ton of handcrafted and field-tested components.
Use customization panel to edit text, add interactive hotspots, and set the summer mood with the help of animated gifs. Within minutes, you will have a highly converting summer email newsletter that will work great across all devices, browsers, and email readers.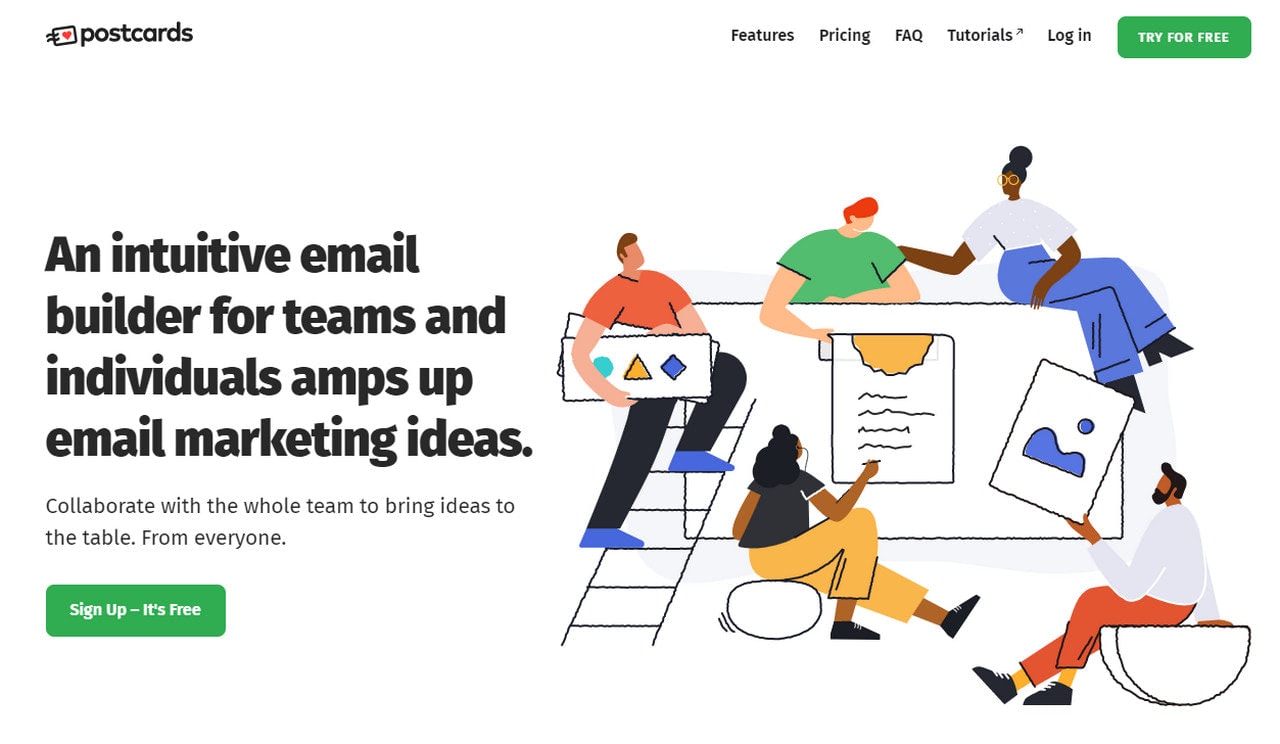 Dive into this collection of summer email newsletter examples to get inspiration and real-life tips from the leading brands that know a thing or two about running successful email marketing campaigns.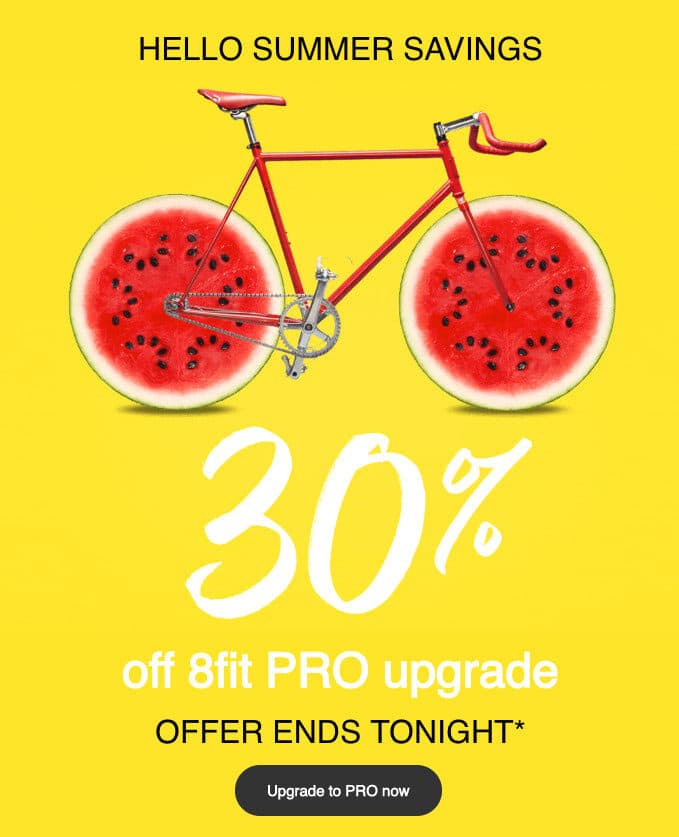 Summer Hot Savings
The team has taken inspiration from one of the beloved icons of summer – watermelon. A hot yellow background is an excellent representation of the sultry sun. It instantly adds warmth and positive vibes to the design. The team has skillfully hinted about the company's sphere of expertise by adding an image of a bicycle.
8fit provides a truly scorching summer email newsletter example where the best practices were put in action. First, the team sticks to one offer per email. They use friendly and playful typography, and they define the time frame playing on a sense of urgency. Finally, they have used social proof by adding a testimonial in the email footer.
The newsletter is simple, but highly effective.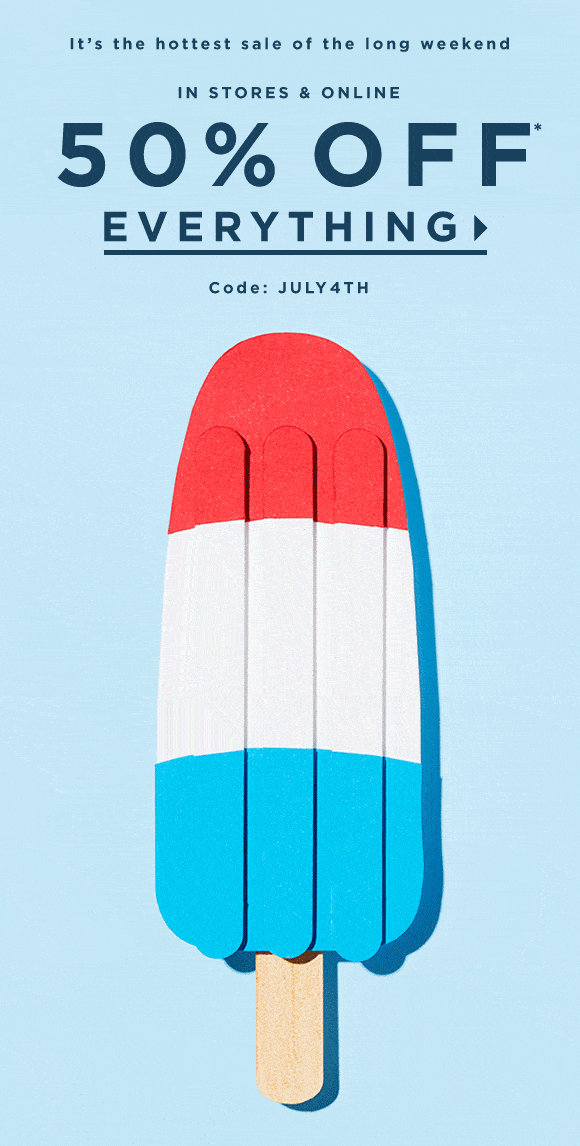 4th of July Sale
The team behind Loft has created a whole series of summer email newsletters to keep subscribers engaged during the beach season.
This one has a popsicle theme that was made with Independence Day in mind. This fantastic interfusion instantly draws engagement. Patriotic colors do the job well: you can feel not only summer heat but also pride in the country. In addition, the team knows how to rock GIFs. Their animated scene brings a lot of creativity into play.
Again, this summer email newsletter example is built around one offer. The "50% Off" discount and animated ice-cream on the stick are the things that get your undivided attention. And, that is what the company needs.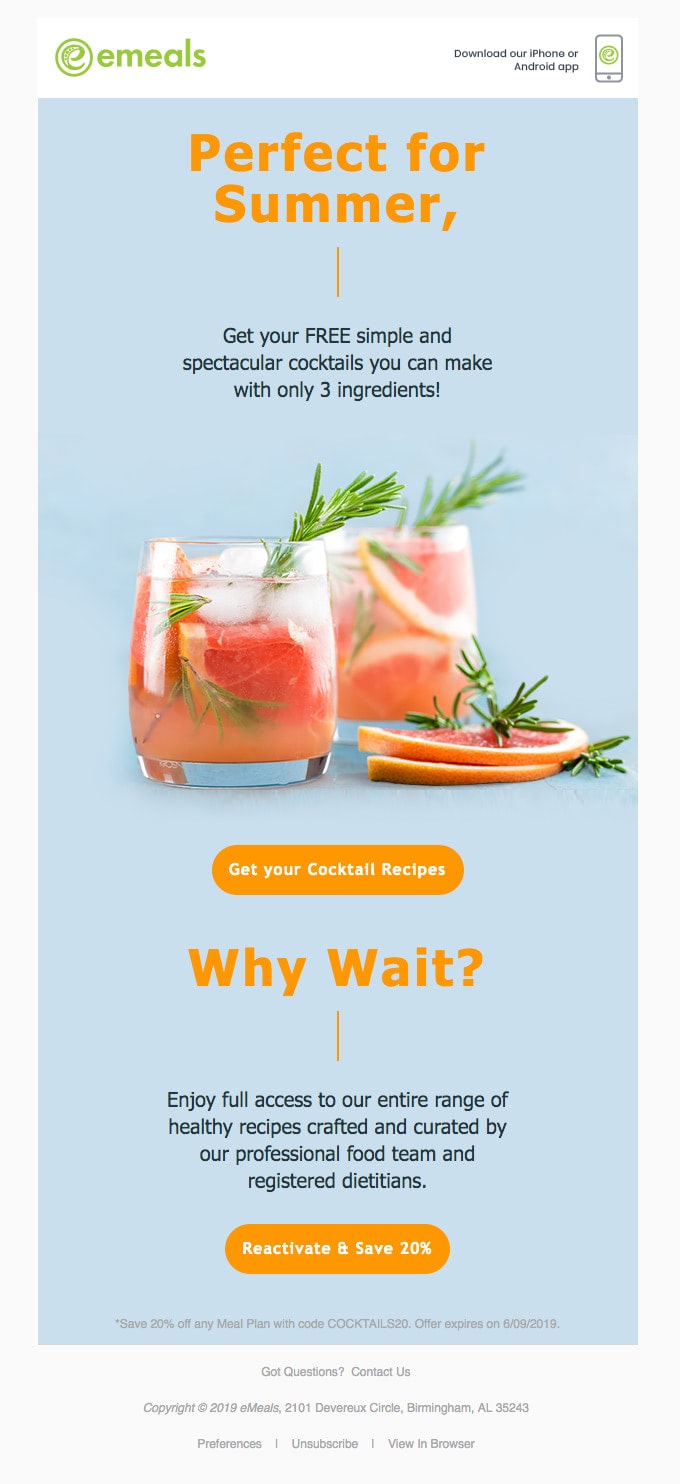 Summer Email from eMeals
The design of summer email from eMeals revolves around a theme that brings to mind summer within seconds: cocktails. Who does not like exotic drinks on a hot summer evening? The email is targeting all kinds of people.
This summer email newsletter has two key points. The first is a recipe that is a gift to subscribers. This small trick of reciprocity is used to appeal to subscribers and transform them into loyal fans of the brand.
The second one is a special discount for reactivating the membership. Even though the latter may fail in terms of increasing CTRs, it is still a smart way to get people to browse the website and drive some extra traffic.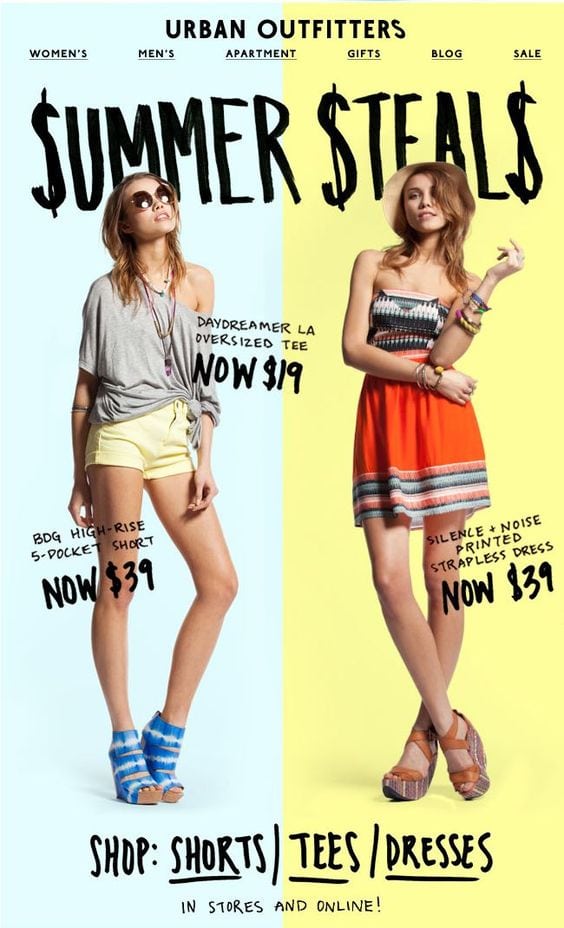 Summer Steals
Urban Outfitters uses one of the most popular types of summer email newsletter examples – summer steals. The team shows us how to make selling goods feel incredibly compelling. Picking up beautiful models that exude urban chic, they have presented clothes under the best possible light.
Note several things. First, the general atmosphere. The email feels friendly, cheerful, and at the same time, stylish.
Second, the coloring. Instead of bright colors, the team has chosen soft and muted tones. This solution does not distract attention from visuals and content but still adds a subtle flair of summer.
Third, typography. The font is fabulous. It is what makes the newsletter feel playful and welcoming.
Finally, discounts. They are skillfully merged with the visuals that make them unobtrusive sales pitches.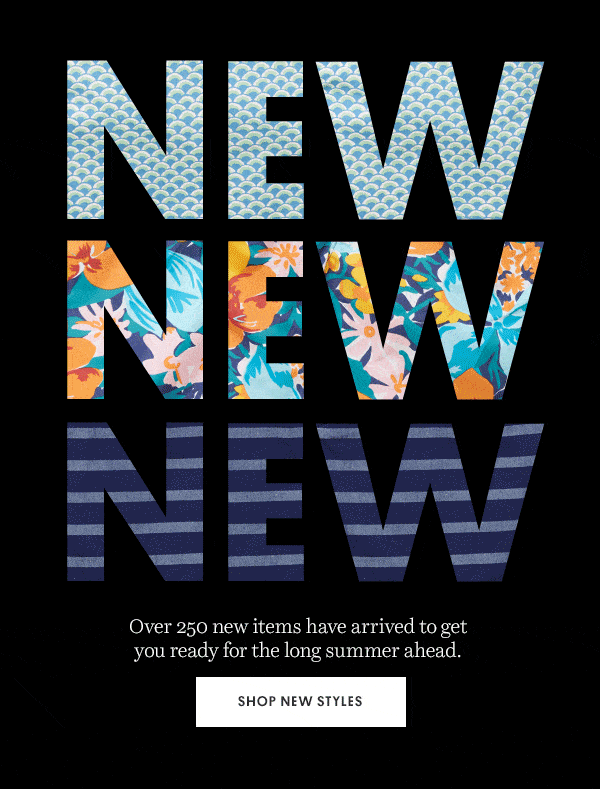 Email from Bonobos
The summer email newsletter example from Bonobos skillfully capitalizes on less is more. Its radical simplicity naturally keeps things focused. Again, there is no extra hustle: only one important message – the new collection is waiting in the store.
Note how the team has conveyed it. Using imagery that is on-point, overwhelming letters, and popular masking technique, they have created a real artwork that not just brings value to the subscribers but also creates a proper entourage for the season.
And that's not all. The team has used animated gifs instead of a static scene, thereby taking the email newsletter to a new level.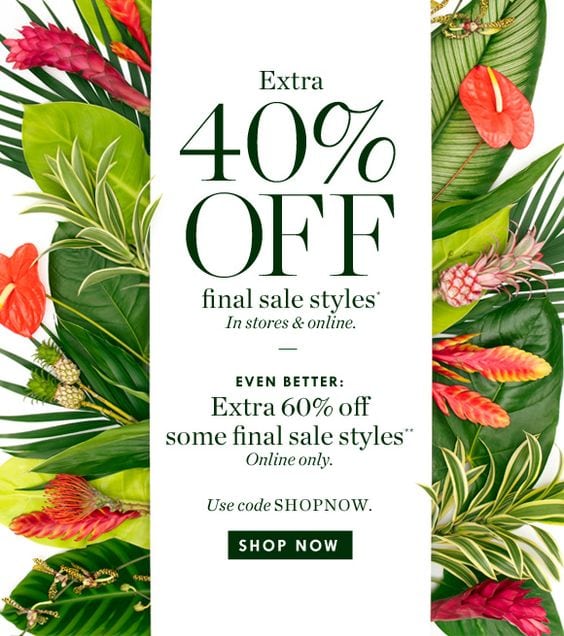 The Final Sale Email
Much like in the previous example where the right imagery can do wonders, in the summer email newsletter by J.Crew, the background does all the heavy lifting. It plays a crucial role in setting subscribers to the right mood and conveying a refreshing summer atmosphere.
Indeed, the image on the back is just brilliant. At some point, it reminds us of the exotic green Versace silk chiffon dress created for Jennifer Lopez in 2000 that got a lot of buzz from the community. Such things just cannot go unnoticed.
Note how the team was managed to balance imagery and content, giving the latter a solid foundation to shine; "40% OFF" is an indisputable eye-catcher. the call-to-action is small yet powerful.
The newsletter turns up the heat from the first seconds and packages the offer into the enticing entourage that is hard to resist.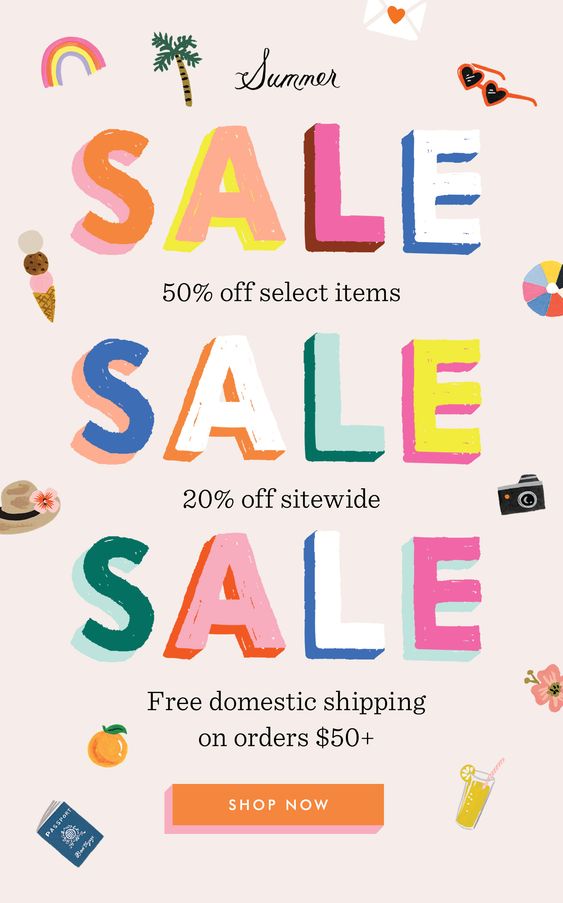 Summer Sale
This is one of those summer email newsletter examples that relays the purpose of the message in a bit childish manner. This playful approach certainly works. The email boosts conversions thanks to a bright look and positive atmosphere. Although the copy is minimalist, yet it is witty. It does all the work that turns out to be exceptional clickbait.
Fancy drawings, chalk-style typography, and of course, bright coloring are what standing behind its irresistible charisma. The email reads more like a traditional flyer than a sales email that adds some points to the credibility. There is only one message – it is "SALE."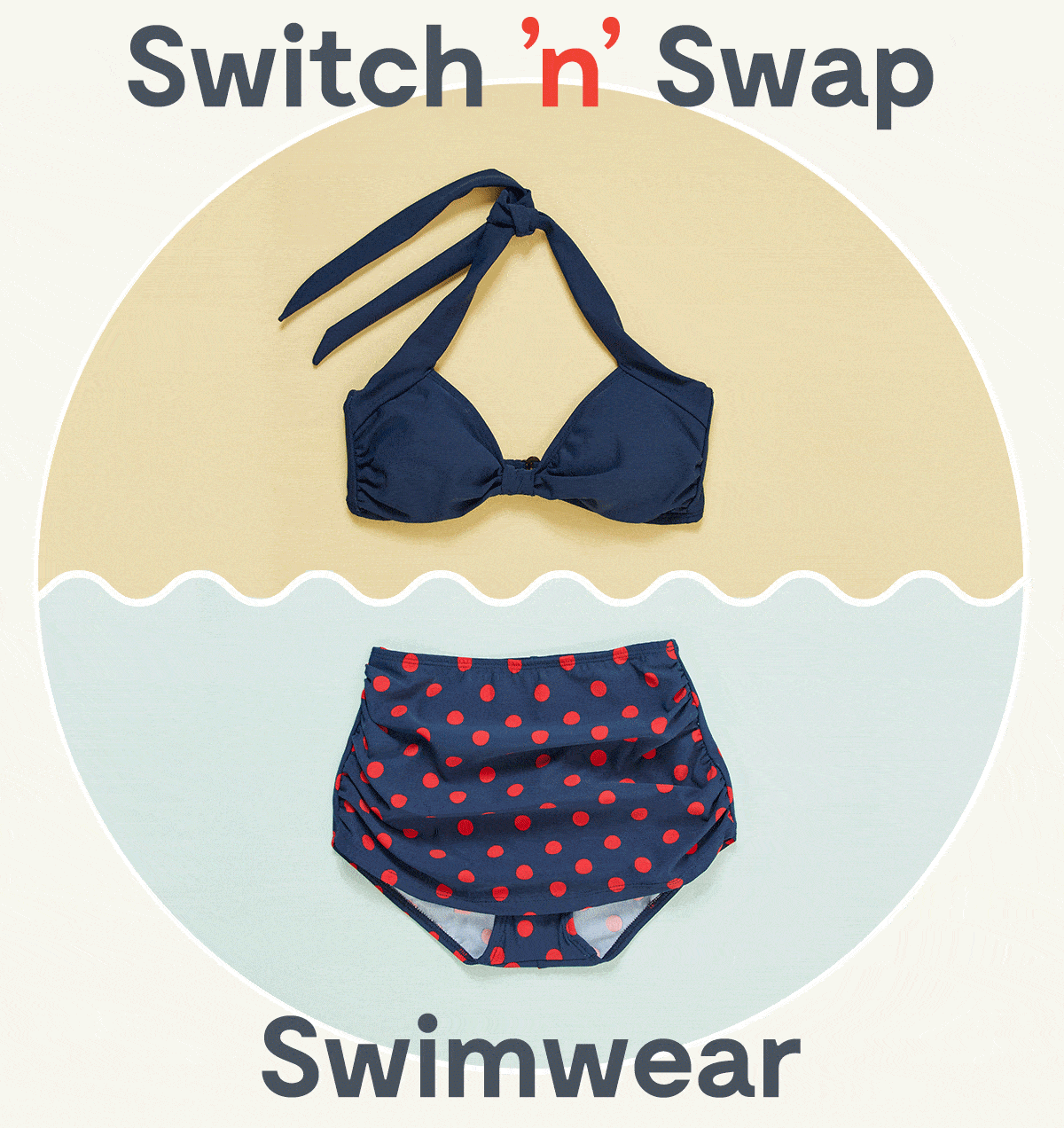 Switch n Swap
What is more summery than a bikini mixer? The team behind the "Switch n Swap" summer email newsletter strikes a chord with the female audience without much effort. This fully animated vacation mixer goes beyond the usual product assortments. It brings to mind a warm, maritime atmosphere.
The email excels on-theme summer imagery. Note there is no content or offer. The team keeps the copy to a minimum igniting subscriber's interest with a skillfully dished up products.
Therefore, much like in the previous example, this email does not read as a sales pitch; it feels like a style guide that was created to help contacts to find the best match for vacation. This kind of care will undoubtedly give this message a longer life in the inbox.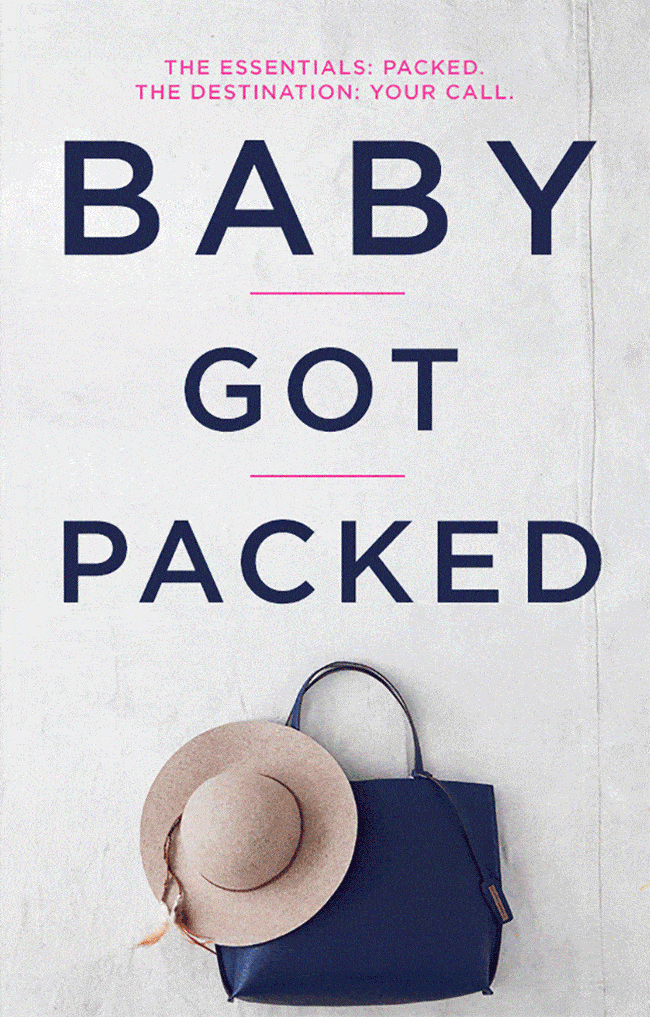 Email from American Eagle
The summer email newsletter from American Eagle is not a regular product-pushing email. This is another smart take on a style guide that veiledly touts the products.
Travel theme, envy-inducing imagery, and intense summer vibes, what else do you need to get subscribers into the mood and drive their engagement? Here products speak for themselves. On top of that, everything is packed into an animated gif. It captures playfulness and easiness that define summer.
The company perfectly understands their audience. The email is in its element.
Conclusion
We all love the beach season. However, let's face the truth. Summer can quickly kill an email marketing strategy. You cannot expect people who break out of the daily routine to check their mailboxes and react to your sales pitches. People are on vacation. Therefore, brands can experience lower engagement and deterioration in statistics across the board.
Nevertheless, it does not mean that you should lose hope. On the contrary, it is time to let your imagination run wild. It is time to push the boundaries and test limits of your creativity to turn the tables on summer stagnation.
To prompt opens and drive action, follow the best practices that we have mentioned in our guide. Get inspiration from our collection of summer email newsletter examples, create a custom design, plan out strategy beforehand, and do A/B tests to find what works best.
Like what you're reading? Subscribe to our top stories.