Commercio is a free web icons set for both business and e-commerce websites. This set contains the basic, most important icons usually used in e-commerce and websites related to a business.
With the help of these elegant icons, the navigation and commerce experience will be great on any website related to e-commerce. It will also ease the buying procedure, which will definitely improve the overall website performance.
The free e-Commerce icons will help each one of you build a website containing professional and good looking elements. All of the icons are highly detailed and pixel perfect so you won't have to worry about playing with their sizes and losing quality.
The icons are in PNG format and have different dimensions: (16px, 24px, 32px, 48px). The pack contains the following set of business icons:
Money, Master Card, Business man (people), Bank, Safe, Shopping cart, Wallet, Business Bag (briefcase), Secure Payment, Checkout, Shopping Bag, Products on Sale (for sale), Notebook (diary), Exchange.
Free Business and e-Commerce Icons Set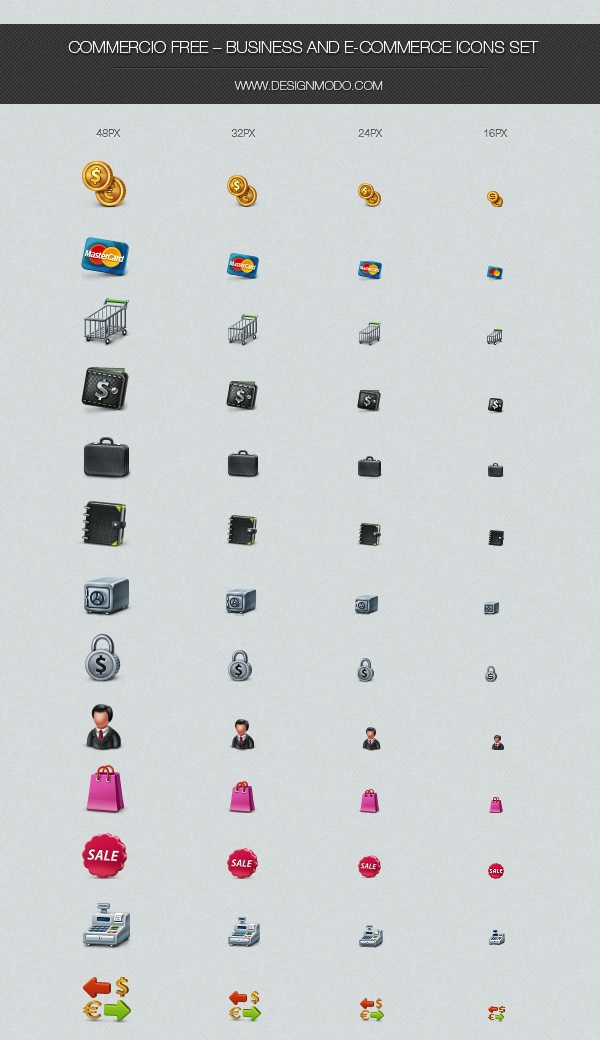 Download Commercio Free

Commercio – Premium Business and e-Commerce Icon Set – Only $15
Impress your audience with animated websites and web presentations.
With Slides, we don't make you start from an empty slate. All you have to do is to pick the elements you like best and combine them. Each slide has been carefully crafted to satisfy three key criteria: aesthetic, function and usability. That way you know every element works together seamlessly while enhancing the impact of your content.
Learn More
Other Products
Like what you're reading? Subscribe to our top stories.