Free Christmas Icons Set
As the festive season draws near, the digital world embraces the spirit of Christmas. Visual elements play a crucial role in creating an engaging and festive atmosphere online. Recognizing this, we're thrilled to offer a specially curated collection of free Christmas icons to bring the joy and warmth of the holiday season to your digital projects.
Our selection of icons is more than just a decorative element; they are a testament to the latest trends in digital design, combining contemporary aesthetics with traditional Christmas motifs. This blend ensures that your projects remain both modern and seasonally appropriate. Whether you're a blogger, a web designer, or a digital marketer, these icons can enhance the visual appeal of your content, increase user engagement, and add a festive touch to your online platforms.
Additionally, these icons are crafted to cater to a variety of digital needs and preferences. From minimalist designs for a sleek look to more elaborate illustrations for a vibrant feel, our range includes styles that suit diverse creative visions. This versatility makes our Christmas icons ideal for various applications – be it enhancing your website's UI, creating holiday-themed marketing materials, or adding a seasonal touch to social media posts.
As we share these free Christmas icons, we invite you to explore how they can transform your digital projects and help you connect more deeply with your audience during this special time of the year.
Why Choose Our Free Christmas Icons?
Our collection of free Christmas icons stands out for several reasons, making them an exceptional choice for your festive digital projects:
Expertly Crafted Designs: Each icon in our collection is the result of meticulous design work by professional graphic designers. We focus on creating icons that are not only visually appealing but also embody the essence of the Christmas spirit. From classic Christmas trees and snowflakes to modern interpretations of Santa Claus and reindeer, our icons capture the joy and magic of the holiday season.
Variety and Versatility: Understanding the diverse needs of digital content creators, we offer a wide range of styles and themes. Whether you prefer traditional holiday imagery or seek something more contemporary, our collection has something to suit every taste. This variety ensures that you can find the perfect icons to match the tone and style of your website, blog, or marketing material.
Optimized for User Experience: All our icons are designed with user experience in mind. They are not only visually attractive but also optimized for quick loading and compatibility across different devices and platforms. This means they look great whether viewed on a desktop, a tablet, or a smartphone, enhancing the overall user experience of your digital project.
High-Resolution and Scalability: We provide our Christmas icons in various sizes and high resolution, ensuring that they remain crisp and clear at any scale. Whether you need small icons for web navigation or larger images for promotional materials, our icons maintain their quality and detail.
Ease of Integration: Our icons come in PNG format, which is widely supported and easy to integrate into various digital platforms and design software. This ease of use saves you time and effort in your design process, allowing you to focus on creativity rather than technical issues.
Perfect for a Range of Applications: These icons are incredibly versatile and can be used in various digital contexts. From enhancing the aesthetic of your e-commerce site during the holiday season to adding a festive touch to your email newsletters, our icons can elevate the look and feel of your digital presence.
Completely Free and Accessible: One of the biggest advantages of our Christmas icons is that they are completely free. This accessibility ensures that individuals and businesses, regardless of their budget, can enhance their festive digital content without incurring additional costs.
In summary, our free Christmas icons are a unique blend of quality, variety, and user-friendliness, designed to meet the diverse needs of digital creators. By choosing our icons, you are not only beautifying your projects but also ensuring a seamless and engaging user experience.
No-Code Email Template Builder
With Postcards you can create and edit email templates online without any coding skills! Includes more than 100 components to help you create custom emails templates faster than ever before.
Try Free
Other Products
Diverse Range of Icon Sizes and Formats
Understanding the diverse needs of digital projects, we offer our Christmas icons in various sizes (48×48, 72×72, 128×128, 256×256) and in the universally compatible PNG format. This versatility ensures that you can seamlessly integrate these icons into any digital platform.
How to Use Our Free Christmas Icons
These icons are not just attractive but also incredibly versatile. Here are some creative ways to use them:
Enhance your website or blog's visual appeal during the holiday season.
Create unique Christmas cards or invitations.
Add a festive touch to your desktop background.
Incorporate into print ads for a seasonal marketing campaign.
We're always eager to hear from you! Download your free set of Christmas icons and let us know how you've used them in your projects. Your feedback is valuable to us, and we look forward to continuing to provide you with high-quality design resources.
As Christmas is just around the corner, we thought that it is time to share some good news with our readers. And what can be better than sharing some cool design stuff with you guys?
Yet another year has almost passed and we are grateful for your presence and feedback. One of our special ways of thanking you is how you have already seen – sharing free giveaways. It is fun for us, and definitely good news for you guys. So this time it's about a cool set of Free Christmas icons.
There are plenty to choose from and come in different sizes (48×48, 72×72, 128×128, 256×256 in PNG format) so that you can use them in your digital world.
Bloggers and Website owners can use these attractive and free and useful Christmas Icons set on their blogs/websites on Christmas and give your blog a fresh look.
You can use on sites, blog, cards, invitation, desktops and even in print ads that should set just the right tone for you this year.
Download Christmas Icons Set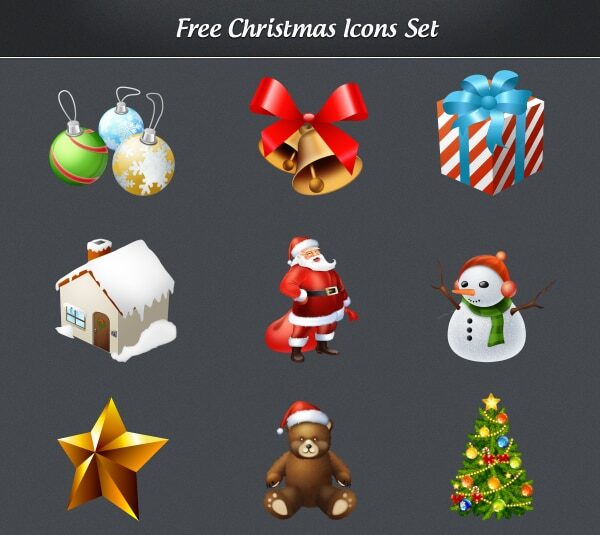 Get Your Free Christmas Icons Today
Don't miss the opportunity to elevate your digital projects with our free Christmas icons. Download them today and start spreading the holiday spirit!
Like what you're reading? Subscribe to our top stories.