Free Fonts You'll Want to Use Now, Trends and Examples
Every new year comes with lists of new design trends and techniques you'll be using in the months to come. But what about typography?
While type trends are often parts of these lists, there aren't as many devoted to fonts that will make your life easier. Designmodo is here to solve that problem. Here, we've compiled a list of 19 go-to new free fonts that you'll want to use in design projects this year.
While some of these options are free fonts, others are premium typeface options (everyone needs a few go-to premium type families). There's also a mix of new and classic fonts to choose from.
Free Fonts Type Trends at a Glance
There are a few things we're already starting to notice when it comes to typography this year. Many of the options in this list have these trending styles in mind.
San serif stacked typography with three- to five- lines of text.
Use of more serif font options.
Retro and outline/inline styles with a classic vibe.
Elaborate swashes and flourishes for short text.
Thick lines and bold letterforms.
Coves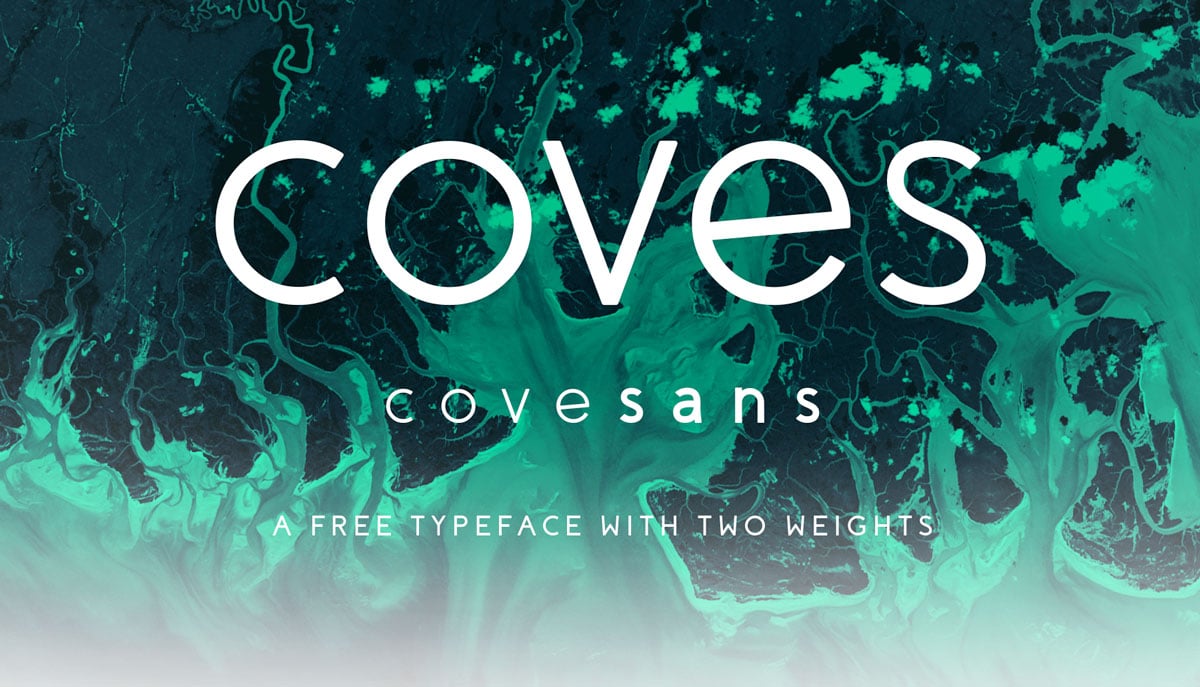 Coves is a sans serif font with a nice round shape and a full set of upper- and lowercase characters that are highly readable a small and large sizes and in stacked applications. The rounded edges give this font a special touch that's just a hint different.
Download it free (for personal use) from the designer on Behance.
No-Code Email Template Builder
With Postcards Email Builder you can create and edit email templates online without any coding skills! Includes more than 100 components to help you create custom emails templates faster than ever before.
Start Free
Univers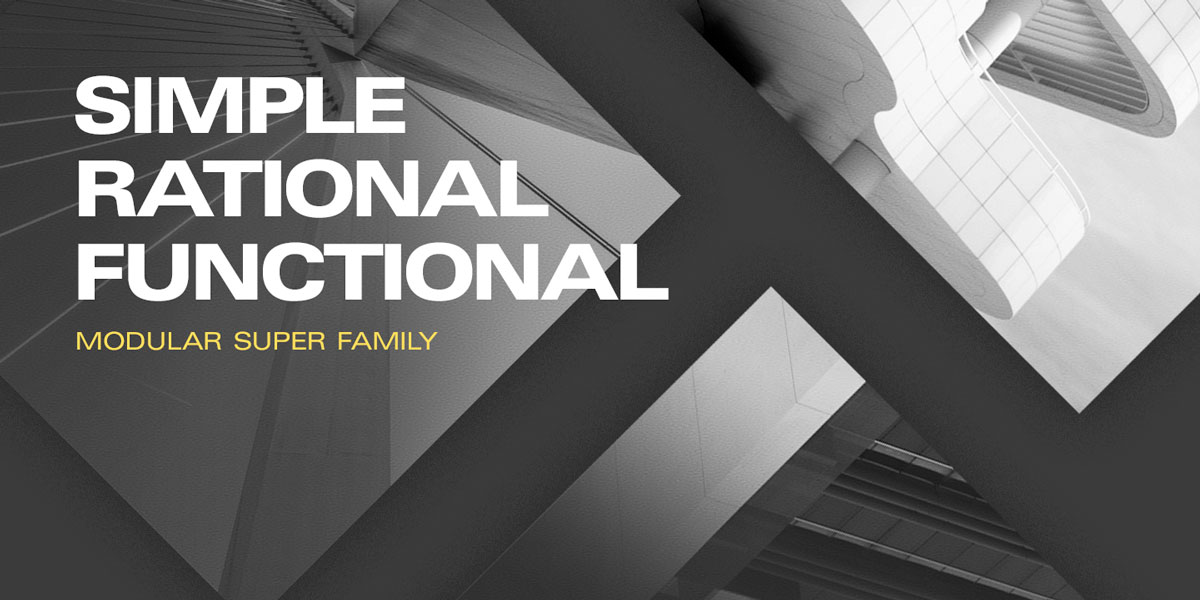 Univers is an "oldie but goodie." This typeface is so usable that it fits into almost any design aesthetic with ease. The simple shapes of this sans serif also make it idea for oversized or stacked typography.
This premium font is available from MyFonts.
Morganite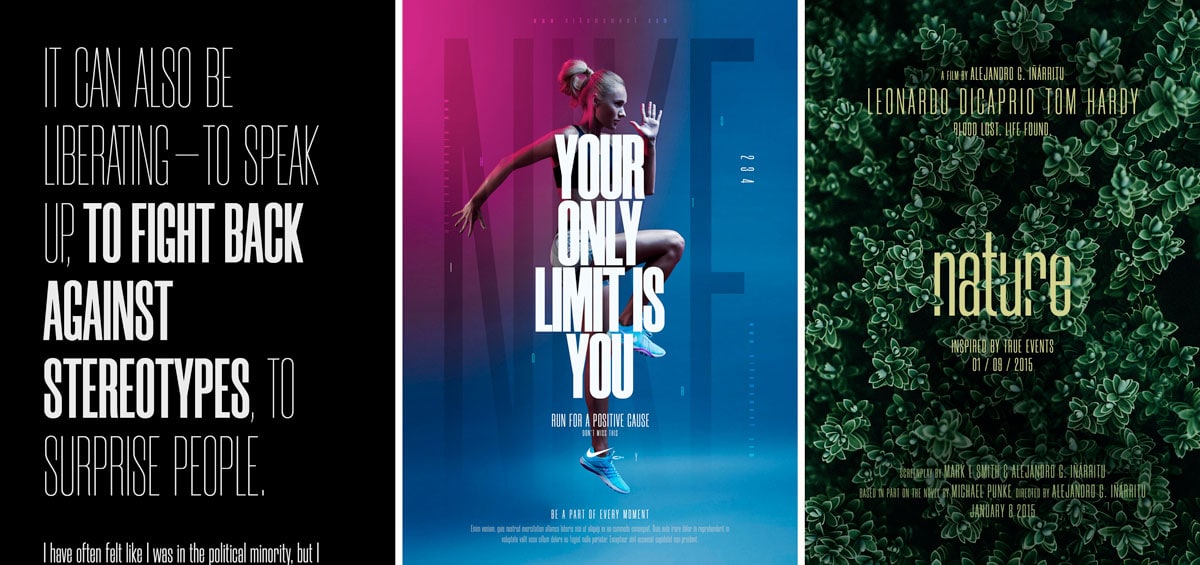 Morganite is an amazingly complex free sans serif font. The uppercase character set is lovely for display and while lowercase letters have a "crunched" feel, they can work nicely for short text elements. For a typeface with such a high x-height it is quite readable. Find from the designer on Behance.
The Laker Font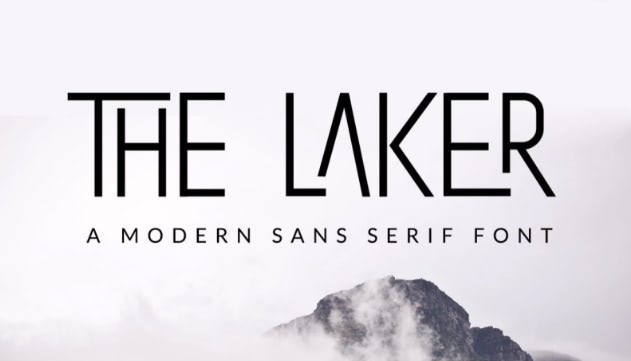 The Laker Font is a san serif type style that provides a refreshing and clean look. Its unique aesthetics and elegant presence evokes feelings of tranquility and sophistication, a fitting combination for your highly anticipated branding projects.
Download it now Laker Font in Freepik's asset library.
Lato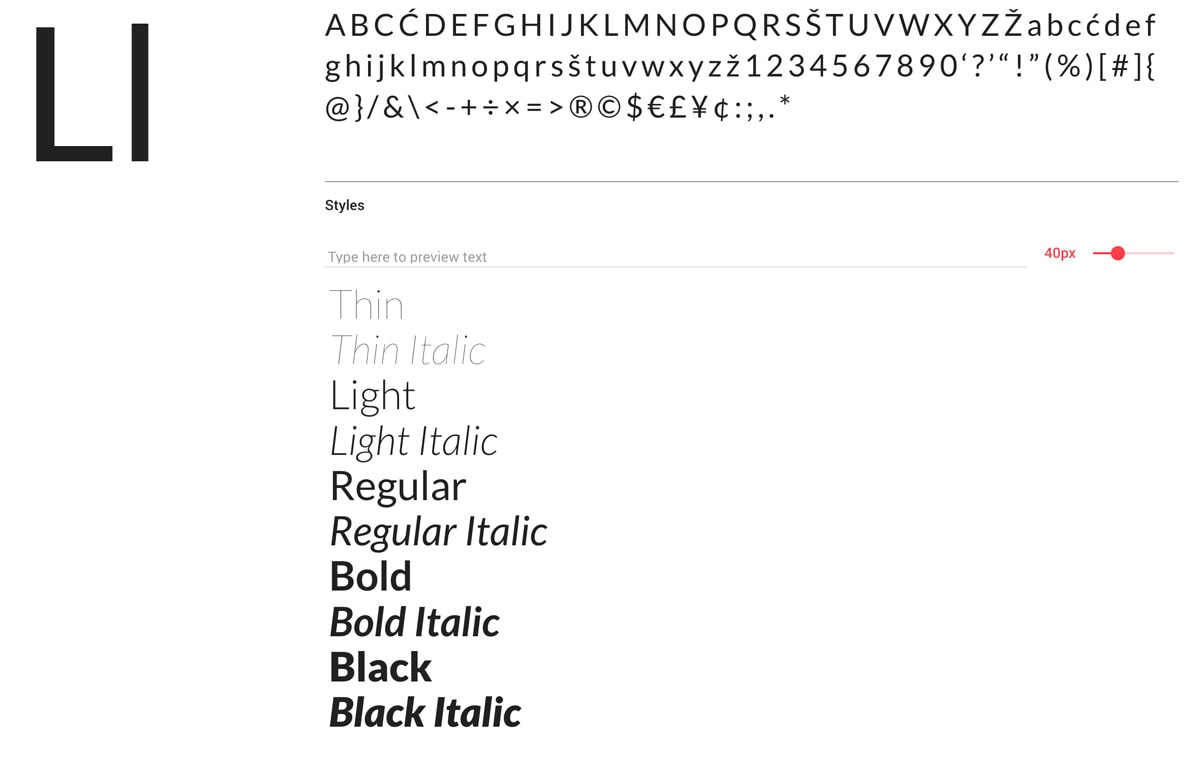 Lato is one of those fonts that never gets old. Semi-rounded details of the letters give Lato a feeling of warmth, while the strong structure provides stability and seriousness. "Male and female, serious but friendly.
With the feeling of the Summer," according to designer Łukasz Dziedzic. This is a popular typeface, thanks to inclusion in Google Fonts.
Evolve Sans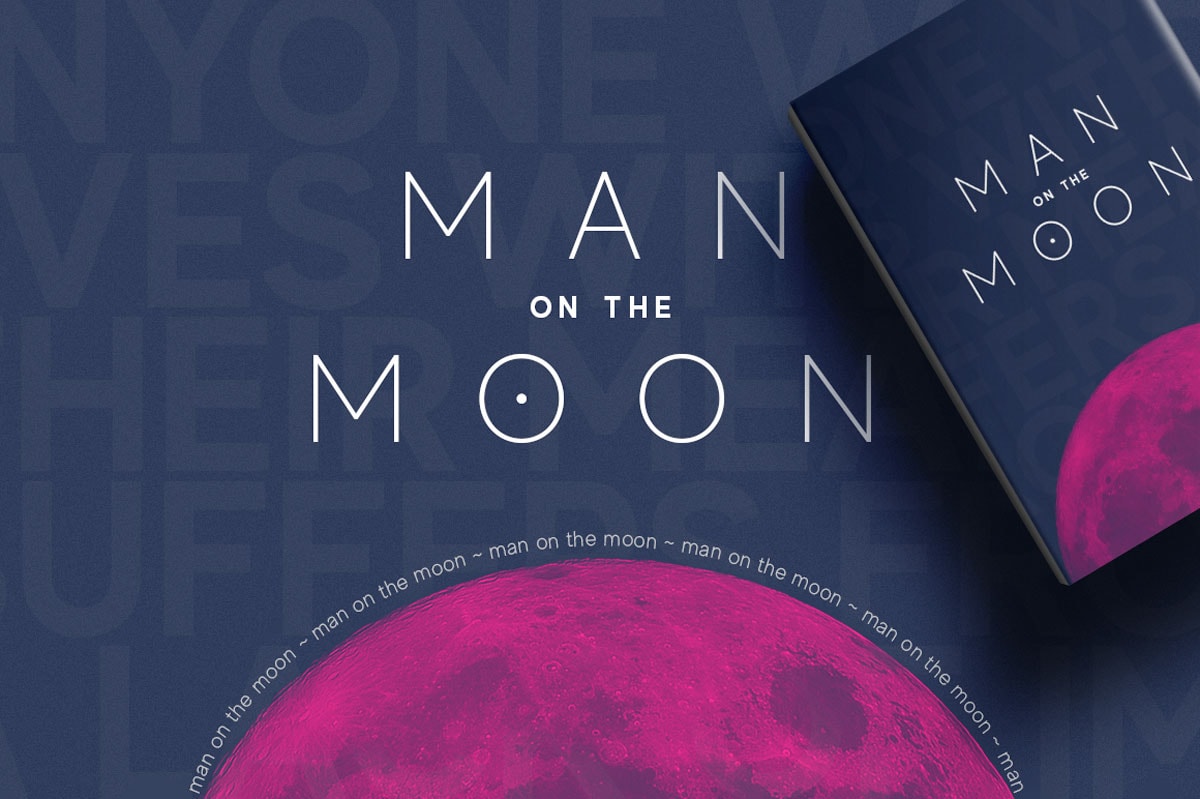 Evolve Sans includes 10 fonts in multiple weights and a futuristic alternate that's fun for specific characters or uses. The thin versions are only heavy enough for oversized applications, but the regular and bold weights are exceptional for almost all display text.
Quick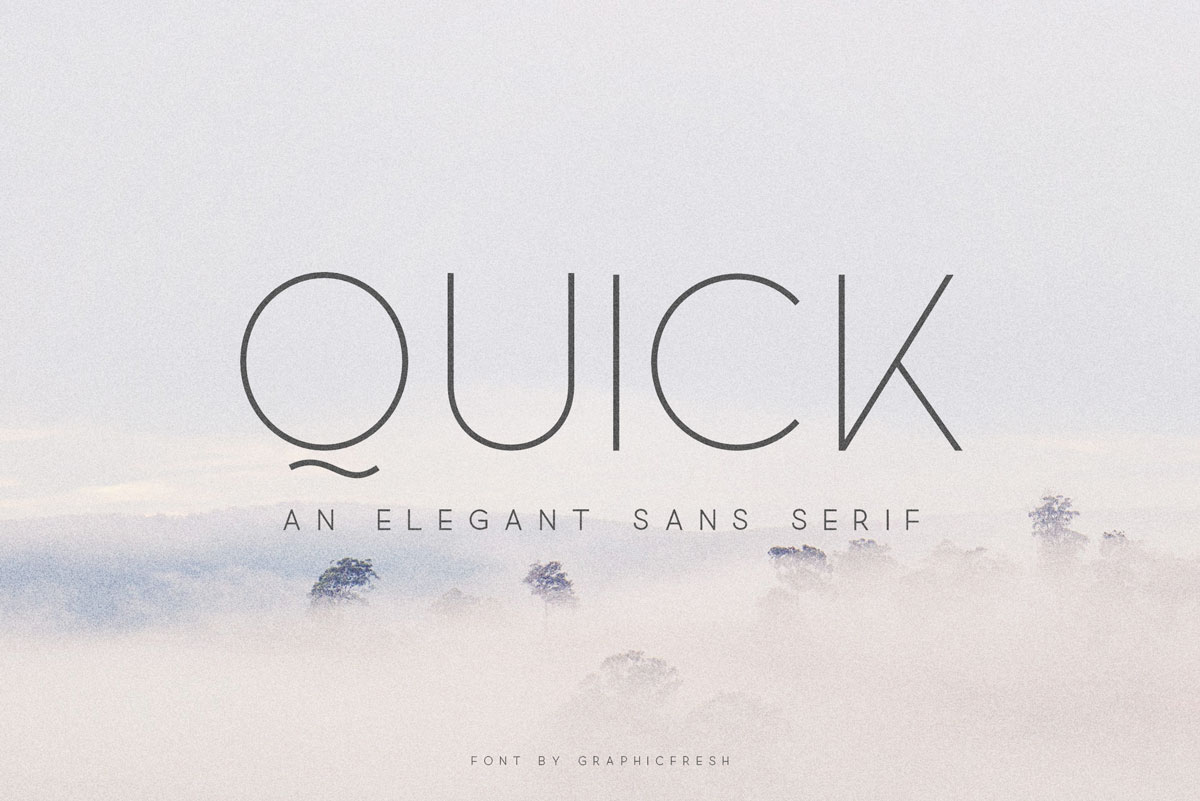 Quick is an elegant, thin-line sans serif. Used for oversized and display, this font can be quite impactful. This font includes multilingual support and includes a full character set. Download it from GraphicFresh.
Mosk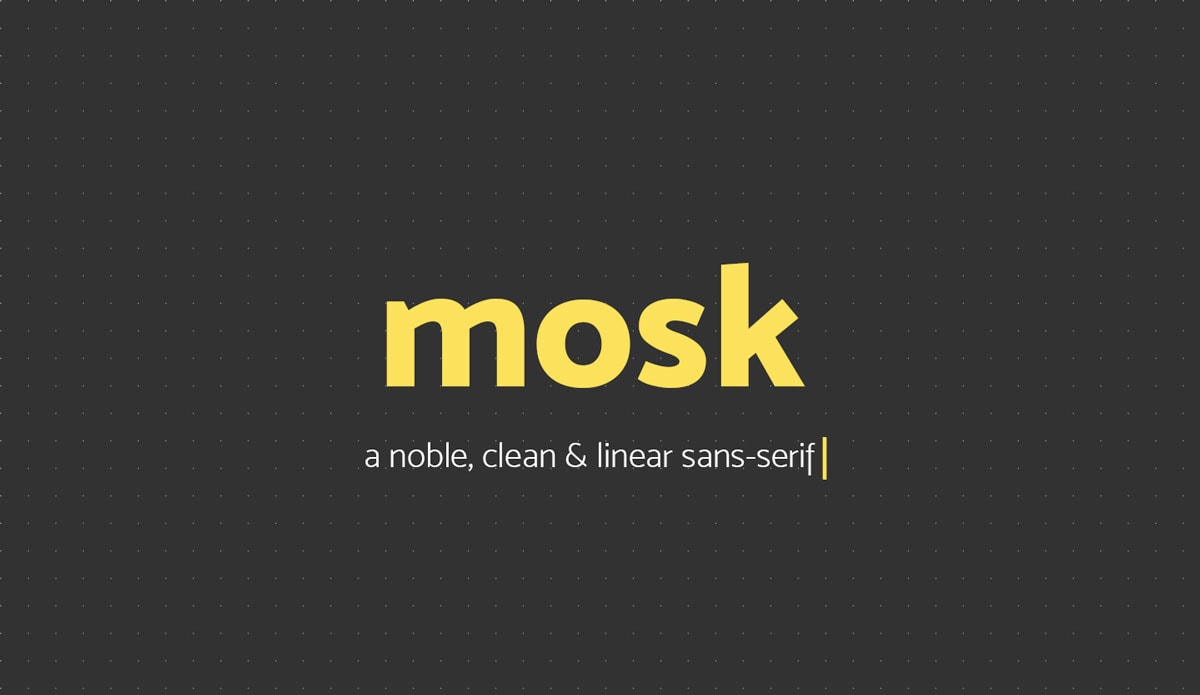 Mosk is a powerful sans serif font with nine styles and plenty of weights so that it can be an all-in-one font solution. The angled letterforms and clean lines make It great for stacking, body text and display. Download it from the designer on Behance.
Burgess

Burgess is a highly readable serif with plenty of options in the full font family. The bold and semibold variations look great in display while regular is ideal for smaller text elements. The premium font is available from the Colophon Foundry.
GT Super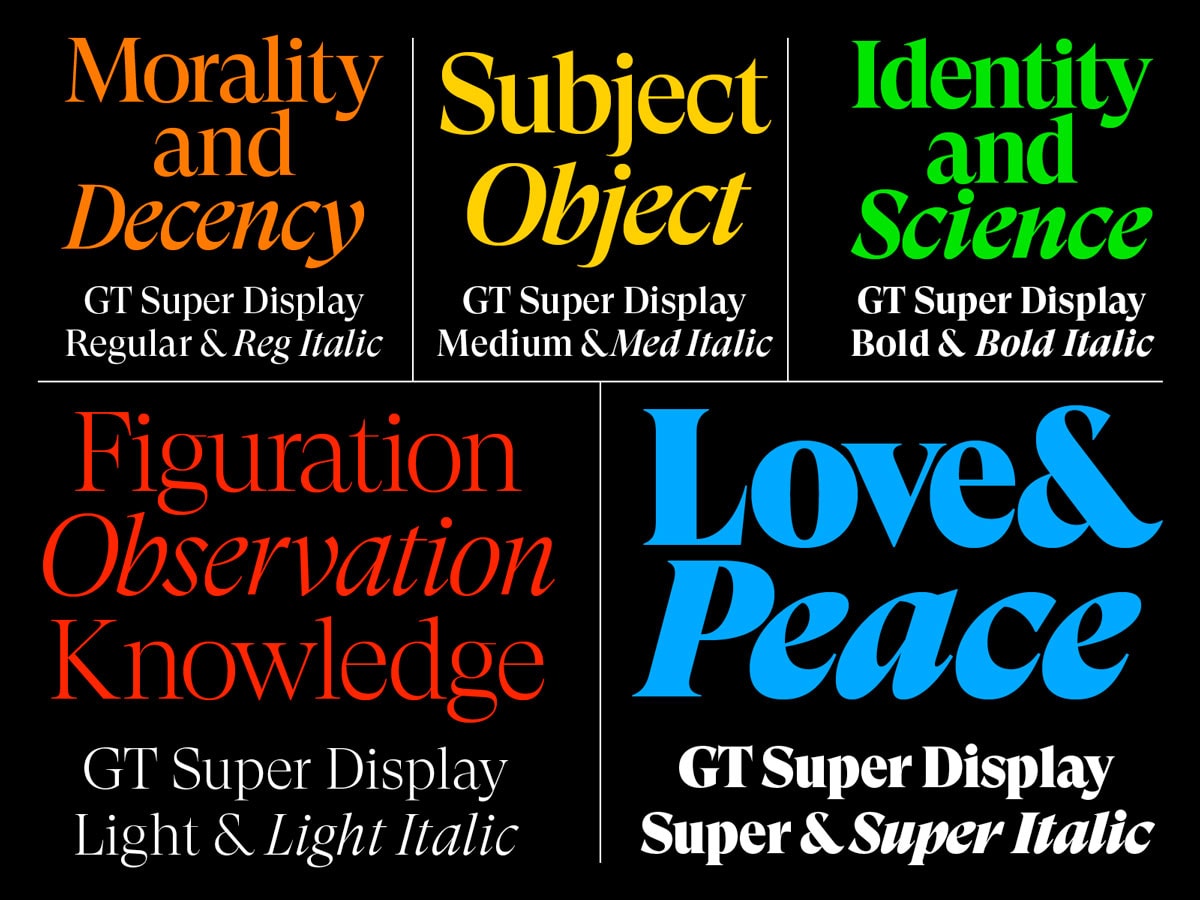 GT Super is a modern-style serif with plenty of versatility. It's readable and airy with multiple weights, making it an ideal all-purpose solution. (Plus, it looks great on screens and in print.)
From the designers: "GT Super is the result of an extensive investigation into display serif typefaces from the 1970s and 80s. It focuses on the expressive and idiosyncratic nature of calligraphic motions, compelled into stable, typographic shapes." This premium font is available from Grillitype.
Playfair Display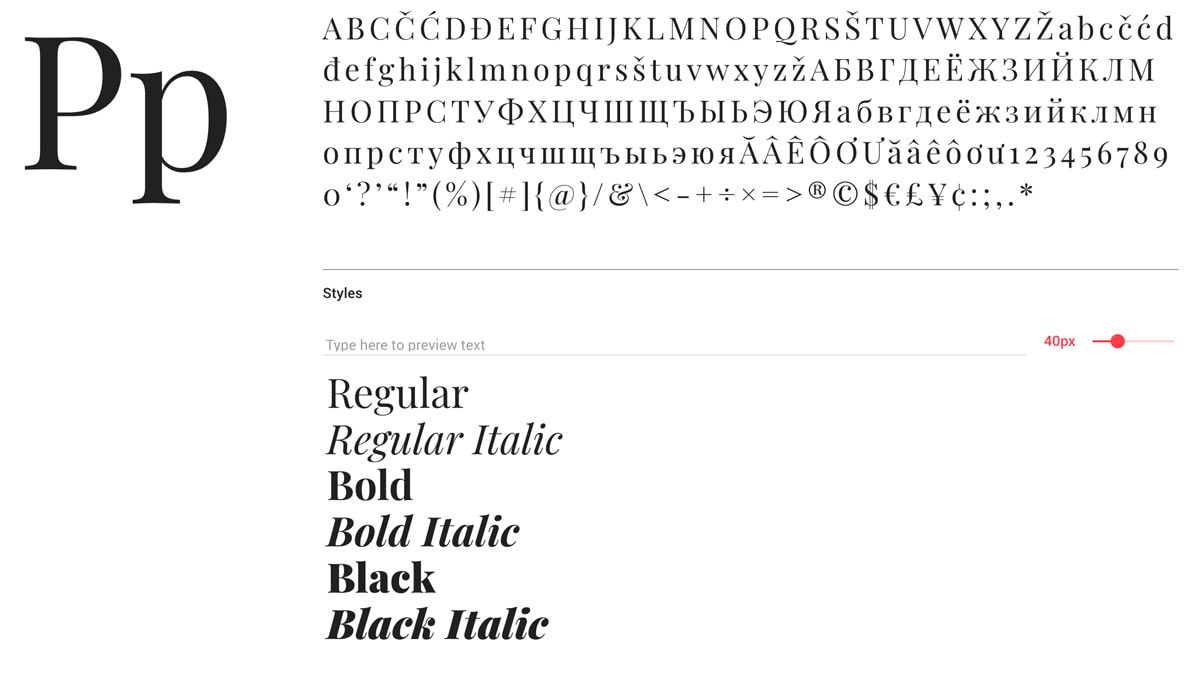 Playfair Display is a versatile serif typeface with thick and thin styles. While it is best-suited for larger lettering, it maintains readability even at smaller sizes. Get it free from Google Fonts.
Giveny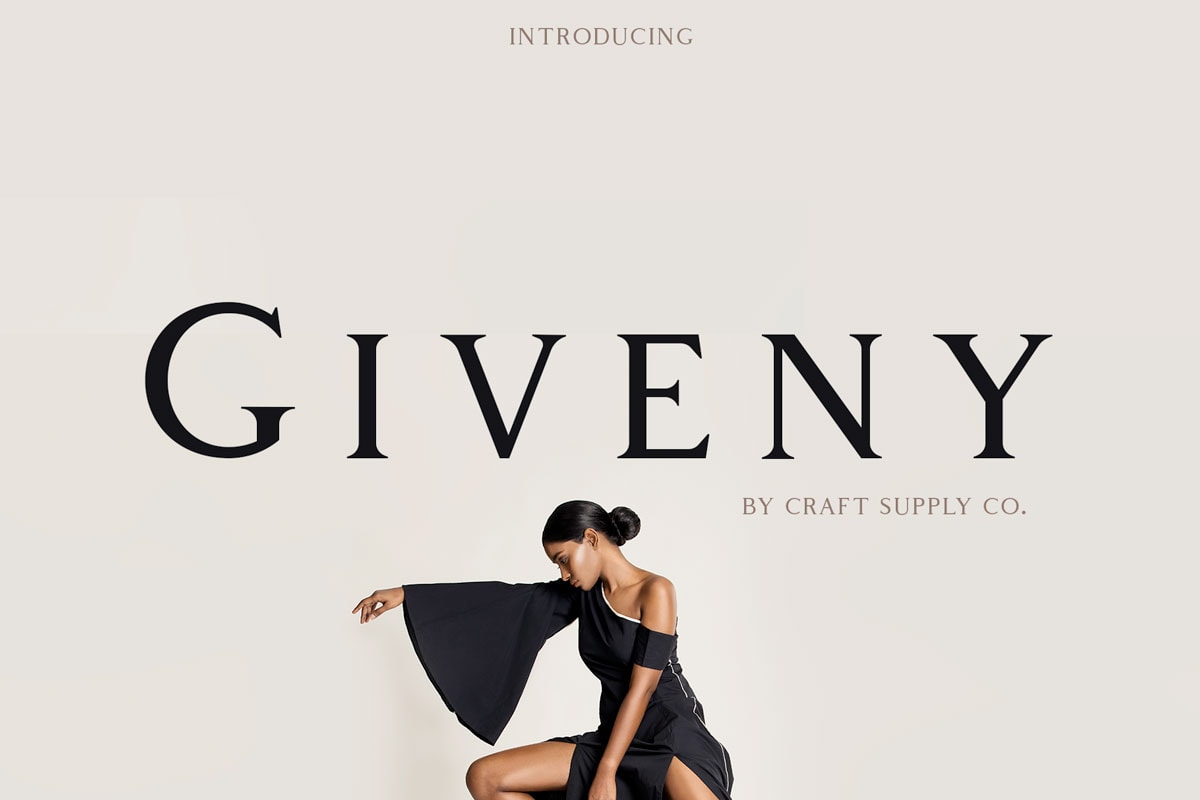 Giveny is a classically-style serif in an all uppercase style. Use it for display to add the right feel to projects that need a special something. Download it from the designers on Behance.
Monkstead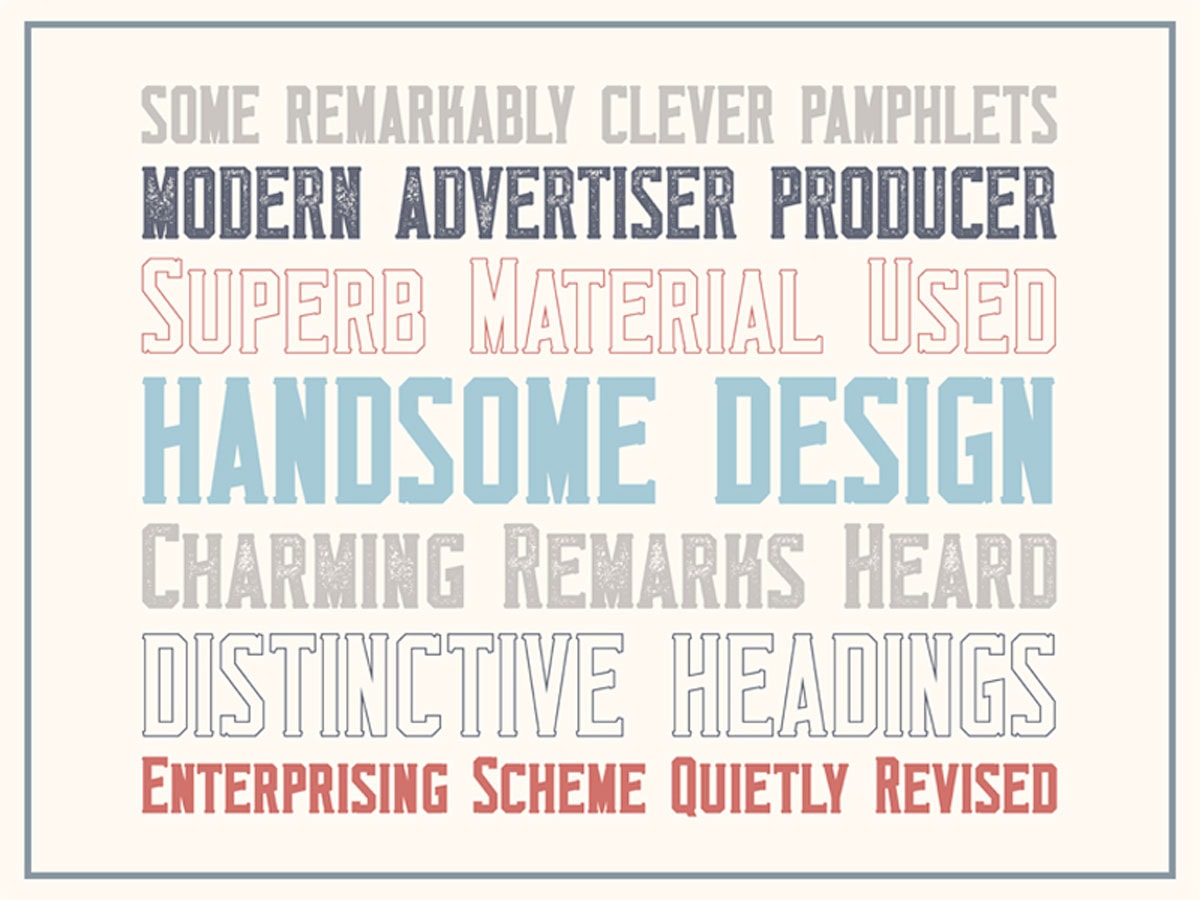 Monkstead is a fun retro style that can be used filled or as an outline. It has five styles and is made in the vein of vintage logos and posters. Get the free version (round style) from the designer on Dribbble. https://dribbble.com/shots/4808005-Monkstead-Font-round-style-for-free
Circus Display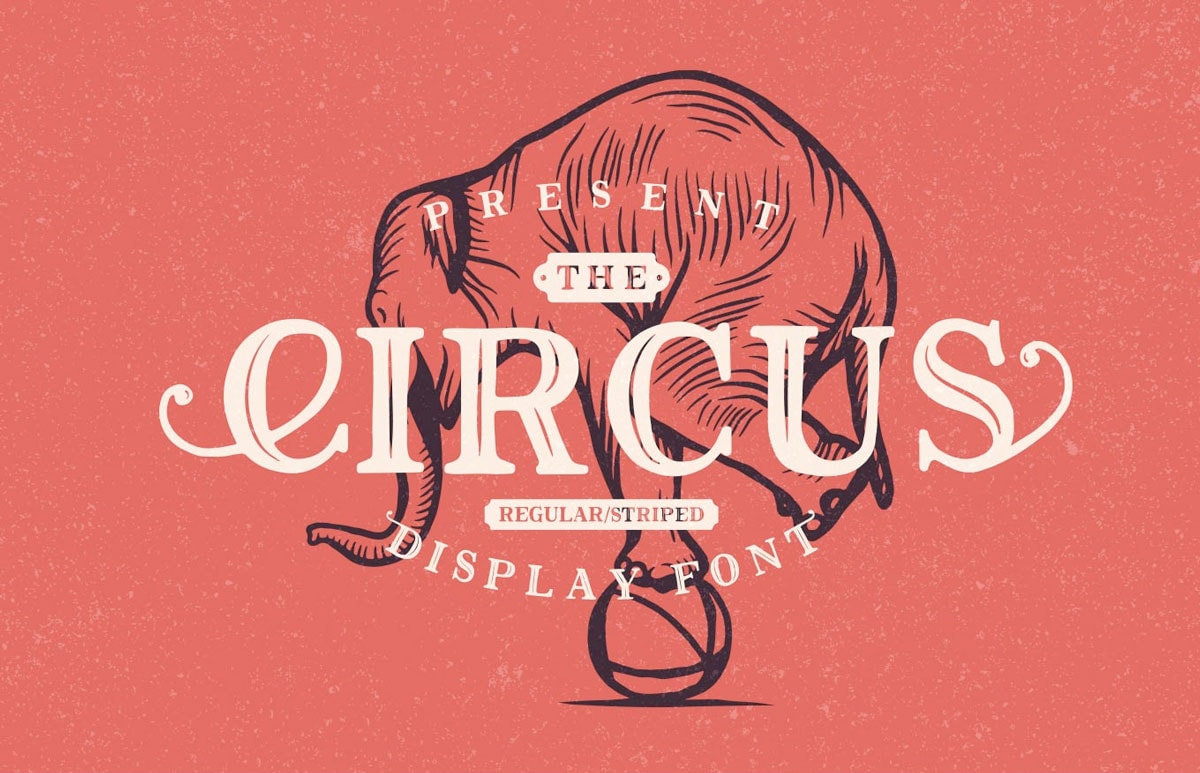 The Circus Display font is a versatile font with a retro style and fun swashes and tails. If you need an interesting display option, this might be it. From the designer: "This rough typeface has a strong charisma, appealing to the audience.
Coming in two different styles (regular and striped one), it gives a chance to freely edit the degree of its 'vintageness.'" Download this free front from PixelBuddha.
Bobby Jones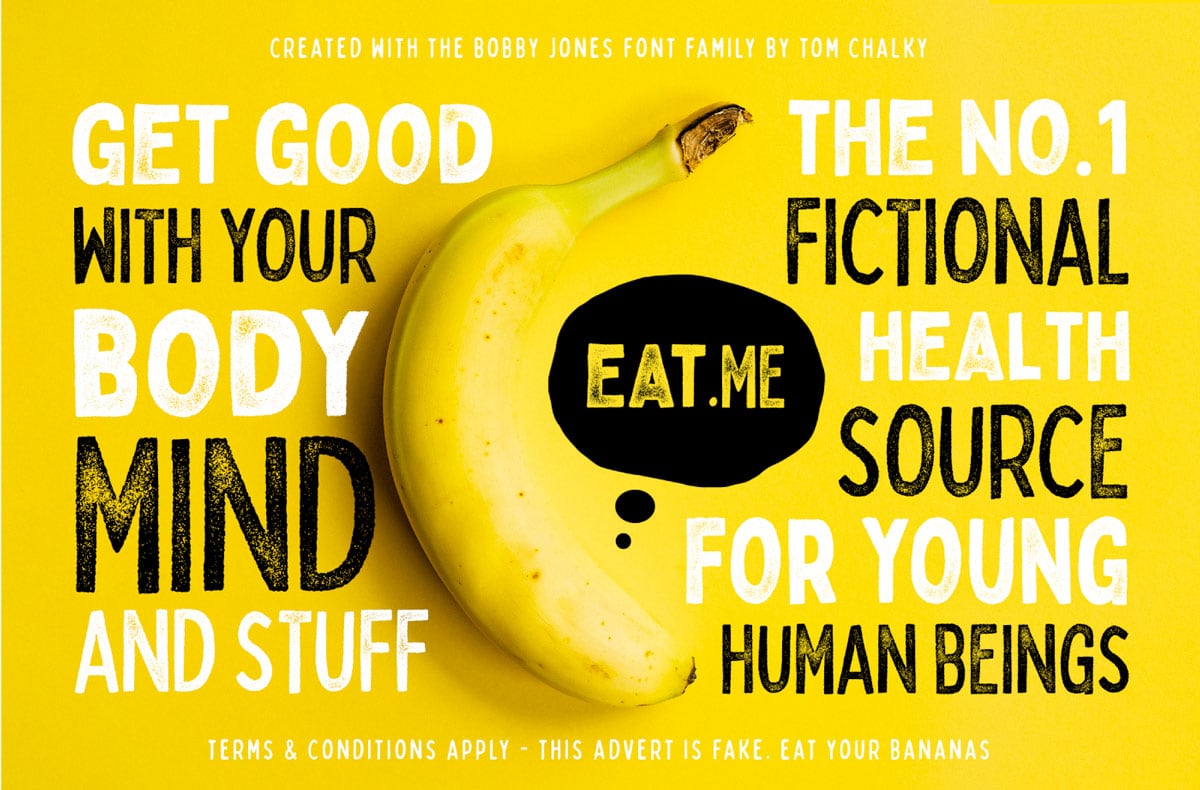 Bobby Jones is a fun – and funky – font with a rounded style, rough and soft options and an outline style. While this typeface has a quirky nature, it also has a cool retro feel. Download it free (personal use only) from PixelSurplus.
Elephant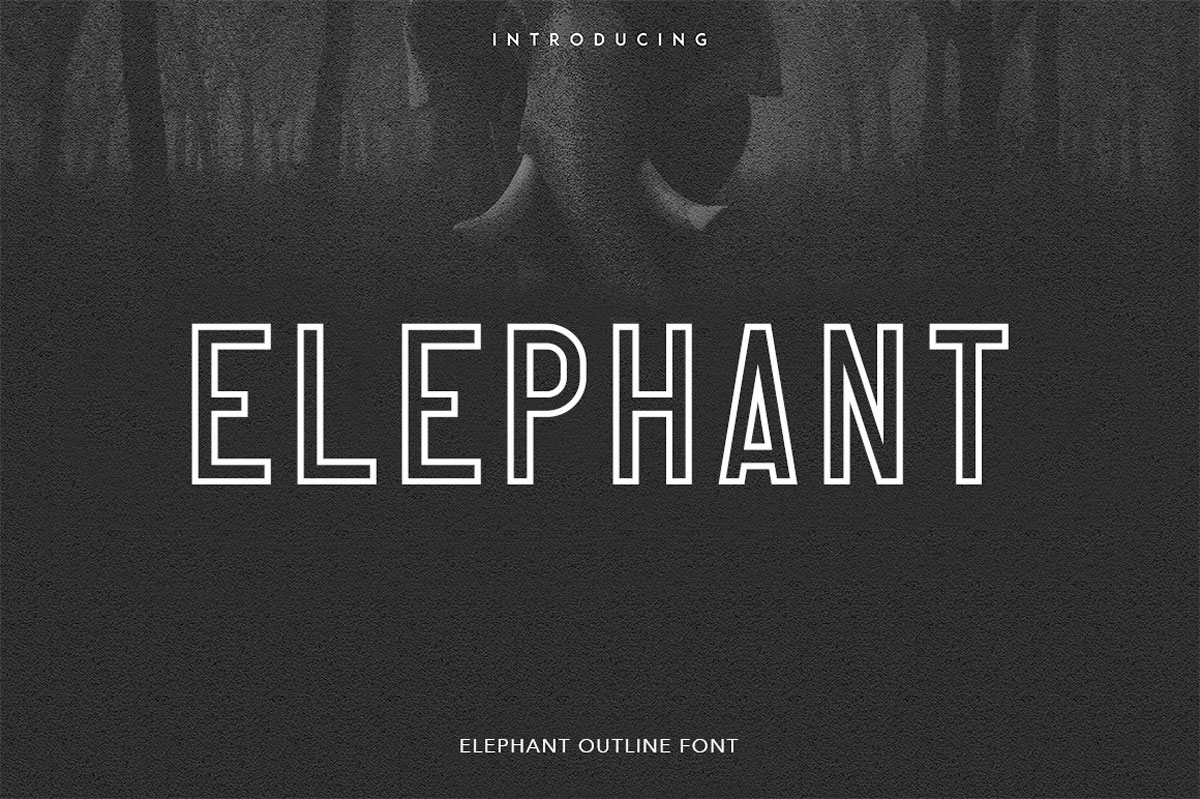 Elephant is an elegant outline style sans serif that's made to pair with images and other creative materials. The lines are thick and crisp, and the design is simple and engaging with just the right angles and weight. Download it from the designer on Behance for free.
Puzzled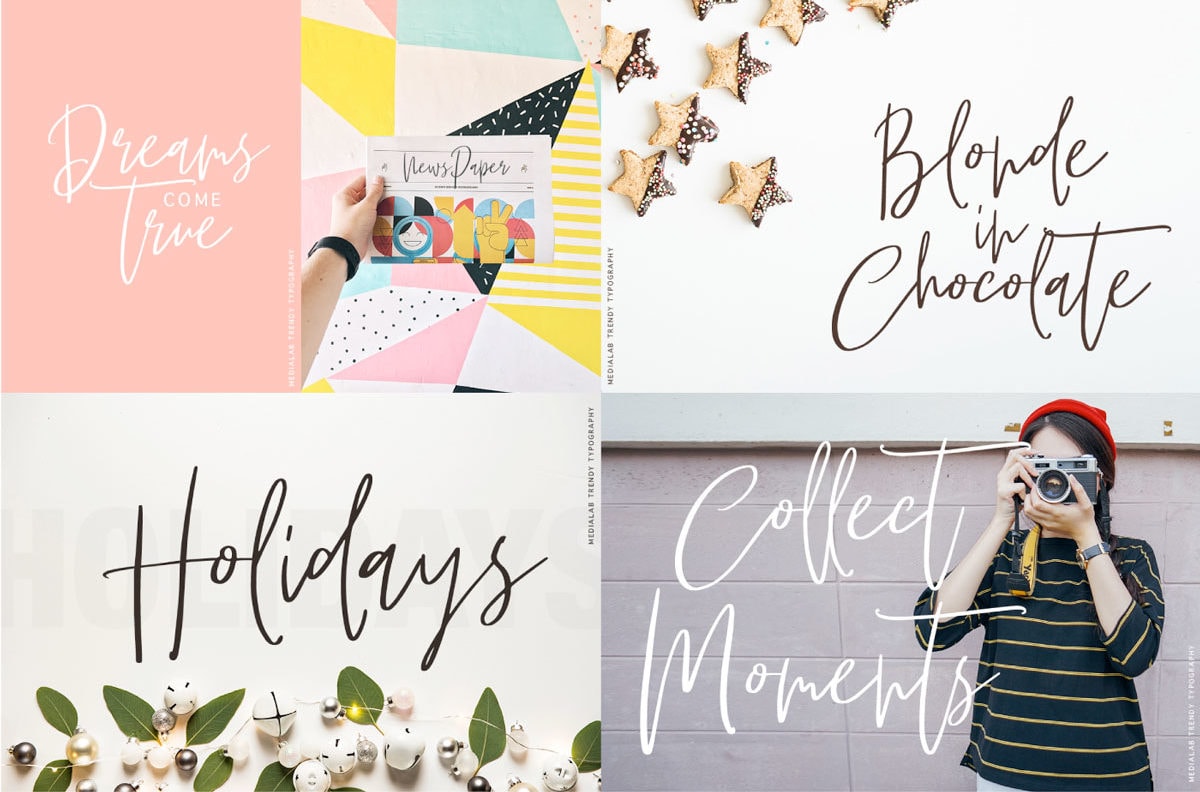 Puzzled is a trendy script with long tails and elaborate lines. While the font has a more feminine feel, it can work in a number of applications. Most effective uses would include simple text elements with a few characters to best make use of elaborate stylings. Download it free from PixelSurplus.
Peace Sans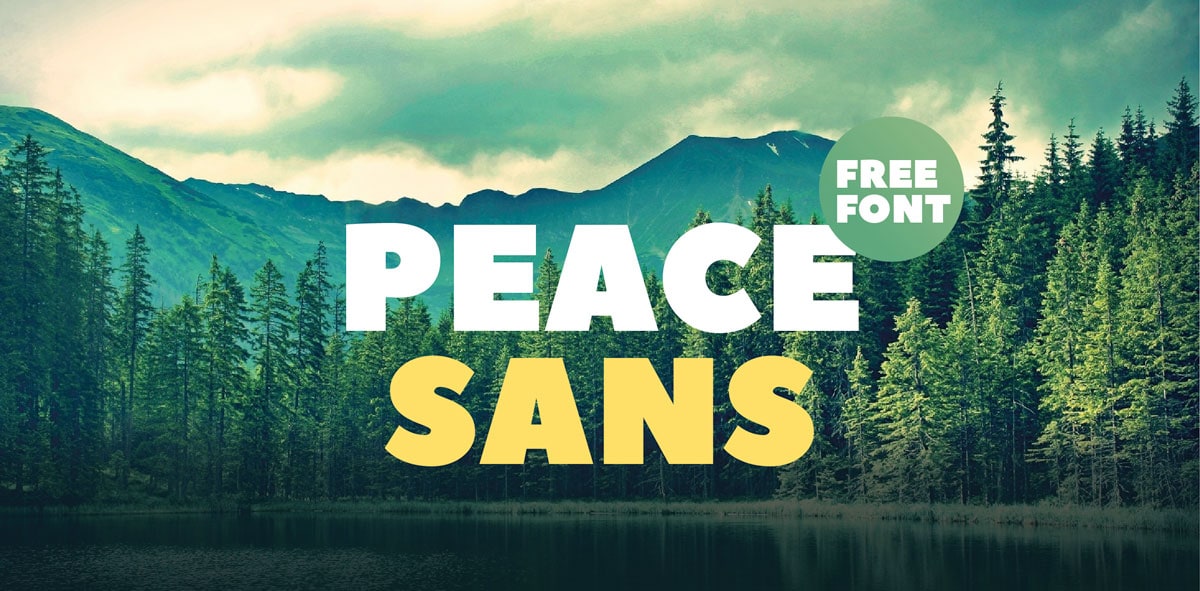 Peace Sans is bold and easy on the eyes. The free font is quite versatile and has a design that looks like a much more premium option. It comes with glyphs support as well. Download it free on Behance.
Wanderlust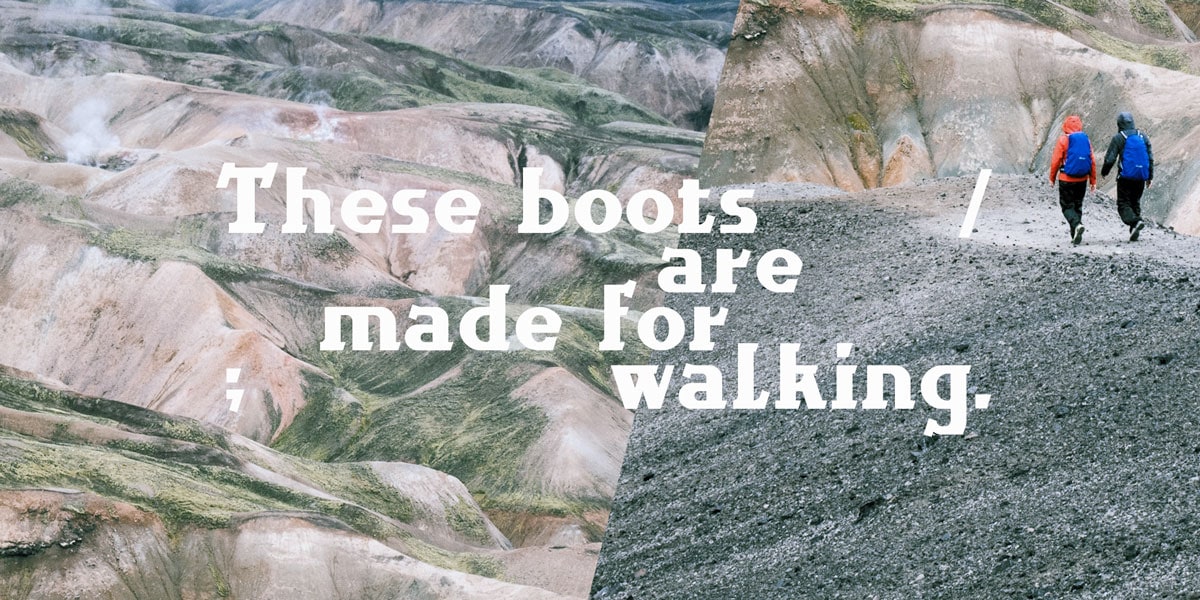 Wanderlust is bold and unusual and will add an element of intrigue to display text.
From the designer:
"Due to a round and edged slab serif combination, Wanderlust has a quite unique style that draws inspiration from landscape and mountain characteristics as well as rural wooden architecture hikes could come across."
Download it free on Behance.
Adelle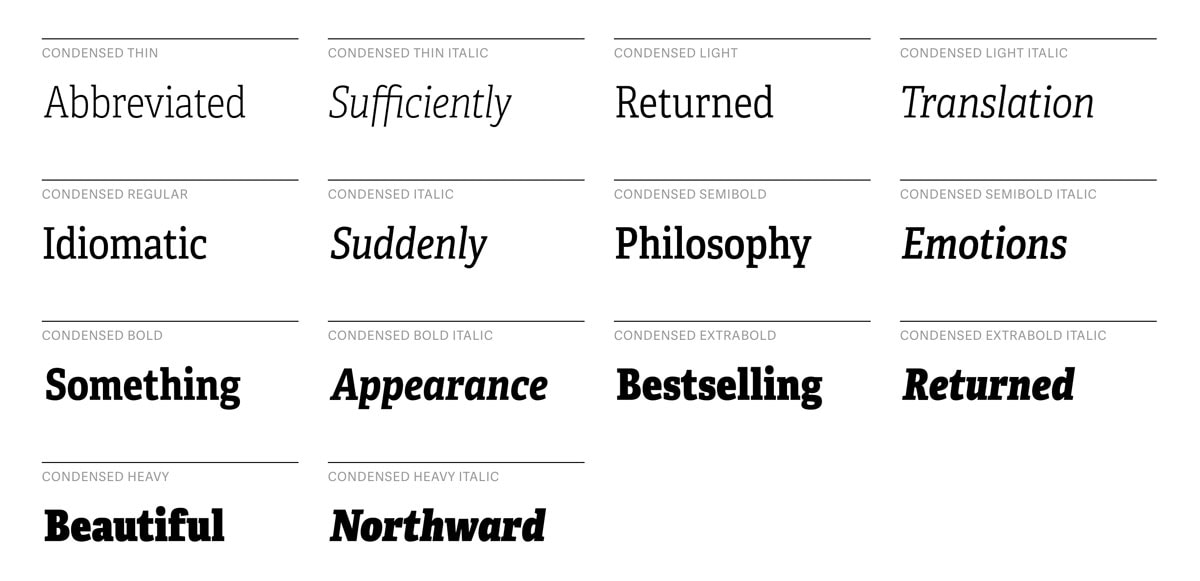 Adelle might be one of the most versatile fonts on this list. (Maybe we saved the best for last?)
The typeface includes bold lines and has a lot of personality.
Here's more from the creator:
"The unobtrusive appearance, excellent texture, and slightly dark color allow it to behave flawlessly in continuous text, even in the most unforgiving applications. As it becomes larger in print, the Adelle fonts show personality through a series of measured particularities which make it easy to remember and identify."
The full premium family is available from TypeTogether.
These years were very rich in new fonts and the choice is very large since the topic of typography has been rapidly developing this year and free fonts have become an integral part of every website or even offline project. All font sets are very professionally pressed.
It should be noted that the progress of the fonts has become clear after responsive design entering more and more into our browsers. Experts estimate that 95% of a site created in the responsive design should be the text, and 5% – everything else. Of course, in this case, fonts are just a vital part of every site.
Many free fonts can be used as web fonts or @font-face, which means that the content can be given a beautiful and readable typographic look.
Download the fonts for free, do not forget to use them in design, and write beautiful texts using these fonts.
More Free Fonts Released in Previous Years
Venera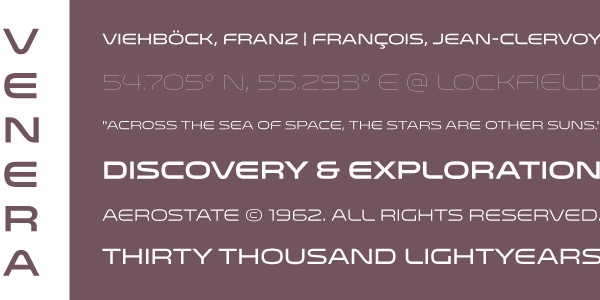 Joe Prince skillfully manipulates with smooth lines and shapes. As a result, Venera has got a marvelous futuristic vibe and a splendid gentle look. It comes in five weights from thin to bold and boasts of a full language support because of a provided extended set of characters.
Mission Script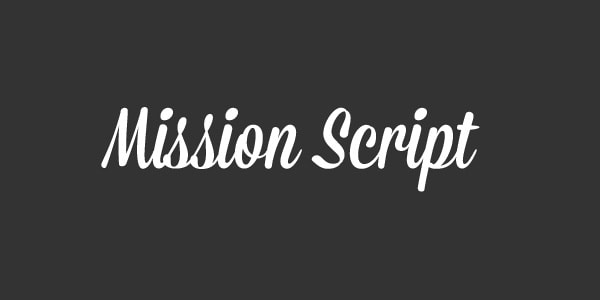 Mission Script is a beautiful calligraphy typeface with lots of charm created by James T. Edmondson. It is marked by subtle brush strokes and is suited to various female projects or UI with delicate traits. It is a condensed and casual with an OpenType features such as standard ligatures and stylistic ones, and a wide language support.
Maven Pro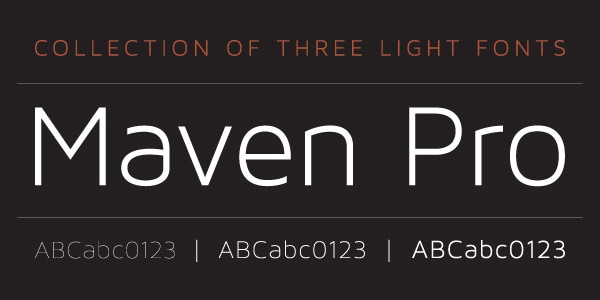 Maven Pro is an original Sans Serif free font that was improved with geometric shapes. It exudes an image of modernity, stylishness, and elegance. Created by Joe Prince, it features three ultra light weights. The extensive glyph coverage lets it collaborate with a ton of projects.
Edmondsans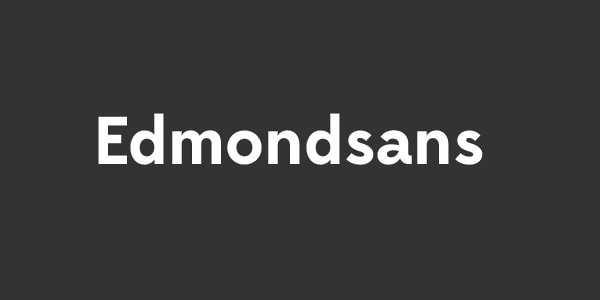 Edmondsans is another display font in our collection which roots you can trace in traditional Sans-Serif type family.  It looks soft, sleek and formal. It ships with
three weights (Regular, Medium, and Bold);
non-lining figures;
small caps;
a mini set of alternatives for adding piquancy to titles.
Abraham Lincoln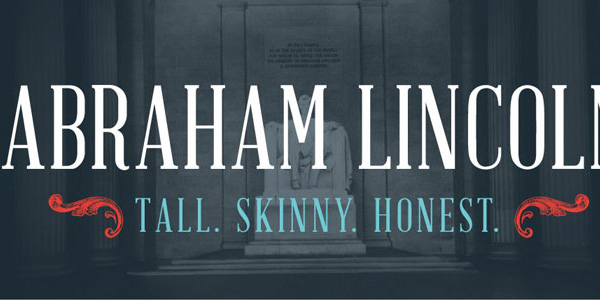 Abraham Lincoln by Francis MacLeod is characterized by the fine proportions, long sleek lines, precise forms, and skinny appearance. It is enriched with nice sturdy serifs that help to convey the importance and give of status. Being inspired not only by 16th President of USA but also by advertisements of that era, the type allows viewers to indulge in nostalgia.
Geared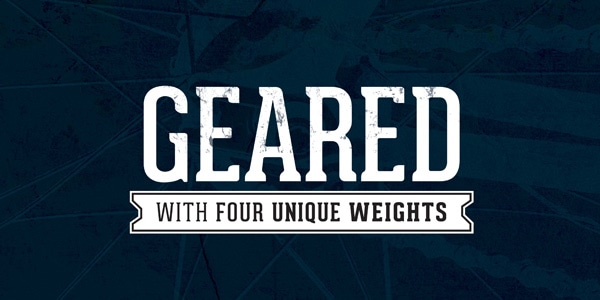 Geared by Ben Dalrymple is an eye-catching condensed Slab-Serif type that is defined by grunge touches. It has a bold look, urban vibe, and brutal nature. Delivered in four standard weights (Thin, Regular, Bold and Extra Bold) it pleases owners with
an extensive set of characters;
carefully crafted numerals;
a bulk of glyphs;
support of Central European languages.
Dude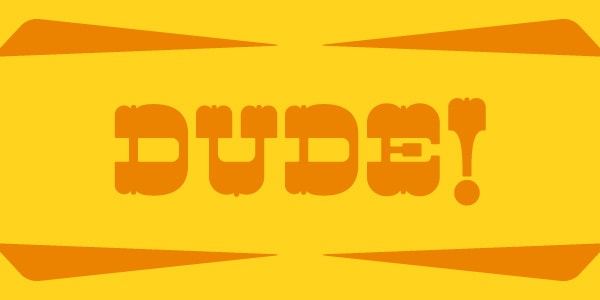 Dude by Dan Gneiding easily lightens up the atmosphere with its cheerful mood and Cowboy spirit. Although there is only one weight, yet, in fact, the artist has done a grand job by crafting a dozen of various styles that differ in stylistic alternates. Inspired by country music legends, each option has its temperament.
Sail Away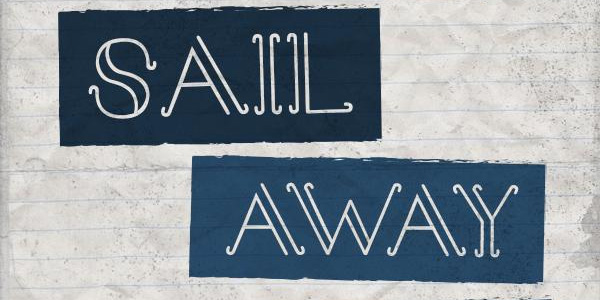 Sail Away by Oscar Rubio is a casual type that is revamped by tiny hand-written details. These tiny finishing touches in tandem with doubled lines create the entire buzz, giving the font a top notch look. It speaks only Roman languages; nevertheless, it is quite sufficient for lots of projects. It is equipped with
uppercase and lowercase letters;
basic numerals;
the glyphs for syntax;
and an extra set of symbols such as asterisk or copyright mark.
Bira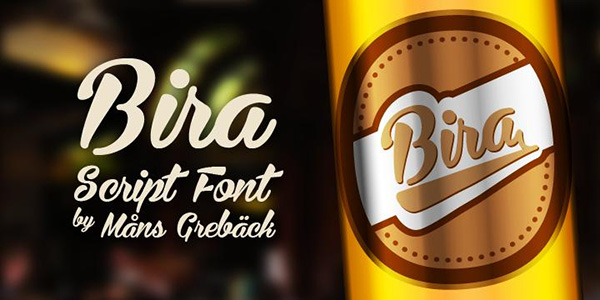 Bira by Mans Greback draws users' attention right away. It pulls its identity from brush strokes and smooth forms. It has a strong human nature and retro appeal. With the font, you are able to write in uppercase and lowercase, use digits and basic punctuation marks. It is free only for personal projects and available only in one weight and one style.
Daiichi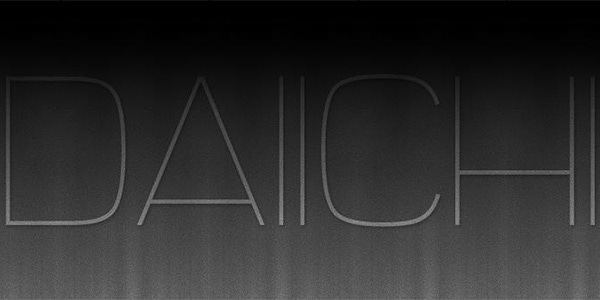 Daiichi by Michael Muranaka plays heavily on ultra-thin lines and smooth geometric shapes. This elegant techno font is supplied with uppercase and lowercase Latin alphabet, numerals and a ton of symbols including punctuation marks, math operations and some others.
Razor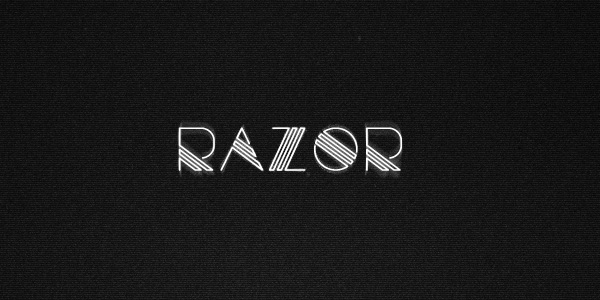 Razor by Jeff Schreiber combines techno vibe and futuristic atmosphere competently and naturally. It is also inspired by dynamic and energetic 80s so that it reflects that period as well. It is delivered in
one style;
three weights (Regular, Bold, and Italic);
uppercase letters;
numbers;
four formats such as TTF, OTF, SVG, and WOFF.
It looks exceptionally good in a big size and shiny neon coloring.
CROISSANT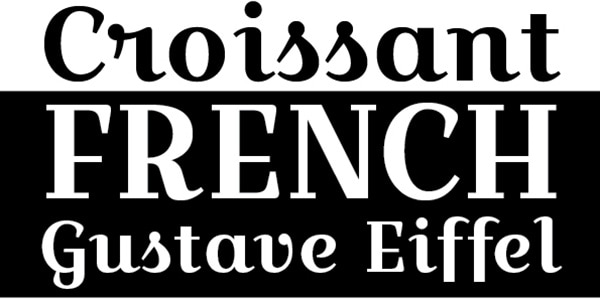 Croissant by Eduardo Tunni is a Google Web Font that is reinforced by wonderful finishing nuances and curls. As a result, you can grab a font with an exquisite French handwritten feel. Due to long out-strokes, lowercase letters are beautifully connected while uppercase letters magnetize with soft terminals. It works well with the West and Central European languages.
Metropolis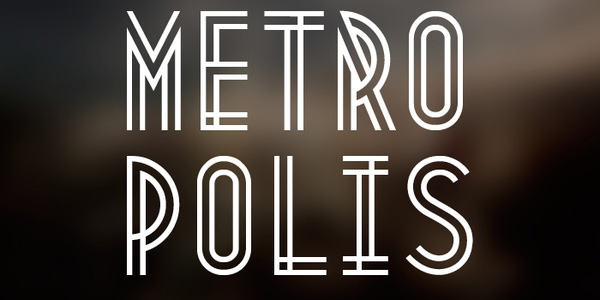 Metropolis by Josip Kelava owes its matchless look to posters made in Art Deco and double line technique.  Artist is managed to embrace the 20s and correctly express that time. The font looks urban, artistic and sophisticated. It is suitable for writing in both Latin alphabet and Cyrillic alphabet. It also includes digits and several essential punctuation marks.
Barkentina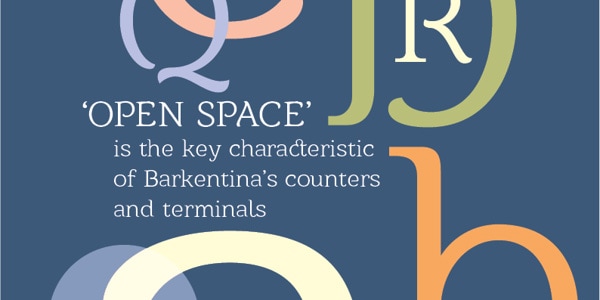 Barkentina
Kiril Zlatkov strongly relies on a space between characters, so that the font is defined by legibility and clarity regardless of size. He gently used serifs to preserve the balance between artistic and casual look. The typeface has
OpenType features;
Latin alphabet;
Cyrillic alphabet;
numerals;
accented symbols;
syntax signs and much more.
Futuracha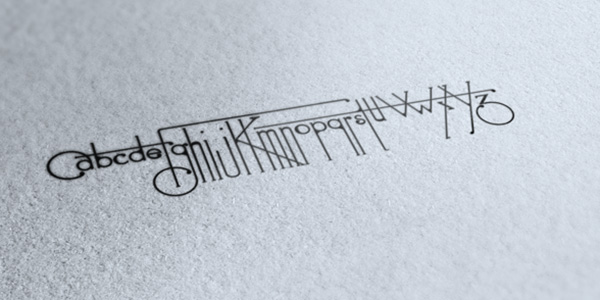 Futuracha by Holy leaves a lasting impression. It has an original and pioneering appearance that is concentrated on the era of Art Deco style. It is destined to prettify headlines and titles giving them an impeccable delicate artistic flavor. It is equipped with Greek and Latin characters, numerals and a dozen of punctuation signs.
Manteka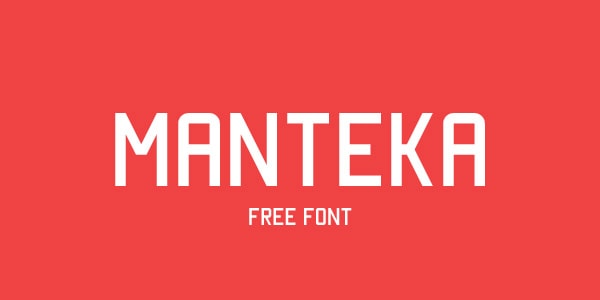 Unlike the previous lavish example, is a functional, multipurpose and formal typeface that is created to show texts of different length, including headings. It is available in one style and one weight. There are common characters, numerals, and symbols.
Shelton Slab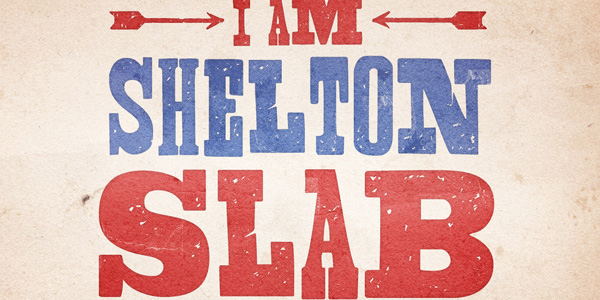 Shelton Slab by Hannes Von Dohren sets itself apart from the others with its unbalanced cowboy-themed look. Letters differ one from each other, so the typeface has a playful note as well as goes perfectly well with natural textures like wood. It supports Central and Eastern European languages, comprises contextual alternates features, arrows, and some other basic glyphs.
Moby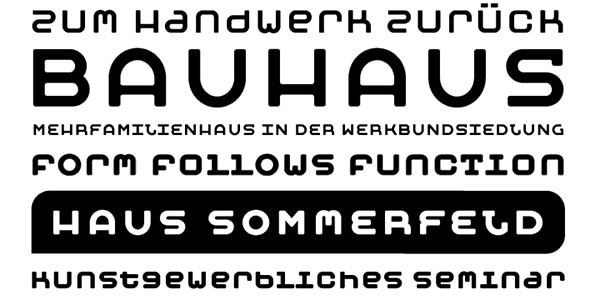 Moby is an original display typeface that easily establishes a techno atmosphere. The artist skillfully avoids sharp edges and corners to make it smooth and serene. It comes in two traditional formats (TTF and OTF) and a ton of glyphs to compose multilingual texts.
Polaris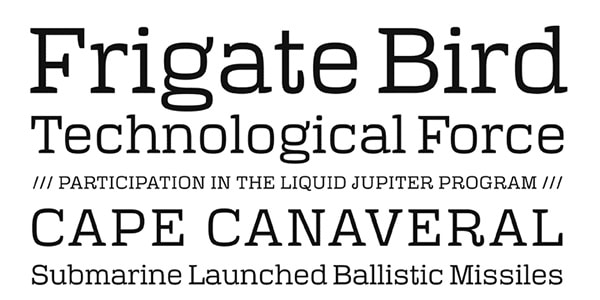 Much like the previous example oozes high-tech charm though it looks less soft and divine. However, it is more generic: it is applicable for various kinds of artworks, posters, t-shirt prints and website designs. It includes characters from the Latin alphabet, numerals and some other standard glyphs such as backslash or hyphen.
Multicolore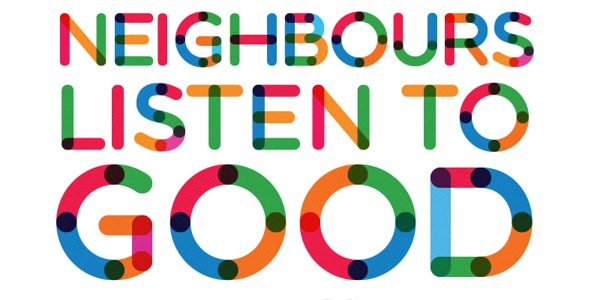 Multicolore was created with vibrant color palettes in mind. The typeface is certainly one of a kind: it easily brings titles into focus and charges UI with energy. However, it is not a classic font that can be used like that. To derive benefits from it, you need to use vector editing program like Illustrator or Photoshop since it is available in EPS format. You are welcome to experiment with layer styles, coloring and add some extra details to maximize an effect.
Dooodleista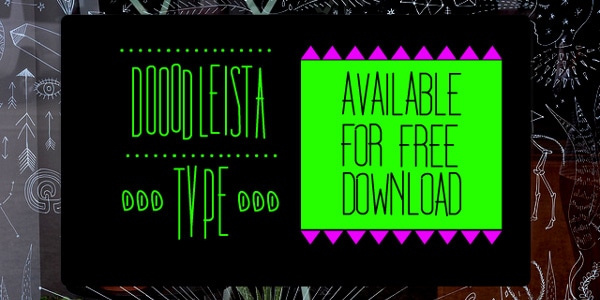 Dooodleista by Filiz Sahin is a carefully handcrafted doodle-like font with a splash of sparkling personality. It meets the cheerful mood and radiates of fun. Each letter is composed of ultra-thin and a bit quirky lines. There is a basic set of glyphs to generate content in English.
COCO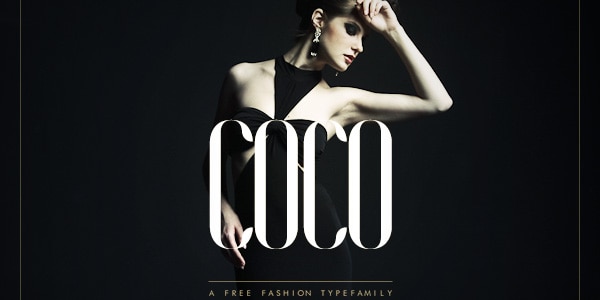 Coco by Henrick Lorandez is an excellent solution for strengthening looks of stylish magazine covers, fashion posters or just web UIs with refined and chic designs. Although it is a traditional sans-serif typeface, yet it is provided with intricate and a bit ornate letterforms. There are
eight weights ranging from Regular to Bold Italic;
more than two hundred glyphs, including capitals, numerals, and special symbols.
new theory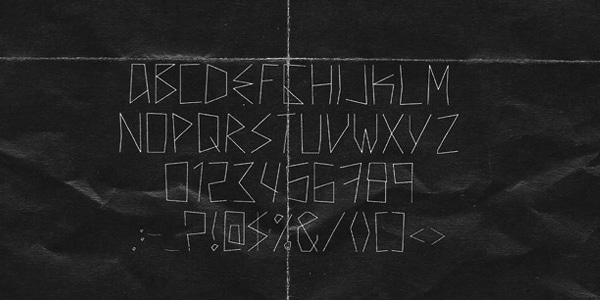 New Theory is an authentic, rustic and extremely original type. It lets recreate rock paintings or just artworks that require an old-timey feeling. It can be used for showcasing titles and short copy. Comes with a pretty limited support of languages it works great only with English alphabet.
Johanna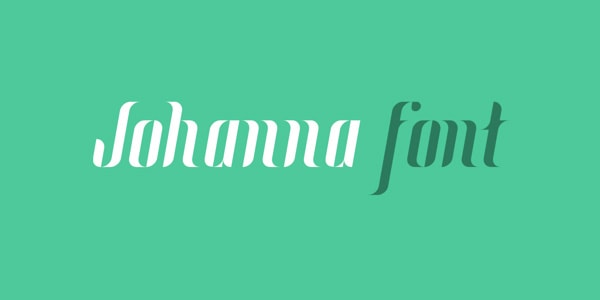 Adria Gomez has created an outstanding grotesque type that brings a creative touch to any title. It has intricate visual forms that can be adapted to various needs, except for a long copy. It is also modular. You will find here six options and a general collection of Roman characters and numerals.
Silverfake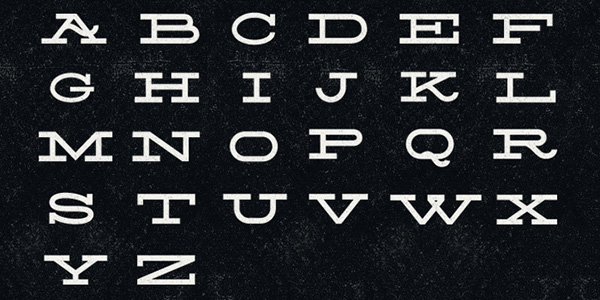 Silverfake designed by Alexey Frolov is a modern slab serif font with piquancy. It benefits both contemporary and retro style projects thanks to its dual nature. What's more, it has comprehensive glyph coverage including capital letters of Latin and Cyrillic alphabet, some common symbols, and alternate letters.
Nexa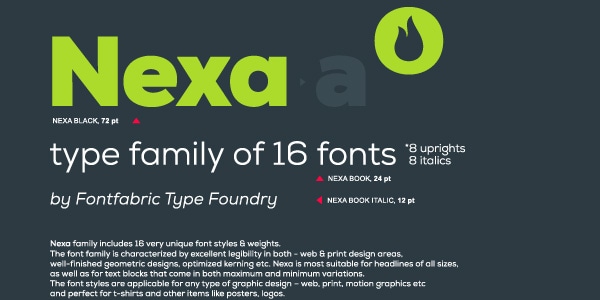 Next is a huge type family that can easily meet various requirements. Regardless of size it clearly conveys the message to the readers. It counts sixteen fonts, covering eight uprights and eight italics, and has almost five hundred glyphs to support numerous languages. It is suitable for websites and app UIs.
Sreda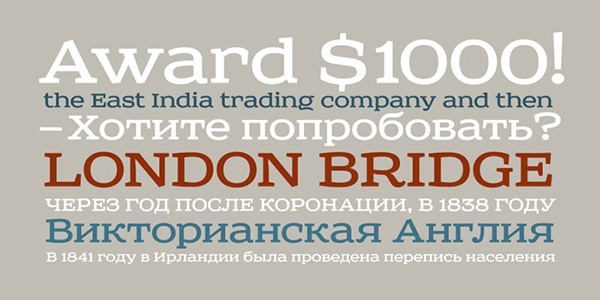 Comes with an optimized kerning and straight lines, Sreda is a generic slab serif typeface with a warm contemporary feel designed by Elena Kowalski. The key feature of this type is that it speaks Western and Central European languages, Turkish, Baltic and Cyrillic-based languages. Moreover, there are also symbols for syntax and numerals.
Casper Typeface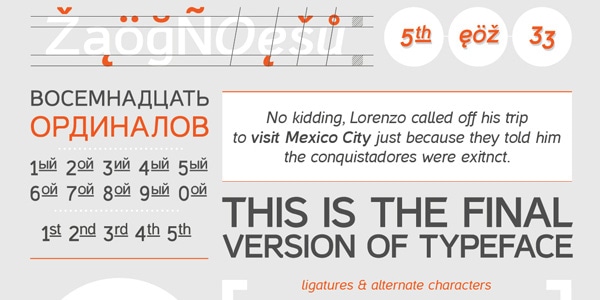 Casper Typeface is a holistic and modern font that is based on harmonious combinations of geometric forms. Ships with almost six hundred glyphs it lets you use the Latin alphabet, Cyrillic alphabet, digits, alternate characters, signs and even arrows.
Tikal Sans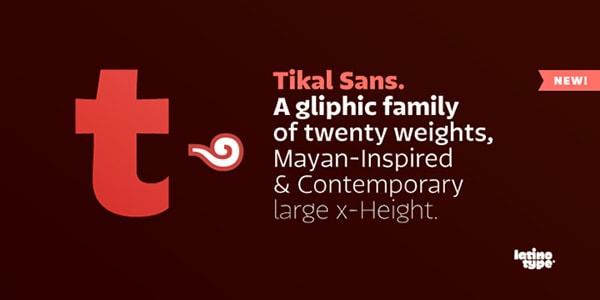 Tikal Sans is created for text and display size. This ambitious sans serif font is marked by a large X-height. It is also surrounded by Mayan aura, yet it looks friendly and even a bit formal. It consists of twenty weights and 415 glyphs, in which you can find contextual alternate letters, basic symbols, punctuation and traditional numerals. Two versions are available free of charge: Medium and Medium Italic.
Sofia Pro Condensed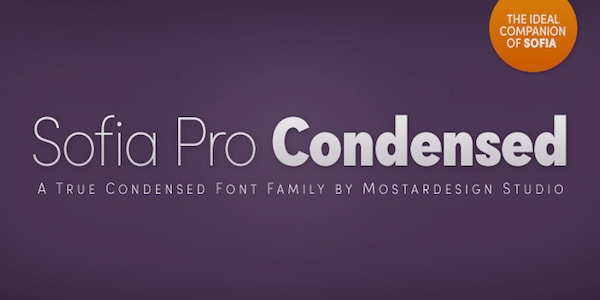 Sofia Pro Condensed is designed to accompany the original typeface Sofia. However, it looks more rounded, modern and elegant. With more than five hundred symbols in the set, it gives you an opportunity to manipulate with
case-sensitive forms;
small caps;
contextual alternatives;
stylistic alternates;
fractions;
tabular figures and much more.
Che's Bone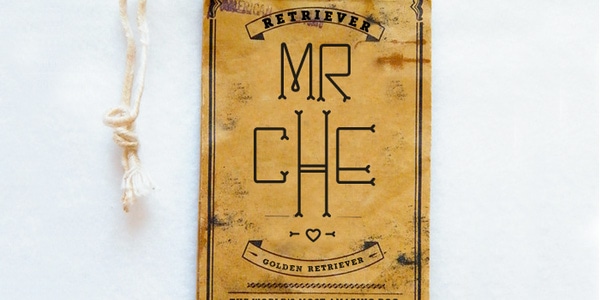 Che's Bone breaks the monotony of subtle and delicate typefaces. It boasts of skinny forms, bone-themed decorative elements, and rounded corners. Vigilantly crafted by hands, it will add a human feel and playfulness to any artwork. It works great with wood and paper textures.
MOCHA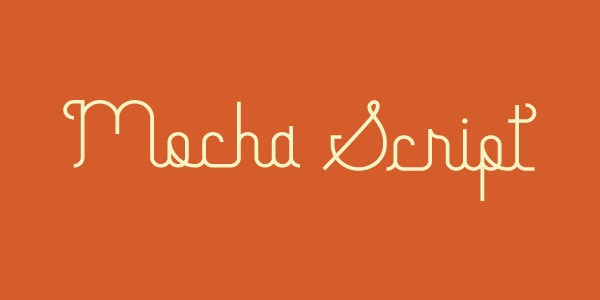 Mocha Script by Thomas Ramey naturally stands out from any background with its exquisite and polished appearance. If you want to create a continuous streamflow of characters that mimic human script, then this calligraphy font is right for you. It offers uppercase and lowercase letters as well as digits and some punctuation marks.
Cuprum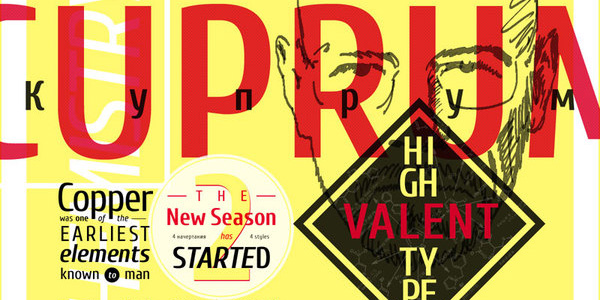 Cuprum is a representative of a small sans serif type family that is delivered in four styles (two uprights – Regular and Bold, and two cursives – Italic and Italic Bold). The glyph coverage allows using it for composing content in Baltic, Turkish, Central and Western European, Cyrillic and Roman languages. It is compatible with PCs and Macs.
Ledger Regular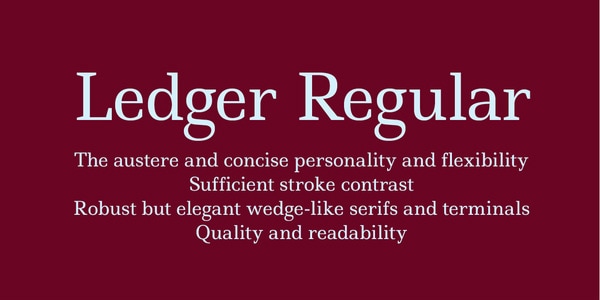 Ledger Regular is a flexible and multi-purposeful Google Web font that focuses on quality and readability. Denis Masharov strikes an optimal contrast and maintains harmony between all the constituents. As a result, letterforms give off elegance and subtlety. There is an extended set of Latin and Cyrillic letters.
Forum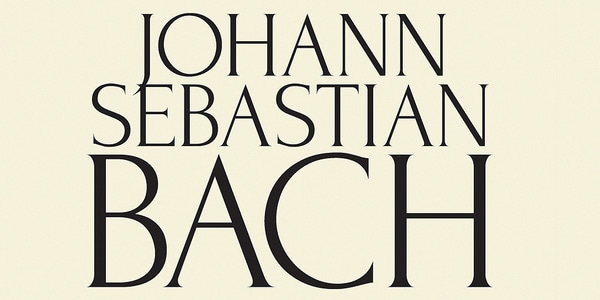 Forum by Denis Masharov radiates of sophistication and is marked by distinctive traits inherent to the Victorian era. It is based on classic proportions and solid architecture that skillfully balance semicircular arches, horizontal cornices and climbing pilasters. The typeface writes in Latin and Cyrillic as well as includes numerals and standard symbols for formatting.
Prosto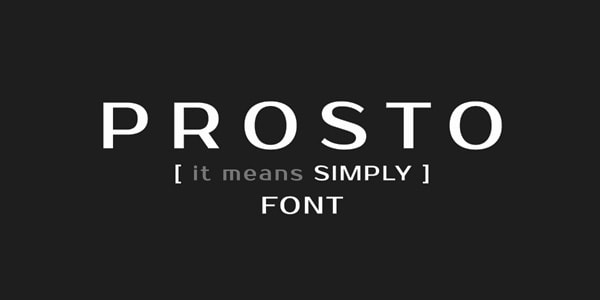 Prosto is intended to strengthen readability of the content, making the text quickly and easily scannable. It is simple, plain and neutral. As for the main characteristics,
it has TTF format;
it collaborates with PC and Mac;
it supports numerous languages;
it has more than four hundred glyphs embracing all the common syntax symbols, West European diacritics and even Baltic Latin.
Source Sans Pro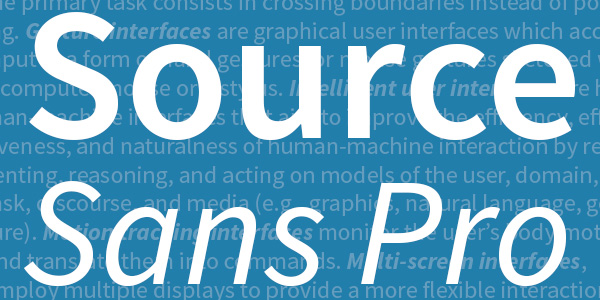 Source Sans Pro by Paul D. Hunt offers artists to take advantage of six professionally designed weights starting from subtle and fragile Extra Light and ending with an overwhelming Black. The font is available for use in both PC and websites. The language support also surprises you: Roman, Greek, and Cyrillic writing systems were taken into account.
Flex Display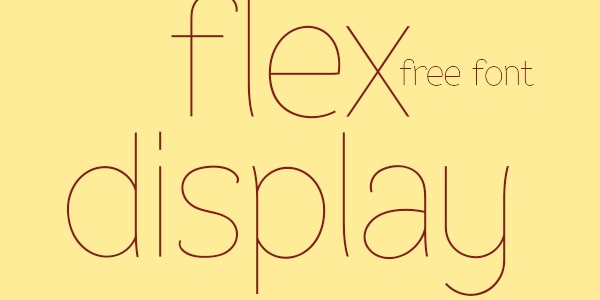 Flex Display is provided with alternates, popular glyphs, and essential symbols. The display font oozes freshness and delicacy as well as magnetizes with ultra-skinny visual forms. The italic variant can be used as a graceful script that adds a human touch. It also works well in website designs. You are welcome to use it in personal and commercial projects.
Poly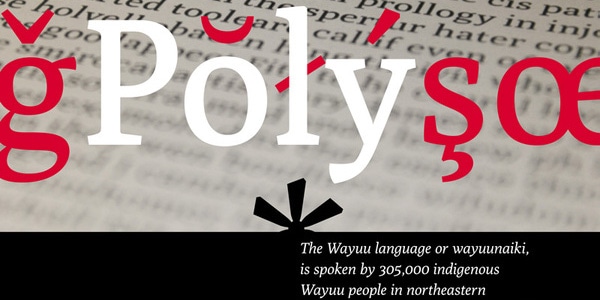 Nicolas Silva intends to design an universal and legible serif font that will be suitable for both texts and headlines. As a result, Poly has got letterforms that demonstrate a medium contrast, an optimal balance between the X-height and character width and lovely tiny wedges. This Unicode typeface family possesses all the OpenType features from case sensitive forms to superiors and scientific signs. It works just with Latin script and its derivatives.
Noticia Text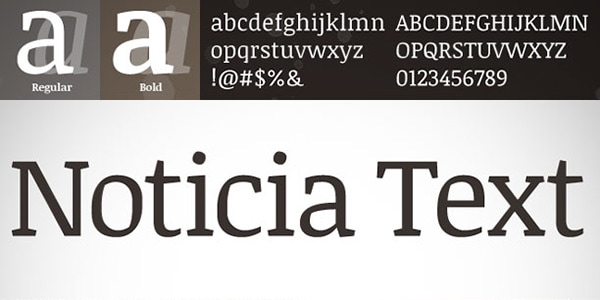 Noticia Text by JM Sole is a rare slab serif type for titles and paragraphs. It enables to write in four styles such as Regular, Italic, Bold and Bold Italic and use almost seven hundred glyphs thereby supporting a great deal of foreign languages. Set of normal characters and accented characters are presented in both uppercase and lowercase.
Jockey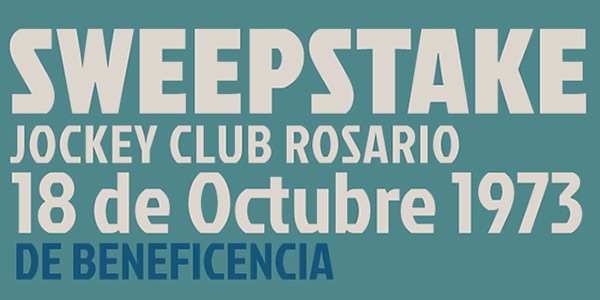 Jockey by TypeTogether is a Google web font that was greatly inspired by posters for horse race tracks of the 30s. It is a refreshing take on a classic sans-serif typeface. There is a ton of glyphs that are designed to write in different Roman languages.
Bree Serif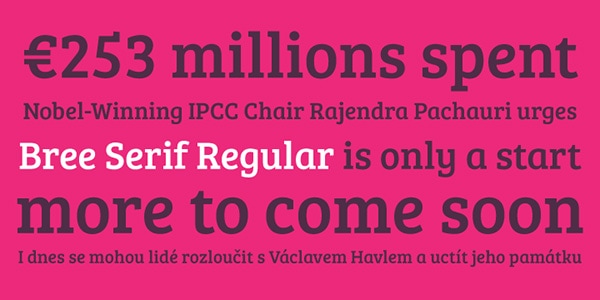 Bree Serif is an upright italic version of the award winning font called Bree. It is aimed to develop a friendly atmosphere in any UI. It is versatile, fancy and tasteful. Being available via Google Web Font gallery it comprises all the glyphs from accented letters in uppercase and lowercase to numerals to let users work with Roman scripts on the Internet.
Hagin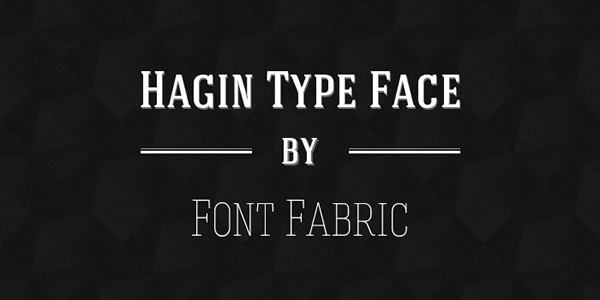 Hagin charms with a gorgeous 'old-school' style. It has two weights (Regular and Bold) and symbols to speak both Latin and Cyrillic languages. It is an ideal instrument for beautifying graphic and web designs.
Prociono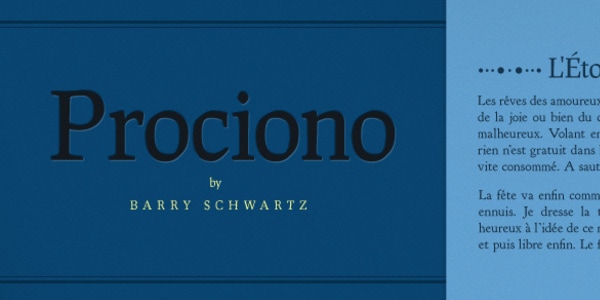 Prociono by Barry Schwartz is a refined serif font that is quite neutral and essential. Thanks to black letters it is able to give some weight to the selected part of content. It supports Western and Central European languages because of an extended set of glyphs and accented characters.
Abril Fatface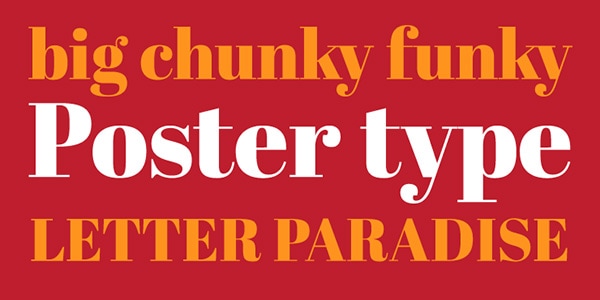 Abril Fatface is made with editorial designs in mind. It is a bit funky and playful. The broad range of styles allows it to be used both for displaying titles and texts. Inspired by traditional slab serif typefaces of the 19th century and Roman scotch scripts, it can express a vast gamut of emotions.
Adelle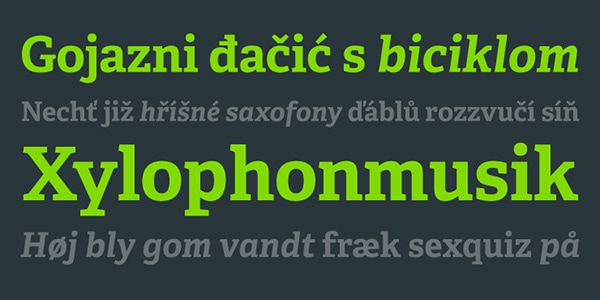 Adelle gives an impression of the flexible and versatile font that is designed in the best traditions of slab serif typefaces. It consists of more than a dozen styles, yet only Bold, Regular, and Italic are available absolutely free. These versions include
standard caps;
lowercase numbers;
extensive language support.
Intro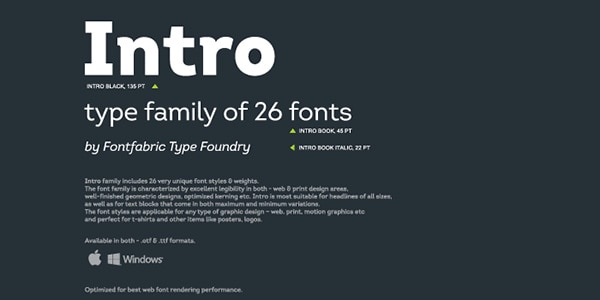 Intro is a huge type family of twenty-six styles and weights. Well-finished geometric forms in pair with manual kerning and well-thought-out proportions deliver messages in a pleasant way. It consists of 376 characters and is available in two formats (OpenType and TrueType).
Archive

Archive by Slava Kirilenko skillfully plays with various geometric forms and smooth edges. The font is contemporary and meets cosmic themes with ease. The glyph coverage lets employ
Latin alphabet in uppercase;
Cyrillic alphabet in uppercase;
Greek letters;
accented letters;
numerals;
and of course, a small set of symbols for formatting.
Since letters in lowercase are overlooked, the type is destined to exhibit headlines.
Exo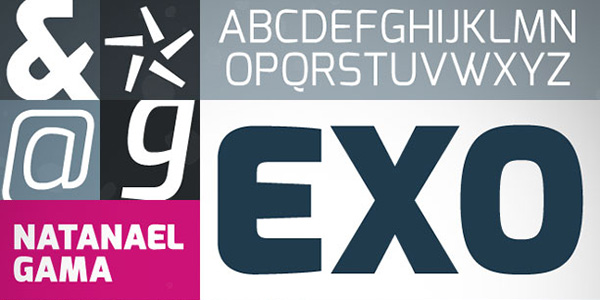 Exo by Natanael Gama is a modern take on standard geometric sans serif fonts. Thanks to its unique yet generic letterforms it works great for businesslike projects, corporate websites, and original prints. It can be used to add either techno or futuristic vibe to designs. You will find nine weights, several styles and a whole slew of glyphs.
Novecento sans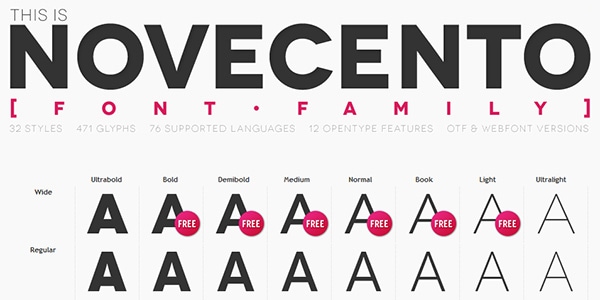 Novecento Sans is a part of a big typeface family. Jan Tonellato has done a massive job by crafting 32 styles, 16 stylistic OpenType features, and almost six hundred glyphs. It can speak in 76 different languages starting from English and ending with Ukrainian. Use it for headings, logos, and even long copy.
Static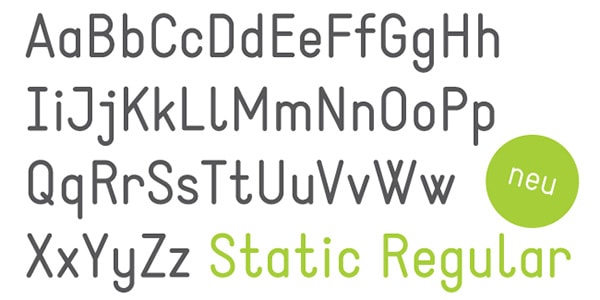 Slava Kirilenko effectively uses round shapes and letter spacing to design this primitive yet sleek and beautiful typeface. It comes in
two weights;
two italic versions;
four options.
As for glyph coverage, the demo version is a bit poor. There is only Latin alphabet in uppercase and lowercase, numerals and a handful of punctuation marks.
Rex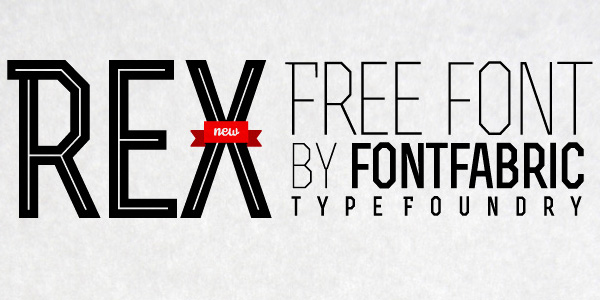 Rex by fontfabric naturally directs visitors' attention to headlines. It is original, inventive and artistic. It has three weights: Light, Bold, and Inline that are dramatically distinguished one from another. There are caps and small caps that also look differently. It can be used for composing letterings in both Roman and Cyrillic scripts.
47 – Typeface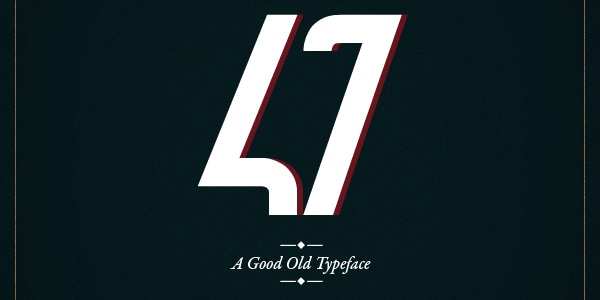 47- Typeface by Hendricks Rolandez is characterized by a sparkling personality. It conveys a vintage vibe bolstered by grotesque nature. Though, unfortunately, it includes just twenty-six letters of the English alphabet and ten numbers, yet you can choose from two styles (Italic or Bold).
Acorn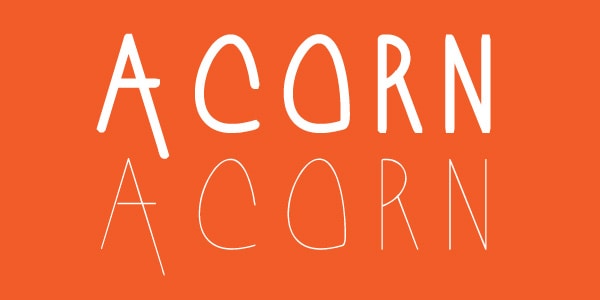 Acorn feels less constrained on the contrast to many geometric typefaces in this collection. It ditches grids and opts for strange shapes and doodle style. It offers two weights: skinny Light and heavy Bold. While the first option comprises just three hundred glyphs, becoming a choice for titles, the second one offers seven hundred symbols, becoming a viable instrument for showing content.
Stroke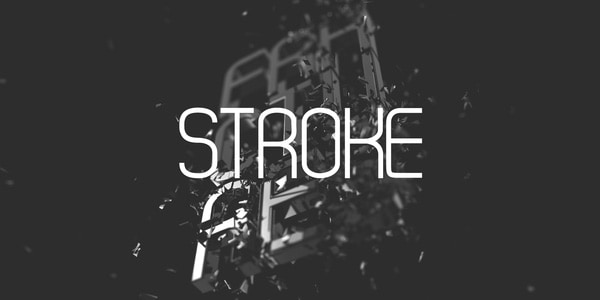 Stroke meets the eye with its serene and polished appearance. It is an excellent tool to add some spice to long copy, or just bring subtlety to the headlines or slogans. Both weights (Light and Bold) are aesthetically pleasing and legible. The font consists of the Latin alphabet in lowercase and uppercase, numerals and a bunch of punctuation marks.
Uralita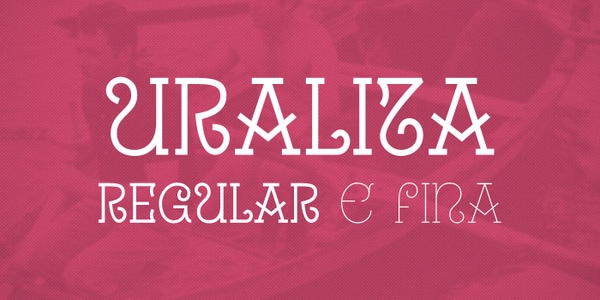 Uralita by Ruben Prol will force titles to speak pretty loud. Thanks to its artistic nature and calligraphy structure it easily intensifies any lettering as well as instills a sense of sophistication into the design. Getting its original and refreshing appearance from ancient stone inscriptions, it looks ingenious and a bit ambiguous. You can manipulate with two weights (Fine and Regular), basic letters, numbers, accents, and alternates.
Pilaca

Pilaca by Pier Paolo impresses on the viewers a sense of high technology and digital era. It is bold, heavy and quite rough. Due to a high density, the readability suffers, so that it is more suitable for showcasing headlines. The author has incorporated English alphabet, numerals and vital symbols.
Alphageometry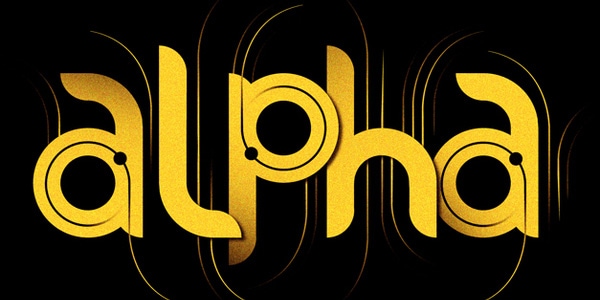 Alphageometry is a powerful decorative typeface with a huge potential. Since it was constructed on the top of a rigid grid structure, it is marked by a consistency in style. It also features some lovely variations in lowercase letters. However, as befits such ornamental and lavish products, it is not a classic font. To turn it to your advantage, you need to generate text piece by piece using image editor program. There are three styles: Normal, Oblique, and Two-tone Normal.
Hagin Serif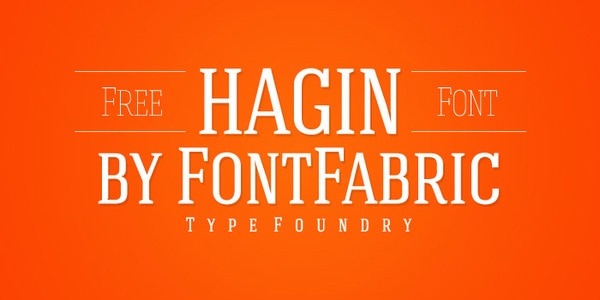 Hagin Serif by Type Foundry sticks with a clean look. The latter is obtained by a clever combination of geometric shapes and tiny details that decorate tops and bottoms of characters. It is approved for displaying titles in various European languages and Cyrillic script. Bold or Light – there are two choices.
Sofia Pro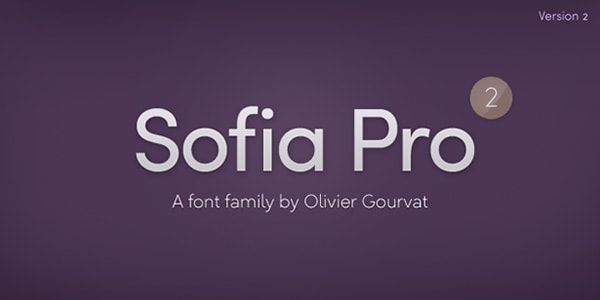 Sofia Pro by Mostardesign ships with more than five hundred glyphs to support a great deal of languages. It has
sensitive forms;
small caps;
fractions;
contextual alternatives, and much more.
Elegant letterforms convey modernism and stylishness that are appropriate for displaying texts and titles.
Jenna Sue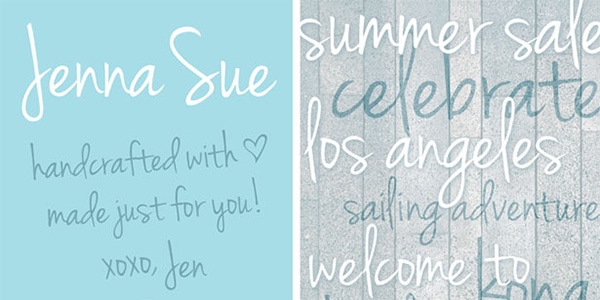 Jenna Sue by Jenna Sue Design is a perfect tool for establishing non-verbal communication in a friendly and informal tone. It is cute hand-drawing typeface with charming details. It mimics human letters effortlessly. It comprises only the essentials: more than one hundred glyphs for composing a copy of various lengths.
Tetra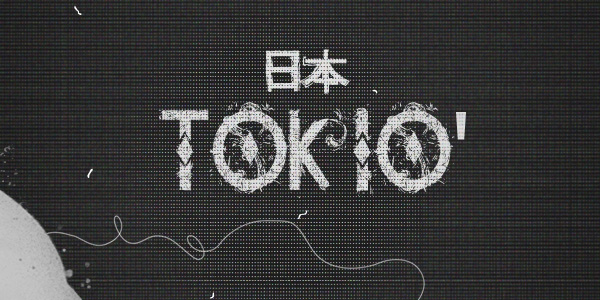 Tetra by Alexey Frolov is an original take on plain sans serif typefaces. The font is a pretty decorative and possesses a charisma. Due to its hybrid nature it fits very well to modern and vintage designs. It is equipped with just one style, Regular, and letters of Roman and Cyrillic writing systems in uppercase.
Stiff Staff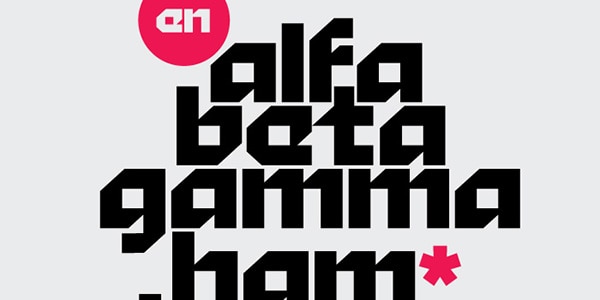 Stiff Staff by Borislav Petrov is a fancy and figured font for dressing up headlines. It is bolstered by well-thought-out spacing and optimal kerning. Its sharp asymmetrical zigzag forms in tandem with bold lines produce a powerful impression. It is designed to deliver messages in Roman and Cyrillic languages in small caps.
Corki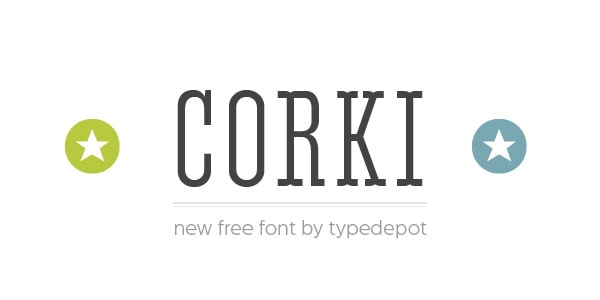 Corki by Typedepot possesses an allure that won't leave viewers indifferent. It is enhanced with some tiny yet well-elaborated details. The team has recently updated the font having included Cyrillic alphabet. There are four styles (Normal, Rounded, Tuscan and Tuscan Rounded), uppercase and lowercase letters, numerals, and a bunch of graphical stuff such as old-fashioned ribbons or arrows.
Ananda Namaste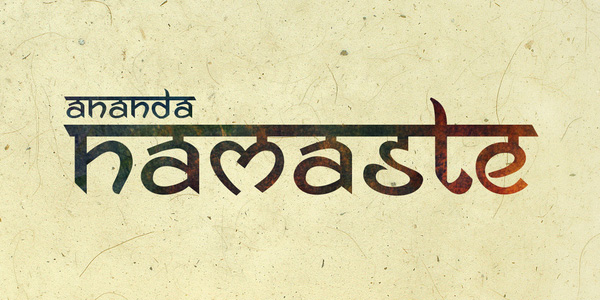 Ananda Namaste is crafted in the spirit of Asian cultures. It is a professionally imitated Hindi font that stands out from the crowd. It ships with the Roman alphabet, numerals, and common glyphs. There are three styles that can be used for different purposes.
Deftone Stylus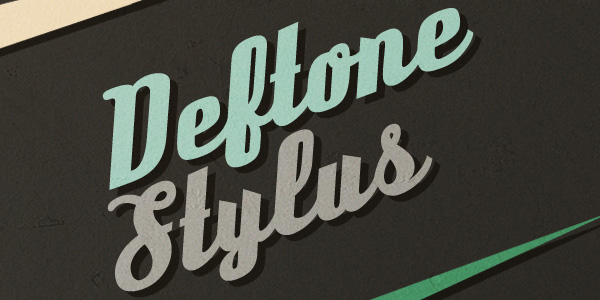 Deftone Stylus is a typical brush script with wonderful swashes that save titles from looking dull and gloomy. The artist has carefully designed each character. You will be delighted by the glyph coverage that consists of custom OpenType features, fractions, numeric ordinals, accented symbols and much more.
AleksandraC Vintage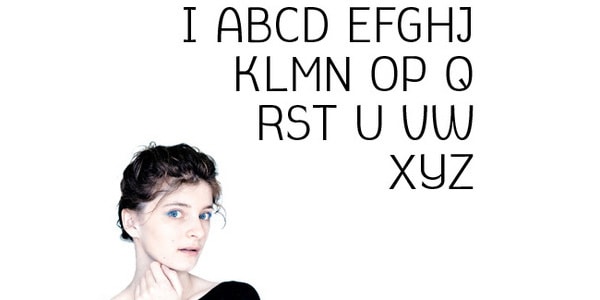 AleksandraC Vintage by Aleksander Shevchuk has a diverse nature that causes different emotions. There are two options: an old one for nostalgic designs, and the modern one for contemporary UIs. You will find here English alphabet in capitals and small caps.
Teléfono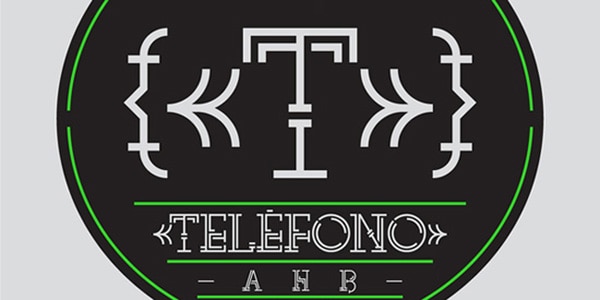 Telefono is an extremely decorative typeface. Arnold Hoepker was inspired by 20s so that the font establishes a fascinating atmosphere of posters made in Art Deco style. It is an ideal solution for printed media that need to add spice and focus users' attention on vital information. Roman alphabet, numerals and a slew of accented letters are available in the product.
Typography is an art combining perspective, technique and ingenuity. A great design comes with great typography. Whether you are creating for web or print, designing brochures or user interfaces, developing a brand identity or creating a logo, one of the key elements of a successful project is the typeface you are using. In fact, the combination of fonts, color choices and design options are what separate success from failure. An overlooked detail is enough to flush all the creative effort you've devoted to build and outstanding product. Thankfully, there are a lot of resources to guide you in your pursuit for great typography.
Start with Emil Ruder's amazing "Typographie: A Manual of Design," or Ellen Lupton's "Thinking with Type: A Critical Guide for Designers, Writers, Editors, & Students" or predict the future of typography with Henrik Kubel and Scott Williams in "New Perspectives in Typography," a stunning showcase of some of the best contemporary type design. And if you are looking for raw inspiration, here are the 50 bestselling fonts of 2016.
FF DIN
Designer: Albert-Jan Pool
Design date: 1995
Publisher: FontFont
FF Din is a font created by Dutch type designer Albert-Jan Pool between 1995 and 2009. With 20 weights, FF Din is suited for editorial and publishing, advertising and packaging, branding and creative industries, poster and billboards as well as web and screen design. This typeface also has limited support for the Cyrillic and Greek writing systems.
Brandon Grotesque
Designer: Hannes von Döhren
Design date: 2010
Publisher: HVD Fonts
Brandon Grotesque is a famous sans serif type family of six weights and six corresponding italics. The font is inspired by geometric forms optically corrected for better legibility. Brandon Grotesque is a functional and elegant font. The thin and the black weights are great for showcases, the light, regular and medium weights are suited for longer texts. Brandon Grotesque is an excellent choice for sophisticated, professional-grade typography. It also has an extended character set to support Central and Eastern European as well as Western European languages.
Century Gothic
Designer: Monotype Design Studio, Sol Hess, Morris Fuller Benton
Design date: 1990-1995-2007
Publisher: Monotype
The famous Century Gothic is strongly influenced by Futura, although it is derived from two separate typefaces intended as Futura competitors (ITC Avant Garde and Twentieth Century). Century Gothic is a light, spacious typeface with a clean cut edge and perfect cursive details. It's ideal for headlines or large signs.
Proxima Nova
Designer: Mark Simonson
Design date: 2005
Publisher: Mark Simonson
The Proxima Nova family is a complete redesign of the famous Proxima Sans font. The font family has been expanded to 48 full-featured OpenType fonts. Each of the three widths comes with 16 fonts (8 weights). Stylistically, Proxima Nova is a hybrid combination of humanistic proportions and a geometric appearance. Proxima supports most Latin-based scripts.
Avenir
Designer: Adrian Frutiger
Design date: 1988
Publisher: Linotype
Avenir (Future) is another Futura-inspired font but without radical geometry; it has vertical strokes that are thicker than the horizontals and shortened ascenders. It's a perfect choice for text focused on legibility.
Helvetica Neue
Designer: Edouard Hoffmann, Max Miedinger
Design date: 1983
Publisher: Linotype
Helvetica is one of the most popular typefaces in the world and a marketing success story. The family consists of 51 different font weights. It's a classic sans serif font, timeless and neutral, and it's a safe choice for all types of communication and mediums.
Avenir Next Pro
Designer: Adrian Frutiger, Akira Kobayashi
Design date: 2004 – 200seven
Publisher: Linotype
While the Avenir family is one of the greatest font families ever created, in order to address some on-screen display issues, Linotype developed an alternative font: Avenir Next. The typeface family consists of 32 fonts: 8 weights, each with a roman and italic version, and two widths: normal and condensed. The glyph was expanded to include small caps, subscripts and superscripts and ligatures.
Isidora
Designer: Enrique Hernandez
Design date: 2016
Publisher: Latinotype
Isidora is a modern geometric font built with a focus on functionality. While Isidora is expressive and friendly, it's a manifesto for rationality. Isidora consists of 28 fonts with two seven-weight subfamilies: Regular and Alternative. The font is ideal for logotypes, branding, headlines, packaging, web use and publishing. With support for multiple languages, Isidora is a universal font.
Sagona
Designer: Rene Bieder
Design date: 2016
Publisher: Rene Bieder
Sagona's main features are its strong serifs and a variable stroke contrast. It's a versatile typeface which can be used both for small text sizes and headlines. The family comes in nine weights with matching true italics. The large set of OpenType features supported by Sagona include alternative glyphs, ligatures and old style numbers (a gift for the typesetting focused designer).
Trade Gothic
Designer: Jackson Burke
Design date: 1948
Publisher: Linotype
Trade Gothic is a sans serif font with a twist. It breaks the typical strictness of sans-serif fonts. Used in combination with roman text in advertising and multimedia, Trade Gothic is a popular font with designers looking to deliver a message that stands on its own. Trade Gothic is one of the key elements of the visual identity of Amnesty International, an organization focused on human rights.
Gilroy
Designer: Radomir Tinkov
Design date: 2016
Publisher: Radomir Tinkov
Gilroy is a contemporany sans serif with a geometric touch. It comes in 20 weights, 10 uprights and 10 italics. Each weight includes extended language support, arrows, fractions, ligatures, etc. Gilroy is used for editorial design, graphic design, web, signage and is frequently used in corporate scenarios.
Univers
Designer: Adrian Frutiger, Alexei Chekulayev
Design date: 195seven-199seven
Publisher: Linotype
Univers, one of Adrian Frutiger favorite fonts, is known for clear lines and legibility. Any version of the font may be mixed within a word with any other. This characteristic allowed documents to be created in one consistent typeface. Notably, Univers was used for George W. Bush's campaign logos in 2000 and 2004, in Audi's logo, eBay's logo and in Montreal Metro signs.
Sunshine Daisies
Designer: Elena Genova
Design date: 2016
Publisher: My Creative Land
Sunshine Daisies is a hand lettered font collection that delivers 15 fun and bright fonts. It includes a layered font that has an embedded pseudorandom function so that two letters placed next to each other will always look different. Sunshine Daisies is fully Unicode mapped which means that you can use it in any application. It's a perfect font for book covers, posters, packaging projects and quotes.
Brandon Text
Designer: Hannes von Döhren
Design date: 2013
Publisher: HVD Fonts
Brandon Text is a sans serif family of six weights plus matching italics. Used frequently in combination with Brandon Grotesque, Brandon Text is perfect for long text, small sizes and screens. It is manually hinted and optimized for screens, so that it will be a great option for websites, apps or eBooks. The Brandon series is a superb choice for complex, professional typography.
Brother 1816
Designer: Ignacio Corbo, Fernando Díaz
Design date: 2016
Publisher: TipoType
Brother 1816 is a flexible, multifaceted and solid typeface designed for the web. It mixes geometric shapes with Humanistic strokes. The styles can be used separately for a uniform look or can mixed together for a distinct visual personality. Its humanistic nature is perfect for signage, editorial, and branding while its geometric dimension is an excellent fit for branding, headlines, posters. It contains 32 fonts, divided into two groups: normal (16 weights) and printed (16 weights).
Neue Haas Unica
Designer: Toshi Omagari
Design date: 2015
Publisher: Linotype
The Neue Haas Unica family is an extended version of the Haas Unica design, the famous font family that faded to obscurity. By adding more languages and more letters, Toshi Omagari adapts the classic font for today's digital and print environment requirements.
FF Mark
Designer: Hannes von Döhren, Christoph Koeberlin
Design date: 2013
Publisher: FontFont
FF Mark is ideal for film and TV, editorial and publishing, advertising and packaging, logo, software and gaming, branding, sports, web and screen design. FF Mark contains ten weights and features ligatures, alternate characters, fractions, case-sensitive forms, super- and subscript characters, and stylistic alternates.
Museo Sans
Designer: Jos Buivenga
Design date: 2008
Publisher: exljbris
Museo Sans is perfect for any display and text use. It is a robust, low contrast, geometric, highly legible sans serif typeface. Museo supports most European Community languages including Esperanto.
Ridley Grotesk
Designer: Radomir Tinkov
Design date: 2016
Publisher: Radomir Tinkov
Ridley Grotesk comes in nine weights with matching italics. Each weight includes true small capitals, alternate characters, ligatures and more. It's used for graphic design and any display, web, signage and editorial design.
ITC Avant Garde Gothic
Designer: Herb Lubalin, Tom Carnase, Edward Benguiat, André Gürtler, Erich Gschwind, Christian Mengelt
Design date: 19seven0-19sevenseven
Publisher: ITC
ITC Avant Garde Gothic is a font family based on the famous logo used in the Avant Garde magazine. The font family comes with five weights (four condensed), with additional obliques for wide fonts.
Eurostile
Designer: Aldo Novarese
Design date: 1962
Publisher: URW++
Eurostile is a geometric sans-serif typeface particularly suitable for headings, signs and small bodies of text. It consists of six styles and five italics. If you are a fan of Stanley Kubrick's 2001: A Space Odyssey, then you remember this iconic font used in the movie. Just like the movie, Eurostile, is a testament for posterity.
Campton
Designer: Rene Bieder
Design date: 2014
Publisher: Rene Bieder
Campton is an atypical typeface based on the newly born sans serif genre in the early 20th century. It is inspired by Gill Sans and Johnston Sans, with contemporary elements. The result is a modern and unorthodox family that is perfect for graphic design application ranging from editorial and corporate design to web and interaction design. Campton comes in nine weights and is equipped with a broad range of OpenType features.
Neo Sans
Designer: Sebastian Lester
Design date: 2004
Publisher: Monotype
Neo Sans is a legible, versatile and expressive font family. Built for corporate needs, it can be used in various design scenarios, for print and web. Its distinctive look recommends Neo Sans for headlines, small blocks of text, magazines and display materials. The font is available in six weights, ranging from Light to Ultra, with companion italics.
Futura
Designer: Paul Renner
Design date: 1927
Publisher: Bitstream
Futura is a geometric sans-serif typeface designed to be functional and classy. Unlike other sans-serif designs intended to for display use, it is also suitable for body text, thanks to a low x-height. Today, Futura is used on a daily basis for print and digital purposes both for headline and body font. If you own a Mercedes, then you've probably noticed that the font used in the instrument panels is Futura. There are numerous digital versions of Futura. The font is also one of the most disputed typefaces in the ecosystem (function font).
Frutiger
Designer: Adrian Frutiger
Design date: 1968
Publisher: Linotype
Frutiger is a balanced typeface designed so that each individual character is easily recognized. Considered as one of the best general typefaces, it's excellent for signage and showcase work. Initially designed for the large scale of an airport, thanks to its outstanding legibility, Frutiger became popular for various other uses, especially for magazines and booklets, branding and display projects. Numerous companies and organization around the world chose Frutiger as their official typeface.
Cera
Designer: Jakob Runge
Design date: 2015
Publisher: TypeMates
Cera is a geometric font family that contains the famous Cera plus, Cera Stencil and Cera Brush fonts. Six precise weights, a clean Italic and useful dingbats plus arrows, Cera is an excellent choice for text and headlines for print and screen.
Gabriela Stencil
Designer: Antonio Mejía
Design date: 2016
Publisher: Latinotype
Gabriela Stencil is a traditional font family inspired by the style of the 19th Century Didone typefaces. Designed for headlines, short text, branding and publishing projects, Gabriela Stencil is a modern font with an elegant personality. The family consists of six styles, from Thin to Black, plus matching italics and contains a 433 with support for 206 different languages.
Pistacho
Designer: Felipe Calderón
Design date: 2016
Publisher: Estudio Calderon
Pistacho is a fresh type family that contains 18 fonts to design awesome illustrations for coffee shops, bakeries, ice-cream stores, candy shops, and all those places where delicious food is found. Pistacho is designed by hand using pencils and markers for a unique handcrafted and rough texture.
DIN Next
Designer: Akira Kobayashi
Design date: 2009
Publisher: Linotype
The typeface was initially published in 1931 as the German Institute for Standardization standard DIN 1451. It contained models of standard alphabets for mechanically engraved lettering, hand-lettering, lettering stencils and printing types that were to be used in the areas of signage, traffic signs, wayfinding, lettering on technical drawings and technical documentation. The fonts were appreciated by designers for their industrial, "non-typographic" look and feel and found their way in book and magazine typography. DIN Next is a typographically corrected and expanded version of DIN 1451.
TT Lakes
Designer: Ivan Gladkikh
Design date: 2016
Publisher: TypeType
TT Lakes is a universal set of san serif typefaces that fits pretty much any purpose. It consists of three font families and 54 typefaces. It's simple and functional and can be used in a variety of scenarios.
Viva Beautiful
Designer: Cindy Kinash
Design date: 2016
Publisher: Cultivated Mind
Viva Beautiful is a beautifully crafted painted brush script. Viva Beautiful includes two script styles and an all caps font. Designed for fashion, beauty products, food, apparel and magazines, Viva Beautiful can also be used for film, television, marketing, advertising and websites.
Helvetica Neue LT Std
Designer: Max Miedinger
Design date: 1983
Publisher: Adobe
Helvetica Neue is a reworking of the typeface with the purpose of unifying the set of heights and widths. The reworking also improved the font's legibility and added heavier punctuation marks. The font family is made up of 51 fonts, which includes nine weights each three widths and an outline font. Helvetica Neue supports various Central European and Cyrillic scripts.
Sofia Pro
Designer: Olivier Gourvat
Design date: 2012
Publisher: Mostardesign
Sofia Pro is a flexible typeface supporting a wide range of languages and 500+ glyphs. It also features case-sensitive forms, small caps, contextual and stylistic alternatives, fractions, proportional and tabular figures, etc. With its 16 fonts, Sofia is a smart choice for text, branding, signage, print and web design creation.
Amsi Pro
Designer: Stawix Ruecha
Design date: 2015
Publisher: Stawix
Amsi Pro, a modern interpretation of the Block Berthold font, is a sans serif font family with forty-eight styles with extensive OpenType support including three additional stylistic sets, alternates, lining figures and standard ligatures. It's a powerful font for experienced designers, and can be used for billboards, headings, branding, etc.
Hurme Geometric Sans 4
Designer: Toni Hurme
Design date: 2013
Publisher: Hurme
Hurme Geometric Sans 4 is a seven-weight, geometric sans-serif typeface which features ornate swash capitals and lowercase characters with curvy tails. Alternate characters and other OpenType features recommend this font family for the designer looking for a versatile option that can be adjusted for specific needs.
Mrs. Eaves
Designer: Zuzana Licko
Design date: 1996
Publisher: Emigre
Mrs. Eaves is a serif typeface based on Baskerville. It was designed for headlines and other display contexts. A text friendly version of Mrs. Eaves is Mrs. Eaves XL. The font is known for its range of ligatures, ranging from common to fanciful ligatures including swash designs. Mrs. Eaves is used for the iconic WordPress logotype.
Effra
Designer: Fabio Luiz Haag, Jonas Schudel
Design date: 2008
Publisher: Dalton Maag
Effra is the reincarnation of the famous Caslon Junior. Updated for contemporary use, Effra can be used from advertising to book design. It's a flexible, balanced and well-proportioned font with five weights and clean lines. Effra is a unique design that stands out from the crowd, but, when needed, is also sufficiently conspicuous to naturally blend with other design elements. It's a great choice for magazine design, branding, and corporate identities.
Nexa Rust
Designer: Ani Petrova, Svetoslav Simov, Vasil Stanev, Radomir Tinkov
Design date: 2014
Publisher: Fontfabric
Nexa Rust is a multivalent font system consisting of sans, slab, script, handmade and extras font sub-families. Nexa is a stylized version of the already popular Nexa font.
Cosmopolitan
Designer: Emil Karl Bertell
Design date: 2016
Publisher: Fenotype
Cosmopolitan is a monoline font family inspired by two other great monoline families: Selfie and Beloved. It comes with script and sans versions that can be both used together or alone. Cosmopolitan Family is used by designers looking to give a refined touch to their designs. It's equally ideal for both print and digital projects.
Akzidenz-Grotesk BE
Designer:
Design date: 1896
Publisher: Berthold
Akzidenz-Grotesk is a sans-serif typeface intended for general purpose commercial use such as publicity materials, advertisements or tickets and branding. Notably, Akzidenz-Grotesk is the official font of the American Red Cross.
Nexa
Designer: Svetoslav Simov
Design date: 2012
Publisher: Fontfabric
The Nexa family comes 16 styles and weights – eight uprights with eight italics. It is a universal font characterized by excellent legibility for web and print. Frequently used for headlines of all sizes, as well as for Nexa is a good choice for any type of graphic design in web, print, motion graphics, etc.
FF Meta
Designer: Erik Spiekermann
Design date: 2003
Publisher: FontFont
FF Meta is a font family consisting of 28 weights, ranging from Hairline to Black in Condensed and Normal and suited for advertising and packaging, book text, publishing, logo, creative industries, small text as well as web and screen design. It's a typographical rich font with features such as ligatures, small capitals, alternate characters, case-sensitive forms, fractions, etc. Besides Latin-based languages, the typeface family also supports Cyrillic, Greek, and Hebrew writing systems.
Intro
Designer: Svetoslav Simov
Design date: 2012
Publisher: Fontfabric
The Intro font family consists of 50 unique font styles and weights. It's a well-balanced font with remarkable legibility both in print and on the web. Intro is suitable for headlines of all sizes, but it's also used for text. It's a versatile font and can be used for web, books, magazines, logo design, motion graphics, and is extremely popular for T-shirt designs.
Gill Sans
Designer: Eric Gill
Design date: 1928-1932
Publisher: Monotype
Gill Sans is a legible and modern font. It's mainly used for text and display typography. It is one of Monotype's most important designs. Marketed as a design of "classic simplicity and real beauty," Gill Sans influenced many other typefaces, and helped to define a genre of sans-serif, known as the humanist style.
Freight Sans Pro
Designer: Joshua Darden
Design date: 2004-2009
Publisher: GarageFonts
Freight Sans Pro is a distinct typeface composed of 12 fonts designed for optical precision. Its humanistic nature makes it perfect for signage, editorial and branding.
Geogrotesque
Designer: Eduardo Manso
Design date: 2008
Publisher: Emtype Foundry
Geogrotesque is a semi modular font with a subtle rounded finish typeface. Geogrotesque is designed to be used as a display typeface in publications or intermediate length texts. The type family consists of 14 styles and seven weights plus italics and it's available in Open Type format.
Malva
Designer: Henrique Beier
Design date: 2016
Publisher: Harbor Type
Malva is a fresh font designed to perform as a branding element. It provides a clean and sleek look for visual identities and publications. Malva is a legible typeface with proportional letterforms. Besides that, carefully a very legible text typeface. The lighter and bolder weights works great at large sizes. On the other hand, the whole family shines on mobile devices.
PhotoWall
Designer: Veneta Rangelova
Design date: 2016
Publisher: DearType
PhotoWall is a versatile and elegant family of 15 fonts. A casual script in four weights with lots of swashes, ligatures and alternates, PhotoWall is inspired by home decor. PhotoWall can be used for logotypes, posters, cards, menus, product packaging and any other printables, as well as web applications.
Fairwater
Designer: Laura Worthington, Dai Foldes
Design date: 2016
Publisher: Laura Worthington
Created by Laura Worthington, Fairwater is a mix of cursive handwriting with letterforms of tattoo lettering. The Fairwater family consists of two highly legible sans and script faces with light, regular and bold weights. Fairwater also includes four showier serif faces for use at display sizes. The Fairwater family is also a powerful design kit as it includes 250 ornamental characters.
Frutiger Next
Designer: Adrian Frutiger
Design date: 2000
Publisher: Linotype
Frutiger Next is an interpretation of the well-known typeface, Frutiger. The new font retains the aesthetic aspects of the original characters while optically adjusting contrast between weights. Unlike the roman italics included in the original font, Frutiger Next's italics are re-designed to be true italics. Frutiger Next is a universal font that can be used for communications, multimedia and printed materials.
However, typography, which has always been an important element in modern graphic design, will become more and more dominant in our works.
In particular, there seems to be a propensity toward the use of typography to create large and eye-catching headers or landing pages, which are the first things that people see in a website. Therefore, if you want to distinguish yourself from the mass, you should know which are the best fonts you can use in your projects.
That's why we decided to featured the highest quality fonts. If you think that there are some fonts we have not included, let us know.
GALANO CLASSIC
Galano Classic  is a font created by Rene Bieder and it is inspired by the classic grotesque style of the early 20th century. Galano Classic is characterized by the presence of classic geometric faces which coexist with more modern proportions.
Moreover, some letters have interesting and elegant details: The uppercase "R," for example, features a long stretched leg while the uppercase "Q" is very similar to a stylized magnifying glass.
The font family consists of 10 weights with matching italics, each containing about 500 glyphs. Galano Classic may be used for different purposes; it is suitable to create big and solid headings but it also works perfectly in small sizes and long text.
The family costs $200 but it is definitely worth it.
FROST
The Frost series from Fenotype is a smooth font designed by Emil Karl Bertell.
The family not only contains the script in three different weights but also includes useful ornament and banner sets, caps and small caps. The designer was influenced by the hand-lettering and the sign painting style from the 1950s and 1960s; the result is that Frost is very polished, regular and linear and it perfectly suits the design trends of 2015.
Therefore, you will get a versatile family of fonts which may be used in several works. We suggest you using Frost for fascinating headings.
The font can be downloaded for $69.
CEREAL
Cereal is a font family designed by Carlos Fabian Camargo and released by Andinistas. The pack includes eight fonts which work in groups or independently. They are designed to create compositions of words and phrases that need to communicate a warm climate. Since Cereal has a high imaginative and visual power we recommend you to use this font in book covers, website homepages, logos, posters or even for wedding invitations.
The font family has over 150 glyphs with special words and effects thought to attract attention at first sight.
In the pack you can also find Cereal Dingbats — a collection of more than 100 drawings, such as arrows and lightning, which may be used to decorate your piece of art.
The price of the family ranges from $64 depending on which version you download.
MUTE
Mute has been made by Manushi Parikh and it is an elegant sans serif typeface. It was mainly developed for works related to mobile applications and in particular for user interfaces.
Since the font is precise and linear, we think that you can use it in the homepage of your website to express a friendly aspect. The letters have low stroke-contrast and terminals end on the horizontal or the vertical, making the apertures open and the counter forms between characters very clear.
By downloading the font you will get five different variants, each including 386 glyphs.
The font costs $130.
BURFORD
Burford is a font family designed by Kimmy Kirkwood. He says to have been inspired by all the unique typography that he saw while traveling in five different countries in Europe.
The family mainly contains two groups: Burford Pro and Burford Basic.
The Burford Pro package comes with 18 layering fonts including five base layers, three top layers, five bottom layers and two sets of graphic elements. They have been created with the purpose to place them on top of each other, creating an amazing and easy to use layer-based family.
Burford Basic is for those who don't use graphic programs and for those who are not interested in the layering effect. Indeed, Burford can still be a useful typeface since each font can also be used on its own, without overlapping layers.
The font can be downloaded for $75.
BEGUM
Begum is a font created by Manushi Parikh and published by the Indian Type Foundry. Although it is a serif font, which has some common traits with the Times New Roman family, Begum has a contemporary appearance.
According to Manushi Parikh, the font was designed for short-length text as well as for longer introductions but it works fine on packaging too.
The font can be downloaded for $130.
QUERCUS TEN
Quercus, by Frantisek Storm, is a serif font inspired by the old classicist typefaces. It is characterized by an open, but also slightly condensed, style where the neighboring letters never touch each other. The pack comes with eight interpolated weights with their respective italics.
Thanks to the huge combinations you can choose from, Quercus Ten can be used for any kind of design, especially on the web. However, we suggest you trying the font for book covers and posters too.
The font is a bit on the expensive side; it costs #329.
AMSTER
Amster is a font designed by Francisco Galvez and published by PampaType. It is an energetic and refined serif type whose aim is to show how elegance and legibility can meet together in a unique typeface.
Amster can be used to produce text that is easily readable but also nice and friendly. It has five weights of italics with small caps and, in the pack, you can also find an interesting set of decorated initials. Amster is very versatile; it can be used for screen works or printed ones, for small or large text, for scientific purposes but for poetry, too.
Amster can be downloaded at a starting price of $60.
BALI SCRIPT
Bali Script, by David Rowland, was inspired by the Bali's relaxed feel and easy going atmosphere. Indeed, according to the creator, Bali Script is a tribute to the hand-lettered signage which can be seen on beach bars, surf shacks and cafes which are typical of Bali.
The font features solid stroke endings, sinuous shapes and it has a general gooey look which expresses an idea of freshness and simplicity. Therefore, Bali Script is perfect for informal posters, logos and websites.
The font costs $60.
LEV BLACK DISTRESSED
Lev Black Distressed is a typeface designed by Leon Hulst of TypeFaith. When you download the package, you will get access to a font which is perfect for posters, packaging, clothing and infographics.
Lev Black Distressed is a slab serif font and is characterized by a contrast between the rectangular thick serifs, the straight angled shoulders and the curves.
This font can be downloaded free.
COLT
Colt is a font by Mattox Schuler and released by Fort Foundry.
Colt aims to concentrate power and finesse in the same letters. The wide form of letters is inspired by the love for type used on motor vehicles made in the '60s.
Although a lot of typefaces are created to conserve space in order to fit more characters on a line, Colt stands on the opposite side. With wide letterforms, Colt is thought to be the leader of the work.
Indeed, this font can be used as the primary typeface in a composition but it can also play a supporting role in the design.
The Colt family can be bought for $49.
Are you looking for a change to your website or app design. A new typeface might just be the answer.
And there are so many great options to choose from. Whether you are a fan of a simple sans serif, more traditional modern serif or something with long tails and flourishes, we have a great list of options to try in the coming year.
When it comes to typefaces, personal preference has a lot to do with it. So while this list contains plenty of variation – some popular choices and some lesser-known typefaces – the goal is to help you find a little new type inspiration.
Whether you are a fan of Google Fonts or prefer a downloadable option, there are plenty of great typefaces out there that you can use royalty-free. (Adobe's Typekit also includes a nice selection for Creative Cloud subscribers – you can debate whether these options are "free" or not.)
The Google options are particularly nice because they are tested and work exceptionally well across platforms and devices (as you might expect), and the platform is easy to use.
Maven Pro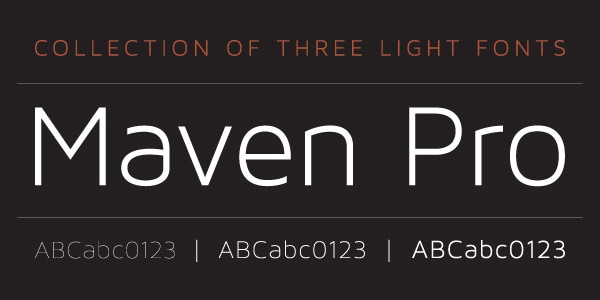 Maven Pro is an original Sans Serif free font that was improved with geometric shapes. It exudes an image of modernity, stylishness, and elegance. Created by Joe Prince, it features three ultra light weights. The extensive glyph coverage lets it collaborate with a ton of projects.
Aileron
You'll be hard-pressed to find this many weights in another free typeface. (Although you can donate to the type designer upon download.) The sans serif has a slightly ovular shape with uniform strokes that are easy to read at any size, making this a great multipurpose option for body or display type.
Alegreya
This serif includes thicker strokes with slight variation. The typeface is modern but still has a touch of that old-school style to it. Alegreya was chosen as one of 53 "Fonts of the Decade" at the ATypI Letter2 competition in September 2011 and has been a popular option since. (There's also a sans serif option if you are really into this typeface.)
Arvo
Arvo is a slab serif that's not too powerful at smaller sizes but can be punched up with all caps at larger sizes. The letters have a nice, rounded form that is simple and striking.
Fira Sans
A simple sans serif but with a little more detailed flair than the traditional Helvetica. The letters are a little taller with a more oval shape that feel somewhat casual. Thanks to widths that range from light to bold, Fira Sans can be used for body text or as a display option.
Lato
This has been a favorite among web designers for a few years because of its clean lines, style and versatility. It can work for display and smaller text and includes different weights, making it an ideal family for larger projects.
League Gothic
When it comes to display options, this typeface is hard to beat. It has nice thick strokes, a tall x-height and highly readable style that works exceptionally well in a variety of uses. This typeface has been around since 1903 – can you believe it?!? – but has all the clean lines that work with today's flat and material design styles.
Lobster Two
A variation of the once popular Lobster, this version is a little lighter than the original. This nice script style includes plenty of ligatures with letters that change shape based on pairings. So every use of this display typeface ends up looking somewhat custom.
Lora
This contemporary serif has roots in calligraphy, and is well-suited for body text styles. The letters tend to take on the feel of their surroundings and can be paired with a number of different display styles, making this a quite versatile typeface.
Stalemate
There's nothing like a simple script to bring attention to the text and this typeface does that masterfully. Unlike some other script options, Stalemate is highly readable (particularly at bigger sizes) and has a gender-neutral feel, so that you can use it for almost any project.
Ubuntu
This family includes a full palette of open source options from a sans serif to condensed to monospaced options that is usable in more than 200 languages. The style is contemporary and is labeled as an experimental and ongoing type project with the help of Dalton Maag. (So make suggestions if you have them!)
Top 10 Paid Font Options
Sometimes you really want something a little more robust and detailed than a free font. That's where many of the paid options on this list come in. Each of these families has wide usage and many are appropriate for both website projects and corresponding print pieces. Prices range from a few dollars for a single style up to thousands for complete family packages.
Avenir
Designed by one of the biggest names in typography, Adrian Frutiger (who has a typeface family named after him), this is a functional san serif with plenty of little extras. While the letterforms are almost round, they are not and the strokes include subtle variations. These details are exactly what you would expect from such a versatile type family. (From $49.)
Blenny
This fat display typeface is pure fun. It has a soft feel to it that can work for branding projects, display text and logo treatments. Everything about the typeface is exaggerated from the wide strokes to tiny spaces in the bowls of letters. (From $23.)
Brandon Printed
Made just for display uses, Brandon Printed has a trendy aesthetic that would go well with a modern, minimal website design. The strokes are nice and thick with mostly rounded letterforms and touches of roughness. (From $25.)
Chaparral Pro
Originally used for book lettering, this serif makes a great body text option. And with 32 styles available, it can expand to other uses as well. The lines are clean and highly readable. (From $35.)
Dexsar Brush
Sometimes only a brush style will do. This font is made for display styles and helps you create a perfectly custom feel. The type style also includes a set of cool discretionary ligatures. (From $20.)
Karnak Pro
If you love a good slab serif, Karnak Pro is a fabulous option. The old-school typeface was developed in the 1930s but was digitized for web use a few years ago. What's particularly nice about this slab is that it comes in plenty of weights from a condensed option to a traditional black slab.
Manhattan Darling
This beautiful, fat script has a gritty, imperfect style that looks hand-painted. The special bonus with this typeface is that it comes with end characters for an even more custom style and includes upper- and lower-case styles. (From $16.)
Pacific Northwest
This somewhat "hipster" style typeface has a handwritten, novelty style that's both fun and easy to use, thanks to clean lines and thicker strokes. Try it with a bold image or color for a real retro feel. (From $29.)
Supria Sans
The modern sans serif is a classically-styled, yet playful option that can work for any website design. While a single style might be enough for a small project, the full Supria Sans family is a great investment and will be useful in plenty of projects. (From $50, full family $449.)
True North
This vintage-style is perfectly on trend and even comes with a bonus set of labels, extras and banners when you buy the complete family of 16 styles and a monoline script. The styles are quite versatile and work great when used together or can stand alone or with other typefaces. (From $18, full family $250.)
Two primary examples include ghost buttons or the new love for video backgrounds.
Meanwhile, typography is increasingly seeing more focus as more designers realize that a perfect font, together with good graphics, can improve a digital project.
Since the beginning of 2014, many new fonts have been released and others have been updated.
So, we decided to roundup the latest typefaces and showcase the best ones. We have found 15 fonts which we consider to be important for every designer who wants to stand out from the crowd.
Because of the great number of the available typefaces, creating a top 15 has not been very easy, but we hope you will agree that this is a selection of great typefaces. Here's our list:
Core Deco
Core Deco is a font family developed by designers Hyun-Seung Lee, Dae-Hoon Hahm and Min-Joo Ham. The graphics of the font, and even the name, were inspired by art "deco posters" from the late 1930s to 1950s.
The 14 different fonts come with two useful styles: The first is a slight and elegant one, while the second features a stronger contrast with the background. Furthermore, each style has a 3D effect structure, which can be applied to the font in order to create a massive and trendy typeface suitable for headlines. Other effects are line patterns, outlines and shades.
By downloading the Core Deco family, you will get access to 14 modern fonts which can be used in a wide variety of artworks.
Core Deco costs $140 but it is definitely worth it.
Eveleth
Eveleth is a font family created by the Yellow Design Studio, which includes three weights Regular, Slant and Dot. They have some peculiar features, such as a unique texture for each, as well as a common element. In fact, all the three show a great mixture of realism and vintage charm which makes them appropriate for modern works and for the old-style ones.
Also, each has three style options such as Light, Bold and Regular. Together with the several fonts, Eveleth provides you a set of interesting icons and some shapes which may become useful in your activity as a designer.
Eveleth is $49.
Glober
Glober, by FontFabric, is a font family which includes 18 fonts, each one with nine weights and matching italics. Glober was inspired by classic grotesque typefaces and it was designed paying attention to small details. (Just have a look at the smoothness of the letter terminals.)
Glober is easy to read, so this typeface can satisfy different needs. It is perfect for headlines, logos or informal text, but since it is a sans-serif font, we suggest not using it in formal documents or scientific papers.
The font family costs $179.
Epigraph
Epigraph, designed by Dragan Pešić, is a serif which follows the lapidary trend. Glyphs only start with the nucleus of a serif and they are completed by humanistic decorations.
The typeface shows traditional proportions and slender lines which express an idea of lightness. Eventhough "lapidary" typefaces originated many years ago, Pešić was able to create a modern font which can distinguish your work. Use it in classic style works or in contemporary projects. Moreover, the font is highly readable and, thanks to its elegance, can be used for book covers, catalogs or posters.
In the package it is possible to find five fonts including the bold and italics.
Epigraph can be downloaded for $80.
Nocturno
Nocturno is a font designed for fashionable and stylish text or headlines; it is characterized by effective proportions and large openings that make the font easily legible and recognizable. The presence of contrast between slopes, widths, shapes and weights creates the possibility to use the typeface for positive and negative text.
Nocturno is $9 to $490, according to license type.
Agent
Agent is a sans serif font which is presented as a classic angular typeface. It comes with four different variations, each one with four weights. You can chose between four formats, which change the thickness of letterforms.
Mohave Typefaces
Mohave is a font created by Gumpita Rahayu, an Indonesian designer.
The font is built with smooth heights and dynamic glyphs. This typeface is designed for large point sizes, and it contains three weights — regular, semibold and bold, plus italics. Although lowercase and uppercase letters seem to be similar, there are small differences. This font is suitable for web design projects or infographics.
You can get Mohave free of charge.
Voltage
Voltage was created by famous designer Laura Worthington. Her idea was to create a font which was supposed to be highly readable and user-friendly. She also tried to avoid large loops and ruffled decorations. The result is Voltage, an energetic typeface which can't be inserted in a particular font typology. It stands out from them all. Voltage puts emphasis on practicality and uniformity mixing elegance and vintage style.
The font is mainly for strong and dramatic headlines.
Voltage costs $19.
Chimphand
Chimphand, designed by One Fonty Day, is a modern, organic and natural handwritten font. The set contains three weights — light, regular and bold as well as two different widths. Chimphand is customizable and can be used for different purposes, from short text to logos. Chimpand is alsoa great choice for graphics for t-shirts.
Chimphand costs $70.
Compasse
Compasse, designed by Ryoichi Tsunekawa, is a semi-condensed sans serif family that includes 12 styles. There are six weights from thin to extra bold and matching italics. The range of styles provides the right adaptability to use the font for titles and body text.
Compasse supports uppercase and lowercase letters, denominators, numerators while fractions can be accessed by using OpenType features.
The negative aspect is that Compasse is one of the pricier typefaces on our list. It is $200, so it may be good for the most experienced users.
Ample Soft
Ample Soft, designed by Soneri Type, is the soft version of Ample. The font doesn't have sharp angles but smooth curves and is very linear. Ample Soft is eye-catching and the readability is good. Indeed, if colors are well used, the letters are easily distinguishable from the background.
We suggest you not using this font for long text but mainly for headlines or titles.
The package includes six different weights. Italics are not included in the Ample Soft set because it doesn't go with the general nature of the font.
Ample Font costs $90.
Newslab
Newslab, by Latinotype, is a serif font which is the result of the combination of three different existing typefaces: Andes, Sánchez and Roble.
Newslab is characterized by a great harmony and by not excessive tricky decorations. In this way, the font offers a feeling of freedom but, at the same time, it is imposing and solid.
The Newslab font family consists of 16 variants and eight weights with italics. The creators think that this typeface should be used mainly for editorial projects such as posters.
The font costs $126.
Bommer Slab
Bommer Slab, developed by dooType, is a family of fonts and it includes 14 different weights: seven are uprights and the other seven are italics.
The font shows a great personality that makes it perfect for headlines as well as in text blocks.
Lowercase and uppercase letters, fractions and apex are all supported.
The cost is $100.
While our collection is extremely varied, yet when it comes to glyph coverage, not every listed above example can boast of richness. As a rule, artists focus on Roman alphabet, numerals and standard punctuation marks overlooking Cyrillic script, stylistic alternatives, and accented symbols. Nevertheless, it is quite sufficient to comply with a great deal of projects or at least test the typeface. So, if you want more, you can always buy a premium version that has everything you may need.
Conclusion
Now you can convey your message in a more elegant way. This can be achieved through the use of proper typography. The accuracy, precision, and balance of geometric forms can give letters the style and sharpness they deserve. Typography is an essential part of the professional designers and for those who want to make it big in the promotion market. Among other things, effective fonts manage to achieve three necessary objectives of web designing.
They are Look, Appearance, and Outcome which keeps them apart from the normal wave. An effective logo demands simplicity, distinctiveness, versatility, and appropriateness. Some information about the most popular free fonts used by professional designers might help you in the long run of graphic design. Fonts like Helvetica are used by professionals as well as by non-professionals. The characters are spaced too tightly and depend on the situation to be used.
Trajan finds its way into many Hollywood movie posters and anything remotely to do with religion, law, marriage, class, or the past. Garamond, a great font for magazines, textbooks, websites, and long bodies of text and was recently named the second-best font after Helvetica. Futura is based on geometric shapes and comes up often in large displays, logos, corporate typefaces, and in books where the small text is needed. Bickham Script Pro is a font used mainly for formal occasions.
Bodoni has a narrow underlying structure with flat, unbracketed serifs. This free font gets its importance for headlines, decorative text, and logos. The Frutiger font is designed so that each individual character is quickly and easily recognized. Such distinctness makes it good for signage and display work. Fonts being the most important part of every web Project need a watchful selection before applying it on your design as with many selective collection font posts around, it often leads to big confusions as to which typefaces is really useful for your project or how to choose your font from the list of hundred fonts.
Here is our list of free fonts for this year, what is your preferred fonts and font families this year?
Like what you're reading? Subscribe to our top stories.