Free Halloween Email Newsletter Templates
Spook-tacular deals and Boo-tiful offers: Halloween is right around the corner. Whatever you are doing, it is time to channel your efforts into the spookiest holiday of the year. The night of trick-or-treating is coming, and your brand should not stand aside. We're sure that you're looking for Halloween email newsletter templates to send subscribers and increase sales. We're here to help with Halloween newsletter templates that you can download.
Halloween sees one of the biggest revenues in autumn. People eagerly spend money on costumes, sweets, toys, decorations, restaurants, and other stuff that they find useful during this holiday. Therefore, it is an excellent retail opportunity.
If you want to grab a piece of this billion-dollar pie, then it is time to dress up your newsletter. In this article, you can download free Halloween email templates and remember to follow our tips on creating and sending a successful Halloween newsletter and enjoy some freshly-baked free Halloween templates to give your campaign a successful start.
If you need a stylish Halloween newsletter but do not have time to create everything from scratch, we offer some sweet treats: free Halloween templates where you can put all these tips in action.
All these email templates have been created using the Postcards email builder, you can try it for free.
No Tricks, Just Treats – Free Halloween Template #1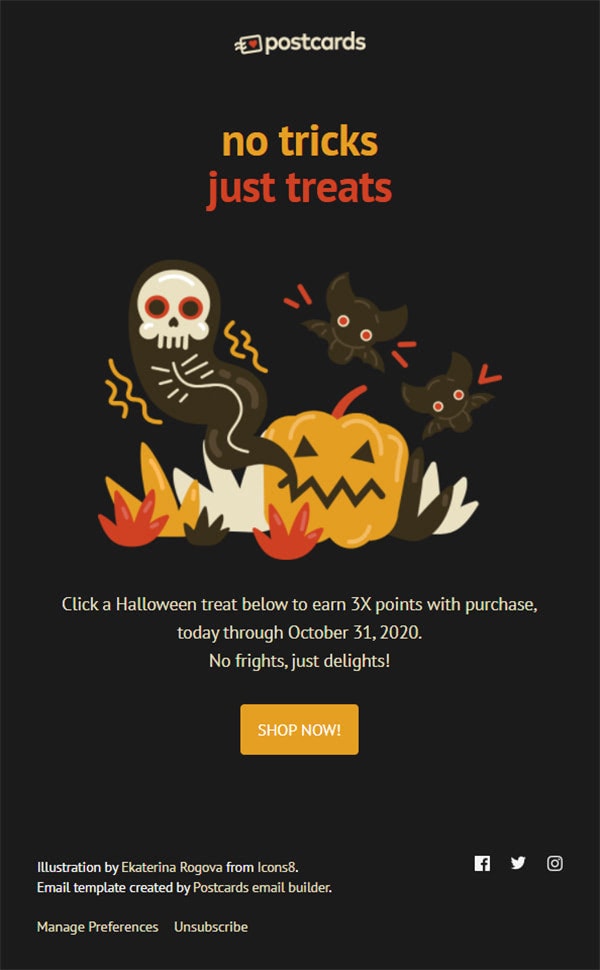 No-Code Email Template Builder
With Postcards you can create and edit email templates online without any coding skills! Includes more than 100 components to help you create custom emails templates faster than ever before.
Try Free
Other Products
Free Halloween Template #1 is compact and minimal, yet still gets everything right about the holiday. The newsletter speaks for itself. The atmosphere is incredible. It just screams Halloween on all fronts. And you do not have to scroll down, since all the key moments are displayed in the most viewed part.
Everything clicks here. An eye-catching headline, beautiful illustration, clean black background, sweet offer, and call-to-action that stand out with a neat, yet bold appearance. Very smart.
Don't Get Spooked – Free Halloween Template #2

With this great free Halloween template, you will stay true to an informative approach since it easily handles lots of information with a well-structured order. Each block has a huge image area and place for supporting text. Therefore, you will easily impress your subscribers with goods and, at the same time, provide valuable content.
As for design, this free Halloween template has a hint of noir theme with bold headlines and casual typography. With the right message in the hero area, it will quickly get the audience in the feast mood and boost conversions.
This is Halloween – Free Halloween Template #3

This free Halloween template goes for a simple yet witty theme where classic black and white coloring rules the roost. Not only does it create a mysterious atmosphere worthy of All Hallows Eve, but it also ensures excellent readability that is necessary for all groups of subscribers.
The key feature of this halloween design is the image-based hero area. Here, you can be creative with the celebratory theme and show your attitude towards the trick-or-treating feast.
As for the rest layout, there is a section for promoting goods, an area for qualifying your brand with a list of loyal clients, and, of course, a couple of call-to-actions to bring people to the website.
Want to build an email newsletter template online? Open the Postcards email builder and start to create your own email design.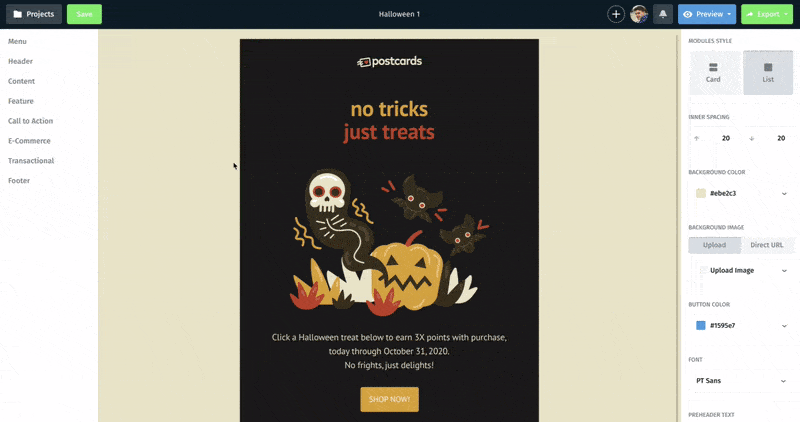 All email campaigns begin with finding the best subject line. Halloween is no exception. It is one of those holidays when you can let yourself go and delight your subscribers with some hilarious pitches. You can try puns, emojis, and even phrases and slang taken from subcultures.
Consider these examples taken from popular brands that were managed to convey the atmosphere of the holiday and get everyone in a festive mood right from the doorstep with the help of playful subject lines.
Frighteningly Big Discounts
Boo-tiful offers ending soon!
Boo! A Halloween treat for you!
Spooktacular Offers just for You!
Get These Spooky Offers Before They Ghost!
Wonderfully Wicked
Put Some Boo in Your Next Order
15% Off All Ghoulish Goodies
No tricks, only treats this Halloween!
Scary-good games from Google Play
A frightfully good offer
We Wouldn't Trick You – Here's an Early Treat
Scary savings! 20-50% off
ARRRRE You Going to Be a Pirate This Halloween?
Get A Spooktacular Deal!
Big Deals: No Tricks, All Treats!
Trick or treat? Spooky or sweet?
Free Treats!
Trick or treat! Try a spooky stay
Your scary good deal is here
Le freak? C'est chic!
Humongous Halloweekend Sale
Witching You Happy Halloween
Along with puns, you can stick to "Happy Halloween" and build your subject line around it.
Halloween treats to fright and delight
Halloween is Near, and the Deals are HERE!
Ha-ha-halloween costumes
Halloween Hijinx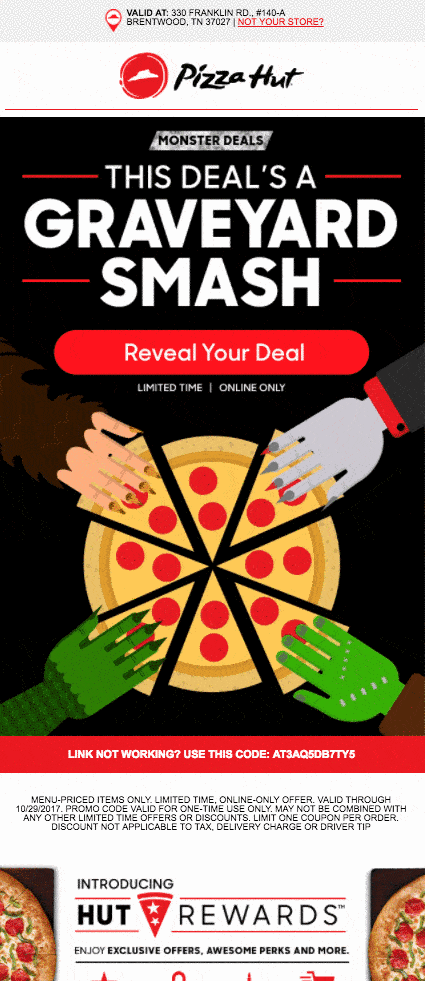 Halloween Email from Pizza Hut
To define the best time to send out a Halloween newsletter, first do proper segmentation, then conduct A/B tests and analyze data from previous years to polish your timing. Let's consider each step closely.
Segmentation
Well-thought-out segmentation underlies every successful email campaign. Whether it is Halloween, Christmas, or even a regular fall newsletter, proper segmentation ensures the success of the campaign and helps the email reach out to the target market.
In the case of Halloween, segmentation can be tricky. All sorts of people, from young to old, celebrate. Group subscribers depending on criteria such as:
Age (Gen Z, Millennials, and Baby Boomers should be treated differently)
Marital status (Families with kids and teenagers should be inside various groups as well as those who celebrate alone)
Gender
Your business sector may imply some other criteria as well.
As practice shows, Millennials and Generation Z tend to check emails during lunchtime and after work. It means 2 p.m. and 8 p.m. are your target hours. If you need to reach out to graduates, then your time is lunchtime and after school.
If you plan to create the entire Halloween campaign, then the general practice suggests sending the first-ever email at the beginning of October and warm up email subscribers with treats each week until the big day.
A/B Tests
The second phase of defining the best time is conducting A/B tests. Everything said above is general practice. To make it work for you, adopt a personal approach. It means you should do split tests and analyze data from previous years to define the best time for each group.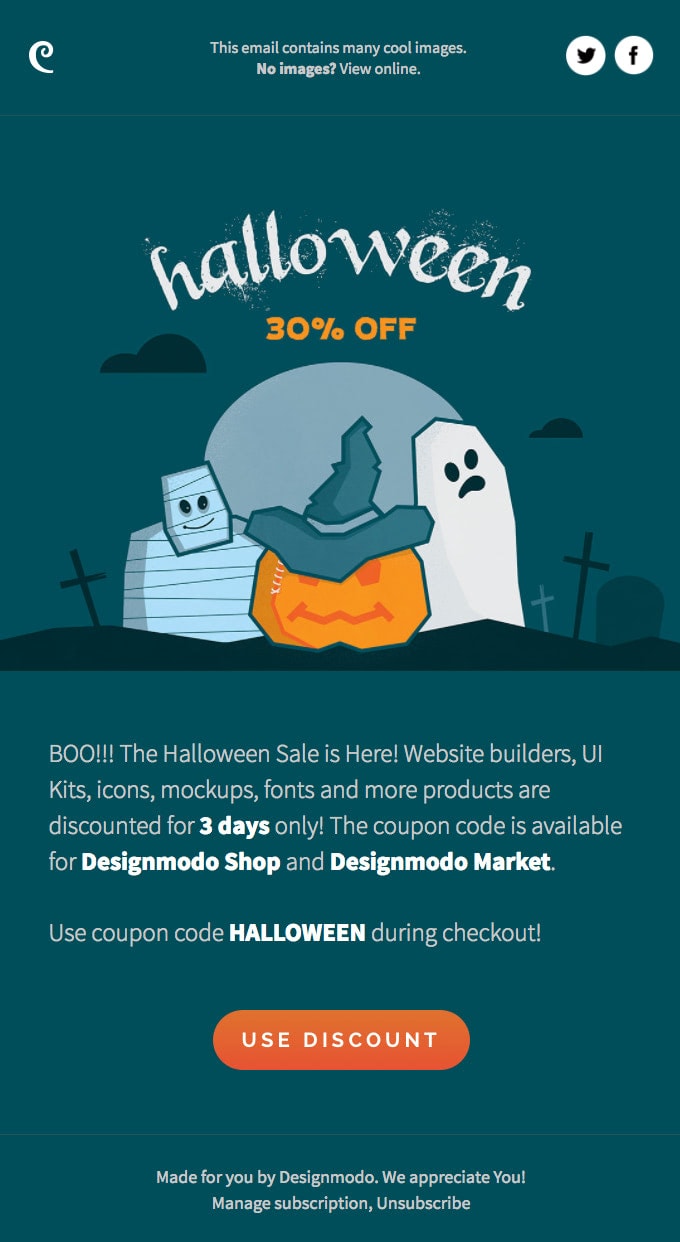 Halloween Discount
5 Key Features of Successful Halloween Emails
An eye-catching subject line and best timing are responsible for good deliverability and open rates. However, what about conversions? It is here where you need to put your heart and soul into the email newsletter.  Consider 5 key features of a successful Halloween email template.
Festive Theme
The holiday atmosphere in the email newsletter is what separates regular eblast from the festive one. A well-established theme can do magic. It gets everyone in the right mood, unobtrusively pushes customers to participate in the hustle, and makes them more open to offers and deals.
Unlike the majority holidays out there, Halloween offers email marketers freedom of choice. The most popular themes are:
Spooky: Perhaps, it is one of the most overused themes in Halloween. Nevertheless, it works. Ghosts, vampires, monsters, witches, haunted houses are what to use in your design to bring this theme to life.
Hero: Superheroes from various universes parade their powers not only in Comic-Con but also in late October for trick-or-treating. Therefore, you can successfully use this topic in your Halloween email template.
Zombies: Much like vampires and witches, walking dead (including mummies that are a unique Egyptian fashion choice for zombies) are increasingly popular among party-goers. Cemetery, graves, and all sorts of evil spirits should lie in the heart of this topic.
Angelic: Although traditionally Halloween is about remembering the dead, it is also a day for remembering saints. Therefore, a happy theme is welcoming as well. We can see princesses, ballerinas, angles, and unicorns travel from house to house, asking for treats. So why not to make your Halloween newsletter look adorable?
Mystery: If you want to stay neutral to genres, you can always resort to the eternal theme of mystery. Just use dark coloring, shadows, and illustrations that are associated with secrecy and thriller.

Halloween Email from LendingTree
Dynamic Elements
The trend of using dynamic elements has reached the email design sphere quite recently, yet it has already taken root. Static designs are no longer in favor. People crave action in their inboxes.
Although it is still difficult to use pure interactive features and JavaScript-based solutions, still animated gifs and hover effects are great alternatives. They \make the Halloween email template look outstanding.
On top of that, if you use professional tools like Postcards, you can easily add interactive details like hotspots to the design and enjoy extra conversions due to engaging user experience.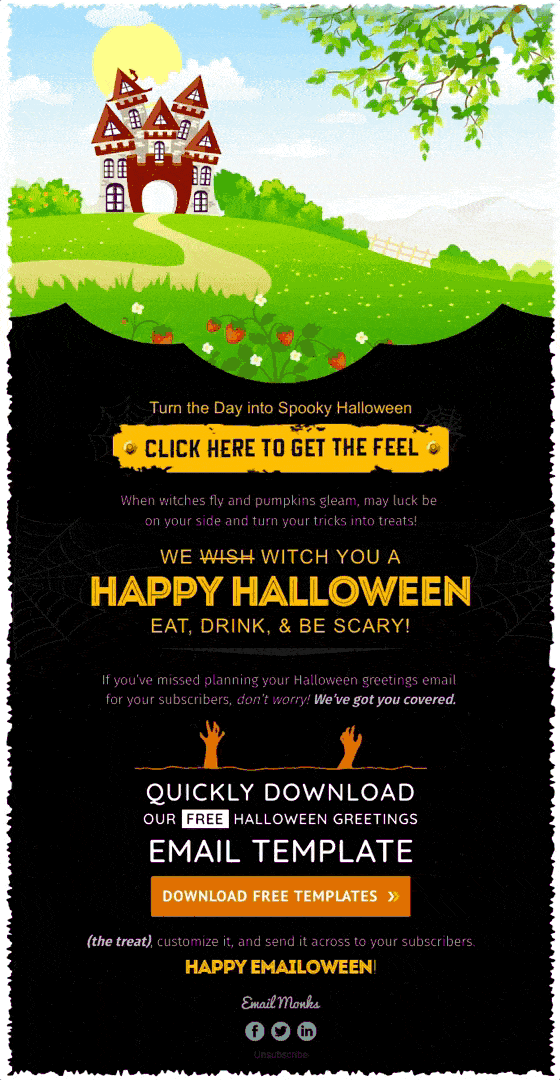 Happy Halloween from Email Monks
Valuable Content
Along with the design, content plays a crucial role in forming a successful Halloween newsletter. The rule of thumb, whatever email template you intend to create, first and foremost, it should bring actual value to subscribers. In the case of the Halloween email template, you can envelop this value into a candy wrapper. And, remember to build content as a logical continuation of the subject line and festive theme.
Lack of ideas? Consider these awesome headlines from popular brands for inspiration.
Dark Delights
Holiday Scare
All Treats, No Tricks
Boo, Who?
Oh, my Gourd! 5 Fall Days 5 Fall Sales
Online Offer! Scary Good Deals for $2.99
Treat! Enjoy Free Shipping Only Today!
Devise your Disguise with a Pair of Glasses
The Beast Comes at Midnight
Catching the Halloween Vector Fever?
So, what will it be… A Trick or A Treat?
Starbucks Rewards
The Witching Hours. It is that time. Get an Extra 30% Off Sale.
Here Comes Halloween. Perfect costumes for kids
Spine-tingling Halloween Treats
Make Homegoods your Halloween Haunt
Free Shipping Just for Boo!
Scare Up Halloween Fun. New Arrivals are Here!
Trick or Treat? Mystery Coupon
We Hope You Have a Monster Good Night
A Sale so Good, It's Scary. 50% Off
Eat, Drink, and Be Scary. Our Hallowe'en Party Essentials
Halloween Screams
An Extra-Sweet Treat. Online Only

Happy Halloween from DogVacay
The call-to-action is an apogee of every Halloween email template. It should use action words and has a direct link to the promoted goods or offer.
The design should be a unique and eye-catching unit of the interface that stands out from the reading flow but, at the same time, supports the overall theme. Use the principle of the inverted pyramid to satisfy these criteria.
Marketing Tricks
Halloween newsletter offers one of the most significant sales opportunities in autumn. Therefore, be ready to use some marketing tricks to cut through the noise of similar offers and pitches. Like any other promotional email, you can benefit from such marketing tricks as:
Discount
Sale
Free Shipping
Shopping Incentives like BOGO
Reciprocity
Sense of Urgency
Check out Best Practices for Halloween Email Newsletters with Examples to get more good ideas.
Halloween is a specific holiday. Not all of us sell party costumes. However, you can still make the most out of it and drive traffic to the website. Whatever business sector you are in, with the excellent idea and right execution, you can easily reap benefits from any holiday.
Consider these ideas to help your company seize this golden sales opportunity.
Align Goods with the Holiday
Not all business sectors are associated with Halloween. However, it does not mean that you cannot take advantage of this retail opportunity. All you need to do is come up with a way to align your goods with the holiday.
Ask yourself, can your goods make this day even brighter and happier? Prove your subscribers that your products can be of great assistance. Use the holiday theme to present them in the best possible light.

Halloween newsletter from Clear
Be Creative with Puns
Halloween is time to be creative and, most importantly, playful in everything. Subject lines, headlines, copy, and even call-to-action buttons should show your joyful attitude towards this hilarious holiday.
The best way to establish a festive mood is to use puns. Whatever group of subscribers you are going to send the Halloween email template, its members will undoubtedly enjoy some fun-loving stuff in the inbox.
Consider this inspiring list of popular puns:
Hello, gourd-geous
Life is gourd
Mummy of the year
Happy Howl-oween
Witch better have my candy
Bone to be wild
Bone Appetit!
Let's have some skele-fun!
Ghouls just want to have fun!
Hey boo-tiful
Boo-yah!
Fa-boo-lous!
Love at first bite
Have a fang-tastic Halloween
Aren't these costumes gourd-geous?
Let's get this party startled!
Sales are totally eerie-sistible!
Keep calm and pumpkin on

Halloween newsletter from ModCloth
Treat with Halloween Candy
Halloween is about trick or treating; therefore, without Reese's Peanut Butter Cups, you just cannot do, or at least a digital version. Use a Halloween email template to treat subscribers with sweet freebies. It can be a special coupon or gift. Not only will this gesture contribute to your relationships with the customers, but it will also compel to buy some stuff from you in the future. All in all, reciprocity goes a long way.
Offer a Guide to Survive Halloween
Sending guides is a great way to engage customers with the brand. The deal is everyone appreciates some helpful hand on such a busy day like Halloween.
Besides, this strategy can be a lifesaver for those business sectors that cannot easily align their goods to the feast, but still want to take part in. You can create not only a guide but also offer some tips on a particular matter. Consider these ideas:
Your Guide to Carving Pumpkins
Last-Minute Halloween Guide
Halloween Tips and Tricks
October Calendar for Kids Camp & Halloween
Deliciously Spooky Halloween Recipes
Halloween Activities for Everyone
Get In The Halloween State Of Mind
Tricks to help you this Halloween
Ding dong! Tips, tricks, and treats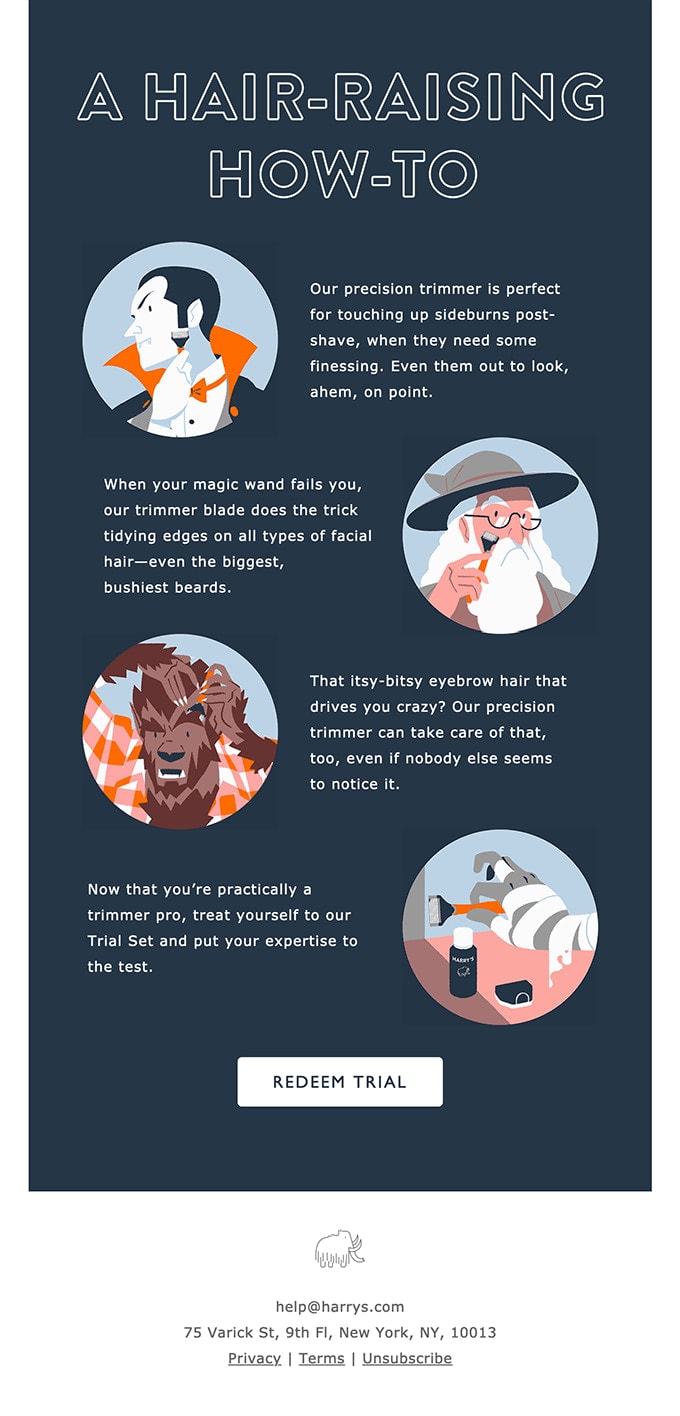 Halloween email from Harry's
Focus on People Who Do Not Celebrate Halloween
"I'm not mad about missing Halloween:" This phrase can become a great title for Halloween email templates that are addressed to subscribers who do not celebrate the spooky holiday.
Almost 30% of people avoid the holiday and should not be left alone. This particular group of subscribers should be treated differently. Choose content that brings value and carefully use Halloween motifs. Sending a guide of how to survive Halloween when you are in no mood for trick-or-treating can be a perfect solution.
Conclusion
Free Halloween email templates are quick solutions for those who want to participate in this holiday but lack in time. They are fully responsive, mobile-friendly, and flexible in terms of customization. Each one has a Halloweeny design that works great without any extra modifications. Just add your logotype, alter text and you are ready to surprise your customers with spook-tacular Halloween email template.
To reinforce the impact from these free Halloween email templates and bring in some flat profit in late October, follow our tips:
Targeted Messaging: Tailor your email content to highlight the Halloween theme and promote products or services related to the season. Personalize the emails further by using customer data to address recipients by their first name or by referencing past purchases or interactions.
Create a Sense of Urgency: Incorporate phrases like "limited time offer" or "while supplies last" to encourage immediate action. You could also create a countdown to Halloween to induce urgency and promote special deals.
Offer Exclusive Discounts: Provide special Halloween discounts or bundle deals to incentivize purchases. You could also offer free shipping or a free gift with purchases over a certain amount.
Use Engaging Visuals: Incorporate eye-catching Halloween-themed graphics or animations into your email templates to grab attention and enhance engagement. Utilize a balanced mix of text and visuals to maintain a professional appearance while also capturing the holiday spirit.
Mobile Optimization: Ensure that your email templates are mobile-friendly to reach customers who are on the go. Test your emails on different devices and platforms to ensure they appear correctly and are easy to read.
Utilize Social Media Integration: Allow recipients to share your promotions on their social media channels with easy-to-use sharing buttons. Also, promote your email campaign on your own social media channels to broaden your reach.
Track and Analyze: Keep an eye on the key metrics such as open rates, click-through rates, and conversion rates to understand the effectiveness of your Halloween email campaign. Utilize the insights gained to optimize future campaigns.
Leverage Testimonials and Reviews: Include positive customer reviews and testimonials in your emails to build trust and encourage purchases.
Segment Your Audience: Segment your email list based on past purchasing behavior, demographic information, or engagement levels to send more targeted and relevant offers.
Test and Optimize: Before launching your campaign, test different versions of your email for different segments of your audience to find out what works best. A/B testing can be a useful method to understand what resonates with your audience.
Follow Up: After the campaign, send a follow-up email to thank customers for their purchases and to encourage future engagement. You can also ask for feedback to continuously improve your email marketing strategies.
By applying these tips, you're more likely to see an increased engagement and revenue from your Halloween email marketing campaign, ensuring a profitable venture as the spooky season unfolds.
Like what you're reading? Subscribe to our top stories.