For today's freebie on DesignModo we have a refined, creative, personal and professional fashion PSD template (created by Vladimir Kudinov). This free website template is definitely one of a kind and high in quality. It features a box layout on crisp white, with social buttons and a bright background featuring a model, this gives emphasis on the consistent theme of fashion.
Our fashion free PSD template is handy for anyone interested in web design and anything involving the fashion industry. Whether you are a company, freelancer or if you simply want to be update your personal fashion blog, this free PSD template is ideal for you.If you are looking to add your own unique touch this fashion PSD website template can be edited with very little effort as PSD files include layers in Photoshop, making it easier to modify and slice the template once downloaded. You can adjust the fashion template to include only the features you want.
Used by many, PSD website templates are known as a quick fix and quick learning, they can help give inspiration for design ideas you would never have thought about.
There are designers all over the web who are willing to share their work for free, for this reason finding a free PSD website template is not that difficult. The internet is flooded with free design stuff tailored to meet the needs of various themes, individual likes and dislikes, professions and industries.
A well-designed PSD template will give you an extraordinary website and translate your services, product and brand successfully to your target audience. In the right hands this free PSD website template will save you a lot of time, why would you want to recreate something when it is already out there available for free?
Fashion Free PSD Website Template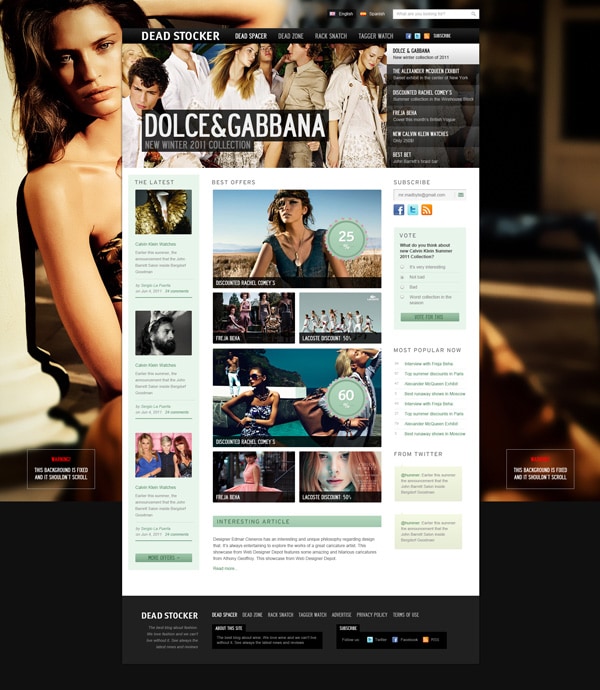 Download free PSD

Impress your audience with animated websites and web presentations.
With Slides, we don't make you start from an empty slate. All you have to do is to pick the elements you like best and combine them. Each slide has been carefully crafted to satisfy three key criteria: aesthetic, function and usability. That way you know every element works together seamlessly while enhancing the impact of your content.
Learn More
Try the Demo
Like what you're reading? Subscribe to our top stories.