Free Social Bookmarks/Networking Icons Set
"DesignModo Social Bookmarks/Networking" is a set of free social media icons consisting of 60 individual icons of the popular Social Bookmarks/Networking/Web 2.0 sites out there.
The set consists of 60 high-quality icons in 32-bit transparency PNG format (64 x 64, 48 x 48, 32 x 32).
They are free to use non-commercially. Put them on your blog or on your website to help users bookmark or share your site socially. Please link to this article if you would like to spread the word.
Icons: aim, aol, bebo, bing, blinklist, blogger, delicious, designfloat, deviantart, digg, dribble, dzone, ebay, facebook, feedburner, flickr, foursquare, friendfeed, friendster, furl, gmail, google, googlebuzz, gtalk, hi5, identica, lastfm, linkedin, livejournal, magnolia, metacafe, misterwong, mixx, msn, myspace, netvibes, newswine, openid, orkut, picasa, plurk, posterous, reddit, rss, sharethis, skype, slashdot, sphere, sphinn, spotify, stumbleupon, technorati, tumblr, twitter, vimeo, wordpress, yahoo, yahoobuzz, yelp, youtube.
You are allowed to use these icons anywhere you want, however, we'll highly appreciate if you will link to our website when you share them – https://designmodo.com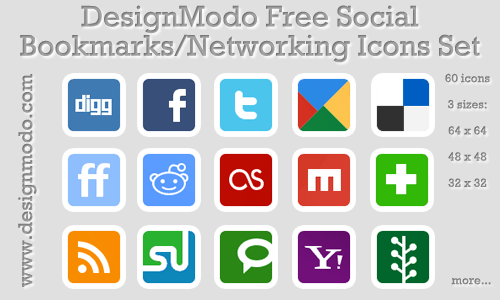 No-Code Email Template Builder
With Postcards you can create and edit email templates online without any coding skills! Includes more than 100 components to help you create custom emails templates faster than ever before.
Try Free
Other Products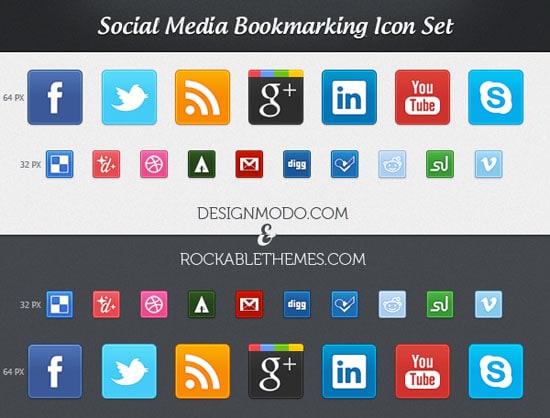 Like what you're reading? Subscribe to our top stories.