New Sets of Free Social Media & Bookmarking Icons
Social Media icons are of great help to designers and good quality icons make it possible for designers to it. Social media icons has been influential nowadays and a requirement for blogs and websites to have a proper social media account. For this reason blogs and web designs require the social icons to be incorporated.
It is also well known to experienced bloggers that these social media icons are a must for getting the traffic to his website. These icons can be collected from various websites for free. Some hand drawn icons for various social websites are really good with a different look. The badges icon, different types of textures like grass, fabric, denim, worn cloth are really good. The crowns from old bottles, vintage stamps, black ink stamp and splatter of paint make a somewhat retro image. The water color effect like artistic ones, sketches, hand made icons also make the icons look good. Sometimes plain and simple images like in stitched design also make for good social icons. The wooden style is eye-catching with some in badge style, some with glossy touch of different shapes and sizes representing different types of icons. The origami style, images of soda bottles and cans, stained type add up to the list of media icons. There are some real elegant themes which you will want to download fro sure. The background is good with some fantastic icons.
The role of social media is important in building up a good communication with the users It is important to make a space in the themes section for better interaction. The bookmarking icons of social media lets you enhance the popularity of your ranking with others sites. To get an improved ranking you should know that the icons are a great way to fulfil your work.
However, today we won't consider advantages of working social media into your website; here we want to share with you a list of free icons sets. To be honest, with numerous freebies out there, it is not so difficult to find an ideal pair for your interface design, all you have to do is to spend (some might say even "waste") some of your precious time that not everyone finds it appropriate. Although our collection is quite small, yet it is highly diverse; it covers various packs of icons including monochrome icons, vibrant icons, primitive glyphs, round/square icons, as well icons made in various styles: flat, grunge, retro.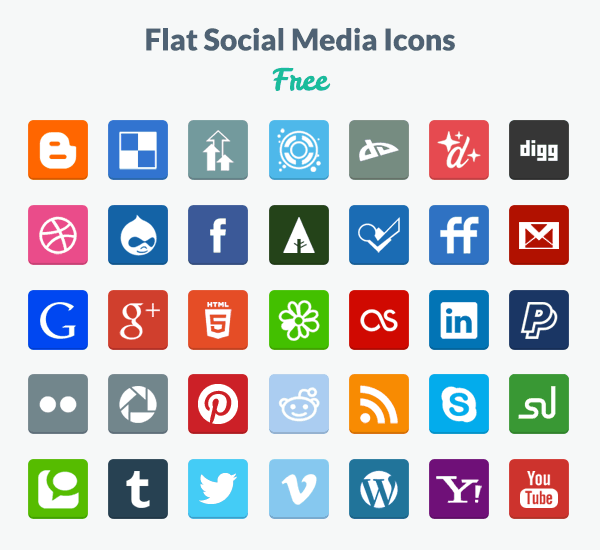 Want to drive as much traffic as possible to your website? Then you will need a set of eye-catching social media icons that not only allow your users to quickly share information with its friends but also perfectly blend in composition. These high-end social media icons could not be better suited for any modern project. Being made in a flat style that runs the show this year every icon will be able to find its place in your website design.
No-Code Email Template Builder
With Postcards you can create and edit email templates online without any coding skills! Includes more than 100 components to help you create custom emails templates faster than ever before.
Try Free
Other Products
The package includes all popular icons starting from Facebook and ending up with Paypal. Moreover, it is a perfect complement to interface designs that are constructed with a help of professional Square UI or Flat UI, also released by Designmodo.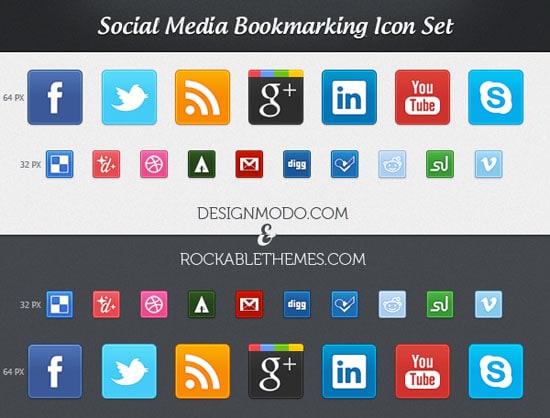 This is another topnotch package of social media icons that will enormously enrich your website design. The set embraces glyphs for all popular bookmarking websites and services even including ICQ. However, the key feature of this package is a CSS version that provides you with lightweight vivid icons that can be easily inbuilt into your project only by means of a simple line of code.
You can choose between
2 standard sizes (32px and 64 px);
2 formats (basic PNG with transparency and highly-recommended CSS format);
2 stylizations (with shadow or without it).
So, take your pick.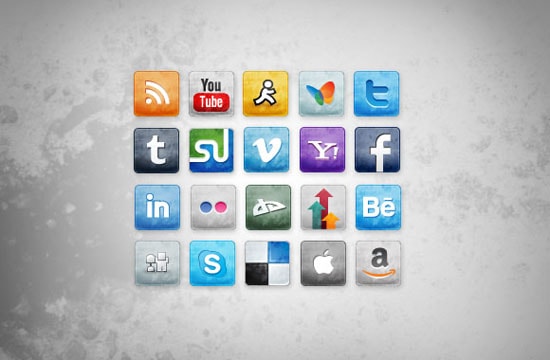 As the designer claims out, this package is an ideal option for those projects that has at least some hint of the grunge style. However, coming with a pleasantly textured vibrant background with faded effect this set will definitely enhance your design whether it leverages textures and patterns or it resorts to stripping away all decorations.
20 high-quality icons let your users connect to such social media giants.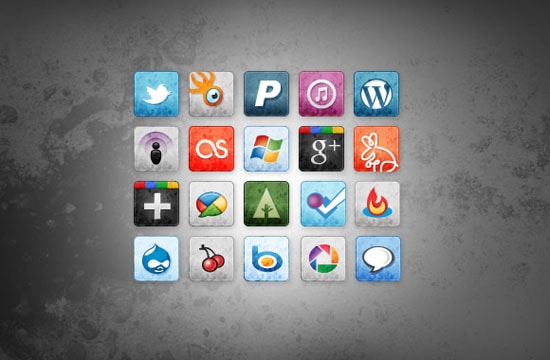 This is a renewed version of the previous collection. The designer took into account all desires and wishes of its online audience, and decided to create another volume of icons that comprises icons for such social media websites and popular services as:
Google+ (couple of variations);
Forrst;
Bing;
Paypal;
WordPress;
Drupal.
So, with this set showing off your affiliation to any of these projects will be just a piece of cake.
Dark Social Icons Set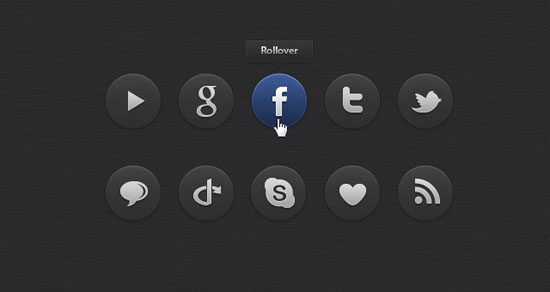 The set comprises 40 ready-to-use icons including Facebook, Dribbble, Twitter, Deviantart, Tumblr and others. Being based on a traditional color combo, the set can be used in various projects starting from dark designs and ending up with bright ones. The designer also offers an alternative set for hover status that involves colorful backdrops.
If provided resolutions – 32x32px and 64x64px – suit your needs, you can immediately put them into practice, since the designer allows utilization for both personal and commercial projects. Otherwise if you need another size you can easily open file in Adobe Photoshop and make your changes, easily modifying any icon and giving it the whole new appearance.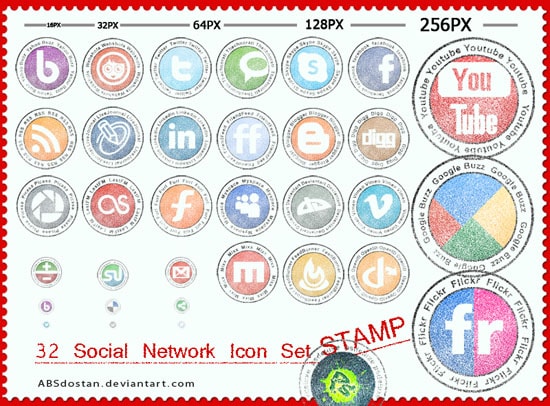 If you want to add a zest to your interface, you can simply apply this matchless package of icons. Its stamp-style appearance with a slight noise touch gives your design a lovely edge. And you do not necessarily have to use them as complementary tools; icons with such an eye-catching unique outward will find their own place in almost any project for sure.
From tiny 16px to enormous 256px, the package involves 5 standard resolutions. Though letterings placed on the rim will be hardly readable in the smallest size, yet the logo placed on the center and brand colors will uniquely identify the portal.
IC Minimal Icon Set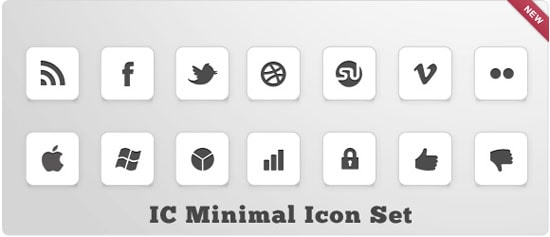 Here, the word "minimal" in the title means stripping away all extra decorations and implying only 2 colors. Being based on a classic black-and-white scheme this set of icons will ideally work with many other colors as well as naturally contribute to various designs.
The package will delight you with:
28 icons;
2 basic formats: PNG and JPG;
1 size: 64px*64px;
a possibility to use it in commercial projects.
Setway Icon Set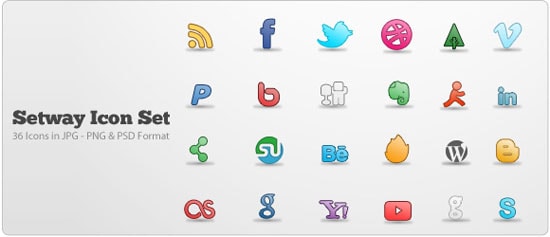 The designer offers users to grab a free package of solid pictograms that correctly define popular social media websites by virtue of easily recognizable logotypes and corporate colors. Though these icons won't certainly dominate your interface, however each one will be able to easily seize the attention.
The package also allows building-up other icons using these pictograms as base, to be more precise, as centerpieces for your new graphics. Thanks to designer who gives away not only Jpg and PNG files but also PSD file, you can create brand-new unique round, square or rectangular shaped icons.

The designer effectively leverages such basic Adobe Photoshop tools as blending options and filters in order to create a high-quality set of icons that delights by its clean noise appearance, vibrant backdrops and solid borders with rounded corners. Such graphics will look appropriate in minimal and light interfaces.
Unfortunately you don't have permission to modify them, yet you are allowed to use them in commercial projects that is more than enough for majority cases.

There are 12 icons in total that let you link your online visitors with its friends via such popular social media websites as
Facebook;
Twitter;
Dribbble;
Vimeo;
Stumbleupon;
Google;
Flickr etc.
Much like in example 10, the package includes only glyphs made in 2 styles (colorful and monochrome dark with embossed edge) in 3 formats (PNG, JPG, PSD) and in one size: 64px.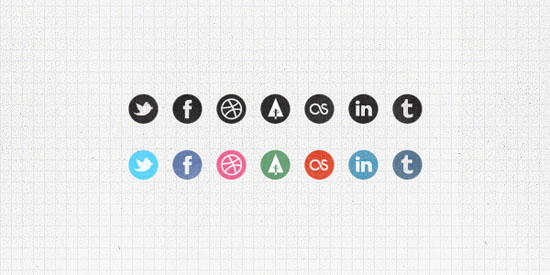 If you are looking for high-quality pixel-perfect icons that have a lovely grunge feeling then you should set your eyes on this small package.
Each icon has 2 options: the first one is colorful, the second one is monochrome. But there is a PSD file that permits to modify icons for successfully adapting them to your design.
so.media

Want to give a spark to your interface design, add some pleasant 3d dimensional appeal and do not overwhelm online visitors with extra graphics? Then try to take advantage of several small bookmarking icons from the set released by eos8.
The icons are available only in one standard size – 32px, since this dimension is commonly used, however, if you still have a desire to make some changes then PSD file is at your service.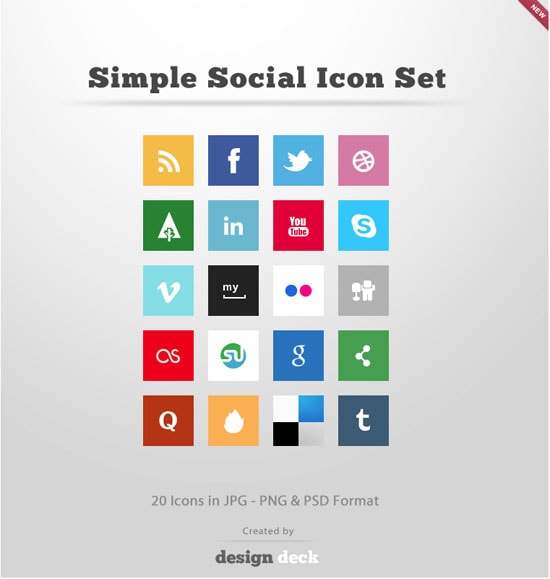 If you want to make your project look sophisticated and contemporary, then you should follow web trends and be a part of a mainstream. Every detail in your design like social media icons need to be in fashion. And this package that is made with flat style in mind is an ideal solution for those who are eager to go with the times.
The set includes popular icons for various social media sites, huge portals and online galleries such as:
Dribbble;
Digg;
Skype;
Behance and much more.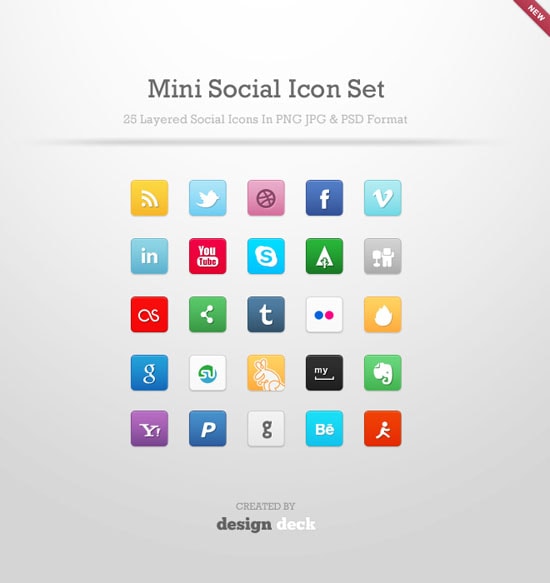 The team gives its loyal online readers a real present, which will be appreciated by those who are engaged in website interface design. This professional mini set comprises 25 fully-layered icons for RSS, Last FM, Ember, Digg and other popular social media websites.
Each item has an elegant neat shadow that laconically separates it from light and bright backdrops.
The team has recently updated the package by including icons for Pinterest, Google+, Zerply, mail and Twitter (an alternative version).
Conclusion
If you are a web designer then you are always on the look-out for pixel-perfect well-crafted social media icons. Various projects demand various icons, and the more diverse toolkit you have the more intricate, refined and harmonious interface design you will be able to create over a short period of time. I hope our collection of free icons packs will considerably improve your workflow.
Like what you're reading? Subscribe to our top stories.